NCF Nation:

Jeremiah Hatch
August, 23, 2010
8/23/10
5:49
PM ET
Preseason camps are about half gone. Opening weekend is less than two weeks away, and it's just over a week away for teams like Iowa State.
But plenty has been resolved in camps so far. Here's the best of what we know:
1. Three quarterback battles have been won.
Two (Kansas State and Nebraska) have yet to be decided, but
Tyler Hansen
won the job over
Cody Hawkins
at Colorado.
Kale Pick
beat out
Jordan Webb
at Kansas.
Taylor Potts
beat out
Steven Sheffield
in an epic duel at Texas Tech between two seniors who could start for about anyone in the conference.
[+] Enlarge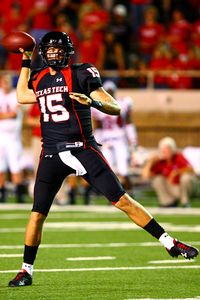 Karl Anderson/Icon SMITaylor Potts beat out Steven Sheffiled to be Texas Tech's starting quarterback.
2. Nebraska and Kansas have been hit hardest by injury.
Nebraska lost linebacker Sean Fisher and utility lineman Mike Smith for the season, each with a broken leg. Backup cornerback Anthony Blue will also miss the season with a torn ACL. Tight end Dreu Young also required back surgery and may miss up to the entire season. None figured to be game-changers, but without them, the Huskers depth suffers, leaving them more reliant on less experienced players. That's not the case in Lawrence, where Turner Gill will coach his first season without Huldon Tharp,
one of the conference's best linebackers
and one of his most exciting young talents. Backup running back
Rell Lewis
will miss the season with a knee injury, as will offensive lineman Jeff Spikes, who had a chance to start.
3. Gill: What have you done for me lately?
Turner Gill cares not about your recruiting stars, Jayhawks.
Toben Opurum
was the Jayhawks leading rusher as a freshman, with 554 yards. As one of the nation's best fullbacks, he came to Kansas because Mark Mangino planned to let the 6-foot-1, 240-pounder play running back. He was injured in the spring, but returned to full strength by preseason camp. Unable to crack the depth chart at running back, he's been moved to linebacker to help solve the Jayhawks' depth problems at the position. Meanwhile, two-year starter at center Jeremiah Hatch was sent to the bench in favor of senior captain Sal Capra, who played both guard positions last year.
4. Iowa State is even more huggable.
The team rallied behind rookie head coach Paul Rhoads in 2009 and raced to a seven-win season after just five wins in the previous two seasons combined. This fall, one of the teams practices was canceled so the players could sandbag the athletic facility to prevent damage from a major flood in Central Iowa. To do the team's laundry, team managers had to travel nearly 20 miles to the nearest source of fresh water.
5. Robert Griffin's arm isn't rusty.
The Bears sophomore quarterback has strung together two masterful scrimmages through the air, completing 33 of his 44 passes for three touchdowns and one interception. He has yet to prove he can run with the same explosiveness he showed as a freshman, but coach Art Briles isn't going to be getting Griffin hit many more times than is necessary.
6. Texas is talking up its defense.
Coach
Mack Brown
isn't keeping quiet about his expectations for his defense in 2010. ""I do think this could be our best defense," Brown
told the Dallas Morning News last week
, noting health and depth as variables. "We should be really, really good on defense." The Longhorns already ranked No. 3 nationally in total defense last year, but bring back one of the nation's best secondaries and perhaps the best and deepest group of defensive ends anywhere.
September, 15, 2009
9/15/09
5:45
PM ET

Posted by ESPN.com's Tim Griffin
Opposing teams have accounted for Kansas' potent passing game early this season. Nickel and dime pass defenses have been the rule as teams have tried to snuff out
Todd Reesing
's aerial attack on nearly every down.
| | |
| --- | --- |
| | |
| | Kenny Felt/Icon SMI |
| | Jake Sharp has gained over 100 yards in both of Kansas' games this season. |
It's almost seemed like opposing teams have been willing to dare the Jayhawks to beat them with a ground game and an offensive line that were presumed to be question marks entering the season.
Consider the dare answered after the first two weeks of the season, thanks to the potent one-two rushing attack of senior
Jake Sharp
and bullish freshman
Toben Opurum
.
"Teams have realized that we have a great quarterback and receiver combination and have been willing to do what they can to try to stop our passing game," Sharp said. "They've been willing to challenge us. And so far, we've been able to capitalize."
The Jayhawks' running game has been one of their biggest surprises as they have averaged a Big 12-leading 291.5 yards per game in their impressive 2-0 start.
Kansas started the season by gashing Northern Colorado for 334 yards. It was the Jayhawks' top rushing performance since 2001. And they followed that with 255 yards against UTEP to spark a 34-7 victory.
"A lot of people have had questions about the offensive line coming in," Opurum said. "They've had a lot of people moving around and some that maybe some people haven't heard of. But they've done a good job of opening holes for me and Jake. They've played well, exceeded expectations and can only get better."
Sharp has built on a fast 2008 finish to rush for 100 yards in both games, becoming only the second player in the Big 12 along with Kansas State's
Daniel Thomas
to accomplish that feat this season.
And the muscular 235-pound Opurum has also had a blazing start, inviting comparisons to former Kansas tailback Brandon McAnderson because of his size and tough inside running ability.
Despite the offensive line's lack of experience together, Sharp has been impressed with their work.
"Everything came together with confidence and a better understanding," Sharp said. "When I'm going to hit the hole, I have confidence it will be there. Our offensive line has done a great job so far."
And Oburum has quickly shown that same kind of ability, averaging 70.5 rushing yards per game to rank ninth in the conference.
Kansas coach Mark Mangino credits some of Sharp and Opurum's quick start to the growth of a precocious offensive line.
"Jake Sharp is quicker and faster than he was a year ago. And Toben is a young running back who is learning and has a lot of natural ability and a lot of tools," Mangino said. "But the other key is our line. We have a bunch of young guys, but they are very talented."
Mangino switched starting left tackle Jeremiah Hatch to center and inserted 285-pound redshirt freshman Tanner Hawkinson, a converted defensive end, into the starting lineup.
"The way I describe our offensive line is that you'd like to have experience, toughness and talent," Mangino said. "We have the talent and toughness, but what we lack in experience we are making up because of the other two. It's a combination of those things."
But the real test for the Jayhawks will be when they start facing conventional defenses that aren't skewed to the pass.
That trend, Sharp said, would be the biggest indicator that Kansas' ground game finally has arrived.
"I would like to think they would have to do that before long," Sharp said. "The spread offense we run is obviously very explosive and they have to account for that. But we take what people give us. We can throw the ball, no question. But we've shown we've got a balanced attack and can run the ball a little, too."
November, 14, 2008
11/14/08
11:12
AM ET
Posted by ESPN.com's Tim Griffin
Here are some of the things I'll be watching for in Big 12 games tomorrow.
1. Kansas State fans' reaction to Ron Prince: The lame-duck Kansas State coach -- whose tenure will end up as the second-shortest in Big 12 history behind only Baylor's Dave Roberts -- will make his first home appearance since his dismissal last week. KSU fans seemed to have little excitement for the program during blowout home losses to Texas Tech and Oklahoma earlier this year. Will that attitude change against Nebraska, a traditionally bitter rivalry that once was the prime North Division battle? It would be hard to tell this season, considering there are still seats available for Saturday's game.
2. Kansas' beleaguered offensive line against Texas' athletic defensive front: The Jayhawks allowed five sacks against Nebraska last week and 13 in the last four weeks. Texas pass-rushing specialist Brian Orakpo is back to create havoc for starting Kansas freshman tackles Jeremiah Hatch and Jeff Spikes. But a bigger worry might be Texas defensive tackle Roy Miller against Kansas senior guard Chet Hartley, who struggled mightily against Nebraska bull-rushing nose tackle Ndamukong Suh last week. More of the same might be waiting him again this week against Miller.
3. Todd Reesing challenging his childhood favorites: The Kansas quarterback was reared in central Austin only a couple of long touchdown passes away from Royal Memorial Stadium. He grew up watching Texas games with his father, a Texas alumnus. Like most Big 12 schools, the Longhorns didn't recruit Reesing heavily in high school because of his size. He's left the state to flourish as Kansas' career passing leader. And a bigger career achievement for him personally might be knocking the Longhorns out of the BCS race.
4. Baylor in a rare position as favorite in a Big 12 favorite: The Bears will be coming into Saturday's game against Texas A&M as a favorite for only the fourth time since 2002, according to football guru Phil Steele. Their pregame point spread is also the highest for the Bears in a Big 12 game since a 1996 game against Missouri. The Bears shouldn't assume anything just because Vegas expects them to win, considering they are 1-20-1 in the last 22 games against the Aggies.
5. Missouri's trip to a traditional snake pit, Iowa State: The Tigers could have a shot to wrap up the Big 12 North if Texas beats Kansas earlier in the day. But Missouri has traditionally struggled against Iowa State, losing three of its last four games there, including a 2006 game that was the Tigers' most recent loss to a Big 12 North foe. But this matchup appears to decidedly favor the Tigers, particularly if Chase Daniel is on. A struggling Iowa State pass defense that has been blistered for an average of 358 passing yards and given up 13 touchdown passes in its last three games. The Cyclones will be supremely challenged by all of Missouri's offensive weapons.
6. Texas playing without starting center Chris Hall: The Kansas defensive front has not been a particular challenge for most teams this season. But the Longhorns' depth will be lessened after Hall suffered a knee injury in practice earlier this week that will keep him out of Saturday's game. The Longhorns' depth at the position already is depleted after Buck Burnette was kicked off the team last week for posting an inflammatory comment about President-elect Barack Obama on his personal Web page. It means freshman center David Snow will make his first career start with starting tight end Greg Smith serving as his backup. It's not the best of situations, especially if Texas has to rely on shotgun exchanges in a tight ballgame.
7. Oklahoma State's reaction to the crushing Texas Tech loss last week: The Cowboys' blowout loss in Lubbock snuffed out their BCS hopes. But they still have an opportunity for a New Year's Day bowl appearance with a strong finish. On Saturday, they must beat resurgent Colorado, which still has bowl hopes, too. It will be important for the Cowboys to use the same balanced offense that has typified their season. And it wouldn't hurt to get playmaking wide receiver Dez Bryant off to a quick start after his early struggles last week.
8. Jerrod Johnson vs. Robert Griffin: Two of the Big 12's most spectacular young players will spice up "The Battle of the Brazos" between Texas A&M and Baylor. We could be seeing this personal battle continue for the next several seasons. It will be interesting for both players on Saturday as they try to rebound from ugly performances last week.
9. The Colorado quarterback rotation: Cody Hawkins is expected to get the start Saturday night against Oklahoma State after his second-half rally helped the Buffaloes storm past Iowa State last week. Freshman Tyler Hansen is still expected to get some snaps as a change of pace against an Oklahoma State defense that has had trouble pressuring opposing passers throughout the season.
10. Nebraska's defense after receiving its Blackshirts: Coach Bo Pelini finally presented those coveted trinkets to his defense after it racked up five sacks against Kansas last week. The Cornhuskers might be in for a stiffer challenge than expected against quarterback Josh Freeman, a one-time Nebraska commitment who spurned the team to attend Kansas State. The Cornhuskers will be limited defensively without starting linebackers Cody Glenn (suspension for a violation of team rules) and Phillip Dillard (ankle). The backups need to pick up the slack against an underrated Kansas State offense that ranks 17th nationally in passing, 20th in scoring and 28th in total offense.
September, 11, 2008
9/11/08
10:00
AM ET
Posted by ESPN.com's Tim Griffin
| | |
| --- | --- |
| | |
| | Marc Serota/Getty Images |
| | Kansas QB Todd Reesing is second in the nation in total offense. |
During its last trip to Florida, Kansas grabbed a chunk of national credibility with an impressive victory in the Orange Bowl.
Less than nine months later, the Jayhawks are back in the Sunshine State looking for more.
The Jayhawks will be facing South Florida in an early battle of top 20 teams. It will be a litmus test for both programs, but especially for a Kansas team that has received unprecedented publicity earlier this season.
"I think this is a good measuring stick, to some degree," Kansas coach Mark Mangino said. "But I don't think it's a game where, if we win, we feel like we're going to win all the rest, and if we lose, we're going to have a bad season."
This year's game is a huge transformation from the first game of the series in 2006. Kansas eked out a narrow 13-7 victory that featured little pregame acclaim.
"I remember playing them two years ago and it meant nothing to the mass media," Kansas safety Darrell Stuckey said. "I was hearing from fans thinking that we should beat those guys because they hadn't heard much about them. They were a very good team then and they've grown a lot since then. Now, they are a phenomenal team."
After last season, the perception of both programs has been transformed. Both teams were briefly ranked No. 2 in the nation last season. The Jayhawks won their bowl game, beating Virginia Tech in the Orange Bowl for the first program's first victory in a BCS bowl game. USF started 6-0 before losing three straight games that knocked them out of the Big East title hunt.
"It's matchup of a couple of similar programs," Kansas quarterback Todd Reesing said. "They popped up on the scene much like we did last year. They got high in the ratings and made a lot of headway with some guys that weren't highly recruited. It's something that's been the same for both of us."
Despite outscoring opponents by a combined margin of 69-10 in its first two games, the Jayhawks will enter Friday's game with several lingering questions. Kansas has struggled running the ball so far, averaging 3.7 yards per carry. It's down more than a yard per carry from last year's average.
Some of the problems have been caused by breaking in new starting tackles Jeff Spikes and Jeremiah Hatch into the lineup after losing All-American Anthony Collins and four-year starter Cesar Rodriguez from last season.
And the Jayhawks have been slow to fill the contribution of running back Brandon McAnderson, who rushed for 1,125 yards last season. The biggest disappointment has been the play of junior-college transfer Jocques Crawford, who brashly predicted before the season that he would like to run for 2,000 yards. After the first two games, Crawford is still 1,951 yards from his stated goal.
Third-stringer Angus Quigley has emerged as the most consistent Kansas running threat, piling up 131 yards. Crawford and Jake Sharp, the most experienced Kansas back, have both been inconsistent as the Jayhawks rank 10th in the Big 12 with an average of 127 rushing yards per game.
Despite the running game struggles, Mangino has been pleased in how Reesing has moved the Jayhawks through the air. He leads the nation in pass completions, is second in total offense, seventh passing yards and is eighth in passing efficiency after the first two games of the season.
"Sure, we haven't run the ball as effectively as I'd like for us to," Mangino said. "But on the other hand, we've been throwing the ball so well. We're facing a situation where it's 'Are we being patient enough for the running game?' And the second question is, 'Do we need to be patient enough for the run game?' As long as the run game can complement the passing game a little bit, we feel good about it."
Some are still questioning the Jayhawks and their national credentials. The South Florida game starts a punishing stretch of their schedule which will also include games with South Division powers Texas, Oklahoma and Texas Tech. Kansas played none of those teams during last season's 12-1 campaign.
"This game will be an opportunity for us to establish ourselves in the national mindset," Stuckey said. "This will define us as a team and show that we weren't a one-year wonder. It's an opportunity to show we really deserve to be considered as a strong contender."
September, 3, 2008
9/03/08
2:04
PM ET
Posted by ESPN.com's Tim Griffin
Here are some intriguing tidbits around the Big 12 heading into Saturday's games.

1. Texas A&M K Richie Bean misfired on two easy field goals of 32 yards and 25 yards in a loss to Arkansas State, but had even bigger worries. His family had just rebuilt their home in the New Orleans area in the aftermath of Hurricane Katrina, and Hurricane Gustav was on a direct path during the game. Bean's recent slump has reopened the kicking competition before this week's game with New Mexico with freshman Randy Bullock, who A&M coach Mike Sherman said he would have used late in the first game after Bean's earlier misses.

2. Kansas fans are concerned after the Jayhawks rushed for 128 yards and averaged a pedestrian 3.6 yards per carry in a blowout victory over Florida International. One of the biggest reasons was the absence of T Jeremiah Hatch, who didn't play for undisclosed reasons. Coach Mark Mangino said that Hatch is practicing with the team and could be available for Saturday's game against Louisiana Tech. His return would immediately boost Kansas' ground game.

3. Baylor QB Robert Griffin has another reason to get excited about his first college start against Northwestern State. His older sister, Dejon, a junior who competes in the hammer, discus and shot put for the Demons' track team, says she'll support her little brother over her own school at Saturday's game in Waco.
4. Texas coach Mack Brown will consult with DE Henry Melton and LB Sergio Kindle before he decides how many games DT Lamarr

Houston will be suspended for after his weekend arrest. He was charged with driving while intoxicated. Melton and Kindle both were suspended three games last season after they were arrested for similar charges last summer.
Houston's absence Saturday night from the Longhorns' pass rush against UTEP adds a little more pressure for Texas redshirt freshmen S Blake Gideon and S Earl Thomas, who will be starting their first road games at the raucous Sun Bowl.

5. Kansas State coach Ron Prince has repeatedly said that QB Josh Freeman was his most improved player since the spring. Freeman played like it in the Wildcats' season-opening 45-6 victory over North Texas, accounting for five touchdowns. But the most noticeable change for Freeman in his third season as a starter appears to be his patience at hitting second and third receivers. He also looked more comfortable as a running threat, which wasn't always the case in his previous two seasons as a starter.

6. Colorado coaches worried about finding a defensive playmaker to replace Jordon Dizon. If the Buffaloes' first game is any indication, they don't have any worries. Rangy LB Brad Jones was all over the field with seven tackles and a sack in their victory over Colorado State. But most impressive was his play on Colorado State TE Kory Sperry, who was neutralized with only two catches after blistering the Buffaloes for eight catches and three TD grabs last season.
August, 16, 2008
8/16/08
12:57
PM ET
Posted by ESPN.com's Tim Griffin
Few schools have the rich historical base of Texas. And that's why the recent addition at Darrell K. Royal/Texas Memorial Stadium is so neat.
School officials have installed an exhibit in the stadium's north end zone that will list and honor the five retired numbers in the school's football history. Players who have been honored include Vince Young, Ricky Williams, Bobby Layne, Earl Campbell and Tommy Nobis.
Other schools have done this. I always have a fond remembrance of the past when I see Johnny Roland's or Kellen Winslow's number at Faurot Field or Rashaan Salaam at Folsom Field. It's a great way to recall the past.
I'm still waiting for some school to erect its own version of Monument Park like I saw at Yankee Stadium. Walking up to the bronze plaques of Babe Ruth, Lou Gehrig and Mickey Mantle left me with a lump in my throat. And I don't even like the New York Yankees.
Here's hoping that the Texas architects have arranged for these retired numbers to be prominently displayed where it will occasionally be noticeable on television broadcasts and be clear enough for people in the stadium. Because schools need to remember great players and their history.
And hopefully, these links will be as similarly cherished in 50 years.