April, 29, 2010
4/29/10
1:15
PM ET
LOS ANGELES -- When Pete Carroll was hired at USC in December of 2000,
Matt Barkley
was 10 years old. While the shock of Carroll's departure to the Seattle Seahawks hit Trojans fans hard -- weren't they going to "win forever" together? -- imagine what it was like for a kid from Orange County, Calif., who grew up rooting for the Trojans and became their starting quarterback as a true freshman.
"That's what I grew up knowing," Barkley said. "That's all I knew about. That's all I thought USC football was."
[+] Enlarge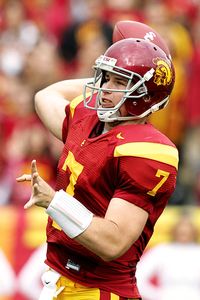 Charles Baus/Icon SMIMatt Barkley seems to have won over new coach Lane Kiffin.
So it's understandable that Barkley felt "weird" early in spring practices watching Lane Kiffin call the shots and then seeing Carroll on the NFL channel wearing Seahawks colors.
"But I'm embracing the change and I think all the guys on the team are as well," Barkley said.
Couple of reasons for the embrace. For one, there wasn't much choice. Kiffin didn't bring in a warm-cuddly approach. Sad about Carroll bolting? Get over it. Get good or fall down the depth chart.
Kiffin immediately made it clear that Barkley wouldn't be handed the starting job, despite his passing for 2,735 yards and ranking third in the Pac-10 in passing efficiency as -- again, worth noting -- a true freshman.
Further, USC went 9-4 in 2009. It had lost nine games over the previous seven seasons. Carroll's wasn't the only big ego that was wounded last year, and those left behind are motivated to confront their newly empowered doubters, whoever captains the ship going forward.
"Last year was unacceptable, uncharacteristic of USC and this football program," Barkley said. "We expect something greater than that. We hold ourselves to a higher standard."
And, finally, Barkley intimates that -- just maybe -- change is good, particularly for him, considering how consistently mediocre the Trojans' offense was last year under coordinator Jeremy Bates.
He said he understood the concepts of Bates' offense. He said he was physically up to the job. He said that he was confident in himself and his supporting cast. And yet he kept recalling as the season progressed how past USC offenses looked
different
. You know: Good.
"I was kind of wondering,'Why aren't we there right now?'" he said, leaving it up to the audience to answer the question.
Barkley has appeared a lot closer to "there" this spring. In the last three scrimmages, he's thrown 10 touchdown passes with no interceptions. He's moving better in and out of the pocket. He seems to have quickly grasped Kiffin's offense, which is critical because Kiffin will call the plays.
While Kiffin started out seeming to want to challenge Barkley and perhaps even rattle him a bit and see how he responded to talk of competition, it appears Kiffin has been won over.
"He makes it very easy to forget he's a true freshman," Kiffin said. "I think a lot of people forget that. He's so far beyond a normal kid his age."
Still, Kiffin doesn't appear eager to mythologize Barkley, as Carroll did -- recall all that "
outlier
" talk that
some reporters (cough, cough) ate up
. In fact, one of the first things Kiffin told Barkley was he believed the quarterback was chubby.
How did the golden boy former super-recruit respond to that?
"He's bought into our conversations about changing his body," Kiffin said. "His body fat is way down. He's dropped weight and worked extremely hard. He's moving around completely different than he was a year ago on film."
Fact is, Barkley was fairly solid last year, though his 14 interceptions were more than any other Pac-10 quarterback. Watching him this spring -- the liveliness of his arm, his mechanics and accuracy -- it's easy to wonder if he might end up being mentioned along with Washington's
Jake Locker
and Stanford's
Andrew Luck
as the best quarterback in the conference by season's end.
When asked what he is working on, he mentions subtleties: mastering protections and check-downs, anticipating blitzes and coverages. He also seems to now better understand that, as cool as he might be, it's a mental and emotional challenge to be the USC quarterback, a position that produced two Heisman Trophies and three top-10 draft picks under Carroll.
"Being a quarterback here -- I don't consider it pressure -- but it has that weight from the fans, from the media, from even the students here at school," Barkley said. "You know that coming in. There's only one quarterback. You have to take that responsibility."
As for that quarterbacking legacy and all the acclaim -- and awards and NFL attention -- that come with it, Barkley ranks them behind a goal that will, in any event, have to be accomplished first in order for him to join the ranks of Carson Palmer, Matt Leinart and Mark Sanchez.
"Getting back to the point where winning is the only thing we know and not accepting anything less," he said.
January, 11, 2010
1/11/10
7:51
PM ET
In a sprawling 20-minute, stream-of-consciousness monologue, Pete Carroll was full of "thank yous" and nostalgia as he said goodbye to USC during a Monday evening press conference at the school.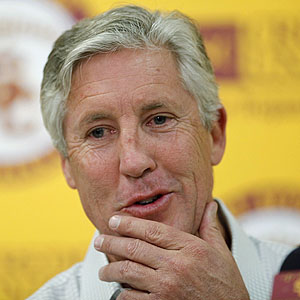 AP Photo/Damian DovarganesPete Carroll called his years at USC "gorgeous times" during a press conference announcing that he will take a job with the Seattle Seahawks.
Carroll said he's breaking up with USC not because of anything the Trojans did -- or because of the NCAA or athletic director Mike Garrett, for that matter -- but because the Seattle Seahawks made him an offer he couldn't refuse.
"Why can't it keep going?" Carroll rhetorically asked. "It can't keep going because I can't pass up this opportunity that has come up."
What exactly the "opportunity" the Seahawks are giving Carroll is presently vague.
Carroll repeatedly has said he'd never give the NFL another try unless he received total control of the franchise. Early reports were the Seahawks planned to give him that. Then there were conflicting stories as to how much power Carroll would have that arose due to
questions about
the Seahawks compliance with the "Rooney Rule," which requires NFL teams to interview minority candidates for coaching jobs. To this point, all the Seahawks have said is Carroll will have "a collaborative capacity on football matters."
Carroll, who has had a number of previous chances to return to the NFL, described that "collaborative capacity" as a "unique opportunity."
"I thought I would be here forever and then this came along," he said.
Hmm.
But that's the NFL side of things, which Carroll mostly refused to talk about, including which members of the USC staff he plans to take to Seattle. At present, he's expected to bring along offensive coordinator Jeremy Bates, linebackers coach Ken Norton and offensive line coach Pat Ruel.
Instead, Carroll, who talked to his now-former players before his press conference, reviewed his nine years at USC and thanked everyone -- really, everyone -- around the program, from players, to administrators, to fans, to people who work for his charity, to police officers, to his beat reporters, etc.
He called his years at USC "gorgeous times" "a marvelous run."
"It hurts to separate right now," he said.
He said he's separating, however, because his competitive fire won't let him pass up "the challenge of a lifetime."
Carroll denied that he is leaving because of the football program's NCAA issues, as well as his widely reported schism with Garrett.
"If you say something else, you are not telling the truth," he said.
He didn't provide many details about his meeting with the Trojans players.
"For the guys that are here right now, it's a bit of a shock that this is happening," he said. "But they're strong. They're tough. They'll compete to take the next step."
Now the next step for USC is hiring a new coach coach to replace a man who produced one of the greatest runs in college football history.
For Carroll, it's about taking his competitive fire to the "highest and most intense level."
It wasn't an easy decision to make.
"There's nothing easy about it," he said. "My body is in shock. My emotional side is in shock. I haven't slept in days."
December, 23, 2009
12/23/09
12:09
PM ET
Disappointment? Distractions? Declining performance? Controversy and allegations? Criticism and even ridicule?
All are words or phrases one could associate with USC's football program at present. Yet none seems to touch
Matt Barkley
.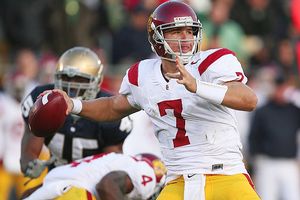 Jonathan Daniel/Getty ImagesUSC quarterback Matt Barkley is focused on Saturday's Emerald Bowl against Boston College.
Perhaps one big reason that coach Pete Carroll is such a fan of his quarterback is that the true freshman's sunny disposition matches his own, even during dreary times.
And these are dreary times for the Trojans.
After seven consecutive Pac-10 championships and BCS bowl berths, they dropped four conference games, finished tied for fifth in the standings and will play unranked Boston College in the Emerald Bowl on Saturday.
And USC didn't just get beat this year. It got blown out by Oregon and Stanford and seemed indifferent during a loss to Arizona in the season-finale.
Oh, and there's this little matter involving running back
Joe McKnight
and the alleged use of a 2006 Land Rover owned by a Santa Monica businessman who employs his girlfriend that might raise an eyebrow from the NCAA. And then there's three players ruled academically ineligible this week, including starting tight end
Anthony McCoy
and offensive tackle Tyron Smith.
Yet all one gets from Barkley is gee-whiz enthusiasm. That's probably a good thing, by the way.
"We're excited -- we can't wait for this game," he said. "We've had a great last two weeks of practice preparing for the bowl game. We're really stoked to get one last game in and to be able to finish the season strong."
Barkley's season devolved individually like the Trojans has a whole. He threw nine of his 12 interception over his last six games. He finished ranked seventh in the conference in passing efficiency and was mostly eclipsed in the Pac-10 quarterback pecking order by several other young starters, such as Stanford's
Andrew Luck
and Arizona's
Nick Foles
.
As to what triggered his and his team's slide, Barkley isn't specific.
"A lot of factors contributed -- a lot of little things that we don't have time to get into," he said. "But overall execution is what it came down to. All those things piled up and we weren't playing Trojan football like we know it."
Barkley hardly deserves the predominant blame. Offensive coordinator Jeremy Bates struggled to find his rhythm in his first year replacing Washington coach Steve Sarkisian. Carroll also probably set the bar too high for Barkley by repeatedly calling him an "outlier" and casting him as a quarterbacking savant.
And, you know, the defense wasn't exactly the impenetrable wall that has been typical during Carroll's tenure.
Whatever the reasons -- and it's never just one thing, is it? -- USC's slide seemed to be greeted with glee across the college football landscape. It certainly inspired copious message board ripostes.
Barkley acknowledged that the Trojans are well-aware of the sniping of their critics.
So, is that motivation?
"Absolutely. Guys never like to hear how it's been a terrible season and how bad we've done," he said. "To be able to finish the season with a win will be huge. Not only to end this year but for next year's off-season and how we approach that. A win on Saturday will be huge to right those wrongs."
Barkley said sympathy -- not distraction -- was the reaction to recent off-field issues that will sideline two and probably three starters for Emerald Bowl.
"It's really terrible that they can't be with us," he said. "But we've been dealt a lot of adversity this year, so it's just another challenge for us in this last game. But it is really disappointing to know those guys can't play."
It seems many are expecting a flat and apathetic performance from the Trojans against Boston College. Barkley said that's not going to happen.
"We'll be up, definitely. We're so excited," he said. "We don't care if it's the Emerald Bowl. It's another game we get to play. And Boston College is a great team. They are going to put up a fight. We're not approaching this any differently than a Pac-10 championship game. We're excited to play one last time."
October, 1, 2009
10/01/09
8:02
AM ET

Posted by ESPN.com's Ted Miller
The Bay Area is the center of the Pac-10 universe on Saturday, though Oregon State's visit to Arizona State feels underrated to me. Oh, and Washington heads east to take on Notre Dame and the cardiac Fighting Irish.
1.
Will the real Cal please stand up?
California can't possibly be as bad as it looked at Oregon. You look up and down the roster and check off guys with NFL futures and just shake your head. So, do the Bears put it together and play to their potential against USC? Or will they look out of sync again? It's possible that Cal could put forth a strong effort and still lose, but at least that might leave some sparks for a strong run through the rest of the conference slate.
2.
Toby Gerhart vs. Reggie Carter & Brian Price
: Obviously, there are 11 guys on both sides of the ball, but the 237-pound Gerhart is the irresistible force and Carter and Price are the immovable objects. If Gerhart prevails and gets his 100-plus yards, he should jump onto the short list of Heisman Trophy candidates. But Carter and Price are bad men -- maybe two of the nation's most underrated players. There will be some pads popping here.
3.
Danny Sullivan must play better
: Arizona State proved at Georgia that its defense is good enough to get the Sun Devils to a bowl game, but the offense needs to step up, particularly Sullivan. Only problem for him is his already questionable offensive line is banged up -- two or three starters could be out. Still, playing in front of the home crowd, Sullivan needs to make plays in the passing game or coach Dennis Erickson might decide to give talented true freshman
Brock Osweiler
a serious look.
4.
Will Irish run or pass vs. the Huskies' defense
?
Or both
? Washington's primary worry in the preseason was its outmanned secondary, but after Stanford ran all over the Huskies, the run defense now seems like a bigger problem. Notre Dame has been successful both throwing (297 yards per game) and running the ball (158 ypg). Against A-list programs, the Huskies have flashed decent run defense (LSU) and pass defense (USC). What will they have for Charlie Weis and the Irish?
5.
Welcome to Autzen Stadium, Jeff Tuel
: Sure, Washington State's true freshman quarterback got his first career action in the Coliseum against the fearsome Trojans, but it's much different coming off the bench without thinking time compared to having a first-career start hanging over a youngster for an entire week. Not to mention that Tuel won't be able to hear himself think inside Autzen Stadium -- it's not nearly as loud inside the Coliseum. And the Ducks' defense gives a QB lots of looks -- it certainly confused a veteran Cal offense.
6.
The Trojans' offense can't possibly be this bad
: The overall statistics don't look terrible, but the Trojans are averaging just 19.3 points over their last three games and only one of those defenses -- Ohio State -- is a first-tier unit. Moreover, the offense is only converting on 25 percent of its third downs, which ranks last in the conference. All of this is happening with an outstanding offensive line and a strong crew of skill players. So, even with young quarterbacks, it's not a lack of talent or experience. The pressure is on Jeremy Bates to earn his substantial paycheck and call better plays. Or, perhaps, Pete Carroll needs to free up Bates to call the game as he sees fit. Either way, this shortcoming falls on the coaches.
7.
Is it better to be Crafty or Lucky
? UCLA's and Stanford's quarterbacks come at Saturday's game from far different angles. The Bruins'
Kevin Craft
is the senior backup who lost his job to a now-injured redshirt freshman because he threw 20 interceptions in 2008. The Cardinal's
Andrew Luck
is a super-talented redshirt freshman who unseated a senior starter and who appears destined for an NFL career. Funny thing is: Craft probably will be more responsible for his team's fortunes. Luck has a powerful running game to rely on. Craft won't have that luxury. Of course, Craft did beat Stanford with a pressure-packed TD drive last year.
8.
Bringing the heat in Tempe
: Arizona State's defense has been dominant. Oregon State's defense has been disappointing. But here's a number that might shock you: Which two teams are tied for last in the conference with just two sacks? That would be the Sun Devils and Beavers, though the Sun Devils have played one less game. Both offensive lines have struggled, and the Sun Devils are digging deep into their depth chart because of injuries. Neither QB is terribly mobile. And Arizona State gets back suspended defensive end James Brooks, which will allow pass-rush specialist Dexter Davis to return to his preferred weak side. Guess here is one -- or maybe both -- of these teams is going to get to the quarterback.
9.
Jahvid Best needs a big day in a big game
: Last year against USC, Best had just 30 yards on 13 carries. Last week against Oregon, he had just 55 yards on 16 carries. While it's
unfair and untrue
to say that Best has not produced good numbers in big games, the Bears need him to step up and make some plays against a rugged Trojans defense that is going to gang up on him. Sure, quarterback
Kevin Riley
needs to create a passing threat so the Trojans can't crowd the line to stop Best, but if Best makes a few plays early, things probably will be a lot more open for Riley downfield.
10.
Locker vs. Clausen
: Washington's
Jake Locker
is 21st in the nation in total offense, but most will see him as the second-best quarterback on the field Saturday. Notre Dame's
Jimmy Clausen
is finally living up to his talent and recruiting pedigree, and the nation's fourth-rated passer is a legitimate Heisman Trophy candidate. But he also has a bum toe. Locker is a team player and a good citizen, but he's incredibly competitive. Bring up
Tim Tebow
, and Locker's reticence clearly suggests he thinks he's just as good. Locker would love to steal the big stage in front of Touchdown Jesus and turn in a blockbuster performance.
September, 21, 2009
9/21/09
2:42
PM ET

Posted by ESPN.com's Ted Miller
Things move quickly now-a-days and everyone wants quick analysis. They also want that analysis to be sweeping and dramatic.
And, if said analysis is wrong, well, things move quickly now-a-days so there's new dramatic analysis to distract and sweep away that which is so five-minutes-ago.
So we have Washington beating USC, 16-13.
General conclusions thus far.
Washington is back!
USC is sunk!
The former seems more valid than the latter, but both hang on a small sample size.
Let's look at the two sides and how they emerged from Saturday's stunning game.
Washington
The win over USC stands alone. It will be a great memory for the program, no matter what.
| | |
| --- | --- |
| | |
| | Otto Greule Jr/Getty Images |
| | Washington coach Steve Sarkisian will have to avoid the week-after-beating-USC curse. |
But, in terms of the 2009 season, what happens at Stanford on Saturday may be more relevant. (Interesting
look here
at how teams that upset USC do in their next game).
If the Huskies lose , they will be 2-2 and only a game ahead of where most projected them at the start of the season. The win over USC will be framed in retrospect as a great upset but not a revelation that the Huskies were ready to push into the top half of the conference.
A win at Stanford, though, would legitimize the Huskies as a Pac-10 contender. They'd take off for Notre Dame for an Oct. 3 date with the chance to make 2009 a special season.
The Huskies biggest personnel issue, however, remains: the secondary lacks athleticism and depth.
USC wasn't able to exploit that. How many other foes will?
But the biggest general question has been answered: Led by quarterback
Jake Locker
, the Huskies are good enough to compete -- and beat -- any team they play.
Will beating USC serve as a lift-off point for the program? Or will the visit to Stanford provide the letdown that brings back a less optimistic picture of where the Huskies stand in the Pac-10 pecking order?
That's the analysis for next week.
USC
The Trojans passed for only 110 yards at Washington, which the LA Times noted is the lowest total in Pete Carroll's eight-plus seasons leading the program.
| | |
| --- | --- |
| | |
| | Otto Greule Jr/Getty Images |
| | USC coach Pete Carroll took the blame for the loss to Washington. |
The immediate reaction is to point at new play-caller Jeremy Bates, but that's probably not fair because everything USC does flows through Pete Carroll, who, despite his loosey-goosey Southern California cool, is a control freak.
Carroll blamed himself after the game. Good. He was right. His fingerprints were all over a ridiculously conservative offensive game plan, a plan that caused his team to play tight when the Trojans found the Huskies surprisingly unyielding.
Recall how USC fans ranted and raved about the Trojans last play-caller? That guy, a fellow by the name of Steve Sarkisian, now Washington's coach, rolled up 478 yards against LSU and he was the mastermind behind a perfectly executed game-winning drive against Carroll's defense.
Guess which team leads the Pac-10 in passing? That would be Sarkisian and his run-first quarterback Jake Locker.
During the preseason, I asked Sark a variety of questions about how he was "handled' as the Trojans offensive coordinator. He fought off the questions with grace, but it was clear that Carroll often wanted to keep things basic on offense and play to the Trojans defense.
USC's offense will be athletically superior to every defense it faces this season, though there are a number of elite Pac-10 defenses that can handle the present, watered-down version. The Trojans, no matter who plays quarterback, must throw the ball downfield and prevent teams from ganging up on the run.
Historically, USC, which plays host to Washington State on Saturday, has bounced back from these sorts of losses -- see seven consecutive Pac-10 titles. But the Trojans will face a stiff challenge at California on Oct. 3.
How might they play the rest of the season if they find themselves 1-2 in Pac-10? Hard to say. We haven't had to ask that question since they started 0-3 in 2001, Carroll's first season.
September, 9, 2009
9/09/09
7:05
PM ET

Posted by ESPN.com's Ted Miller
LOS ANGELES -- There's still an "OR" to the right of Joe McKnight's name on the USC depth chart, but it's mostly a wink at the Trojans' old way of doing things at running back.
McKnight is the Trojans' starting running back. His 14 carries against San Jose State were twice as many as any other Trojans running back, and it will be a surprise if he doesn't start at Ohio State on Saturday.
| | |
| --- | --- |
| | |
| | Stephen Dunn/Getty Images |
| | Joe McKnight's workload against the Spartans indicates he's the Trojans' starting running back. |
Allen Bradford
might offer a power option off the bench. And
Stafon Johnson
might be the man near the goal line.
But McKnight is clearly 1A, whether coach Pete Carroll, who has long defended his backfield-by-committee approach, is explicit about it or not.
"We came out of camp with the thought that we wanted to really work Joe and see if we couldn't keep him in the game and get him more used to playing on a more regular basis and not spot play him so much and see if that wouldn't position him to make some more big plays," Carroll said after the Trojans 56-3 victory over the Spartans.
Carroll was even more vague during his Tuesday press conference when asked about the rotation.
"I don't know what that rotation was [against San Jose State] -- it was everybody played," Carroll said. "But we're going in with the same idea as we had last week. Joe, and you'll see a lot of guys play."
However the "rotation" is described, it worked against the Spartans. McKnight had 145 yards, including a 54-yard touchdown jaunt, and the Trojans finished with 354 yards rushing.
That long touchdown run was even punctuated by a flip into the endzone, which looked a lot like the guy McKnight grew up admiring: Reggie Bush.
McKnight told reporters he was really trippin' on that run.
When McKnight saw a terminally unhip media giving him knowing nods, he expanded.
"I was tripping ... I was falling," he clarified. "I didn't want to fall on the 1-yard line."
McKnight played the first two series before yielding to Bradford, but it's more likely McKnight went to the sidelines because he fumbled, an issue that has sprung up a few times during his career.
McKnight, however, returned for the next two possessions.
McKnight said knowing he'll get a handful of carries in sequence -- instead of a few touches here and there -- helps him fit into the flow of the game.
"It's always good to get into a rhythm in the game," he said. "You always want to get that home run hit, but you've got to be focused and get five yards here, five yards there. It will open up for you."
If there's a reason for the philosophy shift, which is subtle but clear, it's due to new playcaller Jeremy Bates, who intimated during the preseason that he wasn't a fan of not establishing a clear pecking order at the position.
Johnson finished with six rushes for 27 yards with two touchdowns. Bradford had four carries for 53 yards, most of which came on a 43-yard scoring run.
Marc Tyler
and
C.J. Gable
took over the position when the result was out of hand, combining for 109 yards on 12 carries.
Gable was the official starter in 12 games last year, so his status has slipped the most. Johnson led the Trojans with 138 carries for 728 yards in 2008.
Whoever runs the ball, he will benefit from an offensive line that doesn't miss many assignments and has a lot of experience with zone blocking. USC running backs were stopped for a loss only once -- Gable for minus-3 yards late in the game.
That said, the Ohio State defensive line is experienced and talented. It welcomes back seven of its top eight players from last season, and the unit has combined for 78 career starts.
McKnight will get first crack. But, if he's not effective, there still will be other appealing options.
August, 17, 2009
8/17/09
11:00
AM ET
Posted by ESPN.com's Ted Miller
Jeremy Bates only turns 33 on Aug. 27 but he's already driving a Lamborghini.
A "Lamborghini" being a reasonable metaphor for a USC offense that welcomes back nine starters from a crew that averaged 38 points and 455 yards per game in 2008.
That said, Bates' job, to beat this automotive analogy to death, is to replace the transmission, because the old one, Mark Sanchez, is presently competing to be the New York Jets' starting quarterback.
| | |
| --- | --- |
| | |
| | Jeff Golden/Getty Images |
| | Jeremy Bates is making the transition from the NFL to coaching at the college level. |
Bates was hired as USC's quarterback coach and offensive play-caller when Steve Sarkisian became Washington's head coach (actually, Bates replaced Carl Smith, who only was with the Trojans for two weeks before bolting back to the NFL).
What made Bates, son of longtime NFL assistant Jim Bates, look like a savvy hire was his work with Jake Cutler as the Denver Broncos' quarterbacks coach.
Now he's charged with transforming Aaron Corp or Matt Barkley -- both? -- into the next great USC quarterback.
He's new to the college game and there's a lot on his plate, but Bates stopped by for a chat.
Sure you've been asked this a bunch: You're an NFL lifer, what's the biggest difference between coaching in the NFL and college?
Jeremy Bates: The biggest difference is the kids' passion for the game. Every kid that we're coaching just loves the game. They're hungry. They're only playing for one reason -- they love the game of football. It's fun. It's been a great experience. The college kids get better every day.
How about recruiting -- has that grind been an adjustment?
JB: Yeah, it's the first time I went off on the road in the offseason. In the past, I've always used that month to study opponents. But this year I went out recruiting and it was a good experience. The No. 1 impression I've had is how advanced these high school football programs are becoming. It was neat to go out and meet coaches and see how these teams have grown offensively. You've got guys in four wides and doing audibles and all that. It's neat to see where the game of football is going and it all starts in high school. They're doing a great job making sure the game is just going to get better in the future.
April, 22, 2009
4/22/09
10:42
AM ET
Posted by ESPN.com's Ted Miller
Ever wonder what a coach might say about a quarterback competition the day before he announces a pecking order?
You're in luck!
USC coach Pete Carroll stopped by for a chat with the Pac-10 blog on Monday, the day before he announced on his Web site that Aaron Corp would emerge from spring practices No. 1 on the quarterback depth chart, ahead of true freshman Matt Barkley and Mitch Mustain.
| | |
| --- | --- |
| | |
| | Jed Jacobsohn/Getty Images |
| | Pete Carroll boasts an 88-15 record since arriving at USC. |
That bit of stolen thunder aside -- and the announcement was mostly a foregone conclusion -- it's never a bad time to talk with a coach who's 88-15 in eight years at USC and has finished ranked in the top four of the AP poll seven consecutive seasons.
After all, he's got a new book deal to benefit his charity, A Better LA, and a new Web site for kids.
And he's got a football team that likely will be favored to win its eighth consecutive Pac-10 championship and again compete for a national title.
Word on the street is you guys have an intense quarterback competition going on over there: Where does that stand?
Pete Carroll: Guys have really battled hard and done well. We're pleased with the play at the quarterback position. The competition is going to continue. We'll name a guy who's going to start the spring game for us and then the competition will just continue. We've got to call something here after a month of playing. We'll find out what happens when we get back to camp in the fall.
You've told me in the past you prefer to anoint a quarterback as early as possible to allow him to develop into a clear leader: How will that be a part of the decision in the fall?
PC: We'd like to do that [name a starter], but you've got to do the right thing and let the competition play itself out. What that means is, in the past when we named Matt Leinart over Matt Cassel, it meant that Leinart was going first and Cassel was battling him. The competition remained on. It will be the same situation. It's a very hard-fought, close competition and in fairness it's going to take longer to know exactly what we are going to do for the long haul.
It seems like running backs Curtis McNeal and Marc Tyler have asserted themselves this spring: Have they done enough to eclipse the established guys?
PC: I don't think there's any question Curtis McNeal has. Marc Tyler has been hurt most of the spring -- he's only had a couple of days when he's full speed. He's done well. But McNeal has taken advantage of the opportunity to be out there every day and he's really been effective.
April, 19, 2009
4/19/09
9:36
AM ET
Posted by ESPN's By Shelley Smith
LOS ANGELES -- After watching his quarterbacks perform in Saturday's penultimate scrimmage of the spring, USC quarterbacks coach Jeremy Bates said the race is so tight and so competitive that he and head coach Pete Carroll could take longer than expected to make a decision on who's No. 1.

"We went into it saying we were going to name someone at the end of spring, but it may be in the fall," Bates said. "These guys are all playing well. Each quarterback is moving the offense. It's a tough battle right now, it's a fun battle. It's not like we're worried; we're really happy."
These were Saturday's passing numbers:
Matt Barkley: 15 for 21, 186 yards, 1 TD, 1 interception
Aaron Corp: 13 for 18, 170 yards
Mitch Mustain: 3 for 6, 33 yards
Corp is mobile and looked very much like a leader on Saturday, running the offense decisively and seemingly effortlessly. Barkley said he felt good as well and was proud of the way he shook off the interception, which Carroll referred to as a "bonehead interception."
By watching the quarterbacks on the sideline, nobody would ever guess the battle is as competitive as it is. Barkley, Corp and Mustain (and fourth-string QB Garrett Green) are each All-Americans, and each wants this job as badly as the other. Still, they cheer one another on and talk constantly about what they did on the last series and how they could have done better. Why help the guy you're trying to beat out?
"To get better," Barkley said. "If you know that at your best you can beat your opponent -- we all have that mindset -- then why not push each other to be the best so you can get better?"
But high-fiving Corp after he moved the team into the end zone with ease, fueled by a spectacular 46-yard pass to Damian Williams?
"It's our team," Barkley said. "It's our offense scoring, so you got to be happy about that."
Carroll said he and Bates will talk this week after watching film and come to some sort of decision. His first impression was that each quarterback moved the ball well, and the tempo was good. The key now, with just a week left, is to finish strong and create a game-like situation for the final scrimmage of the spring next Saturday at the Coliseum.
April, 16, 2009
4/16/09
2:30
PM ET
Posted by ESPN.com's Ted Miller
I'm pretty sure there's a lot more to life than being really, really, ridiculously good looking. And I plan on finding out what that is.
March, 4, 2009
3/04/09
2:30
PM ET
Posted by ESPN.com's Ted Miller
Links for your hump day.
January, 20, 2009
1/20/09
2:30
PM ET
Posted by ESPN.com's Ted Miller
Don't link between meals.