January, 25, 2010
1/25/10
9:00
AM ET
It seemed only fitting that Saturday's East-West Shrine Game was decided on a touchdown connection between two Big Ten players.
The Big Ten contingent represented extremely well in Orlando, particularly in crunch time.
Northwestern quarterback
Mike Kafka
capped an impressive two-minute drill by finding Penn State tight end
Andrew Quarless
for a 2-yard touchdown with six seconds left in the game. The score lifted the East team to a
13-10 victory
.
Kafka and Quarless were two of several Big Ten NFL hopefuls who played big roles in the win. Wisconsin's O'Brien Schofield, a defensive end-turned linebacker, had an interception in the first half and Penn State quarterback
Daryll Clark
led two scoring drives for the East team.
Quarless, Clark and Penn State punter Jeremy Boone won at Orlando's Citrus Bowl Stadium for the second time in three weeks. Thankfully for all of the players in the Shrine Game, the field conditions were a lot better this time around.
Kafka, who earned Offensive MVP honors, completed 18 of 27 pass attempts for 150 yards with a touchdown and no interceptions. Clark was extremely efficient as a passer, completing 7 of 10 attempts for 75 yards.
Michigan State's
Blair White
recorded game highs in both receptions (7) and receiving yards (93), while Quarless had three receptions for 20-yards, including an exceptional one-handed grab on the final drive. Boone averaged 46 yards on five punts, placing one inside the 20-yard line.
ESPN's Scouts Inc. singled out Kafka and Indiana offensive lineman Rodger Saffold for their
strong performances in the game
.
Needless to say, several players improved their draft stock on Saturday. It'll be interesting to see if the Big Ten can keep its postseason momentum going this week at the Senior Bowl.
January, 13, 2010
1/13/10
2:00
PM ET
The Big Ten gave us plenty to remember in 2009, and here are 10 moments that stood out to me.
[+] Enlarge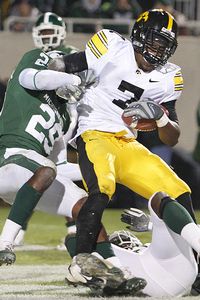 AP Photo/Al GoldisMarvin McNutt's TD reception as time expired gave the Hawkeyes the win over Michigan State.
Stanzi to McNutt with 0:00 on the clock:
Iowa's perfect record was on the line as the Hawkeyes offense lined up for one final play, trailing Michigan State 13-9 with two seconds left in an Oct. 24 game at Spartan Stadium. On fourth-and-goal from the 7-yard line, quarterback
Ricky Stanzi
found wide receiver
Marvin McNutt
in the end zone
for the win
as Iowa improved to 8-0.
Barclay kick comes up roses:
The pseudo Big Ten championship between Ohio State and Iowa went to overtime before Buckeyes backup kicker Devin Barclay, a 26-year-old former Major League Soccer player, drilled a 39-yard field goal for a
27-24 win
. Barclay's kick gave Ohio State the outright Big Ten title and its first berth in the Rose Bowl in 13 years.
Expansion on the table:
Arguably the Big Ten's biggest news story of 2009 didn't take place on the field, but in a meeting of league presidents and athletics directors in early December. The suits agreed to put league expansion on the front burner and
explore the possibility of adding a new member or members
. Though the Big Ten typically explores expansion every five years, the league's decision to go public about it is significant.
Decker gets decked but hangs on:
Minnesota wide receiver
Eric Decker
made a national name for himself against Cal, and one play stands out. Early in the second quarter, Decker
caught a 26-yard touchdown pass
and held on despite taking a vicious shot from Bears safety Sean Cattouse. He needed stitches in his chin but didn't miss a play and caught another touchdown just before halftime.
Rodriguez on the defensive:
After allegations of NCAA rule violations rocked Michigan a week before the season, an emotional
Rich Rodriguez defended his compliance record
and his approach with players at a Sept. 1 news conference. "We know the rules," Rodriguez said, "and we follow the rules." The NCAA launched an investigation into the allegations that has yet to conclude.
Bowl bliss for the Big Ten:
OK, so this isn't one moment, but four of them. Two took place in Orlando, one in Miami and one in Pasadena. They marked four bowl victories for Big Ten teams, all against top-15 opponents. These moments signified that the Big Ten hadn't fallen as far as many believed, and that the league will be a major player in the national title race in 2010.
Wootton sacks Stanzi:
It's rare when one play has as strong of an impact on two teams' seasons as Corey Wootton's
sack of Stanzi
did in a Nov. 7 game at Kinnick Stadium. It resulted in a Northwestern touchdown as the Wildcats went on to upset Iowa and go 3-0 in November to reach a New Year's Day bowl. Stanzi suffered a severe ankle sprain and missed the rest of the regular season, as Iowa saw its hopes for a perfect season and the Big Ten title disappear.
Fearless Forcier rallies Michigan past Irish:
The Michigan-Notre Dame game turned out to be an entertaining matchup between two very mediocre teams, but it also put
Tate Forcier
on the national radar. Forcier led the game-winning drive in the final minutes and found
Greg Mathews
in the end zone
with 11 seconds left
. The freshman accounted for three touchdowns (2 pass, 1 rush) and 310 total yards.
Illini season ends with a thud:
Illinois would like to forget the 2009 season, but it's easy to remember how the miserable campaign ended for Ron Zook's squad. Illinois led 52-51 as Fresno State went for a two-point conversion and the win.
Ryan Colburn
's desperation pass deflected to Devan Cunningham, a 350-pound offensive tackle, who
rumbled into the end zone
to give Fresno a 53-52 win.
Penn State punt team gets punk'd:
At a rain-soaked Beaver Stadium, Penn State led Iowa 10-5 early in the fourth quarter when Hawkeyes defensive end Adrian Clayborn trucked Nick Sukay, blocked Jeremy Boone's punt and
raced 53 yards to the end zone
. The play turned around the game, launched Iowa's magical run and handed Penn State a painful loss.
September, 27, 2009
9/27/09
1:12
AM ET

Posted by ESPN.com's Adam Rittenberg
STATE COLLEGE, Pa. -- You're not supposed to get a block in punt safe.
The very nature of the coverage scheme calls for the receiving team to set up its blocking and ensure a quality return. The punter doesn't get all day back there, and a handful of players are sent blitzing toward him, but no one ever expects a block.
Fortunately for the
Iowa Hawkeyes
, Adrian Clayborn doesn't think this way.
| | |
| --- | --- |
| | |
| | Don McPeak/US Presswire |
| | Iowa's Adrian Clayborn blocked a punt and returned it 53 yards for a touchdown. |
"They teach us to go hard every play because you never know what's going to happen," the Iowa junior defensive end said. "If I didn't go hard that play, who knows the outcome?"
If Clayborn doesn't go hard, Iowa might not secure a
21-10 win
against Penn State. If Clayborn doesn't go hard, the Hawkeyes might not be a legit Big Ten title contender.
If Clayborn doesn't go hard, Iowa might not notch a defining road win against a top-5 team, the program's first since 1990 against Illinois.
"For some reason, I was confused," Hawkeyes wide receiver
Derrell Johnson-Koulianos
said. "I'm like, 'Is this happening?' It didn't seem like it was supposed to happen."
It wasn't, but it did, and Clayborn's punt block early in the fourth quarter totally changed the complexion of the game. For the second time in this young season, special teams helped secure a victory.
But unlike the season opener, in which Iowa needed two blocked field goals to survive a scare from FCS Northern Iowa, Clayborn's block made a national statement that these Hawkeyes are for real.
"It was just a great play," running back
Adam Robinson
said. "From that point, our team was a different team."
Iowa's coaches teach their players to go "six seconds of Hell on every snap." As Clayborn lined up for the Penn State punt, he decided to make things hellish for Nittany Lions safety Nick Sukay.
Darrell Wilson, Iowa's linebackers and co-special teams coach, told Clayborn that Sukay lined up deep, giving the rushers a chance to penetrate. Clayborn capitalized and bulldozed Sukay, leaving punter Jeremy Boone like an unprotected king on the chessboard.
The only thing better than the block was the bounce, which went right to Clayborn.
"I honestly don't remember catching it," he said. "I remember being in the end zone with people trying to tackle me."
Clayborn's 53-yard path to the end zone felt like a blur. Looked like one, too.
"I've never seen a play like that by a big guy," head coach Kirk Ferentz said.
"He's a monster," linebacker Jeremiha Hunter said.
Clayborn blocked a field goal as a redshirt freshman in 2007, but he hadn't scored a touchdown since his high school days in St. Louis, when he played both linebacker and tight end.
"That was 40 pounds ago," Clayborn joked.
The extra bulk has served the 282-pound Clayborn well, especially in big games. He set the tone for last year's win against Penn State by sacking quarterback
Daryll Clark
near the goal line and forcing a fumble on the third play of the game. Clayborn had six tackles, two for loss, in the win.
After a slow start against Northern Iowa, he picked things up last week with a forced fumble, a sack and three quarterback hurries in a win over Arizona.
"He's our undisputed leader right now," defensive tackle Christian Ballard said. "We all rally around him. He's the general for the D-line. We look for him to get us going when we're down."
Clayborn provided the lift Iowa needed, though the magnitude of the moment didn't hit him after the game ended.
"Me, I'm still soaking it in," he said. "It's a huge win for our team, the state of Iowa, everybody. We're enjoying it. We're just a little shocked, and glad we pulled it out."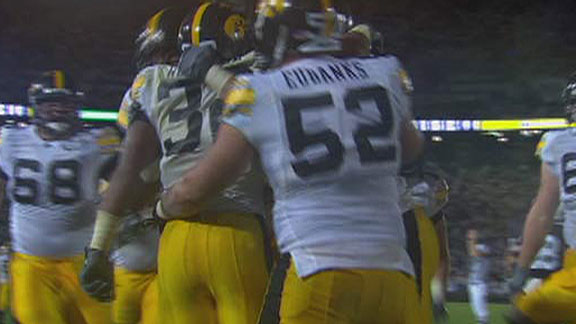 September, 26, 2009
9/26/09
11:05
PM ET

Posted by ESPN.com's Adam Rittenberg
STATE COLLEGE, Pa. -- You just knew Adrian Clayborn would put his mark on this game one way or another.
The Iowa defensive end had a huge game in last year's win against Penn State, and he came off a dominant performance against Arizona a week ago. But for three quarters, Iowa's other defensive end, Broderick Binns, had stolen the show.
Thank goodness for special teams. Clayborn blew up Nick Sukay, blocked Jeremy Boone's punt, collected the ball on two hops and raced 52 yards to the end zone for the go-ahead touchdown. It marked Iowa's first blocked punt for a touchdown since the 2005 Capital One Bowl against LSU. Boone never had a punt blocked before, while Clayborn blocked a field goal attempt as a freshman.
Sukay has had a rough night on special teams. He also had a roughing the punter penalty that prolonged an Iowa drive in the first half.
Iowa's offense has done absolutely nothing to deserve the win, but Norm Parker's defense has carried the day.
Ricky Stanzi
should take Clayborn, Binns and the
defensive
line out to dinner if the Hawkeyes hold on.
You know this score (11-10) reminds Penn State fans of the 6-4 Iowa win in 2004.
December, 31, 2008
12/31/08
12:08
PM ET
Posted by ESPN.com's Adam Rittenberg
So far, I'm 1-1 in bowl picks, though I should have had more faith in Northwestern and a lot less in Wisconsin. Despite an 0-2 start to the bowl season, the Big Ten can redeem itself in January. A BCS bowl win or two would go a long way toward repairing the league's national image, though it won't be easy at all.
Here's how I see the last four bowls shaping up.
OUTBACK BOWL -- Iowa 24, South Carolina 14
The Hawkeyes are the better team and ended the season strong, while South Carolina stumbled down the stretch. Both teams are solid on defense, ranking 12th (South Carolina) and 13th (Iowa) nationally. The difference is Iowa found an offensive identity toward the second half of the season, while South Carolina's search continues. Hawkeyes running back Shonn Greene has another big game on a national stage, and he'll get plenty of chances because South Carolina is so strong against the pass. Iowa defensive tackles Mitch King and Matt Kroul will stuff the run in their final collegiate game, forcing South Carolina to throw against a defense that generates a ton of turnovers. Unless quarterback Ricky Stanzi regresses, Iowa will get the Big Ten a bowl win.
CAPITAL ONE -- Georgia 37, Michigan State 21
Mark Dantonio and his staff did an amazing job to get everything they could out of their players this season. But looking at how Michigan State struggled against elite offensive teams, there's little to suggest the Spartans can slow down a Georgia offense stocked with future NFL players. If Spartans star running back Javon Ringer controls the clock and Michigan State's defensive line puts pressure on Matthew Stafford, an upset isn't out of the question. Georgia hasn't defended the run well at times this season, and the Bulldogs will get a heavy dose of Ringer. But the Bulldogs have too many weapons, and they'll pull away down the stretch to snap the Big Ten's Capital One Bowl win streak.
ROSE PRESENTED BY CITI -- Penn State 17, USC 14
There's really no reason to pick against USC in a big game, especially one in Pasadena. But there's something special about this Penn State team: the way they overcame offseason turmoil, the way they blitzed through most of the season and the way they made improvement in every facet of the game. So after a lot of thought, I decided not to play it safe in the Rose Bowl Game. USC has to lose one of these games, and Penn State has what it takes to beat the Trojans, especially on defense. There won't be a lot of points, but special teams proves to be the difference for Penn State. Derrick Williams breaks off a big return and specialists Kevin Kelly and Jeremy Boone both step up as the Lions prevail in a defensive struggle.
TOSTITOS FIESTA -- Texas 30, Ohio State 21
Texas was supposed to be a year away, while Ohio State entered the season stocked with seniors and major contributors. But the Longhorns have evolved into the more complete team. Ohio State's identity, particularly on offense, took a long time to develop. The Buckeyes are definitely playing their best football, particularly along the defensive line, and freshman quarterback Terrelle Pryor won't flinch in the national spotlight. If Ohio State's defensive front puts pressure on Colt McCoy and heralded linebacker James Laurinaitis makes a huge play, the Buckeyes could pull off the upset. But Ohio State's offense is too reliant on the big play, and an offensive line that struggled for most of the season won't hold down Brian Orakpo and a Texas defense that leads the nation in sacks.
Postseason record: 1-1 (50 percent)
Regular-season record: 71-17 (80.7 percent)
December, 31, 2008
12/31/08
10:48
AM ET
Posted by ESPN.com's Adam Rittenberg
The final 2008 edition of What to Watch examines the four remaining Big Ten bowl games: Outback, Capital One, Rose and Fiesta. The Big Ten is winless so far in the bowl season and is favored in only one bowl (Iowa, Outback).
Here are some subplots to watch as you watch the games (in order of kickoff time).
1. Iowa running back Shonn Greene -- Big Ten fans should be somewhat familiar with Greene, but most of the country will get its first glimpse of the Hawkeyes' superstar on Thursday against South Carolina. The Doak Walker Award winner has eclipsed 100 rushing yards in all 12 regular-season games but faces a stout South Carolina defense. This likely will be Greene's final collegiate game, so get a good look while you can.
2. The Hawkeyes' back seven vs. Stephen Garcia -- Garcia gets the start at quarterback for South Carolina and hopes to provide some stability under center. The redshirt freshman has six touchdown passes and five interceptions on the season, and he'll need to limit mistakes against an Iowa defense that forces plenty of them. Iowa led the Big Ten with 20 interceptions, with five players collecting multiple picks.
3. Michigan State quarterback Brian Hoyer -- His last bowl appearance was a disaster, as he committed five turnovers (4 INTs, fumble) in a loss to Boston College. Georgia undoubtedly will load up to stop Javon Ringer and make Hoyer win the game for Michigan State. Though Hoyer's numbers this season won't blow anyone away, he has made clutch throws and found ways to win games. If he can stretch the field with Blair White, rushing lanes should open for Ringer.
4. Michigan State's defensive line vs. Georgia's offensive line -- If the Spartans manage to slow down Georgia, it has to start up front. Michigan State's defensive line has more experience and must find ways to exploit Georgia's front five. Rush end Trevor Anderson finished the year with eight sacks andBrandon Long and Justin Kershaw combined for seven more. If Matthew Stafford has time in the pocket, Michigan State will be in big trouble.
5. Joe Paterno's whereabouts -- It doesn't really matter where Paterno watches the Rose Bowl, but his potential return to the sideline after seven consecutive games in the press box might give Penn State an emotional lift. Paterno admits he sees the field better from up top, but the 82-year-old is itching to get back to where he belongs. His location likely will be a game-time decision, and the officiating crew better be on its toes if JoePa returns to the sideline.
6. Quarterback Daryll Clark and Penn State's offensive strategy -- Clark got his swagger back in the regular-season finale against Michigan State and enters the Rose Bowl stocked with confidence. But he goes up against quite possibly the best defense in recent college history. Though Clark has been smart and efficient all season (four interceptions in 285 pass attempts), Penn State likely needs to challenge USC down the field. A passive approach simply won't work in this game, and play-callers Galen Hall and Jay Paterno need to go right at USC's strength.
7. Penn State's special teams -- These two defenses could easily cancel one another out -- Penn State can play some 'D', too -- and the Rose Bowl might come down to special teams. Penn State senior return man Derrick Williams has been outstanding this season and needs another huge performance against USC. If Williams can give Penn State short fields and Kevin Kelly converts his field goal attempts, the Lions could outlast the Trojans. Punter Jeremy Boone also could play a big role in this one, and Penn State must contain the Johnsons (Ronald and Stafon) on USC's returns.
8. Ohio State's Pryor-Wells backfield combo -- If the Buckeyes' much-maligned offensive line steps up to create rushing lanes and time in the pocket, Terrelle Pryor and Chris "Beanie" Wells should do some damage in the Fiesta Bowl. Pryor has shown beyond-his-years poise this season, but the national spotlight gets brighter for the true freshman quarterback Jan. 5. The game likely will be Wells' last in a Buckeyes' uniform, and he'll want to go out with a huge performance after a season that began with Heisman Trophy hopes.
9. Buckeyes senior stars vs. Colt McCoy -- Linebacker James Laurinaitis and cornerback Malcolm Jenkins will go down as two of the best ever to play their positions at Ohio State. They don't want to finish their careers with a third consecutive postseason loss, one that would only ramp up criticism of the Ohio State program. Texas quarterback Colt McCoy provides a formidable final challenge, but Ohio State's defense played its best football in the second half of the season. The Buckeyes need their senior stars to make game-changing plays, and Laurinaitis and Jenkins need a win to cement their legacy outside of Columbus and the Big Ten.
10. Ohio State head coach Jim Tressel -- He's about as far away from the hot seat as a FBS head coach can get, but Tressel and his program really could use a win in the desert. Ohio State hasn't won a national showcase game outside of the Big Ten since 2006 (Texas), and despite the team's obvious improvement in November, the USC disaster remains the lasting image of the Buckeyes' season. Tressel has drawn criticism for what some feel is a stale offense. If he pulls the right strings with some more creative play calling, Ohio State could pull off the upset.
October, 25, 2008
10/25/08
9:52
PM ET
Posted by ESPN.com's Adam Rittenberg
COLUMBUS, Ohio -- There are actually points on the board, so this update might be marginally more interesting than the last one.
I know the Big Ten isn't exactly the Big 12, but this feels more like an SEC game at the half. Several ferocious hits have been dished out on both sides of the ball, and besides two blown coverages, the defenses continue to dominate.
Unless one of these teams finds a running game in the second half, this contest likely will be decided by special teams and field position. Ohio State coach Jim Tressel has been a master at both throughout this career, but Penn State is moving the ball a bit better than the Buckeyes. Running back Chris "Beanie" Wells entered tonight with an excellent big-game track record, but he hasn't gotten much going so far (10 carries, 11 yards).
Penn State's swarming front seven has clogged rushing lanes and forced Ohio State to run outside. If there's a troubling trend for Penn State, it's third-down defense. Ohio State has converted three third downs of seven yards or longer, as well as a second-and-19 on the final drive of the half.
Terrelle Pryor has gone 9-for-14 passing, but two of his completions went for 53 and 33 yards. Penn State completely blew its coverage on the 53-yarder to Dane Sanzenbacher (4 catches 76 yards), but the Lions' held from there.
I've been very impressed with Ohio State's defensive line so far. Evan Royster is averaging just three yards per carry, nearly five below his season average. Aside from a blown coverage that allowed Daryll Clark to find Graham Zug for a 49-yard gain, the Buckeyes have looked tough.
Laugh all you want, but the first-half game balls go to the four specialists: punters Jeremy Boone and A.J. Trapasso and kickers Kevin Kelly and Aaron Pettrey. Expect more big plays in the second half, but these four could decide the game.
October, 25, 2008
10/25/08
9:07
PM ET
Posted by ESPN.com's Adam Rittenberg
COLUMBUS, Ohio -- Do you like defense? If so, stick around a while.
For all the talk about Terrelle Pryor and Daryll Clark, big-game Beanie and the Spread HD, both defenses have dominated this one so far. Thaddeus Gibson adds a major playmaking presence to Ohio State's defensive front, which has shut down Evan Royster and limited runs up the middle. Penn State's defensive line is doing the same thing with Chris "Beanie" Wells, as defensive tackle Jared Odrick and linebacker Navorro Bowman tallied tackles for loss. Wells has six carries for five yards. Not good.
Some interesting developments on offense, despite no points. Penn State is using Derrick Williams a lot in the backfield, and the senior wideout gained 13 yards on the first play from scrimmage. Ohio State curiously started senior Maurice Wells but replaced him with Chris Wells on the second play. Pryor continues to be at his best on the run, but he's having a rough time finding open targets down the field.
This game could very well be decided by special teams, and both punters (A.J. Trapasso and Jeremy Boone) have looked impressive so far. Yes, I just praised the punters.
August, 26, 2008
8/26/08
10:43
AM ET
Posted by ESPN.com's Adam Rittenberg
It's time to predict the Big Ten all-conference team for 2008. Some of the names you'll recognize. Others might be a little hazy at this point, but not for long.
OFFENSE
QB: Curtis Painter, Purdue, Sr., 6-4, 230
RB: Chris "Beanie" Wells, Ohio State, Jr., 6-1, 237
RB: Javon Ringer, Michigan State, Sr., 5-9, 202
WR: Arrelious "Regus" Benn, Illinois, So., 6-2, 214
WR: Brian Robiskie, Ohio State, Sr., 6-3, 199
TE: Travis Beckum, Wisconsin, Sr., 6-4, 236
LT: Alex Boone, Ohio State, Sr., 6-8, 312
LG: Kraig Urbik, Wisconsin, Sr., 6-6, 332
C: A.Q. Shipley, Penn State, Sr., 6-1, 297
RG: Rich Ohrnberger, Penn State, Sr. 6-2, 291
RT: Xavier Fulton, Illinois, Sr., 6-5, 300
DEFENSE
DE: Maurice Evans, Penn State, Jr., 6-2, 264
DT: Mitch King, Iowa, Sr., 6-3, 280
DT: Terrance Taylor, Michigan, Sr., 6-0, 319
DE: Greg Middleton, Indiana, Jr., 6-3, 279
LB: James Laurinaitis, Ohio State, Sr., 6-3, 240
LB: Greg Jones, Michigan State, So., 6-1, 222
LB: Marcus Freeman, Ohio State, Sr., 6-1, 239
CB: Vontae Davis, Illinois, Jr., 6-0, 204
CB: Malcolm Jenkins, Ohio State, Sr., 6-1, 201
S: Anthony Scirrotto, Penn State, Sr., 6-0, 192
S: Anderson Russell, Ohio State, Jr. 6-0, 205
SPECIAL TEAMS
PK: Austin Starr, Indiana, Sr., 6-3, 198
P: Jeremy Boone, Penn State, Jr., 5-9, 194
KR: Marcus Thigpen, Indiana, Sr., 5-9, 193
PR: David Gilreath, Wisconsin, So., 5-11, 165