NCF Nation:

Jeremy Liggins
July, 25, 2014
Jul 25
9:00
AM ET
BRISTOL, Conn. -- Ole Miss coach Hugh Freeze isn't sure how the Rebels will use highly-regarded junior-college transfer
Jeremy Liggins
this coming season.
Liggins will start training camp working as a tight end, but Freeze also plans to install a package in which Liggins will play quarterback in short-yardage and goal-line situations.
[+] Enlarge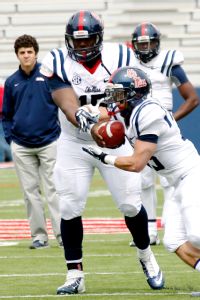 AP Photo/Rogelio V. SolisJeremy Liggins, who reported to Ole Miss this past winter weighing 310 pounds, will start as a tight end, could play quarterback and may finish as an offensive lineman.
Liggins' long-term role with the team might very well be determined by his appetite and waistline.
"He might end up being an offensive lineman before it's all over -- an NFL one," Freeze said.
Freeze said Liggins reported to Ole Miss this past winter weighing about 310 pounds. Liggins has dropped about 30 pounds over the past several months, but Freeze said he's still too big to play quarterback in his spread offense.
Plus, the Rebels have senior
Bo Wallace
, who is one of the SEC's top returning quarterbacks.
"He can throw it, but he couldn't be our full-time quarterback right now with the tempo and everything else," Freeze said. "I do think he can handle short yardage and some other things."
Liggins has been something of a local legend around Ole Miss, so fans will be clamoring for him to see the field quickly this coming season. Liggins grew up in Oxford, Mississippi, and after leading Lafayette High School to 23 consecutive wins and back-to-back Class 4A state championships in 2010 and '11, he spurned the hometown Rebels and signed to play for LSU in February 2012. Predictably, Liggins was heavily criticized for his decision.
But Liggins failed to academically qualify after signing with the Tigers and bounced around the next season. He enrolled at Northeast Mississippi Community College last year, where he played three games at defensive end and four games at quarterback. He was ranked the No. 2 juco athlete and No. 20 juco prospect overall by ESPN Recruiting.
"He's just an athlete," Freeze said. "He's really a freak."
September, 12, 2012
9/12/12
11:45
AM ET
LSU coach Les Miles confirmed on Wednesday that five players have been ruled out for the 2012 season.
The
New Orleans Times-Picayune reported
on Tuesday that linebackers
Tahj Jones
and
D.J. Welter
, tight end
Tyler Edwards
and offensive lineman
Evan Washington
have all been ruled academically ineligible, according to a source close to the program.
Miles wouldn't comment on if the players were ruled academically ineligible.
"I don't know that it's fair for me to confirm that, to be honest with you," Miles said during Wednesday's SEC coaches call. "There's a privacy responsibility that I have. Those guys will not play this year. I don't know that I can tell you the specifics as to why and why not."
Miles also said that sophomore defensive end
Jordan Allen
will miss the rest of the season due to injury.
This just gives LSU more depth issues to deal with. The Tigers lost freshman signees Avery Johnson (wide receiver) and Jeremy Liggins (quarterback), and junior college transfer offensive lineman Fehoko Fanaika because they couldn't qualify academically.
LSU also dismissed All-American and Heisman finalist Tyrann Mathieu before the season started. Junior offensive tackle
Chris Faulk
and freshman wide receiver
Travin Dural
are also out for the year because of injuries.
Jones, a junior, was expected to compete for the Sam linebacker position, but had yet to see any game action this year. He played in all 14 games last season, making one start, and registered 33 tackles, 3.5 tackles for loss, one interception and one fumble recovery. He has played in 27 career games.
Edwards, a senior, has played in 39 career games with one start as more of a blocker and has one catch for 10 yards.
February, 9, 2012
2/09/12
4:38
PM ET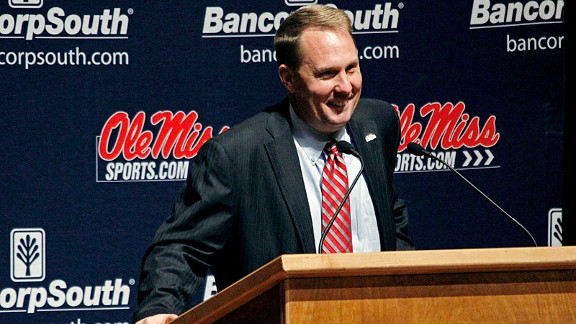 AP Photo/Rogelio V. SolisHugh Freeze is all smiles now, but he takes over a program that has lost 14 straight SEC games.
This week marked a special time in Hugh Freeze's life.
And it had nothing to do with player evaluations, recruiting or clocking 40 times.
This was the first time Ole Miss' new head coach actually got to see what organization looked like in his office. Gone were the boxes that littered his floors and the loose papers that cluttered his desk.
There is some sort of balance in his workspace, but there are still voice mails and emails that haven't been returned. It's not that he's dismissed them; he just hasn't had time to respond.
"I really don't have everything in order yet," Freeze said.
Yet, he's happy to see some sort of sanity return. Since Freeze was announced as Ole Miss' 37th head coach on Dec. 5, he's had one team meeting and a whole lot of recruiting on his mind.
Freeze, who returns to Ole Miss after spending three years on Ed Orgeron's staff, has barely moved into Danny Nutt's (Houston Nutt's brother) old house because he had to build relationships with committed and uncommitted prospects with less than two months until national signing day. And he had to do so at a program that had endured two straight seasons in the SEC's cellar, winning just six games and dropping 14 straight league games, including three straight to archrival Mississippi State.
Ole Miss' longer winter break also meant that he only had one official visit weekend in which students would be on campus -- the final one.
"As you know, Oxford is a different place when the kids are here," Freeze said.
It is, and Freeze worried that prospects wouldn't be able to really digest the Ole Miss experience without them.
But on national signing day, Freeze finished off his class of 18 with a pretty successful turnout. Freeze signed a solid defensive foundation in four-star defensive linemen
Issac Gross
,
Channing Ward
and safety
Trae Elston
.
Though Freeze suffered tough losses, including local star
Jeremy Liggins
, who signed with LSU, he saved six initial scholarships that can be counted back next year and he thinks he signed "quality kids who really want to be at Ole Miss."
Now, he has to make sure he has those players on his current roster. Freeze isn't pointing fingers, but he knows that discipline is an issue at Ole Miss. The mindset isn't toxic, but it isn't great.
[+] Enlarge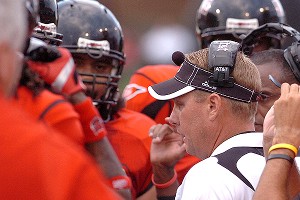 AP Photo/Saundra SovickHugh Freeze is familiar with rebuilding programs. He turned Arkansas State into a winner in 2011.
Freeze is well aware of the off-field incidents and the questionable heart this team showed on the field last season. Therefore, he's calling for an overhaul. Things will change mentally and physically for these players.
"It is requiring them to get out of their comfort zone and change what they're used to," Freeze said.
Freeze's situation at Ole Miss is similar to the one he had at Arkansas State. During his one season as ASU's head coach last year, he had players who had never had a winning season. Expunging the losing attitudes was step 1.
Step 2 was developing the talent at a faster, more efficient rate. Freeze created a well-disciplined team that won the Sun Belt after getting 10 wins for the first time since 1986. Freeze earned Sun Belt Coach of the Year, while 13 of his players earned all-league honors.
Can that overnight success be duplicated in Oxford? Freeze isn't expecting such a dramatic turnaround, but he does anticipate immediate improvement. He won't settle for mediocrity. He didn't return just for Ajax Diner's veggies smothered in bacon and grease or the flawlessly battered catfish at Taylor Grocery.
He came home to win ball games and change the culture of Ole Miss football. He knows the offensive line wasn't recruited for a more "power-type offense" and that youth ran the 2011 team.
But he also knows that he has the pieces in place to run his high-octane, spread offense. There are dual-threat quarterbacks galore, including Bo Wallace, who at one time was an ASU signee, and the Rebels have quality speed at the skill positions.
Freeze doesn't view Ole Miss' program as bleak, and while the Rebels spent 2011 at the bottom of the SEC pile, with time, Freeze believes he can get this program to rebound.
"I do believe with all my heart that we'll get back to being competitive and hopefully we'll do it sooner rather than later, but I've got to preach to myself patience," he said. "I'm not a very patient guy, but I've got to be patient with these guys. Hopefully, there's a large percentage of the team that wants to change the way things are and we can get them to buy in. Hopefully, the ones who are on the fence can buy in with us."
Still, inconsistency has thrived at Ole Miss. There's the idea that Freeze isn't experienced enough. There's the fact that the Rebels haven't been to the SEC championship game and have won 10 games just once since 1971.
The Rebels have ways to go before they'll really compete in the SEC, but Freeze hopes he can shake the stigma that winning at Ole Miss is preposterous.
"I embrace that. I don't run from it and we acknowledge it," he said. "I obviously think it can be done or I would have taken one of those other jobs that I had. I do think it's going to take all of our efforts and us being of one mind, one accord on the same page with our fan base and our staff, and us changing the way we think of ourselves.
"It'll take time."