NCF Nation:

Jermaine Whitehead
September, 26, 2014
Sep 26
11:05
AM ET
Like Roc-A-Fella Records, can we please acknowledge that Auburn is definitely in the building?
Four full weeks into the 2014 college football season, and we still aren't
really
talking about the defending SEC champions. Did I miss something? Wasn't this team 13 seconds away from winning the final BCS national title game at the end of last season?
Despite returning a handful of starters on both sides of the ball to a team that made a fantastic run through the SEC only a year removed from being a certifiable dumpster fire on the Plains, the fifth-ranked Tigers (3-0, 1-0 SEC) entered the 2014 season ranked behind Alabama, which Auburn beat last fall -- on a miracle play, but still beat.
And even after a perfect start, which includes a 24-point win over a much-improved Arkansas team and a tough road win at No. 20 Kansas State, it's as if the Tigers are in our peripheral vision. Texas A&M (4-0, 1-0) is ranked one spot behind Auburn, yet has four first-place votes to Auburn's zero.
If you look at what Auburn has done thus far, the argument can certainly be made that it is probably the most complete team of the SEC's preseason favorites. The offense is balanced, and the defense is much improved. There's a quality veteran quarterback and a hot-shot coach running things.
You are what your record is, right?
The Tigers have done everything asked of them, and done it well. You say their six-point win over a Kansas State team that narrowly escaped what would have been an epic upset against lowly Iowa State isn't impressive enough? Well, I think you should look deeper at what the Tigers did to claw their way out of Manhattan, Kansas.
There were some mistakes on Kansas State's part that certainly helped Auburn, but one thing that really stuck out to me was how Auburn turned to its passing game to win. Kansas State's stout run defense thwarted Auburn's dynamic rushing attack, allowing just 128 rushing yards and a paltry 2.8 yards per carry (the lowest in the Gus Malzahn era). Auburn hadn't been held to under 300 rushing yards in either of its first two games, and this marked just the second time in 17 games under Malzahn that the Tigers were held below 200 rushing yards.
With the running game in a shambles, quarterback
Nick Marshall
was given the green light to chuck away. This is the same quarterback we've had to question multiple times when it comes to being a more consistent passer. Well, the coaches didn't question him, and he didn't disappoint, throwing for 231 yards and two touchdowns. Marshall came up with a clutch game-winning throw -- again -- in the fourth quarter when he found a wide-open
D'haquille Williams
for a 39-yard gain on third-and-9 with 2:06 remaining.
The Tigers also forced three turnovers without key defender
Jermaine Whitehead
even in the state.
But it shouldn't surprise us, how this defense has played thus far. Auburn ranks fourth in the SEC, giving up just 310.7 yards per game. Last season, the Tigers didn't hold a team under 415 yards of offense until Oct. 12 against Western Carolina.
Auburn limited Arkansas, which leads the SEC with 324.5 rushing yards per game, to just 153 yards on the ground. The Tigers, which gave up 163 rushing yards per game last year, are surrendering 86 per contest so far. And what's even more impressive is the fact that Auburn is playing without arguably its best defender, defensive end
Carl Lawson
, who is recovering from ACL surgery.
Auburn ranks within the top half of the SEC in seven of the eight major offensive and defensive categories. The offensive line has surrendered one sack, the running game is just as potent this year (262.7 yards per game), and the receiving corps got a major upgrade with Williams (two 100-yard receiving games in his first three games with the Tigers) becoming the only Auburn receiver in the past 10 seasons to have multiple such games before the end of September, according to ESPN Stats & Information.
Auburn isn't perfect, and the Tigers will continue to face tougher competition as they tangle with the teeth of the conference schedule, but this isn't a team that should be overlooked, and for some reason it is.
Fool me once, right?
August, 31, 2014
Aug 31
1:10
AM ET
Wow, what a first weekend of football around the SEC. And it's not over yet, since Tennessee-Utah State will wrap up the weekend on Sunday.
For now, though, let's recap some of what we've learned so far about the SEC of 2014.
[+] Enlarge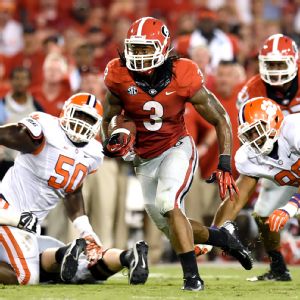 Dale Zanine/USA TODAY SportsTodd Gurley and Georgia made a loud statement with their 45-21 trouncing of Clemson on Saturday.
The league looks wide open:
If we learned anything over the last couple of days, it's that both of these division races will be wide open. It started when Eastern Division favorite South Carolina laid an egg against Texas A&M on Thursday, but several of Saturday's games only solidified the point.
Alabama -- particularly its reconstructed secondary -- had all sorts of problems against West Virginia and its vaunted passing game. Defending league champ Auburn remains an offensive juggernaut, but its defense got manhandled at times early by an improving Arkansas offense. And LSU was on the verge of getting blown out early in the second half before a fake punt gave the Tigers some life, helping them rally from a 24-7 deficit to beat Wisconsin 28-24.
With Texas A&M and Georgia also making statements with impressive wins in their season debuts, it's evident that nobody has a cakewalk to reach Atlanta. The preseason favorites all have questions to answer, and there are several candidates to rise from the middle of the pack to challenge them.
Heisman hopefuls make moves:
Texas A&M quarterback
Kenny Hill
wasn't the only SEC player to jump into the Heisman Trophy conversation. Hill's school-record 511 passing yards and three touchdowns on 44-for-60 passing had to go down as one of the most impressive starting debuts in recent memory. But he had company among SEC offensive standouts.
Todd Gurley
broke Rodney Hampton's Georgia record with 293 all-purpose yards against Clemson -- 198 on the ground and 100 more on a kickoff return for a touchdown (he lost five yards receiving). Between his running and a dominant second half from Jeremy Pruitt's defense, the Bulldogs were able to bury Clemson 45-21.
Cameron Artis-Payne
ran for 122 yards in the second half against Arkansas and finished with 26 carries for 177 yards and a touchdown as Auburn held the Razorbacks scoreless in the second half to put away a 45-21 win.
Quarterback races progress:
Hill made as emphatic a statement as possible about his status as Texas A&M's starting quarterback after winning a preseason battle. But some of the league's other QB races remain, well, unclear.
Blake Sims
(24-33, 250 yards, INT, plus 42 rushing yards) did a fine job in taking nearly every snap in Alabama's win over West Virginia. And
Patrick Towles
(20-29, 377 yards, TD, plus a 23-yard rushing score) was outstanding in Kentucky's rout of overmatched Tennessee-Martin.
But then a couple of QB battles don't seem resolved at all. LSU's
Anthony Jennings
played most of the game against Wisconsin, but the Tigers' offense struggled mightily before closing with a flourish. He finished 9-for-21 for 238 yards and two touchdowns. However, freshman
Brandon Harris
looked lost during the one series he was in the game, so he doesn't appear to be a better option right now.
Vanderbilt also faces a bit of a quandary at the position.
Stephen Rivers
(12-25, 186 yards, INT),
Patton Robinette
(4-6, 38 yards) and
Johnny McCrary
(0-3, 2 INTs) all played, but nothing went right for the Commodores in a 37-7 loss to Temple.
We'll see how Tennessee's
Justin Worley
fares on Sunday night after winning the Volunteers' preseason QB battle.
Bad teams are better:
Arkansas and Kentucky -- two teams that went winless in SEC play a season ago -- made it clear that they will be tougher in 2014.
It's difficult to know what to make of Kentucky's 59-14 win over UT-Martin. We probably shouldn't read too much into a blowout against a middling FCS program, after all. And yet the Wildcats showed off some impressive new weapons.
How about Nebraska transfer
Braylon Heard
taking his only two carries for touchdowns of 73 and 43 yards? And Towles connecting with 10 different receivers? It was an impressive debut to be sure.
Even in a losing effort, Arkansas' physicality had to be what Razorbacks fans wanted to see from a club that lost nine straight games to close out the 2013 season. They pushed Auburn around for a portion of the game and were still thinking upset until Auburn's
Jermaine Whitehead
made it a two-touchdown game by returning a deflected pass for a score with 2:39 left in the third quarter.
Auburn really can pass:
We heard all offseason that Auburn would put the ball in the air more frequently this season, and it looks like the Tigers have the pieces in place to do that.
Junior college transfer
D'haquille Williams
was outstanding in his Auburn debut, catching nine passes for 154 yards and a touchdown, while
Nick Marshall
and
Jeremy Johnson
combined to throw for 293 yards and a pair of scores. The ground game is still the Tigers' calling card (Auburn rushed for 302 yards), but they're going to be even tougher to defend if they keep throwing like this.
August, 30, 2014
Aug 30
10:30
PM ET
AUBURN, Ala. – It was a tale of two halves for No. 6 Auburn, both with their quarterbacks and with their defense.
In the first half, quarterback
Jeremy Johnson
took advantage of his opportunity and threw for 243 yards and two touchdowns. The defense, on the other hand, didn't look so good. Arkansas rushed for 151 yards in the first half and put up 21 points.
In the second half, Gus Malzahn turned to
Nick Marshall
at quarterback, and the defense shut down the Razorbacks as Auburn rolled to a
45-21 victory
.
The rise of Duke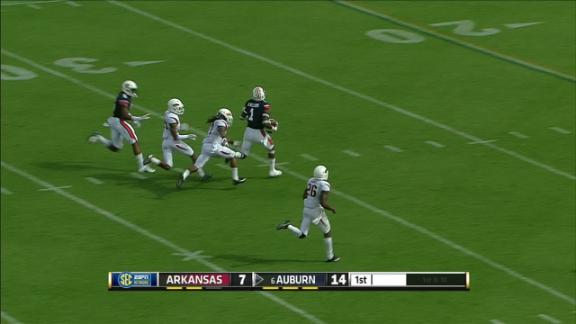 We heard all offseason about junior college wide receiver
D'haquille Williams
or "Duke" as he's referred to around Auburn. Well, he didn't disappoint in his debut. The 6-foot-2, 216-pound phenom finished with nine catches for 154 yards and a touchdown, but it was a play late in the first quarter that really showed off his athleticism. Williams blew past the defense on a post route, caught the ball in stride and nearly took it to the house.
Williams:
"I just stuck it to the outside, he bit on it a little bit, and that gave me enough room to catch the ball and go with it. When I was running, I was just looking to the end zone, thinking I was going to score. Something told me to look back, and when I looked back, he was coming. I tried to stiff arm him, but when I got shoestring tackled, I was like, 'No way.'"
Johnson:
"I actually thought he was going to score, but once I saw him start running, I was just like, 'Yep, he ain't that fast.' He's got to lose a couple pounds."
Marshall returns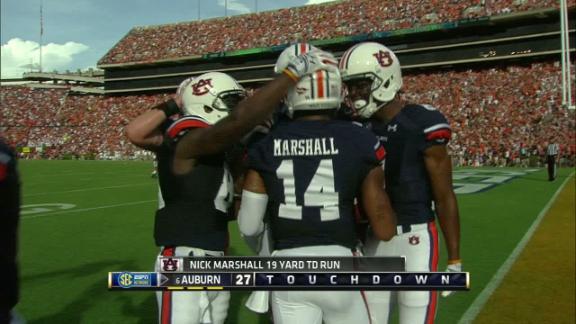 Johnson made people forget about Marshall in the first half, going 12 of 16 for 243 yards and two touchdowns, but it was Auburn's No. 1 quarterback who led the offense onto the field to start the second half. Once he was out there, it didn't take long for Marshall to shows flashes of last season. The senior capped his first drive with a nifty 19-yard touchdown run on a classic zone-read play. The play, along with Marshall's return, energized the whole team.
Malzahn:
"It was just a certain way they were playing us, and they were kind of keying on our running back. We got a couple good blocks at the point of attack, and it opened up.
Avery Young
made a really good open-field block on the safety and allowed Nick to score."
Auburn center Reese Dismukes:
"I saw Nick run it in, and I did the whole Bruce Pearl -- 'He's back!' It was good to see him get in there and rush for a touchdown."
Pivotal pick-six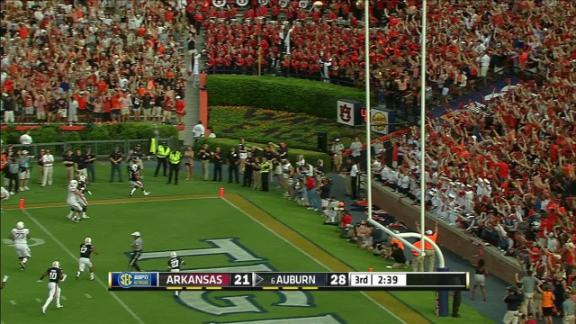 Auburn's defense was gashed in the first half, and with the game still very much in doubt, the Tigers needed a play.
Jermaine Whitehead
delivered. The senior safety intercepted Arkansas quarterback
Brandon Allen
and returned it 33 yards for a touchdown to make it 35-21. The errant pass was caused by
Robenson Therezie
, who blitzed up the middle and hit Allen just as he let go of the ball. It turned out to be a backbreaker for the Razorbacks.
Whitehead:
"We were in a zero blitz, and Robenson Therezie got a push on the quarterback along with the rest of the D-line. He hit the quarterback, the ball came out wobbly, and it was in the air forever. When it finally decided to come down, I saw a lot of room, saw all of the D-line ready to make blocks. They cracked on some people. I can't wait to watch it on film."
January, 3, 2014
Jan 3
2:40
PM ET
NEWPORT BEACH, Calif. -- Florida State quarterback
Jameis Winston
was greeted by crowd of television cameras as he stepped out of the shiny black Chevy SUV that had escorted he and several of his teammates to the Newport Beach Marriott on Friday morning for the Seminoles' offensive news conference.
Sipping on his Starbucks, Winston was once again unfazed as the center of attention.
[+] Enlarge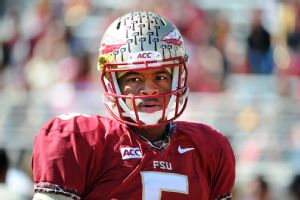 Melina Vastola/USA TODAY SportsHeisman-winning quarterback Jameis Winston threw 38 touchdown passes this season and just 10 interceptions.
After a whirlwind awards tour, which included a trip to New York to claim his Heisman Trophy, Winston was again lighting up the stage with his engaging personality. He was the focus -- not just for the media, but also for Auburn's defense. Auburn defensive coordinator Ellis Johnson conceded that the Tigers "have not been, by all standards, a really good defense this year." That's going to have to change on Monday night against the Seminoles if the Tigers hope to win the Vizio BCS National Championship, and according to Ellis, the difference in the game will be the defense's ability to pressure Winston into uncharacteristic mistakes.
"It's going to be a big factor," Ellis said. "The play in the box, they have tremendous skill out on the edges, but the pressure in the box is going to be one of the biggest keys to any defensive success that we have. There will be some other things in the game we can't control, kicking game, offense, all are going to contribute. But as far as us performing defensively and giving our football team a chance to win, there's got to be pressure on the quarterback."
Somehow, pressure doesn't seem to get to the 19-year-old first-year starter.
According to ESPN Stats & Info, on plays Winston is pressured (knocked down or hurried), he completes an AQ-high 62 percent of his passes and is averaging 11.1 yards per attempt. The AQ average for a quarterback when pressured is 35 percent and 4.7 yards per attempt.
It's a statistical mismatch in Florida State's favor, but Auburn's hybrid safety,
Robenson Therezie
, isn't deterred.
"With our game plan I feel like when we execute and do our jobs, I feel like we can keep him outside his comfort zone," Therezie said. "With our front four, I don't think he's seen the front four he's about to face on January 6th. It's a completely different front four than he's ever faced. With our secondary, I don't think he's seen the secondary that he's seen all year with our secondary. It's completely different from all the other leagues he's played in."
The good news for Auburn's defense: It has had a little experience with elite SEC quarterbacks. Now the bad news: Against the offenses of
Johnny Manziel
,
AJ McCarron
,
Aaron Murray
,
Zach Mettenberger
and
James Franklin
, Auburn allowed 7.3 yards per play.
"I think seeing those type of players, week in and week out, definitely gets you ready," defensive back
Jermaine Whitehead
said. "I mean, seeing previous Heisman winners gets you ready for a guy that just won the Heisman. Playing against those guys a couple years now, watching them grow and watching how they transpired over the years, the depth of exactly what Winston has the capacity of ...
"I think being in those situations, also, has shown us how to be resilient, not give up when they make a big play. We understand that their college football team is one of the best in the country, and they're going to have big times in the game, and how we respond is going to be the test of the game."
October, 29, 2013
10/29/13
11:00
AM ET
AUBURN, Ala. -- Gus Malzahn knows a thing or two about winning.
As a high school coach, he led seven teams to the state championship game in 14 years, winning three of them. From 2006 to 2011, he was offensive coordinator at Arkansas, Tulsa and Auburn and never endured a losing season. He won the national championship with the Tigers in 2010. And last season, his first as a college head coach, he led Arkansas State to the Sun Belt championship.
[+] Enlarge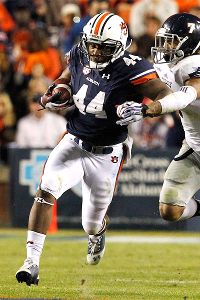 AP Photo/Butch DillExpectations are rising for Auburn, but Cameron Artis-Payne says the Tigers are focused on the next game.
The record speaks for itself, but when Malzahn returned to Auburn prior to this season, nobody expected him to turn the program around in just one year. The Tigers were 3-9 a season ago, and most thought they'd be lucky just to make a bowl game in 2013.
But after eight games, Auburn is already bowl eligible, and Malzahn's team has higher aspirations now. They're 7-1, ranked No. 11 in the latest BCS standings and four wins away from claiming the SEC West title.
"We've got some great players," safety
Jermaine Whitehead
said. "I most definitely saw us competing in a lot of games. I felt like we had one of the oldest teams coming back, and it was about time that we make our mark."
The national perception has changed, too. Auburn was the underdog in three of its four SEC games, but after wins against No. 24 Ole Miss and No. 7 Texas A&M, the Tigers are now the favorite Saturday against Arkansas and will likely remain that way until they host No. 1 Alabama in the Iron Bowl.
But the players don't care about being the favorite. They don't care that Auburn is on the verge of cracking the BCS top 10. They're taking the same approach.
"It doesn't change the mindset," first-year running back
Cameron Artis-Payne
said. "We're just going to keep moving forward. We're going to do the things that got us here. Coach Malzahn and the coaching staff definitely keep us grounded anyway, so there's no way we're going to lose what we're doing."
"You don't want to think about rankings,"
Dee Ford
added. "That got a lot of teams in trouble early on in the year. You don't think about rankings at all. You think about the task at hand. You really just want to focus on executing and playing football. At the end of the day, no matter what ranking you are, you have to play football."
Still, with every win, Auburn is a team that is growing more and more confident. Beginning on Saturday, it has back-to-back road trips to Arkansas and Tennessee before finish the season at home with Georgia and Alabama. There's not a game left on the Tigers' schedule that they don't think they can win.
"We're definitely gaining confidence," Artis-Payne said. "We feel like we can beat anybody. We're just going to keep working, and we're going to see what happens when the smoke clears at the end of the season."
It's fun to look ahead to a potential top-10 matchup in the Iron Bowl, but the Tigers are focused only on their next opponent, a mindset that stems from their head coach.
"I feel like I'm saying the same thing every week, but it's about Arkansas, and it's about going on the road," Malzahn said after Saturday's win over Florida Atlantic. "It's about trying to play our best football, and we're not worried about all the underdogs or favorites. That's our mindset.
"Any time you're winning, you're playing pretty good football. You have some things you can build upon. But every week is different."
Auburn has lost five of the past seven meetings with the Razorbacks, but the Tigers are hoping to change that Saturday and keep the wins coming for their first-year head coach.
October, 29, 2013
10/29/13
11:00
AM ET
BIRMINGHAM, Ala. -- The morning traffic in Birmingham on Saturday was unbearable. One side of the interstate was littered with cars, trucks and campers sporting some combination of crimson and white. Rows and rows of drivers were "On my way to see Bama play," according to the stickers on their vehicles. The caravan inched slowly toward Tuscaloosa, weaving on and off exits and around construction.
The Crimson Tide, the state's pride with back-to-back national championships, would demolish rival Tennessee 45-10 that afternoon to remain undefeated and firmly atop the BCS standings at No. 1 overall.
[+] Enlarge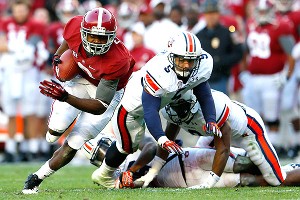 Kevin C. Cox/Getty ImagesAlabama has outscored Auburn 91-14 in the last two Iron Bowl games, including a 49-0 shutout last season.
About the same time Alabama's supporters headed west toward Tuscaloosa, another group of cars marched south toward Auburn University, their vehicles sporting the school's traditional orange and blue colors and paw print stickers. Tiger-striped tails whipped in the wind, dangling from antennas and trunks. Almost prideful, their flow of traffic moved quicker than their counterparts on the opposite side of the interstate.
The Tigers, mired in mediocrity since winning the national championship in 2010 but recently resurgent under their new coach Gus Malzahn, would dispatch Florida Atlantic with ease later than night. The 45-10 win would boost Auburn to 7-1 and a No. 11 ranking in the BCS standings.
The wins and the rankings of both schools are one thing. Seeing the line of cars siphoning through the state's largest city, though, was a visual representation of where the rivalry is today. The Iron Bowl, after two years of being so incredibly one-sided in favor of Alabama, is relevant again. The Tide and the Tigers are squarely in the title hunt and only weeks away from a matchup that will determine both programs' postseason hopes.
---
Alabama's success is taken for granted these days, and for good reason. Coach Nick Saban has built the program into the model of success with only five losses and a staggering .907 winning percentage since 2009. The Tide has won three of the last four BCS National Championships and is well positioned to compete for an unprecedented third straight should it reach Christmas undefeated.
Auburn's rise to national relevance is much more surprising. The fact that Malzahn could resurrect a program left for dead by Gene Chizik is a shock. Auburn finished 8-5 in 2011 and fell further in 2012, ending the year 3-9 and winless in the SEC. To make matters worse, the Tigers were dominated in the Iron Bowl, losing the past two contests with Alabama by a combined 77 points. Off-field problems rotted out the program and Chizik was fired two years after he and
Cam Newton
led it to a national championship.
"It's very exciting," said safety
Jermaine Whitehead
, who signed with Auburn in 2011. "It's the most live I've seen the fan base since I've been here. I think everyone has bought in, everyone believes. It kind of looks like the championship year -- the reason that I came here -- and I think we're going to have a great story to tell when it's all done."
Their story is already interesting. Two weeks ago Auburn went on the road to then-No. 7 Texas A&M and upset the Aggies in dramatic fashion. Quarterback
Nick Marshall
, a transfer, led Auburn to the come-from-behind win with a late fourth-quarter touchdown drive.
Corey Grant
, who redshirted the 2010 season at Alabama before transferring to Auburn in 2011, said that there wasn't a time last year where he would have believed this season's turnaround could have happened. Beating
Johnny Manziel
, the defending Heisman Trophy winner, and the Aggies would have been unthinkable. But when Malzahn arrived he said the players were desperate for change and "we always just kept a new mindset and it turned out good for us."
"At the beginning of the season, things started off slow, but as the season got going, and Coach Malzahn kept preaching on what he wanted, and also this coaching staff, and everybody, all the players buying in, it's going good," he added.
As they say at Auburn, it's a new day. How long it will last, though, remains to be seen.
---
The Iron Bowl will be the ultimate litmus test for both programs.
Alabama has a major hurdle in No. 13-ranked LSU in two weeks, but neither Mississippi State nor Chattanooga in the following two weeks should prove an obstacle on the way to the Iron Bowl.
Auburn, meanwhile, should be favored in its remaining three games against Arkansas, Tennessee and Georgia. The Deep South's Oldest Rivalry, as the Georgia-Auburn game is affectionately known, will be played at Auburn.
With LSU and Texas A&M currently sporting two losses, the West is either Alabama or Auburn's to steal.
Should both schools reach Nov. 30 without another loss, their matchup in the Iron Bowl would be huge, the biggest in years. It would be the first time the rivalry game comes with a trip to the SEC Championship Game on the line for both schools. The 1994 game did decide the SEC West champion, however Auburn was ineligible to play in the title game in Atlanta at the time.
Imagine the traffic in Birmingham if that happened. Post-Thanksgiving holiday shopping
and
an Iron Bowl? The roads were bad enough this weekend. Who knows if the state can handle both its teams being in the title hunt a month from now.
July, 10, 2013
7/10/13
2:12
PM ET
Someone has to chase down all those speedy skill position players, and the SEC is well equipped with some fine secondaries this fall.
Here's how they rank going into the 2013 season:
1. Florida:
The Gators will have arguably the nation's best cornerback duo in potential future first-rounders
Loucheiz Purifoy
and
Marcus Roberson
. Purifoy is viewed by many as the nation's top cornerback. He's still raw, but he's a tremendous athlete, has great speed and is getting better at being a pure cover corner. Though Roberson isn't as athletic, he's more polished and has real lockdown ability (14 passes defensed in 2012). Sophomore
Brian Poole
made tremendous strides this spring at corner, and many think incoming freshman Vernon Hargreaves III has the ability to play now. At safety, veterans
Jaylen Watkins
and
Cody Riggs
have moved from corner. Coach Will Muschamp wants to see more from this position, but has plenty of bodies to help Watkins and Riggs, starting with
Marcus Maye
and
Jabari Gorman
.
[+] Enlarge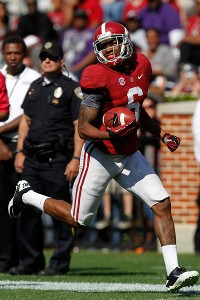 AP Photo/Butch DillHaHa Clinton-Dix could emerge as one of the best safeties in the nation.
2. Alabama:
First-round corner Dee Milliner and reliable safety Robert Lester are gone, but there's a wealth of young talent in the secondary. Safety
Ha Ha Clinton-Dix
is poised to be an All-American and could be the top safety in the country.
Deion Belue
emerged as a very reliable cornerback and should be one of the top players at his position in the SEC this year. Sophomore
Geno Smith
matured quickly last year and was solid this spring, so he shouldn't have a problem stepping into a starting role.
Vinnie Sunseri
gives Alabama a veteran leader at safety, while sophomore
Landon Collins
might be ready go from special teams workhorse to starting safety for the Tide.
3. Vanderbilt:
Andre Hal
is one of the best cornerbacks in the SEC, while
Kenny Ladler
ranks near the top at the safety position in the SEC. Hal was second in the SEC with 14 pass breakups and added two interceptions last season. Ladler figured out a way to be all over the field last year, leading the team with 90 tackles. His safety partner,
Javon Marshall
, is back. Marshall and Ladler tied for the team lead with 60 solo tackles and will be one of the league's best safety duos. Replacing Trey Wilson won't be easy, but there are plenty of options, starting with senior
Steven Clarke
, who was the primary nickel corner.
4. LSU:
The Tigers have to replace Eric Reid and Tharold Simon, but have the bodies to make things right, starting with corners
Jalen Mills
,
Jalen Collins
and safety
Craig Loston
. Mills and Collins were thrown onto the field early last season after Tyrann Mathieu's dismissal and grew up in a hurry. Mills started all 13 games and defended seven passes with two interceptions. Loston had trouble reaching his potential early in his career, but has really turned the corner and should be one of the top SEC safeties. Junior
Ronald Martin
should be fine at the other safety spot, while sophomores
Micah Eugene
and
Corey Thompson
are solid backups. Freshman
Jeryl Brazil
is a freak athlete who should help at corner.
5. Ole Miss:
The Rebels gave up more yards and touchdowns through the air than they would have liked last season, but this group showed good flashes here and there. A good spring and a healthy dose of experience should go a long way this fall. Senior
Charles Sawyer
was very steady at corner after moving from safety and is the leader of this group, while hard-hitting sophomore safety
Trae Elston
has what it takes to be a top safety in this league. Junior
Cody Prewitt
leads the charge at the other safety spot, while
Senquez Golson
will start opposite Sawyer. Highly-touted freshman Antonio Conner could enter the season as the starter at the hybrid "Husky" position. There is a ton of depth in the secondary, starting with big-play machine
Nick Brassell
, who is back after a juco stint.
Quintavius Burdette
and
Chief Brown
provide good reserve options at safety.
6. Texas A&M:
What was a young unit in 2012 is all grown up now. The top player back there is corner
Deshazor Everett
, who became a national name after his game-sealing interception against Alabama. While Everett could be a star, he and top safety Floyd Raven are dealing with legal issues after they were arrested in connection with an April incident at a College Station apartment complex. Getting them on the field is critical for the Aggies.
De'Vante Harris
enjoyed a solid freshman campaign and proved he can be a shutdown corner. Safety is stacked with veterans such as Raven,
Howard Matthews
and
Toney Hurd Jr
., so this unit should be drastically better in 2013.
7. South Carolina:
The Gamecocks lost a top-flight safety in D.J. Swearinger and an experienced corner in Akeem Auguste, but they bring back a lot of athleticism and speed. It starts with junior corner
Victor Hampton
, who has turned into one of South Carolina's best overall players.
Jimmy Legree
moved back to corner from safety last season and tied for a team-high three interceptions and six pass breakups. Talented sophomore
Ahmad Christian
will also push to get on the field.
Brison Williams
is solid at strong safety, while sophomore
T.J. Gurley
could be a stud at free safety. He'll have to battle with the much-improved
Kadetrix Marcus
, but Gurley is one of the team's most talented players. There's a lot of inexperience behind the main guys, and the staff is hoping to get more out of former top safety recruit
Chaz Elder
.
[+] Enlarge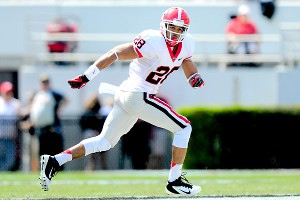 Dale Zanine/USA TODAY SportsTray Matthews could crack the starting lineup in time for the season opener.
8. Georgia:
The Bulldogs lost a ton of production here, but defensive coordinator Todd Grantham is excited by the talent his youngsters have, especially safety
Tray Matthews
, who might already be one of the top players at his position in the SEC. He covers a lot of ground, has great instincts and hits with the best of them. There's "old man"
Damian Swann
, who excelled as both a nickel and boundary corner last year. He's now
the guy
at corner. Sophomore "Star"
Josh Harvey-Clemons
might be the most talented player in the secondary and he'll work at both safety and linebacker in certain packages. Sophomore
Sheldon Dawson
left spring as the other starting corner, and the coaches are excited about his potential, while talented early enrollee
Reggie Wilkerson
will miss the season after suffering an ACL injury. Sophomore
Devin Bowman
should help at corner, along with true freshman Shaq Wiggins, a former ESPN 150 member.
9. Mississippi State:
Jim Thorpe Award winner Johnthan Banks, top interception man Darius Slay and longtime starter
Corey Broomfield
are all gone. It hurts, but the Bulldogs aren't lost in the secondary. Senior
Nickoe Whitley
has loads of experience, while fellow safety
Jay Hughes
really stepped up as a valuable leader this spring.
Jamerson Love
is the most experienced corner coming back and the coaches expect him to break out very soon. But a lot of attention is going to juco transfer
Justin Cox
, who might be the team's fastest player and looks ready to step right in and be a shutdown corner. The top four guys seem solid, but there is a lot of inexperience behind them.
10. Auburn:
Auburn has a lot of experience coming back to a unit that ranked eighth in pass defense last season. That number should be better this year, especially with Ellis Johnson taking over the defense. Corner
Chris Davis
might have only played nine games last season, but Johnson thinks he could be a special player. Corners
Jonathon Mincy
and Josh Holsey also saw plenty of time last year, while
Jonathan Jones
provides solid depth. Safety is covered by the high-flying
Demetruce McNeal
and
Jermaine Whitehead
, who were two of the Tigers' top tacklers last year. This group has to be more consistent and has to generate turnovers. Auburn had just two interceptions last year, with one coming from reserve safety
Trent Fisher
.
11. Missouri:
Senior corner
E.J. Gaines
is one of the best cover corners in the SEC. What he lacks in size, he makes up in athleticism, speed and toughness. He has 27 pass breakups and three interceptions in the last two seasons.
Randy Ponder
had a solid spring and should start opposite Gaines. He has played in 25 games with five starts. Safety
Braylon Webb
is back after starting 12 games last year at free safety, while senior
Matt White
should hold down the other safety spot. Only Gaines and Ponder return with interceptions from last year (one each) and this unit surrendered an average of 333.3 passing yards per game last November.
12. Tennessee:
The Vols do bring back experience, but this same group contributed to Tennessee owning the SEC's second worst pass defense (282.5 yards allowed per game). So that means these players have to grow and simply get better on the field. It won't come over night, but the experience gained last season should help. Safeties
Byron Moore
and
Brian Randolph
, who is coming back from an ACL injury, provide a solid foundation at safety, while returning starting corner
Justin Coleman
has to be much better than he was in 2012. Fortunately for the Vols, Coleman made very good strides this spring. Juco transfer Riyahd Jones could come in and start immediately.
13. Arkansas:
This is another group that returns a lot of experience, but it was also the SEC's worst pass defense last year. The Razorbacks surrendered 8.2 yards per pass, 285.8 passing yards per game and gave up 24 touchdowns with six interceptions. All four starters -- corners
Tevin Mitchel
and
Will Hines
and safeties
Eric Bennett
and
Rohan Gaines
-- but all of them have to get better. Mitchel and Gaines have the potential to be big-time players, but they have to be more consistent. This unit should get a boost from juco transfers Tiquention Coleman and Carroll Washington, while redshirt freshman
Jared Collins
had a pretty good spring.
14. Kentucky:
The Wildcats lost two quality starters and are now stuck with a lot of young players. Coach Mark Stoops wasn't too pleased with the play of the secondary this spring, so this won't be a quick fix. Junior safety
Ashely Lowery
has the playmaking ability Stoops wants back there, but he just resumed working out after his horrific car accident from earlier this year. Youngsters Daron and
Zack Blaylock
,
J.D. Harmon
,
Cody Quinn
, and
Fred Tiller
all saw good time last season, but their growing pains lasted for most of the season. There was some improvement this spring, but this unit has a long way to go before fall.
March, 28, 2012
3/28/12
9:00
AM ET
Now that spring practice is under way for everybody in the SEC but Texas A&M, let's take a look at a few sophomores worth keeping an eye on next season.
These aren't necessarily the most promising freshmen from a year ago, but rather, a group of players poised to make the biggest jump in Year 2:
[+] Enlarge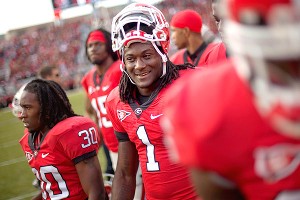 AP Photo/David GoldmanIsaiah Crowell will look to build on a successful freshman campaign in his second season as Georgia's lead rusher.
Georgia running back Isaiah Crowell:
Even though he rushed for 850 yards last season as a freshman, Crowell wasn't very durable, and he was lacking in the mental toughness department. By all accounts, Crowell has grown up considerably in the offseason, and he also knows he has a deep running back stable nipping at his heels, led by heralded freshman Keith Marshall.
Mississippi State running back Nick Griffin:
A knee injury has held the talented Griffin back. But even at less than 100 percent, he's shown enough speed and power that the Mississippi State coaches can't wait to see what a healthy Griffin can do with the ball in his hands this fall.
Alabama linebacker Adrian Hubbard:
He's got the height, length and athleticism to be a marquee pass-rusher in this league. The 6-6, 237-pound Hubbard backed up last season at three linebacker positions, but appears to be best suited to replace
Courtney Upshaw
at Jack linebacker.
Alabama offensive tackle Cyrus Kouandjio:
A knee injury cut short Kouandjio's freshman season, but everybody who saw him play agreed that it was just a matter of time before he was one of the SEC's most dominant offensive linemen. He'll step in at left tackle this fall with 2011 Outland Trophy winner
Barrett Jones
moving to center.
LSU receiver Jarvis Landry:
Last season, Landry made his presence felt on special teams and delivered some crushing hits on kickoff returns. Look for him to make a similar impact catching the ball and making big plays in the passing game in 2012.
Auburn running back Tre Mason:
As the Tigers search for a starting tailback to replace
Michael Dyer
, Mason is making a strong bid this spring to be the guy. He's gotten stronger and is weighing right around 200 pounds. He hasn't lost any speed, either, and the coaches love his toughness.
Arkansas cornerback Tevin Mitchel:
After making seven starts last season as a true freshman and earning SEC All-Freshman honors, the 6-1, 185-pound Mitchel has everything it takes to be one of the premier cornerbacks in the league next season. He'll also have experience on his side.
South Carolina defensive tackle Kelcy Quarles:
He was overshadowed by another freshman on the Gamecocks' defensive line last season (
Jadeveon Clowney
), but Quarles was playing his best football by season's end. He's extremely active for an interior lineman and ticketed for a big sophomore season.
Tennessee offensive tackle Antonio Richardson:
One of the Vols' top signees a year ago, Richardson picked up some much-needed experience as a freshman. He didn't start any games, but played in all 12. The 6-6, 325-pounder is now working as the first-team left tackle and has been good enough that the Vols moved senior
Dallas Thomas
from left tackle to left guard.
Auburn cornerback Jermaine Whitehead:
As first-year defensive coordinator Brian VanGorder puts in his defense this spring, one of the things that has jumped out to him is Whitehead's versatility. He can play cornerback and safety and is also working as the Tigers' nickel cornerback when they go to five defensive backs.
November, 26, 2011
11/26/11
3:42
PM ET
AUBURN, Ala. -- The teams have taken the field and are going through the last-minute preparations.
They just showed Bo Jackson on the screen and this place erupted, but what really got Jordan-Hare Stadium rocking was the sight of the Tigers running out onto the field.
These fans want to ruin Alabama's season almost as much as the Tiger players.
Here are some pregame lineup changes for both teams:
Alabama guard Alfred McCullough will start over Anthony Steen at right guard.
For Auburn, Kennetch Carter is starting in place of Gabe Wright at defensive tackle. Also, Jermaine Whitehead is starting in place of Jonathon Mincy at cornerback.
September, 10, 2011
9/10/11
12:29
PM ET
AUBURN, Ala. -- Kickoff is here on the Plains and we have some lineup changes for both teams.
AUBURN
A.J. Greene will start at right tackle this week. Last week, redshirt freshman Chad Slade started at right tackle. Greene's return is big for the Tigers. He missed most of last season with an injury and he's viewed as one of Auburn's most athletic offensive linemen.
With Greene starting at right tackle, Slade will move over and start at right guard in place of John Sullen.
Defensive back Jermaine Whitehead will wear No. 32 instead of No. 3 today.
MISSISSIPPI STATE
Wide receiver Chris Smith will start for Sam Williams this week. Williams had three catches for 27 yards, including a long of 17 last week.
SOME PREGAME NOTES
Spirit, the eagle that flies around the stadium before the game, went a little off course this morning. It almost flew into a window and got pretty close to some fans in the stands, but when it landed at midfield this place exploded. Really cool tradition.
There is some bad blood between these programs because of the whole Cam Newton fiasco last year, and the Auburn fans let the Bulldogs know it when they came out of the field. Boos rained down from all directions and the Bulldogs seemed to love it as they lifted their arms, calling for more.
June, 29, 2011
6/29/11
1:00
PM ET
True freshmen have been rolling onto SEC campuses this month to get a jump on summer school, and more are on the way for the second session of summer school.
Every year about this time, it's the same question: Who among the true freshmen will make the biggest impact?
We'll take our stab at it, breaking it down by division.
We'll start with the West. One thing to keep in mind is that we're only including true freshmen who weren't on campus early and didn't go through spring practice, so you're not going to see guys like LSU's
Anthony Johnson
, Arkansas'
Brey Cook
, Auburn's
Reese Dismukes
and Florida's
Jeff Driskel
on this list.
We'll do our impact newcomers (freshman early enrollees, junior college players, transfers, everybody) at a later date.
For now, here's a look at who among the incoming true freshmen in the West might contribute right away. Edward will do the same with the East later today:
ALABAMA

Ha'Sean Clinton-Dix, S:
Alabama boasts one of the best safety tandems in the league in
Mark Barron
and
Robert Lester
, but the 6-foot-1, 203-pound Clinton-Dix has the size and skill set to come in and make the Crimson Tide even stronger on the back end of their defense.
Cyrus Kouandjio, OT:
One of the top offensive tackle prospects in the country last year, Kouandjio could provide some immediate depth. The Tide were already looking at moving All-SEC guard
Barrett Jones
to left tackle.
ARKANSAS

Tevin Mitchel, CB:
The Hogs ended the spring a cornerback short in their secondary, which is where Mitchel comes in. He'll get a chance to show what he can do this fall both as a lock-down cover guy and potentially as a return specialist. It was a real coup for Arkansas to get him away from Nebraska.
AUBURN

Erique Florence, S:
The Tigers were hit hard in the secondary by personnel losses, and Florence was one of the most coveted safety prospects in the country last year. He's a big-time talent with the size (6-2, 190 pounds) to come in and contribute right away.
Kiehl Frazier, QB:
It's never easy for a quarterback to go straight from high school to the SEC without the benefit of enrolling early and going through spring practice. But the Tigers haven't settled on a quarterback, and Frazier is the type of run-pass threat Gus Malzahn is looking for in his offense.
Jermaine Whitehead, CB:
There should be some fierce competition at cornerback this fall on the Plains, and Whitehead will be one to watch. Auburn was able to sway him late in the recruiting process, and he's expected to vie for a starting spot from the time he walks onto the practice field.
LSU

Jarvis Landry, WR:
If the Tigers are going to make a run at a national championship in 2011, they're going to need a lot more production from their passing game than they got a year ago. Landry is dynamic in the open field and should complement
Rueben Randle
and
Russell Shepard
nicely.
MISSISSIPPI STATE

Joe Morrow, WR:
Mississippi State coach Dan Mullen has been outspoken about the Bulldogs' need for more receivers. The 6-4, 200-pound Morrow gives them a different dimension with his size and ability to make plays over the middle.
OLE MISS

C.J. Johnson, LB:
As long as Johnson stays away from Twitter, he's poised to play a major role at linebacker for the Rebels in 2011. Losing D.T. Shackelford to a knee injury threw the door wide open for Johnson, who could play in the middle or outside.
Tobias Singleton, WR:
A lot of the attention in Oxford has been concentrated on who's going to be throwing passes for Ole Miss this coming season. Singleton, who says he qualified academically, is one of those sure-handed, athletic receivers who could help spruce up any passing game.
February, 2, 2011
2/02/11
11:02
AM ET
Losing a big chunk of its secondary from this past season, Auburn needed to replenish.

That process started earlier Wednesday morning when ESPNU 150 safety Erique Florence of Valley, Ala., signed with the Tigers, and most recently, with the signing of cornerback Jermaine Whitehead of Greenwood, Miss. Whitehead is one of the top prospects in the state of Mississippi and had originally committed to Mississippi State. He re-opened his commitment, and Ole Miss was working him extremely hard. But a visit to Auburn swayed him to the Plains.

Cornerback Jonathan Rose of Leeds, Ala., is already enrolled in school, and the Tigers are still waiting on safety Robenson Therezie of Miami. Therezie, ranked by ESPN as the No. 11 safety in the country, has yet to sign.