NCF Nation:

Jeron Gouveia-Winslow
January, 1, 2012
1/01/12
9:00
AM ET
Early in the regular season, Virginia Tech's defense had already lost starting outside linebacker Jeron Gouveia-Winslow and starting defensive tackle Antoine Hopkins to season-ending knee injuries. Starting defensive end James Gayle had missed a couple of games, along with starting cornerback Jayron Hosley.
Just when it seemed it couldn't get much worse, Virginia Tech lost linebacker Bruce Taylor – arguably the leader of the defense and the unit's best player - to a season-ending mid-foot sprain. In a span of four games, the Hokies had lost three starters.
"That's when you said, 'Man, enough is enough,'" defensive coordinator Bud Foster said. "We haven't had as many injuries on the defensive side in, I don't know, forever, the 25 years I've been here."
[+] Enlarge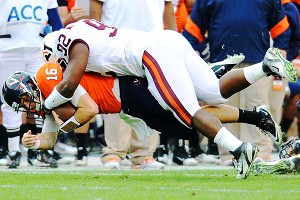 James Lang/US PresswireLuther Maddy, here bringing down Virginia QB Michael Rocco, is among the true freshmen contributing to Virginia Tech's improved defense.
And yet in spite of it all, with two true freshmen in the two-deep at defensive tackle, Virginia Tech enters the Allstate Sugar Bowl against Michigan with one of the nation's top defenses. And the Hokies are going to need it. Those who have paid close attention to Virginia Tech's defense under Foster would probably agree that this has been one of the best coaching jobs of his career. Not only did the Hokies make dramatic improvements from 2010, but they also did it with a young, inexperienced lineup forced into action because of injuries. Now they have to maintain that success against one of the nation's top quarterbacks in
Denard Robinson
.
"The most recent guy we've probably faced like him was Pat White a few years ago at West Virginia," Foster said. "I think he's very similar to that guy. He's a game-breaker. He's a big-time athlete. He can beat you running the ball, he can beat you throwing the football. He's just a dynamic football player, a dynamic athlete. And then he's got some good skill guys around him to take the pressure off of him.
"He makes people miss in the hole. He jukes him and he's off for a 40-yard touchdown. Those are things he does … and they're using him the right way – quarterback sweeps, quarterback powers, quarterback zone play, quarterback draws. They're doing everything. They've adapted to what they have and he's done it very, very well."
Then again, so is Foster's defense.
Last year, Virginia Tech's defense finished No. 52 in the country in total defense, allowing 361.5 yards per game. This year, the Hokies are No. 13 in total defense, allowing almost 50 fewer yards per game. Last year they were No. 26 in scoring defense. This year they're No. 8, holding opponents to 17.2 points per game. After putting the No. 64 rushing defense on the field in 2010, the Hokies improved to No. 17 this year, allowing just 107.8 yards per game.
"There's no question it was a heck of a job," coach Frank Beamer said. "I think the people we lost, and then the people replacing them – you've got two true freshmen defensive tackles – that's not the place you want a true freshman in there. You want some experience in there. And then I think (cornerback) Kyle Fuller had a tremendous year, but him being able to move around and play some different positions and come through, that made a difference. I think the guys we lost, who we lost, and then to play as well as we have defensively, the championship game was a tough game for us, but up until that point, we really played some fantastic football for what we've been through and the injuries we had on our defense."
For almost the entire Wake Forest game Oct. 15, the Hokies were playing without four opening-day starters, including Hosley (hamstring), and Gayle (ankle), in addition to Hopkins and Gouveia-Winslow.
By the third quarter against Boston College a week later, Virginia Tech was missing those four, plus Taylor and Gouveia-Winslow's backup, Alonzo Tweedy, who sprained his ankle. Two true freshmen — Luther Maddy and Corey Marshall — have taken over one of the defensive tackle positions on the two-deep. Two redshirt sophomores — Tariq Edwards and Telvion Clark — are holding down a linebacker spot.
"It all goes back to our players and our coaches," Foster said. "We were a young group, and I'm proud of them. We had an expectation, we talked about how we wanted to get back and play the kind of defense we're used to around here. We started that back in January. I'm proud of our kids that they stepped up and bought into that and knew that's what we needed to get back to. I still think we've got a lot of room to grow, which is exciting, but then to have the injuries on top of that, and some key players, and to have some young guys step up at various times, it's been fun to watch."
December, 31, 2011
12/31/11
9:00
AM ET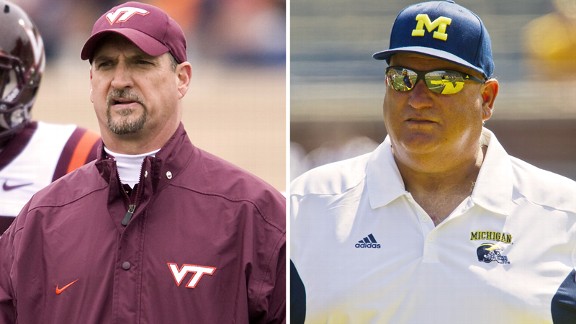 Icon Sports MediaVirginia Tech's Bud Foster and Michigan's Al Borges have benefitted from being flexible.
NEW ORLEANS -- If ever a coach had earned the right to be stubborn about his system, it'd be Bud Foster.
He has coordinated Virginia Tech's defense for the past 16 seasons, and the unit has finished in the top 12 nationally on 10 occasions (the Hokies currently rank 13th in total defense). He has had 34 players drafted in the NFL, 45 different players score touchdowns and at least one player earn All-America honors in all 16 seasons.
The pillars of Foster's defenses -- speed, athleticism, pressure, opportunistic play -- have become synonymous with Virginia Tech's program.
Foster could enter rooms with "My Way" blaring in the background if he wanted to. But he doesn't.
His success isn't tied to stubbornness. He has adapted over time, while maintaining an attacking foundation.
"It's changed a lot but it hasn't changed a lot," Foster said Friday. "We were more of an eight-man front group in the mid-1990s through probably the mid-2000s. You were seeing a lot more two-back offenses at that time. ... We've just tweaked things year in and year out. We're always trying to make it a little better."
Michigan made more than a few tweaks in its offense this year, as coordinator Al Borges integrated some of his pro-style elements while maintaining a spread framework. The results were predictably choppy, but Michigan still scored more points (410) than it did in 2010, when the offense set several team and individual records.
Although Foster has led the Virginia Tech defense since 1995 and Borges had led the Michigan offense only since January, both have benefited from being flexible.
"He's like we have been offensively," Borges said of Foster. "Their defense is ever-evolving."
The next step in the evolution takes place Tuesday night at the Allstate Sugar Bowl, as Virginia Tech's defense and Michigan's offense square off in a fascinating matchup.
Both units faced some obstacles to reach this point. A look at Virginia Tech's defensive depth chart shows seven sophomores and a freshman in the starting lineup. The Hokies were hit particularly hard by injuries this season, losing starters Antoine Hopkins, Jeron Gouveia-Winslow and Bruce Taylor as well as key reserves like Kwamaine Battle.
Despite the losses and the abundance of youth, Virginia Tech maintained its standards on defense, ranking in the top 20 nationally in scoring defense (17.2 ppg), total defense (313.9), pass-efficiency defense (111.8), rushing defense (107.8 ypg) and sacks (2.92 spg).
"[Foster] has enough flexibility," Borges said. "He's been there a long time. That system, although he's got some young players, that system that he has ... they know it. ... You're not teaching every little tiny thing, and you can start dealing more with nuance and things like that. Bud's at that point because he's been there so long."
Borges inherited a more seasoned offense and benefited from a lack of major injuries. His challenge was blending what he had done for decades with personnel suited to a vastly different scheme, particularly junior quarterback
Denard Robinson
.
"You can see they've done a great job adapting to their talent," Foster said. "But then, there's nothing real fancy about them, either. They're going to line up and hit you in the mouth and be physical."
Virginia Tech must not only contain Robinson on Tuesday night but be wary of Michigan's power game, which features sophomore running back
Fitzgerald Toussaint
and a big offensive line led by All-America center David Molk.
While the Hokies boast good size at defensive tackle, they're giving up a few pounds elsewhere. Sophomore defensive end J.R. Collins checks in at 240, while outside linebacker Alonzo Tweedy weighs just 189 pounds.
"We obviously have to get off on the football and be physical," Foster said. "That's what [Michigan] is going to do."
Virginia Tech has faced mobile quarterbacks in the past -- former West Virginia star
Pat White
among them -- and practiced against one the past few seasons in Tyrod Taylor. But linebacker Jack Fuller said Robinson gives the Hokies a look they haven't seen this season.
The closest comparison, according to Tyler, is Clemson's
Tajh Boyd
, who torched the Hokies in the ACC title game (240 pass yards, 3 TDs).
"But [Boyd's] not much of a scrambler," Fuller said. "He's quick and he can run the ball, but they look for Denard to run the ball. They have set plays for him and that's part of their offense, getting him to run the ball and getting that extra blocker."
Michigan also must adjust to some different elements from Virginia Tech, which doesn't shy away from press coverage and has the athletes to do so.
"It is a challenge," Robinson said. "They have some unique defenses and great athletes."
Added Toussaint: "They are very athletic at every position and play every play with maximum effort."
Virginia Tech's defense and Michigan's offense both should be improved in 2012, as only a handful of players depart each unit.
Both groups will look to use Tuesday night's game as a springboard.
"This is a big step for all of us," Toussaint said.
October, 13, 2011
10/13/11
10:15
AM ET
There are only five games in the ACC this week as Boston College and NC State are off, and it's an all-conference lineup. Here are two things worth watching in each game, in no particular order:
1. Quarterbacks in College Park.
Maryland starter
Danny O'Brien
was benched in favor of backup
C.J. Brown
last week at Georgia Tech. Neither of them passed very well, but Brown gave the offense the spark coach Randy Edsall was looking for with his 77-yard touchdown run. Who will start for the Terps? For Clemson, quarterback
Tajh Boyd
is expected to play after a hip injury knocked him out of last week's Boston College game. Will his hip be a factor against the Terps?
2. Maryland defensive tackle Joe Vellano.
If you haven't seen him yet, now is a good time to tune in. He had 20 tackles last week in the loss to Georgia Tech. That's almost unheard of for a defensive tackle. It was the most by a defensive lineman in the FBS since 2005. The Terps will need him to continue to be disruptive against Clemson's offense.
3. Miami's red zone defense.
The Hurricanes' defense has been a weak link this season, but they've been pretty stingy in the red zone, holding opponents to just 10 touchdowns in 23 drives. North Carolina, though, has flourished inside the 20-yard line and has scored 16 touchdowns in 19 red zone possessions.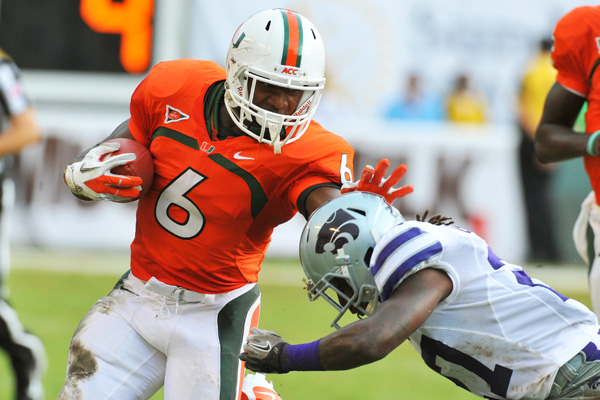 Al Messerschmidt/Getty ImagesLamar Miller has racked up 677 rushing yards and a 7.2 yards-per-carry average this season.
4. Running backs in Chapel Hill.
This game will feature two of the ACC's best in Miami's
Lamar Miller
and UNC's
Giovani Bernard
. Miller has had 100 yards or more in all five games, and Bernard leads all FBS freshmen in rushing yards (109.50 a game) and rushing touchdowns (eight). Miller leads the ACC in rushing (135.4/game) and Bernard is third.
5. Wake Forest running back Josh Harris.
Will he play? If he does, will he have another record-setting performance like he did last year against the Hokies with 241 rushing yards and two touchdowns? Harris has been bothered by a hamstring injury this week, but his chances of playing look good.
6. Virginia Tech's replacements.
This defense is banged up. Last week, true freshman Corey Marshall started for the first time in place of defensive tackle Antoine Hopkins and he had trouble lining up properly. Defensive end James Gayle's status is still uncertain (sprained left ankle). The defensive line has been hit the hardest, but the Hokies also have concerns about linebacker Jeron Gouveia-Winslow (sprained left foot). How will their backups and depleted rotation fare against the nation's No. 18 passing game?
7. Time of possession at Virginia
. You would think that Georgia Tech's offense has had an overwhelming advantage in time of possession, but the Jackets have scored quickly this year, so it's a bit deceiving. There is only a 22-second difference between Georgia Tech and Virginia's time of possession this year -- with the advantage going to the Hoos. Virginia's best defense will be to continue that trend and keep the offense on the field as long as possible.
8. Third downs in Charlottesville:
Georgia Tech leads the nation in third-down conversions (62.2 percent). Virginia is tied for third in the ACC in third-down defense (33.3 percent). Can the Hoos make the stops?
9. Turnovers in Durham.
Florida State turned it over five times in its loss to Wake Forest last week, with four interceptions and one fumble. The Seminoles are 114th in the country in turnover margin (-1.40). Duke did not have a turnover in its road win over FIU. The Blue Devils have lost six turnovers this year. FSU has lost 11.
10. Pass defenses in Durham.
Neither of these teams is running the ball very well this year, but both Duke and Florida State have passing games that rank among the top 16 in the country. How well the defenses fare against quarterbacks
EJ Manuel
and
Sean Renfree
will go a long way in determining the winner.
June, 29, 2011
6/29/11
5:00
PM ET
You are going to argue about this. How do I know? Because I'm still arguing with myself over it ...
[+] Enlarge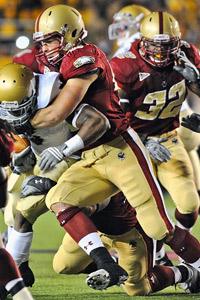 Michael Tureski/Icon SMILuke Kuechly leads a deep group of Boston College linebackers.
1. Boston College:
Luke Kuechly is one of the best in the country, but he's not alone. The Eagles also have Kevin Pierre-Louis, who ranked second nationally among all freshmen in tackles per game last season with 7.15 -- ninth in the ACC. It won't be easy to replace Mark Herzlich, on or off the field, but Steele Divitto played in 11 games last season, and Nick Clancy and Will Thompson both saw time on the second team.
2. Florida State:
The Noles had to replace two starters, including Kendall Smith, the team's second-leading tackler, last season, and Mister Alexander, but the upcoming talent could be even better. Nigel Bradham led the team with 98 tackles and five pass breakups last season, and Christian Jones, Jeff Luc, Telvin Smith and Vince Williams will also be competing for playing time.
3. Miami:
Sean Spence, who has 30 career starts, should be one of the best in the country, and Ramon Buchanon, another senior, also returns. The Canes have five other linebackers with experience in Kelvin Cain, who started seven games, Jordan Futch, who had a great spring and will see the field, Tyrone Cornelius, Shayon Green and C.J. Holton.
4. North Carolina:
Kevin Reddick, who led the Tar Heels with 74 tackles last season, returns for his third season as starter. Zach Brown is also a returning starter with game-changing capabilities, and there is plenty of depth with Dion Guy, Darius Lipford, Ebele Okakpu and Herman Davidson. Junior college transfer Fabby Desir could also have an impact.
5. NC State:
Audie Cole and Terrell Manning have combined for 39 career starts, and Cole fared well this spring moving to the middle to replace Nate Irving. With the return of Sterling Lucas, Dwayne Maddox and Colby Jackson, there is plenty of experience, but not quite as much depth as some other programs.
6. Georgia Tech:
The Jackets return both starters in Steven Sylvester and Julian Burnett. There is no shortage of depth with Jeremy Attaochu, Quayshawn Nealey, Brandon Watts, Albert Rocker, Malcolm Munroe and Daniel Drummond.
7. Clemson:
This group has a lot of potential, especially if true freshmen Tony Steward and Stephone Anthony make an immediate impact. There's no question they'll be given a chance, but the Tigers already have a good group with Corico Hawkins, Quandon Christian and Jonathan Willard.
8. Virginia Tech:
It seems like this rotation has been in flux for a while now. The Hokies' leading tackler returns in Bruce Taylor, Barquell Rivers had 96 tackles as a starter in 2009 but was injured last season, and there are several young players adding to the competition. Chase Williams, Tariq Edwards, Telvion Clark and Jack Tyler are only a few. Whip linebacker Jeron Gouveia-Winslow will have to earn his spot back over Alonzo Tweedy, Dominique Patterson and Nick Dew.
9. Maryland:
The Terps were hit hard here with the losses of Alex Wujciak (381 career tackles) and Adrian Moten (14.5 career sacks). Demetrius Hartsfield returns with 20 career starts, and there are four lettermen returning including Darin Drakeford, Isaiah Ross, David Mackall and Bradley Johnson.
10. Wake Forest:
Kyle Wilber's move to outside linebacker will give this position a boost, as he led the Deacs with 14.5 tackles for loss and six sacks last season. His backup is Gelo Orange (22 tackles). The Deacs also have Tristan Dorty, Joey Ehrmann, Mike Olsen, Scott Betros, Riley Haynes and Justin Jackson.
11. Virginia:
Starters LaRoy Reynolds and Ausar Walcott both return, but neither has started more than 11 career games. Junior Steve Greer has prior starting experience but played mainly as a reserve last season. Adam Taliaferro, Conner McCartin, Tucker Windle and LoVante Battle are also in the mix for playing time.
12. Duke
: Kelby Brown is the lone returning starter, but he's a promising young player who led the nation last season as a freshman in fumbles recovered. He missed spring ball while recovering from a knee injury, but is expected to start with Tyree Glover or Kevin Rojas.
December, 4, 2010
12/04/10
9:29
PM ET
CHARLOTTE, N.C. -- A lot of points, not a lot of defense here in Bank of America Stadium. Here is a quick recap of the first half:
Turning point:
In the first quarter, Virginia Tech linebacker Bruce Taylor came up with a big defensive play when he tipped
E.J. Manuel
's pass into the hands of Jeron Gouveia-Winslow, who ran it back 24 yards for a touchdown and a 7-0 lead. In a game that has been lacking big defensive plays, that one could come back to haunt Florida State. It was less a mistake by Manuel than it was an impressive play by Taylor and Gouveia-Winslow. In an otherwise even game, turnovers will make the difference.
Stat of the half:
Virginia Tech is 6-of-8 on third-down conversions. The Hokies' ability to sustain drives could eventually wear out Florida State's defense, but time of possession has been about even. It was not until the Hokies' final possession of the half that the Seminoles started to come up with some big stops, none bigger than a sack by Markus White on third-and-10.
Best player in the half:
Virginia Tech quarterback
Tyrod Taylor
. He continues to make plays with his ability to scramble and buy time so that the wide receivers can get open. He has completed 9 of 14 passes for 93 yards and a touchdown.
December, 4, 2010
12/04/10
8:19
PM ET
CHARLOTTE, N.C. -- Virginia Tech's defense entered this game with 12 interceptions in the past five games and continued that trend early here in the first quarter when Bruce Taylor tipped EJ Manuel's pass and Jeron Gouveia-Winslow intercepted it and ran it back 24 yards for a touchdown.

Bud Foster's defense has shown improvement all season long, and in the second half of the season has made game-changing plays like that. Odds are that won't be the last in this game.
June, 18, 2010
6/18/10
9:00
AM ET
On Monday, NC State quarterback
Russell Wilson
buried his father. Our thoughts and prayers are with him this weekend as our fathers are celebrated. Wilson's father, Harrison, died on Friday after a long illness, but at his funeral, his son remembered fondly what an impact he had on his athletic career. Russell's father played football at Dartmouth and then made it to the last cut for the San Diego Chargers AFTER completing his law degree.
According to school spokesman Annabelle Myers, Russell and his brother spoke at the funeral and told countless stories about their dad waking them to throw baseballs to them, and how the three of them would go out and one would play quarterback, one would play wide receiver, and one would play running back.
These are the moments and memories our dads deserve a big thanks for this weekend. In honor of Father's Day, here's a look at some of the ACC's 'Famous Fathers,' and the players who share their legacies. Thanks to the sports information directors in the league and Mike Finn in the Greensboro office for making this post possible:
BOSTON COLLEGE
Redshirt freshman defensive end Max Holloway's father (Brian) played 10 seasons in the NFL (with Patriots and Raiders). His maternal grandfather, Johnny McKenzie, played 19 seasons in the NHL, winning two Stanley Cups with the Boston Bruins.
Junior wide receiver Chris Fox's father (Tim) was an All-American at Ohio State under Woody Hayes and played 10 years in the NFL (with the Patriots, Chargers and Rams).
Redshirt freshman wide receiver Hampton Hughes' father played for six years for the Dallas Cowboys.
Junior linebacker Mike Morrissey's father (Jim) played nine seasons in the NFL for Chicago and Green Bay.
CLEMSON
QB Mike Wade, LB Chris Richardson and Landon Walker: Their fathers, Mike Wade Sr., Chuckie Richardson and Gary Walker, played on the national championship team in 1981.
DUKE
Kicker Paul Asack's father Phil Asack was a 1971 Duke graduate who lettered for three seasons before joining the San Diego Chargers.
Redshirt sophomore offensive tackle Conor Irwin's father Tim Irwin played football at the University of Tennessee and in the NFL from 1981-94 with the Minnesota Vikings, Tampa Bay Buccaneers and Miami Dolphins. As an aside, his uncle, King Irwin, played football at Georgia Tech.
Wide receiver Matt Pridemore's father Tom Pridemore played at West Virginia and for the Atlanta Falcons.
Receiver Brandon Braxton's father David Braxton played for the Minnesota Vikings, Phoenix Cardinals and Cincinnati Bengals.
FLORIDA STATE
QB Christian Ponder's father, David, was a defensive lineman at FSU from 1980-83.
Redshirt freshman defensive end Dan Hicks' father is former FSU standout and NFL veteran Dan Footman.
Incoming freshman linebacker Christian Jones' father, Willie Jones Sr., was a standout defensive end for the Seminoles (1975-78) and a second-round draft choice of the Oakland Raiders in 1980 and returned to FSU as a graduate assistant football coach in 1988.
Quarterback Clint Trickett, who enrolled as a freshman in January and took part in spring practice, is the son of FSU assistant head coach/offensive line coach Rick Trickett. Travis Trickett, another son who has been a videographer in the FSU football program, will be the graduate assistant on offense this season.
GEORGIA TECH
Junior safety Cooper Taylor's father, JimBob Taylor, played quarterback at Tech.
Senior wide receiver Kevin Cone's dad, Ronnie, played running back at Tech.
Senior running back Lucas Cox's brother, Michael, was a three-year starter at fullback for Tech and now plays for the Kansas City Chiefs.
MARYLAND
Defensive lineman Joe Vellano's father, Paul, played for Maryland (1971-73). He was an All-American defensive lineman in 1972 and All-ACC in 1972-73.
Defensive back Austin Walker and defensive lineman Alex Walker are the sons of Doc Walker, who starred at UCLA from 1974-77 before being drafted by the Cincinnati Bengals. He also started at tight end from 1980-85 for the Washington Redskins, playing for the 1982 Super Bowl championship team. Their father is currently a local sports-talk radio host for Sportstalk 980 and also covers ACC football for Raycom television.
Running back Davin Meggett's father, Dave, played in the NFL for three different teams -- the New York Giants (1989-1994), the New England Patriots (1995-1997) and the New York Jets (1998).
MIAMI
Backup quarterback A.J. Highsmith's father, Alonzo Highsmith, and running back Damien Berry's father, Kenny Berry, played for Miami. Highsmith played at Miami from 1983-86 and in the NFL for seven years. Berry was at Miami from 1987-89.
Backup quarterback Spencer Whipple is the son of assistant head coach and offensive coordinator Mark Whipple.
NORTH CAROLINA
Punter C.J. Feagles's father, Jeff, is currently the New York Giants punter and has played 21 seasons in the NFL.
Backup quarterback Bryn Renner's father, Bill, was a punter at Virginia Tech and for the Green Bay Packers.
Offensive tackle Brennan Williams' father, Brent, played in the NFL from 1986-93 with the Patriots, Seahawks and Jets.
Linebacker Shane Mularkey's father, Mike, is the offensive coordinator for the Atlanta Falcons.
NC STATE
R.J. Mattes' father, Ron, played at Virginia, where as a senior in 1984 he was an all-ACC defensive tackle for George Welsh. He also played offensive tackle in the NFL for the Seahawks, the Bears and the Colts. He is now coaching at Virginia as offensive line coach.
VIRGINIA
Wide receiver Jared Green is the son of Darrell Green, who was a standout cornerback for the Washington Redskins and a 2008 inductee into the Pro Football Hall of Fame. Jared gave his father's induction speech at the ceremony.
Cornerback Chase Minnifield is the son of Frank Minnifield, a Pro Bowl cornerback for the Cleveland Browns, playing from 1984-92.
VIRGINIA TECH
Zac Evans is the son of George Evans, who was a starter on the Hokies' offensive line and lettered from 1979-82.
Kenny Lewis, Jr., is the son of Kenny Lewis, Sr., a standout running back for the Hokies who is enshrined in the Tech Sports Hall of Fame.
Beau Warren's father, Donnie Warren, played 14 years in the NFL for the Washington Redskins.
Freshman linebacker Chase Williams, who entered school in January, is the son of Gregg Williams, the defensive coordinator of the Super Bowl Champion New Orleans Saints.
Linebacker Jeron Gouveia-Winslow is the son of Kurt Gouveia, who was also a starter for the Redskins.
Wiley Brown's father, Chuck Brown was deemed the Godfather of GoGo music.
WAKE FOREST
Quarterback Brendan Cross is the son of former 49ers center Randy Cross.
Linebacker Joey Ehrmann is the son of Joe Ehrmann, who played for the Colts and Lions.
Center Chance Raines' father, Mike, was an All-American at Alabama under Bear Bryant.
Quarterback Ted Stachitas' father, Len, is vice president of the National Football Foundation and the executive director of the NFF's Play It Smart Program, a highly successful youth development program.