February, 10, 2011
2/10/11
9:00
AM ET
Now it's time to look at spring quarterback competitions in the MAC. There should be plenty of intrigue here, especially at Toledo and Miami (Ohio), where starters are returning from injury but finding they are not going to be shoo-ins to get their jobs back.
Ball State
Who's competing:
Kelly Page
and
Keith Wenning
will compete once again in the spring. They are no strangers to competing against each other -- Wenning won the starting job from Page in 2010 as a true freshman. With new coach Pete Lembo set to install his no-huddle offense, both players are going to have to audition for that job. Keep in mind, Page and Wenning are the only two scholarship quarterbacks on the roster.
Buffalo
Who's competing:
The Bulls did plenty of quarterback shuffling last season under first-year coach Jeff Quinn, but nobody seemed to stick as the starter. So the competition is open once again headed into the spring between
Jerry Davis
,
Alex Zordich
and
Alex Dennison
. Davis will be a junior, while Zordich and Dennison will be sophomores. Davis started the majority of games last season, but Zordich did start a handful as a true freshmen. Neither put up stellar stats as they tried to learn the spread offense.
Kent State
Who's competing:
Spencer Keith
returns, but he was wildly inconsistent last season, throwing for 2,212 yards, eight touchdowns and 11 interceptions. But with a new coach in Darrell Hazell, nobody is guaranteed of keeping their starting job. Expect a competition with
Giorgio Morgan
in the spring as Hazell installs more of a traditional offense. Morgan has been a career backup.
[+] Enlarge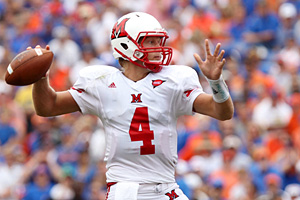 Kim Klement/US PresswireMiami Redhawks quarterback Zac Dysert will be battling for the starting job in 2011.
Miami (Ohio)
Who's competing:
This is going to be a tremendous competition between
Zac Dysert
and
Austin Boucher
, two quarterbacks equally capable of leading this team. Dysert started the first 10 games of the season before injuring his ribs and sitting out the rest of the way. In came Boucher, who had only thrown 14 career passes to that point. But Boucher closed the season 4-0, with a come-from-behind win in the MAC championship game and then a win the GoDaddy.com Bowl against Middle Tennessee. Dysert threw for 2,406 yards, 13 touchdowns and 12 interceptions, and completed 65 percent of his passes. Boucher threw for 1,120 yards, six touchdowns and three interceptions, and completed 64 percent of his passes. With a new head coach on Don Treadwell, both go in with clean slates and an opportunity to impress.
Ohio
Who's out:
Boo Jackson
Who's competing:
Jackson and Phil Bates Bates have been involved in quarterback competitions themselves, so being in this position is nothing new for Bates. But this is opportunity to prove once and for all why he deserves to be the starter after taking a back seat to Jackson last season. He is a senior and the most experienced quarterback on the roster. But two will push him --
Kyle Snyder
and
Tyler Tettleton
. Snyder redshirted as a true freshman last season, and Tettleton also redshirted and will be a sophomore. Tettleton attempted 23 passes in 2009.
Temple
Who's competing:
Chester Stewart
began last season as the starter before then-coach Al Golden decided on a switch and put
Mike Gerardi
into the starting lineup during the Bowling Green game in October. Gerardi started the rest of the way, but it wasn't enough to get the Owls into the MAC championship game. With new coach Steve Addazio taking over, both are in contention to become the starter. There is one more player in the mix --
Chris Coyer
, a 6-foot-3 dual-threat, left-handed quarterback who has drawn comparisons to Tim Tebow. Addazio coached Tebow at Florida. Coyer's bio says he worked out with Tebow in high school. Plenty of connections there for him to make a serious run at the starting job.
Toledo
Who's competing:
Another intriguing competition here between
Austin Dantin
, who began 2010 as the starter, and
Terrance Owens
, who filled in quite nicely down the stretch. Dantin injured his shoulder/collarbone at the end of October and missed the final four games of the season. Owens went 2-2 as a starter, but he ended up with a better quarterback rating than Dantin and threw 13 touchdowns to seven for Dantin.
November, 24, 2010
11/24/10
3:30
PM ET
Welcome to the final edition of Winless Watch, where just one team is left looking for that first win of the season.
Akron (0-11). Streak: L 11. The Zips have come oh-so-close to winning the last two weeks, but have fallen just short against Ball State and Miami (Ohio). Now they get a winnable game to close out the season -- at home against Buffalo (2-9) on Friday. The Bulls are having their own set of struggles -- they have lost six straight. Their only win was over an FBS team -- 28-26 to Bowling Green, which missed a 40-yard field goal for the win as time expired.
The Bulls have had a tough time under first-year coach Jeff Quinn as well.
Jerry Davis
started the season at quarterback but wasn't what Quinn was looking for to run the spread. Freshman
Alex Zordich
replaced him, but he is out with a rib injury, so Davis is back in. He has 14 touchdowns and 14 interceptions this season. The Bulls haven't been helped by their lackluster run game, either. They have an NCAA-worst three rushing touchdowns this season.
These are two of the worst offenses in the MAC and the country. They rank in the bottom in the league in scoring, and total offense. But the Zips have shown some signs of life. They have lost their last two games by a combined 12 points, including the overtime loss to the Cardinals. Last week against Miami, they fumbled late in the game as they were driving for the winning score.
Winning teams somehow find a way to win. That is what Rob Ianello is waiting to see out of his players.
"We have to make those plays we haven't made," Ianello said. "We've lost two games in overtime and one game on the last possession and all those games you can look at a few key plays that we haven't made and the opponent has.
"Last week, we turned it over twice. They didn't turn it over at all. As I told our team, we'll win when we get good enough to win. How do you get good enough? You make those plays you have to make in a close game. When you get the taste of victory then you understand what it takes, next time you get in a situation you make them again."
My pick
: Akron 21, Buffalo 17.
October, 22, 2010
10/22/10
10:00
PM ET
Buffalo will start true freshman quarterback
Alex Zordich
against Temple on Saturday, benching starter
Jerry Davis
.
Coach Jeff Quinn made the announcement in a statement released Friday evening. The two quarterbacks competed for the starting job this week, after Davis struggled in a loss to Northern Illinois. Quinn said in his statement: "Both quarterbacks -- Alex and Jerry Davis -- are prepared to play and help this football team get better."
Davis was just 7-of-23 for 101 yards with a touchdown and an interception in the 45-14 loss to the Huskies. Zordich came on in relief and went 2-of-3 for 19 yards. Davis has started every game this season but has been inconsistent for the Bulls (2-4), with 12 touchdowns and 12 interceptions on the year. The Northern Illinois game was his worst of the season.
September, 3, 2010
9/03/10
12:49
PM ET
Utah carried the torch for the non-AQs, but did not exactly look overpowering in doing so. On to some recaps ...
The Utes put the "U" in ugly
during win, writes Gordon Monson of The Salt Lake Tribune.
It appears Sun Belt officials
blew a crucial call
late in Middle Tennessee's loss to Minnesota.
Still, there was plenty to
build on for the Blue Raiders
, playing without Dwight Dasher.
Is South Carolina that good, Southern Miss that bad, or
a combination of both?
Idaho posted its
first shutout since 1997.
Colin Kaepernick said he played
just average in Nevada's win.
Ball State easily won its opener.
Dan Enos won his opener at Central Michigan, the school's
first opening-game shutout since 1979.
Ryan Radcliff went 20-of-34 for 242 yards and a touchdown.
Spencer Keith had his first
three-TD game in Kent State's opener
against Murray State.
Jerry Davis proved he has a
good grasp of Buffalo's new offense
in a win against Rhode Island.
FAU rallied from a 16-point deficit to
stun UAB in Birmingham
. Included in the comeback was a last-second blocked field goal to preserve the victory.
Plenty for Doc Holliday and Marshall to learn
after their 45-7 loss to Ohio State.
Many concerns for Northern Illinois
after losing to Iowa State.
Southeastern Louisiana gave
Tulane all it could handle.
Hawaii came oh-so-close to USC, but its
defense could not get the job done.
Meanwhile, TCU coach Gary Patterson said he
"screwed up" in the Fiesta Bowl
for allowing his team too many distractions. Players are having their cell phones taken away Friday night to prevent any distractions before Oregon State.
And as a reward for making it this far, I give you a must-read Washington Post magazine feature on
Navy quarterback Ricky Dobbs.
Other conference links:
ACC
Big 12
Big East
Big Ten
SEC
August, 31, 2010
8/31/10
4:00
PM ET
The MAC has traditionally turned out pretty good quarterbacks, but now there are many new faces set to start at the all-important spot. The two biggest names who are gone: Dan LeFevour of Central Michigan and Tim Hiller of Western Michigan.
Don't know what to expect from their replacements? Here is a quick primer:
Central Michigan
.
Ryan Radcliff
replaces LeFevour, the MAC's all-time leader in passing yards (12,905) and TD passes (102). The sophomore has a totally different style from LeFevour, who could run nearly as well as he could pass. Radcliff is more of a classic drop-back passer with a strong arm.
"He's got good feet, great arm strength, great touch, very smart," coach Dan Enos said. "I wouldn't say he's going to impress anybody running the ball down the field, but he can create with his legs and move the chains if need be."
On replacing someone as successful as LeFevour, Enos said: "We've discussed that with Ryan since we've arrived. We said don't be him, don't try to be him. [Radcliff's] a good enough player and has enough skills that we think he can be a very good player here. We've tried to explain to him he doesn't have to win the game on his own."
Western Michigan
. Sophomore
Alex Carder
takes over for Hiller, who left as the school's career passing and total offense leader. Carder also is a different quarterback, especially in his demeanor.
"He's an excitable guy -- he wears it all on his sleeve," coach Bill Cubit said. "We have to hope he is an even-keel guy."
On how he is different from Hiller, Cubit said: "Tim is more of a drop-back guy, very cerebral. You never knew if he was upset or thrilled to death. Alex, his emotions are a little bit different. He's more outgoing in terms of talking on the field. That's a little bit different for the kids. He's inexperienced, but at this stage in his career and Tim's stage, they're very comparable in terms of production."
Four other teams have new starters at quarterback, too.
Buffalo
.
Jerry Davis
replaces Zach Maynard in the new spread offense coach Jeff Quinn has installed.
"[Jerry's] played games, he's been in the fights and I think it's really important that we keep that theme that guys that earn the spot should be rewarded for that position," Quinn said. "He's really picked up the offense and been able to make the plays in practice."
Bowling Green
. Redshirt freshman
Matt Schilz
takes over for Tyler Sheehan, a three-year starter. "It's a little bit easier when guys around you have played," said coach Dave Clausen, whose running back and receivers are all seniors. "I'm hopeful that transition will help us."
Toledo
.
Austin Dantin
officially replaces
Aaron Opelt
, although Dantin played as a true freshman last season when Opelt got hurt. "He's a leader, done a great job for us and we look forward to seeing what he does with our offense," coach Tim Beckman says.
Ohio
.
Boo Jackson
has started for the Bobcats, but he goes into the season
sharing the job
with
Phil Bates
, a transfer from Iowa State. Coach Frank Solich said: "Phil's by far the best rusher we've got. Boo, when he's scrambling, has a unique way of finding guys in the open field. They bring something a little different to the table, so it probably makes sense for us not to announce that to allow preparation for a specific type of quarterback."
Also of note
:
Chester Stewart
becomes the full-time starter at Temple, having started several games last season. Eastern Michigan plans on playing both
Devontae Payne
and
Alex Gillett
.
May, 12, 2010
5/12/10
4:07
PM ET
Jeff Quinn said becoming a head coach was something he'd always dreamed about, but the situation he found himself in after taking over at Buffalo probably wasn't what he expected.
About a month after Quinn took the job, quarterback Zach Maynard, who started every game last season, decided to transfer. Maynard was the only quarterback on the roster with meaningful game experience and it was a tough initial blow for a first-year head coach.
So, during spring football Quinn did his best to take two green quarterbacks, who were recruited to a pro-style offense, and turn them into spread signal callers that could fit his system.
Sophomore
Jerry Davis
and freshman
Alex Dennison
emerged as the top two quarterbacking candidates after the spring, but Quinn declined to name either the starter. They'll have the summer to get better and fall camp to prove that they can lead the Bulls.
"We'll need them both," Quinn said after the Bulls spring game. "We have to keep developing them and allowing them an opportunity to grow through the summer and fall camps, so it'll be a competitive situation between the two of them."
During the spring game, Dennison completed 19-of-29 passes for 210 yards with two touchdowns. He also had a rushing touchdown that gave the White team a 49-41 victory.
Davis was 12-of-20 for 113 yards.
Quinn acknowledged during the Mid-American Conference coaches call that learning the spread offense is not an easy task and that his team still has a lot of growing to do this offseason.
That growth will certainly focus on the quarterback position, which will double in number by fall camp with the addition of recruits Alex Zordich and Rudy Johnson.
"We really want to keep the defense on their heels and keep them off balance and try to attack them with a lot of different formations with a high-tempo, fast-paced style," Quinn said. "That's been one of the things that we wanted to get across and that takes a lot because it's quick think on the offensive personnel and it's the quarterback's ability to communicate to the offensive line and what we're trying to ask them to execute.
"So, to get all 11 guys on the same page to execute in a very fast-paced system takes a little bit of time and I thought they did a great job each and every day showing improvement."
February, 16, 2010
2/16/10
11:00
AM ET
Here's a breakdown of three issues facing each team in the MAC heading into the spring:
Akron Zips
Spring practice starts:
March 24
Spring game:
April 17
What to watch:

" New head coach Rob Ianello takes over an Akron squad that hasn't had a winning season since 2005. The Zips struggled last year averaging 19.25 points per game on offense and gave up 28.75 points per game on defense. This spring's goal will be to find playmakers to bring both sides of the ball on par with the rest of the league.
" The Zips had a running back by committee system last year, but none of their backs had more than 250 yards. Two of the team's top three rushers are gone and the rest are freshmen and sophomores. Ianello signed five tailbacks in his first class.
" The defense struggled to put pressure on the quarterback as the Zips finished with 11 sacks. Opponents scored touchdowns on 66 percent of opportunities inside the red zone. Shoring up the defensive line and the linebackers will be an emphasis this spring.
Ball State Cardinals
Spring practice starts:
March 24
Spring game:
April 17
What to watch:

" Sophomore quarterback
Kelly Page
tries to regain the starting role after missing the second half of the season with thumb surgery. The Cardinals were winless with him in the lineup, but he improved as the season progressed. Redshirt freshman
Aaron Mershman
will vie for the role in the spring before highly-touted recruit Keith Wenning joins the competition in the fall.
" Running back
MiQuale Lewis
and tight end
Madaris Grant
are both awaiting word from the NCAA about a possible sixth season. Both are team leaders and are the top players at their respective positions.
" Losing defensive coordinator Doug Graber is a blow to the Cardinals. Although he was only with the team for a season, the defense was one of the team's bright spots and got better as the season progressed. The Cardinals have yet to name a replacement.
Bowling Green Falcons
Spring practice starts:
March 19
Spring game:
April 16
What to watch:

" Replacing quarterback
Tyler Sheehan
will be one of the biggest chores since he took 95 percent of the snaps for the past three seasons.
Aaron Pankratz
was the backup last year and the leader heading into spring. But redshirt Matt Schiltz, walk-on
Kellen Pagel
and December enrollee Caleb Watkins will all be in the mix.
"
Freddie Barnes
was the Falcons best offensive weapon and it will be hard to find a replacement. Overall, the Falcons lose three of their top five receivers, and one of those returning is running back Wille Geter.
" Rebuilding the defense will be a priority after losing seven players, including the entire line backers corps and three-fourths of the secondary. There is a lot of young talent waiting, it is just a matter of gelling during spring ball.
Buffalo Bulls
Spring practice starts:
March 20
Spring game:
April 24
What to watch:

" Losing quarterback Zach Maynard, who decided to transfer last month, hurt their offense. He would have been the starter heading into the season, but now sophomore
Jerry Davis
and redshirt freshman
Alex Dennison
will duke it out this spring before two freshmen arrive in August.
" The Bulls have to replace top receivers
Naaman Roosevelt
and
Brett Hamlin
and have several candidates to do so. Juniors
Terrell Jackson
,
Marcus Rivers
and
Ed Young
, and redshirt freshmen
Fred Lee
and
Alex Neutz
will compete for playing time.
" New head coach Jeff Quinn is going to install a more wide-open offensive system at Buffalo, however finding the right guys to play it will be a challenge. There are athletes remaining at Buffalo, but the loss of players such as Maynard and Roosevelt will make the transition slower.