NCF Nation:

Jerry Montgomery
March, 28, 2013
Mar 28
9:00
AM ET
Roughly 90 percent of college football programs would be thrilled to win 10 games in a season. Oklahoma is not one of those programs.
Sharing a Big 12 title? That trophy is a whole lot less satisfying when there are seven others waiting in the trophy case since 2000 that weren't shared with anybody.
"Our expectations are different than everybody else. Everybody's not Oklahoma," defensive coordinator Mike Stoops said. "When you have Oklahoma across your chest, you expect to win championships, and that's never going to change here."
He knows firsthand. Stoops helped his brother, coach Bob Stoops, win Oklahoma's seventh national title back in 2000, and the Sooners came up short two more times, once losing in the title game with Mike Stoops in 2003 and again a year later with Stoops coaching at Arizona. Without him coordinating the defense, the Sooners gave up 55 points to USC, more points than any team has ever scored in the BCS National Championship Game.
Arizona fired Mike Stoops six games into the 2011 season, and the Sooners' struggling defense needed an offseason jolt, despite winning 10 games that same season. Mike Stoops returned and brought assistant Tim Kish with him to coach linebackers and help coordinate the defense.
"Sometimes change is good, new ideas are good always, and change is good sometimes," Mike Stoops said. "That happens for whatever reason, and whether it's complacency or just being stagnant, those things occur. Just trying to reinvent ourselves is something we need to do."
In 2012, there were more late-season defensive struggles after a strong start, but yet again, a 10-win season and a shared Big 12 title weren't enough. Losing three games isn't good enough, and nobody wants to hear that all three losses came to teams that spent time in the top five last season. The Sooners want to get back to competing for national titles, and Bob Stoops went the route of coaching changes to help get Oklahoma back there.
Assistant coaches Jackie Shipp and Bruce Kittle were shown the door, along with offensive line coach James Patton. The Sooners scooped up Bill Bedenbaugh from West Virginia to replace Patton and brought in Jerry Montgomery from Michigan to coach the defensive line. Jay Boulware filled Kittle's spot on the staff after coaching tight ends at Auburn. The Sooners' reboot was complete, and they're working toward results in the spring.
"[They bring] a new perspective in some areas, new ideas. They're not drastic changes," Mike Stoops said. "Obviously, the coaches we had in here were involved and knew our systems well, but there's always little changes in technique and little things schematically that can help you, so we're always looking for fresh ideas."
Ten wins tastes bitter when you're used to winning 11 or 12, which can be the difference between proving yourself as a very good team and a great team. Oklahoma won at least 12 games six times since 2000 and 11 games on three more occasions. Ten wins isn't good enough, and a few former players and one famed coach were more than willing to speak up about it, echoing fan concerns.
Barry Switzer started it in September when he told one local paper that the Sooners "just don't have the talent."
"We're not as good as we have been," Switzer said. "We don't have the Tommie Harrises or Gerald McCoys squatting down there in the middle [of the defensive line]."
Offensive lineman Jammal Brown, an All-American who played in Norman from 2000 to '04, said he was "mad as hell" about the Sooners' 28-point Cotton Bowl loss to Texas A&M to cap the 10-win season, calling the Sooners "soft." CBS analyst Spencer Tillman, a Sooners running back in the '80s, said Oklahoma lost concentration on what made the program great in the first place.
Considering the Sooners let Shipp go at the end of the season, it's hard to believe Bob Stoops didn't agree in part with what Switzer had to say. As for the rest of it?
"We may not be as skilled at some of the positions as we want to be, but our toughness and pride is what made Oklahoma what it is, whether it was Bud Wilkinson or Barry Switzer or Bob Stoops, I think that's the common thread that goes to being a great team," Mike Stoops said.
"Some of those, from the outside, may have felt like we didn't have that common thread between us. I never felt that; I always thought our teams played hard and together. They're certainly entitled to their opinions, you know. We've got to look at ourselves, and if it's true, we need to change it. The things we needed to change, we're working on changing, and nobody knows our program like we do.
"There's areas we certainly need to get better at, and we're aware of those. Some of those take time. Some of those take adjustments each day to get better."
The Sooners lose a four-year starter at quarterback in
Landry Jones
from last year's team, along with seven starters from Mike Stoops' defense. The task of winning more than 10 games seems difficult in a Big 12 that's deeper than it has ever been.
"We just need to get better, again, individually and schematically and play better across the board and come up with better ideas and a better scheme. We're not far off when you look at the big picture," Mike Stoops said. "We had a chance to win 12 games, we lost them all late in the game and down the stretch and didn't make the plays we needed to, but again, we're not that far off."
February, 23, 2013
Feb 23
6:55
PM ET
Michigan coach Brady Hoke often has said his staff includes three defensive-line coaches: himself, defensive coordinator Greg Mattison and the actual line coach, Jerry Montgomery.
The Wolverines are down to two as Montgomery has accepted the same job on Oklahoma's staff, sources have told ESPN RecruitingNation's
Tom VanHaaren
and
Jake Trotter
. Montgomery is the first assistant to depart Michigan since Hoke took over before the 2011 season.
Neither team has made an official announcement about Montgomery, but Michigan defensive tackle
Ondre Pipkins
tweeted about the coach's departure
Saturday, thanking Montgomery and wishing him luck at OU. Montgomery will replace Jackie Shipp, the Sooners' longtime defensive-tackles coach who
wasn't retained for 2013

.
Montgomery did a solid job for Michigan both on the field and on the recruiting trail. He certainly had security in Ann Arbor, but the move makes sense if he can grow professionally more with Oklahoma. After all, both Hoke and Mattison are heavily involved with Michigan's defensive line; Montgomery might have more autonomy with Oklahoma. Would he have been the top choice to succeed the 63-year-old Mattison as coordinator? Perhaps, but Mattison shows no signs of slowing down, and Hoke certainly could find a coach with previous FBS coordinator experience.
Montgomery briefly accepted a job with Indiana 2011 before joining Michigan's staff. The former Iowa Hawkeye also has coached defensive line at Wyoming and Northern Iowa.
May, 1, 2012
5/01/12
4:25
PM ET
ANN ARBOR, Mich. -- Michigan's
Craig Roh
has been ingesting about 5,000 calories per day this spring, trying to bulk up by about 10 pounds to play strong side defensive end. He's eating six meals per day, and says there are days when he feels like throwing up all the time.
Yet, this offseason has been a lot easier to stomach for Roh than last year, when another transition didn't get off to the smoothest of starts. During last spring and summer, Roh was steadily getting criticized by new defensive coordinator Greg Mattison as he moved from linebacker to weakside defensive end.
[+] Enlarge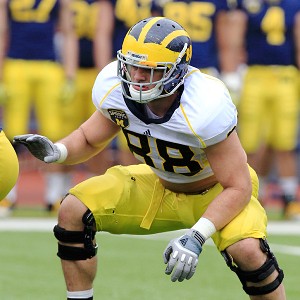 AP Photo/Carlos OsorioCraig Roh is bulking up to switch positions on Michigan's defensive line.
"I'd have those moments like, 'Does he even think I'm worth anything?'" Roh told ESPN.com. "He broke me down to my core and built me back up. It was one of the hardest things I've been through in my life, but also one of the most rewarding."
After a slow start last year, Roh improved to finish with 32 tackles, including eight for loss, on one of the best defensive lines in the Big Ten. Now, he's the only starter back on the line, moving over to the spot where Ryan Van Bergen starred a last season.
The Wolverines are counting on him to be a playmaker and a leader, two things he accomplished in spring practice.
"I think the move of Craig Roh was a very, very good move," Mattison said. "He had one of the best springs of any of our guys. I think the thing that would bother him was open spaces. We felt that moving him inside gives him a chance to show his ability."
Roh will be right in the middle of the action on the strong side, and often will have to face more than one blocker. Hence the need to build up from last season's listed playing weight of 269 pounds.
"It's great because the ball comes to you, and you don't have to run far to get to it," he said. "You just have to be strong and throw off blocks, be explosive. That's what I am. It's an exciting transition, and I've been able to make a lot of plays in spring practice. It's been fun."
Fun hasn't always described Roh's other moves. In Rich Rodriguez's 3-3-5 scheme, he played outside linebacker and, like much of the defense during that era, struggled mightily at times.
"At linebacker, I did not know what was going on at all," he said. "I know what I'm good at and what I'm not good at. I'm not good at linebacker. I know I am good at reading and reacting on the defensive line."
It took a couple of games last season before Roh started feeling comfortable in Mattison's system. He told the media last fall that he broke down in tears in front of his family after the opener against Western Michigan. He had to get used to the high standards Michigan has for its defensive line. After all, Mattison and head coach Brady Hoke are defensive line coaches at heart, and Jerry Montgomery is a demanding position coach.
"The pressure is immense," Roh said. "You have three different people critiquing what you're doing. They're not always going to give you compliments. Most of the time, they're not going to give you compliments."
But they have been complimentary of Roh's play so far this offseason, with Hoke telling ESPN.com that Roh "can be a big plus for us this year." A bigger plus, if he keeps up his high-calorie diet.
December, 29, 2011
12/29/11
9:00
AM ET
It didn't take long for Brady Hoke and Greg Mattison to realize that repairing Michigan's defense would take more than schematic adjustments and refurbished fundamentals.
The problems went deeper than that. They struck at the core of each player who had suffered through the darkest stretch of defensive football in Michigan history.
Hoke, the Wolverines' first-year head coach, and Mattison, the team's defensive coordinator, inherited defenders whose pride had been wounded.
[+] Enlarge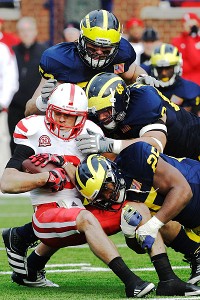 AP Photo/Carlos OsorioSeniors Ryan Van Bergen, top, and Mike Martin (68) powered Michigan's improved defense from their positions on the line.
"When we went through spring, maybe the offense does something well or
Denard [Robinson]
gets loose -- there were some runs that were big plays," Hoke told ESPN.com, "and I don't know if [defenders] didn't have the confidence or if how they practiced was different, but you could see a little bit of a self-defeating attitude."
Mattison tried to clean the slate. He didn't care about the past, so why should his players? But he soon learned that he couldn't ignore what had happened or its effects.
"All you had to do was read papers," Mattison said. "Any comments that ever talked about the Michigan defense always ended with, 'Boy, the defense was not very good.' You can sense that when people look at you, they go, 'Oh boy, they're bad.'
"You don't wish that on anybody that works hard."
Mattison and Hoke had to change attitudes on defense, but they never had to worry about players working hard. While many factors played into Michigan's renaissance on defense this season, perhaps none meant more than the players being fed up with their reputation and hungry to change it.
The result was a defense that improved from 110th nationally to 17th, the biggest one-year jump in college football. Michigan improved from 108th to seventh in points allowed.
Name a significant category -- rush defense (95th to 34th), takeaways (77th to 22nd), red zone defense (87th to fourth), third-down defense (95th to 30th), first downs allowed (107th to 16th), sacks (98th to 27th) -- and Michigan not only made strides, but dramatic ones.
The papers now describe Michigan's defense in a different light. The unit is the single biggest reason why the Wolverines won 10 games this season and returned to a BCS bowl for the first time since the 2006 season. Michigan faces Virginia Tech next Tuesday night in the Allstate Sugar Bowl.
"Nobody likes being criticized," safety Jordan Kovacs said. "But at the same time, it made us the defense that we are today."
The coaching staff also played a significant role in the transformation. Hoke and Mattison, defensive assistants at Michigan in the 1990s, knew what Wolverines defense was supposed to look like.
When Hoke hired Mattison away from the NFL's Baltimore Ravens, he didn't have to map out the defensive plan with his coordinator. The two men go way back, to their days as assistants with Western Michigan in the mid-1980s.
"Brady knew he and I thought exactly the same," Mattison said. "It all starts up front, it starts with technique, it starts with running to the football -- all the things great defenses do."
The line became the focal point. Michigan had used three-man fronts for much of the past three seasons, but Mattison restored the base 4-3 set, the one to which senior linemen like Mike Martin and Ryan Van Bergen had been recruited.
Although Hoke hired a defensive line coach in Jerry Montgomery, both Hoke and Mattison spent much of their time with the front four. Hoke even coached a position, nose guard, setting him apart from most head coaches, who either work with specialists or serve primarily as overseers.
"I'm not one of those head coaches who's going to walk around," Hoke said. "I've hired good assistants, guys who understand how we want to play. I'm smart enough to know where my strengths are. And selfishly as much as anything, I love my time with those guys, coaching defensive line."
The coaches were fortunate that the line, more than any area on defense, featured veterans such as Martin, Van Bergen and end Will Heininger, a walk-on. The three seniors had one final season to make things right, and they played with great urgency.
Michigan's line accounted for 16.5 sacks, 33.5 tackles for loss, three forced fumbles, four fumble recoveries and a safety. The Wolverines have 28 sacks through 12 games, 10 more than they had in 13 contests last season.
Michigan's improvements up front helped the rest of the unit.
"There were times last year where you're beat and they'll complete that ball," Kovacs said. "There's times this year where you're beat and you feel like, 'Oh, gosh, please don't throw it.' And the next thing you know, we've got a sack, or [the opposing quarterback] had to check it down because of our pressure from the defensive line and linebackers."
The secondary absorbed most of the criticism for Michigan's defensive woes the past three seasons. A combination of youth, injuries, attrition and flat-out poor play led to repeated breakdowns.
When Mattison arrived, Kovacs remembers him telling the defensive backs, "Keep the ball inside and in front of you. Don't give up the big play. Live to play another down and let these guys in front of you do their jobs." The DBs obliged and several players made significant contributions, including Kovacs, an effective blitzer who recorded eight tackles for loss, four sacks and two forced fumbles.
"It's different, but I can't say I don't like it," he said. "In the first game, there were a couple blitzes I came clean on, and I realized I really like to blitz."
Michigan's defensive awakening can be traced to three areas.
1. Eliminating big plays:
According to ESPN Stats & Information, Michigan's defense last season allowed 64 plays of 20 yards or longer (46 passes, 18 rushes). This season, Michigan's defense has allowed only 41 plays of 20 yards or longer (25 passes, 16 rushes). The Wolverines went from 107th nationally in allowing passes of 20 yards or longer to eighth this season.
2. Third-down defense:
Michigan ranked 95th nationally last season, allowing conversions at 43.3 percent. Five of eight Big Ten opponents converted more than half of their third downs against the Wolverines. This season, Michigan ranks 30th nationally, allowing conversions at 36.1 percent. Only one Big Ten team, Michigan State, converted half of its third-down attempts against the Wolverines.
3. Takeaways:
Last season, Michigan had 19 takeaways, which ranked 77th nationally and eighth in the Big Ten. The Wolverines matched the total in just seven games this fall and finished the regular season with 27 takeaways, tops in the Big Ten and tied for 22nd nationally. They recorded at least one takeaway in all but one game and multiple takeaways in nine contests.
"Those three things," Mattison said, "are what separate defenses."
Michigan's defense separated itself this season despite a lack of star power. The Wolverines feature no first-team All-Big Ten defenders and just one second-team selection in Martin. The starting defense includes two walk-ons (Kovacs and Heininger) and three freshmen (linebackers Jake Ryan and Desmond Morgan and cornerback Blake Countess).
But the components meshed under Mattison's leadership, and after being trashed in print and elsewhere, the Wolverines found a way to write a different conclusion to their story.
"Every man on that defense, especially the older ones, wanted to come out of Michigan being successful," Mattison said. "It's something you have to have been at Michigan to understand. You're judged by how you play when you graduate. You won't get around that. That's been forever, since Bo [Schembechler] was here.
"To see these guys buy in and work as hard as they did, and to have the success they had at times, was probably one of the most rewarding things I've ever had in my coaching career."
April, 19, 2011
4/19/11
10:00
AM ET
ANN ARBOR, Mich. -- It didn't take long for Greg Mattison to get the attention of his new players at Michigan.
"Within the first five minutes," Wolverines defensive end Ryan Van Bergen said, "all the guys on the defense bought into him, were going to listen to him and were going to take his criticisms."
Most coaches don't have it so easy. Then again, most coaches don't leave one of the NFL's best defenses to coach one of college football's worst.
Mattison had a pretty good gig as Baltimore Ravens defensive coordinator. But when a chance to return to Michigan surfaced, he left Ray Lewis, Ed Reed, Terrell Suggs and others to oversee a defense that had reached historic lows in the past three seasons. The Wolverines finished 110th nationally in yards allowed (450.8 ypg) and 108th in points allowed (35.2 ppg) in 2010, last in the Big Ten for both categories.
[+] Enlarge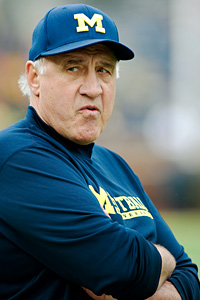 LON HORWEDEL/Icon SMIGreg Mattison came back to Michigan to join Brady Hoke, his "closest friend in the world," in resurrecting the Wolverines.
"I never would have left the Ravens for any job but Michigan and with coach [Brady] Hoke as the head coach," Mattison said.
Mattison had instant credibility among his new players.
Van Bergen lists the Ravens and the Steelers as his favorite pro defenses to watch. Even Michigan offensive players like receiver
Darryl Stonum
point out Mattison's connection to the Ravens and to recognizable stars like Lewis.
"You'd have to be pretty close-minded to not realize he had something great at Baltimore," Van Bergen said. "He was in a situation he didn't necessarily have to leave ever. For him to come here, to say this program means more to him, it shows he's got an emotional tie to what this program can do. It's not just a job for him. It's a passion."
Mattison doesn't spend much time discussing his time with the Ravens. Instead, he often tells the players about his previous stop at Michigan as an assistant from 1992-96.
He first coached the defensive line before serving as defensive coordinator in his final two seasons. In those two years Michigan held 19 of 25 opponents to 20 points or fewer and never allowed more than 30 points.
Mattison takes over a unit that allowed 34 or more points in nine games last season, hemorrhaging 65 against Illinois and 52 against Mississippi State in the Gator Bowl.
"I don't even think about what's happened [recently]," Mattison said. "We're here for a reason and on my side that's to get Michigan defense to a level that's accepted by Michigan defense."
What is that level?
"The winged helmet means excellence," Mattison explained. "It means toughness on defense. It means swarming to the football on defense. It means celebrating together when a good play is made. In our room, it means you don't run the football on that defense. Anything that is your benchmark on defense, that's what the winged helmet stands for because it always has stood for that.
"Nothing aside from being exactly right is acceptable."
Mattison's first step to restoring Michigan's defense takes place up front. He has installed his trademark 4-3 defense, a system he shaped under previous Michigan coaches Gary Moeller and Lloyd Carr and others.
Michigan will use more defensive linemen and most likely bigger defensive linemen than it did in recent seasons, a necessary change after the 2010 season. Size is already a focal point in recruiting.
"When we went against Wisconsin, we were giving up 60 pounds up front," Van Bergen said, referring to a
48-28 loss
that Wisconsin closed out with 29 consecutive run plays. "There were teams that outmanned us because of their size. We never overcame that."
The linemen received plenty of attention this spring. Mattison and Hoke, both who have spent most of their coaching careers with the defensive line, spent much of their time working alongside line coach Jerry Montgomery in practice.
"They've got three sets of eyes on them every play," Hoke said. "We ought to be able to be a little more physical at the line of scrimmage."
Other defensive position groups also are responding well to the system.
"I love everything they're bringing in," linebacker J.B. Fitzgerald said. "It feels like Michigan to me."
This spring, Mattison has focused heavily on third downs and red-zone performance, two areas where the Wolverines struggled in 2010, ranking 95th and 87th in the nation, respectively. He also stressed finishing plays.
Players are instructed to chase the football on every play, even after the whistle.
"If there's a ball on the ground, even if it's an incomplete pass and Denard [Robinson] overthrows it by 60 yards, all the defensive linemen are running to that football, and we're going to pick it up and bring it into the end zone," Van Bergen said. "[Mattison] emphasizes, 'If you go full speed through the whistle, good things will happen for you.'"
After three years where mostly bad things happened, Michigan's defenders, especially seniors like Van Bergen and Fitzgerald, are ready for a change.
"Those seniors on defense have heard enough about where we've been," Hoke said. "They have a lot of pride. When you have that kind of pride, you want to be accountable to the team and to the tradition of playing defense here."
April, 13, 2011
4/13/11
5:00
PM ET
ANN ARBOR, Mich. -- It has been a productive day here on Michigan's campus as I visited with new Wolverines head coach Brady Hoke, coordinators Greg Mattison (defense) and Al Borges (offense), Big Ten Offensive Player of the Year
Denard Robinson
and others.
I enjoyed re-connecting with Hoke, who remembered me from my early ESPN.com freelancer days as we visited on the Mid-American Conference weekly coaches' calls. The new coach seems to be well received by his new players and most Michigan alumni, but as he knows better than anyone, he needs to win games to maintain the good will.
A few notes before I make the drive north to Sparta:
[+] Enlarge

Andrew Weber/US PresswireMichigan will continue to use Denard Robinson as a rushing quarterback.

Robinson is aware of the need to stay on the field this fall, but he'll be fighting his natural aggressiveness at times. The quarterback never felt seriously injured last season, though he was banged up enough to miss stretches in several games. "That's something I have to start doing, just going out of bounds, sliding, which I don't like doing," Robinson said. Sliding? Robinson hasn't been practicing it this spring, and Borges isn't going to keep his quarterback from doing what he does best. "I can tell him to [slide], and he won't do it anyway," Borges said. "We're still going to be very running quarterback oriented. We still have maintained anywhere from five to seven plays in our offense that still feature the quarterback as a runner."

So "Shoelace" -- who was unlaced during our interview Wednesday -- will still be on the move this fall, but Michigan wants to put more of the rushing load on its running backs. No position group could be impacted more by Borges' offense than the backs. Borges made it clear that he wants a bell cow in the backfield, but none has created separation this spring. And while Michigan wants to have a downhill running attack this fall, the coaches don't necessarily need a prototypical power back to carry the rock. That's good news for a guy like Vincent Smith, who checks in at 5-6, 180. "They don't give you any more yards because you weigh 20 more pounds," Borges said. "Whoever can gain the yards is the guy who will play. We're cognizant of how big they are, but when we watch video of high school backs, the thing we're interested in, assuming they're not teeny, is if they can gain yards. If they look like they can break tackles and make people miss in the open field and have some acceleration, size is important but secondary to that."

One area where size matters -- both this season and in future recruiting -- is along both lines. Michigan needs to get bigger up front, especially along the defensive front, to hold its own in the Big Ten. Defensive end Ryan Van Bergen told me that several Big Ten teams "outmanned us because of their size." Having an extra defensive lineman on the field this fall should help -- defensive tackle Will Campbell, at 335 pounds, will beef up the front -- but Michigan is definitely trending toward bigger players. "There's some body composition that we've got to continue to change and strength gains that we need to make," Hoke said. "On both sides of the ball, that will be an emphasis in this year's [recruiting] class."

It's hardly a secret that Hoke spends most of his time in practice with the defense, and specifically the linemen. "It's important," he said, "and it also is my sanity because I'm a teacher, first and foremost, and love to teach the game." The linemen aren't starved for attention this spring with Hoke, Mattison and D-line coach Jerry Montgomery attending to them. "I have 38 years of coaching and 28 of them are defensive line," Mattison said. "Brady's coached defensive line 28 years, I think, and Jerry Montgomery is an excellent young defensive line coach."

Some of the players recognized by the coaches for their spring performances include cornerbacks Courtney Avery and Greg Brown, safety Carvin Johnson, linebackers Cam Gordon and J.B. Fitzgerald, and wide receivers Roy Roundtree, Darryl Stonum and Junior Hemingway. Both Borges and Hoke really like what they have at receiver, and Borges noted that Roundtree has really stood out this spring.
The strongest theme that came across Wednesday was Michigan getting back to its roots. Whether it's stressing rivalry games with "Ohio" -- Hoke isn't the only one who leaves off "State" -- or embracing the defensive tradition or reflecting the values Hoke and Mattison saw here in the 1990s, Michigan players and coaches sense a need to re-establish their identity.
I'll have more Michigan coverage later this week and especially early next week, so stay tuned.
February, 14, 2011
2/14/11
10:00
AM ET
Valentine's Day is about love, but it's also about heartbreak.
Every Big Ten team has felt a little heartbreak from time to time, whether it's a coach leaving for another position, a recruit choosing another college destination or key players veering off track.
Here are some heartbreakers for Big Ten squads:
1. Ohio State's Tat 5:
Quarterback
Terrelle Pryor
and four of his teammates broke some Buckeye fans' hearts by selling memorabilia, including Big Ten championship rings and Gold Pants, for cash and tattoos. The "Tat 5" helped themselves with their Sugar Bowl performances and their pledge to return for their senior seasons, but their absence for the first part of the 2011 season could sting.
2. Brent Pease, Jerry Montgomery, Corey Raymond and Jemal Singleton:
All four assistants joined Kevin Wilson's new staff at Indiana but soon bolted for other jobs. Montgomery (Michigan) and Raymond (Nebraska) left for other posts within the Big Ten. Ouch.
3. Derrell Johnson-Koulianos and Adam Robinson:
Iowa's all-time leading receiver and top running back the past two seasons both missed the Insight Bowl following December arrests. DJK, who had an extremely productive career in Iowa City, is
trying to restore his rep
before the NFL draft.
Robinson wants another chance at Iowa
but right now it looks like a long shot.
4. Tate Forcier:
After an encouraging season on the field, the Michigan backup quarterback was ruled academically ineligible right before the Gator Bowl. It proved to be the end for Forcier, who last week transferred to Miami.
5. Jacoby Brissett:
Wisconsin held a scholarship spot for the quarterback recruit, but he didn't even have the Badgers in his final two choices (Miami and Florida). Brissett ended up signing with the Gators.
February, 7, 2011
2/07/11
9:00
AM ET
Several Big Ten teams are still filling out their staffs for 2011, and we'll hear an official announcement or two later Monday.
Here's a roundup of what's been happening the last few days:
INDIANA

The Hoosiers on Friday announced the hiring of
Brandon Shelby as cornerbacks coach
. Shelby, who previously held the same position at Louisiana-Monroe, starred as a defensive back at Oklahoma during IU coach Kevin Wilson's time there and also served as a Sooners' defensive assistant in 2006. Shelby replaces Corey Raymond, who left Indiana to take a position at Nebraska. Although Nebraska hasn't made an official announcement about Raymond, he's expected to replace secondary coach Marvin Sanders, who resigned Thursday.
Indiana also last week hired Nebraska defensive assistant Brett Diersen as defensive tackles coach and Air Force running backs coach Jemal Singleton to the same position. Diersen replaces Jerry Montgomery, who Wilson said left for a position at Michigan.
These appointments complete Wilson's staff for 2011.
NEBRASKA

So far, Sanders' resignation is the only official announcement Bo Pelini has made about his staff. But Wilson said Raymond is on his way to Lincoln, and all signs point to offensive coordinator Shawn Watson and receivers coach Ted Gilmore being on their way out. Nebraska's offensive production dipped toward the end of the 2010 season, and the Huskers' receivers had an up-and-down year.
Multiple media reports from Nebraska state that
Pelini might be targeting
Oregon receivers coach Scott Frost, the former Huskers' star quarterback, and Notre Dame offensive line coach Ed Warinner as replacements. Warinner served as Kansas' offensive coordinator from 2007-09 and spent time in the Big Ten as Illinois' offensive line coach and run game coordinator from 2005-06.
The interesting part of this is
Pelini reportedly will hand over play-calling duties
to running backs coach Tim Beck. The Lincoln Journal Star and Omaha World-Herald both report that Frost might not leave Oregon unless it's for a job as a play-caller elsewhere.
Pelini seems to be reshaping his staff before Nebraska's jump to the Big Ten. It will be fascinating to see how things play out in Lincoln.
MICHIGAN

Coach Brady Hoke will finalize his staff Monday and announce the defensive assistants to join coordinator Greg Mattison.
Montgomery is on his way to Ann Arbor, and he'll reportedly be joined by Akron defensive coordinator Curt Mallory on the Michigan staff. Expect Mallory to coach the Wolverines' secondary, while Montgomery will work with the defensive line. Mallory played at Michigan and has spent his entire coaching career in the Midwest, serving as Illinois' secondary coach and co-defensive coordinator from 2007-09. Montgomery played at Iowa and most recently served as Wyoming's defensive line coach.
MICHIGAN STATE

After promoting Dan Roushar to offensive coordinator last week, Mark Dantonio reportedly has found the final member of his staff.
According to The (Mount Pleasant) Morning Sun, Central Michigan receivers coach
Terry Samuel has left to take the same position
on Michigan State's staff. Samuel, who played wide receiver at Purdue, worked his way up through the FCS ranks before joining former Dantonio assistant Dan Enos at Central Michigan last year.
He'll coach the position group that previous Michigan State offensive coordinator Don Treadwell oversaw. Samuel inherits a deep and talented receiving corps led by B.J. Cunningham and Keshawn Martin.

WISCONSIN
The Badgers lost a key assistant over the weekend as running backs coach John Settle departed for the same position with the Carolina Panthers. Settle did an outstanding job with Wisconsin's running backs, helping to mold standout players like P.J. Hill, John Clay, James White and Montee Ball.
Although Wisconsin always recruits talented backs, Settle leaves some big shoes to fill. It will be interesting to see who coach Bret Bielema hires as his replacement.
January, 24, 2011
1/24/11
1:45
PM ET
Doug Mallory and Mike Ekeler will try to accomplish something no one has done for at least a decade.
Make Indiana's defense respectable.
The Hoosiers' defensive struggles have kept the program from turning a corner in Big Ten play. Indiana has ranked 75th nationally or worse in total defense in nine of the past 11 seasons.
New coach Kevin Wilson hopes Mallory and Ekeler change the trend soon. Mallory, whose connections to the Indiana program run deep, returns to Bloomington following coaching stops at New Mexico, LSU, Oklahoma State and Maryland. Ekeler comes to Indiana from Nebraska, where he coached linebackers, and rejoins Mallory, with whom he worked at LSU.
I caught up with both men last week while they were recruiting and discussed their vision for the Hoosiers' D.
How would you describe your philosophy for this defense going forward?
[+] Enlarge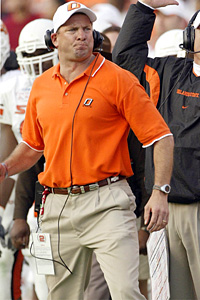 AP Photo/Tim SharpDoug Mallory, shown during his stint at Oklahoma State, says Indiana will play a 4-3 scheme.
Mallory:
Mike and I both come from the same background. We're going to run a system that will more than likely be what we did at LSU. Both of us have evolved since then and certainly we'll get input from other guys on the staff, but we're going to base out of a 4-3 and try to be multiple, but be simple for the kids. Everything we're going to start with is just fundamentals: the ability to defeat a block, the ability to get to the football and the ability to be productive at the end of a play, whether it's tackling or making a play on the ball. I think the first thing we'll do after we finish up the recruiting class is study the offenses here in the Big Ten and modify our system toward that. And then from there, as we get to know our current players and the incoming players, we're certainly going to have to modify it to their talent.
Ekeler:
We worked together for three years at LSU and last year, Doug brought his staff to Nebraska. We're so similar. We may have done a few different things last year that we haven't in the past, and he's done a few things, but the whole package, we're already on the same page. As far as terminology, as far as schematically, we're already there. Our general philosophy is No. 1, our defense will be known for effort. It's not lip service. When you watch Indiana football, you're going to see 11 guys out there playing with passion and flying around and playing harder than anyone else. We want to [be] multiple but simple. You've got to be good at what you do. You base out of a 4-3 and you're an over and under team, you have a lot of pressures out of both fronts and you can sub personnel and it changes up a little bit.
We're seeing more and more co-coordinators throughout college football. What are some of the benefits of having the shared title?
Mallory:
Two guys are going to have a title, but I want to make sure we're getting input from every member of the staff. Every defensive staff I've been involved with, everyone's given input to formulate game plans as the week goes on. It's going to be a group effort. When it comes to calling the game, it's going to be Mike and I, and even then, there's constant communication. I don't know who's going to be in the [press] box and who's going to be on the field, but we'll be constantly communicating, the ability to make the call, the ability to make an adjustment. I think it's a system that can work.
Ekeler:
We're already on the same page coming in with coach Wilson and Doug. And then you have Corey Raymond, who was on the same staff at LSU for three years. Toss in Mark Hagen, who visited us quite a bit when we were at LSU. And then Jerry Montgomery comes in and has a little bit different background, more of a two-gap system at Iowa as a player and then did similar things at Wyoming. It all melds together well.
Why do you think it has been such a struggle for Indiana on defense?
Mallory:
I really don't know. I know they've been very successful on the offensive side on the ball. I haven't spent a whole lot of time viewing what they've done in the past. I've watched a little bit of tape, but watched it more trying to evaluate the type of offenses that they were facing. I had an opportunity to work here from '94-97 with my dad [former IU coach Bill Mallory]. He had had some good defenses here back in the late 80s and early 90s. You look at any championship football program, and you've got to be able to play good defense. It's going to be a main point of emphasis this spring.
[+] Enlarge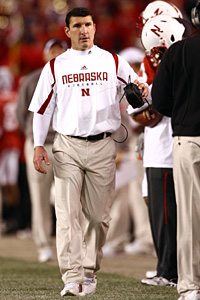 Donald Miralle/Getty ImagesMike Ekeler, shown while with Nebraska, says Indiana will build with players who love the game.
Ekeler:
I haven't been here, so I really don't worry about the past. I just worry about the here and now. I've been part of some unbelievable defenses. So has Doug and so has the rest of our staff. We know what it takes, so it's just about laying that foundation. All I'm worried about is what's going to happen today and what's going to happen tomorrow.
When there has been a sustained period of struggling, is there a greater need to go back and look at what went wrong?
Mallory:
No. I really don't worry about what's happened in the past. We've got a good plan. Kevin's done a tremendous job of putting the staff together. Every guy that he's hired has been involved with championship style programs. We all know what it takes to win and be successful. It's just a matter of us being on the same page, and hopefully that's going to filter down to our players.
Ekeler:
Not at all. Players are players and we've got good players here. We have players who are eager to learn. We believe in what we've done defensively, and it's got a proven track record. It works. It's just a matter of teaching it and developing an attitude on defense and developing a culture where guys trust one another, they trust us and we'll just get after it. As far as anything that's happened in the past, that's history. We're going to make some new history, and that's all I'm focused on.
What do you look for when you're out there recruiting for this defense?
Mallory:
The first thing in recruiting, you've got to evaluate the character of the individual, make sure he's a good quality person. And then make sure football's important to him. I look for a guy who's got the athletic ability to play whatever position we're recruiting him for. And a lot of intangibles come in. You'd like to have a kid that comes from a winning program, a guy that's been coached hard throughout his career, a guy that's going to take the coaching, a guy that will compete with tremendous effort. So you look at the talent, the size, the weight, the growth potential.
Ekeler:
Obviously, the talent factor is No. 1. But then you factor in, is the guy tough? We want tough football players, hard-nosed guys. And then, does he love the game? I always ask the kid, 'If you couldn't play football anymore, how would that make you feel?' And if the kid is like, 'I don't know what I'd do, I love the game, it's everything to me,' those are the guys we want. Because when you come to college, that really separates guys. It's pretty much a job when you get here, and you've got to love it. If you don't love it, you can be good, but I don't know if you can ever be great. It's very similar to what the NFL scouts look for. They don't want to invest millions of dollars in a young man who somewhat likes the game. You've got to love it.
January, 13, 2011
1/13/11
5:30
PM ET
Kevin Wilson hasn't recorded his first victory as Indiana coach, but he's putting together a winning staff.
Wilson on Thursday announced the additions of three more assistants, including two from the staff of recently fired Michigan coach Rich Rodriguez. Rod Smith and Greg Frey, who worked under Rodriguez at Michigan, come to Indiana along with Jerry Montgomery.
Smith, who helped mold
Denard Robinson
into the 2010 Big Ten Offensive Player of the Year, will serve as co-offensive coordinator and quarterbacks coach. He'll share coordinator duties with receivers coach Kevin Johns.
Frey will coach Indiana's offensive line after doing a good job with Michigan's front this season.
"I've had previous relationships with Rod Smith and Greg Frey having built some of our past offenses with coach [Rich] Rodriguez and having continued to visit and study with those guys," Wilson said in a statement. "It is going to be a natural transition for both of them. They are well-versed in the no-huddle style and know how to coach it."
Montgomery, a former defensive tackle at Iowa who spent the past two seasons coaching at Wyoming, will work with Indiana's defensive tackles. Mark Hagen will work with the defensive ends and serve as special teams coordinator.
So here is Wilson's updated staff:
DEFENSE
Doug Mallory: Assistant Head Coach/Co-Defensive Coordinator/Safeties
Mike Ekeler: Co-Defensive Coordinator/Linebackers
Mark Hagen: Defensive Ends/Special Teams Coordinator
Jerry Montgomery: Defensive Tackles
Corey Raymond: Cornerbacks
OFFENSE
Kevin Johns: Co-Offensive Coordinator/Wide Receivers
Rod Smith: Co-Offensive Coordinator/Quarterbacks
Greg Frey: Offensive Line
Wilson's ninth and final assistant -- still to be hired -- will coach running backs and serve as recruiting coordinator.
It'll be interesting to see how Smith's hiring impacts where Indiana goes with its next quarterback.
Edward Wright-Baker
seems a little closer to the Denard Robinson mold, but Wilson's offenses at Oklahoma also featured more traditional quarterbacks.
TOP 25 SCOREBOARD
Thursday, 12/5
Friday, 12/6
Saturday, 12/7