NCF Nation:

Jerry Neuheisel
August, 10, 2012
8/10/12
7:35
PM ET
UCLA coach Jim Mora didn't need to wait until Aug. 16 -- the deadline he previously gave reporters -- to name a starting QB.

Mora tapped touted redshirt freshman
Brett Hundley
the
winner of the Bruins' four-way competition
on Friday, prevailing over senior veterans
Kevin Prince
and
Richard Brehaut
and
Jerry Neuheisel
.
"All four quarterbacks have raised their level of play significantly since my staff and I took over, and we are excited about all of them," Mora said in a statement from the school. "That said, Brett has consistently demonstrated the qualities we value in a starting quarterback and is an outstanding leader who commands the respect of his teammates. He has shown excellent decision-making skills, and his accuracy and timing continue to improve with each practice. In addition, he has shown the mobility and creativity needed when a play breaks down."
Prince had started 26 games and Brehaut 11, but Hundley's upside was difficult to ignore and it has seemed clear since the start of preseason camp that he was the leader. Mora and offensive coordinator Noel Mazzone also know that they have two veteran backups if Hundley gets hurt or struggles. It wasn't revealed who Hundley's backup is.
More here
.
This leaves the Pac-12 with four teams without starting QBs. Arizona State, Colorado, Oregon and Stanford still have unresolved competitions.
April, 25, 2012
4/25/12
11:00
AM ET
LOS ANGELES -- To illustrate UCLA's quarterback dilemma, head coach Jim Mora told the parable of Andre Carter. It was spring workouts of 2001, right after Mora -- then the defensive coordinator with the San Francisco 49ers -- and Bill Walsh drafted the defensive end out of Cal with the No. 7 overall pick.
Mora had Carter running with the second-team defense -- his thought was to make the rookie earn his place. Walsh had another idea. Mora recalls the conversation going a bit like this:
Walsh: Jim, why isn't he with the first team?
Mora: I want to make him earn it.
Walsh: We drafted him in the first round, he's earned it. Is he better than the other guys?
Mora: Yeah.
Walsh: Then put him in there. He needs to get used to playing with the guys he's going to play with. More importantly, the guy who he replaces, he needs to start understanding what his new role is.
Mora tells the story to illustrate a very blunt point. If he chooses redshirt freshman
Brett Hundley
as his quarterback, he wants -- check that, needs --
Kevin Prince
and
Richard Brehaut
to start understanding what their place is on the 2012 Bruins team. If he picks either Prince or Brehaut, he needs Hundley to understand that it's because he still has work to do in the offense.
"You don't want to force the issue," Mora said. "But the longer you wait, the harder it gets. Your team needs to know who that guy is. And that guy needs to know who he is."
Prince can only offer up a begrudged laugh at the situation he now finds himself in. After all, he was a redshirt freshman when he took the starting job from senior Kevin Craft. And the irony is not lost on him.
"There was no animosity whatsoever," Prince said. "He was the most supportive person ever. His whole goal was to make sure I had fun. He knew as a young quarterback, he'd been through it, he knew how stressful it could be. He just wanted to make sure I had fun and could relax. If that situation does arise, I'll take that role and I'll be Kevin Craft."
Not that he wants that. Neither does Brehaut, or Hundley or
Jerry Neuheisel
, who continues to hang on in the competition.
[+] Enlarge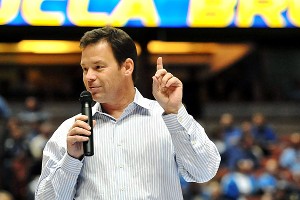 Cal Sport Media via AP Images"The longer you wait" to choose a quarterback, UCLA coach Jim Mora said, "the harder it gets."
"The funnel is narrowing, but it's not narrow enough yet that all four still can't fit through the spigot," Mora said.
The three frontrunners all agree the new spread offense suits them better than the pistol offense of the old regime. And why not? It accentuates the quarterback and historically produces big numbers. And that's another backdrop to this whole story. Experience counts, but not as much as it used to given the new system.
"It's something that I'm used to," Brehaut said. "Every single year I've been here I've been in a competition. It's something I'm accustomed to. I can only control the reps that I get. I can't worry about the other three guys and what they're doing with their reps. I have to take full advantage of mine."
Mora concedes that it would just be easier to hand the job to Hundley and let him grow into the gig. But that would be "cheating" the rest of the players who are in their last year. He's taking a more tactical, Walshian approach.
"Walsh never looked at a player and saw what he could do right now," Mora said. "He considered what a guy would look like in three games, seven games, a year, two years.
"That's how we have to look at it, at trajectory. If player A has the same trajectory all year long, but player B can meet that trajectory after three games, than exceed it, you have to go with that player."
The question is whether Hundley can exceed the trajectory of Prince and Brehaut, who are both in their final seasons. And with four guys fighting for reps, that's not always easy to determine.
"That's definitely the hardest thing," said offensive coordinator Noel Mazzone. "If it were two guys, things would be going much faster. At the end of the day, life is performance-based, so we're going to play the guy who can run the offense the best. I actually think this competition has accelerated their learning curve."
Hundley understands that if he gets the job, it's going to be a little awkward. At 18, he's the youngest of the quarterbacks. But he says that the older players have done what they can to help him along.
"We're all friends," Hundley said. "But we all know we are here for a reason, and that's to be the quarterback of the
UCLA Bruins
. Business is business and we all want that starting job."