September, 17, 2012
9/17/12
10:20
AM ET
UConn starting defensive end
Jesse Joseph
is out for the season
after tearing his Achilles' tendon, a big blow to the strong Huskies' defense.
Joseph was hurt against Maryland, and coach Paul Pasqualoni said the team will apply for a medical reshirt because the injury happened in the first three games of the season.
The Huskies are suddenly thin at defensive end. Top backup Teddy Jennings is also lost for the season because of a knee injury.
Trevardo Williams
mans the other side and already has 4.5 sacks this season. But whoever ends up replacing Joseph will have no starting experience.
Pasqualoni said
E.J. Norris
,
Tim Willman
and
Kenton Adeyemi
will all be in the mix to start. Norris is a true freshman; Adeyemi is a redshirt freshman. Willman has been in the program the longest but has seen limited playing time. Joseph had 12 tackles and a sack this season.
The UConn defense ranks first in the NCAA in tackles for loss, third in total defense, fifth in rushing defense, fifth in pass defense, and third in sacks. We'll see if the Huskies can continue on with their dominant play without one of their best defenders.
June, 20, 2012
6/20/12
9:00
AM ET
Rutgers nose tackle
Scott Vallone
is perhaps the most unheralded player on his team, let alone the entire Big East.
He has never gotten the pub that some of his teammates have received. Never been honored on the Big East first or second team. Yet Vallone is one of the biggest "glue guys" the Scarlet Knights have, holding everything together on the defensive line.
[+] Enlarge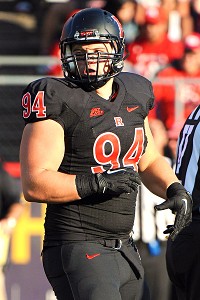 AP Photo/Tomasso DeRosaRutgers' Scott Vallone does more than just show up for starts -- he produces. Vallone had a career-high 58 tackles last season.
How has he done it? Vallone has become a new-age Big East iron man, starting every game of his Rutgers career. That would be 38 to be exact, leading all returning players in the league as he heads into his senior season.
"It's definitely something I can take a little bit of pride in, but I also have a great understanding for what's gotten me to this point," Vallone said in a recent phone interview. "Our strength and conditioning staff has done a great job getting me ready every week, and I have learned how to take care of my body. A lot of the credit has to go to the staff for having that faith in me as a redshirt freshman and realizing I could have an opportunity to make an impact."
Nothing about the way his career started would have given anybody the idea that Vallone would go on to become Mr. Dependable. As one of the more highly heralded defensive tackles in the nation, Vallone arrived to Rutgers as a freshman in 2008. He played in two games before undergoing season-ending foot surgery and taking a redshirt.
The following spring, Vallone was listed third on the depth chart at defensive tackle and nose tackle.
"The odds were a little stacked," Vallone said. "I knew it was going to be a tough road ahead."
Vallone also was trying to shake off the last bit of his foot injury as well. But he worked as hard as he could to make an impression on his coaches. That hard work turned into a starting job. Vallone trotted onto the home field Sept. 7, 2009, against Cincinnati for his first career start as a 19-year-old redshirt freshman.
"I was taking it all in at that point," Vallone said. "It was the biggest crowd in our school's history, so the place was rocking. The memories weren't too fond, we got beat pretty bad (47-15). It was a tough game but it was a great experience to get under my belt and it set me up well for the rest of that season and rest of my career to deal with that type of energy, and deal with the type of players we were going against."
Vallone ended up making the Football Writers Association of America Freshman All-America team after making 41 tackles, nine for loss. In 2010, he had multiple tackles in 11 of 12 games. This past season, he had a career-high 58 tackles and a career-high 2.5 sacks after overcoming a scary ankle injury in the spring.
In fact, that injury was the only time in his career that left Vallone worried that he might miss some game action. When he initially hurt his ankle, he felt a pop and thought he did some pretty major damage. But Vallone ended up with a sprain and actually returned to spring practice to set an example for his teammates.
"I wanted to send a message to the team that I was for real," Vallone said. "I wanted to play with the guys and finish out the spring."
Vallone was unable to participate in practice this past spring because of offseason shoulder surgery, but he should be ready for the start of fall practice. Missing practice time ate at Vallone, but he realizes now it was probably good for him to prevent so much wear and tear on his body.
After all, Vallone has been an iron man at one of the most physically demanding positions on the football field. Playing inside at an undersized 275 pounds, Vallone has to constantly fight against 300-pound offensive linemen in the trenches, where strength and endurance is an absolute must in order to be any good at your job.
Vallone has spent his share of days and nights in ice tubs trying to heal up from the grind while making sure none of his injuries linger on too long. His role will be heightened this season because the line will be the most inexperienced group on a defense that returns eight starters. Coach Kyle Flood has mentioned that Vallone could play
both tackle positions
, depending on the circumstances.
That is just fine with Vallone. Whatever keeps him on the field.
November, 26, 2011
11/26/11
1:48
PM ET
Rutgers has not played like a team with a shot at a share of a Big East title.


The Scarlet Knights have three turnovers against UConn in the first half, and the Huskies have taken advantage, taking
a 24-10 lead
into halftime. Rutgers, one of the best teams in turnover margin in the Big East, gave the ball away on its first two possessions. First,
Jawan Jamison
fumbled, and Jesse Joseph recovered. Then on the next possession, Ty-Meer Brown intercepted
Chas Dodd
.
UConn converted both the mistakes into touchdowns, and just like that the Huskies were up 14-0. Then in the second quarter, center Caleb Ruch never got the snap to Dodd and the ball was fumbled. Kendall Reyes recovered and ran the ball in 9 yards for a score. Rutgers put together a touchdown drive, but nothing has really gone right for the Scarlet Knights.
The only other time Rutgers played its final regular-season game with Big East title implications was in 2006. The Scarlet Knights ended the 2006 regular season with a 41-39 triple overtime loss at No. 15 West Virginia as they finished the season 5-2 in the league and tied for second.
The news is good for UConn, which needs to win out to become bowl-eligible. The Huskies haven't had to sustain many offensive drives and have done an excellent job turning the mistakes into touchdowns.
July, 5, 2011
7/05/11
4:00
PM ET
We continue our look at team position rankings today, and start up with the defense. First up are the guys in the trenches, the defensive line. This has got to be one of the strongest positions from team to team in the Big East. Four different teams could probably make an argument for the No. 1 spot. There are lots of standout defensive ends and tackles in the league, but I also am judging experience, returning starters and depth here.
[+] Enlarge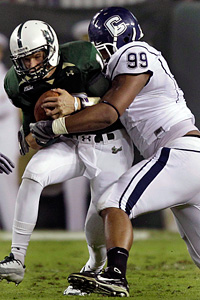 AP Photo/Chris O'MearaUConn's Kendall Reyes' had 2.5 sacks and nine tackles for loss last season.
1. Connecticut.
The Huskies have good players and depth this season, and get the nod as the top line in the league. Defensive end Jesse Joseph and defensive tackle Kendall Reyes return. Reyes turned down a shot at the NFL for one more season, and is the only first-team Big East selection on the defensive line returning to his team. Both Reyes and Joseph are defensive player of the year candidates. Five players return who started seven or more games last season, giving the Huskies plenty of experience along the line.
2. Pittsburgh.
The Panthers lose defensive player of the year Jabaal Sheard and are switching to the 3-4. But they do have another candidate for that award in Brandon Lindsey. We have to count him half here, though, because he is transitioning to the new hybrid defensive end/linebacker position. Still, the Panthers have solid players in Chas Alecxih and Myles Caragein on the line, along with depth in Aaron Donald, Tyrone Ezell, Kaynin Mosley-Smith and Bryan Murphy. Even without Sheard, this is one of the strongest lines in the league.
3. West Virginia.
You have got to love the tandem of Julian Miller and Bruce Irvin, who combined for 23 sacks last season. They are the best returning tandem in the league. But they are ranked here for a few reasons. First, how does Irvin transition from spot player to full-time starter? Will he be as effective as last season, when he led the league with 14 sacks? How does Miller transition to defensive tackle? Losing noseguard Chris Neild is a huge blow, too. Josh Taylor is penciled in to start, depending on what happens with Jorge Wright. Junior college transfer Shaq Rowell will be in the mix, too, with high expectations.
4. USF.
The Bulls might be losing three starters, including Terrell McClain and Craig Marshall, but this unit has the potential to be even better than the group in 2010. Hopes are high for Ryne Giddins to step in at defensive end and be an immediate difference-maker. Cory Grissom and Keith McCaskill are veterans inside, but if there is one question mark here it is depth at tackle. True freshman Elkino Watson could make a big impact.
5. Louisville.
Three starters return, and there is potential for this group to be very productive. Defensive end Greg Scruggs is in line for a breakout season. Eight linemen have starting experience, so there is depth, though there is youth here. Players like BJ Butler, Brandon Dunn and Roy Philon have a chance to take big-time leaps, but this unit is still relatively unproven compared the ones ranked ahead.
6. Syracuse.
No question the Orange have excellent defensive ends in Chandler Jones and Mikhail Marinovich. But the Orange lose their starters on the inside. Deon Goggins and Cory Boatman are penciled in to start at tackle but they are undersized. So are some of the other players who will rotate in. The line as a whole is pretty undersized when you think about it, and a big reason why Syracuse is ranked here.
7. Cincinnati.
The Bearcats were solid against the run last season but struggled to get a consistent pass rush. They hope to remedy that now that Walter Stewart has moved to defensive end. Last season, the Bearcats lacked depth but that is no longer the case in 2011. The top eight players in the rotation return, and there is nice size in the middle -- especially with defensive tackle Derek Wolfe returning. Still, the Bearcats have a lot to prove this season.
8. Rutgers.
Aside from nose tackle Scott Vallone, there are some questions on this defensive line, which has to show significant improvement over a unit that was so-so in 2010. Rutgers was one of the worst teams in the nation in sacks last season, with just 17. Manny Abreu moves from linebacker. How does that transition go? Justin Francis had a nice spring at end. Does that continue in 2011? Will Michigan transfer Anthony La Lota have an impact next to Vallone? There is a lot of inexperience along the entire line.
Previous rankings
June, 8, 2011
6/08/11
2:00
PM ET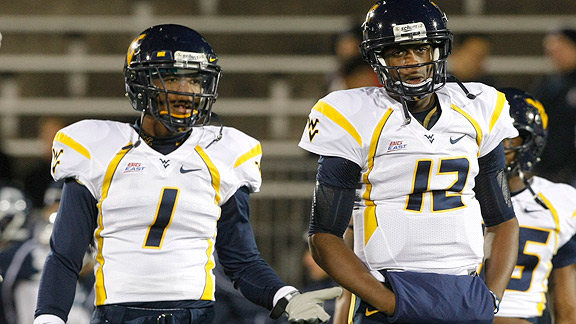 David Butler II/US PresswireTavon Austin (1) and Geno Smith (12) are on the watch list for the inaugural Pony Express Award.
Eric Dickerson and Craig James formed the "Pony Express" in their SMU days, a dynamic duo that will forever stand as one of the best in college football history.
Now the two are teaming up for the inaugural Pony Express Award, which will honor the top two- and three-player tandems from across the nation. According to the press release, the top tandem or trio will be honored for their "work ethic, desire, on- and off-field leadership and playmaking ability to best fuel their team."
The West Virginia duo of
Geno Smith
and
Tavon Austin
is the only Big East representative on the list. Understandably, expectations are high for Smith to have a 3,000-yard season and Austin to have a 1,000-yard season under new offensive coordinator Dana Holgorsen.
But I am surprised that the Cincinnati tandem of
Zach Collaros
and
Isaiah Pead
are not at least on the watch list. Collaros threw for 2,902 yards last season en route making the Big East first team at quarterback. Pead ran for 1,209 yards and made the second team at running back. You could even extend this out to a trio of Collaros, Pead and
D.J. Woods
, in line for a 1,000-yard season with the departure of
Armon Binns
.
Others from the Big East who deserve mention:
West Virginia defensive ends Bruce Irvin and Julian Miller.
Irvin ranked No. 2 in the nation last season with 14 sacks, and Miller added nine, making them one of the top sack duos in the nation. They both ranked in the top 30 in the NCAA stats.
Others with potential:
Kendall Reyes, Jesse Joseph, Connecticut.
Reyes put together a good season in 2010, making the All-Big East first team with 10 tackles for loss and 2.5 sacks, while Joseph led the team with 8.5 sacks.
Victor Anderson, Jeremy Wright, Louisville.
No question Bilal Powell leaves big shoes to fill for the Cardinals, and it might take two running backs to fill them. Anderson had a nice spring as he attempts to overcome injuries that have slowed his progress. Wright was out for the spring game with a sports hernia. Though he is not fully recovered yet, he is expected to be healthy in time for spring practice.
Tino Sunseri, Ray Graham and Mike Shanahan, Pittsburgh.
If Todd Graham can get the same results in his first year at Pitt that he did at Tulsa, then there is the potential for 3,000 yards from Sunseri and 1,000 yards each from Graham and Shanahan. Last season, Tulsa ranked No. 5 in the nation in total offense, No. 13 in passing offense and No. 15 in rushing offense.
Chas Dodd, Mark Harrison, Mohamed Sanu, Rutgers.
With all the talent the Scarlet Knights have at the skill positions, there is the potential for a solid season. You can add Savon Huggins to the list, but that all depends on how he performs during fall practice.
Mikhail Marinovich, Chandler Jones, Syracuse.
The two defensive ends return to their starting positions and have a chance to become leaders on defense and wreak more havoc than last season. Jones was an All-Big East second-team selection last season.
B.J. Daniels, Darrell Scott, USF.
Daniels finished last season much better than he started, and expectations are for him to pick up where he left off. If Scott can come in and contribute the way many anticipate, this could be one of the best tandems in the league.
July, 1, 2010
7/01/10
1:47
PM ET
Connecticut coach Randy Edsall held a summer update teleconference today before he and his coaching staff go on vacation. Edsall said it's been an uneventful summer in Storrs, but he also announced that two receivers won't be with the team this fall.

Redshirt freshmen Marcus Aiken and Malik Generett will both have to try to work their way back next year. Aiken was dismissed from the university, while Generett is ineligible. Edsall would only say the two ran afoul of university policies without elaborating, but he indicated there were no legal issues involved and that the departures were related to academics.

"It's unfortunate that some guys just don't take care of things they should take care of," he said. "If guys took care of their business, they wouldn't put themselves in that situation."

Aiken worked out at safety this spring but was moved to receiver at the end of spring ball. Generett showed some promise during spring, and at 6-foot-4 he was the team's lone true big target at wideout.

The injury news is more positive for the Huskies. Offensive lineman Jimmy Bennett, who missed the spring with a knee injury, should be ready to go for fall camp. UConn's coaches loved Bennett's potential to be a big-time player at tackle before he got hurt.

"He has worked extremely hard," Edsall said. "I think can he be every bit as good as we thought he could be."

Cornerback Blidi Wreh-Wilson and linebacker Jesse Joseph, who both had shoulder injuries this spring, are full go, as is receiver Nick Williams (hip). The status of defensive lineman Greg Lloyd, who suffered a serious knee injury near the end of last season, is still up in the air.

"A lot depends on how hard Greg wants to work in the next month," Edsall said. "If he works really hard, he should be OK to get started."

Defensive tackle Alex Polito, who tore his labrum this spring, will be back toward the end of preseason camp, Edsall said. Backup linebacker Emmanuel Omokaro is out until about late September.

Edsall said all of the freshmen reported Sunday and are eligible. Wide receiver Geremy Davis has a knee injury that he suffered while working out this summer, and that may force him to sit out this season, the coach said.

All in all, the news is more positive than negative for the veteran-laden Huskies. While Aiken and Generett would have added depth to the receiving corps, neither was being looked at as a starter. Getting Wreh-Wilson and Joseph back is key to the defense, and if Bennett regains his form it will add to an already imposing O-line.

Sounds like Edsall issued a challenge to Lloyd to work hard on his rehab; the former linebacker could give the defensive line some needed strength on the edge if he's sound.
March, 8, 2010
3/08/10
8:55
AM ET
This could be a big year for Connecticut.
The Huskies were playing as well as anybody in the Big East down the stretch and finished the 2009 season with a victory over South Carolina in the Papajohns.com Bowl. They bring back a wealth of starters and plenty of depth. I caught up with UConn coach Randy Edsall last week to talk about the beginning of spring practice, which starts March 16. This is part I of my interview. Check back later for part II.
First of all, you have to be feeling pretty good about where the program is given all the players you bring back from last year, right?
[+] Enlarge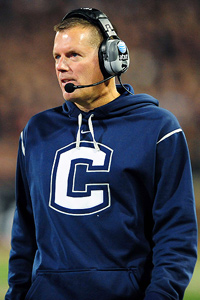 Andrew Weber/US PresswireRandy Edsall led the Huskies to an 8-5 record in 2009.
Randy Edsall:
We do. We have a lot of guys back and we only have 12 seniors on the roster, so that bodes well for us. We're going to have more depth than we've ever had. The thing about this spring that's going to be a little different is, we're going to have a lot of guys who won't be doing things because of injuries. So we'll be able to get a lot of work in, but some of the kids won't be out there with us because of injury. But the thing I'm excited about is that we're going to give some of these young guys a lot of work to even develop more depth in the program.
Do the injuries cause a little less of a concern this spring just because you have so much experience coming back?
RE:
Yeah, it really does. Just looking at our depth chart and our board ... even though Jesse Joseph is not going to go through the spring, Greg Lloyd is not going to go through the spring, Blidi Wreh-Wilson is not going to go through the spring on defense, with those guys out we still have so many guys and we know what those guys can do because they played for us. And now get some other kids more repetitions and kids we know are going to be available to play next year. For me, it's a plus for us. And we had six kids who came in at midyear, so it's another plus that those kids are going to get a lot of reps.
We're not going to be the finished product coming out of spring, because like with Jimmy Bennett and Mike Ryan on offense, they're not going to be practicing due to the injuries that they had in the fall and
Robbie Frey
will be limited and won't be full go. That's where in terms of the offensive line, it's going to give us a chance to work with some of our young guys and really get them a lot of reps to develop them so if they've got to get into a game, they're going to have some experience there.
Let's talk about the quarterbacks. Zach Frazer played well for you at the end of the year, but Cody Endres also played well before his injury. Is Frazer the No. 1 guy right now or is it more of a competition?
RE:
As we came out of the season, we won four straight there with Zach and I thought he did some good things. Cody did, too, I think, so we're in a good situation. But as we go into the spring, Zach's the No. 1 guy and it would be his job to lose. He knows there's always competition, but he's the No. 1 guy as we start practice on the 16th.
What did you like about the way Frazer played at the end of the year?
RE:
I thought he really just played within himself. I thought he was relaxed, he was poised and I thought he made a lot of good decisions He wasn't forcing the ball; he was taking what the defense was giving and throwing the ball where it should have been thrown. And when it wasn't there, he threw the ball away as opposed to trying to make a great play, squeeze a ball into somewhere you shouldn't. I really thought he did a good job of what we asked him to do in the game plans we had for those games.
People may forget that you put in a new offense last year, and there must have been some adjustments along the way.
RE:
You could see the improvement as the season went on with what we did offensively, and I think one of the keys this spring is now the kids are going to be more comfortable in the offense. There are going to be some things that we're able to do to add or to tweak where we think it will make us better. But I was pleased with the development of the offense as the season went along. Our point production and passing yardage was up from a year ago, and we maintained what we wanted to do in the running game.
It took two guys to replace Donald Brown, but that's fine. And we want to keep building on the positives we had last year and keep moving forward, and the good thing is we only lost Andre [Dixon], and we still have
Jordan Todman
coming back. We lost Brad [Kanuch] and
Marcus Easley
, but we feel we have receivers to step in and do the job. And up front the only guy we lost was Mike Hicks. We really feel good about the guys we have coming back and what we can do to improve upon the production and the output we had a year ago.

Posted by ESPN.com's Brian Bennett
I'm going to try something new here on Fridays, giving out a list of what's up and what's down in the Big East, along with how the races for the the league's offensive and defensive player of the year are shaping up. It's early, but this should be fun as the season goes along.
Stock up
1. Cincinnati:
For obvious reasons. The Bearcats have cracked the Top 25 at No. 23 and could really climb high with a win at Oregon State next week.
2. Dion Lewis:
The Pittsburgh back had a smashing college debut with 129 yards and three touchdowns. He could be a star in this league for a long time.
3. UConn's defensive ends:
This position looked a little questionable after the departures of seniors Cody Brown and Julius Williams and the offseason dismissal of Marcus Campbell. But senior defensive end Lindsey Witten had three sacks and a safety at Ohio and showed he can be a full-time threat, while freshmen Jesse Joseph and Trevardo Williams also played well.
4. The Wildcat at Syracuse:
They call it the Stallion package, but it's the same Wildcat formation just about every other school is using. Having
Antwon Bailey
and
Delone Carter
in the backfield at the same time with Bailey taking the snap added life to the Orange offense.
5. Julian Miller:
Who needs Tevita Finau? The third spot on West Virginia's defensive line seemed like a concern going into the season, but Miller had other thoughts. He had 2.5 sacks against Liberty and brought a dose of speed to the Mountaineers' defensive front.
Stock down
1. Rutgers:
For obvious reasons. No matter what the Scarlet Knights do the next few weeks, they won't have an opportunity to turn perception from that 47-15 beating until the Oct. 16 game against Pitt.
2. UConn fans:
At last report, about 3,000 tickets remained for the North Carolina game. A team ranked 19th comes to town for the home opener, and the Huskies are having trouble selling out their 40,000-seat stadium? What's going on?
3. South Florida's Twittering:
First, Jim Leavitt decided to stop tweeting after reports of his players and coaches doing so before the Wofford game. Now it seems that several players' accounts have either been shut down or switched to private. So much for embracing technology.
4. The Wildcat at Rutgers:
They call it the Jabu package for quarterback
Jabu Lovelace
, but it's been so wildly ineffective since last year that it looks like it's time to scrap the project.
5. Steve Kragthorpe as offensive coordinator:
Kragthorpe took over play-calling duties himself in the offseason and promised a new look. Fans didn't exactly like what they saw as Louisville scored only 30 points against Indiana State. Perhaps he's holding back the good stuff for next week at Kentucky. We can only hope that wasn't his best stuff last week.
Player of the year race: Offense
1. Tony Pike, QB, Cincinnati:
Went 27-of-34 for 362 yards and three touchdowns in Week 1.
2. Jarrett Brown, QB, West Virginia:
Completed 19 of 26 passes for 243 yards and ran for 69 yards and a score in the opener
3. Jordan Todman, RB, UConn:
Ran for 154 yards and a touchdown in Week 1 win at Ohio.
4. Dion Lewis, RB, Pittsburgh:
See above.
5. Matt Grothe, QB, South Florida:
Went 19-of-23 for 155 yards and one score with an interception and ran for 44 yards versus Wofford.
Player of the year race: Defense
1. Lindsey Witten, DE, UConn:
See above.
2. George Selvie, DE, South Florida:
Got his first sack of the year versus Wofford.
3. Curtis Young, LB, Cincinnati:
Had 11 tackles and a sack versus Rutgers
4. Reed Williams, LB, West Virginia:
Relatively quiet day against Liberty (six tackles) but will be a factor in this race.
5. Aaron Webster, S, Cincinnati:
Had 10 tackles and an interception at Rutgers.