NCF Nation:

Jheranie Boyd
June, 23, 2011
6/23/11
10:30
AM ET
You asked, I answered. Readers (particularly @AsylumGodfather) were calling for more position rankings, so the receivers are up next. This could be the strongest position group in the conference, and one of the more difficult to rank, so I looked back on a few stats to help me separate them, including how some of these guys did against their best competition (i.e.
Danny Coale
versus FSU, wow). Here's the final verdict of which teams in the ACC have the best combination of depth and talent:
1. Virginia Tech:
With
Jarrett Boykin
and Coale returning, the Hokies' passing game has a chance to flourish this fall. Boykin, Coale and
Dyrell Roberts
were the team's top three receivers last year for the second straight season, combining for 113 catches, 1,882 yards and 11 touchdowns. Add to that
Marcus Davis
,
D.J. Coles
,
E.L. Smiling
-- it's a bottomless cup of depth and talent.
2. Duke:
Conner Vernon
has 128 catches in his first two collegiate seasons and
Donovan Varner
ranked fourth in the ACC in pass receptions (60) and seventh in yardage (736). Their combined 274 receptions are the most of any active duo in the ACC. They are the top two returning leaders in catches per game, and Vernon is the ACC's returning leader in receiving yards per game. The Blue Devils also have sophomore
Brandon Braxton
(14 catches), who could make a name for himself as the third option this year.
3. Florida State:
Every Seminole who caught a pass last season returns.
Bert Reed
,
Taiwan Easterling
and
Rodney Smith
return with a combined 50 career starts. Reed ranks second among all returning ACC receivers with 141 career receptions.
Willie Haulstead
had 38 catches last season, Smith had 31, and there's plenty of rising talent like
Christian Green
.
4. North Carolina:
Like Florida State, North Carolina returns all of its receivers, including two who redshirted last season.
Dwight Jones
, who had 946 yards and 62 receptions, leads the group, but
Erik Highsmith
(25 catches, 348 yards and three touchdowns) must be accounted for as well. Defenses also can't forget about
Jheranie Boyd
, who is a deep threat.
5. Miami:
The Canes will miss the production of Leonard Hankerson, but they don't have to if one or two of the other players show more consistency.
Travis Benjamin
has big-play capabilities and averaged 17.3 yards on his 43 catches last season. There is no shortage of other options with
LaRon Byrd
,
Aldarius Johnson
,
Tommy Streeter
,
Allen Hurns
and
Kendal Thompkins
. Which one will rise to the occasion?
6. Clemson:
It was the
DeAndre Hopkins
show last season, and he should again highlight the Tigers' passing game. As a true freshman, Hopkins had 52 catches, the most by a first-year player in school history.
Jaron Brown
returns with 10 career starts, and the Tigers also have
Marquan Jones
(21 catches) and
Bryce McNeal
(19).
7. Maryland:
The Terps have to replace their top two receivers from a year ago in Torrey Smith and
Adrian Cannon
, and no clear frontrunners emerged this spring.
Quintin McCree
leads all returners with 16 catches, followed by
Kevin Dorsey
(15),
Ronnie Tyler
(13),
Kerry Boykins
(10), and
Tony Logan
.
8. Boston College:
True freshman
Bobby Swigert
led the Eagles last year with 39 catches and four touchdowns in five starts. The Eagles are hoping to get a significant boost from the return of
Colin Larmond Jr.
, who missed all of last season with a knee injury, but the young group should be better regardless because of the experience gained last season.
9. Virginia:
The Cavaliers will miss
Dontrelle Inman
, who averaged 16 yards per catch on 51 receptions, but returning starter
Kris Burd
finished fifth in the ACC last season in pass receptions (58). The group will also get a boost from the return of
Tim Smith
, who missed almost all of last season with an injury, and
Matt Snyder
(30 catches) and
Ray Keys
(three catches).
10. NC State:
NC State has to replace its top two receivers from a year ago, and
T.J. Graham
is the team's leading returning receiver with 25 catches.
Steven Howard
,
Jay Smith
and
Quintin Payton
all have experience, and redshirt freshman
Bryan Underwood
,
Tobias Palmer
and Everett Proctor have also been competing for playing time.
11. Wake Forest:
Chris Givens
(35 catches, 13.7 average),
Michael Campanaro
(10 catches) and
Danny Dembry
are the lead candidates to start, but the Deacs are missing a spark like Kenny Moore (2007) and D.J. Boldin (2008) provided. There were too many dropped passes in the spring game, so this group has some work to do in summer camp.
12. Georgia Tech:
Yes, Georgia Tech throws the ball, just not often enough or efficiently enough to be anywhere but last place on this list.
Stephen Hill
led the Jackets last year with 15 catches for 291 yards and three touchdowns. He should show progress this fall now that there's no pressure on him to be the next Demaryius Thomas. If he doesn't show more consistency, the Jackets could turn to
Daniel McKayhan
,
Tyler Melton
or
Jeremy Moore
.
September, 10, 2010
9/10/10
11:53
AM ET
Here's your daily dose of ACC fun facts to make you seem a little smarter at the water cooler today. (Thanks to sports information directors in the league for these tidbits). Did you know …
The Yellow Jackets' 372 yards rushing last Saturday were the third-most in college football in Week 1. Only Air Force (437 yards) and Wake Forest (415) rushed for more.
Clemson Memorial Stadium was built in 1942, but it adopted the nickname "Death Valley" in the late 1940s. The name came from Presbyterian coach Lonnie McMillan, who called it "Death Val-ley" during preseason articles about the upcoming game. Bradley recalled that he referred to it that way because it was a tough place to play. No kidding - McMillan had a 1-12 record against Clemson in Death Valley, with the one win coming in 1943, 13-12. Ironically (or fittingly), McMillan still has lost more games at Clemson than any other visiting coach.
Boston College had a total of 25 players that were either freshmen or sophomores on the two-deep last weekend - including 13 freshmen. Two freshmen earned starts against Weber State - receiver Jonathan Coleman and true freshman linebacker Kevin Pierre-Louis. Coleman led all receivers with 98 yards on three catches, and Pierre-Louis made six tackles (five solo) and had a tackle for a loss. This week, there are 23 freshmen or sophomores on the two-deep.
In the David Cutcliffe era, the Blue Devils have scored 30 or more points in 10 games, yielding a 7-3 record. Two of the three defeats have come against Wake Forest, with the Demon Deacons winning in overtime, 33-30 in 2008, and 45-34 last year.
Fathers of two Duke freshmen — Brandon Braxton and Braxton Deaver — played together at Wake Forest. Shannon Braxton lettered three seasons (1986-87-88) as a defensive end with the Demon Deacons before embarking on a 71-game career in the NFL, and Jay Deaver lettered four campaigns (1985-86-87-88) at Wake Forest as an offensive guard.
UVA will be playing its first game in the state of California, and when USC played at UVA in 2008, it was the program's first trip to Virginia.
Remember that 22 players on the Cavaliers' current roster faced USC in 2008, so there's some familiarity there that should help overcome any sense of awe from playing in front of the largest crowd many of them will see in their college careers.
Virginia Tech has not allowed a point in its past nine quarters against James Madison University.
Under coach Frank Beamer, the Hokies have played two games in a seven-day or less span six previous times like they will this week after playing Boise State on Monday night with JMU looming on Saturday. The only time Tech lost the second game in that span was in 1997 when the Hokies fell to Virginia six days after playing Pittsburgh with both games coming on the road.
Between the last practice before last year's season finale against North Carolina (Nov. 26, 2009) and the first practice of this year's fall camp (Aug. 3, 2010), 250 days elapsed. That's the amount of time that Wolfpack quarterback Russell Wilson DID NOT practice football. He missed spring practice. He missed seven-on-seven drills in the summer. He missed football workouts in the Murphy Center weight room. Instead, he was playing baseball for the Wolfpack squad in the spring and for the Colorado Rockies' Tri-Cities Dust Devils in the summer. Didn't matter. Wilson threw for four touchdowns and 306 yards against Western Carolina, and he completed 68 percent of his throws (21 of 31).
Navy ran 32 plays in the red zone against Maryland, but was only able to come away with points twice in seven trips. Navy missed a 32-yard field goal on its first possession of the game, but went inside the Maryland 5-yard line on four trips without scoring. The Terps forced two fumbles, stopped a Navy drive at the end of the first half and had a goal-line stand in the final minute of the game to secure the win.
Sophomore wide receiver Jheranie Boyd had a breakout game for UNC against LSU with six receptions for 221 yards and a touchdown. His 97-yard touchdown reception was the longest play from scrimmage in school history. He also had a 75-yard reception, and his 221 yards are seven more than he had all of 2009 (214). Through the first week of the season, Boyd led the nation in receiving yards per game (221) and all-purpose yards per game (287).
Wake Forest redshirt freshman running back Josh Harris carried six times for 74 yards and two touchdowns in the 53-13 win against Presbyterian. It was the second-best ever debut by a Wake Forest running back. The top debut by a rookie back came in 2004 when Micah Andrews carried 17 times for 125 yards and three touchdowns in a win against North Carolina A&T
Twenty-six players were drafted from the Miami team that played in the 2003 loss to Ohio State, including 12 first-round draft picks.
Maryland is playing two in-state rivals for the first time since 1937. That year, they played St. John's College of Annapolis (which doesn't have football) and Western Maryland College (which is now McDaniel College).
September, 5, 2010
9/05/10
2:46
AM ET
ATLANTA -- Patrick Peterson kept his promise, and it's a good thing.
If not, who knows where this LSU football team would be right now? And for that matter, could you imagine the reception his head coach would be getting back on the Bayou?
When told that he would indeed be returning kickoffs and punts this season, Peterson assured LSU coach Les Miles that he was making the right call.
[+] Enlarge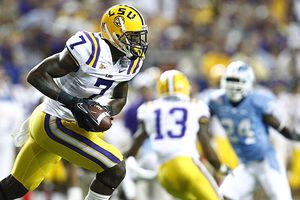 Josh D. Weiss/US PresswirePatrick Peterson had an LSU record 257 return yards, including an 87-yard punt return for a touchdown against North Carolina.
"Once I saw the depth for the first time, I said, 'Oh yeah, coach, I'm definitely going to make something happen,' " said Peterson, the Tigers' star cornerback.
He didn't just make something happen Saturday night in the Georgia Dome. He saved LSU's bacon in a
30-24 win over a depleted North Carolina team
in a Chick-fil-A Kickoff Game that went down to the final seconds with the Tar Heels throwing into the end zone from the 6-yard line.
As fate would have it, Peterson wasn't on the field for those final two plays. He had to leave the game with cramps, a problem for him since his Pee Wee football days.
He'd done his damage earlier in the game with a record-setting performance in the return game.
His 257 combined return yards were an LSU record, and he had 244 of those by halftime. His 87-yard punt return for a touchdown looked like he was catapulted by a slingshot.
"It was like the Red Sea out there, it was so open," Peterson said.
That gem was sandwiched between a 47-yard kickoff return to set up Russell Shepard's 50-yard touchdown romp and a 37-yard punt return that led to Rueben Randle's 51-yard touchdown catch.
Without any one of those plays, LSU would have been toast, and Miles would be trying to explain how he lost a game to the Tar Heels' "B" team when the Tigers had a 30-10 lead entering the fourth quarter.
"We've just got to finish games," Peterson said. "It killed us last year, and it almost got us tonight. I don't know what it is, but something's got to change."
One thing that won't change is Peterson drifting back deep on kicks. He said it's the first time he'd returned a kick since the fourth game of his senior year in high school.
"And they stopped kicking it to me then, too," joked Peterson, who didn't get much of a chance to return kicks in the second half.
Shepard, who scored a pair of touchdowns himself, knew what kind of impact Peterson would make in the return game. He's seen it too many times on the practice field.
"I think he's the best player in the country -- period," Shepard said. "There isn't anything he can't do."
The Tigers, who struggled to put teams away last season, shifted into cruise control way too early against the Tar Heels, who never quit scrapping.
[+] Enlarge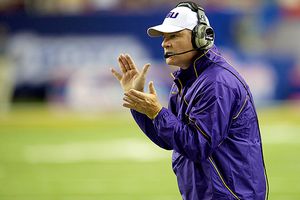 Dale Zanine/US PresswireLSU coach Les Miles will have some things to work on with his Tigers this week after they nearly blew a 30-10 fourth quarter lead.
In fact, Peterson was out of the game on the 97-yard touchdown pass by
T.J. Yates
to
Jheranie Boyd
because he said LSU defensive backs coach Ron Cooper wanted to get some of the younger guys in the game.
"I guess he thought we had a comfortable lead," Peterson said.
Senior middle linebacker Kelvin Sheppard said it shouldn't have mattered who was on the field. He said the Tigers simply got sloppy, which is hard to argue when you consider Yates passed for a career-high 412 yards and didn't have his best receiver on the field (
Greg Little
).
"We won the game and don't let anybody kid you," Sheppard said. "But there's definitely a feeling of, 'Man, what happened in the second half?' I mean, it's obvious. Guys weren't where they're supposed to be. Giving up a (97-yard) touchdown pass is unacceptable. I don't care where you're playing at. We just can't do that.
"Again, we did win the game, so you can't just put it in the drain. But it's upsetting that we emphasized finishing games so much, and while we never point fingers here and I make sure of that, for guys to have their eyes in the wrong place is disappointing."
The offense certainly contributed to the near collapse.
Running back
Stevan Ridley
fumbled the football with a 1:08 to play, giving the Tar Heels one last chance to drive the field.
And they did.
But the Tigers also quit going to Shepard and Randle, who are clearly the top two game-breakers on this offense.
Shepard's a guy who needs to touch it 12 to 15 times a game at the very least. He had three touches after halftime Saturday.
"There are a lot of things we need to clean up if we want to be back here in a couple of months playing for the SEC championship," Shepard said. "The good thing is that we have the talent do it."
September, 5, 2010
9/05/10
2:00
AM ET
ATLANTA -- By the time North Carolina linebacker Quan Sturdivant had joined his teammates around 10:30 p.m. at their hotel on Friday night, most of the Tar Heels were already asleep.
[+] Enlarge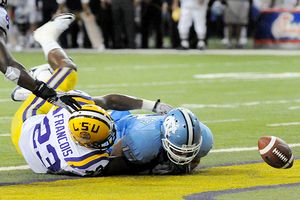 AP Photo/Erik S. LesserZack Pianalto could not complete North Carolina's improbable comeback.
Sturdivant, who had just learned on Friday afternoon that he had been deemed eligible to play in Saturday night's game against LSU, was one of the few recognizable names on North Carolina's quickly revamped defense, which was missing seven starters as a result of ongoing investigations into possible academic fraud and improper contact with agents.
The Tar Heels' entire starting lineup had been shuffled for the Chick-fil-A Kickoff, one of the biggest games of college football's opening weekend -- a roster filled with new faces and dependent upon teenagers fresh out of high school. North Carolina's staff burned at least eight redshirts it had no intention of burning two weeks ago. There were walk-ons who had never played in games before. And yet despite the lack of any continuity in the personnel department, North Carolina somehow managed to establish an identity in its exciting
30-24 loss
to LSU.
This is a team that doesn't quit -- no matter who is playing.
"We were depleted as is, and we had some guys go down during the game," said quarterback
T.J. Yates
. "We had guys who have never played before -- ever -- coming out of high school ball playing against one of the top teams in the country. I'm just so proud of all my teammates stepping up.
"In terms of personnel we were uncertain coming into this game but I think we proved to everybody that no matter who's out there playing, we can compete with anybody," Yates said. "This is one of the top teams in the country and we're playing with a lot of guys who have never played before. We showed everybody that no matter what's going on in the media, the uncertainty with the players -- everything -- we can get past it."
[+] Enlarge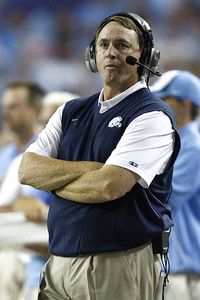 Josh D. Weiss/US PresswireButch Davis' Tar Heels were missing seven defensive starters.
They just couldn't get past their own mistakes.
UNC made miscues on special teams that contributed to poor field position at times and a safety. It fumbled the ball five times and lost it three. The quarterback-center exchange was part of the problem. The Tar Heels also allowed four sacks and totaled just 24 rushing yards, adding up to a 30-10 deficit with only 10:34 remaining. All-ACC tight end
Zack Pianalto
dropped two passes in the end zone in the final desperate seconds.
Yet there were times North Carolina looked capable of pulling off the improbable, like when
Jheranie Boyd
, who finished with an eye-popping, game-record 221 receiving yards, hauled in a beautiful 97-yard touchdown catch. Instead of being the scapegoat, Yates kept the Tar Heels in the game by completing 28 of 46 passes for 410 yards and three touchdowns -- no interceptions.
"It's encouraging but at the same time disappointing," guard Alan Pelc said. "We feel like we can progress from here. We had a momentum swing in that second half that when we watch film tomorrow or the next day we'll see there are some things we need to fix, but we could've pulled that game off."
At the team chapel on Friday night, the message during the service was to keep each other's heads up. Boyd said the players took it to heart.
"We have heart and we're going to fight back," he said. "No matter how many points we're down, teams shouldn't play around with us or not take us seriously. We can fight back at anytime."
Coach Butch Davis told his team in the locker room he didn't think he'd ever been more proud of a team.
"Our depth was unbelievably put to the test," he said. "We were shorthanded in a significant number of phases. Defensively, in nickel packages, all of the depth got eaten up on special teams. Guys were having to play way more plays than they needed to play.
"It's a testimony to their courage to keep fighting, keep playing," he said. "We said before the game that there would be some kids who would step up and surprise everybody, that all they needed was a chance, just get me in the game coach and let me play. I think when we look at the film we'll find some kids who will help this help this football team before the season is over with."
September, 5, 2010
9/05/10
12:14
AM ET
ATLANTA -- Big plays were the difference for LSU on Saturday night, as the Tigers held on for a
30-24 victory over North Carolina
in the Chick-fil-A Kickoff Game.
Here's an instant analysis from the game:


How the game was won:
After the Tigers'
Stevan Ridley
fumbled the ball away with 1:08 to play, LSU weathered two North Carolina throws into the end zone from the 6-yard line in the final seconds. LSU's Jai Eugene had the coverage on the first throw into the end zone, and Stefoin Francois had the coverage on the final throw.
Turning point:
North Carolina got back in the game when
Jheranie Boyd
got behind the LSU defense for a 97-yard touchdown catch to pull the Tar Heels within 30-17 in the fourth quarter.
Player of the game:
Without junior cornerback Patrick Peterson, the Tigers would have been in real trouble. He set an LSU record with combined return yards. He had an 87-yard punt return for a touchdown and also set up two other touchdowns, one with a 47-yard kickoff return and another with a 37-yard punt return.
Stat of the game:
After falling behind 10-7, LSU scored 23 unanswered points to take a 30-10 lead into halftime and didn't score again. Three of the Tigers' touchdowns were from 50 yards or longer.
Unsung hero of the game:
While Peterson was the guy who might have saved LSU, sophomore receiver
Russell Shepard
provided a big assist. Shepard had a 6-yard touchdown catch for LSU's first touchdown and also put the Tigers ahead to stay with a 50-yard touchdown run in the second quarter.
Second guessing:
When Ridley fumbled the ball with 1:08 to play, the Tar Heels were out of timeouts. Why were the Tigers even running plays at that point. Why not kneel the ball down?
What it means:
Despite the win, LSU still has major question marks. The Tar Heels were without 13 players, most of those starters, and the Tigers simply couldn't put them away. LSU was unable to consistently run the ball and couldn't get off the field defensively when it needed to in the second half. Simply, the Tigers were lucky to escape.
September, 4, 2010
9/04/10
11:32
PM ET
ATLANTA -- North Carolina is still in this game, thanks in large part to a big night from receiver
Jheranie Boyd
, who has reached the 200-yard mark on five catches. With standout starter
Greg Little
held out of the game, somebody else had to step up and Boyd answered the call. The Tar Heels have given a gritty effort tonight and are driving on LSU as I type. This game's not over yet.
September, 4, 2010
9/04/10
9:25
PM ET
ATLANTA -- For all of the North Carolina fans who crucified quarterback
T.J. Yates
before he even took the field tonight, feel free to apologize now.
Yates threw a 75-yard pass to
Jheranie Boyd
for first-and-goal at the 5-yard-line. He has shown tonight that he's better, that he's capable of leading this team when it's at its lowest, and that he can compete with LSU's fast, talented secondary -- the strength of the Tigers' team. Had
Devon Ramsay
been able to hold onto the ball in the end zone, UNC would have scored another touchdown. Instead, they had to "settle" for a field goal and a 10-7 lead.
Raise your hand if you thought I'd write "UNC" and "lead" tonight.
I'll admit I didn't.
But these Tar Heels are out to prove me wrong.
February, 2, 2010
2/02/10
3:30
PM ET
You would think that with how well the ACC has fared in recruiting the past four years, it would have eventually made a bigger push on the national landscape during the season. Miami has had three top-10 classes, and Florida State has had two. Overall, the trend in the ACC has been that Florida State, Clemson, Miami, Virginia Tech and North Carolina have led the conference on the recruiting front. Three of those teams have appeared in ESPN.com's final Top 25 ranking in each of the past four years (UNC has been there three of the past four.) Only the Hokies, though, have had it translate into postseason success -- so far. There was a common thread, though, amongst the other programs -- a coaching change or, in Florida State's case, coaching questions.
[+] Enlarge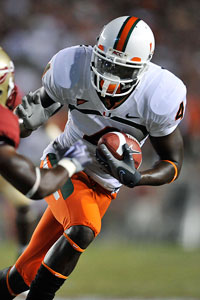 Paul Abell/US PresswireAldarius Johnson was one of 12 ESPNU 150 players in Miami's No. 1-rated 2008 class.
It was impossible to predict, though, that players like former Miami quarterback
Robert Marve
would transfer, or that former FSU linebacker Marcus Ball would have off-field troubles and ask for his release.
Here's a reminder at how highly ranked several teams in the ACC have repeatedly finished since 2006, according to ESPN.com's Scouts Inc. rankings. You can click on the year to go to the full ranking. I mentioned a few of the top players in each class who were facing high expectations at the time, or players who weren't facing many expectations and have since proved otherwise (see: Virginia Tech).
2006
No. 6 FSU (Myron Rolle)
No. 13 Clemson (
C.J. Spiller
, Jamie Cumbie, Ricky Sapp)
No. 17 Miami (Kylan Robinson)
No. 23 Maryland (Pha'Terrell Washington, Drew Gloster)
No. 24 Virginia Tech (Rashad Carmichael, Nekos Brown, Kam Chancellor)
No. 25 UNC (Aleric Mullins, Johnny White)
2007
No. 9 Miami (Robert Marve, Allen Bailey)
No. 11 UNC (Quan Sturdivant, Marvin Austin)
No. 14 Georgia Tech (
Jonathan Dwyer
, Derrick Morgan,
Josh Nesbitt
)
No. 15 Virginia Tech (
Tyrod Taylor
, Blake DeChristopher, Barquell Rivers)
No. 18 Clemson (
Willy Korn
, Scotty Cooper, Marcus Gilchrist)
No. 25 Florida State (Brandon Paul, Markish Jones)
2008
No. 1 Miami (Sean Spence,
Jacory Harris
,
Aldarius Johnson
)
No. 2 Clemson (DaQuan Bowers,
Kyle Parker
,
Jamie Harper
)
No. 12 FSU (Zebrie Sanders,
E.J. Manuel
, Nigel Carr)
No. 15 Virginia Tech (
Ryan Williams
)
No. 20 NC State (
Mike Glennon
,
Brandon Barnes
)
2009
No. 7 Miami (Ray Ray Armstrong,
Mike James
)
No. 8 FSU (Greg Reid, Jacobbi McDaniel)
No. 13 UNC (
Bryn Renner
, Donavan Tate,
Jheranie Boyd
)
No. 18 Virginia Tech (Jayron Hosley,
David Wilson
,
Logan Thomas
)
No. 19 Clemson (
Tajh Boyd
,
Bryce McNeal
)

Posted by ESPN.com's Heather Dinich
Here are 10 things worth keeping an eye on this weekend:
1. The Coastal Division standings:
The winner of the Virginia Tech-Miami game will be the team to beat in the division, but the winner of the Georgia Tech-North Carolina game won't be far behind. If the Yellow Jackets lose, though, it will put them in a serious hole early with two losses to division opponents. That's never good for a tiebreaker situation.
2. Struggling offenses.
Clemson, Virginia Tech, Georgia Tech and Boston College all have fallen below expectations offensively (though the Eagles knew breaking in a new starting quarterback would be difficult). And NC State has yet to show offensive improvement since the 7-3 loss to South Carolina against anyone other than a non-BCS opponent. All of those teams have capable, talented running backs. Can they get the help they need up front to make the most out of them?
3. Russell Wilson's streak.
Now that the Pack are playing a formidable opponent, it's time to start watching "the streak." Wilson has now thrown an NCAA-record 329 passes without an interception. He ranks ninth in passing efficiency. Pitt has intercepted three passes so far this season.
4. North Carolina's young receivers.
After a breakout game against ECU, can
Erik Highsmith
and
Jheranie Boyd
build upon their success? The UNC offense appeared to turn the corner last week, and how the young playmakers fare against an experienced secondary will help determine whether that will continue.
5. How many times Tyrod Taylor and Ryan Williams carry the ball
. It's been one of the offense's biggest strengths, but it also functioned in limited capacity against Nebraska. Virginia Tech's passing offense is 106th in the nation, and the passing efficiency is 93rd. And yet Taylor has thrown the ball 63 times so far and run 26 this season. Williams is one of the top running backs in the country, yet had six carries in the second half last Saturday.
6. Georgia Tech b-back Jonathan Dwyer.
He needs just 1 rushing yard Saturday to become the 10th player in Georgia Tech history to reach 2,000 yards. He's been nicked up with a stinger since last Thursday night's game, and when he has been healthy, defenses have done a good job of keeping him in check. Dwyer has been limited to 168 yards rushing and two touchdowns, but he sat out almost the entire second half of the Jacksonville State game and missed all of the second half last week against Miami because of a shoulder injury.
7. Maryland cornerback Cameron Chism
. The loss of Nolan Carroll, the Terps' top cornerback, was a huge setback, but it opened the door for Chism, who made the most of his first career start on Saturday against Middle Tennessee. He had 12 tackles and made his first career interception in the first half. With 4:52 remaining and Maryland clinging to a 31-29 lead, Chism made his second interception of the game.
8. Georgia Tech's offense vs. UNC's rushing defense
. Georgia Tech leads the ACC and ranks 16th nationally in rushing offense (243.7 yards per game). North Carolina leads the ACC and ranks seventh nationally in rushing defense (52.3 yards per game). The Tar Heels have held all three opponents to 72 yards rushing or less, including just 30 yards rushing by The Citadel in the season opener.
9. Clemson's running game in the red zone.
The Tigers have been inside the 20-yard line nine times this season, and have one touchdown to show for it -- a passing touchdown. Clemson is going to have to start punching it in, and TCU's defense will make that difficult on Saturday.
10. Christian Ponder on third down.
It's remarkable, really. Ponder was a perfect 6 for 6 passing for 75 yards and three touchdowns on third-down conversions in Florida State's 54-28 victory over Brigham Young. He has also completed 65.5 percent of this third-down passes for 263 yards and four touchdowns in the first three games of the season. And he has rushed for 62 yards on eight carries and has converted 6 of 9 third-down opportunities in the first three games of the season.
September, 20, 2009
9/20/09
10:14
AM ET

Posted by ESPN.com's Heather Dinich
Week 3 was a little more revealing. Here's a look at what we learned:
1. Florida State and Miami are to be taken seriously this year.
Which is wonderful news, because that's exactly what the ACC needs, especially when the championship game is in Tampa. FSU came out with a statement win at No. 7 BYU and Miami humbled Georgia Tech on Thursday night. They've both had convincing wins against legitimate opponents, reminiscent of how these programs used to play. They've both had consistently strong quarterback play, which has been lacking. Miami has the early lead in the return to prominence because of the season-opening win over the Noles, but that being said …
2. The Coastal Division is still up for grabs.
Miami exposed weaknesses in Georgia Tech and will win the tiebreaker over the Jackets if it comes to it, but don't forget about Virginia Tech and North Carolina. The Tar Heels found a freshman phenom -- at least for one game -- in
Erik Highsmith
who led UNC to a 31-17 win over ECU. The offense came together, despite missing a few key injured players. Yes, Virginia Tech played almost a full game with barely anything to show for it offensively, but this is what the Hokies do -- they find ways to win and leave you wondering how they pulled it off. The Hokies have Miami at home on Saturday, and it's anybody's game.
3. Maryland and Virginia have problems that run deeper than their embarrassing losses.
And it starts up top. We're talking big picture here. Recruiting. Coaching. Staff continuity. The whole bit. And it's unraveling right before Ralph Friedgen's and Al Groh's eyes. The Cavaliers are off to an 0-3 start heading into their bye week, and Maryland lost to Middle Tennessee for the second straight year. It's going to be a long season for these programs.
4. C.J. Spiller has the early lead in the unofficial race between he and Jonathan Dwyer.
Both of them have been nicked up -- Dwyer with a shoulder injury against Miami and Spiller with a foot injury against BC. But Spiller's versatility and explosiveness gives him the edge. Spiller's punt return for a touchdown at 11:33 in the first quarter against BC was the fifth different way he has scored a touchdown in his career. As for their Heisman campaigns? Looks like
Jacory Harris
has bumped 'em both off the radar.
5. North Carolina's offense can take some hits and keep on moving.
The Tar Heels accomplished something important on Saturday -- their first 3-0 start since Mack Brown led UNC to an 8-0 start in 1997. UNC has been looking for receivers and it found an answer against ECU in Highsmith and
Jheranie Boyd
, both freshmen. The defense played another outstanding game -- recovered a fumble, blocked a field goal and got two sacks from Robert Quinn. The difference this time, though, was that the offense kept up with it.