September, 8, 2014
Sep 8
11:45
AM ET
When the Big Ten suffers through a Saturday like this past one, it's only natural to extrapolate about the state of the league. Because this isn't just an isolated incident.
Mama clearly was talking about the Big Ten when she said there'd be days like this.
Remember
Week 2 in 2012
, when the league went 6-6 and 1-6 against Power 5 teams and Notre Dame? Saturday felt like a flashback. While the league's Week 2 record this season was better (8-5), it ended on a stinkier note with three double-digit losses in national showcase prime-time games. No one can forget New Year's Day in 2011, when the Big Ten played a record five bowl games and
lost them all
.
When is the last time the Big Ten actually had a great day? Midway through the Michigan State-Oregon game, a colleague in Eugene, thinking about possible story angles, asked about the Big Ten's biggest wins since 2007. The two Rose Bowl wins (Ohio State in 2010, Michigan State in 2014) jumped out along with Iowa's Orange Bowl win, Michigan's Sugar Bowl win and Ohio State's since-vacated Sugar Bowl win. But I had a hard time identifying a truly significant regular-season nonconference victory, one that resonated nationally. The colleague ended up writing about Oregon.
There's a pattern here. Anyone who thinks it's just ESPN spin or a cyclical low point is in denial. Saturday was a bad day, but it's part of a bad decade. There's no other way to present it.
"I look at the big picture, in part," Big Ten commissioner Jim Delany told me Sunday. "I recognize we haven't won a championship since '02. I look at it in that way. I see the narrative, and if we had two or three [big games], we'd be feeling better.
"We're not feeling very good, but the facts are the facts."
Some Big Ten fans attach the league's shortcomings to Delany, which I don't understand. They say he chases the money more than trying to improve the football product. How do record revenues and unprecedented TV exposure hurt football? It doesn't unless schools fail to use those resources correctly. You might not like Maryland and Rutgers, but Big Ten teams should like the recruiting areas surrounding their campuses.
[+] Enlarge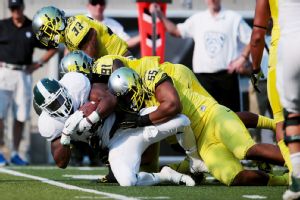 Scott Olmos/USA TODAY SportsMichigan State wasn't the only Big Ten team to take a hard tumble and big loss in Week 2.
After Saturdays like this past one, though, it's natural to wonder whether the league could do more. Does the Big Ten need a fresher approach in branding, recruiting or scheduling? Should the league push football as a bigger priority rather than sticking to its broad-based philosophy? Maybe it's time Delany assembles the football coaches and athletic directors, admits there's a problem and begins solving it.
Then again, perhaps that's not Delany's role.
"I do what I can do, which is do my job," Delany said. "Each athletic director does his or hers, and each coach does his. We talk a little bit about what's a good TV approach, what's a good bowl approach. People develop stadiums. They recruit based on academic standards and where they believe they're strong.
"I'm comfortable with how we're doing it. I would just like to have more success. I don't have a magic wand or a special idea."
Mike Slive is a very good commissioner, but he's not the driving force behind the SEC's football success. The schools are. He doesn't tell SEC programs how to coach, recruit or invest. Pac-12 commissioner Larry Scott is a dynamic, innovative thinker, but he's a former pro tennis player. He's not telling Mark Helfrich and David Shaw how to run their programs.
"You talk about bowls and you talk about schedules and playing good opponents, but it's really not about building a football team," Delany said. "That's done locally. The conference provides certain structure for discussion, not whether you're in the spread [offense] or you're recruiting Florida or California. We don't do that in any of our sports.
"I doubt very much whether Alabama and Florida talk about it, or UCLA and Stanford. These institutions are naturally competitive, and how they build their programs is naturally competitive."
I get that, but it might be time that Big Ten schools acknowledge their collective problem -- always the first step -- and try to find collective solutions, especially in recruiting. Coaches have diverse backgrounds and observe the national landscape. Some Big Ten programs will be developmental in nature, but it doesn't mean recruiting strategies can't change a little. Would a group discussion about where you recruit, whom you recruit, certain positions and, gasp, academic standards be so bad?
I've always admired the Big Ten's approach to revenue sharing. The idea is to get all ships to rise. Perhaps it's time to extend that philosophy to football. Because days like Saturday drag down the entire league and devalue the league race, which could hurt come playoff selection time.
Delany might lack a magic wand, but if the Big Ten comes together and brainstorms how to fix football, its tired act on the field could start to change.