September, 21, 2012
9/21/12
2:30
PM ET
Pitt had an impressive 35-17 win against Virginia Tech last week, and the offensive line played its best game of the season, allowing only one sack while opening huge running lanes for
Ray Graham
and
Rushel Shell
. I had a chance to catch up with center
Ryan Turnley
to get his thoughts on the team's performance. Here is what he had to say.
How much is the victory against Virginia Tech a springboard from the rest of the season?
RT:
If there's one thing we learned from the Virginia Tech game, it's that you have to come out every week at practice and every week during the game focusing on executing and playing together as a team and having fun doing it. I don't know if we're going to use it as a springboard, but we have the momentum going our way, and we have to fight as hard as we can to keep it on our side.
[+] Enlarge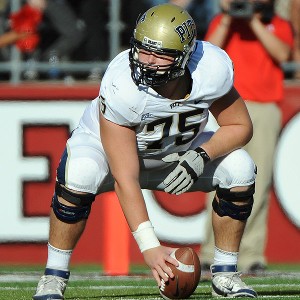 AP Photo/Tomasso DeRosaPittsburgh center Ryan Turnley says the Panthers have been through a lot together.
How did this team keep its head up after losing to Youngstown State and then Cincinnati?
RT:
This team's been through a lot together, and we've been through some things that people couldn't even imagine. We're never going to lay down. We're always going to stay together. That's one thing that can be trusted, no matter what happens. We do love each other and we've been through a lot together.
What was the mood like around the facility?
RT:
The mood was great. Coach (Paul) Chryst had us working hard. Tuesday, Wednesday and Thursday we had good work days and got after it. The mode of the week was pick one thing every day you're going to do better than you did the week before. Guys did that, bought into that and believed that. Every guy on the team got better.
How about the performance of the offensive line against the Hokies. That had to be one of your better games in a long time.
RT:
I think that we were extremely well prepared by our coaches. Coach (Jim) Hueber did a great job getting us ready. The whole coaching staff in general, we had a great game plan going into this week. We executed a lot better on Saturday, and I give all the credit to our coaches.
You had both the run and pass games working. That had to be gratifying.
RT:
It felt great. We know that the pass game feeds off the run game and vice versa. If you can get the run game going, you can slow down the pass rush. They're going to be in a different mentality than if they know you have to pass the ball. Everything feeds off each other, if we can get the ground game going, that makes our job easier in pass protection.
How about the game Rushel Shell had, running for 157 yards, and Ray Graham nearly getting there with 94 of his own?
RL:
They did a great job. With Ray back there, it's just fun to block for him. If you have a good game and Ray's behind you, then you have a great game, he fixes so many mistakes. He's a veteran guy. Rushel came in and was really just unbelievably physical running the ball. He turned runs that were 7, 8 yards, into 12, 20-yard runs in the fourth quarter. I'm used to watching him do it on the high school level -- we went to the same high school. For him to do it against Virginia Tech, it was f un to be a part of it.
How good did the team feel for Tino Sunseri after that game?
RT:
Every guy in our locker room feels the same way about Tino. Some of the things people say are just outrageous, and he's never complained about it one time, never said a word about it. He goes out there and leads us.
That was evident by the way he came back into the game after turning his ankle.
RT:
I think it goes back to him being a leader on this team and in the locker room. He didn't say a word about it. He said, 'We're going to get this ball and score and put this game away. You could see he was hurt. But he kept leading us down the field. The whole atmosphere was fun to be a part of, especially seeing Tino play as well as he did.
What was the scene in locker room after the win?
RT:
It was fun. To get your first win of your senior year and for Coach Chryst to get his first win, and all these coaches. All the players, we all believe he's a great coach and he's going to take this program where we want it to be. Everyone was just really was excited.
February, 21, 2012
2/21/12
9:00
AM ET
Pitt has lost two assistant coaches in the span of several weeks in a bit of unusual timing.
Both running backs coach Eddie Faulkner and offensive coordinator Bob Bostad were in place to help out with recruiting and seemingly committed to new coach Paul Chryst. But each left for different opportunities -- Faulkner to return to his alma mater at Wisconsin, Bostad to become offensive line coach with the Tampa Bay Buccaneers.
That has forced Chryst to do some staff reshuffling with less than a month to go before spring practice. Quarterbacks coach Joe Rudolph moves to offensive coordinator and Jim Hueber moves from tight ends to offensive line. Chryst still needs to hire a running backs coach and quarterbacks coach.

It never is good to lose coaches after such a brief period of time, but Chryst said in a phone interview he didn't think the twin departures would have a major impact on his team.
"Other than it impacting the players, I'm comfortable with what happened," Chryst said. "The communication was good so if something like this happened ... the players on recruiting trail, you weren't saying something that wasn't real. I'm not concerned about what happened or how it happened, and I really am fortunate where I feel like the current players are still going to get great, great coaching."
In the case of Bostad, Chryst seemed to anticipate something like this potentially happening. He, Bostad and Rudolph all worked together at Wisconsin.
"I've been fortunate to have been able to work with Bob for five, six years and I knew what goals and aspirations Bob has and then also he's a good friend of mine. I knew that was something if an opportunity like that came along he'd be excited about that. I'm happy for him. The only negative is I've enjoyed working with him, but would like to work longer with him. For Bob and his wife, Karen, it's a great opportunity.
"I also knew going in I wanted to be strong [at offensive line]. I felt real fortunate to hire Jim Hueber. I knew he could step right in for him. He's as good as a line coach as there is. And with Joe having been on the staff as well. I knew if anything like this happened, we had guys that are more than ready to step into those different roles. I'm excited for Bob and also excited for our players to be with Jim and Joe."
A few other notes:
Chryst said running back Ray Graham is on schedule with his rehab from a torn ACL and should be ready for the start of the season.
The quarterback competition is open going into the spring, but Chryst also made it sound like Tino Sunseri would have an advantage because of his starting experience. "Tino's got to learn and begin to understand the offense and how he fits into it and play within the structure," Chryst said. "It's always an open competition, and yet he's a guy I'm excited to work with because he's played a lot of football. If we're going to be good this year, we have to be productive at that spot."
Guard Chris Jacobson did get his sixth year of eligibility from the NCAA after hurting his knee this past season, which is good news for an offensive line in major need of an upgrade.
January, 7, 2012
1/07/12
10:23
AM ET
New Pitt coach Paul Chryst announced the hiring of six assistant coaches Saturday, including three from Wisconsin -- Bob Bostad as offensive coordinator, Dave Huxtable as defensive coordinator and Joe Rudolph, who will serve as assistant head coach and quarterbacks coach.
Here is a brief profile on each:

Bostad spent the past six years at Wisconsin as offensive line coach. The past two years, Bostad coached four first team All-Americans on Wisconsin's offensive front (center Pete Konz and guard Kevin Zeitler in 2011, and tackle Gabe Carimi and guard John Moffit in 2010). The Badgers rushed for more than 3,000 yards each of the past two seasons en route to a pair of Big Ten titles.
Huxtable spent this past season coaching linebackers at Wisconsin, where he produced a pair of first-team All-Big Ten performers in Chris Borland and Mike Taylor. Before joining the Badgers, Huxtable spent seven seasons at UCF (2004-10), including the final three as defensive coordinator.
Rudolph, a graduate of Belle Vernon Area High School, returns to Western Pennsylvania after coaching the tight ends at Wisconsin the past four seasons. He also served as Wisconsin's recruiting coordinator. As a coach at Wisconsin, he oversaw the development of three NFL draft picks at tight end.
Chris Haering will serve as linebackers coach. He joins Pitt from nearby Mt. Lebanon High School, where he served as head football coach the past 17 years (1995-2011) and compiled a 111-71 record. Under Haering's direction, Mt. Lebanon won the 2000 WPIAL Class AAAA championship and advanced to the playoffs 13 times.
Jim Hueber will serve as tight ends coach. He has nearly four decades of coaching experience on both the collegiate and professional levels. Hueber most recently served five seasons with the Minnesota Vikings (2006-10) working with the offensive line. He spent 33 years coaching college football, including an exceptional tenure under Barry Alvarez at Wisconsin (1992-2005), where he helped the Badgers evolve into a national power.
Todd Rice will be strength and conditioning coach after spending the past five years as director of strength and conditioning for the NC State football team. Before his time with the Wolfpack, Rice served five years in the same capacity at Boston College.
TOP 25 SCOREBOARD
Saturday, 12/21
Monday, 12/23
Tuesday, 12/24
Thursday, 12/26
Friday, 12/27
Saturday, 12/28
Monday, 12/30
Tuesday, 12/31
Wednesday, 1/1
Thursday, 1/2
Friday, 1/3
Saturday, 1/4
Sunday, 1/5
Monday, 1/6