NCF Nation:

Jim Leavitt fired
January, 8, 2010
1/08/10
3:48
PM ET
Over the years, I've had several Big East coaches and administrators point to South Florida as the sleeping giant of the league.
They knew that if the Bulls got everything going, that program could turn into a dominant force in the conference. That's saying a lot for a school that didn't even field a football team until 1997, but South Florida has many advantages.
The No. 1 advantage, of course, is easy access to the gold mine that is Florida high school football talent. Bulls coaches rarely had to leave the state or even spend much time on airplanes in recruiting. Jim Leavitt's rosters usually were made up of about 95 percent Floridians, with the occasional player from Georgia or somewhere else mixed in. Everybody wants to recruit Florida; the Bulls are right in the heart of that talent pipeline in Tampa.
Leavitt's recruiting began to really gain steam recently as well. He pried defensive end Ryne Giddins away from Florida and others, like receiver
Sterling Griffin
, out of the clutches of Miami. The administration allowed Leavitt to mine the junior college route as well, and he plucked gems like Kion Wilson and Jason Pierre-Paul out of those ranks.
South Florida may never consistently outrecruit Florida, Florida State and Miami, but as one of only four BCS conference schools in the state, it has plenty of drawing power. And just winning a few of those battles, augmented by other outstanding local high school players, is enough to make the Bulls highly competitive in the Big East year in and year out.
The university is trying to shake free of its image as a commuter school, and the facilities aren't up to par with some of the Bulls' Big East counterparts. The team has no indoor practice facility, for instance, and has had to either cancel workouts or go inside the Sun Dome -- the school's basketball arena -- during big storms, which of course are commonplace in Florida. With little history and tradition to draw upon, the program lacks the well-heeled booster presence of other schools on its level.
But the Tampa location is enticing for recruits, as is the chance to play in Raymond James Stadium. The Bulls play in a large metropolitan area that loves football and will support a winner, as evidenced by the huge crowds for games against West Virginia, Cincinnati and Miami recently.
There will probably be a lot of piling on Leavitt in the coming hours and days. But let's pause here to applaud the job he did of bringing the program from nothing to this point. Whatever you think of the guy, he worked tirelessly and pulled off some stunning wins, including victories at Auburn and Florida State. He guided the Bulls to top-10 rankings in 2007 and 2008, peaking at No. 2 two years ago. He gave legitimacy to the idea that Florida would have a Big Four.
The next guy, if the Bulls make the right hire, could make things even better.
January, 8, 2010
1/08/10
1:57
PM ET
The investigation into allegations that South Florida coach Jim Leavitt grabbed and slapped walk-on player
Joel Miller
took more than three weeks, comprised 29 interviews and ended with a 33-page report. The investigators concluded that Leavitt did in fact slap Miller, which is the basis of the school's firing of Leavitt today.
"Despite Coach Leavitt and Student Athlete A's denial that any inappropriate contact had taken place, the reviewers find it more likely that contact did, in fact, occur to the face and throat/neck area of Student Athlete A," the review reads. "This report was substantiated by multiple reports from credible direct eye witnesses whose recollection was corroborated."
You can view the entire USF report
here
.
There is a lot of conflicting information in the report, not the least of which is Miller's own denials of his original allegations. But the investigators reported that several other players who had the best view of the incident that happened at halftime of the Nov. 21 Louisville game agreed that Miller had been slapped. None of the 20 players interviewed are identified by name in the report.
"Student Athletes B and C had seen the entire event and described it as involving Coach Leavitt grabbing Student Athlete A by the throat with one hand and 'slapping' or 'striking' Student Athlete A's face with his other hand," the report reads.
The report says another player saw Leavitt put his hand "high" on Miller's jersey, "indicating that it could have been on Student Athlete A's throat. At this point, Student Athlete D turned his head because he "did not want to 'catch anything himself' or see anymore."
Another player said Leavitt "tapped" Miller's face twice "to get his attention," according to the report.
Leavitt has denied all wrongdoing and told investigators that he approached Miller while on his knees. He said Miller appeared down and he asked him what was wrong in an encouraging manner.
But the investigators said no one could corroborate Leavitt's version of events and that every other account had him talking to Miller "in a direct, aggressive, and disturbed fashion." The investigators also found conflicting statements from Leavitt on whether he'd ever shaken a player and whether he'd apologized to Miller. And though he was specifically told not to speak to anyone about the incident or the investigation, the report said Leavitt had talked to Miller during the review. One player told investigators that several on the team feared retaliation from Leavitt.
In athletic director Doug Woolard's
letter to Leavitt
informing him of the dismissal, he cites the report's findings and says the coach offered conflicting and misleading statements while interfering with the investigation. That, he said, gave the university the right to fire Leavitt with cause.
January, 8, 2010
1/08/10
11:57
AM ET
South Florida has called a 12:30 p.m. news conference in which the school will officially announce that Jim Leavitt has been fired. The results of the investigation into allegations of abuse by Leavitt against walk-on player
Joel Miller
will be made public just before the news conference.
While we wait for that, let's take a quick look at where the Bulls might turn next.
South Florida has a few challenges in hiring its next coach.
As a young program with little history, it doesn't have much of a coaching tree to call upon. There aren't a ton of former Bulls assistants or players out there in the coaching field. It's also already Jan. 8, giving South Florida a late entry into the coaching market. With signing day fast approaching, the school needs to act fast if it wants to hold this year's class together.
And as we've mentioned, this isn't an athletic department with unlimited resources, so throwing $2 million at a proven coach isn't going to happen. The perfect guy for this job might have been Charlie Strong, who was Florida's defensive coordinator before taking the Louisville job. But the Bulls were obviously too late to make that move.
So who are some realistic candidates? Here's a quick look at three names that will be prominently mentioned early in the process:
Calvin Magee: The Michigan offensive coordinator/associate head coach has some connections that other candidates can't match. He has a graduate degree from South Florida and was a Bulls assistant from 1996-2000. He also spent seven seasons at West Virginia as an assistant, so he knows the Big East intimately well. As Rich Rodriguez's offensive coordinator, he has a strong background and should bring an exciting style of play.
Dan McCarney: McCarney has an impressive résumé that includes head coaching experience -- he was the Iowa State coach from 1995-2006 -- and time in Tampa. He spent 2007 as USF's defensive line coach and has been credited with turning George Selvie into a star. He is now the assistant head coach/defensive line coach at Florida, so he knows the Bulls' recruiting ground well.
Tommy Tuberville: The former Auburn coach has been mentioned with just about every opening the past few weeks and has made no secret of his desire to get back into the game. He obviously knows how to recruit Florida from his time in the SEC, where he was incredibly successful. And the affable Tuberville would bring a completely different personality to USF than the sometimes standoffish Leavitt.
January, 8, 2010
1/08/10
10:56
AM ET
South Florida
has fired
the only coach it has ever had.
[+] Enlarge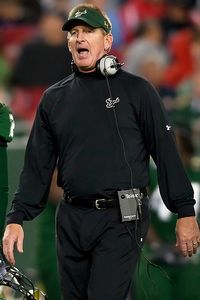 J. Meric/Getty ImagesJim Leavitt compiled a 95-57 record over 13 seasons.
Bulls officials have told Jim Leavitt that he is out after 13 seasons. Leavitt has been under investigation for allegations that he grabbed and slapped walk-on
Joel Miller
at halftime of the Louisville game earlier this year.
Findings of that report will be released later today, but -- similar to the Texas Tech situation with Mike Leach -- it appears that the Miller investigation was more of a last straw than anything else with Leavitt and the Bulls.
Leavitt was hired in 1995 to build the program from nothing, and he always liked recounting how the team only had a couple of trailers to call its own in those first few years. He deserves tremendous credit for quickly making the Bulls a legitimate program and guiding the school into the Big East in 2005, just eight years after the team's first-ever game. He will finish his tenure with a 95-57 record, five straight bowl appearances and two consecutive bowl victories.
But Leavitt's hard-charging personality -- he was known for sprinting onto the field, head-butting players in their helmets and yelling himself hoarse -- also began to wear thin on many around the program. There's a reason why he had great trouble filling open coaching vacancies, including his defensive coordinator position, this offseason. Leavitt had built the reputation of being very difficult to work with, demanding his assistants work long hours that seemed extreme even by workaholic coaching standards.
And while Leavitt's emotional, fiery attitude got his team pumped up for big games, the Bulls seemed to rise and fall on emotion. They could come out sky-high one week and completely flat the next week. In the past three seasons, the team started out the nonconference schedule undefeated and broke into the Top 25 -- rising as high as No. 2 in 2007 -- only to crash back to earth in Big East play.
The team never finished with fewer than three conference losses and was just 5-9 in the Big East the past two years. Some believed that Leavitt worked the players too hard during the season, with long, two-plus hour practices that may have led to fatigue and those midseason swoons. Leavitt had talked this year about dialing things back, but he also boasted about putting the players through physical, full-contact practices the week before the Florida State game.
There was a general feeling around the program that Leavitt had gotten South Florida to respectability, but that he would never be able to take the program to the next level. This investigation, then, offered the school a way out. Leavitt just finished the second year of a long-term contract that pays him $1.6 million a year, making him the second-highest paid coach in the Big East. The Bulls are not flush with cash as an athletic department, and buying out the rest of Leavitt's deal -- which runs through 2014 -- would have been cost-prohibitive.
And so the school will say it's firing Leavitt with cause to avoid paying the entire contract. Thus ends the tenure of the only football coach South Florida has ever known.