August, 31, 2011
8/31/11
8:58
AM ET
Kevin Prince
is UCLA's
starting quarterback
, but
Richard Brehaut
will play in the opener at Houston on Saturday, which means things are still mostly unresolved at the position at which the Bruins' season might hang.
Of course, if Prince (or Brehaut) is lights-out, we'll have a resolution. At least in the short term.
Prince, a two-year starter, missed spring practices with a knee injury, yet was widely considered the front-runner entering preseason camp. But Brehaut, who started seven games after Prince got hurt last fall, consistently outplayed Prince during the early going, though Prince seemed to shake off rust and play better as camp closed.
"After analyzing and looking at all the different strengths and weaknesses of the two youngsters, I just believe both deserve to play," Bruins coach Rick Neuheisel told reporters Tuesday night. "I've told both of them that I don't know exactly when or how or why or any of that stuff because when you make promises of that sort you end up setting yourself up for disappointment because no one can ever predict the ebb and flow of a game."
Peter Yoon sums up the concerns at the position nicely: "Last season, UCLA finished 116th out of 120 BCS teams in passing offense and Bruins quarterbacks have had more interceptions than touchdowns every year since 2007."
Further complicating the picture, true freshman
Brett Hundley
also could see action, though he missed much of camp after a knee scope.
Playing two quarterbacks is a tricky thing. It could frustrate one -- or both -- and lead to dissension in the locker room, with factions of players taking sides. It could make it difficult to create an offensive rhythm. And they could become distracted by the situation, looking to the sideline after each incompletion worried about a potential hook coming from a frowning Neuheisel.
It also could cause tension with the coaches, who are working together for the first time.
Neuheisel took over QB coaching duties this spring after he dispatched Norm Chow. Mike Johnson, however, is the play-calling offensive coordinator who also coaches receivers, while Jim Mastro oversees the running game.
That's lots of cooks in the kitchen debating over the main course.
We shall see. A lot is riding on this for Neuheisel.
The LA Times on the QB decision
here
.
The Orange County Register
here
.
And the LA Daily News
here
.
April, 22, 2011
4/22/11
2:00
PM ET
LOS ANGELES -- Football coaches get paid big money for high-profile jobs, and fans and administrators expect consistently good results. The threat of getting fired for perceived failure is part of the deal, so hot seat lists for head coaches are part of the annual flow of offseason reports from the media.
UCLA coach Rick Neuheisel, after a second 4-8 finish in three years atop his alma mater, will be high on many of those hot seat lists heading into the 2011 campaign. Although deciding what would define a successful season that would cool his toasty stool is a purely speculative task -- a bowl game? eight wins? beating USC? -- it's not unfair to declare that the program needs an uptick. And Neuheisel knows this.
But the hot seat is a bit like "Fight Club." You don't talk about it. Not much, anyway. What good would it do?
"I don't feel it. I'm sure it's there," Neuheisel said. "I don't go up there and sit in [the athletic director's] office and ask every day, but I don't feel it."
What Neuheisel did feel this offseason was a need for change. So he dramatically reshaped his staff: five new coaches, including two new coordinators. He also gave himself the toughest job: quarterbacks coach. The success of the 2011 season may hinge on how consistent and productive the Bruins quarterback is, and considering the Bruins haven't been consistent or productive at the position since Drew Olson graduated in 2005, well, that's even more pressure.
"I'm putting it on me," Neuheisel said. "And I don't want it on anybody else's shoulders. It's been hard for me to watch that position coached by somebody else, and that's no knock on [former offensive coordinator Norm Chow]. Norm's got three Heisman Trophy quarterbacks. But it's what I do. It's what I enjoy doing. I'm excited about the challenge."
Ah, Chow.
[+] Enlarge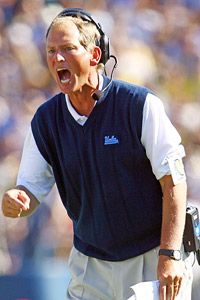 Jeff Gross/Getty ImagesUCLA coach Rick Neuheisel doesn't feel any "hot seat" pressure.
When Neuheisel was hired before the 2008 season, part of the deal was retaining Bruins defensive coordinator DeWayne Walker -- who was a candidate for the job Neuheisel got -- and hiring Chow to run the offense. It was sold as a coaching superteam. One suspects, though Neuheisel doesn't explicitly say so, that it was part of the conversation before he was hired as head coach.
The celebrated arrangement, however, proved a failure. Walker bolted after one year to become head coach at New Mexico State, which is like saying he ran off to Hades to relieve Sisyphus. Chow and Neuheisel divorced this offseason.
"It was a different way of putting a staff together than I'd done at either Washington or Colorado -- this was the first time I ever worked with people that I didn't know," Neuheisel said of the ill-fated troika. "No bad guys. Just philosophy. You can sit in one room and agree that we are all together, but when you splinter off, are you really?"
Enter Mike Johnson to run the Bruins' offense and Joe Tresey to run the defense. Johnson and Neuheisel go way back. They met when Johnson was a backup quarterback at Arizona State in the mid-1980s and Neuheisel was playing in the USFL. They also coached together with the Baltimore Ravens. Tresey and Neuheisel are new to each other, but at least he was Neuheisel's hire.
"I feel much better about the chemistry we have now, having put it together the way I used to put it together," Neuheisel said.
The big story last year was the Bruins' adopting the pistol offense, which was developed at Nevada. The idea was to bolster the sagging running game. Even then, many wondered if Chow would buy in after running a West Coast, pro-style offense his entire career. The pistol helped the running game, but the passing game swirled into the toilet.
If you are looking for potential issues now -- even with the new arrangement -- it could be the "too many cooks in the kitchen" theory.
Johnson is the coordinator and receivers coach and a longtime NFL assistant with no pistol, spread-option background. Neuheisel is coaching the quarterbacks. And Jim Mastro, hired away from Nevada, is the running game coordinator. How will they all mesh into their defined tasks on Saturdays, particularly when the screws tighten in critical conference games?
"It's defined," Johnson said. "My job as offensive coordinator is not to come up with all the ideas. It's to be the leader of the group."
The first order of business is finding a leader on the field at quarterback, but that remains unresolved this spring.
Kevin Prince
, the injury-prone starter for much of the past two seasons, hasn't been available thanks to a knee injury.
Richard Brehaut
would start if the Bruins were playing a real game and not their spring game on Saturday. Touted true freshman Brett Hundley has flashed potential at times but is still getting used to the speed of the college game.
The second issue is the offensive line, which has suffered injury woes this spring.
"We got to get lucky there," Neuheisel said.
As a program, the Bruins haven't experienced much luck since going 10-2 in 2005. While rival USC surged, there was only inconsistency and instability in Westwood. When Neuheisel was hired and USC fell afoul of the NCAA shortly thereafter, it seemed as though the Bruins' moment had arrived. Yet, so far, that hasn't proven the case, and a poor 2011 recruiting class while the Trojans ended up ranked in the top five didn't help the hot seat perception.
As Neuheisel said, he's putting it on himself to push the program forward. And if it doesn't work out?
"If it were to happen, that they were to replace me, I'm confident I would find another job," he said. "It wouldn't be the end of the world. I don't think my kids would starve. But I'm adamantly wanting to be here because this is my school and I believe we're closing in on where we want to go."
March, 23, 2011
3/23/11
8:17
PM ET
There's a lot new at UCLA this spring, even with 16 players with starting experience returning on both sides of the ball.
There's five new coaches, including two new coordinators. There's uncertainty about scheme on both offense and defense. And there's uncertainty at quarterback.
As for the offense, the "pistol" isn't dead. Said coach Rick Neuheisel to that query, "Oh, no. No. No." Even though new coordinator Mike Johnson isn't a pistol guy, Jim Mastro tight ends/F-backs coach is. Mastro was hired away from Nevada, where the scheme was invented.
[+] Enlarge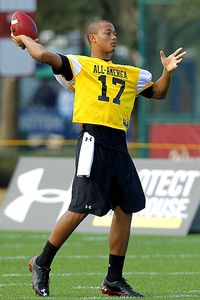 Cliff Welch/Icon SMIBrett Hundley will get a lot of reps during spring practices for UCLA.
So there will be some pistol. The Bruins will lineup mostly in the shotgun. They will still use an "F-back," a hybrid position that can be a small quick receiver (
Damien Thigpen
) or a tight end (
Morrell Presley
). And there will be some two-back formations. The idea is to develop some run-pass balance, which has eluded the Bruins over the past three seasons.
"The pistol is a formation and it was certainly successful in the run game," Neuheisel said. "What we need now is to develop the throw game that compliments and goes along with that and uses other formations."
As for that throwing game, quarterback
Kevin Prince
will be able to do very little this spring because he's still recovering from knee surgery.
Darius Bell
(shoulder) is also out and
Nick Crissman
will be limited as he comes back from a shoulder injury. That means more reps for
Richard Brehaut
, who is playing baseball but will not miss any spring football practices, and true freshman Brett Hundley.
Hundley, the touted recruit, is the guy everybody will be watching.
"As is always the case, when somebody's down, it creates opportunities for someone else," Neuheisel said. "With Prince not able to [practice], it creates more reps. Darius Bell not able to go for spring practice, it creates more reps. So Brett Hundley is going to be the benefactor of that. He's going to get lots of chances. How fast he grows and matures in the offense and shows he can understand all he needs to handle to be effective, that will just enhance his ability to play and play at an early time in his career."
We wrote about the
depth chart on Tuesday
.
Here, again, is the list of injured players.
Out

WR
Jerry Johnson
(ankle)
RG Casey Griffiths (back)
QB
Darius Bell
(shoulder)
P-K Jeff Locke (hip)
DE Keenan Graham (hip)
MLB Patrick Larimore (shoulder)
CB Antony Jefferson (foot)
FS Dalton Hilliard (knee)
Non-contact

WR Shaquelle Evans (shoulder)
QB Kevin Prince (knee)
LB Jared Koster (shoulder)
Some notes:
What are you talking about, Willis
? Defensive lineman Brandon Willis is supposed to be headed back to North Carolina,
the school from where he transferred
to UCLA. But there may be another chapter in this twisting tale. Said Neuheisel: "That's still an uncertain situation. We signed a release and want him to have the opportunity to explore his options and make sure he's meeting his family obligations. But he has yet to enroll at North Carolina, and I don't think he's heard from the NCAA with regard to the waiver and whether or not he can play next fall. I'm still waiting to hear."
Neuheisel said Willis has not withdrawn from UCLA. Willis wants to return to UNC to be closer to his sick grandmother, but he probably doesn't want to sit out the season. He left UNC because his father got a job in Los Angeles.
F-back and RB
: How will things stack up in the backfield?
Johnathan Franklin
and
Derrick Coleman
are both back, but
Malcolm Jones
and
Jordan James
could make a challenge. Further, Neuheisel said he wants to get a look at 6-foot-5, 238-pound sophomore F-back
Anthony Barr
with the ball in his hands. Said Neuheisel, "We want to find out more about Anthony as a running back."
Safety numbers
: Sophomore Dietrich Riley is listed as the No. 2 at strong safety behind senior Tony Dye, but that figures to be an interesting competition. And things at both safeties could be fluid with Hilliard, listed No. 1 at the spot manned by Rahim Moore the previous three seasons, out with a knee injury.
February, 7, 2011
2/07/11
11:17
AM ET
UCLA
still doesn't have a defensive coordinator
after coach Rick Neuheisel's flirtation with former USC linebacker and Trojans assistant Rocky Seto abruptly ended.
It appeared last week that Neuheisel was
on the cusp of announcing Seto's hiring
, but apparently things turned sour in the eleventh hour, perhaps in part because many Bruins fans
didn't want a former Trojan running their defense
, particularly one without a proven track record. Seto is presently on Pete Carroll's staff with the Seattle Seahawks helping with the secondary.
Further, Nevada running backs coach Jim Mastro is
still deliberating
whether he will accept a position as the Bruins' running game coordinator. The
Orange County Register
reported that Mastro would coach tight ends and F-backs while Bruins running backs coach Wayne Moses would stay in his current position, if Mastro opts for Westwood.
Other than Seto, the L.A. Times reported that Neuheisel talked to former Stanford defensive coordinator Vic Fangio, now with the San Francisco 49ers, former Miami head coach Randy Shannon and former Florida defensive co-coordinators Teryl Austin and Chuck Heater. Heater was a Washington assistant when Neuheisel was the Huskies' coach from 1999-2002, but Heater was hired to coordinate Temple's defense.
So what now?
Well, maybe Neuheisel just moves down to the next name on his list. Or maybe he regroups and casts out a new net. It would be a bit of a surprise at this point if he pulls a rabbit out of his hat and lands an experienced, "name" defensive coordinator. And, by the way, that might not be a bad thing.
Neuheisel's stated preference for a 3-4 scheme -- or at least a hybrid of it -- suggests his best candidates are NFL assistants who are itching to call their own plays. But how committed is Neuheisel to a 3-4 if he was serious about Seto, whose mentor -- Carroll -- is a 4-3 guy?
While some might think a jump to UCLA under Neuheisel might be risky -- Neuheisel is under a lot of pressure to win in 2011 -- there's solid, young talent on the Bruins' defense. Even a single impressive season in Westwood could provide a career boost. It would certainly be a way to get on a Pac-12 coach's radar.
As it stands now, Neuheisel isn't inspiring much confidence with his constituency. A second 4-8 finish in three seasons, combined with coaching staff turmoil,and a disappointing recruiting class isn't sending the Bruins into the offseason on an uptick.
Of course, all the hullabaloo between now and September could be easily forgotten if Neuheisel simply does one thing this fall: Win.