NCF Nation:

Jim Michalczik
March, 29, 2012
3/29/12
1:00
PM ET
USC-Oregon, Oregon-USC. Ducks-Trojans. Kiffin-Kelly! Barkley-Black Mamba!
Golly, doesn't anybody else have a chance in this Pac-12 conference? Should we just call off the regular season and have the Ducks and Trojans settle things in a 13-game series?
(That actually might be fascinating to watch. Think about all the interesting weekly coaching adjustments).
Well, that's not happening.
So then the question before us is a radical one. It might very well split up the space-time continuum and send us spinning into a
massive black hole
: Which team
possibly
might shock the world? Which team could break up this apparently preordained marriage at the top of the conference, one reportedly written in gold leaf onto the granite facade of Mount Rushmore?
[+] Enlarge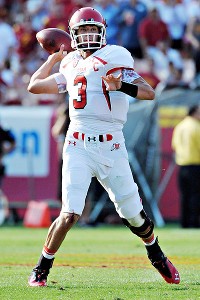 Kirby Lee/US PresswireJordan Wynn and the Utes have a favorable schedule this season.
It's a dangerous question, I know. Not the sort of one entertained by the meek. But if you are brave, read on.
Hey, you in the gray shirt, you're not brave! Better stop reading.
We warned you.
Kevin Gemmell
: The general consensus is that Oregon and USC will meet for the Pac-12 title. But which team could put a wrinkle in that plan?
Whenever you are dealing with a
could
question, you always have to stipulate with
ifs
. X
could
happen
if
Y and Z fall into place. The team that strikes me as having the fewest
ifs
is Utah.
My first thought was to go wayyyyy out there and tinker with the idea of Oregon State being the team to shock the Pac-12. The Beavers could be the surprise team
if
they get the running game in order, and
if
the offensive line holds up, and
if
Sean Mannion
continues to mature, and
if
all of that experience from last season pays off. But that's just too many
ifs,
and way too far to reach.
Utah, however, has a lot of pieces in place already to be the surprise team this season. First, its schedule helps, because the Utes don't have dates with Oregon or Stanford. Their first three games are in-state, and the fourth is at ASU, which will likely still be adjusting to life under a new head coach. That's potentially 4-0 out of the gate.
Then they get an extra week to prepare for the big showdown -- at home -- with USC. That game will be high-noon in the Pac-12 South, and Rice-Eccles will be jumping. If the Utes can somehow get over that hump, they have four more winnable games before traveling to Washington, which could be a hiccup. That notion alone, however, is one major
if
. USC also has extra time to prepare, because it's a Thursday game.
Another reason to be encouraged is that all reports are that quarterback
Jordan Wynn
is healthy. He's chock full of experience, and has shown he can be an elite quarterback when he gets his rhythm. The only reason to think the running game will take a step backwards is that Utah has to replace two stud offensive tackles in
Tony Bergstrom
and
John Cullen
. But
John White IV
has shown to be a very capable -- if not special -- running back. He shouldn't have any trouble adapting.
Also, unlike a lot of other teams with new coordinators, the transition to Brian Johnson should be silky, since he's a veteran of the system and has worked with Wynn since Day 1.
The Utes have one of the top -- if not the best -- defense in the conference. With plenty of returning starters and the most feared defensive lineman in the Pac-12, they should be able to win a game or two on defense alone.
Given the way their schedule is laid out -- combined with returning talent on both sides of the ball and an outstanding coaching staff -- it's not outside the realm of possibility that the Utes could emerge from the South.
Ted Miller
: One word: Plastics.
[+] Enlarge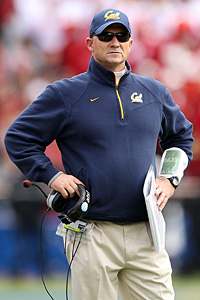 Ezra Shaw/Getty ImagesJeff Tedford and California could be on the cusp of a return to prominence in the Pac-12.
No, wait. That's something else. Our word is "schedule."
Now we have four words: California Freaking Golden Bears! You're back. Welcome. You remember where everything is, right, up here in the national rankings? No, coach Tedford, you don't have to sleep on that twin mattress in your office. You have the view suite down the hall. Yes, it has been a while. Yes, breakfast is included. Eggs Benedict? Well, your wife did tell us about your cholesterol. You want us to stick it? Well, then, Eggs Benedict it is!
The Bears have the schedule to upset the Trojans-Ducks destination wedding. And the talent, by the way.
Schedule? Cal plays host to Oregon, Stanford and Washington, the likely three top teams in the North Division. Plays host, by the way, at an awesomely cool renovated Memorial Stadium that will put the Strawberry back in the Canyon. The Bears went 30-9 in Memorial Stadium between 2005-2010 before playing their home games in AT&T Park in 2011, including 7-0 marks in 2006 and 2008.
Every team is better at home. Cal fans would tell you their team is better-er at home. Sure, it's had its share of mega face-plants in front of the home fans -- Oregon State in 2007 (altogether now "ouch"), USC in 2009, and that three-game home losing streak to end 2010 with a whimper. But there is no doubt it will be better to play the Ducks, Huskies and Cardinal at home, particularly with the Ducks and Cardinal breaking in new quarteracks.
And Cal isn't breaking in a new quarterback. What if, just maybe,
Zach Maynard
plays the entire season like he did the final four games of the 2011 regular season? And what if offensive coordinator Jim Michalczik works his magic with the line his second year back in Berkeley? And what if all that young talent --
Mustafa Jalil
,
Stefan McClure
,
Todd Barr
,
Viliami Moala
,
Brennan Scarlett
,
David Wilkerson
,
Chris McCain
,
Michael Coley
,
Avery Sebastian
,
Cecil Whiteside
, etc. -- breaks through on defense?
We'll probably get a pretty good measure of the Bears early on. They will take a 2-0 record to Ohio State on Sept. 15. That is a winnable game, but it will require the Bears to go East and show some fire. You might recall that they didn't exactly do that in recent years at Tennessee and Maryland.
Then they visit USC. Jeff Tedford is 1-9 against USC, losing those nine by a combined count of 291-144. The Bears can afford to lose at USC, though a poor showing might cause the team to question itself and make it seem like these are the "same ole Bears." That, however, is not a divisional game. The larger issue is holding serve at home, which would give Cal an advantage in the event of a tie atop the North.
As Kevin noted above, we have a surfeit of "ifs" for both scenarios. It just feels as though Oregon and USC are that far ahead of everyone else.
But you do know that you never know until you do know.
April, 13, 2011
4/13/11
1:08
PM ET
BERKELEY, Calif. -- California coach Jeff Tedford hears the negative chatter but he's trying not to listen. The operative word there being "trying." He also understands why some Bears fans are grumbling, but such talk nonetheless frustrates him.
Tedford rebuilt a lousy program and created a high standard to which Cal fans happily became accustomed. Yet over the past few seasons, he has not consistently met that high standard.
"All of a sudden, you have an eight-win season and it's not good enough," Tedford said. "Then, all of the sudden, you have a [losing season] and it's, 'Wow, what happened here?'"
[+] Enlarge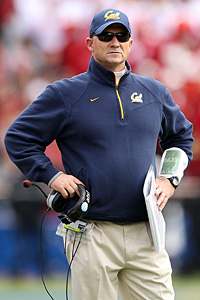 Ezra Shaw/Getty ImagesAn imposing front seven on defense should help coach Jeff Tedford and Cal be competitive against elite teams in 2012.
Things turned sour in Berkeley in 2010, a 5-7 finish that was Tedford's first losing season -- first season with fewer than seven wins -- in nine years leading the program. Meanwhile, on the south side of the Bay Area equation, archrival Stanford won a BCS bowl game and appears poised to start 2011 ranked in the top 10. That juxtaposition doesn't sit well with the Old Blues.
It no longer matters where Tedford started, taking over a 1-10 program in 2002 that won seven or more games just four times in the 24 previous seasons. Forget that from 1978 to 2001, Cal won three or fewer games nine times. Sure, back then, a couple of seven-win seasons -- heck, even 5-7 -- would have seemed pretty nice.
No longer.
But it's more than that, Tedford's critics will tell you.
What happened to Tedford, the quarterback guru? Tedford transformed Kyle Boller from a five-star recruiting bust into a first-round NFL draft pick. He then discovered Aaron Rodgers out of nowhere and made him into a first-round pick. Nate Longshore appeared poised to join them when he led the Bears to a 5-0 start and No. 2 national ranking in 2007. But, really, since Longshore sprained his ankle during a marquee win at Oregon on Sept. 29, 2007 -- Cal fans just fainted recalling the memory of
what happened next
-- the Bears haven't benefited from consistent play at quarterback.
It's not just losing, either: It's the nature of the defeats. In Tedford's first seven seasons, the Bears suffered only two defeats by more than two touchdowns. Over the past two seasons, they've lost eight games by 17 or more points and six by 27 or more.
Further, the staff turnover, particularly at offensive coordinator, has been notable. Not including himself, Tedford has gone through four offensive coordinators before arriving at his present, complicated configuration, with offensive line coach Jim Michalczik returning as coordinator, running backs coach Ron Gould set as running game coordinator, receivers coach Eric Kiesau set as passing game coordinator and Tedford (again) helping with the quarterbacks and (again) calling plays.
A couple of years ago, Tedford listened to the nattering nabobs of negativism and he wanted to smack them. Now, he's trying to be philosophical about criticism. Trying.
"I have it back in focus now not to worry about the external things," he said. "That one year [2009] we went [8-5] and it felt like we went [5-8], it felt like people were real irritable about that. I was irritable, too. About their reaction to [8-5]. Now, I'm just back to focusing on what it takes to get us back on the upward trend again."
If you're the sort who prefers optimism, there's grounds for that, too. For one, Michalczik and Kiesau were both with Tedford during the "glory years." There's history and comfort there. And Michalczik is widely considered an elite line coach, perhaps the best in the Pac-12. The play of the Bears' O-line hasn't been as good the past two seasons while Michalczik was with the Oakland Raiders.
Further, Tedford is re-engaging on the offensive side, and not only by calling plays, as he did during his early years at Cal. He's also working extensively with the quarterbacks, even to the point of sitting in all QB meetings.
"Consistency at quarterback has been something that has hurt us at times," Tedford said.
Another big-picture item for Cal fans to be upbeat about: An uptick in recruiting that, perhaps not coincidentally, began when stadium and facilities renovation projects began in earnest after protesters -- old school Berkeley! -- were forced
out of the trees
. The Bears are nomads this spring, traveling from site to site in search of good grass to practice on, and they will play "home" games in AT&T Park this year. But when Memorial Stadium re-opens in 2012, the structure will match the grandeur of its Strawberry Canyon home.
As for hot-seat talk -- it's probably more accurate to call Tedford's chair lukewarm -- the players are aware of said chatter. They don't live in a protective bubble. And they are aware that pointed observations about the blowout defeats also fall on them, whether those embarrassments are about poor preparation, a lack of mental toughness in the face of adversity or -- gulp -- a propensity to quit when an opponent asserts itself.
"We all love Coach," offensive tackle Mitchell Schwartz said. "His past record of success, that's why we are all here. There's no grumbling [in the locker room]. We're more disappointed in ourselves. We feel like we let the coaching staff down."
And, of late, Cal fans feel let down. When the Bears were controversially blocked from playing in their first Rose Bowl since 1959 by Texas and the BCS computers following the 2004 season -- Cal fans just fainted for a second time while reading this story -- the consolation was a confident belief that it was just a matter of time before a Tedford squad ended that lengthy, painful Rose-less run.
The clock is still ticking -- 52 years and counting -- on that one, though.
April, 11, 2011
4/11/11
8:29
PM ET
BERKELEY, Calif. -- California has something sort of old and something sort of new this spring on both sides of the ball.
On defense, Clancy Pendergast is back for his second season coordinating the Bears defense. On offense, Jim Michalczik is back in town after spending a couple of years with the Oakland Raiders. Pendergast turned in a successful first campaign, with his more aggressive version of a 3-4 scheme ending up ranked third in the Pac-10 in scoring and first in total defense. And from 2002-2008, Michalczik might have been the best offensive line coach in the conference.
Here are some notes from chats with both coordinators as well as head coach Jeff Tedford.
Other than a blowout loss to Stanford, the Bears defense turned in its best work in November, most notably holding Oregon to just one offensive touchdown in a 15-13 Ducks win. Pendergast didn't think that was a coincidence: "I think our guys trusted the system, trusted each other. Had better eyes. All those things." As for year two, the longtime NFL coach, probably has a better grasp on some of the quirky offenses he'll face in the conference. "Anytime you go into a second year, you're going to be more comfortable," he said.
Pendergast on former defensive end Cameron Jordan, who is expected to be a first-round NFL draft pick on April 28: "He'll be solid, consistent player at next level who can do a lot of different things."

[+] Enlarge

Chris Morrison/US PRESSWIRECal's Clancy Pendergast expects to be more comfortable coaching against Pac-12 offenses in his second season.

Pendergast is clearly high on the incoming freshmen. He repeatedly mentions them -- first and last names -- when talking about his potential depth chart. When asked if he expects a handful to play, he said, "No question." Names he -- and later Tedford -- mention: defensive tackle Todd Barr, defensive tackle Viliami Moala, defensive end Brennan Scarlett, and cornerbacks Stefan McClure, Joel Willis and Kameron Jackson.
The top three defensive ends are Trevor Guyton, Deandre Coleman and Ernest Owusu. At nose tackle, both Aaron Tipoti and Kendrick Payne are out with shoulder injuries. Guyton has had a good spring, while Tedford said, Coleman "should be much better this year."
The inside 'backers are Mychal Kendricks, who put up huge numbers last fall playing outside, and D.J. Holt, also a returning starter. As for Kendricks move inside, Pendergast said, "He's probably a better fit as a stack inside linebacker than an outside linebacker."
There will be two new starters at outside linebacker. At present, Ryan Davis and David Wilkerson (strongside) are with the ones, with Chris McCain, Cecil Whiteside and Lucas King providing depth.
In the secondary, Marc Anthony and Steve Williams are the corners. The depth appears unsettled -- see Pendergast and Tedford both listing three freshmen who are not on campus yet as being in the mix. Pendergast seemed most pleased with Anthony, whom he said was playing physically and with a lot of confidence. At safety, there's Sean Cattouse and D.J. Campbell, with Adrian Lee, C.J. Moncrease, Alex Logan and Michael Coley earning note. It's hard to say if true freshman Avery Walls, who's participating in spring practices, will get into the mix.
On offense, Michalczik is mostly focused on the offensive line. Tedford will call plays this fall and is working with the quarterbacks as well, while receivers coach Eric Kiesau is the passing game coordinator and running backs coach Ron Gould is the running game coordinator. So there will be plenty of input on offense.
Michalczik wouldn't commit too much on the offensive line: "We've got some young guys and we've got some time," he said. Left tackle Mitchell Schwartz and center Dominic Galas are likely starters, but both are sitting out with injuries. Matt Summers-Gavin has bounced from guard to right tackle. Brian Schwenke and Justin Cheadle are the No. 1 guards at present. Youngsters to watch include Chris Adcock and Mark Brazinski at center, as well as Alejandro Crosthwaite, Bill Tyndall and Tyler Rigsbee.
Marvin Jones and Keenan Allen are set at receiver, but the No. 3, 4 and 5 options are not. Michael Calvin -- yes, him again -- Coleman Edmond and Kaelin Clay earned note from Tedford, who said of Clay, "He's been very good, very fast, brings big-play potential."
Tedford isn't very happy at running back behind Isi Sofele. His highest praise goes to walk-on Mike Manuel, who was impressive in the scrimmage Saturday. Injuries are a big issue at the position, but it seems as though Tedford isn't happy with the group, which includes a number of touted recruits. "As of right now, it looks like to me we are going to have to rely on younger guys who are coming in," he said.
Quarterbacks? It's still wide open, but it shows how serious Zach Maynard's candidacy is that Tedford said he doesn't expect to announce a starter until well into fall camp, specifically because he wants to give Maynard, who transferred from Buffalo last year, as much time as possible to digest the offense. Said Tedford, "He does have some athleticism. He can make plays with his legs. He throws the ball accurately. He can throw all the balls on the field. He's a lefty. He can throw the deep ball. He's got zip on the ball. His main thing is just going to be the mental part of understanding our offense and understanding what we're looking for."
As for Brock Mansion, who started the final four games after Kevin Riley went down, Tedford said, "You can tell that Brock is better because of the experience he had last year. He's more comfortable. And he's even learned some things physically. You can see the maturity there a little bit. Still not where we need to be."
As for Allan Bridgford, the question might be athleticism. Said Tedford, "Smart guy. Can throw the ball. He can throw all the balls on the field. Escape dimension? Haven't seen that yet. That's a concern, but he's not a led-foot by any means."
One problem for the Bears this spring is injuries. There are a lot of them, which makes it more difficult to give the QBs full-tilt, looks. "That's a challenge, to get QB's enought reps without beating up the whole team," Tedford said.
March, 30, 2011
3/30/11
12:41
PM ET
There's lots of change going on at California this spring, starting with the Bears becoming nomadic.
Cal will practice at six different sites due to renovations at Memorial Stadium and problems with the team's temporary practice facility on Witter Rugby Field. And, of course, home games this fall will be played in AT&T Park, not in Memorial Stadium, the team's home for the past 88 seasons.
Beyond the grass under their feet, the Bears have plenty of issues. Most folks know there's as wide open a competition at quarterback between
Brock Mansion
,
Beau Sweeney
, Zach Maynard,
Allan Bridgford
and
Austin Hinder
. But that's not the only question.
[+] Enlarge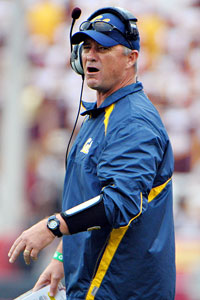 Kirby Lee/US PresswireJeff Tedford is going to have an expanded role in the offense this season.
The offensive line underachieved in 2010 and now must replace two starters. What's the pecking order at tailback (and, by the way, who's healthy enough to compete)? There are four voids on the defensive front seven -- two on the line, two at linebacker -- and two in the secondary. And what about improving the special teams?
Further, coach Jeff Tedford is taking a bigger role with the offense, though that role hasn't been defined, other than him coaching quarterbacks. It seemed he
said he was going to call plays this fall
, but then he apparently backtracked on the
first day of spring practices Tuesday
.
There are a lot of chefs in the offensive kitchen. In addition to Tedford, who is looking to reclaim his title as quarterback guru, there's offensive coordinator/line coach Jim Michalczik, passing game coordinator/receivers coach Eric Kiesau and running game coordinator/running backs coach Ron Gould. While they are all familiar with each other -- Michalczik and Kiesau are returning to Berkeley after stints elsewhere -- those lines of communication will need to be worked out.
Further, in terms of personnel, the Bears have recruited well the past two years. It's likely a number of younger players -- redshirt freshmen, sophomores as well as incoming players this fall -- will immediately compete for playing time.
So Cal's spring practices are as much about transition as they are renewal after a disappointing 5-7 season.
Some notes:
Injuries
: This is fresh from Jonathan Okanes of the
Contra Costa Times
after the first practice:
Several players will practice only in limited fashion this spring because of injuries/surgeries: Among them are left tackle Mitchell Schwartz (back), center Dominic Galas (shoulder), fullback Will Kapp (shoulder) and nose tackles Kendrick Payne (shoulder) and Aaron Tipoti (shoulder). All of these players were there and in their gear today doing individual drills. But they won't be involved in team drills.
Running back pecking order
? Also out is running back
Dasarte Yarnway
(knee), and fellow running backs
Covaughn DeBoskie-Johnson
and
Trajuan Briggs
are coming back from injuries -- though both are
reportedly ready to go
-- so it's difficult to project how the competition will go with
Isi Sofele
, whom Tedford designated as the No. 1 guy before spring practices. Brandon Bigelow, Daniel Lasco and junior college transfer C.J. Anderson join the fray in the fall. It's more than likely that the ultimate depth chart at the position won't be resolved until mid-to-late August.
As for the QBs
: Tedford almost certainly won't name a starter after spring practices, though he would like to narrow the
field of five (or so) to three
. If you were a betting Pac-12 blog reader -- and you probably are -- you should put your money on Brock Mansion, junior Zach Maynard and sophomore Allan Bridgford being the top troika heading into the offseason. The basis of that, it must be noted, is pure hunch -- Tedford's veneer of vague has been admirably tenacious on the matter. It's possible he truly doesn't have much sense of a pecking order in his own head at this point.
Youngsters to watch
: Youngsters and new players who might challenge for starting or key roles include wide receivers
Tevin Carter
and
Kaelin Clay
; linebackers Nick Forbes, Dave Wilkerson, Chris McCain and Cecil Whiteside; defensive end Gabe King; O-linemen Mark Brazinski and Matt Williams; and safety Avery Walls.
December, 3, 2010
12/03/10
5:11
PM ET
Jeff Tedford is smarter than I am. He's a standup guy. And he has a moral compass in a business where you do better when you don't.
[+] Enlarge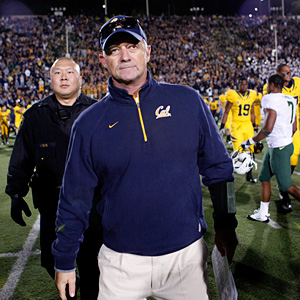 AP Photo/Paul SakumaCalifornia coach Jeff Tedford faces an important offseason following a disappointing 5-7 season.
I can't recall him throwing a player or coach under the bus for shortcomings or gameday failure. My impression is Tedford values loyalty -- among his players and assistants -- above anything else. To a fault perhaps, because that value might come before winning. And Tedford needs to start doing that again.
There is something wrong at Cal. The Bears have too many good players to finish 5-7. Yet there's also abundant evidence that Tedford is a good coach.
That means that he needs to take a long, hard and coldly objective look at his staff this month.
Why has his offensive line play slipped since Jim Michalczik left in 2008? Why has the performance at quarterback cratered? Does he have enough fire in the locker room? Does he have enough discipline? Why does his team show up and fight some weeks and seem completely flat others?
"It's very important to evaluate everything that we do," Tedford said. "Obviously, we need to improve. There were games that were close and games that weren't. Schematics, offseason work — whatever it is -- my job as head coach is to go back and evaluate everything we do. I'm going to gather information."
Gathering is good. I do not have answers. I am not in the locker room. I don't watch practices. And I won't use hearsay to judge a program. But let there be no doubt: Just going into 2011 with everything the same will not only signify inertia, it will inevitably lead to failure.
My impression is defensive coordinator Clancy Pendergast did a solid job this season, and the long-time NFL coach will have a far better feel for the Pac-12 and the college game next fall. Still, is each defensive position coach the right fit? Does he get the most out of his players?
As for the offense: What is a fair and reasonable judgment of coordinator Andy Ludwig after two seasons? Should the Bears offense be better? Does it consistently out-scheme and outflank opposing defenses? Does it make successful, in-game adjustments? Is it fulfilling its potential based on available talent? Are players getting better as they get older?
Then comes quarterback. The Nate Longshore-
Kevin Riley
years ruined Tedford's reputation as a quarterback guru, and after a few games with
Brock Mansion
, well, let's just say Bears fans aren't confident that the lackluster play at the position will get better next fall.
Tedford needs to find a mentally tough swashbuckler who demonstrates that mistakes and setbacks won't shake his confidence and make him tentative. And some consistent accuracy would be nice, too.
"It's going to be wide open [at quarterback]," Tedford said. "We have some candidates there. We have some young guys that haven't gotten an opportunity because of injuries and youth. There are going to be five or six guys in the competition. Our challenge will be trying to evaluate that many guys with the practice time. It's not just a two-man race. It's everybody. Brock got some invaluable experience down the stretch. Obviously, we have to play better at that position. And we need to do a better job of putting them in position to be successful as well."
Cal fans have been obsessed for the past few years over the question of whether Tedford is the guy to get the Bears to the proverbial "next level." Has Tedford plateaued? Or have Cal fans just become too greedy? Berkeley, after all, is not Tuscaloosa or Columbus. It's an elite university that's known more for its counterculture than its football culture.
And you know what? Our country needs a Berkeley more than it needs another win-at-all-cost institution. Of that I am 100 percent certain.
When Cal fans ask about Tedford, you almost feel they are as much asking about themselves and their university: Should I not care this much? Am I keeping this football stuff in perspective? Or should I be more even critical because Tedford is paid a whole bunch of money when world-class professors are not?
Two years ago, the questions were unfair and premature. Tedford had transformed a program and made it a cash cow. But this fall, they became fair and relevant. And it's clear Tedford knows that.
His job this offseason is to make changes that right the program and redirect it toward the trajectory it had during his first five seasons.
The Bears roster doesn't look like one that will win nine or 10 games in 2011. That's not the real issue. It's more about putting forward a consistent product that performs to its capabilities.
You know: One that lays a tangible foundation to again start winning nine or 10 (or 11) games on a regular basis in the future.

Posted by ESPN.com's Ted Miller
A reporter who covers California and I were chatting during the late moments of USC's 30-3 whipping of the Bears, and I was blathering about various reasons why the home team was laying an egg for the second consecutive game.
"You know," he said patiently. "They just might not be any good."
At this point -- consecutive defeats by a combined 72-6 count -- that's probably the best explanation. And shortest.
| | |
| --- | --- |
| | |
| | Ezra Shaw/Getty Images |
| | Are coach Jeff Tedford's Cal Bears just plain bad? |
But, I just can't let ... it ... go.
Here's what I wrote in August when ranking the Bears No. 2 in the preseason Pac-10
power rankings
.
2.
California
: The Bears have 17 starters back from a team that went 9-4 in 2009, including a Heisman Trophy candidate in running back
Jahvid Best
. The secondary will be one of the nation's best and the defensive line is as good as any in the Pac-10. Replacing three of four linebackers doesn't seem to be causing much stress in Berkeley. The only issue is how much the passing game improves. If it improves significantly, this is a potential BCS bowl team.
"Potential BCS bowl team."
D'oh.
Still, it doesn't make sense.
That 9-4 team, if you recall, beat Miami in the Emerald Bowl.
The Hurricanes welcomed back 16 starters from the 2008 team that went 7-6. After beating Oklahoma on Saturday, they are presently 3-1 and ranked 11th.
That suggests Cal's foundation for 2009 was strong. But somewhere, sometime, that foundation cracked.
So what's wrong? Here' are some possibilities.
The big preseason question -- the passing game -- hasn't been answered
: It was not unreasonable to believe that quarterback
Kevin Riley
would be a better player this year. He's flashed ability the previous two seasons. He looked good this past spring. He looked good in the first three games, ranking as high as sixth in the nation in passing efficiency. Meanwhile, the receivers -- banged up and inconsistent in 2008 -- also looked poised to break through, led by talented sophomore
Marvin Jones
and a supporting cast that had plenty of experience. But the past two weekends, the passing game has been horrendous, with Riley completing just 27 of 71 passes (38 percent). The receivers haven't been helping the cause much, either. They are not getting open. They are dropping balls. They look sorta slow.
The rotating door at offensive coordinator hasn't helped
: Andy Ludwig is the Bears fifth offensive coordinator in five seasons. Hmm. That can't help continuity. At this point, it would be fair to say fans at Oregon and Utah, where Ludwig suffered heavy criticism during previous stops, are giggling and pointing a mocking finger at Berkeley.
Replacing three starting linebackers in the 3-4 scheme was more difficult than originally thought
: The big personnel loss from the 2008 team was almost entirely at linebacker, where Zach Follett, Worrell Williams and Anthony Felder needed to be replaced. Still, that was not a huge concern entering fall camp. Those guys were good college players but not exactly future NFL starters. The youngsters who were next in line were generally more athletic, while Mike Mohamed was expected to grow into an All-Conference player. This article does a good job of breaking down how things
haven't gone well
. Mostly, there's been a lack of continuity as coordinator Bob Gregory has tried to find who belongs where.
The offensive line misses Alex Mack and line coach Jim Michalczik
: Mack is starting at center for the Cleveland Browns (so he's not much better off than his former teammates). Michalczik, widely regarded as one of the nation's best offensive line coaches, is now with the Oakland Raiders (so he's miserable, too). Entering the season, the general feeling was the line was talented and deep, considering injuries last fall forced many young players into starting roles. The line hasn't been terrible. It hasn't been as good as expected, either. And it certainly hasn't been good enough to beat defenses that are stacking the box to stop Jahvid Best.
The secondary has underachieved
: The Bears secondary was the one area no one doubted. All four starters were back from a unit that ranked sixth in the nation in pass efficiency defense and grabbed 24 interceptions, which ranked third in the nation. The Bears presently rank 87th in the nation and have just four interceptions. Not to call one player out or anything, but did you see All-American cornerback Syd'Quan Thompson
whiff on
Joe McKnight
's 38-yard TD run to open the scoring Saturday? That sort of play -- and pursuit angle -- won't help him get drafted.
Into the leadership void steps... who
? What you keep hearing from players and coaches is that the Bears are close to making plays but it seems like at least one guy doesn't do his job on every play and therefore things go sour. A missed block. An inaccurate pass. An olé tackle. A dropped pass. A stupid penalty. A poor kick. Etc. The first blame for that goes to coaching because that's where the buck always stops in college football. But the players also are responsible for their lack of focus. Seems to me the Bears need a player -- or players -- who can rally the locker room, a guy who can stand in the middle of an 85-man huddle and deliver a passionate speech that will connect the important wires within his teammates. That is a cliché scene, of course. But it's a cliche because it often works. I remember one time see a video of Ed Reed doing that when he played for Miami. Made me want to suit up.
Or maybe it's something else. Or maybe the Bears are just stink.
Or maybe they don't.
The season isn't over. In fact, the Bears schedule is much easier going forward.
If a couple of things click into place, and the Bears approach their potential -- even if it isn't what many thought it could be in the preseason -- it is not ridiculous to see this team finishing with eight or nine wins.
Seriously.
Of course, things also could completely split apart -- see 2007.
Nothing can erase the two pitiful performances. The season is at its crisis point.
What comes next will be interesting to watch.
December, 16, 2008
12/16/08
2:30
PM ET
Posted by ESPN.com's Ted Miller
These links go out to anyone who's ever been left out of the reindeer games.
December, 15, 2008
12/15/08
2:30
PM ET
Posted by ESPN.com's Ted Miller