July, 1, 2011
7/01/11
5:00
PM ET
Your top safeties ...

1. Ray-Ray Armstrong, Miami: He was a second-team all-conference selection last year, despite starting only four games. He was third on the team with 79 tackles, including 4.5 for loss, and had three interceptions, three pass breakups and one fumble recovery.

2. Eddie Whitely, Virginia Tech: He had 80 tackles and two interceptions last year at free safety. He also broke up six passes and forced two fumbles. He's a smart player who can line up anywhere in the secondary.

3. Earl Wolff, NC State: He led the team in tackles last year with 95, including 4.5 TFLs and two sacks. He had one interception, two pass breakups, two fumble recoveries and three forced fumbles.

4. Nick Moody, Florida State: In his first year starting at free safety, Moody ranked third on the team with 79 tackles, including four tackles for loss and 0.5 sacks. He finished the season with one interception, two pass breakups, a fumble recovery and a forced fumble.

5. Vaughn Telemaque, Miami: He was one of seven Canes to start all 13 games last year and finished fourth on the team with 59 tackles. He tied for the team lead in interceptions with three.

6. Matt Daniels, Duke: He is Duke's leading returning tackler with 93 hits. He ranked sixth in the ACC in tackles last year and fourth in career tackles in the ACC among returnees with 198. He forced a team-high three fumbles last year and has six over the past two seasons. He had seven pass breakups last year.

7. Rodney McLeod, Virginia: He has been a two-year starter at strong safety and enters his final season with 133 career tackles. Last year he had 54 tackles and two interceptions.

8. Rashard Hall, Clemson: In two years he has had eight interceptions and five bass breakups in 27 games. He has nine career takeaways. He had 62 tackles and two interceptions last year.

9. Jim Noel, Boston College: He was second on the team with four interceptions and had 36 tackles (27 solo). He earned his first start at Florida State and made a career-high 10 tackles with a pass breakup and two interceptions, one of which he returned 43 yards for a touchdown.

10. Cyhl Quarles, Wake Forest: He finished second on the team with 71 tackles, including 1.5 for loss, and he also had one interception and one fumble recovery.
July, 1, 2011
7/01/11
3:30
PM ET
Moving on to the safeties …
[+] Enlarge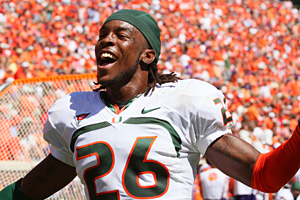 Marvin Gentry/US PresswireRay-Ray Armstrong is among the leaders of a strong Miami secondary.
1. Miami:
Vaughn Telemaque and Ray-Ray Armstrong return, but JoJo Nicolas moved to corner. Even though Armstrong wasn't a starter last year, he still ranked third on the team with 79 tackles and tied for the team lead with three interceptions.
2. Florida State:
The Seminoles return both starters in Nick Moody and Terrance Parks. Moody had 79 tackles last season and Parks had 44 and six deflections. The group was strengthened with the addition of Lamarcus Joyner, who moved from cornerback and proved this spring he's capable of being a safety.
3. NC State:
The Wolfpack has two of the best in Earl Wolff, the team's leading tackler last season with 95, and Brandan Bishop, who had 56 tackles and a team-high four interceptions. Dontae Johnson (22 tackles), also returns.
4. Virginia Tech:
Eddie Whitley is the lone returning starter, but he should be one of the best in the ACC. Antone Exum, who was the No. 2 free safety last season, moved to rover this spring. He played in every game last season and had five starts when Tech went to its nickel defense.
5. Virginia:
The Cavaliers return veteran starters in Rodney McLeod and Corey Mosley, who have combined for 41 career starts. Mosley had 52 tackles and two interceptions last season, and McLeod had 54 tackles and four pass breakups. Safety Dom Joseph (34 tackles) also returns.
6. Duke:
The Blue Devils return both starters in Matt Daniels and Lee Butler. Daniels, a senior, has started 25 career games and is one of the top returning tacklers in the ACC. Butler had 58 tackles and nine passes defended last season.
7. Boston College:
The Eagles return juniors Jim Noel, who had four interceptions in eight starts, and Okechukwu Okoroha, who started the final six games last fall. Noel, Okoroha, and Dominick LeGrande combined for 90 tackles last season.
8. Wake Forest:
Both starters return in Daniel Mack and Cyhl Quarles. Mack had 45 tackles and two interceptions last season. Duran Lowe (30 tackles) could unseat Quarles, who is Wake's leading returning tackler with 71 hits. Redshirt freshman Desmond Cooper is also competing for playing time.
9. Clemson:
Rashard Hall has 19 career starts and made 62 tackles and two interceptions last season. Safety Jonathan Meeks (28 tackles, one start) also returns, along with Carlton Lewis.
10. Maryland:
Just as Kenny Tate's move to linebacker bumped the Terps up in the ranking in that category, his departure from safety drops them a few notches as they now don't have any returning starters there. They do, however, have experience. Eric Franklin played in 11 games, with 23 tackles and three interceptions (tied for second on the team). Matt Robinson played in all 13 games and posted 29 tackles and forced a pair of fumbles. The Terps have plenty of depth with Austin Walker, Titus Till, Anthony Green and Desmond Haynes.
11. North Carolina:
Matt Merletti had five starts and Jonathan Smith, who lettered in 2008 and 2009 but missed all of last season, are the projected starters. They will be pushed by junior Gene Robinson (four starts, 30 tackles, one interception) for playing time.
12. Georgia Tech:
The Jackets had to replace both of their safeties in Mario Edwards and Jerrard Tarrant. Safety Fred Holton (11 tackles) and Isaiah Johnson (46 tackles, one interception) are the two most likely front-runners to start this fall.