December, 18, 2013
12/18/13
9:00
AM ET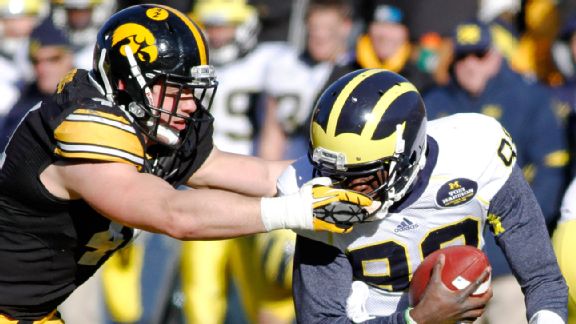 Matthew Holst/Getty ImagesIowa linebacker James Morris pressures Michigan QB Devin Gardner during the Hawkeyes' win.
Anthony Hitchens
switched positions and joined fellow true freshmen
James Morris
and
Christian Kirksey
at linebacker just before Iowa played in the 2010 Insight Bowl. The seeds of something special had been planted.
"We knew we were going to have a great opportunity to be a great linebacking corps," Kirksey told ESPN.com, remembering that moment. "We came in together, and we were going to leave together."
As the Hawkeyes prepare for the Jan.1 Outback Bowl against LSU, that long-ago promise has been fulfilled. All seniors now, Morris, Kirksey and Hitchens are major reasons why Iowa went from 4-8 last season to 8-4 this year, finishing No. 7 nationally in total defense.
During the preseason, the three set a goal to become the best linebacker group in the country. After a year in which they each finished between 97 and 102 tackles while improving their big-play capabilities, they at least have a claim to that title.
"It's a hard thing to determine," Morris said. "Stats don't determine it, and you can't just tell by watching film. But it's something we strive to be, and I'd be lying if I told you we didn't want to be the best linebacker corps in the Big Ten and the nation."
They put up similar tackle numbers a year ago, but none of the three made first- or second-team All-Big Ten honors in 2012. So they came into this year determined to improve. Head coach Kirk Ferentz said all three brought "the right edge" into the preseason and have been "exemplary" ever since.
[+] Enlarge
AP Photo/Charlie NeibergallAnthony Hitchens led the Big Ten in total tackles in 2012 but got even better by becoming a student of the game.
Their value was apparent all year but especially so at season's end.
On senior day against Michigan, Hitchens shed a block and forced a fumble from quarterback
Devin Gardner
to seal a 24-21 win over the Wolverines. Then the finale at Nebraska turned into a wrecking ball party for the threesome. They combined for 28 tackles, seven tackles for loss, two interceptions and two forced fumbles in the 38-17 win.
"That was one of the most fun games I've ever played in," Morris said. "It's one I won't soon forget."
The group saw a big increase in its turnovers, sacks and tackles behind the line of scrimmage this season. Morris led the team with 14.5 tackles for loss, 5.5 sacks and four interceptions. Hitchens collected the most tackles, along with 13 tackles, two sacks and an interception. Kirksey scored the lone defensive touchdown of the three (against Northern Illinois) and was named Walter Camp national defensive player of the week for his performance at Nebraska.
Linebackers can't succeed solely on their own, and Iowa's vastly improved defensive line gave the trio more freedom to go make plays instead of cleaning up messes. Hitchens also helped elevate the entire unit's play by making major strides in his second year as a starter.
Though he led the Big Ten in total tackles in 2012, Hitchens accomplished most of that through his quickness, and he wasn't always in the right spots. This offseason, he spent time working with linebackers coach Jim Reid on becoming more of a student of the game.
"My tackles for loss are a lot better this year because I can see stuff faster," he said. "I can read my keys and get in the backfield faster. I can see guards pulling. Coach Reid helped me out a lot on that."
After four seasons together, the three have grown tight. They'll occasionally get a home-cooked dinner from Morris' parents, who live right outside of Iowa City. Kirksey and Hitchens like to tease Morris by saying he'll be governor of Iowa someday.
"Yeah, that's real creative on their part," Morris said. "I'm a political science major. But I don't know enough rich people to run for office. That's the truth."
Morris said Kirksey likes to talk in silly voices and loves to impersonate the Pillsbury Doughboy. They both agree that Hitchens is the goofiest of the three.
"We've got similar characteristics, but we're all different at the same time," Kirksey said. "Anthony is probably the most consistent. He always makes both of us laugh."
The three compete with each other for sack numbers, in the weight room or at anything, really. Rock-paper-scissors has become their latest craze around the football complex. That closeness carries over onto the field.
"There's certainly a chemistry there," Morris said. "Communication is easier because we know how each other thinks, we know how each other plays. In certain situations, we know exactly where each other is going to be on the field. That's a luxury."
Iowa will greatly miss their leadership and production in 2014, but they express confidence that current backups like
Reggie Spearman
,
Quinton Alston
and
Chad Gilson
can pick things up next year.
But first, the three senior linebackers want to finish strong and cement their legacy with a win over LSU.
"If you beat a team like that, it would probably do wonders for the status of Iowa football and how it's perceived, not only in the Midwest but across country," Morris said. "As a player, you can't really ask for more than that."
March, 28, 2013
3/28/13
9:00
AM ET
Big Ten spring football is finally in full swing as Iowa on Wednesday became the 12th and final league team to hit the practice field. The return to the gridiron can't come a moment too soon for the Hawkeyes, who went 4-8 in 2012, their worst record since coach Kirk Ferentz's second season at the helm (2000). It has been another offseason of transition for Iowa as Ferentz welcomes three new full-time assistants (Chris White, Bobby Kennedy and Jim Reid) for a second consecutive year. Finding a quarterback tops Iowa's spring agenda, and the team also needs to identify a center and more playmakers on both sides of the ball.
ESPN.com caught up with Ferentz on Wednesday to discuss the spring.
What are the main objectives for you guys this spring?
Kirk Ferentz:
Like any spring, you've got a lot of players on a lot of different levels. You've got experienced players, and we're certainly counting on them improving and developing into leaders. You've got younger guys who have played, and you're hoping they're ready to play more proficiently. And then you've got other guys who, in some cases, are special-teams guys who have a chance to become offensive and defensive role players, or guys who haven't been on the field yet. So you have a lot of layers of players at different levels. The biggest thing is trying to gauge where they're at, and at the same time, you're trying to find out what they can do and pull a team together. It's always a fun period and a really interesting period.
How has the transition on the staff this year gone so far, especially in relation to last year? You had quite a long period without any changes on your staff.
KF:
Last year was probably a little more dramatic with two new coordinators. Norm [Parker] and Ken [O'Keefe] were here 13 years, so they were big departures. We've got Phil [Parker] and Greg [Davis] both in their second years, and they're both tremendous coaches. What's unusual is how long we were all together at one time. Usually staffs don't stay in one place for 13, 14 years. Normally they move to the next channel and you have a new group of folks coming in. So it's a natural series of transitions. The way I look at it, we've had six new members join the staff in the last two years, and it's a matter of pulling everything together. But I'm really excited about all the guys who have joined. They're outstanding coaches, and it looks like they're all going to be great fits here at Iowa. At the same time, I'm very appreciative of the guys who had been here and helped us move things.
Is the transition harder for the players or the new coaches?
KF:
There's learning on both sides. The players to have learn their coaches, certainly, and the coaches have a lot to learn about the players. That can be a healthy thing, too. It's a clean slate and a fresh beginning for everybody. For players, it's a whole new opportunity.
Offensively, it wasn't what you were hoping for last year. Is it a total reset this year with some new faces, or are there some things you can continue from last year?
[+] Enlarge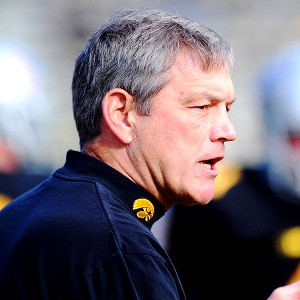 Byron Hetzler/USA TODAY SportsThough Kirk Ferentz lost his starting quarterback and center, he said he's more optimistic about Iowa's offense than he was a year ago.
KF:
It may be ironic. We feel more comfortable and more optimistic right now than we did a year ago about the offense. The part that's ironic is we lost a two-year starter at quarterback [
James Vandenberg
]. We had James play a lot at quarterback and
James Ferentz
played like 38 games at center, so you have two guys right in the middle of things who aren't going to be there. But I look around at other positions and we've got a lot of guys coming back who have played in the system and who I think are more capable now of playing at a higher level than they were a year ago. That's got us excited. That being said, we've got to find replacements for both Jameses. We've got to find a replacement for
Keenan Davis
and
Matt Tobin
, to start with. But I look at the group coming back and as recent as late last August, we didn't know if
Damon Bullock
could play in this conference successfully, and we had no idea
Mark Weisman
could run the ball. So I think we're a lot further down the road than we were even eight months ago, 10 months ago.
When you and Greg looked at things, did you identify areas to target for the spring?
KF:
Greg came in, this was all new to him, the players were all new to him. His knowledge of our personnel is a lot more extensive than it was a year ago at this time. And that was one of the reasons I was so attracted to Greg in the hiring process, his ability historically to work with a lot of different types of players and different types of offenses. He wasn't married to one system. There's nothing like experience, and he's got a real good grip on who our players are, what they can do and what we can do to help them be more productive.
March, 1, 2013
3/01/13
9:00
AM ET
Spring practice has begun in the Big Ten, so let's take a look at what to expect from each Legends Division team this spring.

IOWA
Spring start:
March 27
Spring game:
April 27
What to watch:
1. Questions at quarterback:
The Hawkeyes played
James Vandenberg
for every snap last season, and now that he's gone, they have no quarterbacks on the roster with any game experience. Sophomore
Jake Rudock
has been viewed as Vandenberg's successor, but he's still a mostly unknown quantity who should get pushed in the spring by former junior college transfer
Cody Sokol
and redshirt freshman
C.J. Beathard
. Whoever wins the job will be tasked with improving an Iowa passing game that finished with a Big Ten-worst seven touchdown passes in 2012.
2. Skills competition:
While the quarterback race is vital, Iowa also needs standouts to emerge at the other skill positions to fix an offense that sputtered under first-year coordinator Greg Davis. The wideout corps, which struggled to get separation or make big plays, now is without departed senior
Keenan Davis
, who tied for the team lead with 571 receiving yards. There's a reason why Iowa signed five receivers in the 2013 class. The running back position has strength in numbers, with
Damon Bullock
,
Mark Weisman
,
Jordan Canzeri
and
Barkley Hill
all competing for carries this spring. The Hawkeyes just need to finally get some luck in the health and off-field departments at that position while hoping one player emerges as the go-to back.
3. Transition game:
Iowa long had one of the most stable staffs in the country. But coach Kirk Ferentz added three new assistants this offseason for the second straight year, giving the program some fresh voices but also causing some potential bumps in transition. The offense in particular didn't mesh well last season under Davis, who'll look for solutions this spring. Ferentz has new coaches overseeing the running backs (Chris White) and receivers (Bobby Kennedy) and a new defensive assistant who'll work with the linebackers (Jim Reid). The Hawkeyes hope they can inject some life into a program that has seen its fortunes dip the past couple of seasons, including last year's 4-8 disaster.

MICHIGAN
Spring start:
March 16
Spring game:
April 13
What to watch:
1. Devin Gardner as starter:
Denard Robinson
is gone and Gardner is the presumed Michigan starter for the first time. How he adjusts to that -- and how Michigan offensive coordinator Al Borges develops more of a pro-style offense around him -- are a major launching point for the Wolverines next season.
2. Offensive line play:
Michigan is replacing the entire interior of its offensive line and while there is a lot of young talent there, none of the potential candidates have any experience. Michigan offensive line coach Darrell Funk said he would like to have at least one of the three slots, if not two, settled by the end of spring.
3. Linebacker competition:
The deepest position on Michigan's roster also has the most competition.
Jake Ryan
at strongside linebacker is almost a given, but the middle and weak side slots are wide open. A bevy of freshmen and sophomores, along with returning starter
Desmond Morgan
, will vie for playing time in what will be a likely increased rotation in the fall.
--
Michael Rothstein, WolverineNation

MICHIGAN STATE
Spring start:
March 19
Spring game:
April 20
What to watch:
1. Still Maxwell's house?:
Senior
Andrew Maxwell
started all 13 games last season at quarterback but was pulled in favor of freshman
Connor Cook
for the deciding drive of the Buffalo Wild Wings Bowl. The Spartans will open up the competition under center, with
Tyler O'Connor
and eventually incoming freshman
Damion Terry
joining the fray. Though he has a big edge in experience, Maxwell will have to prove that he can greatly increase last season's 52.5 completion percentage to hold onto the job through the spring.
2. Replacing Bell:
Saying running back
Le'Veon Bell
was a big part of the 2012 offense is like saying Tom Hanks had substantial role in "Cast Away." Bell carried the ball 382 times last year, more than any back in the country, and gained 1,793 yards. There is no ready-made in-house replacement, as leading returning rusher
Nick Hill
had just 21 rushing attempts last year and may be too slight (5-foot-8, 190 pounds) to be an every-down back. Junior
Jeremy Langford
will move back to the backfield after seeing time at receiver. Signees
Delton Williams
,
Gerald Holmes
and
R.J. Shelton
might wind up with the job.
3. New playcaller in town:
Mark Dantonio has yet to officially announce a replacement for former offensive coordinator Dan Roushar, who recently left for an assistant's post with the NFL's New Orleans Saints. But reports are that former Ohio State offensive coordinator Jim Bollman has been tapped to lead the Spartans' offense. Can Bollman, whom Buckeyes fans criticized as being too conservative, find the solutions for what was a dreadful attack in 2012? The Spartans' defense once again enters spring ball with very few question marks. Michigan State's hopes rely heavily on how much progress it can make on the offensive side.

MINNESOTA
Spring start:
March 26
Spring game:
April 27
What to watch:
1. Defensive back end:
The Gophers lost two outstanding cornerbacks in
Michael Carter
and
Troy Stoudermire
, as well as starting linebackers
Mike Rallis
and
Keanon Cooper
. Jerry Kill has tried to address this during recruiting, adding a pair of well-regarded junior college linebackers (
De'Vondre Campbell
and
Damien Wilson
) as well as touted high school corner
Jalen Myrick
. But some holdovers from last season's roster will have to step into bigger roles this spring.
2. The full Nelson:
True freshman
Philip Nelson
took over the quarterback job midseason and now will enter practice as the starter. He showed flashes of immense potential but still has a lot of things to learn. Kill has said Nelson is no lock to start in 2013 and that he'll face legitimate competition from redshirt freshman
Mitch Leidner
and incoming freshman
Chris Streveler
. Nelson has the inside track for now but must hold onto it.
3. Receiving line:
The Gophers don't have a returning wideout who had more than 375 receiving yards last year, though
Derrick Engel
showed promise with a 100-yard day in the Meineke Car Care Bowl of Texas. You can blame some of that on the turnover and youth at quarterback. But Minnesota needs much better play at receiver to become a more balanced offense. Improvement by guys like
Devin Crawford-Tufts
and
Isaac Fruechte
this spring will help, as would some immediate contributions from recruits
Eric Carter
and
Drew Wolitarsky
.

NEBRASKA
Spring start:
March 2
Spring game:
April 6
What to watch:
1. Youth movement on defense:
The Cornhuskers lost eight starters from last season's defense and will hope that some athletic young players are ready to step in. Guys like
Charles Jackson
,
Jonathan Rose
and
Thomas Brown
will be given long looks this spring. Nebraska coaches are hopeful that what they lack in experience, they'll make up for in speed. There's no bigger key for Big Red than having its young defenders make great strides in the spring.
2. Safety issues:
The safety spot is an important one in Bo Pelini's scheme, and the Huskers lose both starters and a couple of top reserves from that position. Jackson will be given a look there, and the staff is high on
Corey Cooper
. But no starting jobs are locked down.
3. Martinez's progression:
Senior quarterback
Taylor Martinez
won't be involved in a lot of live drills, and the spring will be a time to get freshman
Tommy Armstrong
some reps. But Martinez still needs to fine-tune a few parts of his game, most notably his tendency to force throws in key spots. He made great progress last offseason through extra hours of hard work; a similar leap this spring would make Martinez one of the very best players in the country.

NORTHWESTERN
Spring start:
Feb. 27
Spring game:
April 13
What to watch:
1. The quarterback duo:
The Wildcats spent large parts of last season rotating
Kain Colter
and
Trevor Siemian
, using Siemian for more obvious passing situations. Will that continue this season? Colter needs to improve as a passer to become a better option as an every-down quarterback, and Northwestern's downfield passing game must get better. You can bet there will be a lot of eyes on Colter and Siemian this spring to see what offensive coordinator Mick McCall has planned.
2. Secondary concerns:
The news that cornerback
Nick VanHoose
won't practice this spring because of injury could be a blessing in disguise. The Wildcats' secondary struggled when he was hurt last season, so this may provide an opportunity for others to get better without him.
Jimmy Hall
and
Traveon Henry
are youngsters who should see plenty of reps this spring in the defensive backfield.
3. Offensive line makeover:
Three starters are gone from last season's offensive line, including both guards and left tackle
Patrick Ward
.
Jack Konopka
is the favorite to succeed Ward but will miss the spring with injuries, while 2012 signee
Adam DePietro
is among those who could step in at guard. Northwestern should have one of the best running games in the Big Ten in 2013 but will need its line to begin to take shape this spring.
January, 8, 2013
1/08/13
9:00
AM ET
The entire 2012 season is officially in the books, and there was some movement in the final ACC power rankings for ESPN.com based on the bowl performances. Before we turn the page and look ahead to how the ACC will stack up in 2013, take one look back on the 2012 pecking order:
FINAL
1. Florida State (12-2, 7-1 ACC; Previous ranking: No. 1) --
Clemson has the more impressive bowl win, but there's no denying Florida State's accomplishments this season. The Noles won the program's first BCS bowl since 2000, defeating Northern Illinois 31-10 in the Discover Orange Bowl. An ACC title and Orange Bowl win make FSU the ACC's undisputed No. 1 in 2012.
2. Clemson (11-2, 7-1; PR: No. 2) --
The Tigers hung on to beat No. 8 LSU 25-24 thanks to a 37-yard field goal by
Chandler Catanzaro
as time expired in the Chick-fil-A Bowl. Quarterback
Tajh Boyd
has yet to announce if he will return for his senior season. Regardless, it was a monumental win for the program and the ACC.
3. Georgia Tech (7-7, 5-3; PR: No. 4) --
The Jackets' 21-7 win over USC was a huge boost for their program, and it also was significant for the ACC. Georgia Tech's defense was the highlight against the Trojans. It also was Paul Johnson's first bowl win as coach at Georgia Tech.
4. North Carolina (8-4, 5-3; PR: No. 5) --
There's no question the Tar Heels were one of the best teams in the Coastal Division in Larry Fedora's first season, but they were ineligible for a bowl because of NCAA sanctions. Fedora will be challenged to replace standout running back
Giovani Bernard
, who left early for the NFL draft, and his lead blocker,
Jonathan Cooper
.
5. Miami (7-5, 5-3; PR: No. 3) --
The Canes weren't a great team in 2012, but they overachieved enough to earn respect and could have played for the ACC title had they not self-imposed a bowl ban. The program is still waiting for closure from the NCAA.
6. Virginia Tech (7-6, 4-4; PR: No. 8) --
In what was one of the most painful-to-watch bowl games of the season, the Hokies beat Rutgers 13-10 in overtime of the Russell Athletic Bowl. The program avoided its first losing season since 1992, but didn't earn any style points in the process. Many questions still face Frank Beamer.
7. NC State (7-6, 4-4; PR: No. 7) --
Under the direction of interim coach Dana Bible, the Pack ended the season the same way it began 2012 -- with an embarrassing performance in a loss to an SEC team. NC State turned it over five times in a 38-24 loss to Vanderbilt in the Franklin American Mortgage Music City Bowl.
8. Duke (6-7, 3-5; PR: No. 6) --
This season will always be remembered as the year Duke got back to a bowl game for the first time since 1994. The Blue Devils, however, lost a 48-34 heartbreaker to Cincinnati in the Belk Bowl. With the score tied at 34 and Duke driving to score the game winner,
Josh Snead
fumbled at the Cincy 5-yard line with 1:20 left.
9. Wake Forest (5-7, 3-5; PR: No. 9) --
The Deacs ended their season losing three straight and four of their last five to miss bowl eligibility. Recruiting has been the biggest priority for the Deacs since their season ended with a home loss to Vanderbilt.
10. Virginia (4-8, 2-6; PR: No. 10) --
The Hoos had to win their last two games to become bowl eligible and couldn't do it, but Mike London wasted no time in making offseason changes. He fired defensive coordinator Jim Reid and has since hired former NC State coach Tom O'Brien and former NC State linebackers coach Jon Tenuta.
11. Maryland (4-8, 2-6; PR: No. 11) --
The Terps put on a respectable performance this past season despite the unbelievable amount of injuries to starting quarterbacks. The biggest news, of course, was that Maryland will play one more season in the ACC before joining the Big Ten.
12. Boston College (2-10, 1-7; PR: No. 12) --
The Eagles hired Steve Addazio to turn things around, and he has hired several of his former assistants from Temple, including former BC assistant Ryan Day as offensive coordinator.
December, 18, 2012
12/18/12
10:30
AM ET
ACC fans often search for a big-picture explanation as to why the conference has struggled so much in recent years, but one of the most overlooked answers is obvious: coaching.

That's not to say the ACC doesn't have quality coaches -- Virginia Tech's Frank Beamer is the winningest active coach in the country. Wake Forest coach Jim Grobe is underrated, and Duke coach David Cutcliffe finally got the Blue Devils to their first bowl game since 1994. Turnover, though, has run rampant through the league at the head coach and coordinator positions, and this year is no exception. Boston College and NC State -- both in the Atlantic Division -- will be breaking in first-year head coaches and new staffs in 2013. Maryland's Randy Edsall will be entering his third season, but it will also be the program's last year in the conference. Florida State has had to replace its defensive coordinator, Mark Stoops, who left to become head coach at Kentucky.
Considering the work that needs to be done in both Raleigh and Chestnut Hill, there's a good possibility we can see the balance of power shift in 2013 back to the Coastal Division, but even there tenure is hard to come by.
Al Golden at Miami is entering his third season, and Larry Fedora will only be in his second season at North Carolina. Virginia fired defensive coordinator Jim Reid and will be turning to a new, more aggressive philosophy. Every year it seems like there is at least one school starting from scratch. The ACC is certainly not alone in the coaching carousel -- it's common practice in college football. The conference has made it a trend, though, and there is something to be said for continuity. It takes time to build recruiting classes and develop them. FSU fans should not be so quick to criticize Jimbo Fisher, and Miami fans should be thankful there was nothing to the rumors connecting Golden with other head-coaching vacancies. When trying to get back to national relevance, one of Miami's biggest setbacks has been a lack of staff stability.
That might be a microcosm of the entire conference.
Take a look at the tenure of current ACC head coaches and their winning percentages:
Steve Adazzio, Boston College:
0 years at school
Dave Doeren, NC State:
0 years at school
Larry Fedora, North Carolina:
1 year at school (.667)
Randy Edsall, Maryland
: 2 years at school (.250)
Al Golden, Miami:
2 years at school (.542)
Jimbo Fisher, Florida State:
3 years at school (.750)
Mike London, Virginia:
3 years at school (.432)
Dabo Swinney, Clemson:
5 years at school (.650)
David Cutcliffe, Duke:
5 years at school (.350)
Paul Johnson, Georgia Tech:
5 years at school (.606)
Jim Grobe, Wake Forest:
12 years at school (.497)
Frank Beamer, Virginia Tech
: 26 years at school (.673)
December, 5, 2012
12/05/12
10:15
AM ET
The ACC, historically one of college football's most inconsistent leagues, had stability at the top from the preseason through the postseason, with Florida State and Clemson holding onto a firm grasp of the No. 1 and No. 2 spots in the power ranking, respectively. That hasn't changed as we head into bowl season.
With the regular season and the championship game officially behind us, here is how the ACC stacks up heading into the new year:
1. Florida State (11-2, 7-1 ACC; LW: No. 1) --
The Seminoles won their first ACC title since 2005 with a 21-15 win over Georgia Tech. It was a disciplined defensive performance against the nation's No. 3 rushing offense, and the Noles will represent the ACC against Northern Illinois in the Discover Orange Bowl.
2. Clemson (10-2, 7-1; LW: No. 2) --
After finishing the regular season with a loss to rival South Carolina, Clemson has a chance to redeem itself against the SEC against LSU in the Chick-fil-A Bowl. Clemson has won seven of its past eight games and could win an 11th game for the fourth time in school history.
3. Miami (7-5, 5-3; LW: No. 3) --
The Canes will be home for the holidays after their second straight self-imposed postseason ban, but the success this season was something to build on for next year. Running back
Duke Johnson
was named the ACC's Rookie of the Year.
4. Georgia Tech (6-7, 5-3; LW: No. 4) --
The Yellow Jackets had a chance to upset the Noles in the ACC title game, but an interception with a minute remaining in the fourth quarter ended any hopes of it. Georgia Tech needed a waiver from the NCAA to play in the Hyundai Sun Bowl, where it will face USC.
5. North Carolina (8-4, 5-3; LW: No. 5) --
It was a successful first season for coach Larry Fedora; now it is a waiting game to see if star running back
Giovani Bernard
will leave school early to enter the NFL draft, and if there is any substance to the coaching rumors surrounding Tennessee's interest in Fedora.
6. Duke (6-6, 3-5; LW: No. 6) --
The Blue Devils will face Cincinnati in the Belk Bowl as Duke returns to the postseason for the first time since 1994. David Cutcliffe was named the ACC Coach of the Year. Duke is making its ninth bowl trip and has a 3-5 record in postseason games. The Belk Bowl will be the program's first appearance in a bowl game in North Carolina.
7. NC State (7-5, 4-4; LW: No. 7) --
Athletic director Debbie Yow didn't waste any time hiring Dave Doeren from MAC champion Northern Illinois. Instead of coaching in the Discover Orange Bowl against FSU with his old team, Doeren immediately began working for NC State, which will play Vanderbilt (8-4) in the Franklin American Mortgage Music City Bowl. Offensive coordinator Dana Bible will coach the Pack in the bowl game.
8. Virginia Tech (6-6, 4-4; LW: No. 8) --
After going 0-2 against the Big East during the regular season with losses to Pitt and Cincinnati, the Hokies will have a chance to redeem themselves against Rutgers in the Russell Athletic Bowl.
9. Wake Forest (5-7, 3-5; LW: No. 10) --
The Deacs' main priority now is recruiting, as it was another trying season for coach Jim Grobe and his staff. Wake Forest ended the season with three straight losses.
10. Virginia (4-8, 2-6; LW: No. 9) --
Coach Mike London made sweeping changes following a disappointing season, firing four of his assistants, including defensive coordinator Jim Reid. It's likely the next coordinator will have a different, more aggressive defensive philosophy and scheme.
11. Maryland (4-8, 2-6; LW: No. 11) --
Anything and everything Maryland did this year on the field was overshadowed by its intent to join the Big Ten for the 2014 season. The ACC announced its intent to sue Maryland in order to force the university to pay the $50 million exit fee in full. As Randy Edsall and his staff recruits this offseason, they will do so looking for athletes to compete in the Big Ten.
12. Boston College (2-10, 1-7; LW: No. 12) --
Coach Frank Spaziani was fired, and first-year BC athletic director Brad Bates hired Temple coach Steve Addazio.
December, 5, 2012
12/05/12
9:00
AM ET
This will be remembered as one of the worst seasons in conference history.
North Carolina was ineligible for the postseason. Miami won the division for the first time since joining it, but self-imposed a postseason ban for the second straight season. Georgia Tech fired defensive coordinator Al Groh midseason, dropped to 6-7 and needed a waiver from the NCAA just to play in a bowl game. Virginia Tech dropped out of the Top 25 only three weeks into the season and needed to beat rival Virginia in the final week of the season to become bowl eligible. Virginia regressed, winning just four games, and coach Mike London fired four of his assistants, including defensive coordinator Jim Reid.

And that was just the Coastal Division.
Two Atlantic Division coaches, BC's Frank Spaziani and NC State's Tom O'Brien, were both fired. Wake Forest suspended eight players, including four starters, over a two-week span during the season. Maryland announced it was out, leaving for the Big Ten, and the ACC announced Louisville was in. Clemson lost to South Carolina. Florida State lost to Florida. And the ACC decided it would sue Maryland in an attempt to force the university to pay the league's $50 million exit fee.
The ACC went 0-4 against its SEC rivals in the final week of the regular season and for the second straight year had three strikes against Notre Dame. The conference had six bowl-eligible teams, two short of filling the league's bowl tie-ins.
Hooray for Duke!
The Blue Devils, led by ACC Coach of the Year David Cutcliffe, were the first to become bowl eligible in the Coastal Division. Duke finished 6-6, earned its first bowl bid since 1994, and in November still had a legitimate chance to play for the ACC title.
It wasn't all bad.
Florida State and Clemson put on a September show in Tallahassee for ESPN's "College GameDay" crew, quarterback
EJ Manuel
had a Heisman moment in that game, and ACC offenses flourished under veteran quarterbacks this year. New stars, like Maryland's
Stefon Diggs
and Miami's
Duke Johnson
, emerged, while old stars, like
Tajh Boyd
and
Giovani Bernard
, shone brighter.
[+] Enlarge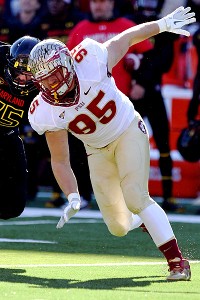 Mitch Stringer/US PRESSWIREFlorida State's Bjoern Werner was the best and most consistent player in the ACC.
Florida State won its first ACC title since 2005, but lost defensive coordinator Mark Stoops to Kentucky the day after the game. The Seminoles had a good season, but left many wondering if it could have been a great season had they not lost on the road in the fourth quarter to NC State.
The good news?
It can only get better.
Offensive MVP:
Tajh Boyd, Clemson. Boyd led the ACC in total offense with 376.4 yards per game, throwing for 3,550 yards and 34 touchdowns on the season. Though he won ACC Player of the Year and ACC Offensive Player of the Year honors by a whisker, we both agreed on Boyd as the best player in the league this season.
Defensive MVP:
Bjoern Werner
, Florida State. Werner quite easily won ACC Defensive Player of the Year honors for good reason. He was the best, most consistent player in the league this season, leading the league with 13 sacks and finishing second with 18 tackles for loss. He and teammate Cornellius "Tank" Carradine formed the best duo in the league.
Newcomer of the year:
Duke Johnson, Miami. Stefon Diggs was great, too, but Johnson gets the nod here for having a better season. Johnson ended up with 2,070 all-purpose yards, second in school history to Willis McGahee (2,108 in 2002). He was a game-changer not just at running back but in the return game, as he scored 13 total touchdowns this season.
Biggest surprise:
Hello, Duke! The Blue Devils are headed to a bowl game for the first time since 1994, and were in contention for the Coastal Division crown until the second-to-last week of the regular season. Easy to see why David Cutcliffe was named the league's coach of the year.
Biggest disappointment:
Virginia Tech. Does anybody remember when the Hokies started the season ranked No. 16 in the AP poll? Us neither. Virginia Tech is about to finish up its worst season in 20 years. This is one season removed from being an at-large selection into the BCS. There were breakdowns all over this team, from
Logan Thomas
to the running game to what was supposed to be a great defense. Now the Hokies need a win in their bowl game to avoid finishing with a losing record for the first time since 1992.
Best game:
No. 4 Florida State 49, No. 10 Clemson 37
. The first meeting between two Top 10 ACC teams since 2007 did not disappoint. The Tigers jumped out quickly to a 28-14 third-quarter lead but could not withstand the Noles blitz that ensued. Florida State scored 28 straight points to take the win, as EJ Manuel had the best game of his career -- throwing for 380 yards and two touchdowns.
December, 3, 2012
12/03/12
5:00
PM ET
This is getting ugly.

First Virginia coach Mike London
fired four of his assistants
, including defensive coordinator Jim Reid -- a man London likes very much. Quarterback
Michael Rocco
decided to transfer (can you blame him?), and now Rocco
has blasted London
for his use of a two-quarterback system (just like many ACC fans have all season long):
"It's an unhealthy environment for any quarterback at UVa," Rocco told Doug Doughty of the Roanoke Times. "It was hard on all the quarterbacks, not just me."
Ouch.
London's decision to fire Reid was as puzzling as his use of the quarterbacks this year, which leads me to believe it wasn't entirely his decision. If this was an administrative move forced upon London, it was the wrong one, and London is going to take some heat for it. Reid was tasked with coaching a group that had to replace seven starters and was very young. Virginia was No. 31 in the country in scoring defense and showed progress every week. Don't forget the offense in that two-quarterback mess was turning it over every other play and putting the defense back on the field again.
Arguably the biggest disappointment for Virginia was its inability to run the ball, not the defense. Virginia was supposed to have two of the ACC's top offensive tackles in
Morgan Moses
and
Oday Aboushi
. With
Kevin Parks
and
Perry Jones
in the backfield, along with talent up front, there's no reason Virginia should have ranked No. 96 in the country in rushing offense. That certainly doesn't fall on Reid.
London, just one year removed from being named the ACC's Coach of the Year, has a bit of a mess to clean up in Charlottesville, starting with hiring a defensive coordinator. Look for the Hoos to go in a different direction regarding style and philosophy, otherwise it
really
wouldn't make any sense. And
Phillip Sims
better be every bit as good as many seem to think he is. Otherwise, we'll have Sims and
David Watford
repeating the Sims and Rocco storyline, and there will only be one scapegoat left.
December, 2, 2012
12/02/12
1:50
PM ET
It has been quite an eventful day at Virginia.
Coach Mike London announced that quarterback
Michael Rocco
has been
granted his transfer request
, and that he has fired four members of his coaching staff. Associate head coach/defensive coordinator Jim Reid, defensive line coach/recruiting coordinator Jeff Hanson, running backs coach Mike Faragalli and tight ends coach Shawn Moore are all out in the wake of a disappointing 4-8 season and last-place finish in the Coastal Division.
London also announced safeties coach Anthony Poindexter will no longer be the Cavaliers' special-teams coordinator but will remain on staff.
The news on Rocco does not come as a huge shock, considering the way London rotated him and
Phillip Sims
this season. Rocco entered the year as the starter, then lost his job to Sims, then shared duties with him in the final games of the season. He ended 2012 with 1,917 yards, 13 touchdowns and 10 interceptions.
His 2,671 passing yards in 2011 ranks as the fourth best single-season total in Virginia history. He leaves the Cavalier program ranked eighth on the all-time passing list with 4,731 yards. Sims, who transferred in from Alabama this season, should now enter spring ball as the starter for the Hoos.
"After meeting with Michael and discussing his future with our program and his personal goals and interests, I understand his desire to complete his college football career elsewhere," London said in a statement. "Michael has been an outstanding member of our program on the field, in the classroom and in the community. I appreciate the competitive nature, work ethic and leadership he brought to our program and I wish him the best in his future endeavors."
As for the staff changes, all four coaches have been members of London's staff since he took over the UVa program in December 2009. Hanson and Faragalli were also members of London's staff at Richmond during the 2008 and 2009 seasons. We had seen marked improvement from the young UVa defense in the second half of the season, but that wasn't enough to save Reid's job.
"After conducting a complete evaluation of the program and discussing my thoughts with administration, there are a number of areas we need to improve on and it starts with me as the head coach," London said in a statement. "The decision to release these four coaches is very difficult, but one I feel is necessary in order to meet the goals we have set for the Virginia football program. I have coached with some of these men for many years, won a national championship with some, and I truly appreciate their dedication and commitment, and more importantly, their friendships. I wish them all the best."
The total buyout for the four assistant coaches is $1.36 million, though that number could decrease with future employment.
November, 23, 2011
11/23/11
11:00
AM ET
Virginia coach Mike London knows the facts: Virginia Tech has won 11 of the past 12 games in the series, and each of the past seven.
This team, though, is different, London said.
You'd better believe it is.
[+] Enlarge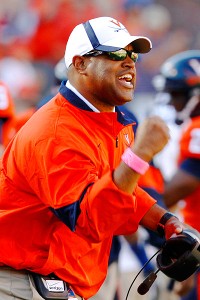 AP Photo/Steve HelberMike London took over a team that went 3-9 in 2009 and has them one victory away from winning the Coastal Division.
For three straight seasons prior to this one, Virginia had a losing record. Now, in only London's second season, the Cavaliers are heading to a bowl game and playing on Saturday for the Coastal Division title for the first time since 2007. The turnaround is ahead of schedule and has far exceeded expectations for a team that was picked by the media to finish fifth in the Coastal Division standings this year.
So how'd he do it? What, exactly, is different?
London will tell you at length about the off-field process, the effort to get the players more involved in the classroom and in community service, to make them winners off the field before they walked on it. He has done that, and weeded out some players who couldn't cut it academically or socially. He has changed the culture, and he has changed the mentality on the field, but there are also some big differences on the field that have helped lead to the Cavaliers' immediate success.
You can point to the defense, which is another year older and wiser and more comfortable in the second year under coordinator Jim Reid. You can point to the quarterback,
Michael Rocco
, who has been a steady factor over the four-game winning streak, completing 61.2 percent of his passes for seven touchdowns and one interception. You can point to the work of offensive coordinator Bill Lazor, who has dramatically improved the Cavaliers' offensive numbers. The staff has a good blend of promising young talent it recruited and veteran players who remained from the previous staff. It's important to remember that Al Groh did not leave the cupboard bare, especially on defense. The staff also has had the same five starters on the offensive line for the past 11 games.
"They're a good football team," Virginia Tech coach Frank Beamer said. "They're for real. They're good, and they're playing really well and playing with a lot of confidence, as they should. They've done a good job up there."
UVa has amassed more than 400 yards of total offense in 11-of-23 games since Lazor brought his pro-style philosophy to Charlottesville. The Oct. 22 game against NC State (249 yards) and UVa's 2010 season finale (291 yards) are the only games during London's tenure when the Cavaliers failed to reach at least 300 yards of total offense. UVa enters Saturday's game against the Hokies ranked No. 3 in the ACC and No. 42 in the nation with an average of 411.0 total yards per game.
Defensively, Virginia has forced a turnover in every game this season and is tied for No. 5 in the nation and No. 1 in the ACC in red zone defense. Virginia's front seven has been a strength, and it should be with the veteran leadership of senior defensive tackles Matt Conrath and Nick Jenkins, and senior defensive end Cam Johnson.
While Virginia has overachieved in the big picture, the expectations from the start were that this was going to be a good defense. All of it, though, has added up to an ACC contender quicker than most expected.
The question now is whether London can finish what he has started. It's an accomplishment in itself, though, to be in a position to try.
"It's great to know that in November we're still talking about Virginia football being relevant," London said. "It's great to know that there's a lot at stake here. It's an opportunity to play in the last game of the year that decides whether you have a chance to play for goals that you've set coming into this season. They've been on this side of the ledger for a long time. This is new, unchartered territory for us.
"There doesn't have to be any fake hype or fake talk, anything like that. We don't need any Twitter account stuff, Facebook stuff, going back and forth. We're in-state rivals, and it would be characterized to say that's how they feel about us and we feel about them.
"You know and you respect the men that you're going against, but you also understand that you're the in-state rival. You want to beat the in-state rival in everything that you do. Right now, they've had a number of years of success in that regard. We stand here and get ready to play and want to be able to challenge them in recruiting. We want to be able to challenge them on the football field. And that's what you do. I can't put it any other way."
October, 15, 2011
10/15/11
9:53
PM ET
CHARLOTTESVILLE, Va. -- With about 90 seconds remaining in the game, an announcement was made in Scott Stadium reminding Virginia fans they weren't allowed to rush the field.
It was the only time they had booed all day.
About ninety seconds later, thousands of fans rushed field.
In yet another wild and unpredictable finish in the ACC, an unheralded Virginia team upset No. 12-ranked and previously undefeated Georgia Tech,
24-21
. With the win, the Cavaliers single-handedly opened up the Coastal Division race, and not only helped themselves keep a hand in it, but also gave Virginia Tech's chances a significant boost. It was a monumental win for coach Mike London in his second season, and one he hopes can be a turning point for his program. The Cavaliers are young and talented, and the recruiting has been strong, but the program had yet to put it all together for four quarters against a high-caliber opponent this season until Saturday night.
When trying to put the win into perspective following the game, London paused and chose his words carefully.
[+] Enlarge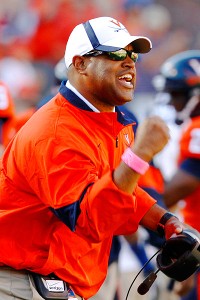 AP Photo/Steve Helber"This is one of those wins that can change the perception of what you think about yourself," Virginia coach Mike London said.
"This is one of those wins that can change the perception of what you think about yourself," he said "Last-second play against Indiana, last-second play against Idaho. This is one of those wins against a good team with a lot of accomplishments that you can try to turn the corner on about how you think about yourself, how people view your program. There's a long season yet to play but it's a great start to the second half of the season."
Yes, this is the same Virginia team that needed overtime to beat Idaho and lost to Southern Miss. The difference against Georgia Tech, in large part, was the preparation. There's no question Virginia's bye week absolutely was a factor in the win. Georgia Tech dropped to 5-9 against FBS opponents who have had more than a week to prepare for coach Paul Johnson's spread option offense.
"I don't know if we get this outcome without the bye week," said cornerback Chase Minnifield, who said he watched every one of the Jackets' games from start to finish, plus their game last year, and brought additional DVDs back to his apartment, just to pass the time. "I don't think we saw nothing that was new out there."
Except for maybe a scoreless first quarter for the Jackets for the first time this season, and a season-low 296 yards. This was the nation's No. 4 rushing offense, and No. 4 total offense.
And Virginia was ready for it.
"We watched film like crazy on them," said defensive end Matt Conrath. "I had a lot of time to watch a lot of film."
In addition to the bye week, Virginia also had some help in practice. On Thursday, the offensive scout team ran 86 plays against the first-team defense. All hustle, no breaks for 15 players. The quarterback, senior
Jacob Hodges
, volunteered for the job, having run the same offense at his high school. A former team manager, Hodges joined the team last year as the holder. He gave the defense all it needed to see.
Hodges wasn't the only one familiar with the offense.
During his time as head coach at Richmond (1995-2003), Virginia defensive coordinator Jim Reid took an offseason trip in 1999 to visit Paul Johnson at Georgia Southern and learn more about his offense. The following year, Richmond won a championship.
Did Reid's familiarity help on Saturday?
"Of course," he said. "We ran it for three, four, five years at different schools I was at."
The 24 yards passing were the fewest against Virginia since 1979. The best defense Virginia played, though, was its sustained drives by the offense, which kept the Jackets off the field by running for a season-high 272 yards. UVa held onto the ball for the final six minutes, and the players on the bench erupted in celebrations as the clock expired.
It was the highest-ranked opponent Virginia had defeated since UVa beat No. 4 Florida State, 26-21, six years ago on the very same day. It was an important win for Virginia, but it was not groundbreaking. The Cavaliers beat then-No. 22 Miami 24-19 last year.
Last year, though, they weren't able to build on it. London is hoping this win is different.
"We have to play like we've got a lot to prove and we do," he said. "We haven't done anything yet, but hopefully we're moving in the right direction."