July, 9, 2013
7/09/13
3:30
PM ET
If you think
the case of Virginia Tech running back
Michael Holmes
is unusual -- an athlete getting kicked out of school by the school itself, and not by the athletic department or the legal system -- you're right.

Athletic director Jim Weaver told ESPN.com today that he has only seen this happen "once or twice" during his tenure as athletic director, and he did not remember it ever happening with the football program.
Apparently, it happened for the first time about a month ago, when the Office of Student Conduct expelled Holmes for his alleged involvement in an April fight.
"He is permanently separated from the university," Weaver said, using the same language the Office of Student Conduct gave to him.
Because the charges were reduced from a felony to a misdemeanor, Weaver could have reinstated Holmes, as long as it was approved by the university, but Weaver said he heard from the Office of Student Conduct before he had a chance to make up his mind.
"I hadn't planned on doing anything until I saw the results of his case," Weaver said.
"My role in this was non-involvement because it never got to us," he said. "The decision was made on campus before it ever came to us, and that might not be the commonplace, but it is certainly, I think, in effect at many schools."
According to Virginia Tech, a student can decide to either have their case heard by peers or by professionals in the student services area. Weaver would not say which Holmes chose, nor would he comment on whether or not he thought the process was fair.
April, 22, 2013
4/22/13
1:05
PM ET
Virginia Tech running back
Michael Holmes
has been suspended indefinitely
following his weekend arrest
on assault and felony malicious wounding charges.
Athletic director Jim Weaver confirmed the suspension in a statement released Monday, citing university policy.
Holmes was arrested early Sunday morning after police were called to a fight in a parking lot. Blacksburg Police Department Lt. Nathan O'Dell told The Associated Press the fight began between two women. One person was taken to the hospital as a result of the fight, but O'Dell declined to reveal the nature of the injuries.
Holmes started five games last season and finished with 280 yards and four touchdowns. He led all rushers in the spring game this past Saturday with 24 yards on seven carries as part of a wide-open competition for the starting job.
After the spring game, Holmes told reporters, "I played last year, so I've been trying to get all the young bucks together, keep them working hard. The thing we're going to work on the most is being consistent. Just grinding, putting in work, trying to get better."
Holmes is being held without bond at the Montgomery County jail and has a court appearance scheduled for Tuesday.
March, 7, 2013
3/07/13
5:00
PM ET
Head coaching salaries have been on the rise for years. So have assistant coach salaries, sparking a further separation between the programs that can pay and the programs that cannot.
Therefore, it should come as no surprise that athletic directors have seen their salaries grow as well.

USA Today, which annually compiles head coaching salaries, recently found FBS athletic directors make
an average of $515,000
. That is an increase of more than 14 percent since USA Today last reported on AD salaries in 2011.
The ACC beats that average. Of the
available salaries compiled by USA Today
, ACC athletic directors were set to make an average of $602,829 in 2013. All but two made more than $500,000 -- Kevin Anderson at Maryland ($499,490), and Randy Spetman at Florida State ($350,00).
That doesn't count incoming Louisville athletic director Tom Jurich, who makes a cool $1.4 million -- the highest paid athletic director at a public school. Only nine athletic directors make $1 million or more. The next highest paid public school AD is Dan Radakovich at Clemson, checking in at $725,000.
Boston College and Miami, two private schools, did not disclose figures.
While Spetman's salary has remained the same for the past several years, it still surprises me that the athletic director at one of the most high-profile football programs in the nation is the lowest paid in his league. And one of the lowest paid in the entire state of Florida. Florida AD Jeremy Foley makes more than $1 million; USF AD Doug Woolard makes nearly $500,000; Todd Stansbury at UCF makes just a smidge more ($375,000); and FIU AD Pete Garcia makes $441,832.
I know Spetman has faced his share of criticism, and the Noles have fought through some financial problems. They do pay Jimbo Fisher $2.75 million -- the highest paid coach in the ACC. But something seems off when the ADs at FIU, UCF and USF make more than the guy at Florida State.
Here are is the complete list of AD salaries in the ACC, thanks to USA Today.
Tom Jurich, Louisville: $1.4 million*
Kevin White, Duke, $906,536
Dan Radakovich, Clemson: $725,000
Ron Wellman, Wake Forest: $688,000
Mike Bobinski, Georgia Tech: $625,000
Jim Weaver, Virginia Tech: $621,529
Steve Pederson, Pitt: $596,595
Craig Littlepage, Virginia: $586,750
Daryl Gross, Syracuse: $570,057
Bubba Cunningham, North Carolina: $565,000
Debbie Yow, NC State: $500,000
Kevin Anderson, Maryland: $499,490**
Randy Spetman, Florida State: $350,000
Brad Bates, Boston College: NA
Blake James, Miami: NA
*Louisville expected to join ACC in 2014
** Maryland will depart ACC in 2014
February, 13, 2013
2/13/13
10:00
AM ET
Virginia Tech, Boston College and Miami did the dirty work. They're the ones who made the Big East angry -- so angry that BC and Connecticut
still
haven't played each other
since the Eagles left to join the ACC. They're the ones who were mired in acrimony, tangled up in lawsuits, and portrayed as the Big East's Benedict Arnold (who, ironically, was born in Connecticut).
Pitt and Syracuse?
They're practically tap-dancing out of the Big East.
"It was a tumultuous time for everybody," said one ACC source who was involved in the first expansion. "People didn't know there was going to be this much turmoil and griping. It was unprecedented in that time. Everybody has changed now. In 2003, it was new. Three teams were leaving. You go back and look at the newspapers, it was all anyone talked about for the months of May, June, July. It was huge. No conference had ever done anything like that.
"It's easier for Pitt and Syracuse because they're coming into a league where three other teams have already broken it in."
Having gone through expansion before, with the additions of Miami, Virginia Tech and Boston College, the ACC had a blueprint for Round 2, and Pittsburgh and Syracuse had footsteps to follow. This time, though, was vastly different. Ten years ago, the news of three teams leaving the Big East was shocking. Now, it's more surprising to hear of anyone who's staying in the Big East. The ACC's first round of expansion was a messy trio of divorces with enough lawsuits to fill TruTV. This time, Pitt and Cuse were just following the national trend. The ACC's first round of expansion was a dramatic, shocking blow to the Big East. This time, the Big East was already doubled over.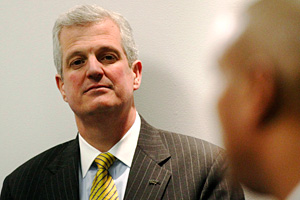 AP Photo/Keith Srakocic"We haven't gone to environments where the kids were put in a tough spot, or were uncomfortable," Pittsburgh AD Steve Pederson said leaving the Big East for the ACC. "Everyone has been good."
The change in circumstances both within the conferences and within the entire national college football landscape has made for a much smoother transition. The ACC has since changed its bylaws and no longer requires campus visits to approve potential expansion candidates; the conference turned to a committee comprised of presidents, athletic directors and faculty representatives to discuss the pros and cons of further expansion and possible candidates.
"Certainly there were things we learned from the first time around that made the next time more fluid and more efficient," ACC commissioner John Swofford said. "It did happen very smoothly. It was internally unanimous, and that always contributes to a smooth transition internally, and I think, too, the landscape nationally changed a great deal from when we expanded the first time to the more recent expansions."
Pittsburgh athletic director Steve Pederson said there has been no animosity from the Big East.
"The institutions of the Big East have been very good in their dealings with us," he said. "We haven't gone to environments where the kids were put in a tough spot, or were uncomfortable. Everyone has been good. Of course, everyone is going their own way a little bit. It's hard to be too judgmental when you're leaving, too."
When the ACC announced it would add Pittsburgh and Syracuse to the league on July 1, 2013, the first person to call Pederson was the late, former Miami athletic director Paul Dee, a good friend who had once successfully led his athletic department through the same move almost a decade earlier.
As the transition began, Pederson continued to seek advice from Dee and Virginia Tech athletic director Jim Weaver, also a very good friend.
"It was kind of interesting to talk to somebody who now wasn't in the heart of it," Pederson said of Dee. "He was hearkening back to the transitional period of time. He was very helpful in that way. We talked a lot about just about every issue you could think of. Those two were very helpful, and to some extent, they were very helpful in navigating the remaining time in the league, too."
That time is quickly coming to an end, as Pittsburgh will join the ACC's Coastal Division and Syracuse will join the Atlantic Division this summer. Both schools have been attending conference meetings for two years. Pederson said he was at the ACC's winter meetings in January 2012, and last month. He raved about the reception they have gotten from the league office and its members, calling them "organized," "professional" and "first-rate."
"There's probably not an athletic director in the ACC I haven't been able to ask a little advice and counsel of as we do this," Pederson said. "We're joining their league. I think we bring value and unique things to the league, but this has been a long-term, successful league. We're joining them. We want to make sure we're doing this the right way."
This time, both the ACC and Big East have found a way to do it better.
July, 20, 2012
7/20/12
3:38
PM ET
Virginia Tech kicker
Cody Journell
, who was suspended from the team
following his arrest in December
, has been reinstated, effective immediately, the school announced Friday.

"Cody has fulfilled all of the obligations in conjunction with his suspension and is back as an active member of the team," Virginia Tech athletic director Jim Weaver said in a prepared statement.
Journell made 14 of 17 field goals and 43 of 44 extra points last season, his first as the starting place-kicker.
September, 3, 2011
9/03/11
2:56
PM ET
Virginia Tech coach Frank Beamer has signed a new contract that will take him through the 2016 season, the school announced on its website this afternoon.
From the release:
"I am very pleased that head football coach Frank Beamer has signed a new contract with the university that will take us through the 2016 season," AD Jim Weaver said in a prepared statement. "Frank has done an outstanding job in his 24 years at Virginia Tech and we look forward to his continued leadership as we strive to win a national championship."

Beamer is entering his 25th season at the Tech helm where he has compiled a 198-95-2 record. His 240-118-4 overall record over 30 seasons as a collegiate head coach ranks him second behind Joe Paterno in wins among active NCAA Football Bowl Subdivision coaches. Beamer's 240 career wins currently rank him ninth in all-time victories by FBS coaches.

"I have a tremendous appreciation for this great university and the confidence the people here have shown in me," Beamer said. "I will continue to do my best to lead this program in a successful direction."
January, 22, 2010
1/22/10
10:00
AM ET
It's time to move forward in the ACC, as in 10 years forward. What can the conference expect over the next decade? Here are 10 predictions, in no particular order:
1. Ryan Williams leaves early for the NFL.
Odds are Williams and
Darren Evans
share the carries in 2010, with Evans, the older of the two, getting the first shot to stay on the field. That could prompt an early exit, but so could a standout solo performance that makes the NFL scouts drool.
2. The ACC produces a Heisman finalist.
Not quite ready to say winner yet. But it could happen as early as 2010 or 2011, as
Christian Ponder
,
Jacory Harris
, and Williams should all be viable candidates. Younger players --
E.J. Manuel
comes to mind -- could be in the mix later.
3. Push for conference realignment is turned down.
Following the 2015 season, ACC officials can start talking about this again to see if there's something else that makes more geographical sense. (The only problem with this is that it's taken half the decade for everyone to realize which teams are in which conferences now.) Despite a push from fans, and maybe even schools like Boston College and Florida State, the ACC stays status quo with the Atlantic and Coastal Divisions.
4. Changing of the guards at Virginia Tech.
Frank Beamer retires, Bud Foster takes over, and AD Jim Weaver steps down. The first is inevitable. The second isn't a guarantee. And the third could be prompted by health concerns. Foster's latest agreement will do a good job of keeping him in Blacksburg, though, and it would be a public relations nightmare if Virginia Tech picked anyone else to succeed Beamer.
5. The rise of Duke.
Not only will the Blue Devils go to a bowl game, they'll win the Coastal Division under coach David Cutcliffe. In just his second year, Duke controlled its own destiny as late as November.
6. Somebody other than Ralph Friedgen and James Franklin coaches Maryland.
Mike Leach, anyone? There are some good head coaches out there still looking for jobs, and by keeping Friedgen on board despite his 2-10 record, Debbie Yow made it less costly to buy her way out of the head-coach-in-waiting deal. Even if Franklin stays on, how much different will it really be in College Park?
7. The ACC title game will change locations again only to come home to Charlotte.
The city of Charlotte is locked in for the next two years, but after that it's open season again. Charlotte will show increased attendance, but the ACC will also try another location, maybe D.C. or Baltimore, as well as moving it to the campus of the higher rated team in the BCS. Eventually, though, it will go back to Charlotte and stay there.
8. Miami contends for the national title.
It could be any number of teams in the ACC that make the big game -– Florida State, Virginia Tech, Georgia Tech, North Carolina –- but I'm giving the Canes my vote for the ACC's first team to the BCS national championship this decade.
9. Florida State and Miami face each other in the ACC title game.
It's only a matter of time before both of these programs return to elite status, and considering the similar paths they're on, odds are they get in each other's way.
10. The ACC finally gets an at-large BCS bowl bid.
It hasn't happened since before ACC expansion. The conference came very close this year to having two BCS bowl-bound teams, as Miami and Virginia Tech both flirted with top 10 BCS rankings but eventually fell out. Considering how close the conference came this year with still-young teams, it's bound to happen sooner than later.
July, 9, 2009
7/09/09
3:08
PM ET
Posted by ESPN.com's Heather Dinich
If you check the front of our college football page, you'll notice ESPN.com has done a series of social networking stories this week. I caught up with former FSU safety Myron Rolle for the last story, and he's in Orlando training for the 2010 NFL draft. He said he's leaving Sept. 26 for England.
Guess how I caught up with him? Through Facebook, of course.
On the subject of social networking, Rolle told me that somebody had set up fake MySpace pages for former quarterback Drew Weatherford and former cornerback Tony Carter.
"Honestly it wasn't Tony or Drew, and it wasn't coming from them and it was hurting them a little bit," Rolle said. "People would come up to them in person and say, 'Hey, I saw your message on MySpace,' and Drew would say, 'I don't even have a MySpace.' That right there was a little weird, but Florida State would help us with that."
That's one of the issues I didn't get to address in the story, but it's another major concern of athletic departments. Sportsin140.com is a Web site that is working to validate public profiles on Twitter. Generally speaking, the ACC -- like every other BCS conference -- doesn't have a conference-wide policy for athletes' use of these sites. Mostly, it's up to the individual coaches, compliance offices, student services and sports information directors to warn the athletes about the potential dangers of the sites.
"We don't have a particular policy in place, but we've tried to inform our student athletes to be very aware of what they're doing and to try to understand they need to represent themselves and their families and their universities in the appropriate fashion," said Virginia Tech athletic director Jim Weaver. "There are always things that come up that you have to adapt to and be aware of and try to make sure your young people are cognizant of."
Boston College athletic director Gene DeFilippo deals with this subject at the first coaches' meeting of the year and at several more throughout the course of the year. BC does have a policy that prohibits student-athletes from posting photos that are racy, or depict them in BC uniform in any setting other than in athletics competition or would put them in a compromising position (such as drinking alcohol, partying, etc.).
Clemson sports information director Tim Bourret had a meeting with the football team and gave them a basic rule about their posts back in April:
"If your mother would be embarrassed to read this post as a headline in USA Today, then don't post it it. That goes for Facebook writing and picture posting."
Not enough schools in the ACC are embracing it, though. The ACC as a conference has a strong presence on Facebook and Twitter, but Georgia Tech is one of the few member schools that understands the publicity angle.
The sports information office has encouraged the head coaches to Twitter and provides links to those Twitter pages on their Web site. Georgia Tech "markets" its official GTAthletics Twitter page. Sports information director Dean Buchan tells me that some of the Jackets Twitter, but they are more into Facebook. However, Jonathan Dwyer will launch his Twitter page as soon as Friday.
Me? I'm still trying to figure out why people care so much when somebody else sneezes. If I were to honestly update my Twitter page, it would say little other than "blogging. Still blogging. Running. Eating. Blogging."
Posted by ESPN.com's Heather Dinich
Since we're in the middle of ACC spring meetings, why not start there ...
The topic of conference realignment isn't on the agenda for the ACC spring meetings, but that hasn't stopped one Florida State booster from pushing the idea.
Virginia Tech athletic director Jim Weaver said he would like to see the ACC title game in Charlotte because it's "too hard for people to get to Florida for a weekend game." Unless, of course, those fans are already in Florida.
On Monday, Tony Barnhart looked at the Atlantic Division. Today he reviews the Coastal Division.
And one leftover for you ... Clemson's two new coordinators have a passion for recruiting, and more coordinators are getting involved in the process. Billy Napier would like to be out even more.
Posted by ESPN.com's Heather Dinich

Everyone is concerned about their wallets in these struggling economic times, and St. Patrick's Day is the perfect time for a fiscal review of how the ACC is spending its green. Here are three good -- and three not-so-good -- ways of spending or saving the green:
1. Whip-ing Miami's offense into shape -- However much green was spent to bring in offensive coordinator Mark Whipple was worth it. Regardless of how Miami's offense fared on the field, clearly Patrick Nix and Randy Shannon weren't on the same page when it came to philosophy. Shannon and Whipple are.
2. Upgrade in Durham -- David Cutcliffe gave his football team a makeover, now it's time to do the same with the facilities. The practice field, which looked like it was used by the local parks and rec department, is getting an overhaul. The artificial turf field is being extended from about 75 yards to 120 yards, and the school is currently rebuilding the visiting locker room. In the stadium, two bathrooms and a concession stand are being renovated.
3. Robbing Peter to pay Paul -- While it might seem a little premature to make Paul Johnson one of the highest-paid coaches in the conference before he's even won a league title, the Yellow Jackets can't win the ACC crown unless they dish out the money to keep him. Kudos to athletic director Dan Radakovich for staying competitive with the SEC salaries.
4. The cost of offense in College Park -- In 2006, Maryland coach Ralph Friedgen bought a $240,000 Pro Simulator, a complex computer program designed to help the athletes learn the playbook and read defenses in real-time. Considering Maryland hasn't finished better than sixth in the ACC in scoring offense since then -- including ninth in 2008 -- they might want to stick with Madden.
5. Commonwealth Cup overfloweth in Charlottesville -- Virginia Tech can't let rival Virginia get away with paying Al Groh more. Not when Frank Beamer is winning a BCS bowl and Groh is home for the holidays. It's time for athletic director Jim Weaver to ante up.
6. Spread the wealth -- Is Miami really in such a financial hole it needs to bus to the in-state games this year? Other coaches are sure to use even that tiny detail against the school in recruiting because it doesn't project the image of a big-time program.
November, 20, 2008
11/20/08
12:30
PM ET
Posted by ESPN.com's Heather Dinich
Hello from Atlanta, where it's supposed to be frigid tonight and the press box is open. Lovely. Since I'm here, let's start there.
The weather really could be a factor, especially for some of the younger Hurricanes who have never played in the cold. I have three words for you, on that one: Toughen up, buttercup. There is supposed to be a "whiteout," but some Jackets' fans are resisting it. I say wear whatever is warmest.
Will Virginia Tech offer Bud Foster a Texas-like deal? Athletic director Jim Weaver is at least looking into it.
BC freshman running back Montel Harris is carrying more than the ball for the Eagles this season -- he's also carrying a bit of a grudge.
One of Duke coach David Cutcliffe's goals for the program is to develop some NFL talent. Defensive tackle Vince Oghobaasse could be the Blue Devils' third draft pick since 1987.