NCF Nation:

Jim Zebrowski
April, 18, 2011
4/18/11
5:30
PM ET
Minnesotans are known for their hospitality, but several folks stiff-armed formalities when Matt Limegrover came to town as Gophers' offensive coordinator.
[+] Enlarge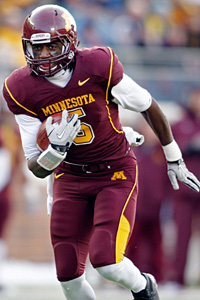 Bruce Kluckhohn/US PresswireMinnesota's Marqueis Gray is a dual-threat quarterback who is unlike anyone Michigan has faced so far this season.
"I didn't get a, 'Hello, welcome to Minnesota,'" Limegrover recalled. "I got a, 'Hey, is MarQueis going to be our starting quarterback?' They wanted to anoint him from the day we got on campus."
From that day forward, Limegrover provided the same answer: I don't know. He wanted to look for the best quarterback to run his offense, not the fan favorite or the most athletically gifted or the highest recruited player.
Would
MarQueis Gray
be in the mix? Without a doubt. But new Minnesota coach Jerry Kill, Limegrover and the rest of the staff are stressing accountability this spring. Starting jobs will be earned, not inherited.
"We need that quarterback to be a quarterback," Limegrover said, "more than just a wonderful athlete who can catch a snap from center."
Fortunately for the coaches, Gray accepted their challenge.
He spent the winter months studying Northern Illinois games from the 2010 season, trying to pick up nuggets and nuances from the offense Minnesota will run this season. He hounded his new quarterbacks coach Jim Zebrowski with questions.
He would lead voluntary workouts and then gather teammates like top receiver
Da'Jon McKnight
to watch more film. Gray went "above and beyond in his preparation," Limegrover said.
"He would show us the depth or the speed or the timing, things like that," McKnight said. "It just showed me he cares. He's trying to be a leader. He really wants to win."
It has paid dividends so far this spring.
From talking with Kill on Monday, I can say the new coach isn't giddy about too many things right now with his team. But Gray's progress is one of them.
"He's been the biggest surprise on our whole team, period," Kill said. "MarQueis has done an unbelievable job of picking up what we're asking him to do. He's had to learn a lot, he's seen a lot of different things from the defense, he's handled himself well, he's very composed. He's got good work ethic and he's a good football player."
Gray knew he'd need to get back into "quarterback mode" this winter after playing most of the 2010 season at wide receiver, where he finished second on the team in receptions (42), receiving yards (587) and receiving touchdowns (5). He was used to learning a new offense after Minnesota cycled in new systems the previous two years, but he spent even more time with the scheme Kill and Limegrover were bringing from Northern Illinois.
"I thought I might as well get a head start and become a vocal leader and put guys in the right place," Gray told me Monday. "I just took the job head-on. It put me a step of everyone else, and now I can help them because I came in earlier."
Gray always has been popular with Gophers fans. A good portion of them wanted to see him win the starting job last spring, when he competed alongside
Adam Weber
.
Although Gray entered the offseason as the heavy favorite to claim the starting job, he never felt entitled to it.
"I didn't want them to just hand me over the job because they heard good things," he said.
Gray's work the past few months has his coaches saying plenty of good things about their top quarterback.
"He's the best quarterback; not just the best athlete at quarterback," Limegrover said. "If he had come in and fumbled around and couldn't get people in right spots and had trouble with cadence, then we'd have a real dilemma on our hands. To his credit, he wasn't going to leave anything to chance. It made our lives a lot easier."
January, 26, 2011
1/26/11
3:43
PM ET
These days,
MarQueis Gray
spends his free time studying tape from Northern Illinois' 2010 season, trying to soak in the offense he'll run at Minnesota this fall.
Gray likes the scheme, which suits his skill set well. But Minnesota's coaches could have told him they'd be running the wishbone or the run 'n' shoot, as long as he would be the man calling signals.
[+] Enlarge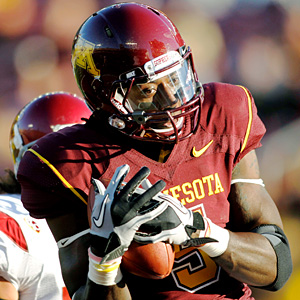 Bruce Kluckhohn/US PresswireMarQueis Gray, who spent the 2010 season as a receiver, will now be running Minnesota's offense.
Once Gray heard he was returning to the quarterback spot, nothing else really mattered.
"That's basically what I wanted to hear," Gray told me this week. "It put a smile on my face."
Gray came to Minnesota as a heralded dual-threat quarterback but started at wide receiver last season because the coaches didn't want to waste his talent on clipboard duty. The 6-4, 230-pound Gray finished second on the team in receptions (42), receiving yards (587) and receiving touchdowns (5), while adding 110 yards and a touchdown on the ground.
Although the departure of four-year starting quarterback
Adam Weber
suggested Gray would return to quarterback, he didn't take anything for granted.
"I had no idea what they were going to do with me," Gray said. "But when [the new staff] first got here, I talked with coach [Jerry] Kill and he told me I was going to be his quarterback. I've played quarterback all my life. I just like being the general on the field, being the man that the team looks to to help them win games."
Gray knows he must re-establish himself as a leader and has taken steps to do so this offseason. He has pushed himself to be more vocal in winter workouts and gathers receivers to go through pass routes after weightlifting sessions.
"I'm getting back into the rhythm of it," he said. "I haven't being doing it since I left high school, but they believe in me and I believe in them, so I'm pretty sure it's going to work out."
Gray also has spent time with his new quarterbacks coach, Jim Zebrowski, going over the new scheme. Zebrowski told Gray that the system blends the offenses from Rose Bowl participants TCU and Wisconsin, although Gray sees more plays run from the shotgun and pistol formations than from under center.
Dual-threat quarterback
Chandler Harnish
excelled in the offense at Northern Illinois, accounting for 28 touchdowns (21 pass, 7 rush) and 3,366 yards of total offense (2,530 pass, 836 rush) in 2010. The Gophers' staff knows Gray will need time to grow in the system, but they like what they're inheriting.
"We were watching the [Minnesota-Iowa] game and he goes back there in the quasi-Wildcat as the quarterback and he lasers one," offensive coordinator Matt Limegrover said. "We kind of looked at each other and said, 'OK, we can work with that.' You think, 'OK, wonderful athlete, can run, can do things with the ball in his hands, All-Big Ten caliber wide receiver,' that's awesome. But then you watch him drop back and throw the ball.
"Then you go, 'This kid's more than just an athlete we're going to put back there. He's a quarterback.'"