January, 2, 2011
1/02/11
1:40
PM ET
PASADENA, Calif. -- Gary Patterson doesn't have a vote in the coaches' poll this season. Voters in that poll are required by rule to place the BCS title game winner -- either Auburn or Oregon in this year's case -- at the top of their ballot.
But Patterson -- who has steadfastly refused to whine about undefeated TCU being left out of the national championship picture -- did a rare bit of lobbying after his Horned Frogs beat Wisconsin 21-19 in the Rose Bowl Game presented by Vizio.
"If I was a voter, I'll watch those two teams play and see how my team compares to them," Patterson said Saturday night. "Then I'll have my own national championship vote if I think we're better. It won't count, but it seems like a lot of votes don't count anymore."
[+] Enlarge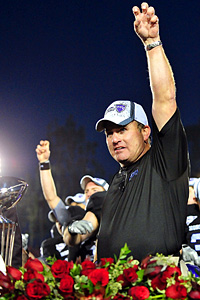 Gary A. Vasquez/US PresswireGary Patterson's Horned Frogs finished the season a perfect 13-0.
That's about as much complaining or cajoling as any of the TCU contingent voiced in the wake of Saturday's victory. The BCS gaveth, and the BCS taketh away from the Horned Frogs. They finished 12-0 for the second straight regular season and were shut out again from the national title game. But they also have gone to two straight BCS games, and this year they had the unique privilege of playing in the Rose Bowl.
"We'll go down in history as one of the first non-AQ teams ever to win the Rose Bowl," tailback
Ed Wesley
said. "We're very proud of that. Maybe if we go undefeated again next year they'll give us a shot at the title."
Of course, TCU isn't the first non-AQ team in recent memory to go undefeated and unrecognized for a national championship. Utah did it in the 2004 and 2008 seasons, while Boise State accomplished the feat last year. But the Horned Frogs might have a bit stronger of a case this time around. The Utes beat mediocre Pittsburgh and disinterested SEC runner-up Alabama in their bowl games. Boise State topped TCU in last year's Fiesta Bowl as the non-AQs got ghettoized.
TCU beat an 11-1 Big Ten co-champion in No. 5 Wisconsin that was highly motivated to win the Rose Bowl. The stadium was at least 65 percent Badgers red. This was no fluky, mistake-filled upset, either. Both teams played well. The Horned Frogs were just better.
"We can play with anybody," said receiver
Jimmy Young
. "What more have we got to prove?"
The schedule hurts their case. Other than Wisconsin, TCU has beaten only one other team (Utah) currently in the BCS standings, and the Utes could drop out after getting hammered in their bowl game by Boise State. (On the flip side, San Diego State and Air Force both registered nice bowl wins and could climb into the final rankings).
Unless Auburn and Oregon play a complete stinker, odds are very few voters will seriously consider the Horned Frogs for the top spot in The Associated Press poll. But the Rose Bowl win could help TCU start next year high in the rankings, even though the team loses many key seniors such as quarterback
Andy Dalton
, center Jake Kirkpatrick, receiver
Jeremy Kerley
, defensive end Wayne Daniels and safety Tejay Johnson.
"We're going to just keep climbing the mountain," Kirkpatrick said. "Our goal is to win the national championship, and we're one step closer now."
This TCU team might have been good enough to win the BCS title, but we'll never know. The Horned Frogs will happily settle for 13-0 and a Rose Bowl win that will be remembered for generations.
"Nobody has beaten us yet," linebacker Tanner Brock said. "So we're a champion in my book."
January, 1, 2011
1/01/11
10:40
PM ET
PASADENA, Calif. --
Andy Dalton
changed once TCU began its postseason practices in Fort Worth last month.
Receiver
Jimmy Young
noticed it right away. Dalton stopped cracking jokes with his teammates and laughing in the locker room. Smiles didn't come very easily from the big redhead.
[+] Enlarge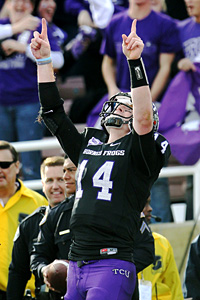 Jeff Gross/Getty Images"I knew everything they were doing," Andy Dalton said of Wisconsin's defense. Dalton racked up 247 yards of total offense and was TCU's offensive MVP.
"You can always tell when Andy is serious," Young said. "I just knew then that he was locked in."
"Locked in" is a good way to describe Dalton's performance in the Rose Bowl Game presented by Vizio. The Horned Frogs put the bulk of the offensive game plan in the hands of their reliable senior quarterback, and he delivered in a
21-19 win
over Wisconsin.
Dalton, the game's offensive MVP, completed 15 of 23 passes for 219 yards and a touchdown and finished as his team's leading rusher with another score that way. In all, he accounted for 247 of TCU's 301 yards.
Maybe most importantly, he didn't throw any interceptions. In the previous year's 17-10 loss to Boise State in the Tostitos Fiesta Bowl, he had the worst game of his career, getting picked off three times. He had to live with the criticism that came from that loss, and he said he didn't watch any replays of the game for more than two weeks afterward. Center Jake Kirkpatrick described Dalton as really down on himself last January.
Dalton remembers the feeling well. As he awaited his Rose Bowl news conference, Dalton saw the disappointed Wisconsin players on the dais and immediately recognized the looks on their faces.
"To take a lot of the blame for the team puts you in a tough position," he said. "That's something I didn't want to feel again."
So once the Rose Bowl matchup was announced, Dalton got down to business. He did little else but study film on Wisconsin in the weeks leading up to the game. Along with the coaching staff, he thought the Horned Frogs could exploit the Wisconsin defense down the field and on the edges. When TCU needed a big play on offense, time and again Dalton found open receivers.
His numbers could have been better if not for a few drops and a couple of times when receivers slipped on the stadium's grass. Only once in the first half did a tailback even touch the ball, as Dalton picked up yards himself on the zone-read plays.
"I knew everything they were doing," he said of Wisconsin's defense. "The way I studied for this game helped with the way we played. I was really focused because I knew I wanted to play well in this game."
In truth, Dalton's Rose Bowl performance typified his career better than the Fiesta Bowl disappointment. Lightly recruited -- TCU beat out UTEP and Memphis for his services -- Dalton won the starting job as a freshman and broke every school passing record. He finished as the Horned Frogs' all-time winningest quarterback, with a 42-7 record, including 36-3 the past three years.
That's why teammates said earlier this week that they let him down last year against Boise State, not the other way around.
"He's how we were able to go 13-0," tailback
Ed Wesley
said. "He's the guy who has led this team this far, and it was his job, I guess, to finish it off."
Dalton was one of the last two players to leave the TCU locker room, walking toward the team bus in his white sweat suit. A smattering of fans still waiting spotted him and yelled "Andy!" He cracked a smile. There was no need to be locked in any more.
December, 31, 2010
12/31/10
9:30
AM ET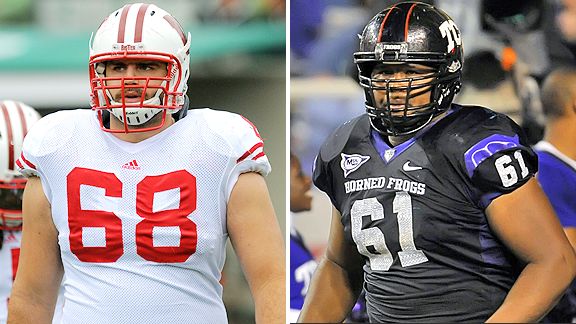 Getty Images, Icon SMIWhich left tackle will have a bigger impact: Wisconsin's Gabe Carimi or TCU's Marcus Cannon?
LOS ANGELES -- The Grandaddy of Them All has something to entertain the whole family this year. The matchup between No. 3 TCU and No. 5 Wisconsin features many fascinating subplots, intriguing individual matchups and -- to take the macro view -- two really, really good teams. Bloggers Adam Rittenberg and Brian Bennett are ready for their close-up in this Rose Bowl Game presented by VIZIO debate:
Brian Bennett:
OK, Adam. Time for you to take a break from getting starlets' phone numbers and shopping on Rodeo Drive. Let's talk about a very interesting Rose Bowl. Wisconsin has won the eyeball test this week and may have cracked the foundation of the Los Angeles Downtown Marriott on Media Day with all that bulk in one place. But TCU has seemed focused and has a ton of athletes. Of all the contrasts and matchups in this game, which one do you think is most important to the outcome?
[+] Enlarge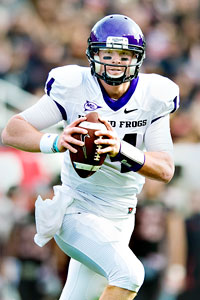 Douglas C. Pizac/US PresswireTCU's offensive line has kept Andy Dalton's jersey pretty clean this season, allowing just nine sacks.
Adam Rittenberg:
Easy, Bennett, don't tell my wife. Actually, I was planning to meet up with Suge Knight later. You know how I roll. I think this game comes down to the line of scrimmage, an area where there might be more similarities than differences. Both teams have outstanding left tackles (Wisconsin's Gabe Carimi, TCU's Marcus Cannon) and outstanding defensive ends (Wisconsin's J.J. Watt, TCU's Wayne Daniels). TCU's size along its offensive line is overlooked next to Wisconsin's, and Wisconsin's speed along its defensive line is overlooked next to TCU's. The team that controls the line of scrimmage wins the game. Can TCU's defense endure Wisconsin's power game? Can Wisconsin's defense find a way to get to Horned Frogs veteran quarterback
Andy Dalton
?
BB:
The line of scrimmage will be critical, but I think TCU's defensive linemen are good enough to hold their own. I wonder about the safeties who will need to help out against the run. They're going to be physically outmatched by linemen, tight ends and
John Clay
. They had better tackle well and be extremely sound in their technique, though the Horned Frogs excel at that. And then of course you worry about play-action if you're Gary Patterson and Dick Bumpas.
On the other side, TCU's offensive line has given up just nine sacks all year. Watt versus Cannon is going to be fun to watch, but I think Dalton will stay pretty clean. I wouldn't expect Wisconsin to come after him too hard because of the threat of the zone-read and the Horned Frogs' tendency to throw those underneath routes. I would think Dave Doeren would want to keep his linebackers covering those areas against speedsters like
Jeremy Kerley
and
Jimmy Young
.
Another question I have is how the layoff will affect these teams. We've seen some spread teams struggle with timing in bowls. That might bother TCU, which never found its rhythm last year in the Fiesta Bowl, more than a ground-based attack like Wisconsin. Agree?
AR:
It could, Brian, but Wisconsin was so hot at the end of the regular season, scoring 201 points in its final three games. It might take some time to re-establish the confidence and the rhythm, which could prove costly against a defense like TCU's. The Badgers really tried to maintain the intensity in bowl practice, having the first-team offense and first-team defense practice a lot against one another. But I would expect a little lull on game day. Wisconsin will benefit from having running back John Clay at near 100 percent for the game. Tackling Clay isn't a lot of fun, and he might be able to wear down TCU's defense and create lanes for
James White
and
Montee Ball
.
One area that really intrigues me about this game is special teams. Both teams have strong returners, especially TCU with Kerley. How big of a factor will the kicking game be for the Frogs?
BB:
Well, Frogs fans surely understand the importance of special teams after last year's Fiesta Bowl loss, in which a Boise State fake punt made the difference. Kerley is electrifying and could single-handedly change the game; Wisconsin did surrender a punt return touchdown in its only loss, against Michigan State. TCU's punting is mediocre, and kicker Ross Evans has made only one field goal longer than 40 yards this season.
Another hidden area could be red-zone efficiency. Both teams were great at punching it in during the year, and in a potentially close game between two high-scoring teams, a red-zone stop could be huge. Any other under-the-radar factors jump out at you?
[+] Enlarge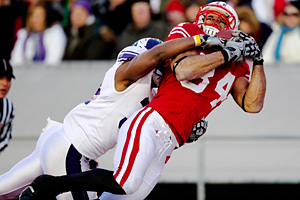 Jeff Hanisch/US PRESSWIREWisconsin tight end Lance Kendricks (39 catches for 627 yards and 5 TDs) is a future NFL prospect.
AR:
Great call on the red-zone effectiveness. Wisconsin is tied for fifth nationally in red-zone offense, while TCU is tied for 16th. TCU is much better than the Badgers in red-zone defense, though (51st nationally vs. 95th). One area I've thought a lot about is the play-action game for both teams. TCU is an extremely disciplined defense, but
Scott Tolzien
runs the play-action very well and usually has tight end
Lance Kendricks
or a wide receiver open for a pass. Kendricks is a future NFL prospect, and receiver
Nick Toon
might be as well. Wisconsin needs its linebackers to tackle well in this game, but the Badgers can't lose sight of Dalton, who has underrated mobility and can attack down the field.
OK, Bennett, prediction time. You first.
BB:
Wisconsin is awfully good, and I fear that TCU will eventually succumb to all that size. But these Horned Frogs know how to win, and I get the feeling they're very motivated to prove something on this stage. The TCU defense comes up with some key turnovers, speed trumps strength and the Horned Frogs make the Rose Bowl a non-AQ house, 30-27.
AR:
This should be a great game, and it could go either way. I just don't think TCU has seen anything like Wisconsin this season. The Badgers' power and style of play is unique in college football, and ultimately, Wisconsin will wear down the frogs. Dalton keeps TCU in the game and makes several big plays with both his arm and his feet, but Wisconsin uses a big fourth quarter to secure the win. Badgers 30, Frogs 27.