December, 5, 2010
12/05/10
8:52
PM ET
BYU Cougars (6-6) vs. UTEP Miners (6-6)
Dec. 18, 2 p.m. ET (ESPN)


This is an intriguing matchup between former WAC rivals to kick off bowl season. While this season has been largely disappointing for the Cougars, UTEP is making its first bowl appearance since 2005. The game, which generally pits Mountain West vs. WAC, was able to work out a switch with several other conferences and games to get a more regional matchup -- El Paso, is about a four-hour drive from Albuquerque. BYU ran its bowl streak to six straight despite a 1-4 start, and nearly pulled off a major upset in its regular-season finale against Utah. The Cougars finished 6-6, their worst season since also going 6-6 in 2005, their first under coach Bronco Mendenhall. The big reason was a moribund offense, something that you rarely hear about in Provo. The Cougars started the season with two quarterbacks, but after
Riley Nelson
was sidelined for the season with a shoulder injury, true freshman
Jake Heaps
took over. He has made significant strides, and
JJ Di Luigi
has helped at running back. But there still is no true go-to playmaker on offense.
Mendenhall has taken over as defensive coordinator, and the unit has shown vast improvements. As for UTEP, the Miners are bowl eligible because they were able to beat up the bad teams on their schedule.
The Miners closed the season with five losses in their last six games, but they have been beaten up all season. Quarterback
Trevor Vittatoe
has been hampered with ankle injuries. Running back
Donald Buckram
, who ran for 1,594 yards last season, also struggled with a knee injury and only had 325 yards this season.
October, 21, 2010
10/21/10
9:00
AM ET
»
Predictions
:
ACC
|
Big 12
|
Big East
|
Big Ten
|
Pac-10
|
SEC
|
Non-AQ
My picks in Week 7 were so hideous, I should be disqualified from making any more of them for the rest of the season. I mean not even a dog guesses and finishes 2-8. Wow, that hurts my fingers. Also because of all the e-mails and mailbag comments I have received, I will begin picking all games involving ranked non-AQ teams. See, I do hear you!
With a 43-31 overall record, I am ready to avenge my poor performance from Week 7. Or am I?
On to the picks!
No. 5 TCU 24, Air Force 10
. Gary Patterson takes the Falcons seriously because of their dangerous triple-option. But there might be a little less danger this week with top fullback
Jared Tew
out (broken leg). Air Force still has the top-rated rush offense in the country and was a two-point conversion away from sending its game against San Diego State into overtime last week. But the TCU defense is looking really strong, and the Horned Frogs have never lost to the Falcons at home.
No. 9 Utah 44, Colorado State 3.
The Utes beat Wyoming last week, but had three interceptions and are still lacking when it comes to creating turnovers. They are going to have to do better than minus-6 headed into their tough stretch, which starts next week at Air Force. Colorado State quarterback
Pete Thomas
can throw the ball, but not sure how much progress he will make this week.
UPSET SPECIAL: Navy 20, Notre Dame 18.
The Midshipmen have not made things easy on themselves this season. Essentially all of their games have come down to the fourth quarter. While the offense might not be as prolific as expected, the defense has been terrific and kept this team in games. Last week against SMU, Navy forced three turnovers and held the Mustangs to 21 points. Notre Dame has had problems stopping the option, and
Ricky Dobbs
is not pressing as much.
SMU 38, Houston 28.
My how the tide has turned in the West Division of Conference USA. Houston has dropped two straight, and it is the Mustangs who are alone in first place and in control of their own destiny. Ja'Gared Davis will cause fits for true freshman quarterback
David Piland
, and
Kyle Padron
will be able to throw on a Houston defense that continues to struggle.
UPSET SPECIAL II: Miami (Ohio) 28, Ohio 21.
The emergence of the RedHawks has been one of the most pleasant surprises in the MAC and college football. Their three-game turnaround from last season is the best of any team so far this season. They sit alone atop the East at 3-0, but Ohio is right behind at 3-1 in this crucial matchup. Ohio has won four straight in the series, but the Miami defense makes the difference in this one.
BYU 20, Wyoming 17.
Two of the worst scoring offenses in the country face off in a fight for their bowl lives. BYU is averaging 14.7 points a game and Wyoming 11.6 points a game. The Cowboys rank last in rushing defense, and that is going to be the difference. Because BYU has proved it can run the ball behind a strong offensive line and
JJ Di Luigi
. Coach Bronco Mendenhall promised more power running, and that should work this week.
Hawaii 44, Utah State 24.
The Warriors are coming off a big win over Nevada, while Utah State had a week to prepare for the best passing offense in the country. Utah State has been one of the most inconsistent teams in the WAC this season, so it is hard to figure the Aggies out. But we do know Hawaii will pass and pass some more. The Warriors have won four of the five meetings between the school in WAC play.
Northern Illinois 30, Central Michigan 20
. The Chippewas have won three straight in the series, but they are on a four-game losing streak and are 1-3 in the division, an unusual spot for them after winning the MAC championship three of the last four years. Many figured this would be a rebuilding year with Dan LeFevour gone and a new coach in Dan Enos. Meanwhile, Northern Illinois has won four straight and has found a groove with
Chad Spann
and
Chandler Harnish
leading the way on offense.
Middle Tennessee 27, ULM 24.
The Blue Raiders need this game in the worst way. At 2-4, they are in a fight to become bowl eligible, though they have only played two conference games to date. ULM has needed two comebacks to beat FAU and Western Kentucky -- two of the worst teams in the league.
UTEP 31, Tulane 21
. UTEP beat up on some bottom feeders en route to a 5-1 start. But the Miners stumbled on the road at UAB last week (one of two picks I got right!) and had only 229 yards of total offense. They are banged up going into this game but should have enough to beat the Green Wave, who are improved over last season.
October, 14, 2010
10/14/10
12:30
PM ET
October, 14, 2010
10/14/10
9:00
AM ET
»
Predictions
:
ACC
|
Big 12
|
Big East
|
Big Ten
|
Pac-10
|
SEC
|
Non-AQ
My picks in Week 6 were much improved at 8-2, thank you very much. Although I still have a BYU problem. Picking against the Cougars did not work, either. My upset special panned out, so at least there is that. With a 41-23 overall record, I am ready for Week 7.
On to the picks!
NC State 40, East Carolina 27
. As much as I want to believe in the Pirates, I do not know if they have the defense to be able to slow down
Russell Wilson
. But I think I have a pretty good idea. I will give credit to them for one thing -- making all their games quite entertaining to watch. One area to note, East Carolina will be without safety Derek Blacknall, who has been suspended for a helmet-to-helmet hit he delivered last week against Southern Miss.
UPSET SPECIAL: Army 30, Rutgers 20
. Army is coming off a big win at Tulane. Rutgers lost to Tulane earlier this year. That is not the reason I am picking the upset special. The Scarlet Knights have struggled all season, nearly losing to FIU, losing to an undermanned North Carolina, and losing to Tulane. Yes, Rutgers looked much better last week with
Chas Dodd
at quarterback, but Army has an experienced, opportunistic defense that will present him problems. Army leads the nation in turnover margin, and the Black Knights have scored 86 points off 16 takeaways while allowing only 10 points on four giveaways.
Ball State 24, Eastern Michigan 20
. The Cardinals had one of their worst games under coach Stan Parrish last week in a loss to Western Michigan, and now they get winless Eastern Michigan to ease the suffering. This game is not going to be a walkover. The Eagles have come close in a few of their conference games this season, and will keep this one close, too.
Houston 31, Rice 24
. The Cougars are not going to blow anybody out with a freshman playing quarterback. Will I regret those words? Maybe.
David Piland
did throw for 300 yards last week, but he had no help. The running game was totally stymied. I think Houston will have an easier time rushing the ball Saturday, but this one is going to be a fight until the end.
SMU 33, Navy 23.
Call this upset special No. 2 since the Midshipmen are 1.5 point favorites to win the game. Though the Midshipmen are coming off a big win against Wake Forest and
Ricky Dobbs
looked more like himself, SMU is really looking solid on offense behind
Kyle Padron
. The defense has stepped up, too, behind Ja'Gared Davis, who will wreak Havoc for Dobbs.
No. 4 TCU 34, BYU 14.
I know BYU is 2-4, but am still surprised the Cougars are 29-point underdogs. Perhaps they found a spark on defense now that Bronco Mendenhall is in charge, but this team is not anywhere near improved enough to win this game. TCU has too much talent on offense and defense.
Andy Dalton
is completing 82 percent of his passes at home this season, and the TCU defense will be able to slow down
JJ Di Luigi
and force true freshman
Jake Heaps
into mistakes.
No. 23 Air Force 24, San Diego State 20
. The Aztecs have been on the losing end of two heartbreakers, and both games featured bad calls that cost them. They have a very real chance at upsetting the Falcons if they can get their run game going. Air Force coach Troy Calhoun has made it a point to stress to his defense it must improve against the run. In the end,
Tim Jefferson
and that triple offense are going to be too much for a defense that is still learning and improving.
No. 19 Nevada 45, Hawaii 44
. A shootout, island style. Nevada has not beaten Hawaii in Honolulu since 1948, and it is a difficult task for any team to make the long trip out to the islands. But Nevada is playing well on offense, behind
Colin Kaepernick
and
Vai Taua
, and on defense, where Dontay Moch continues to bust through double teams and chip blocks for tackles behind the line. Moch will be able to pressure high-flying
Bryant Moniz
enough to rattle him and take him out of rhythm.
UAB 30, UTEP 27
. I got some e-mail into the mailbag yelling at me for not noticing UTEP, which is off to a 5-1 start. I have noticed all right. It has played just one team with a winning record. The other FBS teams it has beaten have a combined three victories. That includes a last-second win over Memphis. So I am not quite ready to declare UTEP for real, though I will say
Trevor Vittatoe
is a joy to watch. UAB is coming off an embarrassing loss to UCF, but this as close to a must-win as you can get. The Blazers find a way to pull it out.
North Texas 28, FIU 27.
This has been a disastrous season for the Mean Green as injuries have taken a serious toll throughout the team. They are down to their fourth quarterback in
Chase Baine
, but having
Lance Dunbar
in the backfield gives them a chance. They have lost their two conference games by a combined six points. FIU is improved, but the Panthers have had problems against the run. Dunbar is in line for a big game.
October, 12, 2010
10/12/10
6:00
AM ET
Brigham Young Cougars
Record:
2-4 (1-1, MWC)

There was no question BYU had a lot to replace when the season started. Getting new talent in for veteran performers like Max Hall, Dennis Pitta and Harvey Unga is no easy task, but the Cougars have always found a way to reload. Not this season. Coach Bronco Mendenhall waffled when it came to his starting quarterbacks, alternating between
Riley Nelson
and true freshman
Jake Heaps
. Though they won the season opener against Washington, they dropped their next four, and looked totally discombobulated on offense and defense. Heaps is now the full-time starter with Nelson out for the season because of a shoulder injury. BYU ranks an uncharacteristic 91
st
in the country in total offense, and 86
th
in passing offense. The Cougars are only averaging 4.98 yards a pass attempt, third-worst in the country behind Akron and UCLA. The defense was equally as disappointing, and Mendenhall fired coordinator Jamie Hill last week and took over his duties. The team played better in a win over San Diego State last week, but the Cougars are in a fight to make it to a bowl game.
Offensive MVP, RB JJ Di Luigi:
The most consistent player on offense, Di Luigi leads the team in both rushing and receiving. He has 508 yards and four touchdowns on the ground, and 285 yards and one touchdown receiving. The fact that the leading receiver on the team has just 285 yards through six games should tell you about the few offensive highlights so far.
Defensive MVP, FS Andrew Rich:
There haven't been many standout performance. Two other nominees – DT Romney Fuga (knee) and LB Jordan Pendleton (knee) are out. Rich has provided veteran leadership and leads the team with 59 tackles and two forced fumbles. He also has three tackles for loss, and played last week despite being hurt.
October, 10, 2010
10/10/10
10:30
AM ET
It was a big weekend for the non-AQs. Here is a little of what we learned:
Boise State, TCU and, yes, Utah, are very much in the hunt for the national championship.
The dominoes slowly started to fall on Saturday, when No. 1 Alabama lost to South Carolina. That puts the three non-AQ teams in better position today than last week to make a run at a national championship. The only way any of them can get in is for the undefeated teams from power conferences to lose. Plenty more has to fall in their favor, but that one is hugely important. Of course, they have to run the table, too. Boise State looked good once again. So did TCU and Utah. A big showdown looms in Salt Lake City on Nov. 6 between the Horned Frogs and Utes. The Broncos still have Nevada, and surging Hawaii could pose a problem. As long as those power conference teams lose, all three have a shot. An outside shot, but a shot.
Style points? We've got your style points right here.
Boise State beat Toledo 57-14, TCU beat Wyoming 45-0 and Utah handled Iowa State 68-27, impressive margins of victory indeed. I still hold the premise that style points will not matter this year, but it doesn't hurt when the top three non-AQ teams win handily. TCU posted back-to-back shutouts for the first time in 55 years, while Utah overcame an early 14-10 deficit and scored 31 points in the second quarter to blow out the Cyclones. The Utes now have 21 wins over teams from automatic qualifying conferences, tops in the nation. Boise State now has the longest winning streak in the country at 19 games. The Broncos last lost to TCU in the 2008 Poinsettia Bowl.
[+] Enlarge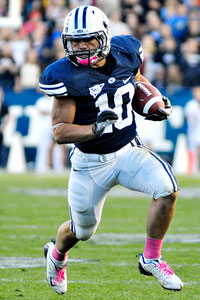 Boyd Ivey/Icon SMIJJ Di Luigi rushed for 134 yards and a score as BYU got back on track Saturday.
A heart beats in Provo.
All week, BYU coach Bronco Mendenhall said he wanted to find the heart of his team, which was flailing at 1-4 following four straight losses. He found something on Saturday night -- a grind-it-out, aggressive, attacking team that held off upstart San Diego State 24-21 to lift spirits and momentum. Mendenhall fist pumped as he left the field to chants of, "Bronco! Bronco!"
JJ Di Luigi
carried the offense, rushing for a career-high 134 yards as part of a 271-yard effort on the ground. The Cougars controlled the clock for 45 minutes. They came into the game as the worst ranked rushing team in the country but shut down
Ronnie Hillman
and the Aztecs, holding them to 53 yards on the ground. "We needed this win," BYU quarterback
Jake Heaps
said.
Conference USA race could come down to UCF, East Carolina and SMU.
The Knights easily beat UAB 42-7 earlier in the week, and SMU is 4-2 for the first time since 1986 after beating Tulsa. Then there is East Carolina, the most heart-stopping team to watch in Conference USA. The Pirates trailed 20-0 after the first quarter against Southern Miss, but unleashed their comeback magic once again, when
Dominique Davis
threw the game-winning touchdown to
Michael Bowman
with 4:36 remaining to win 44-43. The Pirates are 3-0 in the conference. Two of those were come-from-behind wins in the fourth quarter.
Northern Illinois is setting up for a title run.
The Huskies had an impressive 31-17 win over Temple to emerge as the favorite to win the MAC title. The Huskies have averaged over 440 yards of total offense since
Chandler Harnish
became the starting quarterback in the second game of the season. Northern Illinois had a nice, balanced attack to beat the Owls, getting 211 yards passing and 209 yards rushing.
Chad Spann
hit 100 yards rushing for the third time this season, and Harnish completed 80 percent of his passes for the second straight week.
October, 8, 2010
10/08/10
10:00
AM ET
BYU made its triumphant announcement on the eve of this college football season, deciding that it would blaze its own trail and go independent.
The news was met with mixed reviews. Some wondered how a program with a limited national following, a program that had never played in a BCS bowl game, could pull this off. Others pointed to its hubris and arrogance, figuring the move was doomed to fail.
For those loyal to BYU, the move made perfect sense. The Cougars had been transformed back into a contender under coach Bronco Mendenhall, winning 10-plus games the past four seasons, including conference titles in 2006 and 2007.
They had the fan base and wherewithal to make the move work. Another winning season would silence all those doubters.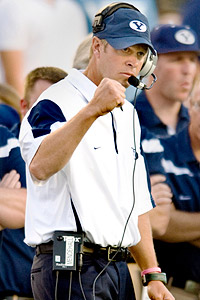 Douglas C. Pizac/US PresswireBronco Mendenhall and the Cougars are now scrambling to turn their season around and qualify for a bowl game.
Instead, the triumph of the preseason has been met with heartache during the season, and plenty of head scratching. BYU has lost four straight, is 1-4 for the first time since 1973 and in a fight to become bowl eligible.
Mendenhall has seemed unsure and unsteady in the face of his biggest challenge as a head coach, waffling between starting quarterbacks and taking a backseat as his coaches made many of the decisions surrounding his team. He had finally seen enough after an embarrassing loss to Utah State last week, an in-state rival it had absolutely dominated.
With his team hanging on the precipice, he fired defensive coordinator Jamie Hill and is now in charge of the defense. He spoke this week of wanting to find the heart of this team heading into a huge game against San Diego State on Saturday, of needing to be more involved in teaching and guiding his inexperienced players.
But are these moves too little too late? And how does a poor season impact going independent beginning next year?
Nobody wants to talk about next year, not when so much is on the line in 2010. The last time BYU finished with a losing record was 2004, going 5-6 in the final season under Gary Crowton. Mendenhall went 6-6 in his first season, but said this week he has learned more this year than in his five previous seasons combined.
"I've learned that winning a college football game is meaningful and it takes a lot of work," Mendenhall said. "Sometimes when you win 11, 11, 10 and 11, you almost take for granted all the work that goes into winning a game.
"Sometimes you take for granted the effort the players put in, the diligence in doing extra. Sometimes you take for granted the real diligence of everyone on your staff really doing their very best to help the team achieve. And sometimes you just take for granted experienced players. With that comes a lot of introspection and a lot of things on how you can continue to improve the program regardless of the team you have in any given year."
The struggles in Provo have been well documented already this year. The Cougars rank No. 96 in total offense, practically unheard of at a school that thrives on its passing attack. Mendenhall began the year rotating
Riley Nelson
and
Jake Heaps
. But Heaps is now the full-time starter after Nelson went down with a season-ending shoulder injury.
There were plenty of holes to fill, and everybody realized that, what with Max Hall, Dennis Pitta and Harvey Unga gone. But BYU had always been able to reload quite easily. Perhaps Mendenhall figured that would happen again.
Meanwhile, the defense ranks last in the country against the run, and is No. 101 in total defense. There is no question the start to the season has been incredibly difficult. But BYU lost to an Air Force team it had beaten six straight times going into the season, and lost to a Utah State team it had defeated 10 straight times.
"We're tired of losing," said running back
JJ Di Luigi
, who has been the best player on offense. "We know where we can be and we know what we have to do to get there and what's in front of us."
So why the sudden morale boost?
"Self pride," he said.
"Being 1-4 here at BYU is not acceptable," said linebacker Shane Hunter. "We know we're a better team than that, and we know we needed to step up our performance."
Especially with more than wins on the line.
Whether BYU wants to admit it or not, its national rep is hanging in the balance, too. Independence brings another set of expectations, fair or not.
"We definitely have faced a lot of adversity, but I think that will make us stronger," Hunter said. "If we learn to overcome these challenges, that's going to make us a better team and it's going to help us in the long run."
January, 26, 2010
1/26/10
11:59
AM ET
National signing day is just about a week away and there are several non-AQ teams that will be looking for the next great player to help their team to a conference championship or even a BCS bowl. The non-AQs are notorious for finding diamonds in the rough, but most teams are just looking to plug holes for positions depleted by graduation and the NFL Draft. Here's a quick look at the non-AQ's top areas of concern for this year's class:
BYU

Defensive line:
The Cougars took some big hits on the defensive line this year with the graduation of star end Jan Jorgensen and nose tackle Russell Tialavea. There's some depth there for the Cougars, but it didn't contribute much this season.
Linebackers:
BYU graduates all of its starting linebackers from 2009 and the Cougars will have three seniors starting in that unit next year. The linebacking corps was a great strength for BYU in 2009 and building it back up will be the highest priority.
Running back:
Star running back
Harvey Unga
is returning for his senior year and the Cougars will have two talented juniors in JJ Di Luigi and
Bryan Kariya
, but beyond that there isn't much help. The Cougars have gotten used to rotating a few guys in the backfield, so adding some young talent will allow that trend to continue.
TCU

Wide receiver:
The Horned Frogs had a lot of success spreading the ball around to several different receivers this past season, but enter 2010 with six seniors on the wide receiver depth chart, including playmaker
Jeremy Kerley
.
Secondary:
The secondary loses both of its corners this season and will have three seniors starting next year. The secondary has been one of the few weak spots of the defense in the past, so shoring that up will be a major priority.
HOUSTON

Offensive line:
The O-line loses senior center Carl Bennett, but will have three senior starters in 2010 and many of the players on the depth will be seniors as well. With as potent as the Houston offense is, finding players to step in right away is a must.
Quarterback:
Star
Case Keenum
is a senior and backup
Cotton Turner
is a junior. It would be good to get a couple young quarterbacks in to learn the system and have the benefit of learning from Keenum, who has essentially become the offensive coordinator on the field.
Athletes:
In Houston's offense, guys with great hands will be rewarded. The Cougars need athletes at both receiver and in the secondary and that should be a big focus in this class.
FRESNO STATE

Wide receiver:
All of Fresno State's starting receivers are gone, including leader
Seyi Ajirotutu
. Ajirotutu was a dynamic player and finding someone to replace him, especially with a couple young quarterbacks waiting in the wings, should be the top priority in this class.
Secondary:
The Bulldogs lose four seniors from the secondary and will lose two more in 2010. The secondary actually was the strength of an otherwise poor defense and the Bulldogs will want to continue to build on that momentum.
Running back:
With
Lonyae Miller
lost to graduation and
Ryan Mathews
leaving early for the draft, Fresno State was left scrambling for some depth at the running back position. Running back has long been the strongest position for the Bulldogs and finding a back to complement sophomore
Robbie Rouse
would be key.
SAN DIEGO STATE

Linebackers:
The linebacking corps was the strength of the Aztecs last season and with defensive coordinator Rocky Long's 3-3-5 scheme, it probably will be the strength for some time. SDSU graduated three linebackers and will have two seniors on the depth chart next year.
Hybrid:
The SDSU 3-3-5 defense uses a Warrior and Aztec position as its hybrids and finding the right athletes to play those spots will be key. Long used what he had last year, but with a full recruiting year under his belt, he should be able to find players that are specifically tailored to fit that hybrid role.
SMU

Running back:
With
Shawnbrey McNeal
opting to leave early for the draft, the Mustangs will need a couple running backs to keep that a viable position on the team. McNeal was coach June Jones' first 1,000-yard rusher and his presence took a lot of the pressure of the young quarterbacks.
Athletes:
All-everything player
Emmanuel Sanders
is gone and the Mustangs don't really have anyone to fill his role immediately. The run-and-shoot offense is successful because of playmakers and finding some of those players in this class will help SMU continue its winning ways.
SOUTHERN MISS

Running back:
The Golden Eagles picked up running back
Kendrick Hardy
in the last recruiting class, but he didn't do enough to unseat the guys who were already on the two-deep. Coach Larry Fedora has gotten a big-name kid each season he's been with Southern Miss, and with his top two running backs lost to graduation, that could be where he strikes next.
Offensive line:
Southern Miss lost four starters off the offensive line and could lose three more after 2010. There are some competent guys waiting in the wings, but they need to start building that depth now.
UCF

Offensive line:
The Knights lose two offensive linemen this year and will lose three next year, so adding more players to that unit in this class has become a priority. The O-line struggled mightily last season with 2.54 sacks allowed and the rushing offense ranked 82
nd
in the country.
Defensive line:
Similar to the offensive line, the Knights defensive line also will need some fresh faces. The defensive line was a major strength in 2009 and should be again in 2010. After that, the Knights will need the youth to start contributing.
Playmakers:
The UCF offense was better this year than it was a year ago, but it still wasn't good enough to be a consistent threat in Conference USA. The Knights need to find some offensive playmakers to really push this team to the forefront of the conference again.
UTAH

Quarterback:
Sophomore
Jordan Wynn
is the future of Utah, but he doesn't have a lot of depth behind him.
Terrance Cain
will be a senior in 2010, so the Utes will need a couple more bodies to provide a push for Wynn and some much-needed depth.
Secondary:
The Utes lose five seniors off the secondary two-deep and while there is some young talent there, the secondary has consistently been the Utes best unit and much of that has been because of the ability to develop young players.
Running back:
This position has consistently been riddled with injuries for the Utes and so stockpiling a few running backs, especially with both
Eddie Wide
and
Shaky Smithson
entering their final seasons, wouldn't be a bad idea.
BOISE STATE

Athlete:
Boise State lost one senior starter this year, so the Broncos needs aren't as great as most other teams around the FBS. However, this squad can never have too many athletes. The secondary could use a little help, as could the receiving corps, which is riddled with young players.
Quarterback:
Kellen Moore
will be a junior next season and backup Michael Coughlin will be a senior. With
Joe Southwick
still a freshman, the need for a new quarterback isn't pressing, but it might be good to get someone in to learn the ropes and give Southwick a challenge in a couple years.
MARSHALL

Quarterback:
The quarterback position hasn't been the strong point of Marshall's offense in quite some time, so finding a guy who can be a difference maker is key. Both
Brian Anderson
and
Press Taylor
will be seniors in 2010, so finding a young quarterback to challenge in this class would be the right move.
Wide receiver:
Marshall's leading receiver for most of last season was its now graduated tight end. While there is a lot of freshman talent on the two-deep, Antavious Willson was the only one that really made a lasting impression. If new coach Doc Holliday could get some high-level receiving talent, it would make his quarterbacks look better than they are.
Defensive line:
The Herd lost three seniors this season and will have four on the depth in 2010. Marshall's defense was one of the best in conference play and the reason why it was able to play in and win a bowl game.