November, 11, 2014
11/11/14
8:30
AM ET
I have grave news to bring you. The College Football Playoff selection committee is biased.

Yes, the 12-member panel tasked to solve the nation's problems choose the sport's first four-team playoff includes people with real-life experiences, likes and dislikes.

Some of them, apparently, have ideas about the way the game ought to be played and coached.

Take a deep breath and remember, this is what we wanted.
April, 28, 2014
4/28/14
1:33
PM ET
The SEC traditionalists can take solace.
The
eight-game league schedule will remain in place
, as well as the permanent cross-divisional foes. That means Alabama and Tennessee will continue to play every year along with Auburn and Georgia, two of the SEC's most tradition-rich rivalries.
For those of us who've been entrenched in this league for decades or more, saving those rivalries certainly makes sense.
But not at the cost of creating competitive disadvantages and denying players and fans the opportunity to face (or see) every team in the league at least once in a four-year span.
[+] Enlarge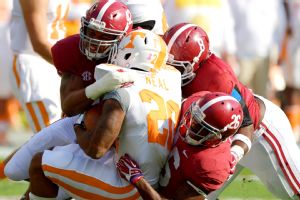 John David Mercer/USA TODAY SportsThe Alabama-Tennessee cross-divisional rivalry will remain a yearly fixture in the SEC.
In that regard, the presidents and chancellors got it wrong.
It's a fact that whatever scheduling format the SEC settled on wasn't going to please everyone. A few wanted a nine-game league schedule, others weren't crazy about permanent foes, and there were some who liked it exactly the way it is.
Ultimately, a nine-game league schedule would allow for the most flexibility, the most balance and still give teams a chance to go out and play a marquee nonconference game.
Alabama athletic director Bill Battle said it best at the SEC spring meetings in May 2013.
"I think we need to play 10 quality games because our fans are going to get tired [of going to games with lesser opponents]," Battle said.
When's the last time the fans really mattered?
As SEC commissioner Mike Slive noted Sunday, tradition matters in this league. And he's right. It does.
But the landscape has also changed dramatically in this league over the last 20 years.
Since the days of Herschel Walker, Bo Jackson and Archie Manning, the SEC has added four new teams. South Carolina-Missouri is now a conference game. So is Arkansas-Texas A&M.
The league has been split into two divisions with a title game between the two divisional winners determining the champion. Teams wear gray jerseys, black jerseys ... even specially themed jerseys.
And occasionally, a team that doesn't even win its division has been known to win the national championship.
College football has changed, and if Alabama and Tennessee don't play every year, it's not going to ruin everything that is sacred about the SEC.
Alabama and Florida, two of the heavyweights in this league, have played all of six times in the regular season since the league split and expanded in 1992. What about Auburn and Tennessee? That game was once a fixture. It would be nice to see Georgia and Alabama play more often in the regular season than once every blue moon. The same goes for Auburn and Florida.
[+] Enlarge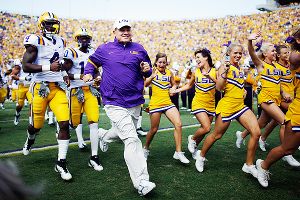 Chris Graythen/Getty ImagesLes Miles and LSU will continue to play Florida every year, a fact that could create scheduling imbalance within the SEC.
Beat up on Les Miles all you want. But given the way Tennessee has struggled much of the last decade, Alabama playing Tennessee every year isn't quite the same as LSU playing Florida every year.
This league has always been cyclical, and at some point, it's reasonable to think that cycle will turn back. But LSU athletic director Joe Alleva has a point, no matter who he might have ticked off with his comments Sunday night.
"I'm disappointed that the leadership of our conference doesn't understand the competitive advantage permanent partners give to certain institutions," Alleva told the New Orleans Times-Picayune. "I tried to bring that up very strongly at the meeting. In our league, we share the money and expenses equally, but we don't share our opponents equally."
It's worth noting that LSU's opposition to playing Florida every year has been much more boisterous than Florida's in having to face LSU every year. In fact, Florida athletic director Jeremy Foley likes having a big-gate opponent such as LSU coming to the Swamp every other year.
So, again, different strokes for different folks.
Alleva's assertion that schools voted for their own "self-interest" over "competitive balance" can't be argued. Sure, Ole Miss and Vanderbilt are content with playing each other every year. The same goes for Kentucky and Mississippi State. Why trade one of those schools for an Alabama, Georgia or LSU every couple of years if you don't have to?
Something says there's also a tinge of self-interest in Alleva's concerns. Just a smidge, maybe.
At the end of the day, if the league was determined to stick with eight conference games, the fairest way to have structured it would have been to adopt a 6-0-2 format -- six divisional opponents and two rotating cross-divisional opponents.
But as that wise (young) sage, Steve Spurrier, said, "There's nothing fair about college football."
April, 28, 2014
4/28/14
11:00
AM ET
Once again, the SEC knows what it's doing when it comes to protecting its product.
Sunday's announcement from the league that teams will continue to play eight conference games while
adding an annual nonconference game against a power conference
is another good idea, as the SEC gets ready to enter the college football playoff era.
With the new playoff committee taking strength of schedule into consideration when deciding on the four teams that will make up the playoff, SEC commissioner Mike Slive wanted to take appropriate measures to make sure his league has every opportunity to fill one, or even two, of the spots. It doesn't matter that the SEC has won seven of the past eight BCS national titles, the committee's job will be to be as thorough as possible when selecting teams. Slive -- and the rest of his SEC partners -- made sure strength of schedule wasn't an issue.
[+] Enlarge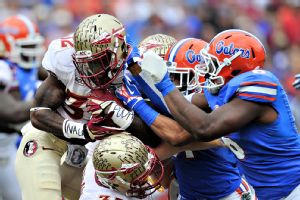 Steve Mitchell/USA TODAY SportsSEC teams such as Florida (FSU) and South Carolina (Clemson) already have huge games annually with a team in another power conference.
"The concept of strength of schedule is based on an entire 12-game schedule, a combination of both conference games together with nonconference games," Slive said in a release Sunday. "Given the strength of our conference schedule supplemented by at least one major nonconference game, our teams will boast of a strong résumé of opponents each and every year."
Translation: We aren't going to be left out.
I think it's pretty safe to say that way more often than not, the SEC is going to get its conference champion in the four-team playoff. Its past speaks for itself, making it very hard to keep the champ from earning a shot at winning the national title. But we also know that nothing is a given in this world, so the league acted.
This will now (thankfully) take away one of those cupcake games used to pad stats and force all 14 teams to step out of their comfort zone each season to face a tougher out-of-conference opponent. It not only makes teams' résumés stronger, it makes for a much better product for fans and players.
The addition of a stronger nonconference foe means the SEC didn't have to worry about a nine-game conference schedule. Another good move.
While playing nine makes the league that much tougher and allows players to see every school in the league during a four-year career, it makes winning the SEC, well, that much tougher. And this is a product that isn't broken. The SEC went to the final eight BCS title games, all with only eight conference games during the regular season.
Why change that? Why beat up your title contender even more?
A nine-game conference slate would mean that the SEC champion would play 10 conference games
before
the playoff. That's a lot of wear and tear on your prized fighter.
What will have to be looked at on a more consistent basis is the rotation of the one non-division opponent for teams. It's clear that in the past few years there hasn't been much balance in that department, and LSU athletic director Joe Alleva, who sees Florida every year as the Tigers' permanent crossover opponent, isn't happy:
"I'm disappointed in the fact that the leadership of our conference doesn't understand the competitive advantage permanent partners give to certain institutions," Alleva told the New Orleans Times-Picayune on Sunday. "I tried to bring that up very strongly at the meeting today. In our league we share the money and expenses equally, but we don't share our opponents equally.
"Since 2000 LSU has played Florida and Georgia 19 times and Alabama has played them eight times. That is a competitive disadvantage. There are a lot of other examples."
We have to remember that this is a cyclical sport, but I think you'll start seeing the league pay attention to this more when assigning the rotating team.
Overall, the SEC got it right with its new scheduling format, as it prepares for life outside of the BCS.
April, 12, 2013
4/12/13
6:03
PM ET
Former
LSU
cornerback
Tyrann Mathieu
is
disputing a USA Today Sports report
that has a quote attributed to him from an unnamed NFL assistant coach about failed drug tests.
The assistant coach
told USA Today
that Mathieu was asked how many drug tests he failed in college and that he replied that he "quit counting at 10."
Mathieu contacted LSU Friday and disputed the report:
"It is irresponsible and shows a lack of integrity for anyone to disclose medical information regardless of how it was gathered. I would expect that conversations regarding my drug testing history during the course of my medical treatment would be private. LSU has a strong drug testing program and LSU went to great lengths to help me in my treatment and recovery. I understand that many people enjoy reading about the negative side of sports, but to publish those second-hand comments without being given a chance to address that comment prior to the publication of the article is irresponsible."
This could also be quite an ordeal for LSU if Mathieu did in fact fail more than 10 drug tests. LSU athletic director Joe Alleva acted quickly and defended LSU's substance abuse program:
"LSU has a strong substance abuse program that tries to identify and assist in the treatment and long term recovery process of drug use and abuse, and it is a program we would put up against any in the country. Once a substance abuse problem is identified, LSU is diligent in tracking those individuals over extended periods of time with frequent testing and engages them in meaningful opportunities for support through counseling and substance abuse treatment."
Mathieu's history of substance abuse has NFL teams apprehensive about drafting him, but he did sound sincere at February's NFL combine when he talked about about how he had changed his lifestyle through rehab. However, this certainly isn't something Mathieu needed a week before the NFL draft. Whether it's true or not, some NFL teams could still be concerned about the prospects of drafting Mathieu.
May, 30, 2012
5/30/12
7:15
PM ET
DESTIN, Fla. -- My how quickly things can change when you get a lot of people with different ideas together in one room.
Hours after the consensus was that the SEC was set on moving to a 6-1-1 scheduling model beyond the 2012 season, some SEC coaches stepped in and gave their thoughts.
Now, it appears as though the model that SEC commissioner Mike Slive described as the "frontrunner" before the 2012 SEC spring meetings now has come competition.
[+] Enlarge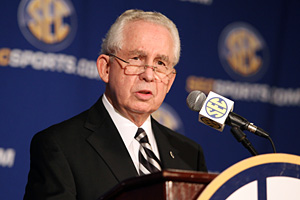 AP Photo/ Butch DillSEC commissioner Mike Slive said he aims to have a format for future league scheduling on Friday.
A 6-2 model, which has two rotating cross-division opponents, was brought up and so was the idea of having some schools rotate crossovers, while others could preserve their permanent crossover rivalry. Even a nine-game conference schedule was discussed, though the current feeling is that it has little traction.
"We had a vigorous discussion," Slive said Wednesday. "It was good. Coaches, I thought were really impressive. They came in and they were very thoughtful. It was a sharing session with our athletic directors and looking, thinking about the various different formats and the pros and cons."
There are people on both sides, but the feeling coming out of meetings in Phoenix was that the preference was to go with a 6-1-1, Ole Miss athletic director Ross Bjork said. That gave teams six divisional opponents, a permanent crossover and a rotating crossover, which would change each year.
Bjork said he's for the 6-1-1, but only if it preserves Ole Miss' permanent crossover game with Vanderbilt. However, Bjork said there was discussion of trying to change the way permanent crossovers are determined, which Bjork doesn't like.
"If they end up changing that, then 6-2 might be more advantageous for us," he said. "But right now, going into it, 6-1-1 is [Ole Miss'] preference."
One AD not in favor of keeping the 6-1-1 model is LSU's Joe Alleva, who is also looking to take Florida off as LSU's permanent East opponent -- a game that's been played every year since 1971. Alleva prefers the 6-2 model, which creates two rotating crossovers. He believes it's the "fairest and most equitable way to do it."
"Anybody who doesn't vote that way is simply voting in the best interests of their institution," Alleva said, "not the best interests of the conference."
A 6-1-1 keeps traditional rivalries like Alabama-Tennessee, Georgia-Auburn and Florida-LSU, and Alleva still believes that model will prevail.
"As of right now I think that's probably what's going to happen," he said. "I think there's going to be some more discussion to go to a 6-2 model, but I don't think there's enough votes in the room for a 6-2 model.
"Even though it's unfair and inequitable, I think it will still pass."
Alleva said he believed there was a vote of 11-3 for keeping permanent opponents and that South Carolina and Texas A&M sided with LSU on the 6-2 idea.
For some it's coming down to competitive equality and for some it comes down to preserving rivalries.
"When you play a team a hundred years in a row or something like that, that's a rival game," said Georgia coach Mark Richt, who said he'd like to keep Auburn as a permanent crossover opponent. "That's been happening forever and that's something you want to protect. But there's some schools that cross over and it's considered a rival game, but is it really a rival for them?"
Slive made it clear that his hope is to have a concrete format down Friday. Right now, the 6-1-1 still appears to lead, though other ideas are now on the table. You very well could see a delay in this if the 6-1-1 loses support, and it might be better for the league to hold off on making a definitive decision for the moment.
Maybe waiting to see how the 2012 season plays out is an option. Besides, the 2012 model wasn't set until late December of 2011.
With two new teams coming in, so much is changing so fast for the league. Those schools have to be accommodated for and it affects things like scheduling and TV contacts. These things take some time and cause some headaches along the way.
There are obviously people on both sides who feel very strong one way or the other, but if what seemed like a no-brainer before has turned into a more complicated issue after just a few hours of talks with coaches, then maybe the league should slow down.
The good news is that league officials will have Thursday off to clear their heads and think. Thursday's down time will be the most important time for people to sit and collect their thoughts after two days of meetings.
The 2013 schedule -- and beyond -- will be completed. One way or the other, the SEC will figure things out. It could come as soon as Friday or it could come later in the month of June. People clearly aren't on the same page and it's stalling compromise.
But Slive, who seems to hold so much college football power in just his pinky, made a very good point Tuesday. He knows there are strong opinions in the league, but he also knows that more voices can be more powerful.
"One thing in this league you can trust -- and you know if you follow the league -- is that the First Amendment is alive and well and the majority rules," he said.
July, 26, 2011
7/26/11
7:01
PM ET
Tennessee could be very close to finding its new athletic director.

Sources told ESPN.com that LSU athletic director Joe Alleva has emerged as Tennessee's top target to
replace Mike Hamilton as the Volunteers' AD
.
The sources said Tennessee is looking to complete a deal with Alleva that could be announced Wednesday.
Alleva joined LSU in April of 2008 after spending 11 years as Duke's AD. Alleva's role at LSU was further expanded in August of 2009 when he was also named vice chancellor by the LSU Board of Supervisors. It was the first time in school history that the AD also held a vice chancellor position.
Alleva was recently appointed to a five-year term on the NCAA Men's Basketball Committee, as well.
When he arrived at LSU, Alleva unveiled a plan for the LSU athletics program known as "LSU: Thru and True." The plan was devised to "ensure the advancement and future of LSU athletics as an exemplary program" and to "create an environment for student-athletes to reach their ultimate potential, prepare them to be champions in life and to set out goals and values for the entire athletics program."