August, 14, 2012
8/14/12
12:23
AM ET
The Big East does not have a new leader yet, but one key name is not in the mix.

Notre Dame athletic director Jack Swarbrick told ESPN.com late Monday night that he will not be the conference's next commissioner.

"I am not and never have been a candidate for the job," Swarbrick said in an email.

Eighteen of the Irish's 21 varsity sports currently reside in the Big East, with football, hockey and fencing being the exceptions.

Swarbrick's name had reportedly emerged late Monday night.

The Big East has been looking for a full-time commissioner since John Marinatto resigned from the post May 7. Joe Bailey has served as the interim commissioner.
August, 13, 2012
8/13/12
3:00
PM ET
The Big East hired Bevilacqua Helfant Ventures to be the lead negotiator in the league's upcoming television negotiations, the conference announced Monday.

Bevilacqua Helfant Ventures has most recently negotiated contracts for the Rose Bowl and Pac-12, which launches its own 24-hour network this week. The Pac-12 deal, worth $3 billion, has been hailed as a precedent-setting venture.
In addition, the group has negotiated deals for Major League Baseball teams and other professional leagues.
"If one believes that past performance is the best predictor of future performance, we have tremendous confidence in our selection of Chris Bevilacqua to be our lead negotiator," interim commissioner Joe Bailey said in a statement.
Co-founder Chris Bevilacqua, who led the media negotiations for the Rose Bowl and Pac-12, founded CSTV in the early 2000s. CSTV was the first 24-hour cable television network dedicated to college and amateur sports. CSTV was purchased by CBS and now is the CBS Sports Network.
Evolution Media Capital (EMC) will be assisting Bevilacqua Helfant Ventures with the negotiations.
Big East fans should be encouraged with this news. I can tell you I have heard nothing but rave reviews about Bevilacqua, particularly the work he was able to get done in the Pac-12 deal. The Big East is in major need of help in selling itself, and making itself as marketable as possible during this critical time. Also keep in mind, a new commissioner has yet to be hired, though the Big East does want one in place by the end of August.
TV negotiations begin in September with ESPN, which has an exclusive 60-day window. If no agreement is reached, then the Big East is free to begin negotiating with other networks.
July, 16, 2012
7/16/12
9:00
AM ET
Here is a quick preview of Big East media days this month.
Dates:
July 30-31
Location:
Newport, R.I.

Big names in attendance:
Pitt RB
Ray Graham
, Rutgers LB
Khaseem Greene
, Pitt DT
Aaron Donald
, UConn DE
Trevardo Williams
, USF QB
B.J. Daniels
.
Big names not in attendance:
Louisville QB
Teddy Bridgewater
, Louisville S
Hakeem Smith
, Syracuse QB
Ryan Nassib
(family obligation), Pitt QB
Tino Sunseri
, Cincinnati QB
Munchie Legaux
.
What to expect:
1. State of the Big East:
I can all but guarantee interim commissioner Joe Bailey is going to put on the hard sell about the merits of the Big East, especially with its incoming members. He has to, considering this is probably the only time all year there will be national media members in attendance to hear what he has to say, and to hear what the league's players and coaches have to say. My biggest hope is that he does a better job than he has in recent interviews. The Big East has to really come out swinging, particularly with TV negotiations to begin in September.
2. Last year of current Big East:
I can also guarantee Pitt and Syracuse are going to be fielding questions about whether this is their last year in the league, and how that makes them feel. Are they concerned about that? Do they think they will be bigger targets because they are departing? Neither team had representatives at the recent spring meetings, so you have to think both are going to be in an awkward spot in Newport, with one foot in the door and another foot out.
3. Playoff:
The hottest topic of the offseason is sure to be addressed by every coach at media days, along with Bailey and even senior associate commissioner Nick Carparelli. The league has done its best to spin the playoff as a positive in all directions. I think it is a positive that there is a four-team playoff, but I also think it's a negative the Big East is losing its guaranteed spot in a major bowl.
4. Divisional alignment:
The league is expected to vote on and announce its division alignment starting with the 2013 season, when six new members come into the league (Boise State, Houston, Memphis, San Diego State, SMU, UCF). The
three models
under consideration are North-South, East-West or non-geographic.
5. TV questions:
You can bet representatives from all the TV networks interested in bidding on the Big East are going to be there, the way they were a year ago. Only now, there is a much bigger sense of urgency because of questions about the future of the league and whether it can match the deal it turned down from ESPN last year.
6. Ray Graham:
I am actually surprised to see Pitt is bringing Graham, because he is going to be bombarded with questions about his knee. I have to think Pitt is extremely confident in what he has done during the rehab process to bring him along. In every interview I have done with Graham, he has been a class act, so I am sure Pitt believes he will handle himself appropriately when all the queries come his way.
7. Louisville:
Even though Bridgewater won't be there, coach Charlie Strong is sure to field plenty of questions about his starting quarterback. Bridgewater has made the leap into the national spotlight with his name being on the watch list for the Maxwell Award, given annually to the best player in college football. Strong is sure to be asked how Bridgewater avoids the clichéd "sophomore slump" and how his young team deals with increasing expectations.
8. Favorites?
Along those lines, the Big East appears to be wide open once again, so coaches are going to be asked about the competitive nature of the league. You can also bet that USF coach Skip Holtz is going to be fielding questions about how his team breaks the mold and lives up to expectations.
July, 10, 2012
7/10/12
10:31
AM ET
Mention Notre Dame to any Big East football fan, and wait for the grumbles.
What sticks in their craw most is the way they are a part of the league. Any Big East fan knows if Notre Dame ever decided to join for football, the league would be saved. Instead, there is a quasi-partnership that does the Big East absolutely no favors in football. Notre Dame just sits out there on the horizon, taunting football -- in more ways than one.
That includes the bowl partnership that allowed Notre Dame to be taken over a Big East team for the Champs Sports Bowl last year.
That may now also include a bowl partnership with the Orange Bowl, allowing the Irish to secure a tie-in to one of the six major bowls in the new postseason format beginning in 2014.
Notre Dame confirmed it was in talks with the
ACC and the Orange Bowl
about a potential matchup, should the Irish qualify for one of the elite bowl games without making the four-team playoff. That has got to sting the Big East, the only one of the major conferences without a tie-in to one of the high-level bowl games.
While interim commissioner Joe Bailey has been on a media blitz the last week, saying he
was not concerned
about access to the elite-level games, it seems pretty clear there are not going to be many opportunities for the Big East to be guaranteed a spot. A league that has had some excellent Top 10 finishes adds in Boise State -- the only team to finish in the Top 10 in the final BCS standings the last four seasons.
Yet it is the ACC that automatically gets into the Orange Bowl with its
recently secured guaranteed tie-in
. Or maybe even a qualified Notre Dame, a team that last went to an elite bowl game in 2006.
That was the last time Notre Dame posted a 10-win season. Just for fun, let's take a look at all the Big East teams that have won 10 games between 2006 and today, with the number of times they have hit double digits. I am including the new members.
Boise State: 6
Cincinnati: 4
Houston: 4
UCF: 2
Louisville: 1
Navy: 1 (football only in 2015)
Rutgers: 1
Those stats should speak for themselves. But they don't. The Big East has to continue to sell, sell, sell.
July, 6, 2012
7/06/12
2:00
PM ET
Much of the talk this week has centered on the ACC renewing its partnership with the Orange Bowl and what that means for the Big East.
As it stands today, the Big East is the only one of the top tier conferences without a bowl tie-in moving forward into the future four-team playoff/six elite-bowl game format for the 2014 season. While that has given some cause for concern
when it comes to access
, interim commissioner Joe Bailey said in an interview Friday that he
had no concerns
about the Big East's place in the postseason come 2014.
Here is what he had to say.

How can you guarantee a Big East team will get into one of the six elite bowl games without an automatic tie-in?
JB:
No. 1, the decision was made to create a selection committee, so whoever will be on that selection committee will no longer watch teams once or twice a year. They will be focused on these teams constantly. The measure of competency of teams, in my opinion, will be much more accurate and it will be based on meritocracy, not necessarily AQ, or IQ or EQ. That is all you can really hope for. The second piece is that there has been an additional bowl that has been added. That opens up two more slots. This is a conference that really plays very good football, and if it's based on meritocracy, then we will be able to do as well as anybody else. That's No. 1.
This relationship with the bowls that other conferences have, they've always had them. We've always felt that at the end of the day, even though there was AQ status, you wanted to play well and earn your way into a bowl, and not necessarily be anointed. Based on the meritocracy, we feel pretty good that quite a number of teams based on our historical performance level will mean the conference will be absolutely fine. I prefer to judge our ability to play and perform and compete based on meritocracy [not] based on some sort of anointment.
Let's go on meritocracy, then. The Big East has outperformed the ACC over the past seven years when it comes to teams finishing in the Top 12 of the final BCS standings. Yet it is the ACC that has an automatic tie-in to the Orange Bowl, while the Big East has no tie-in right now.
JB:
The best way to say this is that most schools and then most conferences have peaks and valleys. Sometimes you perform well over a period of time, and other times you go down a little bit. Not too many schools and/or conferences are at the top for a very long period of time. I'm just not good enough at looking at a crystal ball to predict how well the ACC is going to do. All we can be conscious about is how the Big East competes, and how many quality programs we've got, and focus just on that, and let the other things happen, and those are things right now that are out of our control. All we can do is bank on the notion that the schools that are in the Big East are going to perform quite well and earn their way into not only (the elite bowl games) but into the Top 4 also."
Right now, it appears the Big East must be held to a higher standard: finish in the Top 12 or risk getting left out. Other conferences could have an unranked conference champion and still get into a high-level bowl game.
JB:
We do know it was made perfectly clear that winning your conference was going to be awfully important in terms of determining where you're going to go. Whether we would love to say all the winners would get in or not … all we're really doing is guessing how it's going to work, and from our perspective, clearly we're going to have a voice in all of that as we continue to discuss this stuff. There's going to be a series of future meetings.
Can you say right now whether the Big East will end up with a tie-in to one of the six elite bowl games?
JB:
We have to first figure out what the other bowl games are, and then we'll cross that bridge once that is determined. Right now, we're more focused on where we stand in terms of the topic of access and revenue distribution. I'm not in a position to tell you what's going to happen in the future with relation to other bowls.
We were told automatic qualifying designation was going away in the future postseason system, but five conferences now have automatic tie-ins to the elite bowl games. What is the Big East's response to that?
JB:
The issue is these things have been in existence for a long time, so they fall outside the purview of this group, so you have to live with them, because they're special contracts that have been created over a period of time. The new ones obviously are a little bit different, so we'll have to wrestle our way through it. With another bowl, and the quality of play we've had, it gives us a greater chance of getting into one of these bowls.
So you are not concerned about access?
JB:
That is correct.
Even without a tie-in?
JB:
Correct.
I have touched a lot on the ACC compared to the Big East this week. How is the future system going to be fair, given these tie-ins?
JB:
There is a sense that there's a rub of the green. Sometimes, it doesn't work perfectly and you have to live with those things, fair, unfair, deserved, undeserved, that's kinda the rub of the green. Sometimes, it's going to happen, whether it's to the Big East or someone else.
June, 28, 2012
6/28/12
10:30
AM ET
It's Thursday, so that must mean it's time for your weekly poll.
Today I ask: What type of impact does a four-team playoff have on the Big East?
Hopefully, you have read my two takes on the subject. If not, here is a refresher. I think there is a
good news and bad news
where the Big East is concerned. A four-team playoff obviously makes way for two more teams to have a shot at the national championship. But the potential bad news is that, when it takes effect in 2014, the system
could end up favoring
the conferences with higher national profiles, the way it does now.

Big East officials and coaches have
downplayed that aspect
in various interviews over the past several days. USF coach Skip Holtz calls the four-team playoff, by way of a selection committee, a true "play-in" system. That might end up being true, but there are plenty of unknowns about how the selection committee is going to be set up, who is going to be on it, and how they are going to weigh everything from win-loss record to strength of schedule, to quality wins to conference championships.
"At the end of the day, while they'll take into consideration strength of schedule, they'll look at performance on the field, and take all the noise out of the evaluation of a team's performance," interim Big East commissioner Joe Bailey said. "That, I suspect, will ultimately be the way they operate. The other good thing about a committee -- they're concentrating on the teams and they're doing it over a long period of time over the course of a season. It's not as if there's some sort of randomness about it. They will see all the teams. So we think for a variety of reasons such as those, it will be a much more focused, concerted effort on the evaluation of teams and team performance. That's very good."
So we are left to guess and debate until the playoff comes to college football in 2014. Where do you stand? Cast your vote and leave your comments below or in the
mailbag
.
June, 27, 2012
6/27/12
2:55
PM ET
Folks in the Big East have high hopes for the future four-team playoff, and the place the league will have in it should a member team go undefeated.
Interim commissioner Joe Bailey said in a phone interview Wednesday, "This gives every team in every conference an equal opportunity to compete for the national championship. And in terms of the other bowl games, while there's plenty of things to be decided upon, we're pretty confident based on the recent performance of our programs we'll be participants in a number of high-level bowl games. The bottom line is the Big East will be well represented in a lot of the bowl games, and certainly in the top four."
Bailey went on to list the performance of current and future Big East members, noting teams like Boise State, Louisville and Cincinnati have finished in the Top 10 going back to 2006. But the last Big East team to play for a national title was Miami in the 2001 season.
Still, there is hope the Big East can get there again. USF coach Skip Holtz said in a phone interview Wednesday that the four-team playoff is a "true play-in" system, with the elimination of automatic qualifying status.
"This is a landmark," Holtz said. "The thing that excites me so much about what they decided to do is it is the first time we've had an actual playoff system where it's going to four teams, but even moreso what excites me is there are no tie-in connections so to speak. It is a true play-in system, not to be influenced but public opinion or public bias but to be decided on a committee by the body of work a team puts together that season. It will continue to put a premium on the season and a premium on nonconference scheduling."
Syracuse athletic director Daryl Gross echoed the hopeful sentiments in a statement, saying, "We are extremely pleased with the new structure, especially as we transition into the ACC. This gives Syracuse football a clear vision as we continue to enhance our program and strive to compete amongst the best in the country."
The hope is that a cross-section of people will be on the selection committee, and seriously consider the merits of winning a conference championship, along with strong nonconference play and quality wins. That may go a long way toward removing ingrained biases, and misperceptions about the Big East.
At one point, the Big East was not in favor of a selection committee. But now Bailey sees some merits to the system.
"At the end of the day, while they'll take into consideration strength of schedule, they'll look at performance on the field, and take all the noise out of the evaluation of a team's performance. That, I suspect, will ultimately be the way they operate. The other good thing about a committee -- they're concentrating on the teams and they're doing it over a long period of time over the course of a season. It's not as if there's some sort of randomness about it. They will see all the teams. So we think for a variety of reasons such as those, it will be a much more focused, concerted effort on the evaluation of teams and team performance. That's very good."
While that may give some fans hope, there are others who wonder whether a selection committee can truly remove the bias and choose the four most qualified teams to make the playoff. Many, myself included, have
wondered whether a committee
would pick an undefeated Big East team over a one-loss team from a conference that has a better national reputation.
Holtz has no fear of that, at least not at this point.
"I'm not going into this with a negative concern," he said. "I'm going in with a trusting opinion that the committee they put together is going to make the right choice and take the body of work and evaluate it over the course of the season and who they played. There's not a conference that says they're a shoo-in. I think the whole thing we're trying to do is take the bias out and let that decisions be made on the field."
June, 27, 2012
6/27/12
9:00
AM ET
Now that the framework for a college football playoff has been rubber-stamped, we are again left to wonder how these historic changes affect the Big East.
I would love to give you the league perspective, but Big East interim commissioner Joe Bailey has not issued any comments just yet. As I explained last week, the Big East essentially got only one thing it wanted out of this -- a four-team playoff. That is a pretty huge and historic deal, no question.
More access is good for the Big East. The commonly held belief is that an undefeated Big East team would find itself in a four-team playoff. Let us remember that the Big East has had a top-four finish in the final BCS standings more recently than the ACC and Big Ten. So I see the bright side there.
But here is where things might get just a tad complicated.
The Big East wanted conference champions only. No dice. The Big East did not want a selection committee. No dice.
So what the league is left with is the real possibility it could be on the outside looking in, even with an undefeated team in the final top four. Again.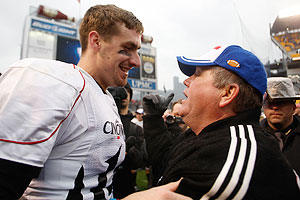 Jared Wickerham/Getty ImagesCoach Brian Kelly, right, and QB Tony Pike helped Cincinnati to an unbeaten 2009 regular season.
I present to you an interesting piece ESPN Insider Travis Haney recently wrote. He
takes a look at the 2009 season

and how a selection committee may have chosen a four-team playoff. You all remember Cincinnati went undefeated and finished No. 3 in the final BCS standings. Most all of us have assumed Cincinnati would have been a no-brainer to get in.
But take a look at the teams in the final top six. Five teams went undefeated, including Boise State. Then you have a Florida team that went 12-1, with its only loss in the SEC title game to Alabama. Haney argues that Cincinnati would have been left out of the mix. There are some great quotes Haney uses to back up his conclusion.
I think Florida, even after getting stomped in the SEC title game, would have easily gotten in. The Gators were No. 1 for the entire season, until their loss to Alabama. And they also had Tim Tebow. Same argument that held for Alabama and LSU this year would have held for Alabama and Florida that season. I can just hear the chatter now -- should Florida really be penalized for being second-best in the best, best, best, most amazing conference in America?
So the fourth and final spot would have come down to Cincinnati and TCU. And I don't think that would have been a slam-dunk decision. First of all, TCU was ranked ahead of Cincinnati in the AP and coaches' polls. Those polls will still be around for a selection committee to consult; the BCS standings are gone. Look at strength of schedule and quality wins -- TCU beat Clemson, Virginia, Utah and BYU. Cincinnati beat Oregon State, USF, Pitt and West Virginia.
It is not impossible to believe the Bearcats would have been left out, despite an undefeated season. Future Big East member Boise State would have been as well.
So you see, there are no guarantees for the Big East moving forward, particularly if there are years when there are many undefeated teams, or years when there are no undefeated teams. What does not change is the Big East MUST go undefeated to have any shot. Then the league has to hope it has played a strong enough nonconference schedule, and has quality wins over Top 25 teams. Then it has to hope its potential representative has a modicum of national respect and is ranked in the top two of the final polls.
Why top two? Because it is a lot easier to justify leaving out teams ranked Nos. 3 or 4.
I hear the argument that the pressure and scrutiny on the selection committee will be too great for it to overlook an undefeated team from a conference like the Big East. The skeptic in me says otherwise. I can hear the justification of bringing in a one-loss SEC team over an undefeated Big East team because of superior strength of schedule. Most any decision can be justified. Just ask the NCAA hoops selection committee.
There is never going to be a perfect system. The powerful forces in college football have seen to it that their interests are somewhat protected with a selection committee. The Big East did not want this type of format to select the final four teams, but there is no choice.
Now we wait and see whether access really has changed.
May, 30, 2012
5/30/12
1:30
PM ET
It is not an overstatement to say the Big East is facing the most critical juncture of its history, with all-important television negotiations set to begin in September.
But there are two questions that remain unknowns:
Will the Big East arrive at the negotiating table intact?
If yes, will the new TV contract save the conference from further raids or defections?
"That is yet to be seen," USF coach Skip Holtz said. "Those are things we'll find out as it all gets laid on the table. Obviously, when you look at a big part of what is driving conference realignment is the financial side of it. That will have an opportunity to go a long way toward keeping this league together."
[+] Enlarge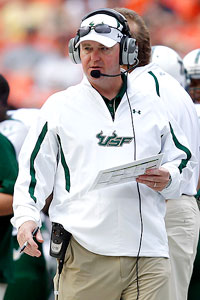 Joel Auerbach/Getty ImagesUSF coach Skip Holtz and the rest of the Big East are surely hoping that a new TV deal will help bring stability to the league.
With a little over three months to go before it begins TV negotiations with ESPN, the Big East is poised to either put itself in great position for the future or contemplate, "What could have been."
ESPN, NBC and Fox had representatives talking to league officials during the league's spring meetings last week in Ponte Vedra Beach, Fla. Big East officials have no choice but to appear optimistic and united.
Everybody knows they must work together to have any hope of staying together. That goes for the basketball schools as well.
They feel these reasons for optimism:
The league has markets in New York, Philadelphia, Tampa, Orlando, Houston, Dallas and San Diego. "A national conference is very different from any of the other conferences," interim commissioner Joe Bailey said. "That in and of itself is a branding distinction."
There is a premium on live programming. Consider this: the Big East has the potential to provide live TV from noon until 1 a.m. on the East Coast. It already has games on Thursdays, Fridays, Saturdays and even one Sunday -- so the league is not shy about providing live content multiple days of the week.
The big unknown is how much a new TV deal will garner. Nobody in the league would hazard a guess as to whether the Big East can get the same deal it turned down a year ago -- a deal that may or may not have prevented the defections of West Virginia, Pitt, Syracuse and TCU. Various reports have floated figures -- some high, some low -- but it's way too early to begin guessing games about what the league may or may not get.
However, it is safe to say that the Big East took a huge gamble when it turned down that deal last spring. Rather than securing a payout of about $13 million per school, on par with what the ACC was getting for its schools at the time, the Big East said no to go on the open market.
After seeing what the Pac-12 got with its TV deal, the hope was that the Big East would arrive at the negotiating table intact in September 2012 and get more than it was offered. Those hopes have been dashed once. And they could very well be dashed twice.
There is no guarantee the current grouping of 13 football members and 18 basketball members will even be together when negotiations begin.
"We've got a lot of concerns out there," Holtz said. "All we can do is take what we have. We don't have the luxury to project five years down the road and make our decision today predicated on that. We're make a decision on where we are today and the teams that are coming in."
Too much remains outside the control of the Big East, which seems to be the theme for the conference throughout its history. If the Big 12 decides to expand ... If Florida State goes to the Big 12 ... If there is another Big 12 opening does it go to Louisville? Clemson? Miami? Virginia Tech ... If the ACC has to shore itself up, is there a fight among UConn and Rutgers to get in ... If the square root of the Big East is divided again ...
There are too many hypothetical situations to even consider. The Big East has taken the right track in focusing on what it can do to help provide a stable home for its members. But even that might not be enough to get everybody to stay together.
May, 23, 2012
5/23/12
4:40
PM ET
PONTE VEDRA BEACH, Fla. -- The Big East spring meetings wrapped up Wednesday with little fanfare. Here are some final notes from the meetings.
Notre Dame athletic director Jack Swarbrick said he was
committed to keeping his Olympic sports
in the Big East, after Texas athletic director DeLoss Dodds told CBSSports.com that Big 12 conference reps have had discussions with the Irish
as far back as 2010
. Interim commissioner Joe Bailey was asked if he had a response. I think this is the best quote of the week.
"They've been doing it since 2010? It hasn't worked," Bailey said.
Swarbrick also added he was confident that the details of a future four-team playoff would be worked out June 20 in Chicago. But just how Swarbrick and all 11 conference commissioners arrive at the ultimate answer will provide plenty of drama.
Bailey said search firms will be interviewed next week to help assist in finding the next commissioner of the league. The Big East is looking to fast-track the process to get somebody in place as quickly as possible. The three-to-four month timetable remains unchanged, though the sooner the better.
He added that the collective group did not really discuss what they are looking for in the next Big East commissioner.
"I'd say to you that there's always the definition of an effective leader -- on balance, that's what you're looking for," Bailey said. "Someone that can take the conference and continue to move it forward over an extended period of time. You're not looking for an individual that would be some sort of caretaker but somebody who would be able to grow with the conference itself. You're going to find an enormous number of capable people interested in a position like this."
May, 22, 2012
5/22/12
5:40
PM ET
PONTE VEDRA BEACH, Fla. -- Let's recap what happened at the Big East spring meetings Tuesday.
The Big East will play its championship game at on-campus sites, doing away with an idea former commissioner John Marinatto had to play the title game in New York. The plan is to begin the championship game for the 2013 season, at the home of the highest-seeded team. Before arriving at the decision, the league reached out to the Pac-12 to get a gauge for how they liked having an on-campus title game last year. "The proof was in the pudding," senior associate commissioner Nick Carparelli said.
The league remains committed to an eight-game league schedule, though that was not discussed at the meetings this year. Some of the biggest reasons why the Big East is not moving toward a nine-game schedule like the ACC: coaches like the balance of having four home/four away league games; they want to have four nonconference games of varying difficulty; and they believe it also helps increase their chances to become bowl-eligible.
Future bowl tie-ins were not a huge topic, but there will be consideration to expand the Big East reach to bowls in Texas and out West because of its incoming members. "None of the bowl games are going to make any agreements until they see what happens at the top of the bowl system," Carparelli said. "There will be no shortage of interest in the Big East in terms of bowl games given our new geography."
Carparelli will join interim commissioner Joe Bailey at the next round of BCS meetings in June. The Big East has a preferred idea in mind for a future playoff, with consideration given to conference champions. The Big East also wants some sort of rankings system used to determine the four-team playoff, not a selection committee.
Potential divisions also were discussed. Here is more on that.
April, 28, 2011
4/28/11
3:30
PM ET
Time to take a look at what Army learned during spring practice.

Unanswered questions:
The biggest are on defense, where coach Rich Ellerson is still looking for somebody to step up in the interior of his defense to replace Mike Gann, a stalwart for the Black Knights last season. Injuries kept a few players off the field who would have contended for the starting job, and now Ellerson is going to have to rely on two-a-day practices to determine who is going to start. "The good news is you don't need 1,000 turns in the spring," Ellerson said. "You break doing it. We can still evaluate those guys efficiently. The only challenge [is] do they exist? Do we have that guy or those guys? We'll be OK, but we graduated a really good player in Mike Gann. Right now if we were going to play, I would say we have not replaced him yet." There are also questions in the linebacking corps. Steve Erzinger took reps at middle linebacker in place of the departed Stephen Anderson, but Ellerson is not sure whether that will be a permanent move.
Questions answered:
Army lost four starting offensive linemen and its backup center, but Ellerson left spring feeling much better about this unit than he thought he would. Will Wilson impressed him at center while Joe Bailey and Matt Villanti also had good springs as they compete at right guard. Ellerson also said left tackle Brad Kelly took a giant step forward. "Everybody took a step forward from that group," Ellerson said. Jarrett Mackey had a good spring and will be able to step into the large shoes left by Josh McNary. With quarterback
Trent Steelman
sitting out the spring because of a shoulder injury, Ellerson got a good look at his quarterbacks and likes the depth he has with
Max Jenkins
and
Jimmy Reitter
.
Spring stars:
Ellerson singled out a few players: Tyler Dickson at free safety, receiver
Jared McFarlin
and defensive linemen Corey Watts and Brian Zalneraitis and cornerback Casey Hughes.