July, 11, 2014
Jul 11
5:20
PM ET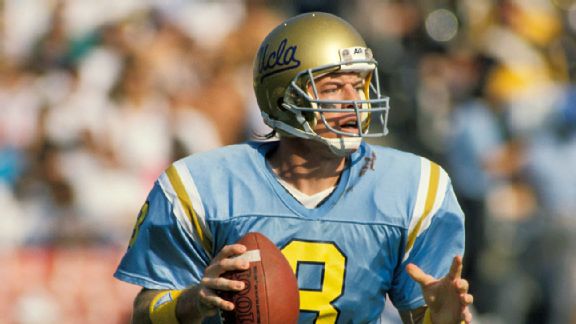 USA TODAY SportsTroy Aikman played under Barry Switzer in Oklahoma before enrolling at UCLA.
Have you logged on Twitter today? Turned on the TV? Went to the grocery store or picked up your child from the babysitter? Then chances are you know the King has returned.
LeBron James is going back to Cleveland.
That has us at CFB Nation thinking: Which college football players originally left home only to transfer back to put together a successful career? So we racked our brains and came up with a handful of the most successful transfers from the last 25 years of college football. The condition, obviously, is the transfer had to be made back to a school in their native state or at least within 100 miles, give or take a few.
If LeBron ever asks, they can all attest that there truly is no place like (playing at) home.
QB Troy Aikman, UCLA (by way of Oklahoma)
The California native left the Golden State and played his high school football in Oklahoma before enrolling with nearby perennial power Oklahoma, led by legendary coach Barry Switzer. Aikman was promised the Sooners' offense would be more passer-friendly, but when Aikman broke an ankle Switzer went back to the wishbone offense. The Sooners went on to win the national championship under the direction of a freshman quarterback, essentially closing the door on Aikman's Oklahoma career. The Covina, California, product returned to the state and enrolled at UCLA. In his first season with the Bruins, Aikman was awarded with the Pac-10 Offensive Player of the Year. He led UCLA to consecutive 10-win seasons and finished third in the Heisman balloting in 1988. He was the No. 1 overall pick of the 1989 draft and is a three-time Super Bowl champion.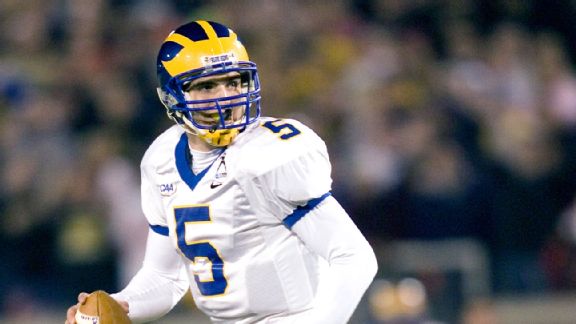 Marvin Gentry/USA TODAY SportsJoe Flacco transferred to Delaware to play near his hometown in southern New Jersey.
QB Joe Flacco, Delaware (by way of Pittsburgh)
Technically Flacco did not return to his home state of New Jersey. However, Delaware's campus is less than an hour from Flacco's South Jersey home, making it a closer option than in-state Rutgers, the only FBS program in the state. Flacco played sparingly his first two seasons at Pitt before transferring to FCS powerhouse Delaware. He took the Blue Hens to the FCS national championship and his name is littered throughout the school's record book. He was taken in the first round of the 2008 NFL draft and has a Super Bowl ring and Super Bowl MVP award in his trophy room.
QB Scott Frost, Nebraska (by way of Stanford)
Rarely does an elite prep player from Nebraska leave the state, especially during the Cornhuskers' glory years under Tom Osborne. That's what Frost did, though, spending two seasons at Stanford before returning to the nation's heartland. In his first season, he was named the Big 12 Offensive Newcomer of the Year. As a senior, he led Nebraska to an undefeated record and a share of the national championship. He was the first quarterback in school history to rush and pass for 1,000 yards in the same season.
QB Ryan Mallett, Arkansas (by way of Michigan)
The second-ranked quarterback in the Class of 2007, Mallett signed with then-Michigan coach Lloyd Carr as the heir apparent to senior Chad Henne. However, spread-option coach Rich Rodriguez replaced Carr at season's end, prompting the traditional pocket passer Mallett to transfer. The Batesville, Arkansas, native moved home to play for the Razorbacks and Bobby Petrino, and he had two exceptional seasons. A two-time All-SEC second-team selection, Mallett threw for more than 3,600 yards in both of his seasons in Fayetteville and led the Razorbacks to the Sugar Bowl in 2010. He finished seventh in Heisman voting that season.
WR Randy Moss, Marshall (by way of Notre Dame and Florida State)
Transferring was not entirely up to Moss, whose own transgressions cost him the opportunity to play at his dream school, Notre Dame, and under coach Bobby Bowden, who told Sports Illustrated in 1997 Moss was just as gifted as Deion Sanders. Notre Dame denied his enrollment for his role in a fight, and Florida State removed him from the football team after he tested positive for marijuana, violating his probation. Moss transferred to Marshall, which at the time was a Division I-AA school, allowing him to play immediately. In two seasons, he accumulated 174 receptions, 3,529 yards and 55 total touchdowns. He was taken in the first round of the 1998 NFL draft and is considered one of the greatest receivers in league history.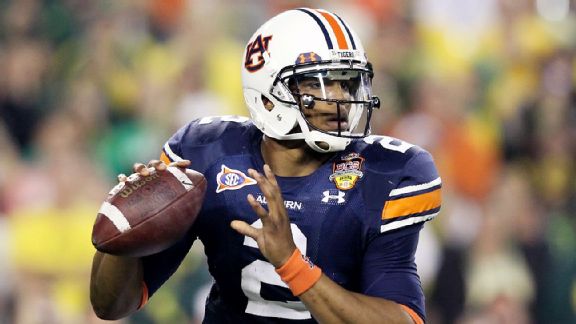 Christian Petersen/Getty ImagesGeorgia native Cam Newton won a Heisman Trophy after transferring to Auburn.
QB Cam Newton, Auburn (by way of Florida and Blinn College)
Much like Moss, Newton's transfer issues were self-inflicted. Urban Meyer removed Newton from the Gators' roster following charges of felony burglary, larceny and obstructing justice stemming from an incident in which he stole another student's laptop. He enrolled at Blinn College (Texas) and led the program to the junior college national championship. The following season, Newton was the starting quarterback at Auburn and won a second consecutive personal national title, leading the Tigers to an undefeated season and BCS trophy. He won the Heisman Trophy in the weeks leading up to the BCS national championship. He declared for the NFL draft in the days following the national title and went No. 1 overall to the Carolina Panthers. He was the 2011 Offensive Rookie of the Year and is a two-time Pro Bowler.
Honorable mention: Urban Meyer, Ohio State (by way of Bowling Green, Utah and Florida)
So he isn't a player and technically never transferred, but it certainly has a transfer feel to it. He left Florida after the 2010 season, sat out 2011 and then was named Ohio State's coach before the 2012 campaign. An Ohio native, Meyer's first college coaching job was as a graduate assistant at Ohio State. Even as the coach at other programs, he always spoke fondly of former coaches Woody Hayes and Earle Bruce, who hired Meyer away from a Cincinnati high school.
@KingJames Welcome home my friend. See you this fall!!! pic.twitter.com/6rj8uwiHCp

— Urban Meyer (@OSUCoachMeyer) July 11, 2014
This week ESPN.com spent time looking at the future of college football, so here are a few players returning home -- not all are eligible in 2014 -- who could be the next impact transfers.
QB Jacob Coker, Alabama (by way of Florida State)
Coker is immediately eligible and is the favorite to be the Crimson Tide's starting quarterback for the opener. He left Florida State after the 2013 season after losing out on the job to
Jameis Winston
.
QB Brandon Connette, Fresno State (by way of Duke)
The change-of-pace and red zone quarterback for the Blue Devils' run to the ACC championship, Connette left for Fresno State to be closer to his ailing mother.
QB Tyler Murphy, Boston College (by way of Florida)
Murphy is from Connecticut, but there aren't many FBS programs up in New England, and Boston is only 100 miles from Murphy's hometown. The BC coaches believe Murphy is a better player than he showed at Florida and can help Steve Addazio take the program to the next level.
LB Mike Mitchell, Texas Tech (by way of Ohio State)
A blue-chip prospect in the 2013 class, Ohio State was considered the long-time favorite for the athletic product. He signed with the Buckeyes but only lasted one season before transferring to Texas Tech, which was not a finalist during Mitchell's recruitment.
DT Eddie Vanderdoes, UCLA (by way of Notre Dame)
This situation got a little ugly last summer. Vanderdoes was the center of a signing day controversy as Notre Dame listed him on their list of signees before Vanderdoes publicly committed at his announcement later in the day. Before ever playing a down for Notre Dame, Vanderdoes decided he wanted to enroll at UCLA, but Notre Dame would not grant him a release. He petitioned the NCAA and was able to play at UCLA this past fall.
May, 2, 2014
May 2
9:00
AM ET
BATON ROUGE, La. -- Michigan. USC. Stanford. LSU?
[+] Enlarge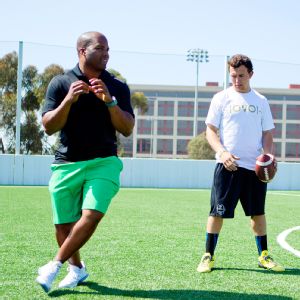 AP Photo/Nick LuceroGeorge Whitfield Jr. has become known as a tutor to such quarterbacks as Johnny Manziel.
Three of those football powers are known for their abilities to attract the nation's top quarterback prospects. The fourth could join their ranks, said quarterback guru George Whitfield Jr., largely because of his mentor, Cam Cameron.
"When your guy that you spend all day with -- meetings, practice, this and that -- has built and grown
Drew Brees
,
[Philip] Rivers
,
[Joe] Flacco
, who two of the three have won Super Bowls and the other one I think is one of the top six, seven, eight quarterbacks in the league, and now you get a chance to partake in this? That's what I'm telling you. This is one of the top destination spots now," Whitfield said during a visit to LSU.
"If I'm a big-time high school quarterback with aspirations to play in the NFL and I want to win in college, this is one of those places on one hand now that you're going to find. And they will be for some time. The recruiting's going to shift now."
Whitfield's respect for Cameron -- now entering his second season as LSU's offensive coordinator and quarterbacks coach after a decade in the NFL as a coordinator and head coach -- traces back more than 20 years. He first worked with Cameron as a pupil, picked his brain as a graduate assistant at Iowa and later interned under Cameron with the San Diego Chargers, where he learned about the importance of attention to detail.
"I would watch how pre-practice he would film quarterback-center exchange for 45 minutes," recalled Whitfield, who interned with the Chargers in 2007, Rivers' rookie season. "I admit there were times I was like, 'Come on, there's nothing to see here folks,' but … he put a guy on the ground with a camera shooting up through the center, from the center's head, and he put a guy on the ground shooting through Philip's legs so they could see the snap.
"That's how meticulous he was. And that's when I thought to myself, 'Oh I get it. I get it. It ain't about rah-rah and a good little soundbite. There's some diligence here.' That's why they never lost a snap, the Chargers, in I think like four or five years."
Today, Whitfield has implemented Cameron's lessons in his own professional life. He is a noted quarterback guru who runs a youth training academy in San Diego and annually works with some of the NFL draft's top quarterback prospects.
Among Whitfield's pre-draft clients were top overall selections
Cam Newton
and
Andrew Luck
, plus
Johnny Manziel
, one of this year's top quarterbacks.
[+] Enlarge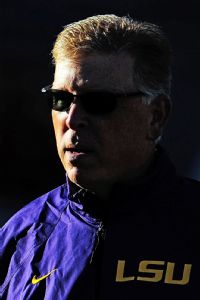 Stacy Revere/Getty ImagesCam Cameron has a long history of working with quarterbacks, a skill he's brought to LSU.
"He's passionate about quarterback play, cares about people and he's become a pro," Cameron said. "He's not just some guy trying to make a buck teaching quarterback play, he's a pro. Pros are passionate about what they do and experts at what they do, and I look at George that way."
In a strange twist, Cameron was actually serving as a guest lecturer at Whitfield's quarterback academy when an old coaching acquaintance, LSU coach Les Miles, called to gauge his interest in returning to college.
"I was out there and he called and obviously I was looking for a job at the time," Cameron said. "That's kind of where that thing kind of got going."
Whitfield remembers well how intrigued his mentor seemed with the opportunity.
"He was so excited. And I was surprised by that," Whitfield said. "This is a longtime NFL coach, now. He'd been a head coach, he hadn't been in college since Indiana [in 2001] and the lowest position he's held since he's been in the NFL is coordinator.
"I said, 'You're about to go to college?' And he goes, 'Yeah, but this isn't any college. This is LSU.' And he goes, 'It's really like a young NFL team. We can teach, coach.' He said, 'I can get back down here. It's not about contracts, 'Can we keep this guy? He's got a bonus.' It's back to teaching.' And I thought, 'Holy cow.' "
In his first year on the job, Cameron helped
Zach Mettenberger
emerge as one of the most improved quarterbacks in the country. And now one of his star pupils, freshman
Brandon Harris
, is one of Whitfield's protégées.
Not that it should come as much of a surprise. Whitfield's reputation has grown to the point that he mentors elite quarterback prospects each year -- a point of pride for an old teacher who has enjoyed Whitfield's rise.
"George and I would sit down at Denny's and eat breakfast, and the biggest difference is I used to buy George breakfast and now he's buying me breakfast," Cameron chuckled. "So yeah, you do [enjoy his success]. I think any parent or any coach who sees a young man grow and flourish in what he's passionate about, it's something that you feel good about."
Whitfield was 13 when he first convinced his parents to let him participate in a high school quarterback camp that Cameron led at Michigan, where he was then coaching receivers and quarterbacks. Their relationship recently came full circle, with Whitfield mentoring Cameron's son Danny and taking him on a prospect tour to visit college campuses.
"It just meant the world that he'd say, 'All right, I want you to work with my son,' " Whitfield said. "I started working with Danny a couple, three, four years ago and now I'm the same age I was when I was working with his dad. "I thought, 'Man, I'm working with your son, but you taught me the majority of what I know, or the foundation, and I'm going to pass it on to your son.' "
Perhaps this mutual admiration society of coaches will someday span three generations.
If
Danny
-- a 2015 quarterback prospect -- one day enters the profession and similarly reflects on the influence that Whitfield had on his development, it would only be fitting. So many of those lessons came from a familiar source.
February, 12, 2013
2/12/13
4:16
PM ET
As we continue to process who everybody signed and who they didn't sign last week, I couldn't help but think about the quarterback position.
It goes without saying that having a winner at that position is a must if you're going to win championships and consistently compete for championships.
But as this past season showed us, there's no reason to fret just because your school signed a quarterback that wasn't on everybody's list of blue-clippers.
Case in point: There were two quarterbacks among the three Heisman Trophy finalists in 2012, and neither one of those guys was a four-star prospect.
Texas A&M's
Johnny Manziel
won the Heisman Trophy, and in 2010, he was a three-star prospect out of Kerrville, Texas, and ranked by ESPN as the No. 39 quarterback prospect in the country. Among prospects in the state of Texas that year, he was ranked No. 97.
Kansas State's
Collin Klein
was very lightly recruited. He was a three-star prospect out of Loveland, Colo., and barely even ranked among the top 10 prospects in the state of Colorado that year. He played some receiver his first season at Kansas State before eventually moving back to quarterback.
Don't stop with just Manziel and Klein.
Look at the two starting quarterbacks in the Super Bowl this season.
The Baltimore Ravens'
Joe Flacco
, who's about to be paid handsomely following an incredible playoff run, was a three-star prospect out of Audubon, N.J., in 2003. He signed with Pittsburgh and played very little his first two years before transferring to Delaware.
Colin Kaepernick
of the
San Francisco 49ers
was also a three-star prospect out of Turlock, Calif. He played his college ball at Nevada and was ranked as the No. 50 quarterback nationally by ESPN coming out of high school in 2006. Early on in the recruiting process, he was receiving more interest to play baseball in college than he was football.
Posted by ESPN.com's Heather Dinich
Some are old, some are new, all are borrowed, none Carolina blue ...
If BC holds its NFL pro day and no one is around to report on it, did it really happen? It did at Maryland ...
Maryland linebacker Moise Fokou took a long, hard road to a potential career in the NFL. Darrius Heyward-Bey is the one who has stolen the spotlight in College Park, though. The Ravens will visit him on March 23 and bring quarterback Joe Flacco to throw to him. Coach Ralph Friedgen thinks former cornerback Kevin Barnes also has a good shot at being drafted.
The backup quarterback competition at Miami won't be too fun for Canes fans to watch develop if Cannon Smith and Taylor Cook keep fumbling the snaps. Here is a further breakdown from Miami Herald blogger Manny Navarro. Shandel Richardson of the South Florida Sun Sentinel saw the same.
In case you missed it, my colleague Bruce Feldman raised the question "What's wrong with FSU football?" earlier this week. According to his answers, plenty.
Not every recruit gets an offer just because they visit, and Denzel McCoy learned that after he went to Clemson last weekend.