August, 15, 2014
Aug 15
1:00
PM ET
Illinois isn't trying to be Kansas State. The Illini would love to replicate K-State's on-field results, but their recent influx of junior college players isn't an effort to model what Bill Snyder has done in the Little Apple.
It boils down to basic math and basic needs.
"We needed depth, man," coach Tim Beckman told ESPN.com. "We just needed a bunch of depth."
[+] Enlarge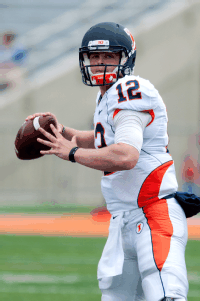 Bradley Leeb/USA TODAY SportsIllinois quarterback Wes Lunt isn't lacking major college football experience.
Illinois brought in six junior college players in 2013 and six more for the 2014 season. Add in quarterback
Wes Lunt
, who transferred from a four-year school (Oklahoma State) and will be eligible to play this fall, and the depth chart is filled with transfers in key roles. There are some non-transfer standouts, such as running back
Josh Ferguson
, but if you're studying up on the 2014 Illini, get to know the jucos -- wide receiver
Geronimo Allison
and defensive linemen
Jihad Ward
and
Carroll Phillips
, among others.
The program-building model isn't ideal, but if the transfers pan out, Illinois could get the bowl boost it sorely needs.
"Some people who feel like, 'We're building a program, we've got five, six years to do this,' they may not go that junior college route," said Alex Golesh, Illinois tight ends and running backs coach, and the team's recruiting coordinator. "We felt, 'Hey, we've got to get this thing going right now,' and this was our answer."
Beckman first realized the depth desperation after his first season, when the team reconvened for practice in March 2013. He and his staff had inherited a large senior class in 2012, but the subsequent two classes had atrophied. There were only about a dozen players left in each.
The coaches had a choice: start a bunch of freshmen and sophomores or look for immediate help elsewhere.
"You want to know how bad the number situation was here?" Beckman asked. "We didn't have enough defensive backs to be two deep."
So they picked up
Zane Petty
, a junior college safety from California who made seven starts last season. They added another California juco,
Eric Finney
, to play the Star position (safety/outside linebacker), and
Martize Barr
, a former New Mexico receiver/safety who landed at Iowa Western Community College. Barr originally was pegged for the secondary but moved to wide receiver.
The wide receiver and defensive line groups Illinois trots out this fall will reflect the junior college push. Barr and Allison should start, and
Tyrin Stone-Davis
, a Philadelphia native who played juco ball in California, will be in the rotation. The 6-foot-6, 295-pound Ward is expected to be a major contributor on the defensive line, along with Phillips at the Leo (rush end) and
Joe Fotu
and
Abe Cajuste
.
"This defensive line is like a different group," Golesh said. "Talk about dudes that look like they're supposed to look like and play like they're supposed to play."
Junior college recruiting isn't nearly as common in the Big Ten as it is in other leagues, but things are shifting. Teams that never used to bring in jucos, such as Wisconsin and Penn State, suddenly have a few on the roster.
Before initiating the push, Beckman consulted with Illinois' admissions office to gauge who could get into school. The coaches received transcripts from about 120 players, and the university identified who could make it academically. Only 25 to 30 players received the green light.
[+] Enlarge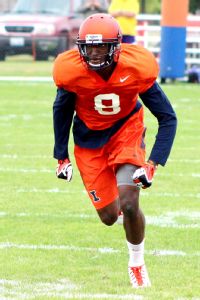 Courtesy University of Illinois AthleticsReceiver Geronimo Allison is one of 12 junior college players to transfer to Illinois in the past two seasons.
Golesh pinpointed which junior colleges had strong enough academic reputations and curriculums. Illinois almost only recruits junior colleges in California, Iowa (particularly Iowa Western in Council Bluffs, which regularly sends players to FBS programs) and a handful in state and in the Northeast.
The approach reduces the risk often attached to junior college players.
"We're recruiting a high-academic, junior college kid," Golesh said. "Those kids who are right on the border, we're not recruiting them because we can't get them in school. So there's one of your red flags that you cross off."
As Golesh dove deeper into junior college recruiting, he realized something else. Like Bill Snyder says about juco players:
The perception out there is something went wrong in his high school career. Young people are young people. What's the quality of their character?
"You go recruit the California junior colleges and it's amazing how many high school qualifiers are out there that were just overlooked because there are so many kids and the state is so big," Golesh said. "The misconception is the kid committed a crime or didn't qualify out of high school. That's not the case anymore."
Ward didn't qualify academically coming out of high school in Philadelphia, so he spent two years at Globe Institute of Technology, a junior college in New York. He connected with Illinois offensive coordinator Bill Cubit, a fellow Philly native, and signed with Illinois in February.
"For two years, I've been grinding," Ward said. "I always think the time is now. A lot of juco players, they're hungry. If you're not hungry, then I don't know what to say. We come here to eat."
Jucos arrive with ticking clocks, and Illinois coaches see the urgency in practice. Another benefit, according to Golesh, is how they push older players expecting to inherit, not earn, starting jobs.
The integration with the non-transfers seems to be going smoothly, too. Ward calls his new teammates "brothers for life."
"It's not a two-year thing," he added.
One challenge is leadership, especially for transfers in command positions. Like Ward, Lunt has blended well with his teammates since transferring from Oklahoma State.
But leading them "is a little harder," he said.
"To be a leader that everyone looks up to, you have to get on the field and play," Lunt said. "That's a big part of it."
Plenty of Illinois' transfers will play significant roles this fall on both sides of the ball. Asked how much Illinois will rely on the imports, Golesh replied, "A ton."
It won't always be this way. Beckman anticipates only one more year of heavy juco recruiting before Illinois will have the numbers it needs.
But to secure his future after two bowl-less seasons, Beckman needs the transfers to step up right now.
"They've come in ready to play, ready to try to give us some immediate impact," he said. "They've been unbelievable."
August, 4, 2014
Aug 4
10:30
AM ET
»
More team previews:
ACC
|
Big 12
|
Big Ten
|
Pac-12
|
SEC
Previewing the 2014 season for the
Illinois Fighting Illini
:
2013 overall record:
4-8 (1-7 Big Ten)
Key losses:
Nathan Scheelhaase, QB;
Steve Hull
, WR; Corey Lewis, OT;
Jonathan Brown
, LB; Houston Bates, DE/LB
[+] Enlarge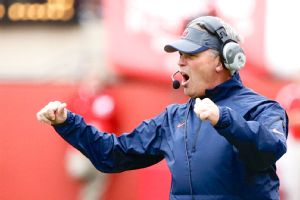 AP Photo/Nati HarnikThe Illini are 6-18 in three seasons under coach Tim Beckman.
Key returnees:
Josh Ferguson
, RB; Simon Cvijanovic, OT;
Michael Heitz
, G;
Mason Monheim
, LB;
Earnest Thomas III
, STAR;
V'Angelo Bentley
, CB;
Austin Teitsma
, DT
Instant impact newcomer:
Wes Lunt
, QB. There are several options here, but Lunt, the Oklahoma State transfer, should win the starting quarterback job and brings a big arm to the pocket in a quarterback-friendly offense. He'll look for two other newcomers, wide receivers
Geronimo Allison
and
Mike Dudek
. The Illini also are excited about defensive lineman
Jihad Ward
, a juco transfer.
Projected starters
OFFENSE:
QB:
Wes Lunt
, So., 6-5, 225; RB: Josh Ferguson, Jr., 5-10, 195; WR: Geronimo Allison, Jr., 6-4, 195; WR:
Justin Hardee
, Jr., 6-1, 195; WR:
Martize Barr
, Sr., 6-0, 195; TE:
Jon Davis
, Sr., 6-3, 240; OT: Simon Cvijanovic, Sr., 6-6, 310; OT:
Austin Schmidt
, So., 6-6, 295; G: Michael Heitz, 6-6, 310; G:
Ted Karras
, Jr., 6-4, 310; C:
Alex Hill
, Jr., 6-3, 310
DEFENSE:
DE:
Kenny Nelson
, Jr., 6-6, 250; LEO:
DeJazz Woods
, Sr., 6-3, 255; DT: Austin Teitsma, Sr., 6-2, 290; DT:
Teko Powell
, Jr., 6-3, 305; STAR: Earnest Thomas III, Sr., 6-2, 210; LB: Mason Monheim, Jr., 6-1, 235; LB:
T.J. Neal
, So., 6-1, 235; CB: V'Angelo Bentley, Jr., 5-10, 190; CB:
Eaton Spence
, Jr., 6-0, 185; S:
Taylor Barton
, So., 6-1, 215; S:
Zane Petty
, Sr., 6-1, 205
SPECIALISTS:
K:
Taylor Zalewski
, Jr., 6-3, 220; P:
Justin DuVernois
, Sr., 6-1, 190
Biggest question mark:
The season could hinge on how newcomers on defense, from transfers like Ward and
Joe Fotu
to freshmen like
Paul James
III, transition to this level. Illinois needs instant impacts from several arrivals to repair a unit that finished last in the Big Ten and 116th nationally against the run in 2013.
Most important game:
Oct. 25 vs. Minnesota. This game falls between tough trips to Wisconsin (Oct. 11) and Ohio State (Nov. 1) and immediately after an open week. Illinois' road schedule is absolutely brutal, and to contend for a bowl game, it must play well at home. This is a potentially winnable game that could be the difference between Illinois going bowling or staying home for the third consecutive season.
Upset special:
Nov. 15 vs. Iowa. It's hard to see Illinois winning at Nebraska, Wisconsin or Ohio State, and Minnesota at home wouldn't qualify as a huge upset. But Iowa is a preseason West Division title contender, and the teams don't have much familiarity with one another as they last met in 2008. Illinois could catch Iowa looking ahead to showdowns against Wisconsin and Nebraska.
Key stat:
Running back Josh Ferguson has 22 career big plays (rush, pass or reception of 20 yards or longer), which is 10 more than any other Illini player.
What they're wearing:
Illinois in April
announced a new branding identity with Nike
, which includes new uniform combinations. One getup has white uniforms and helmets with the numbers and the Block I in orange, and all the jerseys feature an Illini shield along the neckline.
New look for @IlliniFootball. #Illini @Nike pic.twitter.com/kkun14vCps

— Illinois Athletics (@IlliniAthletics) April 17, 2014
Team's top Twitter follows:
Head coach Tim Beckman (
@coachbeckman
), linebacker Mason Monheim (
@M_Monheim43
), running back Josh Ferguson (
@JoshFerguson_6
), quarterback
Reilly O'Toole
(
@ReillyOT4
), defensive tackle Austin Teitsma (
@Teitsma44
), wide receivers coach Mike Bellamy (
@CoachBellamy
) and the official team page (
@IlliniFootball
).
They said it:
"Obviously the defense has to play better, and we've got to score the ball when we get down close. The red zone really was our weakness last year. Also toward the end of the season, you saw more turnovers, we got a little careless with the ball. Those are the two big things." -- senior tight end Jon Davis
Stats & Info projections:
5.47 wins
Wise guys over-under:
five wins
Big Ten blog projection:
Five wins. Illinois should take another step in Year 3 under Tim Beckman and could reach the six-win plateau, which likely would mean a bowl appearance and secure a fourth year for Beckman in Champaign. But the road schedule -- Washington, Nebraska, Wisconsin, Ohio State and Northwestern -- doesn't help the Illini, who can't afford many slipups at home. There are too many question marks on defense to see Illinois pulling off a lot Big Ten upsets.
February, 26, 2014
Feb 26
9:00
AM ET
Let's look at what to expect this spring in the Big Ten's wild, wild West:

ILLINOIS
Spring start:
March 5
Spring game:
April 12
What to watch:
Toughening up on 'D': The Fighting Illini had one of the nation's worst defenses, especially against the run. Tim Beckman brought back defensive coordinator Tim Banks and hopes an extra year of maturity can help strengthen the front seven. Juco import Joe Fotu could win a starting job this spring, and Jihad Ward should help when he arrives in the summer.
'Haase cleaning: Nathan Scheelhaase wrapped up his career by leading the Big Ten in passing yards last season. Oklahoma State transfer Wes Lunt likely takes over the reins, but backups Reilly O'Toole and Aaron Bailey plan on fighting for the job, as well. Bill Cubit's offense should equal big numbers for whoever wins out.
Target practice: Whoever wins the quarterback job needs someone to catch the ball, and Illinois' top two receivers from '13 -- Steve Hull and Miles Osei -- both are gone. Junior college arrival Geronimo Allison will be counted on for some immediate help.

IOWA
Spring start:
March 27 or 28
Spring game:
April 26
What to watch:
A new big three: The Hawkeyes begin the process of trying to replace their three standout senior linebackers from last season: James Morris, Anthony Hitchens and Christian Kirksey. They were the heart of the defense in 2013, and now guys such as Quinton Alston, Reggie Spearman and Travis Perry need to make major leaps forward in the spring.
Develop more playmakers: Iowa was able to win the games it should have won last year, but struggled against those with strong defenses because of its lack of explosiveness. Sophomore Tevaun Smith and junior Damond Powell showed flashes of their potential late in the year at wideout. They need to continue to develop to give quarterback Jake Rudock and the offense ways to stretch the field.
Solidify the right tackle spot: The offensive line should once again be the team's strength, but the departure of veteran right tackle Brett Van Sloten means someone has to take on that role. Whether that's senior Andrew Donnal or redshirt freshman Ryan Ward could be determined this spring.

MINNESOTA
Spring start:
March 4
Spring game:
April 12
What to watch:
Mitch's pitches: Philip Nelson's transfer means redshirt sophomore Mitch Leidner enters spring practice as the No. 1 quarterback. He's a load to bring down when he runs, but Leidner needs to improve his passing accuracy after completing 55 percent of his passes in the regular season and only half of his 22 attempts in the Texas Bowl game loss to Syracuse. Added experience should help. If not, he's got some talented youngsters such as Chris Streveler and Dimonic Roden-McKinzy aiming to dethrone him.
Mitch's catchers: Of course, part of the problem behind the Gophers' Big Ten-worst passing offense was a lack of threats at receiver. Drew Wolitarsky and Donovahn Jones showed promise as true freshmen and should only improve with an offseason of work. It's critical that they do, or else Minnesota might have to count on three receiver signees early.
Replacing Ra'Shede: The Gophers only lost four senior starters, but defensive tackle Ra'Shede Hageman might be the most difficult to replace. The first-team All-Big Ten selection created havoc inside defensively, and there aren't many athletes like him floating around. Scott Ekpe could take many of Hageman's reps, but the defensive line overall will have to pick up the slack.

NEBRASKA
Spring start:
March 8
Spring game:
April 12
What to watch:
Tommy's turn: Sophomore Tommy Armstrong Jr. entered the offseason as the clear No. 1 quarterback for the first time after taking over for the injured Taylor Martinez (and splitting some snaps with Ron Kellogg III) last season. Armstrong showed maturity beyond his years in 2013 but needs to continue developing as a passer and deepen his understanding of the offense. Redshirt freshman Johnny Stanton could push him in the spring.
Get the OL up to speed: Nebraska loses a lot of experience on the offensive line, including both starting tackles (Jeremiah Sirles and Brent Qvale), plus interior mainstays Spencer Long, Andrew Rodriguez and Cole Pensick. The Huskers do return seniors Mark Pelini, Jake Cotton and Mike Moudy, junior Zach Sterup, plus three freshmen and a junior-college transfer who redshirted last year. A strong group of incoming freshmen may also contribute. Big Red usually figures it out on the O-line, but there will be a lot of players in new roles this season.
Reload in the secondary: The Blackshirts have plenty of experience in the front seven, but the defensive backfield has a new coach (Charlton Warren) and will be without top playmakers Stanley Jean-Baptiste and Ciante Evans. The safety spot next to Corey Cooper was a problem area last season, and the Huskers are hoping Charles Jackson takes a major step forward. Warren has talent to work with but must find the right combination.

NORTHWESTERN
Spring start:
Feb. 26
Spring game:
April 12
What to watch:
Trevor's time?: Trevor Siemian split reps with Kain Colter at quarterback the past two seasons, serving as sort of the designated passer. Siemian threw for 414 yards in the season finale against Illinois and has a clear path toward starting with Colter gone. That could mean more of a pass-first offense than Northwestern ran with Colter. Redshirt freshman and heralded recruit Matt Alviti also looms as an option.
Manning the middle: Northwestern brings back a solid corps on defense but lost middle linebacker Damien Proby, who led the team in tackles the past two seasons. Pat Fitzgerald has some options, including making backups Drew Smith or Jaylen Prater a starter or moving Collin Ellis inside. He can experiment and find the best match this spring.
Patch it together: The Wildcats' health woes from 2013 aren't over, as 11 players will be held out of practice for medical reasons, including star running back/returner Venric Mark. Add in that the school doesn't have early enrollees, and the team will be trying to practice severely undermanned this spring. The biggest key is to get through spring without any more major problems and to get the injured guys healthy for the fall.

PURDUE
Spring start:
March 6
Spring game:
April 12
What to watch:
Moving forward: Purdue players wore T-shirts emblazoned with the word "Forward" during winter workouts, and no wonder. They don't want to look backward to last year's abysmal 1-11 season. It's time to turn the page and get some positive momentum going in Year 2 under Darrell Hazell. Luckily, optimism abounds in spring.
Trench focus: The Boilermakers simply couldn't cut it on the lines in Big Ten play, and Hazell went about trying to sign bigger offensive linemen this offseason for his physical style of play. Both starting tackles and three starting defensive linemen all graduated, and no one should feel safe about his job after last season's performance. Kentucky transfer Langston Newton (defense) and early enrollee Kirk Barron (offense) could push for playing time on the lines.
Find an identity: What was Purdue good at last season? Not much, as the team ranked near the bottom of the country in just about every major statistical category. The Boilers found some good things late in the passing game with freshmen Danny Etling and DeAngelo Yancey, but Hazell must do a better job instilling the toughness he wants and locating playmakers.

WISCONSIN
Spring start:
March 7
Spring game:
April 12
What to watch:
Catching on: The biggest concern heading into the spring is at receiver after the team's only dependable wideout the past two seasons, Jared Abbrederis, graduated. Tight end Jacob Pedersen, who was second on the team in receiving yards last season, is also gone. The Badgers have struggled to develop new weapons in the passing game but now have no choice. Gary Andersen signed five receivers in the 2014 class but none enrolled early, so guys such as Kenzel Doe and Robert Wheelwright need to take charge this spring.
Stave-ing off the competition?: Joel Stave started all 13 games at quarterback last year, while no one else on the roster has any real experience under center. Yet the redshirt junior should face some competition this spring after the Badgers' passing game struggled down the stretch. Andersen likes more mobile quarterbacks and has three guys in Bart Houston, Tanner McEvoy and freshman early enrollee D.J. Gillins, who can offer that skill. Stave must hold them off to keep his job.
New leaders on defense: Wisconsin lost a large group of seniors, including nine major contributors on the defensive side. That includes inside linebacker and team leader Chris Borland, plus defensive linemen Beau Allen and Ethan Hemer, outside linebacker Brendan Kelly and safety Dezmen Southward. That's a whole lot of leadership and production to replace, and the process begins in earnest this spring.