August, 5, 2013
8/05/13
9:23
AM ET
Five years ago, Joe Hamilton had no idea whether he would get his dream job back. He had no idea whether he would get a second chance.
Quite frankly, he had no idea whether he could forgive himself.
[+] Enlarge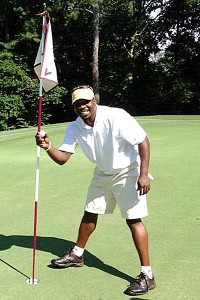 Courtesy of Georgia Tech Sports InformationNew Georgia Tech recruiting assistant Joe Hamilton nailed his first hole-in-one at the coaches' golf outing last month.
Following an arrest for a hit and run, DUI, open container and marijuana possession, Hamilton resigned as a Georgia Tech assistant -- less than two weeks after he was hired. The celebrated homecoming of a Georgia Tech legend had ended in shame.
Hamilton, who hoped to become a head coach one day, had no idea how to move on. The one job he truly wanted was gone. He had let his family down. He had let his alma mater down. He had let Paul Johnson down.
"It was very difficult looking that man in the mirror and forgiving yourself," Hamilton said in a recent phone interview. "I was beating myself up and waking up every morning, thinking, 'What did you do? You blew it," things of that nature. Everybody else was trying to say hi and wishing me well and had forgiven me and I was dwelling on it myself. It took me a little while to pick myself up and say, 'I'm a positive role model. You can still help people out from making the same mistake you made.' So I quickly changed that to a positive."
Turning your darkest days into a positive is no easy task. Not when you are as high-profile a man as Hamilton, still one of the most recognizable Jackets players of all-time thanks to his incredible four-year career. Hamilton finished second in the Heisman Trophy voting in 1999, is in the school's Hall of Fame and still holds the school record for total offense, among many others.
Given his stature, Hamilton could have easily sulked and run away from his problems. He could have taken his life in a different direction.
But he knew he was no insurance salesman, clocking in at 9 and punching out at 5. Football had to be involved somehow. So Hamilton began doing quarterback camps and speaking to the Boys and Girls Club, advising young people to avoid the same mistakes he had made.
Though Hamilton had so much to give, he had never really done as much community outreach as he did following his arrest. Rather than shy away from what happened to him, he stood up and owned it -- gaining strength from his family and the folks in the community who wanted to see him get back on his feet again.
Hamilton, so laser focused on football his entire life, had time to re-evaluate his priorities. "I thought I was untouchable," he said. Slowly, helping others allowed Hamilton to help himself and eventually, to forgive himself. He no longer wanted to be Joe Hamilton, football star. He wanted to work for what was to come.
That renewed attitude did not go unnoticed. In 2010, former Georgia Tech quarterback John Dewberry told Georgia State coach Bill Curry that he ought to look into hiring Hamilton. Curry and Hamilton are among the more famous Georgia Tech alums, but the two got an opportunity to really get to know each other in 2005 during ACC championship weekend in Jacksonville, Fla. Hamilton was a part of the inaugural class of ACC Legends; Curry was there to emcee the event.
"I was so impressed with his vigor and his enthusiasm, it stuck," Curry said in a telephone interview.
When Dewberry had made his suggestion, Curry knew Hamilton had made mistakes. But Curry was also starting up a football program, and he knew he could use the help from somebody who still held some cache in the community. Curry arranged an interview with Hamilton and grilled him about what had happened.
"We talked several times about his objectives, his family, what his expectations were," Curry said. "Most importantly, I asked him, 'What are you going to do about it?' He said, 'I'm going to completely rebuild my good name, I'm going to do the right things and I'm going to do it as long as it takes to win back the trust of the people that I let down.' That's the right answer."
Curry hired Hamilton as an intern. During that first year, Hamilton mostly helped out with recruiting, logging game tape, calling high schools for transcripts while also sitting in on meetings and getting a feel for the way a program is run. He also ended up negotiating a guilty plea to DUI and open container, putting the court case behind him.
Hamilton did everything Curry asked, and did it with a diligence that translated into a job coaching the Georgia State running backs in 2011.
When Curry promoted him, he said he had one expectation. No fumbles. And for the first time in his coaching career, Curry went through an entire season without a running back losing a fumble. "That's not just luck, that's really wonderful coaching of specifics," Curry said.
Hamilton coached running backs for two seasons at Georgia State, but found himself looking for a job when Curry retired after the 2012 season. Here is where Curry stepped in to help Hamilton again. Curry called Johnson and gave Hamilton a recommendation.
Fortunately for Hamilton, Curry had nothing negative to say. Hamilton, however, was nervous about whether he would be given another shot at the alma mater he loved so much.
Johnson and Hamilton met. The two spoke at length. Hamilton says Johnson told him, "'Some people might say I'm crazy going back down this road after what happened. You give me your word.' I gave him my word. He knew I changed. But he wanted to be reassured that everything was over and he didn't have to worry about those types of things again because the egg would really be on his face if I come back and do the same thing I did the first time."
Hamilton knows he cannot let that happen again. Not after so many people vouched for him, and stuck up for him and gave him another chance. He is especially grateful to Curry, the man who ultimately got Hamilton his dream job back.
In May, Georgia Tech officially announced Hamilton's return. He serves as a recruiting assistant, doing many of the same tasks he did his first year at Georgia State. Hamilton also has been a mentor for the players.
Vad Lee
, for one, has gone into Hamilton's office to pick his brain about what it's like to play quarterback at Georgia Tech.
Hamilton is happy to help in any way he can. So happy that he does not need an alarm clock to wake up in the morning.
"It's been wonderful," Hamilton said. "It's off the charts. Find a word higher than outstanding because that's my experience right now. I'm waiting for somebody to pinch me."
June, 9, 2011
6/09/11
5:00
AM ET
1. Auburn assistant head coach Trooper Taylor is known throughout the SEC for his sideline enthusiasm. He waves towels. He chest bumps nearly every Tiger who comes off the field. Turns out someone in Washington, D.C. noticed. When the BCS champions visited the White House on Wednesday, head coach Gene Chizik spent some personal time with President Obama. Every player got to shake the President's hand. But Taylor got to chest bump him. And the Secret Service didn't even wrestle him to the ground.
2. The ESPNU 150 debuted Wednesday. Before you could hit the refresh button, one of four players on the list from the state of Missouri, wide receiver
Durron Neal
, verbally committed to ... Oklahoma. Ouch. Until the rest of the Big 12 can divert the top talent away from the Sooners and from Texas, the league will not be as competitive as it should be. Mizzou coach Gary Pinkel has a chance for redemption. Another wide receiver from the state,
Dorial Green-Beckham
, is rated the No. 3 recruit in the nation.
3. Georgia State head coach Bill Curry announced earlier this week that he had promoted Joe Hamilton into a full-time position as assistant coach. That's great news for Hamilton, who, like Curry, played up the street at Georgia Tech. Unlike Curry, a lineman, Hamilton is the most prominent quarterback in Yellow Jacket history. He won the Davey O'Brien Award in 1999 and finished second in the Heisman Trophy vote that year. Hamilton is exactly the type of name the Panthers need to gain a toehold in Atlanta.
March, 8, 2011
3/08/11
5:00
AM ET
1. The more I see Nebraska merge into the Big Ten, the more I like it. The league moved the season-ending game between Nebraska and Iowa to Thanksgiving Friday for the next two seasons. The Big Ten hasn't played games on that Friday in the past. But the Huskers have played on the day after Thanksgiving since 1990 (Oklahoma in the Big Eight, Colorado in the Big 12). The Big Ten didn't say, "We don't do that." The adoption of Nebraska's tradition illustrates why this will be a happy marriage.

2. Quarterbacks Tommie Frazier of Nebraska and Joe Hamilton of Georgia Tech may have been the two best players who failed to win the Heisman Trophy during the 1990s. Frazier remains the best option quarterback I've ever covered. Hamilton combined running and passing in a manner that we now take for granted from the Cam Newtons and Denard Robinsons. Both appear on the College Football Hall of Fame ballot for the first time. I feel for the holdover quarterbacks on the ballot.

3. Sports Illustrated and CBS Sports performed strong journalistic legwork in their piece last week on the number of college football players who have a criminal record. But the response from Iowa, which had 18 players with a record, provided perspective that muted the sensationalism. Hawkeye athletic director Gary Barta said of the 18 players, 15 had a record because of underage drinking. That's an issue, yes, but if underage drinkers are a large percentage of college football's "criminal element," then the athletic department isn't so different from the rest of campus after all.