March, 12, 2012
3/12/12
9:30
AM ET
Purdue is getting a little bit of a buzz as a sleeper team for 2012 after breaking through with a bowl game (and win) in 2011. The Boilermakers opened spring practice last week and went for a couple of days straight before taking off for spring break. I had a chance to catch up with Purdue head coach Danny Hope to talk about how things are going in his program and the areas of concentration this spring.
Did you sense any different attitude this offseason after getting to that bowl game last year?
[+] Enlarge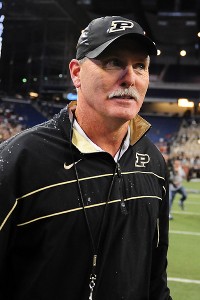 Andrew Weber/US PresswireCoach Danny Hope said the momentum from boilermakers' bowl win last season has carried over into the spring.
Danny Hope:
I think we ended the season on a high note and with some momentum, and I think it carried over into the offseason. I think we're really hitting on all cylinders with our new director of sports performance, whom we hired last year about this time. It's the first time since I've been the head coach at Purdue that we're going into spring with a quarterback that's healthy that's played any football.
Caleb TerBush
wasn't penciled in as the No. 1 [quarterback], but he became No. 1 about a week before the opener. He had to get his feet wet and learn throughout the course of the season, but by the end of the season he was playing pretty good. That momentum carried right over into the bowl preparation and the win carried right into the weight training offseason and that carried into spring practices. And having experienced quarterbacks is important. It's the first time since I've been here we've been able to do something as simple as getting signals in early in spring. It's a little different tempo out there right now as a result. We've got some good players back and we've got some confidence as a football team.
You have quite a few experienced quarterbacks now, in fact. How are you splitting up the reps for them this spring?
DH:
Well,
Sean Robinson
is playing on defense right now. It's hard to get four quarterbacks ready in spring ball, and he wasn't going to get as many reps as he needed to. So we're going to try him some at the linebacker position. That leaves TerBush and
Robert Marve
, who's finally healthy. I think Robert did some good things last year, but I think he's in position to take some big steps in his development because this is the first time since he's been here that he's been able to get a lot of reps without concern about an injury or an eligibility situation. Then
Rob Henry
is back. He's a little bit limited right now because he's coming off knee surgery, but I'm really pleased with where his recovery is, and most of the time when he's out there right now you can't tell much of a difference. But you have to limit his reps a little just because you don't want to overdo it and create a swelling issue. So the numbers are kind of taking care of themselves in some ways. We went into the spring with TerBush as No. 1 and all those other guys are competing.
Your leading rusher, Ralph Bolden, tore his ACL again, but you have two pretty good running backs in Akeem Shavers and Akeem Hunt. How do you feel about the depth at running back this spring?
DH:
We had a real strong running attack last year. We were fifth in the Big Ten in rushing. The past couple of years, we've been able to establish a strong running game. I like the progress that we've made and having good running backs is a big part of that, and any more, having a couple of running backs you can play is a big part of it. We had a lot of different guys rush for us last year, probably 10 different guys who were utilized as ball carriers. We really like Akeem Shavers. He's a fast, physical back who finishes runs. Akeem Hunt is an excellent sprinter who's a member of our track team and was a state champion track performer in Georgia. So he's a class sprinter in a lot of ways for a football player.
We've also got a kid we redshirted last year in
Doug Gentry
, and he's a skilled player. We have
Gavin Roberts
, who has good size but was injured last year. He's a big back we can utilize in the backfield. Then we've got a couple fullbacks in
Derek Jackson
, who weighs about 240 pounds, and
Kurt Freytag
. So we've got some guys still in the stable even though Ralph is out. And we've utilized
Antavian Edison
and
Raheem Mostert
some as ball carriers out of their slot position, and both those guys are really skilled players. So we've got some athletes who can tote the mail, and we spread the wealth out around here.
Were you upset about the new kickoff rules because you have such a weapon at kick returner in Raheem Mostert?
DH:
Well, we all play by the same rules. You'll have to make decisions about bringing some out, so the return man is going to have to be a good decision-maker. From a kickoff standpoint it might change some things. You can kick them all deep and try to force the touchback if you want to, but you're going to be giving the opponent the ball at the 25. Or you can kick the ball high and deep and try to pin them down and do a great job covering. So there's going to be some game planning and schemes involved. I think it will all even out. ... I don't think it's going to shut down all kick returns, but I think there will be about 25 percent less, is my guess.
February, 23, 2012
2/23/12
3:30
PM ET
We continue our postseason position rankings today as we move on to the linebackers.
Not surprisingly, Linebacker U takes the top spot, though it was a very close call. Depth helped the top two teams on this list, while star power marked spots Nos. 3 through 5. After that, it's a bit of a dropoff.
Away we go ...
[+] Enlarge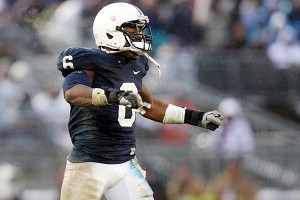 Rob Christy/US PresswireGerald Hodges led a deep group of Penn State linebackers this past season.
1. Penn State:
We thought this group could be the deepest linebacking corps in the league this past season, and that depth proved both true and invaluable when starter
Michael Mauti
went out in the fourth game of the season. Even without him, the Nittany Lions' linebackers played great, led by first team All-Big Ten performer
Gerald Hodges
, who had a breakout campaign. Nate Stupar filled in nicely for Mauti, and
Glenn Carson
was solid in his first year as a starter in the middle.
2. Michigan State:
We wondered in the preseason how the Spartans would replace stars Greg Jones and Eric Gordon. The answer: very nicely, thank you. Sophomores
Denicos Allen
and
Max Bullough
emerged as fierce playmakers, especially on the blitz, and
Chris Norman
provided steady play on the weak side. All three return in 2012 to give Penn State a run for its money as the best group in the league.
3. Wisconsin:
Mike Taylor
and
Chris Borland
were finally healthy in the same season, and what a difference that made. They were a terrific pair, combining for 293 tackles and becoming the only Big Ten duo to average more than 10 tackles per game each. Taylor in particular made great strides.
Kevin Claxton
was overshadowed a bit as the third Badgers linebacker, but that's understandable given the amount of plays Borland and Taylor made.
4. Illinois:
The emergence of Jonathan Brown (108 tackles, 19.5 for loss) as fire-breathing pass-rusher made this unit better than we projected in the preseason.
Ian Thomas
also had a good season at the position with 85 tackles, and
Trulon Henry
rounded out a strong crew before he missed time late following a shooting incident. The Illini defense stayed consistent throughout the team's struggles.
5. Nebraska:
Depth was not a strong suit for the Huskers by any means, but there was no better linebacker in the league and few better in the nation than All-American
Lavonte David
. He had 133 tackles and countless big plays.
Will Compton
came on as the season wore along to provide a good complement to David. Finding consistent play elsewhere at the position was a challenge for Nebraska.
6. Ohio State:
We pegged the Buckeyes at No. 3 in our preseason linebacker rankings, but it wasn't a vintage year for a group that struggled down the stretch drive.
Andrew Sweat
led the way with 72 tackles despite missing two games because of injury, and
Etienne Sabino
had a decent season (62 tackles, 6.5 for loss) if not the breakout season many had predicted. Freshman
Ryan Shazier
announced himself late in the year as a potential star in the making.
7. Michigan:
The Wolverines' defense surprised everyone in 2011, though the defensive line was clearly the vanguard on that side of the ball.
Kenny Demens
led the team with 94 tackles, while freshmen
Desmond Morgan
and Jake Ryan made an immediate impact as starters. This wasn't an overwhelming group, but it was one that mostly did its job.
8. Iowa:
The Hawkeyes had a hard time keeping everybody healthy and consistent, but this spot might have been the best part of their defense.
James Morris
and
Christian Kirksey
tied for the team lead with 110 tackles each, while
Tyler Nielsen
added 73 stops while battling some nagging injuries. The Iowa defense overall was disappointing, however.
9. Purdue:
Danny Hope usually knew what to expect from week to week out of his linebackers: solid, consistent play.
Joe Holland
,
Dwayne Beckford
and
Will Lucas
each had between 82 and 94 stops as the top three tacklers on the team. Lucas and Holland also recorded double-digit tackles for loss. The chief complaint here is that the Boilermakers gave up some big point totals during the season.
10. Minnesota:
The Gophers struggled up front and in the secondary, but linebacker was their most experienced and reliable defensive position, as expected. Veterans
Gary Tinsley
,
Mike Rallis
and
Keanon Cooper
played in every game, and were among the most consistent players on the team. Tinsley led the way with four sacks. Florida transfer
Brendan Beal
was expected to make an impact, but missed the season with a knee injury.
11. Northwestern:
It wasn't a very good year overall for the Wildcats' defense, and linebacker was no exception.
David Nwabuisi
ranked third on the team with 84 tackles, while
Bryce McNaul
was right behind with 76. But Northwestern's starting trio combined for just 2.5 sacks and didn't come up with enough difference-making plays throughout the season.
12. Indiana:
The good news for the Hoosiers was that
Jeff Thomas
was the best player on defense in 2011, finishing with 80 tackles, including 10.5 for loss. The bad news is that he was a senior. Besides Thomas, Indiana was forced to go young at the position, playing freshmen
Chase Hoobler
,
Mike Replogle
and
Mark Murphy
, a safety/linebacker hybrid, at times during the season. Kevin Wilson hopes the experience makes them better in '12, but this is yet another position that needs vast improvement going forward.
January, 13, 2012
1/13/12
9:00
AM ET
Let's put a final bow on bowl season with our choices for the 2011 Big Ten All-Bowl team. As usual, some positions had more than enough worthy selections, such as defensive line, while other positions -- safety, offensive line -- left us scrambling a bit.
Despite a 4-6 bowl performance by the Big Ten, the league had some nice individual performances.
Here's the bowl squad ...
OFFENSE
QB:
Russell Wilson
, Wisconsin: Though he threw a costly interception late, Wilson completed 19 of 25 passes for 296 yards and two touchdowns in the Rose Bowl loss to Oregon. That performance was good enough for him to finish the season with the NCAA record for pass efficiency.
RB:
Akeem Shavers
, Purdue: With leading rusher
Ralph Bolden
injured, the Boilermakers needed another back to step up. Shavers responded with a career high 149 yards on 22 carries in the Boilermakers' 37-32 Little Caesars Bowl victory over Western Michigan.
[+] Enlarge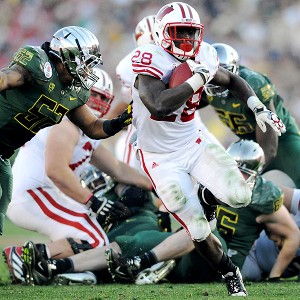 Kelvin Kuo/US PRESSWIREMontee Ball racked up 164 yards on the ground and scored his 39th TD of the season in the Rose Bowl.
RB:
Montee Ball
, Wisconsin: Ball carried 32 times for 164 yards against Oregon, and his touchdown gave him 39 on the season, tying Barry Sanders' Football Bowl Subdivision record. Ball was quieted late as the Ducks' defense made adjustments against the running game.
WR:
Jared Abbrederis
, Wisconsin: Like Wilson, Abbrederis had a costly second-half turnover, but his overall performance stood out in the Rose Bowl. The sophomore had four receptions for a team-high 119 yards and a touchdown and also had 227 return yards in the game, including a 60-yard kickoff runback.
WR:
Junior Hemingway
, Michigan: He only had two catches in the Allstate Sugar Bowl win over Virginia Tech, but both went for touchdowns. He caught the first one in traffic then juked his way toward a 45-yard score. He made a leaping grab near the back of the end zone for the second one.
TE:
Brian Linthicum
, Michigan State: The senior picked a good time to have a career day, coming up with seven catches for 115 yards against Georgia plus a catch on a two-point conversion. He took a tight end screen pass 50 yards during the fourth quarter for the longest play of his career.
OL:
Peter Konz
, Wisconsin: Konz made his first appearance since Nov. 13 and didn't look rusty after rehabbing a dislocated ankle. The All-Big Ten selection keyed a Badgers offense that racked up 212 rush yards, 23 first downs and 508 total yards against Oregon. Konz performed well in what turned out to be his final game as a Badger.
OL:
Dennis Kelly
, Purdue: The Boilers' offensive line overpowered Western Michigan in the Little Caesars Pizza Bowl, and Kelly, a mainstay at left tackle during his career, helped lead the charge. Purdue racked up 265 rush yards on 56 attempts and steamrolled the Broncos despite not having top running back Bolden (knee).
OL:
David Molk
, Michigan: A foot injury in warmups wasn't going to keep Molk from playing his final game with the Wolverines. The Rimington Trophy winner, who some thought wouldn't return to the field, missed only one series and did his part for the Michigan offense in its win against Virginia Tech.
OL:
Jeff Allen
, Illinois: Allen keyed an Illinois offense that showed some life in the Kraft Fight Hunger Bowl after fading down the stretch of the regular season. He helped the Illini rush for 178 yards, while UCLA had only one sack in the game.
OL:
Kevin Zeitler
, Wisconsin: Like Konz, Zeitler delivered a typical performance in Pasadena and helped Ball and the ground game get going. Wisconsin's physical play along the offensive line gave Oregon problems for most of the game.
DEFENSE
[+] Enlarge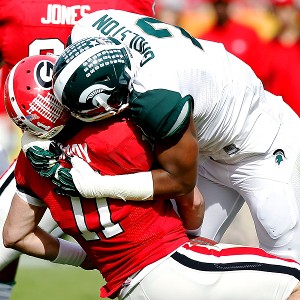 J. Meric/Getty ImagesWilliam Gholston seemed unstoppable in Michigan State's win over Georgia in the Outback Bowl.
DL:
William Gholston
, Michigan State: The sophomore announced himself as a likely breakout star in 2012 with a huge performance against Georgia in the Outback Bowl. Gholston had five tackles for loss, including two sacks, plus a fumble recovery in the Spartans' victory.
DL:
Whitney Mercilus
, Illinois: The nation's sacks leader went out with a bang before declaring for the NFL draft. Mercilus registered 1.5 sacks in the Kraft Fight Hunger Bowl win over UCLA, tying him with Simeon Rice for the school single-season record of 16. He finished with three tackles for loss and gave the Bruins offense fits.
DL:
Mike Martin
, Michigan: The Wolverines repeatedly stuffed Virginia Tech in the red zone, and Martin was a big reason why. The senior had 10 tackles and 0.5 sacks while helping control the interior of the defensive line.
DL
Mike Daniels
, Iowa: The Hawkeyes defense showed up in the Insight Bowl, and Daniels led the way with five tackles, including three tackles for loss and two sacks. Oklahoma came into the game having allowed just nine sacks all season, but Daniels had two in the first half.
LB
:
Lavonte David
, Nebraska: Though the Huskers lost to South Carolina, David had his usual brilliant game. He finished with 11 tackles and two sacks in the losing effort to cap a terrific career.
LB:
Joe Holland
, Purdue: The senior delivered in his final game as a Boiler, recording team highs for tackles (9), tackles for loss (2) and pass breakups (3) against Western Michigan. Holland was always around the ball and spurred a play-making Purdue defense in Detroit.
LB:
Ian Thomas
, Illinois: Like Holland, Thomas had a big performance in his final collegiate game as Illinois held UCLA to seven points through the first 59 minutes. Thomas finished with seven tackles, including two for loss and a sack, as well as a pass breakup against the Bruins.
CB:
Darqueze Dennard
, Michigan State: He got burned on a long pass in the first half but made up for it with two second-half interceptions, including one he returned 38 yards for a touchdown, in the win against Georgia. Dennard tied the Michigan State bowl record with the two picks.
CB:
Terry Hawthorne
, Illinois: Hawthorne's 39-yard interception return for a touchdown in the third quarter gave Illinois its first lead against UCLA. It marked the second pick-six of Hawthorne's career and the first since 2009. He also had five tackles, including 1.5 for loss.
S:
Jordan Kovacs
, Michigan: Kovacs capped a breakthrough season in the Allstate Sugar Bowl with a a team-high 11 tackles in the win against Virginia Tech. He helped limit the Hokies to just one touchdown on six red zone possessions and finished the season with 75 total tackles.
S:
Brian Peters
, Northwestern: Peters made a nifty interception against Texas A&M, his Big Ten-leading fifth pick of the season, and added seven tackles against the Aggies. He finished his career with 12 interceptions, the third-highest total in team history.
SPECIAL TEAMS
K:
Brendan Gibbons
, Michigan: Gibbons nailed all three of his field goal attempts, including the 37-yarder in overtime to win the game for the Wolverines.
P:
Mike Sadler
, Michigan State: Sadler was big in the field position battle against Georgia. He averaged 50.1 yards on eight punts, placing four of them inside the 20-yard line.
KR:
Raheem Mostert
, Purdue: Mostert returned a kickoff 99 yards for a touchdown in the win over Western Michigan. It marked the longest kick return in Purdue bowl history and helped Mostert finish the season as the nation's leading return man (33.5 ypr).
PR:
Venric Mark
, Northwestern: Not too many choices around the Big Ten, but Mark broke off a 47-yard return in the Meineke Car Care Bowl of Texas. He also had a two-yard rushing touchdown in the game.
October, 29, 2011
10/29/11
1:34
PM ET
It has been an odd game at the Big House so far, although Michigan has to like the result at halftime after some bumps along the way.


Despite allowing an easy touchdown drive to open the game and committing two turnovers, the Wolverines have a comfortable lead. Fueled by opportunistic defense and big plays on offense, Michigan scored 22 unanswered points to end the half.
Wolverines senior defensive tackle Mike Martin had a huge first 30 minutes. He recorded a safety to bail out teammate
Devin Gardner
, who threw an ugly interception, and had another sack to force a Purdue punt late in the half. The NFL prospect has been dominant. The Wolverines also were helped by a Courtney Avery interception in the red zone to stop a Purdue drive.
It was a bizarre half for the Michigan offense, which piled up 294 yards and 16 first downs but didn't always look smooth. Running back Fitz Toussaint (9 catches, 75 yards, TD) and receivers
Jeremy Gallon
(2 catches, 65 receiving yards) and
Roy Roundtree
(2 catches, 61 yards) have been impressive, but ...
Denard Robinson
continues to make head-scratching decisions in the passing game. He threw an interception in Purdue territory, his 11th of the season, matching his total from all of last season. Coordinator Al Borges continues to show creativity with his play calls, but he pushed his luck with the deep pass by Gardner, which Purdue easily intercepted.
Purdue's offense looked great on the opening series but picked up 67 of its 119 first-half yards on the possession.
Caleb TerBush
completed 4 of 5 passes for 64 yards and a touchdown, but Purdue also has used
Robert Marve
under center. The Boilers' run game has been practically invisible, and coordinator Gary Nord must find a way to get
Ralph Bolden
and the other backs going in the second half.
September, 28, 2011
9/28/11
10:30
AM ET
SOUTH BEND, Ind. --
Tyler Eifert
will find himself being covered by Joe Holland throughout this Saturday, and confusion will run through the families of each.
The son of a Purdue basketball player will be starring at tight end for Notre Dame, covered by a Purdue linebacker whose parents and grandfather graduated from Notre Dame.
Yet nostalgia will go out the door for Eifert when he takes the field of Ross-Ade Stadium, a place he grew up watching games in.
[+] Enlarge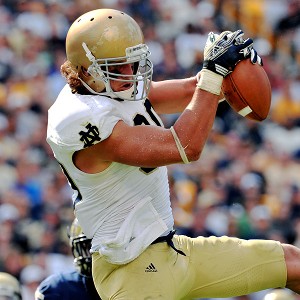 Matt Cashore/US PRESSWIRETyler Eifert caught eight passes for 75 yards, a touchdown and this two-point conversion against Pitt.
"When it all comes down to it, it's just a football field like anywhere else," Eifert said, "and that's how you have to approach it."
Still, some memories stick out more than others, particularly the Boilermakers' upset over Ohio State 11 years ago, a comeback keyed by Super Bowl XLIV MVP Drew Brees.
And, of course, there were a handful of the previous 83 meetings between the Fighting Irish and the Boilermakers that Eifert had a great view of.
"Notre Dame usually won," he recalled, "and that was annoying."
Eifert, whose father Greg played basketball at Purdue two decades ago, is hoping to annoy Purdue fans in similar fashion. Coming off game-highs of eight catches and 75 yards Saturday at Pitt, the junior from Fort Wayne finds himself second in the nation in catches (20) and receiving yards (244) among tight ends.
Eifert was thrust into the spotlight a year early, starting Notre Dame's final seven games last season after current Minnesota Vikings tight end Kyle Rudolph's year ended because of a right hamstring injury.
Tight ends coach Mike Denbrock called the situation a "baptism by fire."
"Compared to where he was a year ago at this time, he's light years ahead," Denbrock said. "We're not afraid to match him up physically, one-on-one with a defensive end, a linebacker or whatever. He does a nice job with that. It's kind of just the consistency that we're looking for where it's every single play you can lean on him if you need to. And he's getting the job done"
Eifert is already closing in on last year's totals of 27 catches and 352 yards, and he has turned into one of
Tommy Rees
' favorite targets. Only
Michael Floyd
has more receptions and receiving yards for the Irish.
Rees found Eifert four times during the Irish's go-ahead drive in the fourth quarter Saturday, including for a 6-yard touchdown pass and ensuing two-point conversion.
Two years ago, Rudolph made a game-winning touchdown catch in West Lafayette, propelling the Irish to a 24-21 win in primetime.
Eifert didn't play in that contest as a freshman, but he was there, happy for once to see Notre Dame walk out of Purdue with a victory.
"I remember I got to travel down to the last one my freshman year," he recalled, "and it was pretty rowdy, the night game. So that'll be a fun atmosphere and it'll be a good game."
September, 27, 2011
9/27/11
4:00
PM ET
Purdue linebacker Joe Holland has some personal motivation to beat Notre Dame this week. Both of Holland's parents and his grandfather graduated from the school in South Bend, and though the Irish recruited Holland out of high school, "they didn't recruit me like Purdue did," he says.
Holland doesn't want to finish his Boilermakers career without beating Notre Dame, so stopping the three-game losing streak in this rivalry is a high priority. But while Holland might be the happiest guy in Ross-Ade Stadium on Saturday night if Purdue wins, he realizes this game is more than just personal. It's an important opportunity for the entire program.
"The stage is definitely set," he told ESPN.com. "It's a huge game because of the opponent, it's a huge game because of the stage we're on. It would mean a lot for our team to get this one and to get some momentum going into the rest of the season."
[+] Enlarge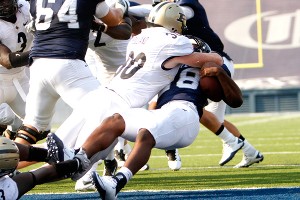 Thomas Campbell/US PresswireJoe Holland (30) knows what a win over Notre Dame would mean for the Purdue program.
Forward momentum has been hard to come by lately for the Boilers. They haven't had a winning season since 2007 and failed to make a bowl game in each of coach Danny Hope's first two years. Hope's first season included an upset of then-No. 7 Ohio State at home and a road triumph over Michigan. The team beat Northwestern on the road last year with a true freshman quarterback starting.
But Purdue (2-1) comes into this week with a six-game losing streak against BCS AQ teams. The program has been beset by injuries and hasn't registered on the national radar for a while now. Simply put, Hope and the players need something positive to happen. While Notre Dame is unranked and already owns two losses, beating the Irish would provide a good start.
"A win against Notre Dame would be a signature win," Hope said. "It would create great confidence for our football team. It certainly would receive a lot of national attention, and I think it would be a great sign for the direction the program is going in. It could also impact recruiting in some ways."
It's hard to say just how good this Boilermakers team is. It beat Middle Tennessee in the opener by blocking a field goal attempt on the last play, then lost the following week at Rice when its own late field goal try was rebuffed. A 59-0 win over Southeast Missouri State was good for confidence building and saw the return of quarterback
Robert Marve
to the lineup, but Southeast Missouri State has about as much in common with Notre Dame as West Lafayette does with Rio de Janeiro.
"We're still developing," Hope said. "This football team has great potential. I think it's one of those teams that will get better and better."
Purdue hangs its hat on its running game, which ranks 11th nationally with 258 yards per game on the ground. The return of
Ralph Bolden
from a knee injury and the addition of junior college transfer
Akeem Shavers
has given the backfield two fast, powerful ball carriers. Junior quarterback
Caleb TerBush
was pressed into starting duty when
Rob Henry
went down with a knee injury in preseason camp. TerBush has played well enough to retain the starting job over the veteran Marve, though Hope plans to play both quarterbacks.
The defense has solid experience on the back end and is led by its interior playmakers up front. Kawann Short and sophomores Bruce Gaston and Ryan Isaac have been disruptive from their defensive tackle positions.
"The games where we've been able to completely shut down the run have been our defensive tackles' best games," Holland said. "Kawann is a monster up front, and he's stringing together a couple of really good seasons. Bruce and Ryan are younger guys who are very, very developed and very strong. Both have the potential to be great players inside."
Purdue will need to play its best game to stop a Notre Dame team that could be undefeated if not for all its turnover problems. The Boilers have had an extra week to prepare thanks to a bye last week. It came at a good time, because they got to focus their attention on what looks like a key game in the program's trajectory.
"If things don't work out right, it's not the end of the world," Hope said. "But a win on Saturday could change our world in some ways."
July, 5, 2011
7/05/11
1:38
PM ET
It's time to jump back into our preseason position group rankings. We've made our way through the offenses and the front line of the defenses. Now it's time to take a look at the linebackers.
As always, this is a ranking of the entire position group, so depth matters in addition to individual star players.
Away we go:
[+] Enlarge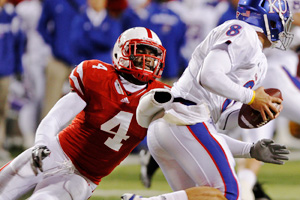 AP Photo/Nati HarnikNebraska's Lavonte David led the Big 12 last season with 152 tackles.
1. Nebraska:
Lavonte David set the school record with 152 tackles last year, best in the Big 12. He also added 15 tackles for loss and six sacks on his way to second-team All-America honors. David was a one-man wrecking crew last year but should get more help this year. Will Compton returns after an injury-shortened season, and Sean Fisher is back after a broken leg cost him all of 2010. With an excellent defensive front leading the way, the Cornhuskers' linebackers should make plenty of impact plays.
2. Penn State:
Is this the return of Linebacker U? The Nittany Lions technically only return one starter at the position but have plenty of talent. The unit got hit by injuries last year, including one that knocked Michael Mauti out of the lineup for several games. He's one of the best in the Big Ten when healthy, which he should be in 2011. Senior Nate Stupar led the team in tackles last year. Sophomores Gerald Hodges and Khairi Fortt are among the skilled youngsters battling for playing time. This could wind up as the deepest linebacking corps in the league.
3. Ohio State:
The Buckeyes lost two starters, including leading tackler Brian Rolle. But the Silver Bullets usually reload at linebacker. Senior Andrew Sweat should emerge as the unit's leader, and hopes are high for Etienne Sabino after he took a redshirt year in 2010. Sabino showed promise this spring and locked down a starting job. The battle is on for the third starting position. Incoming freshman Curtis Grant could make a sudden impact.
4. Wisconsin:
Much depends on the health of Chris Borland, who missed nearly all of 2010 and sat out the spring with a shoulder injury. The 2009 Big Ten Freshman of the Year will move to middle linebacker and should anchor the unit if he's sound. Mike Taylor finished second on the team in tackles for loss and interceptions last year, and Kevin Claxton is expected to take over at the strongside spot. The Badgers like what they have seen from redshirt freshman Marcus Trotter.
5. Iowa:
The Hawkeyes lost a lot of experience from the 2010 team, including leading tackler Jeremiha Hunter. While there's some concern about the leadership void, Iowa has good young building blocks here. James Morris was pressed into service as a true freshman and was terrific; another year of development should only make him better. Tyler Nielsen was missed down the stretch when he suffered a neck injury, and the senior provides a veteran presence. Players like Bruce Davis, Christian Kirksey and Anthony Hitchens need to take on bigger roles.
[+] Enlarge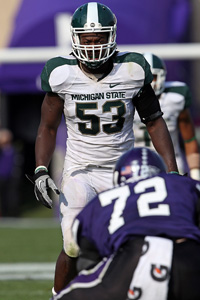 Jonathan Daniel/Getty ImagesReplacing two-time All-American Greg Jones will be a tall order for the Spartans.
6. Michigan State:
It would be difficult to overstate how much the Spartans will miss two-time All-American Greg Jones and Eric Gordon, who combined to start 95 games in their illustrious careers. But life goes on. The lone returning starter, Chris Norman, is a dependable veteran. The Spartans hope Max Bullough and Denicos Allen build on their potential, and TyQuan Hammock inspired confidence with his play this spring.
7. Minnesota:
An experienced linebacker group could be the strength of the Gophers defense this season. All three starters -- leading tackler Gary Tinsley, Keanon Cooper and Mike Rallis -- are back. Rallis needs to stay healthy after only appearing in 12 games the past two years because of injuries. Florida transfer Brendan Beal should provide a boost.
8. Purdue:
The Boilermakers are led by senior Joe Holland, who has 35 career starts under his belt. Junior Dwayne Beckford finished second on the team with 85 tackles a year ago. Will Lucas could break out after an excellent true freshman campaign. Senior Chris Carlino adds veteran depth.
9. Michigan:
The Wolverines struggled defensively last year, and the linebackers shouldered some of the blame. They lost Jonas Mouton to the NFL. Cam Gordon moves down from safety and adds some playmaking ability. Kenny Demens had 82 tackles last year at middle linebacker. Freshman Jake Ryan should contribute right away. This group still has a lot to prove.
10. Illinois:
The Illini have to rebuild after losing a pair of NFL draft picks at the position in Martez Wilson and Nate Bussey. Senior Ian Thomas now becomes the veteran leader. Sophomores Johnathan Brown and Houston Bates -- who had a strong spring -- will be counted on to step forward.
11. Indiana:
Fifth-year senior Jeff Thomas could be the centerpiece of the Hoosiers defense. Another fifth-year senior is Leon Beckum, though he lacks top-end speed. Overall, there isn't a lot of depth here.
12. Northwestern:
Linebacker play was a sore spot last season, and starters Nate Williams and Quentin Davie are gone. Bryce McNaul needs to recover all the way from shoulder surgery and has to stay healthy. Pat Fitzgerald thinks he has some talented young players at the position; they'll need to grow up fast.
April, 12, 2011
4/12/11
2:30
PM ET
Eight Big Ten defenders have been named to the preseason watch list for the Lott IMPACT Trophy, awarded to the nation's top defender.
The honor recognizes players who excel both on and off the field and reflect the following values (IMPACT): Integrity, Maturity, Performance, Academics, Community and Tenacity.
Here are the Big Ten contenders:
Nebraska DT Jared Crick
Nebraska LB Lavonte David
Wisconsin S Aaron Henry
Iowa LB Tyler Nielsen
Purdue LB Joe Holland
Michigan S Jordan Kovacs
Ohio State DT John Simon
Michigan State DT Jerel Worthy
The ACC led all conferences with 11 selections, followed by the SEC (8), the Big Ten (8), the Pac-12 (6) and the Big 12 (6).
Big Ten players have claimed the Lott Trophy in two of the past three seasons. Wisconsin DE J.J. Watt took home the hardware in 2010, and Ohio State LB James Laurinaitis won it in 2008.
Nebraska's Crick was on the Lott Trophy watch list last season and looks like the Big Ten's top candidate heading into 2011.
Not a bad list overall, though I would have like to have seen more Big Ten defensive backs (Shaun Prater, Alfonzo Dennard, Jordan Mabin, Antonio Fenelus, D'Anton Lynn, Nick Sukay) earn consideration.
April, 11, 2011
4/11/11
11:00
AM ET
Purdue wrapped up spring practice Saturday with the Black and Gold Game, the first spring game in the Big Ten this year. The Gold team prevailed 14-3 behind touchdown receptions by
Justin Siller
and Normando Harris.
Let's take a closer look at the game.

Game coverage:
Here
and
here
and
here
.
Quotable:
"We're not going to have great talent sitting on the sideline.
Rob Henry
is a great talent.
Robert Marve
is a great talent and
Caleb TerBush
is a great talent. We're going to find a way for all three of those guys to help us win, regardless of how it shakes down on the depth chart." -- coach Danny Hope on his quarterbacks
Highlights
Top quarterback Rob Henry had a decent day for the Gold squad, completing 8 of 12 passes for 76 yards with a touchdown and an interception, and adding 27 rush yards. Caleb TerBush called signals for both teams and completed 16 of 27 passes for 172 yards with a score and an interception. Receiver Antavian Edison capped a strong spring with five receptions and two rushes for 26 yards.
Purdue's defense was the more dominant unit for much of the scrimmage. Linebacker Antwon Higgs and safeties Logan Link and Jarrett Dieudonne all recorded interceptions, and the teams combined for seven "sacks," including two apiece by defensive ends Robert Maci and Ryan Russell (Black team).
It's rare when a kicker steals the show at a spring game, but Carson Wiggs isn't your typical specialist. The bionic-legged Wiggs, who kicked the nation's longest field goal (59 yards) last season, put on a display just before halftime. He kicked five field goals, including a 67-yarder that would have been good from 75. Wiggs also connected from 57, 52, 47 and 42 yards and missed from 62. That's called range, people.
Purdue on Friday announced six team captains for 2011: Henry, Wiggs, defensive tackle Kawann Short, offensive tackle Dennis Kelly and linebackers Joe Holland and Chris Carlino. The most significant selection is Henry, just a sophomore. Although Purdue's quarterback race isn't over as Robert Marve will rejoin the mix this summer, Henry separated himself this spring and clearly has the support of his teammates. It'll be an interesting decision for Hope, who has a lot invested in Marve but has repeatedly praised Henry's progress.
October, 11, 2010
10/11/10
2:07
PM ET
It's time to look back at Saturday's action before peeking ahead at Week 7 in the Big Ten.
[+] Enlarge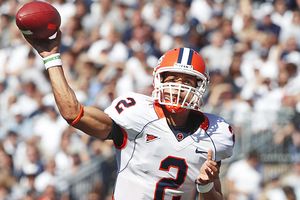 AP Photo/Keith SrakocicNathan Scheelhaase played well in Happy Valley as Illinois made history.
Team of the week:
Illinois. The Fighting Illini made history in more than one way Saturday at Penn State. They recorded their first win in Happy Valley and handed Penn State its worst Homecoming loss (33-13) in Joe Paterno's 45 years as head coach. After giving Ohio State a scare in Week 5, Illinois continued to deliver on defense, stuffing Penn State in the red zone and getting a huge lift from Nate Bussey's pick-six. Vic Koenning's defense held Penn State to season lows in first downs (7), total yards (235), third-down conversions (2-for-14) and time of possession (21:48). Illinois redshirt freshman quarterback
Nathan Scheelhaase
showed impressive growth in his first road Big Ten start and capitalized on a banged-up Penn State defense. Michigan State and Purdue merit mentions for road wins.
Best game:
Purdue at Northwestern
. Not many choices here as four of the five Big Ten games were decided by 17 points or more. At least the Boilers and Wildcats provided some fourth-quarter drama. Down 17-13, Purdue mounted a 14-play, 75-yard scoring drive that featured two third-down conversions and a fourth-down touchdown run by
Dan Dierking
to give his team the lead with 3:54 left. Northwestern quickly moved the ball into Purdue territory and appeared set up for the game-winning touchdown when
Jacob Schmidt
dashed inside the 5-yard line on third-and-5. But a holding penalty negated the run and Northwestern had to settle for a potential game-tying field-goal attempt, which senior Stefan Demos missed badly. The banged-up Boilers left Evanston with a confidence-boosting win.
Biggest play:
Not a clear choice this week. Purdue made several big plays to win its Big Ten opener, including Dierking's 7-yard touchdown run on fourth-and-inches and Kawann Short's field-goal block early in the fourth quarter. Bussey's pick-six against Penn State was huge for Illinois, and Michigan State set the tone for a big second half at Michigan with a 41-yard touchdown pass from
Kirk Cousins
to
Mark Dell
early in the third quarter. Cousins got the ball away just before absorbing a hit and made a perfect throw to Dell for the score.
Specialist spotlight:
Illinois kicker Derek Dimke gets the nod this week after going 4-for-4 on field-goal attempts at Penn State, connecting from 50, 41, 37 and 31 yards away. His 50-yarder put Illinois up 17-10 in the second quarter, and he closed the half with a 31-yarder. Dimke became the first Illinois kicker to make four field goals in a game since 2006. Several Big Ten punters had good days Saturday, including Michigan State's Aaron Bates (45-yard average, two punts inside the 20), Penn State's Anthony Fera (6 points, 44-yard average) and Purdue's Cody Webster (6 punts, 47.7-yard average).
Most talked-about call:
Bret Bielema's decision to attempt a two-point conversion with Wisconsin leading Minnesota 41-16 midway through the fourth quarter. Bielema claimed he was following the coaches' guide on when to go for two, but Minnesota coach Tim Brewster and many others saw it as an attempt to run up the score. Brewster might not get a chance for revenge in the rivalry, but you can bet Minnesota's underclassmen will remember what happened.
Game balls
:
Illinois LB Nate Bussey: Bussey made an athletic play to record a 16-yard interception return for a touchdown against Penn State and tied his career high with eight tackles in the victory.

Purdue's defense: Hard to give this to only one player, so the Boilers' defenders will have to share after an outstanding effort at Northwestern. Some notables include linebacker Joe Holland (12 tackles, 2 TFLs, 1 sack), tackle Kawann Short (8 tackles, 1.5 TFL, 1 sack, 1 blocked kick, 1 pass breakup) and safety Logan Link (6 tackles, 1 forced fumble, 1 pass breakup). Ryan Kerrigan had a sack and created a ton of problems for Northwestern.

Michigan State S Trenton Robinson: Robinson came up big on the opening drive against Michigan, recording a touchdown-saving tackle on Michael Shaw and then intercepting a Denard Robinson pass in the end zone. The much-hyped Spartans junior finished with seven tackles and a pass breakup in the win.

Michigan State QB Kirk Cousins: Cousins has been brilliant in his last six quarters of football and dissected Michigan for 284 pass yards on 18 of 25 attempts with a touchdown and no interceptions.

Ohio State WR DeVier Posey: Somewhat overshadowed by fellow receiver Dane Sanzenbacher this year, Posey led Ohio State in both receptions (8) and receiving yards (103) in Saturday's blowout win against Indiana. He hauled in a 17-yard touchdown pass from Terrelle Pryor in the second quarter.

Wisconsin LB Mike Taylor: Taylor recorded a career-high three tackles for loss against Minnesota and finished with seven stops in the game.
OK, now let's take a quick look at Week 7.
Illinois (3-2, 1-1 Big Ten) at No. 13 Michigan State (6-0, 2-0):
In most years, this would be a classic trap game for Michigan State, which comes off of two emotion-charged victories against ranked opponents. This Spartans team seems much more grounded and mentally tough. Still, Illinois' improved defense and strong running game provides a good test. Two the Big Ten's best running backs match up with Michigan State's
Edwin Baker
and Illinois'
Mikel Leshoure
.
Minnesota (1-5, 0-2) at Purdue (3-2, 1-0):
What looked like the Basement Bowl before Saturday night suddenly becomes an opportunity for Purdue to start 2-0 in league play. Freshman quarterback
Rob Henry
tries to gash a Minnesota defense that allows 196.3 rush yards a game, last in the Big Ten. Minnesota has won back-to-back games in the series and needs a victory in the worst way Saturday.
Arkansas State (2-4) at Indiana (3-2):
After back-to-back losses, Indiana should get well against an Arkansas State team that ranks 88th nationally against the pass (237.7 ypg). That said, the Hoosiers shouldn't overlook a Red Wolves team that can throw the ball with talented sophomore
Ryan Aplin
and has been in every game since a season-opening 26-point loss to Auburn. Indiana needs to get its defense in order before resuming Big Ten play at Illinois.
No. 15 Iowa (4-1, 1-0) at Michigan (5-1, 1-1):
Extra prep time usually translates to Iowa success, and the Hawkeyes have had two weeks to prepare for Denard Robinson after shutting down Penn State. Robinson ran for 49 yards and a touchdown against the Hawkeyes last year, and he'll provide a good test for Adrian Clayborn and the defense. Look for Iowa quarterback
Ricky Stanzi
to attack Michigan's shaky secondary down the field with
Derrell Johnson-Koulianos
.
No. 1 Ohio State (6-0, 2-0) at No. 18 Wisconsin (5-1, 1-1):
All eyes will be on Madison as Ohio State tries to take a big step toward the national championship game against a Wisconsin team that is 40-4 at home since the start of the 2004 season. Wisconsin's home dominance is offset by Ohio State's brilliant play in Big Ten road games under Jim Tressel. Ohio State boasts the more accomplished defense, but Wisconsin can be the Big Ten's best offense when hitting on all cylinders.
Bye:
Northwestern (5-1, 1-1), Penn State (3-3, 0-2)
August, 22, 2008
8/22/08
9:55
AM ET
Posted by ESPN.com's Adam Rittenberg
COLUMBUS, Ohio -- I've arrived safely in Columbus and it's still early enough to call this a morning briefing, so it is. I'll be heading over to Ohio State for interviews this afternoon, but first here's what's going on around the Big Ten as training camps wind down.