December, 30, 2013
12/30/13
2:00
PM ET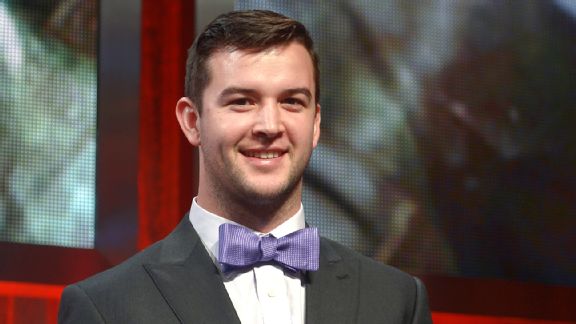 AP Photo/Phelan M. Ebenhack
After all the big moments, big throws and, most importantly, big wins,
AJ McCarron
has one final game in what has been a record-setting Alabama career.
It's not the way he hoped to go out or the way he expected to go out.
One of college football's most accomplished winners, McCarron had his sights set on a third straight national championship. Instead, Alabama will face Oklahoma in the Allstate Sugar Bowl on Thursday.
As consolation prizes go, it's not a shabby one. But McCarron is accustomed to playing for the top prize only. In fact, this will be the first time as Alabama's starting quarterback that his season hasn't ended in the national championship game.
It will be odd, for sure, but his legacy is untouchable, and according to those who came before him, he has very few peers in a renowned Alabama quarterback fraternity that includes the likes of Joe Namath, Ken Stabler and Bart Starr.
"I don't think there are many quarterbacks in college football history, much less at Alabama, who have the resume AJ has," said Jay Barker, who quarterbacked the Crimson Tide to the 1992 national championship.
"There have been other quarterbacks at Alabama who've been a part of back-to-back championships, but I don't know if they've contributed as much as AJ has. He's been a leader. He's delivered in pressure situations. He's played through injuries. I think you have to put him at the very top."
[+] Enlarge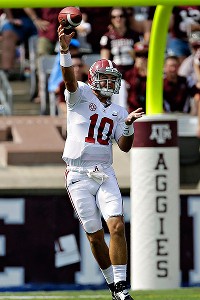 AP Photo/David J. PhillipAJ McCarron will be remembered as a tough competitor who always came up big in big games.
McCarron owns virtually every career passing record at Alabama, at least the major ones. And in most cases, it's not even close.
He'd already thrown more career touchdown passes than anybody at Alabama coming into this season. He heads into the Sugar Bowl with 75. Second place on that list is John Parker Wilson with 47.
McCarron also holds the school record for career passing yards (8,632), total offense (8,625 yards) and career completions (667).
In his last two seasons, he has thrown 56 touchdown passes and just eight interceptions. He led the nation in passing efficiency a year ago and is eighth nationally this season.
In truth, he has put up the kind of numbers that might not be touched at Alabama for a long time. But the numbers that mean the most to McCarron are 36-3, his record as the Crimson Tide's starting quarterback. The 36 wins are the most in school history and third most in SEC history.
"What he's been able to accomplish there is amazing," said Greg McElroy, who quarterbacked Alabama to the 2009 national championship. "It's been fun to watch. One thing I can say is that it's tough playing quarterback at Alabama, especially when you consider that AJ grew up in that state. The pressure can be overwhelming at times, but the level of consistency that he's sustained has been nothing short of spectacular."
His penchant for performing on the biggest stages has set him apart, whether it was his clutch drive in the final minutes at LSU last season, his four touchdown passes in the BCS National Championship last season or his Offensive MVP performance in the BCS National Championship two years ago.
"Everybody talks about him being a game manager, but that's a part of that position. You have to be a good game manager if you're going to be a good quarterback," Barker said. "What I look at is AJ in big games and in big moments. He always seems to deliver in those moments.
"I know it's not a fair comparison, although it's a flattering one. But AJ reminds me of Tom Brady in the way he thrives under pressure and makes the plays that have to be made. There are a lot of quarterbacks who have good stats. But what separates the men from the boys at the quarterback position is being able to handle the biggest of moments.
"Those are the ones who are special, and AJ is in that class."
Even though there's not a national championship at stake in New Orleans, McCarron has made it clear to anybody who will listen that the Tide will be ready. The last time Alabama lost two consecutive games was the end of the 2008 season when the Crimson Tide fell to Florida in the SEC championship game and were then beaten handily by Utah in the Sugar Bowl.
"We slipped up one time. That's football," McCarron said of the bitter loss to Auburn in the Iron Bowl. "You've got to let it go. It's the next game. I don't want to come out and just play a game and not win it. … I don't really care what I'm playing. I want to win."
And that's precisely the way he'll be remembered -- as a winner.
"Coach [Gene] Stallings used to always say, 'Don't confuse activities with accomplishments,'" Barker said. "In other words, if you're not winning, who cares if you're throwing for 300 yards and four touchdowns?
"Ask
Johnny Manziel
or any other quarterback who's putting up big numbers if they'd rather have those stats or have some championships. They'd rather have the titles.
"Your job as a quarterback is to deliver the win, and that's what AJ was so good at."
April, 11, 2011
4/11/11
12:41
PM ET
STANFORD, Calif. -- The media often falls for polite and polished and humble. It doesn't require a gaggle of publicists to know that a superstar athlete doing polite, polished and humble charms reporters and therefore the public. And, of course, it's often a con, or a least a public persona that doesn't match the reality of said superstar athlete.
[+] Enlarge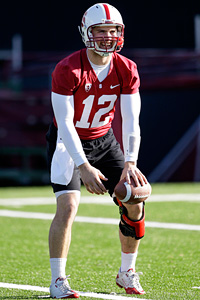 AP Photo/Paul SakumaStanford's Andrew Luck is a front-runner to win the Heisman Trophy next season.
Stanford quarterback
Andrew Luck
is a superstar athlete, even if trying to get him to engage the topic is like playing dodge ball with
Plastic Man
. He was the Heisman Trophy runner-up last season and he almost certainly would have been the No. 1 overall pick in the NFL draft on April 28 had he not opted to return for his redshirt junior season, in large part, he said, because he wanted to finish up his degree in architectural design.
This story, however, must now pause because Luck has walked away from an interview to help a woman open a door to the Stanford athletic building. She needs to use the restroom, and it doesn't require Woodward & Bernstein to ascertain that this might be a pressing need. Luck points her in the right direction but warns her that they might be cleaning up inside.
Where were we? Yes, moments before becoming a hero to a woman who had perhaps imbibed too much afternoon coffee, Luck walked past a ballroom dancing class and, making small talk, noted, "I don't think I'm coordinated enough for ballroom dancing."
Luck is a buffed-up, 6-foot-4, 235 pounds and, besides ranking third in the nation in passing efficiency in 2010, he rushed for 453 yards. But ballroom dancing students, now those folks are athletes.
Actual exchange once the interview starts again:
Hyperventilating reporter [Me]: "Now, everybody in the country knows who you are."
Luck: "I don't think everbody knows."
Said former Stanford coach Jim Harbaugh, now with the San Francisco 49ers, last fall: "He's almost embarrassed if somebody compliments him or wants to talk about him. He's very quick to deflect it to his teammates. He's someone people want to follow, want to emulate. It's a unique quality to be the sort of anti-celebrity quarterback, the anti-big-man on campus."
More than a few folks were stunned Luck opted to return, no matter how much he enjoyed college or wasn't burdened by financial need -- his father, Oliver, is a former NFL quarterback and presently the athletic director at West Virginia.
Said Stanford linebacker Shayne Skov, "Anybody's logic would have been to leave. We were all stunned."
There is a potential red flag here, though, on the football side of things. Some might observe that NFL coaches prefer the singular focus of the football obsessed over a Renaissance man who enjoys college. Further, the best quarterbacks are often swashbuckling sorts -- Tom Brady, Brett Favre (without the text messages), Joe Namath and Kenny "The Snake" Stabler -- so if Luck seems too much the Boy Scout, might that make it difficult for him to lead a locker room that includes an array of edgier personalities?
Ah, but not unlike Peyton Manning, Luck doesn't do Ned Flanders on the football field. Just ask former USC cornerback Shareece Wright and California safety Sean Cattouse, who both ended up on the losing end of a Luck hit when they stood between the quarterback and something he wanted during a game.
"My dad calls it 'crossing the white line'," said new Stanford head coach David Shaw, who's father, Willie Shaw, was a longtime college and NFL coach.
"You can be the greatest human being on the planet, but once you cross that white line, it's whatever it takes to win football games. Andrew has started to remind me of another guy who was like that: [former Cardinal and nine-time Pro Bowl safety] John Lynch. John Lynch was an all-time human being -- a phenomenal person. One of those guys you say you want your daughter to grow up and marry. That's the way Andrew is. But once he crosses that white line, he's such a competitor. He doesn't care who you are, he's going to try to knock you out. Andrew flips that same switch."
While Stanford practices are closed, the scuttlebutt is that Luck has been masterful this spring. Quipped offensive coordinator Pep Hamilton with a straight face, "He was able to complete 70 percent [71 percent actually] of his passes last year. Our goal is for him to complete 100 percent of his passes."
When asked about this, Shaw pointed out that Luck, indeed, missed a throw-- a 6-yard out -- at practice the previous day.
"You'd have thought it was the Super Bowl," Shaw said. "With a guy like this, you shoot for the moon. You see how far you can push him. And Andrew loves it. He wants to be pushed every day. He wants to be coached, he wants to be coached hard and he wants to be coached specifically. He doesn't know what his ceiling is. So let's not set it."
The high ceiling for Luck is a big reason the national perception is there's a high ceiling for Stanford. The Cardinal will be ranked in the preseason top-10, and Oregon's visit on Nov. 12 is likely the Pac-12 North game of the year, one that might have national championship implications. And if the Cardinal again surges a year after turning in its best season of the modern era, it's almost certain that Luck will be a Heisman Trophy front-runner.
That means even more celebrity for Luck. While Stanford's pristine campus and academically elite student body present a less football-obsessed environment that allows him some privacy, Luck's future is under the klieg lights. It's unavoidable and it will test him.
Luck is told a story about an early Ben Affleck interview with Jay Leno when Affleck tells of pulling out the "I'm Ben Affleck" for the first time to get a restaurant reservation. Luck's asked if he's had a similar moment when waiting for a table.
At first, he seems to be honestly baffled by the inquiry, then replies, "There are enough good restaurants in Palo Alto. We could leave. No, I haven't tried to do that. I don't think it's worth it."
November, 14, 2009
11/14/09
9:11
PM ET
COLUMBUS, Ohio -- The text messages rolled in all week, as the questions about plays and reads and assignments filled
Derrell Johnson-Koulianos
' cell phone inbox.
"This week, he prepared around the clock," Johnson-Koulianos said of Iowa quarterback
James Vandenberg
. "There was not a moment that went by that he wasn't thinking about how to help us. He sent me text messages all week, 'What am I doing on this play?' He was in the [football] building late all night. His moped was the last moped there.
"He invested."
Vandenberg's tireless efforts nearly paid major dividends for Iowa, as the redshirt freshman exceeded all outside expectations in his first career start. Facing the Big Ten's most dominant defense, Vandenberg completed 20 of 33 passes for 233 yards and two touchdowns to go along with three interceptions, one of which was a Hail Mary in overtime.
Like it had done all season behind regular starter
Ricky Stanzi
, Iowa mounted another fourth-quarter comeback, rallying from 14 points down to tie the game. But the rally fell short as No. 11 Ohio State locked down in overtime to
prevail 27-24
, sending No. 10 Iowa to its first road loss of the season.
[+] Enlarge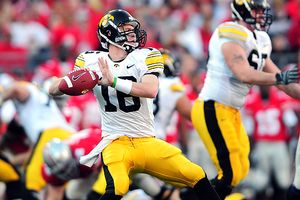 Andrew Weber/US PresswireJames Vandenberg threw for 233 yards and a pair of scores in Iowa's loss at Ohio State.
"He couldn't have walked into a tougher situation," Hawkeyes head coach Kirk Ferentz said of Vandenberg. "He really handled it well. He showed good poise out there, showed good leadership traits and he certainly showed better mental and physical toughness."
At preseason media day, Ferentz talked about how Iowa would need great stories to emerge for the team to do special things. Several of those plotlines turned up Saturday at Ohio Stadium.
Running back
Adam Robinson
, just three weeks removed from a high-ankle sprain, replaced the injured
Brandon Wegher
and rushed for 74 yards on 20 carries as the team's featured back. Wide receiver
Marvin McNutt
, a former quarterback, caught two touchdown passes. Johnson-Koulianos, rumored to have fallen out of favor with the coaches this spring, continued his stellar Big Ten season with 71 receiving yards and a 99-yard kickoff return for a touchdown.
But the best story, the one that would have been told for decades, was Vandenberg. The magnitude of the moment wasn't lost on the freshman during game week.
"I don't sleep in very much, so I'm in there early," Vandenberg said. "I'm calling guys, I'm calling [Stanzi, saying], 'Wake up.' They did a great job with me all week, preparing me. ... All these snaps are good. When you get all of them, it changes. There's a lot more pressure, people are counting on you, and you've got to do your job."
Whether Ferentz let Vandenberg do his job at the end of regulation will be debated for some time in Hawkeye Nation.
Iowa had regained momentum and the football, taking possession at its own 33-yard line with 53 seconds left and one timeout in the bank. Kicker Daniel Murray had made four field goals of longer than 40 yards.
But after a Robinson rush up the middle netted nothing, Ferentz decided to run out the clock.
"I've done enough stupid things this year, so why do something stupid at that point?" Ferentz explained. "Had we gotten a [punt] return, had there been a shanked punt where we had better field position, or had we popped that first play, then we would have pressed forward.
"At second-and-10, second-and-9, the percentages weren't with us at that point."
Vandenberg had just capped a 70-yard touchdown drive with a scoring strike to McNutt. Ferentz said the freshman's presence didn't affect his decision-making at the end.
"If we had Joe Namath in there, I think we would have done the same thing," Ferentz said.
Vandenberg has watched Stanzi work his late-game magic from the sideline. He nearly pulled off a copy-cat act.
"The heart in our guys is just incredible," Vandenberg said. "To be able to fight back like that with all those guys, it's an experience."
Iowa won't be going to Pasadena and has dropped consecutive games, but the team's performance Saturday certainly helped its cause for a BCS at-large berth. The Hawkeyes came in as 17-point underdogs but took Ohio State to the brink.
With USC falling out of the at-large mix, Iowa will have the strongest résumé of the Big Ten hopefuls if it beats Minnesota next week. The Fiesta Bowl could be very interested in the Hawkeyes if it loses Texas to the BCS title game.
"Nobody wants to play us," Johnson-Koulianos said. "We'll play anybody in the nation right now. We're not afraid of anybody, and we can beat anybody.
"We're worthy, and we've proved this year that when you give us the opportunity to play the best opponent, and we'll make it a hell of a ballgame."
August, 13, 2009
8/13/09
9:30
AM ET
Posted by ESPN.com's Chris Low
TUSCALOOSA, Ala. -- Here's the second part of my Q&A with Alabama coach Nick Saban.
It's obvious in listening to him talk about his father, Nick Sr., what a huge influence he was on the younger Saban's life and why he is the way he is today.
The values the coach preaches in his program -- self-determination, being accountable, being disciplined, doing a day's work for a day's pay -- come straight from his father.
| | |
| --- | --- |
| | |
| | Marvin Gentry/US Presswire |
| | As a kid growing up, Nick Saban was an Alabama football fan. |
Saban's father died in 1973 of a heart attack. He was only 46. Saban was just starting his coaching career at the time as a graduate assistant on the Kent State staff under Don James.
How often do you find yourself thinking about your father and the influence he had on your life?
Nick Saban: He was a big influence on a lot of people's lives because he started Pop Warner football in our area [Fairmont, W. Va.]. He bought a school bus and went and picked up kids. Everybody lived in a coal mining town, so we hitch-hiked about every place we went. All of us did. We didn't have cars. You kind of knew who was going to go by. It was a rural area. You knew who would pick you up and who wouldn't. A lot of kids didn't participate because they couldn't get to practice. There are a lot of things I took from my dad -- work ethic, responsibility, compassion for other people. The lessons I learned working at that Gulf service station that my dad owned ... I still relay a lot of those lessons to our players now.
What were some of the most enduring lessons?
NS: I was working at the station when I was about 15 years old. I remember being in a bad mood because I had a fight with my girlfriend, and we broke up. So I wasn't treating the customers very well and talked back to a customer. In those days, everything was full service. You cleaned the windows, checked the oil, put the gas in, said 'please' and 'thank you,' got the change and gave it back to them. I was a little curt that day. My dad said, 'Your mom told me you broke up with your girlfriend. You're a little upset about that?' I said, 'Yeah, I'm a little upset about that.' He said, 'Let me just tell you this: When you let one bad thing that happens to you affect other things, sometimes you create more negative consequences than you like. You're about ready to cause a couple more. You don't have a girlfriend right now. Pretty soon, you're not going to have a job, because I'm going to fire you. And if I fire you, I'm going to whip your ass.' It was that kind of stuff from him all the time.