March, 26, 2014
3/26/14
10:30
AM ET
In the picture he keeps in his locker, Georgia Tech safety
Jamal Golden
is standing next to his mother, Cynthia, the two of them smiling. It's a reminder of a promise he made to her before she died unexpectedly after a stroke during his freshman year.
"I pray before every game," he said. "I try to talk to her before every game. I go out there and I give it my all, just for her. I told her before I came to school that I'm going to make something of myself while I'm at school, that 'I'm not going to let you down.' I'm sticking to that promise. I'm going to do what I have to do to make her proud."
[+] Enlarge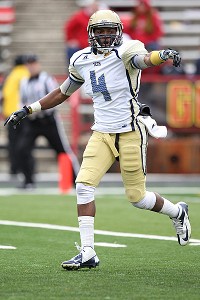 Mitch Stringer/USA TODAY SportsGeorgia Tech return specialist/DB Jamal Golden expects to be at full strength in 2014.
Odds are, he already has.
After an emotionally draining freshman year in 2011, Golden emerged as one of the nation's top kick and punt returners in 2012. Even though he didn't play one snap on offense, Golden finished that season with 952 all-purpose yards. As a true sophomore, he was the only player to rank in the top 10 nationally in both punt return average (sixth/14.59) and kick return average (10th/28.35). The future looked bright, but just as he was beginning to heal emotionally, his career was derailed three games into the 2013 season by a shoulder injury.
Now, after having been granted a fifth year of eligibility and a
medical hardship waiver
by the NCAA earlier this month, Golden is finally healthy again and practicing this week, giving Georgia Tech a much-needed boost to the return game and a veteran in the secondary. With two seasons of eligibility remaining, there is still plenty of time for the charismatic redshirt junior to accomplish his goals of becoming a more complete player -- a consistent difference-maker in the secondary, not just the return game -- and fulfilling a promise.
"I think he's going to come out here playing with passion, playing with a purpose," defensive backs coach Joe Speed said. "He's got a tattoo of his mom on his shoulder. It's a daily reminder for him that not only is he doing it for his Georgia Tech family, but also his mom and his dad."
Cynthia and Henry Golden were married 33 years before she died on Jan. 23, 2012. Jamal said it was the first time he had ever seen his father cry.
"They thought she was going to be OK," Jamal said. "Then the next thing we knew she went into a coma and never woke up from it."
As a family, Henry, Jamal and his brother, Twoine, agreed to stop Cynthia's life support.
"I just couldn't take seeing her suffer like that," Jamal said. "She was pretty much already gone. The only thing that was keeping her heart pumping was the ventilator system. We decided together as brothers to let her go. I know she's still watching, though."
Golden said about half of the football team attended his mother's funeral in nearby Wetumpka, Ala., and it took "a lot of encouragement" from his dad and brother to get him through the rest of the school year. The business administration major missed about a week and a half of classes, which added to the stress.
"Jamal is part of our family," Speed said. "Same thing with his parents. So when he lost his mom, we lost a member of our family as well. We wanted to make sure he knew we were here for him."
With their support, Golden started 2013 strong with 12 tackles, a forced fumble and 151 yards on returns through the first three games. He suffered a season-ending injury, though, in Week 3 when he collided with former UNC tight end
Eric Ebron
on the third play of the game. His shoulder popped out, and in spite of repeated attempts to reset it, Golden was sidelined for good in the third quarter.
Since then, he has been going through rehab, training, studying film and has gotten stronger.
"

I want to be one of the main leaders on the defense, especially being on the back end, getting everyone lined up so we can play as a team.

"

-- Georgia Tech DB Jamal Golden
"I feel like by the end of spring practice, I'll be back where I left off," he said. "My expectation is to get my team the ball as much as I can, not only by me getting interceptions or fumble recoveries, but helping my teammates get in the right positions to get turnovers, too. I want to be one of the main leaders on the defense, especially being on the back end, getting everyone lined up so we can play as a team."
And a family.
Golden talks about his mom openly and with ease now, including at Christmas, when he shares stories with special teams coach Dave Walkosky about the favorite meals she used to make.
"I love him dearly," Walkosky said. "He's very humble. He's a very unselfish player, and he'll do whatever the team needs him to do. He makes decisions that are right for the play, for the game, for the team, and that's priceless when you're talking about a guy who's going to touch the ball and make decisions. He seems to always make the right decision, and we put a lot of confidence in him."
No decision, though, was more difficult than the one he made with his brother, Twoine.
"It makes you grow up quick," Speed said. "It recalibrates your priorities and you realize the true meaning of life and what's important. I think a lightbulb has gone on for him, knowing what's important and knowing to take advantage of each opportunity every day. I see his daily work ethic. He makes sure he goes to class, does everything in the classroom, he watches film on his own. He'll grab coaches to get any knowledge he can, and he knows that's going to be the difference in the game. He's got some physical talent, but being a student of the game, that's what's helping him out. Just having that maturity level go up, that's going to help him."
It will also help the Yellow Jackets this fall, and that's a promise.
August, 20, 2013
8/20/13
9:00
AM ET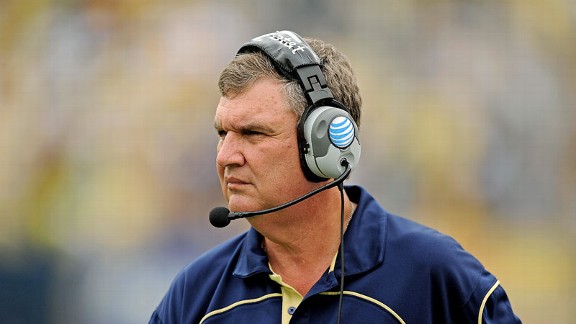 Kevin Liles/US PRESSWIREGeorgia Tech coach Paul Johnson 'plays the game in his head even before the game starts,' according to one of his assistants.
Georgia Tech coach Paul Johnson was getting irritated.
He was in the unusual position of watching the Yellow Jackets' 2012 spring game as more of a spectator than the head coach. Johnson had told his staff that he was just going to watch the game and let the offensive coaches call the plays, but the ball wasn't moving.
So Johnson moved instead.
He walked out to the huddle and asked his players, "Do you want to score a touchdown on this play?"
They said, "Yeah!"
He said, "OK, here's what we're going to do."
Touchdown, Georgia Tech.
Paul Johnson's game plan is not a secret -- it's just in his head.
Georgia Tech's offense is unique, and so is the man behind it. Instead of playing football, Johnson spent his college years shooting hoops and working on his master's degree. His brain, though, has been trained for offense. There aren't many head coaches in the country who don't have a script in hand on Saturdays or an offensive coordinator on staff. There's no cheat sheet, though, for Johnson, who has been calling the plays as a head coach since 1997 when he was at Georgia Southern. The spread option offense is as familiar to him as your living room is to you -- and technically, it
is
the spread option offense -- the triple option is a series of plays within it.
Not only does Georgia Tech not have an offensive coordinator -- it doesn't
need
one.
"Coach Johnson has amazing recall," said A-backs coach Lamar Owens, who also played for Johnson while at Navy. "He can remember so many different defenses and so many different strategies of how to attack certain defenses, and he can layer these things on top of one another. He's quick to identify what the defense is trying to do to us and how it's trying to hurt us, and in all of his years of experience, he has answers for their adjustments. Coach Johnson plays the game in his head even before the game starts."
Usually, Johnson scores first.
Following one practice in 2011 in which Georgia Tech was preparing for a road trip to Middle Tennessee, Johnson told assistant athletic director Dean Buchan that if the Blue Raiders lined up the way he expected and had studied on film, the Jackets could score a touchdown on the first play of the game.
[+] Enlarge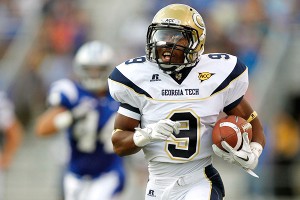 Josh D. Weiss/USA TODAY SportsTony Zenon scored a touchdown on the first play of a game against Middle Tennessee in 2011, something coach Paul Johnson predicted would happen after studying the Blue Raiders.
"I said, 'You feel pretty confident?'" Buchan said. "He said, 'If they line up how we think they're going to line up, the first play will go for a touchdown.'"
On the first play of the game that week, Johnson lined up 5-foot-9 freshman A-back
Tony Zenon
at B-back. Before MTSU could recognize what was going on, Zenon ran a wheel route down the left sideline for a 73-yard touchdown pass just 14 seconds in the game.
Script? What script?
"Because what we do is unique, you have to look and see how the other team is going to play you," Johnson said. "Let's say we're going to play North Carolina. I can watch the three prior games and that doesn't mean they're going to play the same way against us. There's no use to script a bunch of things against what you think you're going to get and you don't get it. We'll practice how we feel they're going to play and how they're going to line up. The beauty of what we do is it really doesn't matter, because it doesn't matter if it's a 4-3, or 3-4, or eight-man front or whatever. The plays take care of themselves."
Every year, Johnson and his staff add a few wrinkles that might not be noticeable to the average fan, but for the most part, the offense has remained unchanged for decades. Last year, Georgia Tech ran the shotgun formation more than in recent years (though still not a lot). This fall, the Jackets aim to throw it more often and more efficiently with first-year starting quarterback
Vad Lee
. It's far more complex than just a handful of plays, as there are variations on each, just as in any offense.
There's no other school in the ACC that doesn't have an offensive coordinator. Even Florida State coach Jimbo Fisher, who calls his own plays, has relinquished the title of OC. At Georgia Tech, it's become a way of life for the entire staff, some of whom worked with Johnson during his days as an offensive coordinator at Hawaii (1987-94).
"Will there be a point when I give it up?" Johnson said. "Maybe sometime. My wife tells me that all the time. She goes, 'You gotta start letting some of this stuff go.' But right now that's what I enjoy doing. We've done it so long, and it's a system."
And it works.
In 15 years as a head coach, Johnson has a career record of 147-65. Only 13 active FBS coaches have won more games. The offense, which is lamented by some for its old-school ways, has ranked in the top four nationally in rushing offense each of the past five seasons.
Despite their success on the ground, Johnson knows that a disciplined defense could get the better of his brain (See: Iowa, 2009).
"There is no magic way to line up to play our offense," he said. "Good players who execute better than you are going to slow you down. If you've got a great defensive line and they can stop the inside part with three or four people, well you're going to struggle because they'll have you outnumbered as opposed to having them outnumbered."
Georgia Tech's game plan is in place every week during the season by Tuesday. Johnson says he doesn't even watch game film with his offensive staff because he can watch three games in the time it takes them to watch one. On Sundays, Johnson will switch gears and watch the opposing team's offense -- and jot down notes for the defensive staff.
As head coach, Johnson is also paying attention to the defense, too.
"It seems to me like he can see all 22 people on the field at one time," defensive backs coach Joe Speed said. "There's not many defensive fronts he hasn't seen."
Johnson has had plenty of practice.
It only took two games as head coach at Georgia Southern before Johnson added the play calling to his duties.
"I found myself second-guessing every play call," he said. "Not outwardly, but inwardly. I'd hear it through the headset and be going, 'Dang, I wouldn't do that,' or, 'Why are we doing this?' I was at practice and I never will forget, coach [Erk] Russell walked up to me and he goes, 'What are you doing?' I said, 'Well, I'm walking around being the head coach.' He looked at me, he says, 'Get your ass up there and coach the quarterbacks and call the plays. That's what you're good at. That's why we hired you. That's why we brought you back. That's what you do to help the team. That's the way you can help the team more than walking around.'"
And that's exactly what he's done ever since.