January, 13, 2014
Jan 13
10:00
AM ET
The BCS is dead. RIP. As we memorialize the BCS era throughout ESPN.com today, we're selecting All-BCS teams from each conference. As a reminder, the BCS era lasted from the 1998 season through the recently completed 2013 season. To narrow our selections a bit, players had to play at least two seasons in the BCS era to be eligible. Nebraska players are part of our list even though the Huskers played in the Big 12 until 2011.
Here's our Big Ten All-BCS team.
Coach:
Jim Tressel, Ohio State -- Tressel led Ohio State to the 2002 national title, the Big Ten's only championship in the BCS era, as well as seven Big Ten titles (one vacated).
OFFENSE
QB:
Drew Brees, Purdue (1997-2000) -- He led Purdue to the 2000 Big Ten championship and finished his career with league records for passing yards (11,792), touchdown passes (90), total offensive yards (12,693), completions (1,026), and attempts (1,678). Brees won the Maxwell Award in 2000.
RB:
Ron Dayne, Wisconsin (1996-99) -- The 1999 Heisman Trophy winner set the NCAA's career rushing record with 6,397 yards (not including bowl games). He won all the major national individual awards in 1999 and became the first player to repeat as Rose Bowl MVP.
[+] Enlarge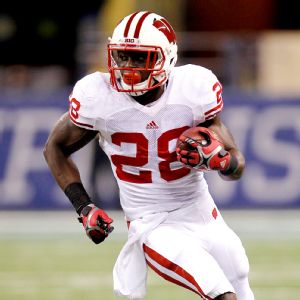 Gregory Shamus/Getty ImagesMontee Ball had 39 TDs for Wisconsin in 2011.
RB:
Montee Ball, Wisconsin (2009-2012) -- The man nicknamed "MoneyBall" tied Barry Sanders' NCAA single-season touchdowns record with 39 in 2011 and set the mark for career touchdowns with 83. He won the Doak Walker Award as the nation's top running back in 2012.
WR:
Braylon Edwards, Michigan (2001-04) -- The Big Ten's most recent Biletnikoff Award winner holds the league record for career touchdown receptions (39) and ranks fourth in career receiving yards (3,541). He's the only Big Ten receiver to record 1,000 yards in three consecutive seasons.
WR:
Lee Evans, Wisconsin (2000-03) -- Evans twice led the Big Ten in receiving yards, eclipsing 1,500 yards in 2001 before rebounding from an ACL tear to record 1,213 yards and 13 touchdowns in 2003.
TE:
Dallas Clark, Iowa (1999-2002) -- Clark earned the John Mackey Award in 2002 after recording 43 receptions for 742 yards as Iowa went undefeated in the Big Ten.
OL:
Greg Eslinger, Minnesota (2002-05) -- One of the more decorated Big Ten linemen in the BCS era, Eslinger won the Outland Trophy in 2005. He was a two-time first-team All-America selection and a three-time first-team All-Big Ten selection for one of the nation's top rushing offenses.
OL:
Joe Thomas, Wisconsin (2003-06) -- Another Outland Trophy winner (2006), Thomas earned unanimous consensus All-America honors that year. He earned first-team All-Big Ten honors in each of his final two seasons and was the No. 3 overall pick in the 2007 NFL draft.
OL:
Dominic Raiola, Nebraska (1998-2000) -- In 1998, Raiola became the first Nebraska freshman offensive lineman to start a game in seven years. He went on to earn the Rimington Trophy as the nation's top center, first-team All-Big 12 honors in his final two seasons and consensus first-team All-America honors in 2000.
OL:
Robert Gallery, Iowa (1999-2003) -- Gallery claimed the Outland Trophy in 2003 as well as first-team All-America honors. He twice earned first-team All-Big Ten honors as the anchor of a nationally elite offensive line.
OL:
Jake Long, Michigan (2003-07) -- Although Long didn't win the Outland, he twice earned consensus first-team All-America honors (unanimous selection in 2007) and twice earned Big Ten offensive lineman of the year honors (beating out Thomas in 2006). Long was the No. 1 overall pick in the 2008 NFL draft.
DEFENSE
DE:
LaMarr Woodley, Michigan (2003-06) -- Woodley claimed the Rotary Lombardi Award in 2006 as the nation's top lineman. A first-team All-American that season, he finished his career with 10 forced fumbles, tied for seventh on the Big Ten's career list.
DE:
Ryan Kerrigan, Purdue (2007-10) -- Unlike most of the men on this list, Kerrigan never played for any BCS bowl teams at Purdue but still had a remarkable career that ended with unanimous consensus first-team All-America honors in 2010. The Big Ten defensive player of the year tied the NCAA record for forced fumbles (14) and recorded 33.5 sacks and 57 tackles for loss.
DT:
Ndamukong Suh, Nebraska (2005-09) -- The most dominant defender in recent years finished fourth in Heisman voting in 2009 (should have been higher) and earned several awards, including the Bednarik, Nagurski and Outland. Suh finished his career with 24 sacks, 57 tackles for loss, four interceptions, three forced fumbles and 41 quarterback hurries.
DT:
Devon Still, Penn State (2008-11) -- Penn State produced a string of outstanding defensive tackles including Still, the Big Ten's defensive player of the year in 2011. Still earned consensus first-team All-America honors after recording 17 tackles for loss.
LB:
James Laurinaitis, Ohio State (2005-08) -- Laurinaitis won major national awards in each of his final three seasons, including the Nagurski Trophy in 2006. The two-time Big Ten defensive player of the year became just the third Ohio State player to earn consensus All-America honors in three seasons.
LB:
Paul Posluszny, Penn State (2003-06) -- Posluszny is one of only two players (Pat Fitzgerald) to twice win the Bednarik Award as the nation's top defender. He became the first Penn State linebacker to twice earn AP All-America honors.
LB:
LaVar Arrington, Penn State (1997-99) -- A freakishly athletic linebacker at Linebacker U., Arrington twice earned first-team All-Big Ten honors and won the Bednarik and Butkus Awards as a junior in 1999. He was the No. 2 overall pick in the 2000 NFL draft.
CB:
Jamar Fletcher, Wisconsin (1998-2000) -- Fletcher claimed the Jim Thorpe Award as the nation's top defensive back in 2000, won Big Ten defensive player of the year honors that year and was a three-time first-team all-conference selection. He's tied for fourth in league history with 21 career interceptions and holds the league record for interception return yards (459).
CB:
Darqueze Dennard
, Michigan State (2010-13) -- Dennard also claimed the Thorpe Award as he helped Michigan State to its first outright Big Ten title in 26 years and a Rose Bowl victory against Stanford. The two-time first-team All-Big Ten selection recorded 10 career interceptions and led the "No Fly Zone" Spartans secondary.
S:
Tyrone Carter, Minnesota (1996-99) -- The only Big Ten safety to win the Thorpe Award, Carter also twice earned first-team All-Big Ten honors and earned unanimous All-America honors in 1999. He set the FBS record for career tackles by a defensive back with 528.
S:
Mike Doss, Ohio State (1999-2002) -- A three-time first-team All-Big Ten selection, Doss earned unanimous consensus All-America honors in 2002 as Ohio State won the national title.
SPECIAL TEAMS
K:
Mike Nugent, Ohio State (2001-04) -- Nugent won the Lou Groza Award as the nation's top kicker in 2004 and claimed consensus All-America honors in both 2002 and 2004. He holds the Big Ten record for consecutive made field goals with 24.
P:
Brandon Fields, Michigan State (2003-06) -- His name is on the Big Ten's punter of the year award for a reason. Fields earned consensus All-America honors in 2004, earned first-team All-Big Ten honors three times and twice led the league in punting, tying for third in career average (45 ypp).
Returns:
Ted Ginn, Ohio State (2004-06) and Steve Breaston, Michigan (2003-06) -- Ginn holds the Big Ten single-season records for kick return average (25.6 ypr) and career punt return touchdowns (6), while Breaston claims the league mark for career punt return yards (1,599) and is tied for third in punt return touchdowns (4).
It's tough enough putting together these teams for one season, much less 16 seasons. You can't please everyone, and many exceptional players didn't make the cut.
We decided to go with five offensive linemen rather than a center, two guards and two tackles, in order to recognize the best overall players in the trenches.
There was some debate for a second receiver alongside Michigan's Edwards, as the Big Ten hasn't exactly mass-produced superstars at the position. Several players had great seasons like Michigan State's Charles Rogers in 2002, but we put more stock into overall career output and went with Wisconsin's Evans, who led the league in receiving in 2001 and 2003.
Cornerback created some debate among Fletcher, Dennard and Ohio State's Malcolm Jenkins, also a Jim Thorpe Award winner. We faced another tough decision at safety between Ohio State's Doss and Iowa's Bob Sanders.
Surprisingly, the defensive tackle spot produced few bona-fide superstars. Nebraska's Suh, who played his entire career in the Big 12, was an obvious choice but a second choice proved to be tough.
Arguably the toughest choice came at kicker between Nugent and Iowa's Nate Kaeding. Both won Lou Groza Awards and set numerous records. We gave the nod to Nugent, but not by much.
July, 6, 2011
7/06/11
1:15
PM ET
NFL.com recently finished a countdown of the
Top 100 players in the NFL
, as voted on by the current players in the league.
Brady
It's a fascinating list that's sure to stir a lot of debate. But since this is a Big Ten blog, we're going to concern ourselves with where the Top 100 went to college.
There are 13 former Big Ten players on the list, including No. 1:
Tom Brady
. (Note: We're counting Nebraska players as Big 12 products since the Cornhuskers in the NFL participated in that league. Same thing for Colorado and Utah, Miami and Virginia Tech, etc.). Here are the 13 who made the cut and how they ranked overall:
1. Tom Brady, QB, New England (Michigan)
9.
Drew Brees
, QB, New Orleans (Purdue)
16.
Charles Woodson
, CB, Green Bay (Michigan)
28.
Jake Long
, OT, Miami (Michigan)
43.
Joe Thomas
, OT, Cleveland (Wisconsin)
47.
Nick Mangold
, C,
New York Jets
(Ohio State)
58.
Brandon Lloyd
, WR, Miami (Illinois)
63.
Cameron Wake
, LB, Miami (Penn State)
64.
Tamba Hali
, DE, Kansas City (Penn State)
76.
Santonio Holmes
, WR, New York Jets (Ohio State)
78.
Dallas Clark
, TE, Indianapolis (Iowa)
82.
LaMarr Woodley
, DE, Pittsburgh (Michigan)
97.
Shaun Phillips
, DE, San Diego (Purdue)
By school:
Michigan: 4
Ohio State: 2
Penn State: 2
Purdue: 2
Illinois: 1
Iowa: 1
Wisconsin: 1
(In case you're wondering, the two Nebraska players on the list are No. 51
Ndamukong Suh
and No. 55
Carl Nicks
)
Now let's see how the Top 100 stacks up
by college conference
:
Big East:
16
Big Ten:
13

SEC:
13
ACC:
12
Pac-10:
11
Big 12:
7
Notre Dame:
1
Non-AQ/Small schools:
27
This just reinforces what I always said in my previous job: The best football is played in the Big East. Actually, that league greatly benefits from eight Miami Hurricanes who played their careers in the league before the program jumped ship to the ACC.
It's interesting that the Big Ten has the same amount of Top 100 players as the mighty SEC, no? I thought all the best talent was supposed to be in the SEC. Hmm. The ACC continues to underachieve despite all its talent, while the Big 12 has curiously low representation here (only five players outside of Nebraska).
I also find it fascinating that 27 percent of the supposed cream of the crop in pro football never played in an AQ conference -- Kent State, for example, has three players on the list, more than Alabama, Florida and LSU combined and more than every Big Ten school except Michigan. East Carolina and Central Florida have as many Top 100 players as Ohio State and Penn State. More evidence that recruiting stars don't always equal NFL success. (And indeed, the No. 1 player on the list had to fight tooth and nail to earn a starting job at Michigan).
If nothing else, it's fun fodder for debate.
January, 19, 2010
1/19/10
9:00
AM ET
Our decade recap continues with a look at the top players in the Big Ten from 2000-09. The league produced just one Heisman Trophy winner, Ohio State quarterback Troy Smith in 2006, but many other national award recipients on both sides of the ball.
We saw outstanding one-year performances from players like Brad Banks (2002), Larry Johnson (2002), James Hardy (2007) and Shonn Greene (2008), and impressive four-year career efforts from Paul Posluszny, James Laurinaitis, Mike Hart, Javon Ringer, Taylor Stubblefield and others.
[+] Enlarge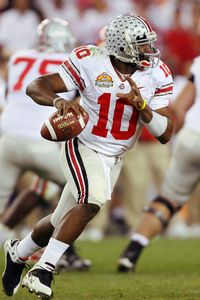 Jason Parkhurst/US PresswireOhio State's Troy Smith was the runaway winner of the Heisman Trophy in 2006.
The league produced solid linemen and linebackers the entire decade, while star quarterbacks and running backs were sprinkled throughout.
Believe me, it wasn't easy to get this list down to 10 players, but here goes.
I put more weight on players who had multiple outstanding seasons. Also, players who had most of their production in the 1990s didn't make the cut.
1. Troy Smith, QB, Ohio State:
The league's lone Heisman Trophy winner tops the list. Smith took home the Heisman, the Walter Camp and the Big Ten MVP awards in 2006. He also led Ohio State to a Fiesta Bowl championship following the 2005 season.
2. Braylon Edwards, WR, Michigan:
The 2004 Biletnikoff Award winner earned consensus All-America honors that year, completing a terrific four-year run in Ann Arbor. Edwards still holds the Big Ten record for career touchdown receptions with 39, two more than fellow Wolverine Anthony Carter.
3. A.J. Hawk, LB, Ohio State:
Hawk was the face of a ferocious Buckeyes defense during the mid part of the decade. The two-time All-American (unanimous in 2005) won the Rotary Lombardi Award and helped Ohio State to a Fiesta Bowl victory.
4. Joe Thomas, T, Wisconsin:
The Thomas-Jake Long debate is a good one, but I'm giving the edge to Thomas, the 2006 Outland Trophy winner. Thomas anchored several powerful Wisconsin offensive lines, earned consensus All-America honors in 2006 and twice made the All-Big Ten squad.
5. Paul Posluszny, LB, Penn State:
Posluszny is one of only two Big Ten players to win the Bednarik Award two times. He also took home the Butkus Award in 2005 and helped restore Penn State after the program had slipped from 2000-04.
6. James Laurinaitis, LB, Ohio State:
Laurinaitis was quite possibly the most decorated Big Ten player of the decade on either side of the ball. He joined select company at Ohio State in earning All-America honors three times (unanimous in 2007). Laurinaitis won the Butkus and Nagurski awards and twice earned Big Ten Defensive Player of the Year honors.
7. Greg Eslinger, C, Minnesota:
Laurence Maroney and Marion Barber III shared the rushing load, but Eslinger was the mainstay who created rushing lanes no matter who had the ball. The 2005 Rimington Trophy winner was Minnesota's only three-time All-Big Ten selection this decade.
8. Bob Sanders, S, Iowa:
No player meant more to Iowa's renaissance this decade than Sanders, the team's only three-time All-Big Ten selection in the aughts. Nicknamed "The Hitman," Sanders epitomized a program that got the most from its players for the majority of the decade.
9. Mike Hart, RB, Michigan:
We witnessed lot of great one-year performances from Big Ten running backs, but Hart was one of the league's few mainstays this decade. Despite being plagued by injuries as a sophomore, Hart finished fourth on the Big Ten's all-time rushing list (5,040 yards) and had 28 career 100-yard rushing games.
10. Antwaan Randle El, QB, Indiana:
Randle El brought a new brand of football to the Big Ten and had a record-setting career despite never reaching a bowl game. The dual-threat star won Big Ten MVP honors in 2001 and ranks fourth on the league's career total offense list with 11,364 yards.
Also considered:
Michigan T Jake Long, Michigan State WR Charles Rogers, Michigan State RB Javon Ringer, Iowa QB Brad Banks, Iowa T Robert Gallery, Purdue WR Taylor Stubblefield, Ohio State WR Ted Ginn Jr., Michigan DE LaMarr Woodley, Illinois RB Rashard Mendenhall, Penn State QB Michael Robinson, Penn State RB Larry Johnson, Purdue WR Dorien Bryant, Purdue WR John Standeford, Ohio State S Mike Doss, Wisconsin DE Erasmus James, Iowa RB Shonn Greene, Northwestern QB Brett Basanez, Illinois LB J Leman, Penn State LB Dan Connor.
July, 28, 2009
7/28/09
3:27
PM ET
Posted by ESPN.com's Adam Rittenberg
CHICAGO -- Like his head coach and his teammates, Wisconsin defensive end O'Brien Schofield acknowledges a lack of cohesion in the locker room last year.
"We had guys that were trying to lead, but people really didn't buy into what they were saying," Schofield said. "It's important that the leaders we have now, guys respect who our leaders are and follow what the guys are trying to do."
As Schofield prepared for a greater leadership role this fall -- he's the only returning starter on the Badgers defensive line -- he decided to do a bit of research on how to effectively guide others. His search led him to an odd place: the equipment room.
All of the players and most of the coaches from Wisconsin's Rose Bowl teams in the 1990s are no longer with the program, but several members of the equipment staff have stuck around. At the beginning of the summer, Schofield asked them for help.
"I wanted to know what were things that they saw those teams had and what do we need," he said. "And the first thing everyone said was great leadership. The seniors didn't take [any excuses or mistakes]. They were really hard and putting their foot down on what they believe and what they wanted to happen.
"It's your team and it's your last go-round, so the season is going to be what you make it."
Schofield heard about players like Donnel Thompson, Jeff Mack, Chris McIntosh and more recent leaders like Joe Thomas, who "didn't care who you were, offense or defense, he'd get on you." Schofield then relayed the stories to several of his fellow seniors who are expected to step up as leaders this fall.
"It's important that our seniors realize what it takes," he said. "Most teams that have successful seasons, they all possess the same things, great leadership and guys buying in to what the coaches are talking about."