March, 11, 2014
3/11/14
11:15
AM ET
Change might be in the air at Vanderbilt, from a new head coach to a new coaching staff to a new 3-4 defensive scheme to several new faces in key roles, but there's one thing everyone associated with the program insists won't change.
And that's winning games.
Derek Mason is entering his first spring as Vanderbilt's head coach. The Commodores, coming off their best two-year stretch in school history, start practice Tuesday afternoon, and if anything, they're hungrier than ever.
"I've loved every interaction I've had with Coach Mason and the great staff that he's brought in," sophomore quarterback
Patton Robinette
said. "He's a very confident guy, and that's spreading to us.
[+] Enlarge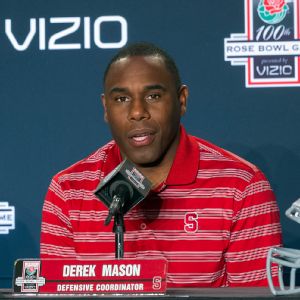 AP Photo/Damian DovarganesMuch like he did as defensive coordinator at Stanford, Derek Mason plans to win conference titles at Vanderbilt.
"I know everybody else is worrying about the previous staff leaving and saying we're going to have a drop-off. I feel like we're going to be that much better next year. I really do, especially with the guys [Mason] has brought in and the changes he's made so far."
The translation: Vanderbilt's players appreciate what James Franklin did in steering the program to nine-win seasons in back-to-back years, but they're not wallowing in the fact he's gone.
For that matter, they knew it was probably inevitable he would bolt at some point.
"We watch TV and read the Internet," senior center
Joe Townsend
said. "It was talked about in the locker room, but we didn't let it distract us from what needed to be done. He told us to control what we could control, going to class and playing football. We knew it was very possible that he would go somewhere else.
"So, when it happened, we weren't surprised."
Townsend said a standard of winning (and knowing how to win) has been set at Vanderbilt, and the players reminded each other of that even before Mason was announced as head coach.
"We have guys who know how to work hard and are selfless and know how to win," Townsend said. "Coach Franklin taught us how to win, and that's not going to change. We talked about it as a team when the whole coaching search was going on, that no matter who we get or who comes in here, one thing that will never change is us winning because we know how to win.
"The only people who can control that is us. No coach can control if we win or not. They supplement it and help us grow as players. But when it comes to winning, we're the ones on the field who get it done."
Mason is obviously no stranger to winning, either. Stanford won 11 or more games each of his three seasons as defensive coordinator in Palo Alto.
There was also a time when the idea of Stanford winning Pac-12 championships seemed far-fetched, sort of like Vanderbilt winning nine games in back-to-back seasons and sweeping Florida, Georgia and Tennessee.
The expectations at Vanderbilt have reached a whole new stratosphere, and for those who insist the Commodores reached their ceiling under Franklin, Mason offers a confident shrug.
"The one thing I've learned over time is that you can't get mired in people's expectations," Mason said. "You have to tear it down and build it up every year. So with that being said, 2013 has no effect on 2014. What we have to do is put our cornerstones in place.
"If you go back and look at what we've done defensively and offensively, it comes back to you being able to play a 60-minute ballgame, whether that's 2013 or 2014. It's about taking teams into the fourth quarter and winning ballgames. There's no expiration date on that. That's a day-to-day, week-to-week process."
And it's a process that started the day Mason was introduced in January.
"This program, whether anybody believes it, is going to win championships," Mason said. "We're already on the clock. This spring is important for laying that foundation, and then we're going to go one fall practice at a time, one week at a time, and make our march toward the SEC East title."
March, 31, 2010
3/31/10
8:06
PM ET
LOUISVILLE, Ky. -- Some quick thoughts and impressions from tonight's Louisville practice:
This was my third Big East practice but the first one with full contact. It was good to finally see some hitting and tackling. Although there wasn't nearly enough of that from the defense. It was a bad, bad day for that side of the ball. But don't take my word for it."It was definitely a rough day," defensive lineman Greg Scruggs said. "We've got to get tougher, mentally and physically. We've got to stay disciplined when we get tired. If we don't, then what you saw today will happen. The defense will get run through, the offense will score 50 points and that will be the ball game."The problems for the defense started early and never stopped. The team went through a drill in which running backs were matched up with linebackers in an open-space tackling test. Not a single defender made a stop the entire drill.

"Can't one guy tackle a running back?" head coach Charlie Strong barked in exasperation.

Fed up, Strong stopped the drill and made the linebackers do pushups. Receivers were going against defensive backs a few yards away in the same drill and they weren't having any success either. The defense got plowed during 7-on-7 and 11-on-11 work as well.

Strong definitely isn't in Gainesville any more. The defense needs a ton of work and lacks bodies on the line and in the defensive backfield. A lot of young players are going to have to play and grow up in a hurry.
Strong, not surprisingly, runs an intense practice. He and his assistants get after players when they mess up, and there were many, uh, teaching moments tonight. Strong is not afraid to run after a guy and get in his face to make his point, and most of his staff is just as intense. It's definitely a change from Steve Kragthorpe, who was a little more laid back in practice.
It may just be a function of the defense, but offensively the Cardinals looked pretty solid. Justin Burke took the majority of the first-team reps as he and Adam Froman continue to split them at quarterback. Will Stein was on crutches and wearing a walking boot and is probably done for the spring, so it's a two-man race. I continue to believe the starter will ultimately be Froman, if not Dominique Brown. But that's just my opinion.
The receiving group doesn't seem to have many deep threats, but Doug Beaumont caught just about everything thrown his way. Andrell Smith, a 6-4 sophomore, really needs to come on this year. And I keep waiting for Troy Pascley to have a big year.
Tight end Cameron Graham hauled in a few nice catches. He has a lot of ability and just needs to be more consistent.
I won't give away plays and formations, but suffice it to say we saw evidence of the Florida spread. Look for this team to run some two-back sets with some option thrown in. Works better with Tim Tebow, of course, but Froman ended the practice with a 65-yard touchdown run.
A couple of guys who caught my eye in an otherwise forgettable day for the defense: Malcom Mitchell made a tremendous spin move off the edge during line vs. line drills. Shenard Holton put a big hit on Smith to break up a passing play.
Notably missing from practice were defensive linemen Rock Keys and Joe Townsend and quarterback Luke Woodley, a midyear enrollee. Woodley went home, though the team hopes he'll return for the fall.
March, 4, 2009
3/04/09
11:28
AM ET
Posted by ESPN.com's Brian Bennett
Louisville will begin spring practice on Sunday, the first school in the Big East to get back on the field. It will be an important time for the Cardinals, who are trying to fill several holes after a second straight season that ended without a bowl game. I caught up this week with head coach Steve Kragthorpe for the latest installment of our spring Big East Q&A series.
Is spring time an exciting time for the coaching staff?
| | |
| --- | --- |
| | |
| | AP Photo/Mel Evans |
| | Steve Kragthorpe will take on offensive coordinator duties this season. |
Steve Kragthorpe: To me, spring ball is always one of the fun parts of our job, in terms of taking a new group of guys and molding them together, seeing how all the pieces start to fit together. We've got a lot of guys who've maybe had no roles at all that are going to jump into roles and some guys who've had minor roles who are now going to jump up into major roles. And the fun part about spring practice is there's always a surprise or two, a guy you weren't quite sure was ready to play who jumps up and says, "Hey, I'm ready to take one of these spots."
How do you see the quarterback competition shaping up, and how will you divvy up the spring reps there?
SK: We'll divide them up pretty much equally for the major part of the spring and start to see guys separate from each other. And as guys start to separate, we'll give them a few more repetitions. But my goal is not to name a starting quarterback by the end of spring practice. We will do that about 10 days before the first game. But I'm looking for guys to be consistent, I'm looking for guys that move the chains, I'm looking for guys to lead the other 10 guys on that field and I'm looking for guys who, over a continuum of time, can be a consistent performer.
You have to shape your offense around the talents of the quarterback, obviously. So how do you, as your own offensive coordinator, do that now if you don't yet know who will be your starter?
SK: We're going to install concepts and make sure we do a good job of establishing an identity on offense, establishing a way of playing the position of quarterback and a way of going about playing offense. And then from there we'll wrinkle, based upon what guys do well, based upon what guys are stepping up ... For us, we want to make sure we're very conceptual on offense, we're very concise in terms of our teaching and we establish a system. And from that system we'll wrinkle based on the guys who need the ball in their hands.