January, 17, 2014
Jan 17
10:00
AM ET
It's never too early to start talking about the Heisman. After all, the past two Heisman winners,
Johnny Manziel
and
Jameis Winston
, were redshirt freshman who had zero college experience before their Heisman season. The Big 12 should have plenty of candidates, some known and some unknown, heading into the 2014.
Here's a look at the Big 12's top five Heisman candidates heading into 2014.
[+] Enlarge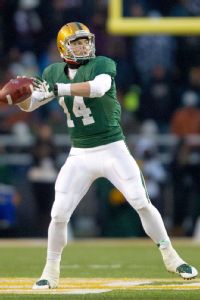 Jerome Miron/USA TODAY SportsBryce Petty, one of the nation's top QBs this season, returns to lead Baylor's high-flying offense and could be on Heisman short lists in 2014.
1. Quarterback Bryce Petty, Baylor:
The Bears quarterback should continue to spark nightmares for Big 12 defensive coordinators. He's confident, accurate and efficient while triggering the Baylor offense. His 16.8 yards per completion was a full yard better than Winston and led all FBS quarterbacks.
Petty's 85.5 adjusted QBR was fifth nationally this season, and he should be even better with a full season under his belt. Top target
Antwan Goodley
returns as well, so the Big 12's top quarterback-receiver duo remains intact, and there's no reason to think Big 12 teams will have any answers for the Bears' pair in 2014. If Baylor has another impressive run to the top of the conference standings, Petty could find himself making a similar run toward the top of Heisman ballots.
2. Receiver Tyler Lockett, Kansas State:
Simply put, Lockett is K-State's passing offense. He accounted for 43.2 percent of the Wildcats' receiving yards and 50 percent of their receiving touchdowns while finishing with 81 receptions for 1,262 yards and 11 touchdowns in 2013.
Lockett could easily be considered the Big 12's most valuable offensive player, as his quickness, route running and consistency make him tough to contain. His progression from accomplished return threat to polished receiver has been remarkable. If he continues that progression, and the Wildcats win a bunch of games, he could insert himself into the Heisman conversation.
3. Receiver Antwan Goodley, Baylor
: At Oklahoma State in 2011,
Brandon Weeden
and
Justin Blackmon
's combined brilliance tended to dull the shine on their individual accomplishments as the natural question emerged: Would they be as productive without each other? We could see a similar situation developing at Baylor with Petty and Goodley.
Goodley is the Big 12's toughest cover, as his size, speed and strength combine to manhandle even the best defensive backs. Goodley had 71 receptions for 1,339 yards and 13 touchdowns, with 100-yard games in eight of 13 contests. If Baylor makes a run at its second straight Big 12 title, Goodley could be in the middle of it. And if he has a Heisman moment or two in the Bears' biggest games, he could earn some Heisman love.
4. Running back Johnathan Gray, Texas:
If the Longhorns' best running back returns to good health, he could become the breakout star in the Big 12 during Charlie Strong's first season. Strong keeps speaking of toughness as a priority for his program, which means running the football will be a focus, particularly with Joe Wickline calling plays. And Gray could be the beneficiary of that focus with his quick feet and playmaking skills.
If Gray has a setback during his recovery from his Achilles injury,
Malcolm Brown
could find himself in the Heisman mix as Gray's replacement since he's very talented in his own right and someone will have to tote the rock for Wickline's offense.
5. Quarterback Davis Webb, Texas Texas:
When you actually step back and take a closer look at Webb's numbers, it shouldn't be a surprise that the Red Raiders quarterback meeting room has resembled a Baltimore corner when someone yells, "Omar comin'" during an episode of HBO's "The Wire."
Webb ranked No. 12 nationally with a 82.6 adjusted QBR this season, ahead of
Braxton Miller
,
Teddy Bridgewater
and
Tajh Boyd
, among others. And he did it as a true freshman. Now, with the departures of
Baker Mayfield
and
Michael Brewer
, Webb is poised to be the main man throwing darts in Kliff Kingsbury's offense, which should be among the Big 12's top passing units again after ending the 2013 season second among FBS teams (392.89 passing yards per game). The clear dark horse on this list, it wouldn't be shocking to watch Webb rise to the top if the Red Raiders end up in the middle of the Big 12 title race.
January, 16, 2014
Jan 16
10:00
AM ET
AUSTIN, Texas -- Charlie Strong says he had a fairly good idea of what he wanted from his Texas coaching staff before the hunt began.
[+] Enlarge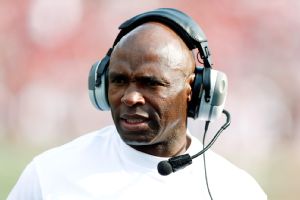 Joe Robbins/Getty ImagesNew Texas coach Charlie Strong has put together an experienced staff he's familiar with.
He wanted coaches he knew and coaches who know the state of Texas.
The staff Strong unveiled on Wednesday appears to have a good helping of both.
Ten days into the job, his staff is finally assembled, and he will hit the road on Thursday to begin selling a school the staff has barely had time to visit.
Strong had to stifle a laugh when asked if he was starting to settle in at Texas. It hasn't been easy. Not after all the work he had to put into interviewing coaches and piecing together a staff that met his standards.
He believes he's found a group that can get Texas back to its championship standard, and more importantly, he thinks these are the guys UT needs off the field.
"This is a staff that we know what it is all about," Strong said. "We are teachers, we're role models, we're going to motivate and lead. Just a staff that are family men, and you want that with the players.
"Because you want the players to look at a coach and say how, someday, if they don't end up being an engineer or a doctor but could go and be a coach, [they would] emulate the man standing right there in front of me. I am just so happy that we are aboard and finally completed it."
It's a group that touts a combined 232 years of coaching experience and, at least on paper, has a good deal of familiarity both with each other and with this state.
Strong hired four coaches he'd worked with in offensive coordinator Joe Wickline, defensive coordinator Vance Bedford, quarterbacks coach Shawn Watson and linebackers coach Brian Jean-Mary.
He hired four assistants who have coached college football in this state: Bedford, receivers coach Les Koenning, running backs coach Tommie Robinson and retained tight ends coach Bruce Chambers.
And he hired guys he'd recruited against in the past, coaches whose passion he respected in defensive line coach Chris Rumph and defensive backs coach Chris Vaughn.
And don't forget the 10th man, the one he considers just as valuable -- if not more so -- than the rest: Strength and conditioning coach Pat Moorer, who followed him from Louisville and is already putting his new players to the test with workouts this week.
All in all, it's a haul that has industry experts impressed. Is this the blank-check dream team that Texas fans envisioned when Strong took the job? No, maybe not. But he's found puzzle pieces that, thanks to all the familiarity, ought to fit together well and do so quickly.
Those fans fantasized about reeling in a big fish for an offensive coordinator, no doubt Strong's most important hire of the nine. They wanted Strong to swing for the fences with someone like Clemson's Chad Morris or Ohio State's Tom Herman.
They might not realize what they've got in Wickline, one of the nation's top offensive line coaches at Oklahoma State. He and Strong were grad assistants together at Florida in 1983 and met again in Gainesville from 2002 to 2004. He knew he was handing the keys to his offense to an underappreciated gem.
"Guys pay their dues, and guys have been around great systems, and if you look at the system he has been around at Oklahoma State for nine years, they have moved the ball very well on offense," Strong said. "When the guys have put in their time, it's like me: I have put in my time and want to be rewarded. So he has put in his time, and he is being rewarded."
What sold him on Wickline, and so many other members of the new staff, was a mandatory trait: Toughness. His offenses and players played. Strong is surrounding himself with hard-nosed leaders because that's what Texas needs right now.
Just as this group comes together, it's time to split up again. The new Longhorns coaches begin their recruiting quest on Thursday, and they've got plenty of catching up to do on that front.
Over the next few weeks, Strong will find out just what kind of recruiters he's hired. And then the real job -- putting the pieces back together at Texas -- will begin.
It's a familiar challenge for Strong. To pull this off, he's surrounded himself with familiar allies.
"I told them right from the start that this is going to be a coaching staff with no egos," Strong said. "We are here to work together, and it is all about success. We are here to win and whatever we have to do to go win a football game, that is what we have to do."
February, 3, 2012
2/03/12
2:45
PM ET
Recruiting Nation scoured every league and named the recruiter of the year in each conference.
Who landed the honor in the Big 12?

Bo Davis of Texas.
Writes Recruiting Nation
:
Bo Davis settled right in for the Longhorns and did very well in his first season as a recruiter for Mack Brown and Texas. His impact was immediate as ESPNU 150 defensive end Torshiro Davis (Shreveport, La./Woodlawn) signed with Texas on signing day instead of LSU, where he had been a longtime commit. These are battles LSU doesn't normally lose to Texas. Davis was also responsible for landing junior college standout Brandon Moore (Scooba, Miss./East Mississippi C.C.), who originally signed with Alabama out of high school two years ago. Davis also had a key hand in the Longhorns getting defensive end Caleb Bluiett (Beaumont, Texas/West Brook) and defensive tackle Paul Boyette Jr. (Humble, Texas/Humble) on signing day. Davis, who is from Louisiana, is a big reason Texas, which normally isn't very active late in the process, made some big, late moves.
Honorable mention: Stacy Searels, Texas; Joe Wickline, Oklahoma State; Terrell Williams, Texas A&M; David Yost, Missouri.
No doubt an impressive haul for a Texas team bringing in lots of talent once again. We'll see how well each develops.
December, 31, 2011
12/31/11
9:00
AM ET
PARADISE VALLEY, Ariz. -- In Monday night's Fiesta Bowl, you'll see
Brandon Weeden
flip passes into tiny windows to athletic receivers who make acrobatic grabs. You'll see
Joseph Randle
shake a linebacker in the open field and turn a 5-yard gain into a 12-yard gain.
You might even see
Justin Blackmon
jump over somebody.
You probably won't see Oklahoma State's offensive line dominating, but that's because nobody watches what's been arguably the most impressive Cowboys unit over the past two seasons.
Maybe they should start watching.
Last year, the Cowboys were the Big 12's best line, and returned all five starters. In 2011, they've been just as good as expected, if not better, blocking for an offense that's tops in the league and No. 2 in the nation.
"We didn't have to worry about coming into a new offense or anything like that," said tackle Levy Adcock, whose mullet you'll see poking out the back of his helmet before he cuts it next week and heads to the NFL. "All we had to do was mature on what we had, and in the spring we did that really well. In the summer, we worked together every day. We just kept getting better and communicating better and grew as a group."
Why the success? Every Cowboys offensive lineman pointed in the same direction: at offensive line coach Joe Wickline.
"We've got a really, really good coach. I think he's incredible and he gets us on the right track," center Grant Garner, a first-team All-Big 12 selection, said of Wickline.
"If there was any kind of a glitch or a kink in our offensive line, he works it out, no matter what," Adcock said. "He's just an old-school coach, and it's never good enough, no matter how good it is."
For Oklahoma State, it's been pretty good, too. It's only gotten better since breaking in a brand-new offensive line at the beginning of the 2010 season, the first of consecutive 11-win seasons.
Why didn't they struggle longer than a few early games?
"You can give that to our coach, Joe Wickline," said left tackle Nick Martinez. "He's one of the best in the country. He's all about trying to make us one of the best offensive lines in the country."
Even after losing a top-10 pick in Russell Okung at tackle after the 2009 season, Wickline succeeded. When Oklahoma State loses three linemen who have started this season after the Fiesta Bowl, he'll try to do it again.
"Everybody was freaking out last year when we had to replace five starters, but this year, they really only have to replace two or three, and Wick is harder on the twos than he is on the ones, so I think it'll be a seamless transition next year," Garner said. "As long as he's here, that's going to be the case."
December, 28, 2011
12/28/11
9:45
AM ET
A long time ago, in a small Oklahoma town far, far away from Phoenix, a bunch of people told Oklahoma State it would finish fifth in something once known as the Big 12 South.
That was back in August 2010, 16 months ago.
Since then, Oklahoma State won a share of the Big 12 South with a whole lot of guys nobody outside Stillwater had ever heard of.
[+] Enlarge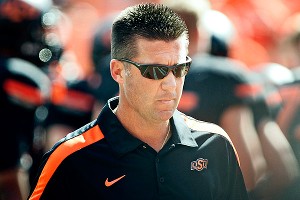 Brett Deering/Getty ImagesIf you thought Mike Gundy and the Cowboys had high expectations for 2011, just wait 'til the 2012 season rolls around.
A three-star recruit with 20 career catches won the Biletnikoff Award as the nation's best receiver. A former walk-on won the nod as the Big 12's best quarterback. An offensive line with four new starters emerged as the Big 12's best.
That means this year, OSU won the Big 12 with a whole bunch of stars, including receiver
Justin Blackmon
, quarterback
Brandon Weeden
and one of the nation's best position coaches, OSU offensive line coach Joe Wickline.
Before the season, OSU coach Mike Gundy
reflected on that dream, 11-win season
that served as a precursor to 2011, an even dreamier season capped by a win over Oklahoma, the first since 2002.
It happened, Gundy says, because of his system that had been in place for five years, with improvement each year serving as the proof that persuaded players to buy in.
"It allows us to perform better than we should when maybe we're not as talented or we're not as experienced," he said before beginning a year that ended with the school's first Big 12 title. "We didn't have hardly any experience coming back last year, and we stuck with what we believed in, and I am somewhat convinced that that's the reason we were able to start playing pretty good and have a productive year in somewhat of a rebuilding phase."
Well, guess what?
It's time to test that theory once again.
We know how 2011 will end: With 11 or 12 wins and a Fiesta Bowl win or loss. The Cowboys finish their season against Stanford on Monday night.
The bigger unknown?
... What will happen next year?
Weeden will be gone. Blackmon will be, too. The Cowboys' No. 2 target,
Josh Cooper
, will relinquish his title as one of the Big 12's most underrated players upon graduating. Three offensive linemen will end their college careers, too.
The defense will lose both defensive ends and its leader, safety Markelle Martin.
That system of Gundy's? It's time for another big test.
In his seventh season in Stillwater, Gundy has the rare distinction of equaling or improving on the previous year's win total in every single year.
Next season undoubtedly will be a rebuilding year, but so was 2010. What will it mean on the field?
The Cowboys will host a quarterback competition for the right to throw to a group of talented receivers nobody outside Stillwater, as in 2010, has ever heard of.
Recruiting has improved every year under Gundy, and we'll see how those new faces have fit into his burgeoning program.
This time next year, will Clint Chelf,
J.W. Walsh
or newcomer Wes Lunt be a household name and an All-Big 12 quarterback?
Will
Michael Harrison
,
Isaiah Anderson
,
Tracy Moore
or
Josh Stewart
be on the short list for the Biletnikoff?
As in 2010, the Cowboys will have a solid running game to depend on.
Joseph Randle
and
Jeremy Smith
have combined for more than 1,800 rushing yards and 32 touchdowns with a game still left to play. They'll both be back, as
Kendall Hunter
, a 2008 All-American, was in 2010.
This year, Oklahoma State proved it can get over the hump.
Next year, we'll find out whether the Cowboys are capable of staying on top.
December, 4, 2011
12/04/11
2:32
AM ET
Here's who's getting a helmet sticker for a job well done today:

Oklahoma State's offensive line:
Joe Wickline, take a bow. The Cowboys offensive line coach has the Big 12's best unit, and it put together a grand performance against a very good Oklahoma defensive line. The Cowboys didn't give up a single sack,
Brandon Weeden
had all day to throw, and the Cowboys ran for 278 yards and four touchdowns on 33 carries. As a result, the Cowboys
won the Big 12 title 44-10
over Oklahoma.
Robert Griffin III, QB, Baylor:
Griffin needed a big day to snatch the Heisman, and he got one. Now, it's up to voters. Griffin lit up Texas' defense for 320 yards on 15-of-22 passing, including touchdown passes of 59 and 39 yards against the only defense in the country that hadn't given up a TD pass longer than 20 yards. He also ran for two more touchdowns in
the 48-24 victory
.
Collin Klein, QB, Kansas State:
Another day, another bucketful of carries. Klein toted it 26 times for 86 yards and a touchdown, completing 7 of 15 passes for 158 yards and another score, without a turnover in
a 30-23 win over Iowa State
to clinch a 10-win season and keep K-State's BCS bowl hopes alive.
April, 12, 2011
4/12/11
11:00
AM ET
STILLWATER, Okla. -- A year ago, Oklahoma State was full of question marks. None, perhaps, were bigger than what to expect out of the 1,500 pounds or so trying to pave the way for the Cowboys' new offense.
[+] Enlarge
Chuck Cook/US PresswireLane Taylor is part of an experienced offensive line for Oklahoma State.
"We only had one guy [Lane Taylor] that was a returning starter and he'd only played 4 or 5 games, so we didn't know where we were at," said coach Mike Gundy.
Added quarterback
Brandon Weeden
: "[Offensive line] coach [Joe] Wickline, as good as he is, I expected the best, but that was kind of the unknown. Myself, I was kind of like, 'will they be able to get it done?'"
Wickline rotated a few players in and out of the starting group early in spring. Finally, in hopes of chemistry creating a "whole greater than the sum of its parts" type of situation, he decided to stick with five players.
Taylor, a sophomore and the lone returning starter, was slotted at right guard. Levy Adcock and Nick Martinez slid into the role of right and left tackle, respectively. Jonathan Rush took over at left guard. Grant Garner assumed the role of center, making up a group of four juniors and a sophomore.
"We hoped that [running back] Kendall [Hunter] and some of the wideouts we had could make plays for us and we'd overcome some deficiencies in the offensive line," Gundy said. "Later, we found out they were pretty talented and they were able to work well as a group and make some plays."
What looked like a patchwork offensive line eventually developed into one of the Big 12's best, helping pave the way for Hunter and give Weeden time to quarterback the nation's No. 3 offense.
"They were just some blue-collar guys that worked well together," Gundy said. "I think they had great leadership from their quarterback and it didn't hurt that we had a Doak Walker candidate at running back and a Biletnikoff winner at receiver, which takes a lot of pressure off those guys."
The best news now, though? All five are back. Four starters are seniors and Taylor will enter his third season in the starting lineup as a junior.
"Experience is very important in this game at any level and at any position, and when you have experienced guys up front, it gives your quarterback a little sense of security," Gundy said, "and they feel better about themselves and he feels better about his ability to be protected and make some plays."
The line saw progress in spring. It continued into the fall.
"By the end of the year, they were rolling pretty good," Gundy said. "They didn't just dominate people, but they were really good, sound and didn't make a lot of mistakes. Because of that, eliminating the errors, made them a good offensive line."
The offense will have to adjust to a new play-caller and a new running back next season, but with the play of the big men up front, their tasks look significantly easier.
March, 9, 2009
3/09/09
1:10
PM ET
Posted by ESPN.com's Tim Griffin
This is the getaway-day version of lunchtime links as I'm headed north to cover some Oklahoma/Oklahoma State football stories and the upcoming Big 12 tournament.
But I would never think of shirking nourishment, particularly with March Madness approaching. There's always room for some football stories from across the conference at our lunchtime table.
March, 5, 2009
3/05/09
1:08
PM ET
Posted by ESPN.com's Tim Griffin
Sad news this morning as Oklahoma wide receiver Corey Wilson fights for his life in an Oklahoma City hospital.
John Hoover of the Tulsa World reports that Oklahoma players received an e-mail earlier this week from coaches telling them that Wilson is paralyzed from the waist down after he was involved in an automobile accident last week.
That sobering information puts everything into perspective as three schools continue spring work across the Big 12 and others are getting ready for the start of practice next week.
Hopefully, there's will be better news for Wilson in the future. We all are praying for his recovery.
Here's some other news from across the conference this morning.
August, 22, 2008
8/22/08
11:47
AM ET
Posted by ESPN.com's Tim Griffin
Video may have killed the radio star, according to the old English new wave band the Buggles. But expanding mediums are providing additional opportunities for reporters to share their insights with consumers in the rapidly expanding marketplace.
The Big 12 is no different, stocked with a boatload of good weekly vlogs. And work has started early, even before the season starts, at many newspapers.
The spirited competition between the Lincoln Journal-Star and the Omaha World-Herald in the coverage of all things concerning Nebraska football has spilled over into a video war of sorts.
Omaha World-Herald beat writers Mitch Sherman and Rich Kaipust talk about the need for increasing sacks and turnovers in their most recent video chat. And Lincoln Journal Star columnist Steve Sipple and beat writer Brian Christopherson discuss freshmen who will play for the Cornhuskers this season. It will continue for both papers throughout the season.
But the most effective use of video by a newspaper that I've seen so far is what the Oklahoman has done for its stellar series on Bob Stoops. A group of Oklahoman reporters provide analysis of Stoops' leadership, done with tight videography in a style much like ESPN Classic has used in its Sports Century documentaries. Despite the lack of live action footage, the use of some memorable still pictures of Stoops and Sooners was still very effective.
More newspapers are going to this synergy using different formats. I'll try to include some of the more notable ones in my upcoming posts.
But the written word still remains supreme in my mind. And here are some scrumptuous morsels for a Friday morning links collection.