April, 2, 2014
4/02/14
9:27
AM ET
Malik McDowell
has generated plenty of drama without playing a down for the Michigan State Spartans.
McDowell's recruitment gained national attention leading up to signing day, as a family conflict about his college destination played out in public view. Although the ESPN 300 defensive tackle prospect wanted to sign with Michigan State, his parents -- and particularly his mother, Joya Crowe -- opposed the decision. Crowe wanted her son at Florida State, Ohio State or Michigan.
Despite picking Michigan State during a signing day announcement at his high school and appearing to sign a national letter of intent, Malik had yet to send a letter to any school. Tuesday marked the deadline to do so, and
all indications suggested it would pass without a signed letter
.
But there was more drama.
McDowell's signed letter arrived
Tuesday night at Michigan State. According to his Twitter page, he barely made the deadline, faxing in the letter at 11:12 p.m.
My LOI was sighed and faxed in at 11:12 last night I'm official a Spartan Dawg!!! #GoGreen #GoWhite

— FAT LEEK (@D1_LEEK) April 2, 2014
While everyone around McDowell might not be thrilled about his destination, Michigan State was his choice all along. I
spent signing day inside MSU's football office
and captured the coaches' excitement when McDowell said he would become a Spartan. Tension built throughout the day as no letter arrived. McDowell actually sent in his signed Big Ten tender of financial aid -- a document that doesn't require a parent's signature -- late in the afternoon, but Michigan State still could not announce his signing.
Now, the process is over. Michigan State adds the nation's No. 5 defensive tackle prospect, according to ESPN Recruiting Nation. The Spartans lose both defensive tackle starters from last year's team, and while they should get by with
Damon Knox
,
Joel Heath
and others, McDowell could be a factor depending on how he performs in fall camp.
Here's hoping the signing puts McDowell and his family at ease. The saga has been a massive distraction, and like any young player, McDowell will need his family's support when he arrives at Michigan State.
Drama followed McDowell to East Lansing. Michigan State hopes more of it -- the good kind -- is on the way.
March, 25, 2014
3/25/14
9:00
AM ET
No team in the Big Ten entered the offseason on a bigger high than
Michigan State
. That's understandable, given that the Spartans won the league championship, beat Stanford in the Rose Bowl and finished No. 3 in the nation.
It was the program's best season in decades. But as Michigan State prepares to open spring practice on Tuesday, coach Mark Dantonio wants to make sure the team isn't still busy patting itself on the back for 2013.
[+] Enlarge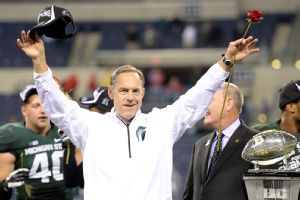 Allen Kee/ESPN ImagesAfter going 13-1 in 2013, Michigan State coach Mark Dantonio must replace a few key pieces on defense.
"This spring, the message to our players equates pretty simple, really," Dantonio told reporters Monday. "It's handled success. We have to be able to handle success as we move forward and everything that we are doing. There's no question that this year will be our greatest challenge in that area."
This most pressing on-field challenge this spring in East Lansing will largely be about finding replacements for the valuable seniors who contributed to last year's special season, especially on defense.
In that regard, the initial depth chart lists
Taiwan Jones
as the starting middle linebacker, in
Max Bullough
's old position. Jones played the weakside linebacker position last season, but now
Darien Harris
is listed there.
"He's become a thumper a little bit and he's a big, physical guy," Dantonio said of Jones. "We are going to have to see how he transitions in terms of the knowledge there, but again they are all linebackers and he can play outside, he can play Sam as well and we are going find out if we can play the Mike."
Ed Davis
begins the spring No. 1 at the strongside spot, but Davis will be limited this spring because of a shoulder injury. Dantonio said the linebacker spots will continue to be evaluated this spring.
Sophomore
Darian Hicks
will get the first crack at replacing Thorpe Award winner
Darqueze Dennard
at cornerback, with
Trae Waynes
locked into the other starting corner spot.
Joel Heath
and
Damon Knox
are penciled in as the starting defensive tackles, moving in for
Micajah Reynolds
and
Tyler Hoover
.
Dantonio said the depth at defensive tackle and how Michigan State rebuilds its offensive line after losing three starters from last season are his biggest concerns right now. But the team has an experienced offense, led by
Connor Cook
, and a strong nucleus of talent to build around on defense.
The good times could keep rolling for the Spartans if they don't get caught up in their past success.
"We can't feel like we are entitled," Dantonio said. "We have to make it happen and we have to be mature enough to be able to handle success and that's part of it.
"One out of every 10 teams that has had great success, there's a 10 percent chance of that team doing it again. So we need to be that one in 10 that's able to handle it."
April, 2, 2013
4/02/13
11:00
AM ET
The timing couldn't have been much better for Michigan State's
Shilique Calhoun
to turn a corner -- both literally and figuratively.
Michigan State needed a rally in the Buffalo Wild Wings Bowl against TCU and, as usual, relied on its defense for a lift. The Spartans' most talented defensive lineman, junior end
William Gholston
, was playing his final college game. Leading 14-13, Michigan State needed a stop in its own territory. Calhoun, already with a tackle for loss to his credit, beat TCU tackle
Aviante Collins
around the edge and dropped quarterback
Trevone Boykin
for his first career sack. Although TCU converted a long field-goal try, Michigan State only needed three points to answer and got the game-winning field goal from
Dan Conroy
moments later.
"Before the sack, I felt like I was underachieving," Calhoun told ESPN.com "I didn't feel like I played to the best of my abilities. But after that performance, it showed me I could go a lot harder and work more. It kind of catapulted me into this year.
"It's given me a lot of pride in my game, a little more than I had before."
[+] Enlarge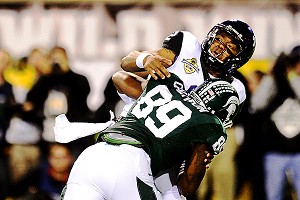 Matt Kartozian/USA TODAY SportsShilique Calhoun showed his pass-rushing potential in Michigan State's bowl win over TCU.
The charismatic Calhoun doesn't seem like a guy who lacks confidence, but the bowl game gave him the boost he needed entering a crucial offseason. When Gholston announced a week later that
he'd forgo his final season and enter the NFL draft
, Calhoun went from a promising young reserve to a likely starter at end opposite
Marcus Rush
.
"There would be a lot more playing time," he said. "I'd be a little more exhausted. That was the first thought."
To prepare for a bigger role, Calhoun had to add weight in the winter. He's about 255 pounds these days and hopes to be around 260 for the season.
Calhoun knows the added weight can help his game, as long as it doesn't come with a cost.
"The best aspect of my game is my speed, so for me to lose that, it would be a crucial mistake," he said. "With this style of play at Michigan State, it's a great opportunity for me to make plays with my speed.
"As long as I can maintain it, I'll continue to gain weight."
Calhoun typically lines up on the field side, where he has to cover more green against dual-threat quarterbacks and the like. Michigan State has built its defense around speed, and Calhoun fits the scheme extremely well.
The redshirt sophomore opened the spring listed as a starter on
the depth chart
, but several others are in the mix at end, including veteran
Denzel Drone
and young players like
Jamal Lyles
and
Joel Heath
.
"I want it to be a dogfight, I want to fight for my position," said Calhoun, a standout on the scout team in 2011 who finished with six tackles, 2.5 for loss, and two pass breakups last fall. "Competition makes me work a lot harder, and I don't want to ever stop working hard. There's guys who are working just as hard as me. I want them to keep pushing me because I want to keep working hard."
Calhoun sees a similar attitude throughout Michigan State's defense, which has ranked sixth and fourth nationally the past two seasons.
"The coaches, my teammates, we're all striving to get better," Calhoun said. "Last year was a good year, yes, but we need to be better ... until we're No. 1, and even then, we're not going to stop trying to be the best."
February, 8, 2013
2/08/13
1:55
PM ET
Michigan State has hired Air Force assistant Ron Burton as its new defensive line coach. He replaces Ted Gill, whose contract was not renewed.

Burton is a 21-year coaching veteran who has spent the past 10 years tutoring defensive linemen at Air Force. He has also worked at Indiana, coaching linebackers from 1997-2001, Eastern Michigan and Grand Valley State.
"He brings a wealth of knowledge to the position," Michigan State coach Mark Dantonio said in a statement released by the school. "Ron played four years in the NFL and has been around some of the game's top coaches at both the professional and collegiate levels. In the pros, he played for Tom Landry, Jimmy Johnson and Gene Stallings, and he started his tenure at Air Force under Fisher DeBerry, one of college football's great coaches.
"He was simply dynamic during the entire interview process. We had an opportunity to share some ideas last year in a professional development setting, and we believe Ron is a natural fit in terms of defensive terminology and concepts. He also brings great energy and management skills to the coaching staff."
Burton said in the school's release that he gained respect for the Spartans' staff during last year's meeting.
"We sat and talked football, and I was simply amazed at how the staff handled things," Burton said.
The Spartans lose three starters off last season's defensive line, including early draft entrant
William Gholston
, but Burton should still have a lot to work with. Junior
Marcus Rush
will be a third-year starter at defensive end, while young players like
Joel Heath
,
Shilique Calhoun
and
Lawrence Thomas
show a lot of promise.
April, 18, 2012
4/18/12
9:00
AM ET
EAST LANSING, Mich. -- Michigan has garnered a lot of positive attention this offseason thanks to its Sugar Bowl victory and success in attracting highly-ranked recruits to Ann Arbor.
Up the road in East Lansing, however, Michigan State shrugs off talk about the Wolverines regaining their superpower status under Brady Hoke. The Spartans are confident of their own standing and future prospects.
"We're laying in the weeds," Michigan State head coach Mark Dantonio says with a half smile. "We've beat Michigan the last four years. So where's the threat?"
Truth is, the rest of the Big Ten had better be on high alert for these Spartans in 2012. There's a quiet sense of self-assurance around the team this spring, borne of recent success, coaching cohesion and a deep well of talent.
[+] Enlarge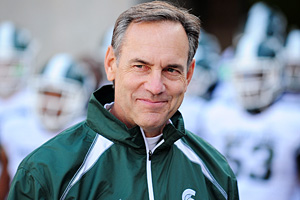 Andrew Weber/US Presswire"We're laying in the weeds," Mark Dantonio said with a half smile. "We've beat Michigan the last four years. So where's the threat?"
Dantonio's team has gone 22-5 over the past two seasons, winning a share of the Big Ten title in 2010 and claiming the first Legends Division championship a year ago. The program finally got over the postseason hump in January, beating Georgia in the Outback Bowl for the school's first bowl win since 2001.
It's the best two-year run by the Spartans in nearly half a century, and only six other FBS teams have won more games since the start of the 2010 season. Of course, one elusive goal remains: Michigan State's first trip to Pasadena since 1988. Rose Bowl logos are plastered all over the team's football facility, serving as a constant reminder.
Even with a small senior class and the losses of three-year starting quarterback
Kirk Cousins
, all-time leading receiver
B.J. Cunningham
and All-America defensive tackle
Jerel Worthy
, this year's team believes the Rose is within reach.
"Our goals keep climbing every year, and I think they're very attainable," new starting quarterback
Andrew Maxwell
said. "I feel like we have all the pieces in place."
That's a tribute to both the building job and the stability Dantonio has carefully constructed.
While other Big Ten staffs have undergone tumultuous turnover the past couple of years, the Spartans coaches have mostly stayed intact. Dantonio, defensive coordinator Pat Narduzzi and several key assistants are entering their ninth straight season together, dating back to their time at Cincinnati. The benefits of that constancy can really be seen on defense, where Dantonio and Narduzzi have been able to reinforce their philosophy year after year without changing terminology or schemes. The Spartans finished No. 6 nationally in total defense in 2011.
"That helps a lot," junior middle linebacker
Max Bullough
said. "So much of the game is mental, and having [the same coaches] allows you to just focus on getting better as a football player and not having to learn new things every year or two."
Dantonio said the continuity means that if he turns to, say, a redshirt sophomore, that player has received the same teaching in the same system for three years. And few teams in the Big Ten have redshirted as many players as Michigan State, which put only two of its 2011 signees on the field last season.
That patience, along with very few recruiting mistakes, has led to a situation that every other Big Team would envy: terrific depth, especially in the trenches. The Spartans have eight starters back on defense, plus
Anthony Rashad White
, who started the bowl game at nose tackle. The talk of the spring has been about young guys making a move behind the starters, like linebacker
Darien Harris
, defensive end
Joel Heath
and cornerback
Trae Waynes
-- all redshirt freshmen.
"When we go against the twos [the second string defense], I feel like those guys would start at a lot of places in the Big Ten," offensive tackle
Dan France
said. "We definitely have a lot of depth on both sides of the ball."
Defense has been a hallmark under Dantonio, but he may now have the deepest and best offensive line of his tenure. After a season of shuffling and injuries, that unit returns six players who have started, along with some promising newcomers. Ask Dantonio about either line, and he says what every coach would love to say about those positions: "We've got numbers."
Like every team in the spring, Michigan State has its questions, too. Maxwell is well-groomed to take over at quarterback after three years in the system, but he'll have to prove he's as unflappable under adversity as Cousins was. The receiver position is barren tract for experience, though there are plenty of athletes trying to emerge. And while the Spartans feel they can go seven- or eight-deep at defensive tackle, they have yet to discover someone there who can take over a game the way Worthy could when he was switched on.
"I didn't realize what a difference he made until he left," defensive end
William Gholston
said. "The first couple of practices I was like, 'Man, it's not the same.'"
Still, this is a team that's loaded at the most important positions and with a strong sense of its identity. Michigan's rise may be a fact; the Spartans don't plan on going away any time soon.
"People should be looking forward to Michigan State being one of the top teams every year," safety
Isaiah Lewis
said.
April, 12, 2012
4/12/12
5:20
PM ET
EAST LANSING, Mich. -- I'll have much more from Michigan State in the days and weeks to come, but here are a few notes of interest: