December, 3, 2013
12/03/13
7:15
PM ET
Arizona State had a great run under Frank Kush in the 1970s. The Sun Devils went 10-2 under Darryl Rodgers in 1982. They won the Rose Bowl over Michigan after the 1986 season under John Cooper. Bruce Snyder's only loss in the 1996 season was a nail-biting Rose Bowl against Ohio State. Dirk Koetter was 9-3 in 2004. Dennis Erickson opened his ASU tenure with a 10-3 mark in 2007.
But each Arizona State surge was followed by mediocrity and losing seasons. Since Kush was controversially forced out in 1979, the only thing that has been consistent about Sun Devils football has been inconsistency.
[+] Enlarge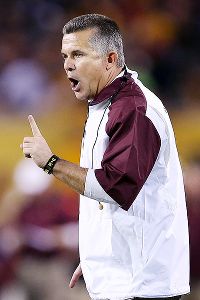 Christian Petersen/Getty ImagesTodd Graham says players should take charge of leadership on a team.
That has baffled many folks, particularly sportswriters, who have repeatedly called Arizona State a "sleeping giant." In fact, the Pac-12 blog has done this a couple of times over the past five years --
here
and
here
. It's been
a national story
a number of times. It's
been debated
. It's been
a topic this season
.
That's why the Sun Devils' rise under Todd Graham should be approached cautiously. While there's plenty of evidence suggesting a cultural transformation, unfettered optimism has been a dangerous state of mind for Sun Devil fans.
How about just the facts? Graham took over a team that went 6-7 in 2011 and went 8-5 his first season. In his second, he has the Sun Devils at 10-2, ranked 11th and facing No. 7 Stanford on Saturday for the Pac-12 championship and Rose Bowl berth .
Arizona State had been a notoriously undisciplined program. In 2011, the Sun Devils ranked last in the nation in penalty yards per game. Last year, they ranked eighth in the nation, and this year they rank third.
The discipline has extended off the field. The Sun Devils have been mostly avoiding the police blotter and doing well in the classroom, see nine players earning Pac-12 All-Academic honors, the program's most since 2006.
"We've always lacked consistency," said running back
D.J. Foster
, a Scottsdale native. "Even before I came here, just watching stuff. I feel like this program finally has constancy with Coach Graham. His work ethic is rubbing off on the players."
Graham said that even before he took the Arizona State job he had talked to other coaches about the football program's potential, most notably Cooper, who bolted Tempe for Ohio State after going 7-4-1 in 1987. Cooper is the last Sun Devils coach whose tenure didn't end with a pink slip. Graham, who has notoriously called multiple places his "dream job," wasn't worried about the dreaded "sleeping giant" label, which typically became a subject for off-the-record derision among former Sun Devils coaches.
"I think it just points to the potential," Graham said. "This is a great place."
There was an outside perception that the team Graham took over didn't lack athletic ability but that it might be thin on character. Fair or unfair, the Sun Devils have long been dogged by a reputation as a self-centered team that lacked mental toughness. But what Graham says he found was a locker room eager to embrace change.
"I think they were somewhat tired of some of the discipline things," Graham said. "I believe young people will meet whatever standard you set."
Want buy-in? Two-time Pac-12 Defensive Player of the Year
Will Sutton
on Monday was finishing up a 15-page paper on leadership. Guess who it was about: Graham.
"It's about leadership and change in the community, and what better person to do than Coach Graham?" Sutton explained.
For Graham, however, the message that he advanced this season compared to last is players taking charge of leadership instead of the coaches. That's part of a team and a program maturing.
"Our players are leading the team," he said.
The improvement this fall has been impressive. The Sun Devils are 10-2 against one of the nation's toughest schedules and they are riding a Pac-12-best seven-game winning streak. While Stanford is the defending conference champion, it's the Sun Devils who are favored.
"This has been the best situation I've ever been in in coaching," Graham said. "We've really gelled really quickly. We had a great plan and we really fit the place. I think the players were really hungry for what we've brought."
If the Sun Devils keep winning, it certainly
will bolster efforts to renovate Sun Devil Stadium
, a project that is critical to the program remaining competitive. And retaining Graham.
While the previously nomadic Graham seems to -- finally -- be content, leading Arizona State to a Rose Bowl will refocus the nation on his program building skills, not his controversial departures from previous schools. Keeping him and his coaching staff happy will be an important test for the athletic department, which already is replacing athletic director Steve Patterson, who left for Texas this fall.
Further, everyone knows nothing big has been accomplished yet. This is about establishing a consistent winner, not just breaking through every five or 10 years for a magical run. It's no good if the sleeping giant just got up to grab a glass of warm milk before again retiring.
"I feel the sleeping giant is awoken but we've still got a lot more work to do and a lot more big games to win to be established as a dominant program," Foster said.
August, 23, 2013
8/23/13
5:00
AM ET
1. Oklahoma State head coach Mike Gundy has decided not to pick a starting quarterback between senior
Clint Chelf
and sophomore
J.W. Walsh
. Of all head coaches, you would think Gundy, a star quarterback with the Cowboys back in the day, would want to give that assurance to the player running his offense. Then again, no one shuffled quarterbacks more effectively than Steve Spurrier at Florida, and he won the 1966 Heisman playing quarterback. Maybe they know something we don't?
2. Bo Pelini has gone 9-4 or 10-4 in each of his five seasons at Nebraska, yet the whole feels like less than the sum of those parts. Flaws? There are the big games -- the Huskers are 0-3 in conference championship games and 0-for-their-last-three-bowls. There are the big losses -- in eight defeats in 2011-12, Nebraska allowed 46 points per game. His record reminds me of John Cooper, who won enough to get elected to the Hall of Fame but couldn't beat Michigan. Nebraska will be one of the most interesting stories in 2013.
3. For the 34 teams who play next Thursday night, the season starts today, the first day of their game week. That makes it official: We made it through the offseason with no major scandal(s), no head coaches being fired, and no schools jumping from one conference to another. Instead, we got the format for 2014 and the groundbreaking for the new College Football Hall of Fame. Hallelujah.
May, 9, 2013
5/09/13
11:00
AM ET
The name, game sites and logo for the upcoming College Football Playoff are set. Now comes the most important piece of the puzzle: the selection committee.
Everyone wants to know who will have the important and unenviable task of choosing the field of four for the Playoff each year. BCS executive director Bill Hancock has said the
committee will consist of 14-20 members
representing every conference in the sport. Hancock issued a statement following the recent meetings in California, saying that
discussions about the selection committee's structure are ongoing
, and that there's "no rush" to decide given the committee's importance to the process.
[+] Enlarge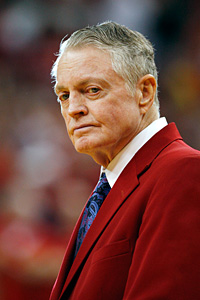 Bruce Thorson/US PresswireTom Osborne believes retired coaches would be unbiased if chosen to evaluate teams for the upcoming College Football Playoff.
Who will serve on the group? Former coaches? Current administrators? Former media members? All have been mentioned as potential candidates. Big Ten commissioner
Jim Delany told ESPN.com and several other outlets
last week that the committee must first and foremost be "a core group who are football smart, football savvy, great integrity" and that a member "can't be a congressman. You can't come from this part of the country to take care of that."
Tom Osborne once was a U.S. Congressman, but he also had a Hall of Fame coaching career at Nebraska and served as the school's athletic director from 2007-12. In my view,
Osborne would be an excellent candidate
for the Playoff selection committee. His football knowledge and experience in pressure situations -- as a coach, an athletic director and in Congress -- make him a great fit.
Osborne isn't one to promote himself for the committee, but he has thoughts on how it should be compiled, and shared them with the
Lincoln Journal Star
. Osborne told Hancock to consider members of college football's
Legends Poll
, a group of 17 former college coaches, 15 of whom are in the College Football Hall of Fame, who select a top 25 poll each week during the season. According to the Legends Poll Web site, the former coaches "review all of the relevant game film using a state of the art service called Hudl, discuss each team's performance during a weekly conference call and establish a ranking of the Top 25 teams."
Sounds a lot like what the Playoff selection committee will be doing.
Here's the current Legends Poll voting panel (along with the school with which they're most closely identified): Bobby Bowden (Florida State), Frank Broyles (Arkansas), John Cooper (Ohio State), Fisher DeBerry (Air Force), Vince Dooley (Georgia), Terry Donahue (UCLA), Pat Dye (Auburn), LaVell Edwards (BYU), Don James (Washington), Dick MacPherson (Syracuse), Bill Mallory (Indiana), Don Nehlen (West Virginia), John Robinson (USC), Bobby Ross (Georgia Tech), R.C. Slocum (Texas A&M), Gene Stallings (Alabama) and George Welsh (Virginia).
Osborne served three years on the Legends Poll panel, and former Iowa coach Hayden Fry also has been on it. Former Michigan coach Bo Schembechler was an active voter at the time of his death late in the 2006 season.
From the Journal Star:
"Each week, they would send us DVDs of the top games," he said. "So you'd get 8-10 DVDs. They sent you a video player. You could sit there and really study the games."

The coaches on Mondays would gather for a teleconference, which lasted up to two hours, Osborne said.

"Each coach would talk about the game he had gone to the previous Saturday, and also what he'd seen on video," Osborne said. "I was impressed by the fact they seemed to be objective. It wasn't like R.C. [Slocum] was pushing Texas A&M, or Gene Stallings was pushing Alabama. They were just talking about strengths and weaknesses of teams in their area, and teams they'd seen. It was a very informative discussion."

Weren't coaches biased toward former employers?

"I thought the discussions were pretty objective and pretty dispassionate," Osborne said. "I heard coaches say things about their former school that weren't highly complimentary. They might say, 'We just can't play defense this year.' Or, 'We're pretty good overall, but we don't have a quarterback.' I didn't hear anybody trying to pump up their school to the other coaches. They were pretty blank, pretty blunt."
It sounds like a good place for Hancock to start. Cooper, who coached Ohio State from 1988-2000, has said
he'll serve on the committee if asked
. Mallory, who coached Indiana from 1984-96, also would be a good choice.
I lean toward a mix of former coaches and current administrators, as a guy like Wisconsin athletic director Barry Alvarez makes a lot of sense for the job. But the time commitment could be an issue for those still working in the sport --
Alvarez talks about it here
-- and the retired coaches certainly have more flexibility in their schedules.
It would be a surprise if several members of the Legends Poll don't end up on the Playoff selection committee. Here's hoping they reserve a spot for Osborne, too.
November, 28, 2011
11/28/11
12:10
PM ET
Ohio State football is headquartered at the Woody Hayes Athletic Center. The Buckeyes play their home games at 411 Woody Hayes Drive.
[+] Enlarge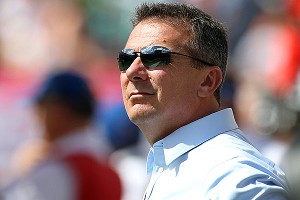 Robert Mayer/US PresswireOhio State has never hired a coach with a resume as impressive as Urban Meyer's.
No name is more synonymous with Ohio State football than Wayne Woodrow "Woody" Hayes, the Buckeyes' coach from 1951-78. He's a college football icon and Ohio State royalty. Hayes was bigger than the program.
But he didn't arrive that way, coming to Ohio State from Miami (Ohio). Ohio State's subsequent coaches -- Earle Bruce, John Cooper and Jim Tressel -- made similar, somewhat understated entrances, from Iowa State, Arizona State and Youngstown State, respectively. Tressel, like Hayes, achieved icon status at Ohio State, but only after he had been on the job for a while. And the buttoned-down, sweater-vested Tressel never truly became bigger than the program, at least not like Hayes.
Enter Urban Meyer, rock-star coach. Roll out the scarlet carpet. Ohio State has never seen anything quite like this.
Meyer, expected to be introduced as Ohio State's coach today at a news conference scheduled for 5:15 p.m. ET, comes to Columbus as one of the biggest names in college football. He has won two national championships and enjoyed tremendous success at his three previous coaching stops (Florida, Utah and Bowling Green). He doesn't come to Ohio State from another program, but from ESPN, where he has been on your TV screen throughout the college football season.
When Ohio State introduces Meyer as its next coach, no one is going to look at the podium and ask, "Who's this guy?"
Meyer likely will talk about coming home to Ohio, and to a program where he got his start in college coaching as a graduate assistant in 1986. He'll discuss the program's tradition and mention its status, until recently, as a powerhouse both in the Big Ten and nationally. He'll try to make it about Ohio State.
Not happening. Urban Mania is sweeping through Columbus, and Meyer will be the top story in college football during the first part of championship week. The spotlight will be on Meyer's decision to return to coaching, his health status and whether he was hypocritical for leaving Florida. Coaches rarely make the jump from one national powerhouse to another -- with a network TV gig in between -- but Meyer always has been on a faster track.
This is a big-time, big-money, big-splash hire for the Scarlet and Gray.
How will Ohio State react to a coach who's bigger than the program? Most fans will be and should be thrilled, especially after a subpar season and a nightmarish 11 months. But there could be some skeptics as well, unsure of the new coach with the championship rings and the good looks and the glitzy offense.
Buckeye Nation will agree on one thing: expectations for Meyer. They'll be sky-high.
Tressel had consistent success at Ohio State, but his program lacked flashiness of other elite ones around the country. I remember covering USC-Ohio State in 2009, and attending USC's walk-through at Ohio Stadium the day before the game. Hollywood had definitely come to flyover country.
Meyer might not be Hollywood, but he's in the neighborhood.
And it's not just Meyer who will increase Ohio State's Q score. Tressel assembled quite possibly the most anonymous staff of any national program. He had some good assistants, but you rarely heard much about them outside Columbus.
Just a hunch, but Meyer's staff will have a little more national appeal.
Meyer ultimately will be judged by what he does
after
he gets the Ohio State job. And he should be. The same held true for Hayes, Tressel and the others.
But unlike previous Buckeyes bosses, Meyer won't have to introduce himself to Ohio State. Everyone already knows who he is.
The spotlight is ready and the big show is coming. Brace yourself, Columbus.
August, 11, 2011
8/11/11
10:00
AM ET
Expectations are high for Nebraska in its first season as a Big Ten member, and we'll soon find out how the Huskers match up in their new league.
But how would Big Red have fared in the past? Would Nebraska's dominant teams of the late 1990s won the Big Ten? What about those not-so dominant teams of the past decade?
BTN.com is trying to find those answers. The site is conducting a simulation, along with WhatIfSports, on how the Big Ten would have unfolded had Nebraska joined the league 15 years ago. The project splits the Big Ten into the two current divisions, creates mock schedules that feature eight league games and simulates each matchup 101 times. The average scores from each simulated matchup are used to determine winners. There are even simulated game recaps.
So far, the simulations for
1996
,
1997
and
1998
are listed.
How did the Big Ten shake out?
1996:
Nebraska wins the Legends division in its first year as a Big Ten member, going 7-1 in league play. But the Huskers fell to Leaders division champ Ohio State 20-10 in the league championship game. Interestingly, a Northwestern team that shared the Big Ten title with Ohio State in 1996 went a disappointing 3-5 in league play in the simulation.
1997:
Nebraska and Michigan might have split the 1997 national title in reality, but the simulation leaves no doubt about the better team that season. Michigan goes 8-0 in the simulation, while the Huskers go 5-3 with a 19-11 loss to the Maize and Blue. The Wolverines meet archrival Ohio State in the Big Ten title game but suffer a 37-34 loss to the Leaders division champ.
1998:
Nebraska wins a three-way tiebreaker atop the Legends division at 6-2 and advances to the league championship game to play Ohio State, which went 8-0 in the Leaders division. The Buckeyes end up winning the league championship 34-17. Don't you think John Cooper would love this simulation?
More season simulations are on the way in the coming weeks, with 1999 being posted in a matter of minutes.
It's a pretty cool feature worth checking out.
May, 31, 2011
5/31/11
1:38
PM ET
Northwestern coach Pat Fitzgerald doesn't think Luke Fickell needs his advice.
"He's a great coach and was a great player, and he's obviously been under some great mentors, [Jim Tressel] especially," Fitzgerald said Monday night. "So he's in great shape."
But should Fickell choose to seek guidance during a crucial juncture in his coaching career, Fitzgerald could be a good resource. Fitzgerald knows what it's like to become a head coach unexpectedly. He knows what it's like to take over the football program at his alma mater at an awkward and difficult time with a season rapidly approaching. He knows the challenges Fickell will begin facing in the coming days and months.
[+] Enlarge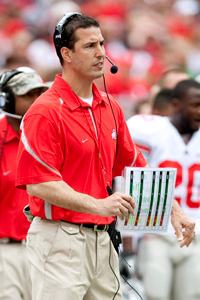 Greg Bartram/US PresswireLuke Fickell had already been preparing to lead the Buckeyes for their first five game this season.
The death of former Northwestern coach Randy Walker in June 2006 and Tressel's resignation from Ohio State on Monday are different situations and should be viewed as such. Another difference: Fitzgerald was elevated to a permanent head coach position a week after Walker's death, while Fickell will serve in an interim role through the 2011 season.
But it's impossible to deny the similarities of the coaches thrust into leading roles: thirtysomethings, rising stars in the coaching ranks, former defensive players with deep roots at their alma maters, standout recruiters. Fitzgerald and Fickell even coached the same position group (linebackers) before their respective appointments to head coach.
Walker made no secret about his desire to have Fitzgerald succeed him at Northwestern. And while Tressel looked extremely secure at Ohio State until recent months, Fickell's name had been mentioned by fans and media as a potential successor even before the program's troubles.
What neither Fitzgerald nor Fickell could see coming was a move into the head-coaching role so soon.
How should Fickell approach his new task?
"I would just tell him to be himself," Fitzgerald said. "He can't be Jim Tressel, he can't be John Cooper, he can't be Woody Hayes. He's got to just be himself, go out and do what he can to help the program through this. Things happen, and those are out of his control, but what's in his control is how he leads this group of young people through some adversity."
Fitzgerald thinks Fickell will benefit from knowing since March that he'd be taking on Tressel's duties for at least the first five games of the season. Fickell will have the next two months to prepare before fall camp kicks off in August.
But the overnight transition from position coach to full-time head coach can't be minimized.
"When I visited with coach [Gary] Barnett and with Randy and Tom Cable and Ron Vanderlinden on different things, they'd always say, 'You really don't get it until you sit in this chair, the head-coaching chair,'" Fitzgerald said. "You go from being an assistant coach, a guy who's on a need-to-know basis, worrying about your group of guys ... to now being the guy that needs to know everything. You're managing an entire program, not just the players but everything.
"It's a completely different level of responsibility," he continued. "Does being a position coach and being a coordinator prepare you for it? Absolutely. But what prepares you more are the experiences you've had as a person, developing and leading people.
[+] Enlarge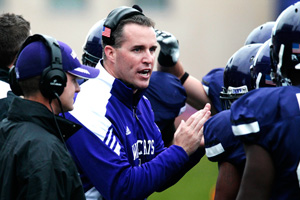 AP Photo/Nam Y. HuhNorthwestern's Pat Fitzgerald advised that Fickell be himself and concentrate on things he can control.
"Luke is going to do a phenomenal job."
Fitzgerald also notes that the burden shouldn't be on Fickell's shoulders alone. Ohio State's players, especially the team leaders, need to answer the bell, especially during the critical summer months.
Fickell also should benefit from having some more experienced coaches on his staff, much like Fitzgerald did at Northwestern.
"You've got to look at the group and let everybody know, 'We're going to do this together,'" Fitzgerald said. "It's not going to be about Luke Fickell. It's going to be about the
Ohio State Buckeyes
and their program, and they're going to get through it together. Through adversity, a lot of times, people come together and become even tighter."
Fitzgerald also shared some thoughts on Tressel.
"It's a sad day, it's unfortunate," he said. "We lose a great football coach and someone who to me was always gracious in Jim Tressel. He was always humble, always very open with me and always tried to help other coaches in the profession. And for that, I'll forever be indebted.
"As a guy who has the utmost respect for Coach, it's a disappointing and sad day."
May, 30, 2011
5/30/11
10:27
AM ET
Jim Tressel's
resignation from Ohio State
on Monday ends one of the most successful runs in Big Ten coaching history.

Tressel spent 10 seasons in Columbus, compiling a 106-22 record (66-14 Big Ten).
Many thanks to ESPN's Stats & Information crew for the following nuggets on Tressel's time at Ohio State (note: there's a possibility these numbers could change depending on NCAA penalties against Tressel/Ohio State):
Tressel is tied with Oklahoma's Bob Stoops for the most appearances by a coach in BCS bowls (8). He boasts a 5-3 record that includes a 1-2 mark in games that decided the national championship.
Tressel has guided Ohio State to 10 or more wins in six consecutive seasons, the fifth-longest such streak in FBS history and the longest in Big Ten history.
Tressel is the only coach in NCAA history to win more than 100 games at two separate schools (Youngstown State and Ohio State).
Tressel's 106 wins are the third most by an Ohio State coach, behind Woody Hayes (205) and John Cooper (111). His winning percentage of .827, meanwhile, is significantly higher than both Hayes (.761) and Cooper (.715).
Tressel last year became the third-fastest coach in Big Ten history to reach 100 victories, doing so in his 121st game. Michigan's Bo Schembechler and Fielding Yost both reached the 100-win mark in 119 games.
Under Tressel, the Buckeyes spent 14 weeks as the No. 1-ranked team.
Several more nuggets from yours truly ...
Tressel's Big Ten winning percentage ranks second in league history behind only Schembechler (.850).
He coached 21 first-team All-Americans at Ohio State and 47 first-team All-Big Ten selections.
Tressel boasts a 9-1 record against archrival Michigan and is the only Ohio State coach to defeat the Wolverines in seven consecutive games.
July, 29, 2008
7/29/08
2:10
PM ET
Posted by ESPN.com's Adam Rittenberg
If you haven't caught on already, we're giving you heaping helpings of hate today. There's already some debate as to the Big Ten's most hated team. Is it Ohio State hands down, or do Michigan and Penn State enter the discussion? You can weigh in.
Let's take a look at the league's top 5 rivalries:


1. Michigan vs. Ohio State -- Nothing else comes close. From the Snow Bowl to the Ten-Year War to John Cooper's struggles to Lloyd Carr's struggles, this rivalry has had it all. The 2006 meeting that paired the nation's top two teams was arguably the most anticipated regular-season contest ever, certainly in the last decade. Most Ohio State fans think Michigan fans are arrogant; most Michigan fans think Ohio State fans are classless. It makes for one of the greatest rivalries in all of sports.


2. Michigan-Michigan State -- Both teams have other rivals (Ohio State and Notre Dame, respectively), but the intra-state matchup has become increasingly more intense. Though Michigan has won six straight in the series, six of the last nine meetings have been decided by eight points or fewer. Last year's game further fueled the rivalry, as Mike Hart referred to Michigan State as Michigan's "little brother," prompting an angry response from Spartans coach Mark Dantonio.


3. Wisconsin-Iowa -- One of the league's most competitive rivalries has some bitterness as well, especially after Bret Bielema, a former Iowa player with a Hawkeye tattoo on his ankle, became Wisconsin's coach. The Badgers hold a 41-40-2 edge in the series, which is strikingly close despite Iowa's string of 18 straight games without a loss between 1977-96.


4. Illinois-Ohio State -- Buckeye dominance has marked most of the series, but the bitterness is building. Illinois nearly stunned Ohio State two years ago and then completed the upset of the top-ranked Buckeyes last year in Columbus. If the Illini continue to recruit like a powerhouse, they'll continue to fuel this rivalry.


5. Minnesota vs. Wisconsin -- It might not reek of bitterness, but in terms of longevity, this game stands alone. The Golden Gophers and Badgers have played since 1890, making it the most played rivalry in Division I-A. The teams originally played for a slab of bacon and now try to claim Paul Bunyan's Axe. Hailing from bordering states, the two programs are always competing for talent, giving the game some added spice.
July, 22, 2008
7/22/08
8:05
AM ET
Posted by ESPN.com's Tim Griffin
New Texas A&M coach Mike Sherman isn't ready to name his starting quarterback for his team's Aug. 30 season opener against Arkansas State. Sherman told the Houston Chronicle Monday at the Big 12 media days that incumbent Stephen McGee and backup Jerrod Johnson will battle for the job during spring camp. "I think it would be unfair to walk in and just hand Stephen the job," Sherman told the Chronicle. "I told him he's going to have to earn it. In fairness to him and Jerrod, they both have to work against one another and earn the job." I guess that's the reason that McGee didn't accompany Sherman to Kansas City.
Lots of stories from lots of places after the first day of the Big 12's annual summer media gathering.
My take -- Morris swore to me that he weighed 172 pounds when I talked to him on Monday. I don't know, maybe a couple of extra Keebler cookies in his pocket.
My take -- Pelini is saying it now, but it could be a different story when his defense starts lining up against Chase Daniel and Todd Reesing in the Big 12.
My take -- Leach has been better, but it was still a solid media day performance that was better than any other coach so far. My favorite Leach line Monday came when the overhead lights blinked on during his media availability at the podium with several reporters. "I guess it must be last call," he responded.
My take -- Sherman's old-school philosophy wouldn't work at a lot of schools, but is ideal for a tradition-bound program like A&M. It might take him a couple of years to get his players, but when he does it will be interesting.
My take -- Daniel's confidence around his program is palpable. He's the top candidate to win the Big 12's first Heisman Trophy since Jason White in 2003.
My take -- Maclin still is the one player in the Big 12 that makes me hold my breath every time he touches the ball. He can make something exciting happen on every play.
My take -- I remember when Laymance started his career as a prep reporter in Dallas in the early 1980s. Even though he's spent most of his recent time working in the ivory towers of newspaper management, he still hasn't lost his touch. But I bet he hopes to hire a new Missouri beat writer to replace my new ESPN.com colleague Graham Watson -- sooner rather than later.
My take -- Are you really surprised? Kansas officials went to court last week trying to say the school had copyrighted a shade of blue. A presidential candidate? Small potatoes.
My take -- That might be a tad extreme, but Stoops should expect to hear that question in a variety of forms when he arrives at the Big 12 media days on Wednesday. Consider that to be his fair warning before he arrives.