July, 11, 2014
7/11/14
7:00
PM ET
Just when you thought you'd seen everything on social media, the athletic directors from Kansas State and Mississippi State took things to a different level Friday.
K-State's John Currie and Mississippi State's Scott Stricklin apparently agreed to a home-and-home series on Twitter. The two ADs went back and forth before agreeing to a deal. Obviously it is a tenative plan, but it came together in a matter of hours.
If only LeBron had accomplished things this quickly.
It all began when Currie invited Stricklin to bring his team to play some football at Bill Snyder Family Stadium:
#Chillin4Charity @stricklinMSU We have raised the bar in this effort! Enjoy the video: http://t.co/2HDP4vEOd1

— John Currie (@John_Currie) July 11, 2014
Stricklin responds with suggested years for the series:
In his #Chillin4Charity video @John_Currie invites @HailStateFB to play at K-State. '16 in Manhattan, '17 in Starkville? #HailState

— Scott Stricklin (@stricklinMSU) July 11, 2014
Currie's response:
@stricklinMSU @HailStateFB Already got some stuff working then - how about '18 MHK, '19 Starkvegas? #KState #Family

— John Currie (@John_Currie) July 11, 2014
Let's do it! RT @John_Currie: @stricklinMSU Already got some stuff working then - how about '18 MHK, '19 Starkvegas? #KState #Family

— Scott Stricklin (@stricklinMSU) July 11, 2014
Deal done.
So, @HailStateFB vs @KState_Football: '18 in Manhattan; '19 in Starkville. Pleasure doing business with you, @John_Currie. #HailState

— Scott Stricklin (@stricklinMSU) July 11, 2014
@HailStateFB @KState_Football 'Cats and 'Dawgs tweeting together! Let's get the paperwork done! Have a great weekend @stricklinMSU

— John Currie (@John_Currie) July 11, 2014
May, 29, 2014
5/29/14
9:20
AM ET
IRVING, Texas -- Despite the dissolution of the BCS, the Big 12 leadership decided during the first day of spring meetings Wednesday that it would keep the same formula for breaking three- and four-way ties.
[+] Enlarge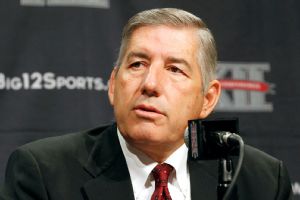 AP Photo/Tim SharpBig 12 commissioner Bob Bowlsby addressed several topics during the first day of spring meetings, including a tiebreaker tweak and unlimited meals for student-athletes.
With one slight tweak.
The BCS standings previously determined the third step of the tiebreaker. Beginning this season, it will be the College Football Playoff committee
that will do the tie breaking
.
"The biggest change we made was we struck the places where it said BCS and inserted CFB poll," Big 12 commissioner Bob Bowlsby said. "So there really wasn't much of a change to it."
Going forward, in the event of a three- or four-way tie, the highest-ranked team in the College Football Playoff poll (that does not advance to the playoffs) will be the Big 12 representative in the Champions Bowl (
aka, the Sugar Bowl
) against the SEC.
Everything else in the three-way tiebreaker will remain the same, including the head-to-head clause that was added following the 2008 season.
That year, Oklahoma emerged out of a Big 12 South Division three-way tie with Texas Tech and Texas despite losing to the Longhorns earlier that season. The Sooners were ranked one spot ahead of Texas in the BCS standing and thus advanced to the Big 12 title game.
Spearheaded by former Texas athletic director DeLoss Dodds, the Big 12 amended the three-way tiebreaker to allow head-to-head to come back into play should the top two teams be ranked within one spot of one another. Had the clause been in effect in 2008, Texas would have played for the Big 12 title instead of the Sooners.
"DeLoss' lasting legacy," Kansas State athletic director John Currie joked of the amendment.
Currie added that the three-way tiebreaker would be on the agenda during the athletic directors' meeting in August in case "something developed" within the College Football Playoff ranking system.
No momentum for early signing period
Two weeks ago, the
ACC concluded
it would recommend an
early signing period in college football
to the College Commissioners Association.
The Big 12, conversely, was far from reaching a consensus on the issue on Wednesday.
"I don't perceive any extreme momentum for that," Currie said of the Big 12 opinion. "For every argument for that, there's a big stack of arguments against it. Whether or not the intended result of an early signing period would reduce chaos on the back end, does that really offset? Is an early signing period going to drive more early recruiting and more early decisions? I personally believe those decisions are being made far too early in many cases."
An
early signing period
is on the agenda for the College Commissioners Association's June meeting. The ACC wants the early signing period to begin Aug. 1.
"The biggest challenge we have is a lot of people are in support of it, but there are a multitude of different options out there," Baylor athletic director Ian McCaw said. "The football recruiting subcommittee is going to gather feedback from high school coaches, student-athletes, coaches and try to make a determination on a date that makes sense. It's something that will be looked at extensively."
Texas Tech athletic director Kirby Hocutt is actually chair of the NCAA football recruiting subcommittee.
Feeding the monster
Last month, the NCAA's legislative council approved a proposal to allow Division I schools to
provide unlimited meals and snacks to all athletes
, including walk-ons.
A chunk of Wednesday's meeting in Irving was spent discussing how the Big 12 would implement the new legislation, which takes effect Aug. 1.
"I was really surprised during the meetings at how much variance there was among schools," Bowlsby said. "And yet there was a fairly high comfort level that although there were uniqueness, that institutions could deal with them in their own way without others thinking, 'Oh gosh, they're going to get an advantage on us.'
"It was an interesting discussion that we maybe we can move into an era where all of us don't have to do exactly the same things."
One possible area of variance? How much each institution might spend on the unlimited meal plan.
Currie said he expects Kansas State to spend somewhere between $700,000 and $1 million a year. Texas athletic director Steve Patterson, meanwhile, estimated Texas' cost could soar "north of $2 million."
While the details are still being worked out across the board, Currie said Kansas State would add a morning snack to its student-athlete training table, as well as "fueling stations" in different facilities for before and after practices. Currie also said inside Kansas State's new $65 million Vanier Football Complex will be a "significant nutrition area" that will give Kansas State's student-athletes access to items like banana smoothies into the night.
"This is going to be very positive," Currie said. "One of the best things we've done."
January, 31, 2013
1/31/13
11:34
AM ET
Kansas State coach Bill Snyder has signed a five-year contract extension through the 2017 season, the school announced Thursday morning.
The school announced the deal pays Snyder $2.75 million for the 2013 season, with annual increases of $100,000 in each season thereafter.
"Coach Snyder's daily drive, focus and energy in continuing to build the K-State football program are truly remarkable and inspirational," athletic director John Currie said in a statement. "While he is not one to focus attention on himself, President (Kirk) Schulz and I felt that it was important to recognize in this very significant way his tremendous leadership and commitment to continuing to lead the K-State football program."
See more on this story
here
.
I'll have more on this story later today.
May, 3, 2012
5/03/12
7:00
PM ET
The Big 12 made it official on Thursday afternoon: Stanford AD Bob Bowlsby is
the new man in charge of the Big 12
. He'll be introduced as commissioner at a press conference on Friday morning.

I'll be there at the Big 12 offices in Irving, Texas, for sure, so be sure to check the Big 12 blog for coverage.
Bowlsby will take over for interim commissioner Chuck Neinas on June 15. Neinas replaced fired commissioner Dan Beebe in September 2011.
"I am proud to have been selected to lead the Big 12 Conference as its Commissioner. The member institutions represent the best in competitive intercollegiate athletics and they occupy a prominent place in the history of sports in America," Bowlsby said in a statement. "I am excited to work with a very talented and committed group of Presidents and Chancellors to advance the Conference on the national sports landscape. Additionally, the directors of athletics, senior woman's administrators, faculty athletics representatives, coaches and conference office staff are among the very best in the country. The future is exceedingly bright and I look forward to engaging with my colleagues to achieve great things in the years ahead."
In a tweet, Kansas State AD John Currie said the league's presidents and search committee "hit a home run" with the hire.
"Bob Bowlsby is a highly respected and experienced college athletics administrator who has a reputation for integrity and excellence. His vision will be shaped by successful experiences at leading institutions in other BCS conferences which will serve the Big 12 very well as he leads us into a bright future," Baylor athletic director Ian McCaw said in a statement.
Oklahoma president David Boren also lauded the selection.
"His combination of skills makes him the ideal selection," Boren said in a statement.
Oklahoma State president Burns Hargis explained those skills in the Big 12's announcement of the Bowlsby hire.
"The institutions of the Big 12 wanted a Commissioner that could take us to the next era as a conference with the addition of TCU and WVU, and we unanimously agreed Bob is that leader," Hargis said. "The search committee looked for a candidate that has a vision for the next generation of college athletics, and his credentials and ideas exceeded this. He understands enhancing athletic competition among conference schools, the challenge of balancing academics and athletics for our student-athletes, and working with our broadcast and bowl partners."
December, 7, 2011
12/07/11
2:45
PM ET
NEW YORK -- Kansas State athletic director John Currie asked a simple question. If the BCS bowls don't use the BCS ratings to pick the BCS teams, then why have the standings?

Kansas State finished No. 8 in the final BCS standings. The Wildcats (10-2) got passed over by the Allstate Sugar Bowl in favor of No. 11 Virginia Tech and No. 15 Michigan. Currie, speaking on a panel with four other athletic directors at the IMG Intercollegiate Athletic Forum, said, "We don't necessarily have to have labels that designate this group of games better than all the other games, unless we're going to objectively put the people into the games."

Kansas State will play No. 6 Arkansas in the Cotton Bowl. It joins the Rose, the Fiesta and the Allstate BCS National Championship Game in matching up top-10 teams. Currie is thrilled that Kansas State is going to Dallas. Wildcat fans bought every ticket and filled every hotel room they could find the last time Kansas State played in the Cotton Bowl. They would have done the same in New Orleans.

The Sugar Bowl took Virginia Tech and Michigan, expecting them to do those things, too. The selection struck at the credibility of the BCS.

"We have to be in control of how we're presented, in terms of whether we're ethical and following some explainable scenario," Currie said. "That's our responsibility."

He clarified after the forum that he didn't intend to suggest that the Sugar Bowl had done anything unethical. He met Sugar Bowl executive director Paul Hoolahan in New York on Monday afternoon. Hoolahan explained to him the fact that the Hokies had been to the Sugar Bowl twice before played into the decision.

Asked who let Kansas State down, Currie said, "I let us down, because I didn't know the people well enough to do whatever we're supposed to do. If that's what we're going to be about, whoever had a relationship 40 years ago, I don't think that's the thing to stand up and tell student-athletes. 'Hey, you get to do this or this because of somebody else's relationship."

Gotta love the system. In a completely unrelated note, athletic directors Bob Bowlsby of Stanford and Scott Woodward of Washington, also on the panel, said they believe a plus-one is inevitable.

August, 3, 2010
8/03/10
12:00
PM ET
Bill Snyder remains consistent, to the surprise of no one.
Early this spring
, Snyder had this to say about upcoming games against Oregon and Miami in 2011 and 2012, scheduled by former coach Ron Prince:
"(Laughs) I'm not going to go to those games now, whether they remain scheduled or not. Yeah, that's just not our philosophy in regards to scheduling. And that doesn't help. That doesn't assist our program," Snyder said. "You go through the season and halfway through you've got seven or so of the Big 12 teams are in the top 15 in the country. So you've got a very strength-based conference. We already play eight games in the conference. We don't need to play the same kind of games throughout the entirety of the season."
Well, he wasn't kidding.
In an announcement
on the school's website, athletic director John Currie announced Kansas State's series with Oregon has been canceled, and neither team will suffer a financial penalty. Currie cited a future nine-game conference schedule as the reason for the move.
"I am confident that we will reach our goal of having seven home games in 2011, but there are still a few moving parts," Currie wrote. "We are still on track to have our 2011 schedule in place and announced in the near future."
Kansas State was set to host the Ducks to
open the 2011 season
before flying to Eugene, Oregon in 2012. The Wildcats are still slated to travel to Miami for the first half of a home-and-home in 2011.
As of today, the series with Miami is still scheduled to be played, but Snyder's not short on influence in Manhattan. Expect that series to face the same fate.