NCF Nation:

John David Booty
April, 23, 2013
4/23/13
9:00
AM ET
Say what you want about the flagging reputations of former USC quarterbacks, but at least they keep things interesting.
One of the big questions for the 2013 NFL draft this week is the fate of
Matt Barkley
. Will he still get picked in the first round or will his stock continue to tumble?
Barkley seemed to -- finally? -- reveal some frustrations this week in a
series of interviews
in which he questioned coach Lane Kiffin's play-calling in 2012.
See here
. And
here
.
But he wasn't the only former Trojan making news.
Mark Sanchez
spoke up about the
New York Jets
acquiring
Tim Tebow
last year, and the
media circus that the organization seemed to embrace
. That, of course, created a new, if more modulated, media circus.
That wasn't the oddest bit of "news."
Former USC quarterback Mitch Mustain, who backed up Sanchez and Barkley after transferring from Arkansas, is
the subject of a new documentary
. It's narrated by former Arkansas basketball coach Nolan Richardson, which adds to a slightly strange texture in itself.
What's it about? Well, it's called "The Identity Theft of Mitch Mustain," which strikes me as a bit melodramatic. Mustain, who had an undeniably live arm, had one problem: His ability to select football programs.
When Mustain decided to leave Arkansas, where he was mismatched with head coach Houston Nutt, he could have become the starter for about 100 or so teams. But he chose USC, which simply had better quarterbacks on hand. End of story, at least on the USC end.
The Arkansas stuff, however, is fairly rich
.
Meanwhile,
Matt Leinart
is a free agent,
Carson Palmer
signed with Arizona -- perhaps to be closer to the Pac-12 blog --
Matt Cassel
is with the
Minnesota Vikings
,
Aaron Corp
is on the
Buffalo Bills
roster and
John David Booty
is out of the league.
Not many schools can list so many NFL QBs, but that operates as a negative when the success rate is so low.
The cumulative affect of all this mediocrity and odd drama -- fair or unfair -- is freight for Barkley.
His draft stock is not just about a disappointing season and over-heated questions about his arm strength, which is certainly NFL-adequate. It's guilt by association: USC QBs and their recent history in the NFL is pretty lousy.
USC's QB past shouldn't mean that much. Barkley should be evaluated, positively or negatively, on what he has done, who he is and his potential. But that dubious lineage will make more than a few NFL GMs skittish.
But all it takes is for Barkley to end up back in the first round. We shall see.
November, 30, 2011
11/30/11
1:51
PM ET
Oregon has never thrown up on itself under coach Chip Kelly.
The Ducks have lost games under Kelly, six in three seasons. But each loss was to a high-quality foe. The only unranked team that beat Kelly was Stanford in 2009, a squad that featured
Andrew Luck
and Toby Gerhart and was ranked the next week after beating the Ducks.
Before losing to USC on Nov. 19, Oregon had won 21 consecutive games in Autzen Stadium, then the longest home winning streak in the Football Bowl Subdivision. The Ducks also had won 19 consecutive conference games, then the second-longest such winning streak in FBS behind TCU.
[+] Enlarge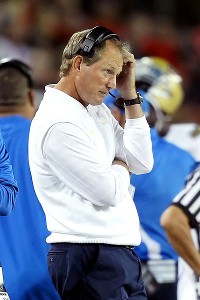 Christian Petersen/Getty ImagesRick Neuheisel's Bruins have a big challenge Friday in the form of Oregon.
The Ducks, who very rarely lose at home and very rarely lose conference games, lost to the Trojans by three. UCLA lost to the Trojans by 50.
So it's not much of a surprise that Oregon is a 31-point favorite against UCLA in the first Pac-12 championship game Friday. The Bruins also, by the way, fired coach Rick Neuheisel this week, so the negative momentum with the program is fairly strong.
Our point: If Oregon were to lose to UCLA, and yield a spot in the Rose Bowl Game presented by Vizio to a 7-6 team, it would rate as an upset of monumental proportions. Think Stanford over USC or Appalachian State over Michigan, both in 2007.
But those were games in which the Trojans and Wolverines obviously -- and not without justification -- overlooked their foes. Those were early-season matchups without clear stakes and with zero pregame buzz. The Ducks, who celebrate the steadiness of their weekly preparation, believing every game is a Super Bowl, are surely aware a win means Rose Bowl and a loss means Valero Alamo Bowl. It's that simple.
So there would be grounds to call a UCLA win, with Neuheisel on the sideline for the final time, one of the biggest in college football history.
We laid out that lengthy introduction because now we'll ask a simple but impossible question: How? How can UCLA win this game?
The first thing is obvious: turnovers. That's often the first place to look. If the Ducks were to, say, give the ball away four or five times and the Bruins were to end up with zero giveaways, that would bolster the Bruins' cause significantly. Recall USC QB John David Booty heaving four interceptions against the Cardinal in 2007, which made things easier for a 41-point underdog.
And all turnovers are not equal. A pick-six when the opposing offense is in the red zone can transform a game. Ask Notre Dame about that 96-yard fumble return for a touchdown that South Florida got with the Irish on its 1-yard line.
But Ducks gifts to the Bruins are obvious as a recipe for an upset and would be out of character for a team that has turned the ball over only 16 times, second fewest in the conference behind Stanford, which has 15.
In terms of X's and O's, the Bruins are going to have to take some chances on offense. They like to run the ball and have done it fairly well this season out of their pistol formation, but they are going to have to get some big plays downfield in the passing game. A 76-yard TD pass was probably the key play of the Bruins' surprising win over Arizona State.
That said, the Bruins also will want to play keep-away. Sure, Oregon doesn't care about time of possession. But UCLA should not snap the ball with 15 seconds left on the play clock. The Bruins want to minimize the Ducks' touches.
"If you are talking to your offensive unit, you've got to treat it like tennis," Neuheisel said. "You've got your serve, and you better hold it. You've got to go down and put points on the board."
Then there's special teams. The Bruins need to win that battle. They certainly can't let the Ducks get big plays on returns from
De'Anthony Thomas
. They can't miss field goals. They need punter Jeff Locke to pin the Ducks as far away from the end zone as possible. UCLA needs a short field for its limited offense and a long field for Oregon's explosive one.
As for the Bruins' defense, it needs to be opportunistic and physical. This term has become a cliché for Ducks opponents, but it's that way because it's true: gap integrity. The Bruins' front seven needs to maintain its assigned gaps and not get distracted by Oregon's spread-option misdirection.
"You have to be very mindful of assignments and you have to be mindful of pace," Neuheisel said.
Third down also will be key, although Oregon is rarely afraid of going for it on fourth down. The Bruins need to find ways to stay on the field on offense and get off the field on defense. That's obvious, yes, but it also speaks to the best way to prevent the Ducks' up-tempo pace from exhausting a defense.
In the end, it's simple: UCLA needs to play its absolute best, and Oregon needs to lay an egg.
There is no reason to believe that will happen, even if the Bruins are inspired to win one for the old Rickster.
But they still are going to roll the ball out there Friday and see what happens. Stranger things have occurred, after all. Not many, but some.
August, 9, 2011
8/09/11
9:36
AM ET
Typically, every preseason features a handful of quarterback competitions, even if we sort of feel like we know who will ultimately emerge.
Last fall, there was uncertainty at Arizona State, Colorado and Oregon.
At the end of the 2010 season, it looked like there would be plenty of ongoing quarterback intrigue. Arizona State was expected to feature another showdown with
Steven Threet
and
Brock Osweiler
. California was completely wide open with the departure of
Kevin Riley
. There was a new coach at Colorado, Jon Embree, who said every job was open. UCLA clearly had no clear No. 1. Washington had to replace Jake Locker.
But most of the mysteries were solved by the end of spring practices.
Threet was forced to retire because of multiple concussions, thereby handing the job to Osweiler. Cal coach Jeff Tedford surprised a few folks when he announced Zach Maynard had eclipsed
Allan Bridgford
and
Brock Mansion
. It was clear throughout spring drills that
Tyler Hansen
was the Buffaloes' best option. And Steve Sarkisian tapped
Keith Price
over
Nick Montana
before the spring game.
If you're looking for a potential source for making quarterback decisions before preseason camp, consider former USC coach Pete Carroll. He believed in "anointing" a starter after spring practices because he believed it helped them become leaders over the summer -- see Matt Leinart, John David Booty and Mark Sanchez. Notably, Sarkisian chatted with Carroll before tapping Price.
While coaches will still talk about competition, and it wouldn't be wise for any of these guys to take their job for granted, the only team with remaining uncertainty behind center is UCLA, and even then most would project a healthy
Kevin Prince
-- the incumbent starter who suffered a season-ending knee injury that also knocked him out of spring practice -- is the likely choice.
Still, let's look at where the Bruins' competition stands.
The candidates:
[+] Enlarge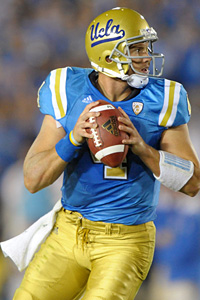 Kirby Lee/Image of Sport/US PresswireKevin Prince seems the likely choice to enter the season as UCLA's starting quarterback.
Kevin Prince
: While Prince's passing numbers were horrid in his five 2010 games before getting hurt, he showed in 2009 that he can be a capable passer. And last fall, he showed he could do a pretty good job running a pistol offense. But Prince had suffered myriad injuries even before he hurt his knee last fall, and while he enters the preseason reportedly at 100 percent, keeping him healthy is the critical element for him to become a reliable starter. Recall that the Bruins' ragged start on offense in 2010 could be attributed to Prince not practicing until the week before the season opener -- an embarrassing loss to a Kansas State team the Bruins pushed around the previous season. So it's fair to expect less running -- or at least more running out of bounds -- for Prince. He will be given every opportunity to win the job.
Richard Brehaut
: There's no other way to say it: While Brehaut didn't play terribly well after replacing Prince, his passing numbers were better than what Prince did in 2010. That fact has engendered some not unreasonable sentiments that coach Rick Neuheisel has some sort of issue with Brehaut,
a summary of which is provided here
by Adam Maya (by the way, former offensive coordinator Norm Chow doggedly believed Prince was a better option than Brehaut). While Neuheisel said it was "nothing personal," it is fairly clear that Neuheisel questions Brehaut's complete commitment, which is reflected in Brehaut's apparently incomplete absorption of the offense. Further, knowing Neuheisel and how he works with quarterbacks, I can tell you that those little tirades he seems to have with his quarterbacks after a bad play mostly amounts to Neuheisel asking the quarterback to explain what he was thinking. And if the player doesn't have an answer, it drives Neuheisel crazy. A bad explanation -- "I didn't see the safety cheating over" -- is way, way better than "I don't know."
Brett Hundley
: Hundley is the hotshot incoming freshman -- one of the nation's top dual-threat prep quarterbacks during the 2010-11 recruiting season -- whom many fans have been making googly-eyes at. But it ain't easy going from high school quarterback to college quarterback, and it was clear during spring practices that Hundley had a ways to go (though he also had some "wow" moments, too). Hundley was a bit of a long shot in any event, but after he had surgery to repair a torn meniscus and will be out most of camp, his chances of redshirting are now higher than of him winning the starting job. Still, if he comes back strong, he could earn playing time. And if the situation gets desperate, Neuheisel, under pressure to win now, might roll the dice with a true freshman.
Nick Crissman and Darius Bell
: These are the two long shots. Crissman's career has been riddled by shoulder injuries, but he had a fairly good spring and he's got some skills. Bell, a JC transfer, is a far better runner than passer. Many Bruins fans probably recall his regrettable debut in relief of Brehaut during a loss at Washington: 0-for-3 with an interception and a tongue-lashing from Neuheisel.
January, 20, 2010
1/20/10
12:03
PM ET
Lots of extraordinary games to choose from, as well as many ways to ascribe greatness: the size of the stage, the competitiveness of the game and the overall strangeness.

And we made the executive decision not to make this a list of USC upset losses -- other than the biggest one of those.

10. Oregon 56, Arizona State 55 (2 OT), 2000: Many of you are drawing a blank, but the ones who saw this one are jumping out of their chairs and going, "Oh man. That one was nuts." Both teams scored 21 points in the fourth quarter. The teams combined for 1,228 yards, 663 of those for the Sun Devils. Ducks quarterback Joey Harrington threw six -- SIX! -- touchdown passes, including three in the fourth quarter, the last of which tied the score with 27 seconds left after the Sun Devils gave away a critical fumble. Arizona State freshman QB Jeff Krohn threw five TD passes, by the way. ASU lost the game when coach Bruce Snyder decided to fake the extra point and go for the two-point conversion in the second overtime. It failed, leaving fans in Tempe stunned.

9. Washington State 30, USC 27 (OT), 2002: Any of you Cougars fans able to muster the memory of kicker Drew Dunning's slide on his knees at Martin Stadium? Dunning sent the game into overtime with a 35-yard field goal and then made the game-winner from the same distance in a victory that was critical to the Cougars' run to the Rose Bowl. The game featured a brilliant quarterback duel between Carson Palmer and Jason Gesser -- Gesser passed for 315 yards, Palmer for 381 -- and a dominant performance from Cougars defensive tackle Rien Long, who went on to win the Outland Trophy. Between this game and the 2006 Rose Bowl, USC lost just once.

8. Oregon 44, Arizona 41 (2 OT), 2009: If Arizona had won this game, we now know the Wildcats would have played in their first Rose Bowl. The Wildcats led 24-14 early in the fourth quarter, but then the game went crazy. With red-clad Arizona fans encircling the field, Ducks quarterback Jeremiah Masoli tied the game in regulation with six seconds left with a touchdown pass to Ed Dickson. Masoli then won it in the second overtime with a 1-yard run. Masoli ran for three TDs and passed for three more.

7. Stanford 24, USC 23, 2007: Greatest upset in Pac-10 history? Maybe. Stanford was a 41-point underdog playing its backup quarterback at No. 2 USC, which had won 35 in a row at home. But Trojans quarterback John David Booty, who foolishly played -- and was allowed to play -- with an injured throwing hand, threw four interceptions, while Stanford's Tavita Pritchard led a clutch, game-winning drive, throwing a 10-yard touchdown pass to Mark Bradford on fourth-and-goal with 49 seconds remaining.

6. Oregon 37, Oregon State 33, 2009: It was the Civil War for the Roses, with the Ducks earning a berth in the Rose Bowl. While the return of Ducks running back LeGarrette Blount was significant -- he scored a critical touchdown -- the game belonged to redshirt freshman running back LaMichael James, who scored three touchdowns and rushed for 166 yards, and quarterback Jeremiah Masoli, who ran over Beavers safety Lance Mitchell to convert a fourth-and-3 play from the Beavers' 33 with 3:41 left, as Oregon ran out the final six minutes with its final drive.

5. California 31, Oregon 24, 2007: Sixth-ranked California, featuring a stellar performance from receiver DeSean Jackson, outlasted No. 11 Oregon in a game between two teams that would at one point rise to No. 2 during the season, though both ultimately crumbled. The game turned on a strange play as the Ducks were on the cusp of tying the score. With 22 seconds to go, Dennis Dixon found Cameron Colvin near the goal line, but Colvin fumbled trying to reach the ball into the end zone when he was hit by Marcus Ezeff. The loose ball went through the end zone and was ruled a touchback and possession for Cal.

4. Washington 33, Oregon State 30, 2000: It was the greatest game no one saw because of the late, West Coast kickoff at Husky Stadium. And at the time, its magnitude wasn't clear. The critical play of the back-and-forth affair happened when Washington defensive tackle Larry Tripplett caught Ken Simonton for a three-yard loss on second-and-1 from the Huskies 26-yard line with 42 seconds left. The Beavers panicked and mistakenly spiked the ball -- they had a timeout left -- and then Ryan Cesca missed a 46-yard field goal to tie. It was the Beavers' only loss of the season; they crushed Notre Dame in the Fiesta Bowl. They would have played Oklahoma for the national title if they had prevailed. And the win helped the Huskies win the Rose Bowl tiebreaker.

3. USC 23, California 17, 2004: No. 7 California had a first-and-goal on top-ranked USC's 9-yard line with under two minutes left. At that point, Cal quarterback Aaron Rodgers had completed 29 of 31 passes for 267 yards and a touchdown. But the Bears couldn't punch it in, with USC registering a sack and forcing three incompletions. It was the closest call of the season for the best team of the USC dynasty.

2. USC 34, Notre Dame 31, 2005: The infamous "Bush Push" game. No. 9 Notre Dame was about to knock off top-ranked rival USC and make Irish coach Charlie Weis a national sensation, but Matt Leinart led a drive for the ages in the waning moments as the Trojans prevailed, scoring the winning points when Leinart got a little extra help from Bush on his second effort on a quarterback sneak.

1. Texas 41, USC 38, 2006 Rose Bowl: Perhaps the great game in college football history, particularly considering that the stakes were a national title for two unbeaten teams and the field was packed with talent and future high draft choices. Vince Young almost single-handedly willed his team to the victory -- he ran for 200 yards and passed for 267 more -- and denied the Trojans a third consecutive national title. USC walked away with a laundry list of "what ifs," but the ultimate result was a 34-game winning streak coming to an end.
September, 10, 2009
9/10/09
1:39
PM ET

Posted by ESPN.com's Ted Miller
The true freshman stepped into the huddle. He told his teammates not to worry. He would lead them to victory in a hostile environment.
| | |
| --- | --- |
| | |
| | Brad Schloss/Icon SMI |
| | Matt Barkley faces a true test going into the Horseshoe for his first start on the road. |
And Tennessee lineman Jason Layman turned to Peyton Manning and told him to "Shut up and call the play."
It's not easy being a true freshman quarterback for many reasons, including veteran teammates who couldn't care less about a scintillating prep pedigree.
USC guard Jeff Byers is a 24-year-old, sixth-year senior. He's the leader of a veteran offensive line that might be the nation's best unit. He's seen just about everything while blocking for three different quarterbacks who are now in the NFL.
Nonetheless, if true freshman
Matt Barkley
gave him an earful about a blown assignment, he said he'd take it without complaint.
"Oh yeah, because the kid is good," Byers said. "But I don't think he'd be one of the guys who would say that. He'd be one who'd slap you on the butt and say, 'Let's go get 'em. We all make mistakes.'"
And what about Barkley making his first road start inside the unfriendly confines of Ohio Stadium, aka the Horseshoe?
"I think he'll thrive in those kinds of places because he's such a great competitor," Byers said.
There are two powerful, competing forces at work amid the pregame hype for No. 3 USC's visit to No. 8 Ohio State.
One camp in L.A. provides a collective shoulder shrug when asked about the combination of Barkley and infamous atmosphere of the Horseshoe, where the Buckeyes are 24-1 in nonconference games under coach Jim Tressel, the lone defeat coming in 2005 to eventual national champion Texas.
Barkley has repeatedly said he's not worried, and even added a "bring it on" after practice Tuesday, which might help turn the volume of the 102,000 on hand up another notch from 11 to 12.
The other force counters that Barkley is still a true freshman -- he turned 19 this week -- and that he's never played in an environment like the Horseshoe and that no matter how poised he may be, that environment will at least distract him even if he's not intimidated.
And distracted quarterbacks tend to make mistakes, particularly young ones.
USC coach Pete Carroll has fielded the question 100 different ways since the Trojans stomped San Jose State 56-3 in the opener, and the media haven't worn down his faith that Barkley will not only be fine but will excel because of the environment.
"I would think he's going to have fun with it and he's going to be excited to see what it looks like to be in an opponent's stadium of that stature and all," Carroll said. "And then he's going to go play. I don't think it will matter to him at all. That's just the way he's been and how he's handled things and he has such confidence and such comfort in his own skin. That will be extended into the setting as well."
New USC starting quarterbacks have good track records in big, early-season nonconference road games under Carroll. Matt Leinart was a sophomore when the Trojans whipped No. 6 Auburn 23-0. Junior John David Booty was brilliant -- completing 24 of 35 passes for 261 yards and three touchdowns with no interceptions -- when the Trojans bludgeoned Arkansas 50-14.
But neither was a true freshman.
Of course, the USC offense isn't only about Barkley. Far from it. Nine starters are back from 2008, and there's depth at every position.
"If you threw a freshman quarterback in there and everyone else was a rookie, it would be frightening," Tressel said. "But the beauty that Pete Carroll has there with Matt Barkley being in the game is that the offensive line is perfectly choreographed and all those folks he's got around him -- handing it to and throwing it to and protecting him and so forth -- that is as good of a situation as you can have."
Moreover, USC contends that Barkley is a true freshman in title only.
Receiver
Damian Williams
is tight with
Aaron Corp
, who lost the starting job to Barkley. But Williams said he knew Barkley was special early in spring practices, which Barkley participated in after graduating early from Mater Dei High School in Newport Beach, Calif.
"He was making throws that I didn't think high school quarterbacks were capable of making," Williams said.
Barkley also immediately asserted himself in the huddle against San Jose State, even when the offense sputtered in the first quarter.
"He came to the huddle calm and collected ... he gave us a couple of pep talks in the huddle," running back Joe McKnight said.
Byers was particularly impressed by how quickly Barkley put bad plays behind him, including the lone sack the Trojans surrendered.
"I thought that was a defining moment," Byers said. "I loved how he was in the huddle. More important than how he played -- his numbers -- was just how he handled himself and controlled the offense and led us."
Ah, but that competing force just smirks. To it, all this feels like a pep talk for a young man who is about to enter the belly of the beast.
A Horseshoe? On the Buckeyes side of things, Ohio Stadium is grinning as it anticipates the arrival of Matt Barkley.
September, 8, 2009
9/08/09
11:55
AM ET

Posted by ESPN.com's Ted Miller
Maybe USC has trouble in the "O" states?
Hey, it's a reach to note that the mighty Trojans colossus has lost three in a row in the state of Oregon and apply it to this weekend's marquee tilt at Ohio State, but at least it's a chink in the armor for a program that hasn't lost a nonconference road game since early 2002, Pete Carroll's second season at Troy.
| | |
| --- | --- |
| | |
| | Charles Baus/Icon SMI |
| | USC coach Pete Carroll's Trojans aren't afraid to take it on the road. |
While Ohio State fans believe 105,000 united crazies inside the Horseshoe shouting down the Trojans and their true freshman quarterback
Matt Barkley
might make a difference, USC has carefully cultivated a culture that embraces taking its show on the road.
When USC walks into the room, every one knows it. Folks can't help but stare. And the Trojans love being looked at.
"I love it -- the noise, everybody going against you and you get the chance to quiet them down," running back Joe McKnight said. "It's fun. Any time we go somewhere, people want to see what USC is about. They want to prove to the world that USC can be beat."
USC has won its last three at Notre Dame, including the infamous "Bush push" in 2005. Auburn was thinking national championship in 2003 before the Trojans manhandled them 23-zip, with Matt Leinart making his first career start. Arkansas talked endlessly about taking vengeance for a 70-17 beatdown in 2005 only to leave their fans gaping in a 50-14 throttling the following season in John David Booty's debut. Nebraska, Virginia, Colorado, BYU and Virginia Tech also have been conquered by Trojan visitors.
That success might explain why USC doesn't get invited to party any more in certain areas of the country.
"I think there is a culture you can cultivate -- there's a whole mindset," Carroll said of playing on the road. "It doesn't just start with the day you're on game week [before going] on the road.It's something you built over a long period of time. It's your attitude and how you handle all games, not just road games."
Still, the long airplane ride, the foreign environment -- hotels, field, locker room, etc. -- all break a routine. Moreover, even if hostile faces don't make a team queasy, the noise is inconvenient no matter what, particularly for a visiting offense.
And deafening noise will be new for Barkley. No matter how cool he is, he's never experienced what he will experience on Saturday. This will be the first time he will play a game without being able to hear or be heard much of the time.
"That will be the first time he'll ever hear [noise] of that magnitude," Carroll admitted.
Nonetheless, Barkley only offers a pleasant shrug. Will it be loud? Sure. He'll adjust.
"I don't think that will make a difference," Barkley said after his cool-as-a-cucumber debut against San Jose State. "We'll do what we do best -- focus on ourselves throughout the week, focus on how we can better. You have to learn to push that stuff out. The atmosphere is probably going to be nuts. I probably don't even know how crazy it's gong to be. That won't faze me."
USC will practice with extra noise all week. It will work on various nonverbal signals to share audibles and information. While the Trojans defense is young, Barkley will be surrounded by veteran players on offense.
If any Trojan is worried about the notorious atmosphere in the Horseshoe for a night game, he isn't letting on.
"It's just noise," safety Taylor Mays said. "I like it. I like hearing it and then hearing it get quiet."
November, 28, 2008
11/28/08
11:46
AM ET
Posted by ESPN.com's Adam Rittenberg
If you're like me, you're still digesting turkey. But I hope you brought your appetite for links.
The Chicago Tribune's Teddy Greenstein takes a look back at his preseason Big Ten picks, which didn't give Penn State or Iowa much credit after both teams endured waves of off-field problems.

Minnesota's hire of new offensive line coach Tim Davis will allow offensive coordinator Mike Dunbar to concentrate solely on the passing attack, Kent Youngblood writes in the Star Tribune.
"It is unacceptable that we're last in the Big Ten in rushing the football," [head coach Tim] Brewster said Tuesday. "The running game [Davis] and I are going to implement is one he and I are familiar with."

So what does that mean for Dunbar, a spread offense guru? His role changes. He will still call the plays, but it will be a collaborative effort, according to Brewster. Dunbar will coordinate the passing game while Davis and Brewster concentrate on the run.
"If the argument is that Michigan State isn't a good 9-3 team, then my question would be -- who is? Nobody is saying that this team is a borderline BCS team. They're a good team having a good season. Why can't we just leave it at that?"