NCF Nation:

John David Crow
December, 7, 2012
12/07/12
10:50
AM ET
Down the road, I can already see a catchy promotional campaign in the works.
What will Johnny Football do next?
He rescues kittens from the middle of busy four-lane roads. He breaks out Scooby-Doo costumes for Halloween. He collects touchdowns the way most Americans collect debt. He makes winning in Bryant-Denny Stadium look like a Sunday stroll in the park.
Texas A&M redshirt freshman quarterback
Johnny Manziel
turned the SEC into his own little playground this season, and that's not supposed to happen in a league that prides itself on defense.
[+] Enlarge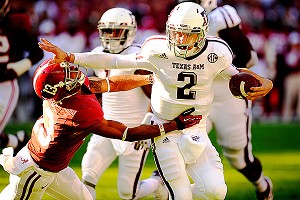 John David Mercer-USA Today SportsPerhaps Johnny Manziel's shining moment this season -- leading Texas A&M's upset over Alabama.
And it's certainly not supposed to happen with a player going against SEC defenses for the first time.
But with Manziel, nothing ever seemed to be too big for him. Watching him play was like watching the fastest kid and most athletic kid in the neighborhood -- but certainly not the biggest kid -- toy with everybody else in a game of backyard football.
The fun didn't begin until he was seemingly in the most trouble.
How many times this season did we see Manziel turn a sack into a big play or a play destined to go nowhere into a play that turned up on "SportsCenter" later that night?
He wasn't always conventional, and he wasn't always perfect. But, boy, was he entertaining.
Take your pick on which of Manziel's plays was your favorite this season. There's a pretty extensive catalog from which to choose.
Manziel's personal choice was the 24-yard touchdown pass to
Malcome Kennedy
in the fourth quarter to help solidify the 29-24 win over Alabama.
"I believe it was one of our most complete team plays all year. You had 11 guys doing their part to the fullest degree," said Manziel, adding that the stage -- taking down Alabama on its own turf -- made it a play and a feeling he'll never forget.
While there's a definite element of showtime to Manziel's game, he is a lot more about substance than style.
The defenders in the SEC who went against him this season certainly don't need to be sold that Manziel is Heisman Trophy worthy.
"I don't think I've ever played against a player who can make a no-play into a big play at any moment the way Manziel can," Alabama senior linebacker
Nico Johnson
said. "He's unbelievable. You're sitting there watching him [on tape] that Sunday after the game and wondering how he does some of those things.
"When they need a play, he makes it."
Manziel has already broken Cam Newton's SEC record for total offense in a season and did so in two fewer games. Manziel has 4,600 yards heading into the AT&T Cotton Bowl matchup with Oklahoma. He is second nationally with an average of 383.3 yards per game and has faced the No. 1, No. 5 and No. 8-ranked defenses.
The more teams tried to take away Manziel's running lanes this season, the more effective he became as a passer. He is the first SEC player and only the fifth Football Bowl Subdivision player ever to pass for 3,000 yards and rush for 1,000 yards in the same season.
Chasing him out of the pocket was a nightmare for opposing defenses. Manziel gained 784 of his rushing yards on scrambles, the most in the SEC. He had 13 scrambles that gained at least 20 yards, including seven touchdowns.
"I never really intend to go out there and run around and freelance," Manziel said. "It's just an instinct that takes over."
Even though he was off-limits to the media during the season because of Texas A&M coach Kevin Sumlin's policy of freshmen not doing interviews, Manziel has seemed to embrace the spotlight that comes with being a Heisman Trophy finalist.
As much as anything, he'd love to win the award because he knows what it would mean to all the people in Aggieland.
"Whatever's meant to be will happen," Manziel said.
Texas A&M has had one Heisman Trophy winner in its history. Halfback John David Crow took home the coveted bronze statue in 1957.
More than a half century later, Manziel is poised to follow in Crow's legendary footsteps, creating the Johnny Football legend along the way.
March, 6, 2009
3/06/09
2:09
PM ET
Posted by ESPN.com's Tim Griffin
Happy Friday. Here are some delecteable links that go especially well with Lenten lunches.
Ohio coach and former Nebraska coach and player Frank Solich plans to return to Lincoln to watch practice and check out improvements in Nebraska's football facilities, the Lincoln Journal-Star's Steve Sipple reports. It would be Solich's first trip back to the program since he was fired as its coach after the 2003 season.
Legendary former Texas defensive back Bill "Super Bill" Bradley was obliging and appreciative after he was inducted into the statewide Texas Sports Hall of Fame earlier this week, San Antonio Express-News columnist David Flores writes. And Bryan-College Station Eagle columnist Robert Cessna notes that there were no Texas A&M alumni who were inducted in this year's Texas Sports Hall of Fame induction class.
Waco Tribune-Herald beat writer John Werner writes that former Waco High School standout running back Jarred Salubi of Baylor is ready to challenge for playing time after sitting out his redshirt season.
The Omaha World-Herald's Mitch Sherman provides a video breakdown of the Cornhuskers' running backs.
Pete Fiutak of collegefootballnews.com analyzes all of the Big 12 teams heading into spring practice.
An online survey commissioned by the Houston Chronicle indicated that John David Crow was the greatest Texas A&M football player in history. Other players finishing in the top five, in order, included Dat Nguyen, Ray Childress, John Kimbrough and Jacob Green.