February, 19, 2013
2/19/13
2:00
PM ET
Maryland true freshman
Stefon Diggs
grabbed all the headlines last season as the top Terps receiver, thanks to his incredible athleticism and eye-popping moves.
But behind Diggs, the Terps have assembled some pretty good depth and talent at receiver. That depth was bolstered further on signing day, when Maryland signed four-star receiver Taivon Jacobs, who flipped his commitment from Ohio State. His addition was enough to give Maryland coaches visions of Diggs and Jacobs running 4.0 40s in their heads.
[+] Enlarge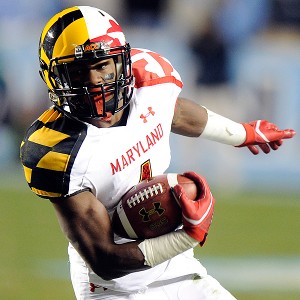 G Fiume/Maryland Terrapins/Getty ImagesStefon Diggs headlines a deep group of Maryland receivers.
"In my opinion, we're pretty stout at receiver," Maryland recruiting coordinator John Dunn said. "When you add more skill players, what that allows you to do is you can't key on one guy, and you can't throw coverage to one guy or double one guy. Now we're adding even more explosive weapons to where maybe you've got to be more honest defensively and spread the ball around to all your different playmakers. I think it's a very nice complement certainly."
Even better for Maryland -- there is not one senior among the top returning receivers. Maryland had four receivers with at least 10 catches last season. Three are back: Diggs, the team's leading receiver, along with second-leading receiver
Marcus Leak
(junior) and
Nigel King
(sophomore).
The Terps also return sophomore
Levern Jacobs
, who had seven catches for 50 yards last year, and sophomore
Tyrek Cheeseboro
, who has yet to live up to his potential because of injuries the past few seasons. Now add junior college transfer Deon Long into the mix. Long played at New Mexico for two seasons -- as a redshirt freshman he tied for the team lead with 47 receptions and led the Lobos with 809 receiving yards and four touchdown catches.
He then transferred to Iowa Western Community College, where he he became the first player in NJCAA history to catch 100 passes in a season. Long is eligible to play this season and already is enrolled. His coach at New Mexico is current Maryland offensive coordinator Mike Locksley.
Long grew up in Washington, D.C., and already knows Diggs. He told local reporters earlier this month, "I call him the 'Young Great One' because he is really good, and before he came to college we were on the field together playing. I know what he can do and he knows what I can do. He is a great guy to play beside."
The talent is there for the Terps. If Maryland can get a quarterback to stay healthy, this could be one of the better groups in the entire league.
March, 8, 2011
3/08/11
10:30
AM ET
COLLEGE PARK, Md. -- The first few weeks as head coach at Maryland were a whirlwind for Randy Edsall. He was hired on Jan. 2, leaving him about a month to cobble together his first recruiting class.
In the end, Edsall lured in what amounted to a three-star class -- no ESPNU 150 members, no elite prospects, and only three players from the state of Maryland.
It was a typical Maryland class, and it's unlikely Edsall's recruiting philosophy is going to change anytime soon. While at Connecticut, Edsall developed a reputation for winning with unheralded talent. He brought in solid, coachable players who didn't have egos and took them to a BCS bowl last year. His staff will take a similar approach at Maryland, but the question is whether or not it will work against the likes of Clemson and Florida State, both of which brought in top 10 recruiting classes this year. The competition for in-state players will also present different challenges than what Edsall faced at Connecticut. With Penn State, Virginia and Virginia Tech all recruiting in the Terps' backyard, Maryland hasn't always been able to keep the top talent at home.
If Maryland is going to become a consistent top 25 team under Edsall, as athletic director Kevin Anderson is expecting, the staff will have to recruit talent good enough and fast enough to keep up with the rest of the Atlantic Division.
"We're not going to recruit from a star system based on someone else," said John Dunn, the Terps' recruiting coordinator and tight ends coach. "We'll recruit from our own system. We have obviously our own system in place with how we want to evaluate. We have certain criteria we're looking for, and obviously a big part of that is, can a guy help us win an ACC championship? But also is he a good student? Is he a good person? We're interested in the entire person, not just a single aspect of it."
That's not to say the new staff won't go after elite talent.
"We're certainly going after the best players and people in America," Dunn said. "There's no settling on anything. This is one of the top schools in America. We're going to go after the top players in America. There's no question. We feel like that's what we should be doing."
It's a Catch 22, though -- it's hard to win without the best players, and it's tough to recruit the best players without winning. It's not like Maryland has continuously struck out on the recruiting trail. The previous staff brought in quarterback
Danny O'Brien
, the ACC's Rookie of the Year in 2010, and there is enough talent remaining on the roster for the new staff to start out on the winning end.
Until then, Dunn has his sales pitch down.
"We don't have to reach down to find something," he said. "This is a great place to sell."
"Recruiting is a lot about relationships," he said. "This is a phenomenal school. It's got a lot of the top majors in the country. A coaching staff change brings some excitement, some freshness. Obviously success breeds success. A lot of that when we start playing will help us in recruiting."