February, 8, 2011
2/08/11
5:05
PM ET
Cincinnati running back
John Goebel
was named as the Big East football scholar-athlete of the year on Tuesday.
Goebel, a graduate student, has a 4.0 grade-point average in Cincinnati's educational leadership program. He'll receive a $2,000 scholarship that may be applied to graduate or professional studies.
Goebel played in 46 career games and was a member of two Big East championship teams. He appeared in 11 games in 2010, rushing for 196 yards and three touchdowns, and averaging 5.9 yards per carry. He is the first Cincinnati player to win the football scholar-athlete award.
The conference also named its all-academic team, which included 135 players. Cincinnati led the way with 19 players on the team, followed by West Virginia (18) and Rutgers (18). Pittsburgh had 17, Louisville, USF and Connecticut each placed 16 on the team, and Syracuse had 15.
The entire all-academic team can be viewed
here.
August, 27, 2010
8/27/10
10:44
AM ET
Isaiah Pead
wonders sometimes what he could do with more carries. But at the same time, he's almost grateful that he's not getting a
Dion Lewis
-type workload.
"When I get 15 to 18 carries, my body is sore after the game," Pead said. "I can only imagine what I'd feel like after a 40-carry game."
[+] Enlarge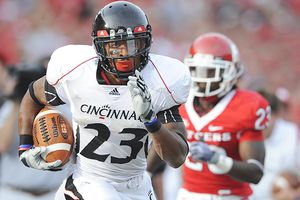 Rich Kane/Icon SMIIsaiah Pead and Cincinnati averaged 4.6 yards per rush in 2011.
The Cincinnati running back makes the most of his limited opportunities. Pead rushed for 806 yards last year while averaging 6.7 yards per carry. Only five players in the FBS had higher yards-per-carry averages while producing at least 800 yards.
Pead's 121 carries, though, were almost exactly half of what
Noel Devine
got at West Virginia and a little more than a third of the handoffs Lewis took at Pitt. Pead's season high for attempts was 18 against West Virginia, and he ran for 175 yards in that game. He also had four games of six carries or fewer.
But the junior -- who was named to the Maxwell Award watch list earlier this month -- insists he's fine with not getting a ton of touches.
"In high school, I got about 15 to 18 carries a game," he said. "So I've always had a modest, mellow number of carries.
"You've just got to go out with no expectations, just go out and play and do whatever the team needs you to do. Then you worry about the stats afterward. There were games where I only had four or five carries, but I was in for a good number of plays. And I have to do my job when I play."
Pead's role could increase this season. Last year, he split time with senior running back Jacob Ramsey. This year, he's the unquestioned No. 1 back, even though senior
John Goebel
is healthy again and scatback
Darrin Williams
will get some looks. Pead says he's approaching this year with a different attitude.
"As the No. 1 back, you've got to be more focused, more mentally strong," he said. "You've got to go out and set a tone."
The running game was usually the secondary option in Brian Kelly's pass-happy offense. New coach Butch Jones uses a similar attack, but Pead says there is more emphasis on the running game.
"He runs the ball more, which is a good thing," Pead said. "The past two years, we've been successful without running the ball much, but to win football games, most teams have to run the ball. I'm looking forward to it."
And a lot of people are looking forward to seeing what Pead can do with more opportunities.
April, 26, 2010
4/26/10
9:28
AM ET
Cincinnati coach Butch Jones still hasn't officially named
Zach Collaros
his starting quarterback yet. Chalk that up to a motivational tactic, because there's no way Collaros won't be under center when the Bearcats open the season.
The junior was razor sharp in Saturday's Bearcats Bowl, hitting his first 11 passes and completing 18 of 20 overall for 218 yards and two touchdowns. Granted, his performance came against the second-team defense.
Receiver
D.J. Woods
had six catches for 88 yards and a score and threw a 60-yard pass to
Vidal Hazelton
on a play that Jones let a fan in the stands select. Hazelton had four catches for 88 yards and a score.
Tailback
Darrin Williams
got most of the carries with
Isaiah Pead
and
John Goebel
out with injuries. Williams finished with 64 yards and a touchdown on 12 attempts.
The second-team offense failed to score against the first-team defense.
Dan Giordano, Aaron Roberson and Chris Williams collected tackles for loss that scored points for the defense in Jones' modified scoring system.
December, 5, 2009
12/05/09
6:49
PM ET
PITTSBURGH -- As Cincinnati went through pregame warmups under falling snow at Heinz Field, receiver/kick returner
Mardy Gilyard
tried to warm his teammates' spirits by telling everybody, "Hey, we're on the beach."
But with 1:26 left to go before halftime, the beach -- where the Bearcats frolicked last year during Orange Bowl week -- seemed awfully far away. Pittsburgh's dominating running game and pass rush had caused things to snowball against Cincinnati, which found itself trailing 31-10. Even Gilyard, ever the optimist, admitted that "it started to get real cold."
[+] Enlarge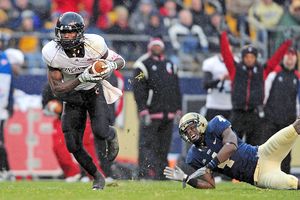 Andrew Weber/US PresswireThe Bearcats' Mardy Gilyard caught five passes for 118 yards and a touchdown. He also racked up 256 kickoff return yards.
That's when the rest of the team turned to Gilyard for some heat. Running back
John Goebel
, several defensive players and even head coach Brian Kelly grabbed him on the sideline. We need something on this kickoff, they implored.
"I prayed that I could take one back," Gilyard said. "And then everything parted like the Red Sea."
Gilyard's 99-yard return for a touchdown finally gave Cincinnati some life, and the defending Big East champions refused to die the rest of the way. Despite trailing by two touchdowns early in the fourth quarter, the No. 5 Bearcats rallied to win
45-44
thanks to Pitt's late missed extra point and a 29-yard touchdown pass from
Tony Pike
to
Armon Binns
with 33 seconds left.
"Our guys are resilient," Kelly said. "Our guys believe, I believe in them, and you've got to have that belief. We've won 18 consecutive regular-season games. Don't count us out."
But is it enough to count the 12-0 Bearcats into the BCS title game? Barring a loss by Texas in the Big 12 title game later Saturday night, Cincinnati will join the 2004 Auburn squad as the only BCS conference teams to go undefeated and not play for the national title in the BCS era. Even a Texas loss might not do it, as Cincinnati would still have to climb past undefeated and No. 4 TCU.
Kelly said he didn't think his team deserved to get into the BCS title game ahead of Texas, but that it should go instead of TCU with a Longhorns' loss. Cincinnati players said they feel they've done enough to play for a national championship. And so, apparently, does Pitt receiver
Jonathan Baldwin
, who interrupted the Cincinnati postgame news conference to shout, "Good job. Now go win the championship."
"We did our part," senior safety Aaron Webster said. "Now it's in other people's hands."
Big East commissioner John Marinatto, who attended Saturday's game, said the league "strongly believes Cincinnati should be in the championship game" and that any undefeated BCS conference team deserves that privilege. However, Marinatto is not a playoff advocate and did not sound like someone ready to promote sweeping change.
"We recognize as a group the system is not perfect," he said. "At our annual meetings, we'll get together and talk about whether anything needs to be changed."
In order to even make this debate relevant, Cincinnati had to make a lot of changes defensively on Saturday.
Pittsburgh (9-3) scored on each of its first five possessions. Freshman sensation
Dion Lewis
carried 29 times for 108 yards in the first half alone as the Panthers' offensive line obliterated the Bearcats defense. Cincinnati looked like toast.
Pitt scored only twice after halftime, though, as Lewis -- who finished with a school-record 47 carries for 194 yards and three scores -- had to work a little harder. The defense incorporated more run blitzing, often bringing Andre Revels or J.K. Schaffer to the point of attack to shore up its deficiencies.
"We came in as a defense at halftime and said, 'We just have to tackle him,'" Webster said. "'Don't try to get the big hit, because he'll just dribble out of them. Just tackle and play the next down.'"
A few stops were all the Bearcats' offense needed. They scored three touchdowns in the final 11:09. When Pitt missed the extra point after a Lewis score with 1:36 left, Kelly had one thought: "Cool."
"I was like, man, they're going to give us a shot here," he said.
But Kelly said the comeback would not have been possible without Gilyard's first-half kickoff return. The team often follows his exuberant personality, and Gilyard has had the uncanny ability the past two seasons of coming up with a huge play when the Bearcats need it the most. That's one big reason why the Bearcats are back-to-back Big East champions.
"I'm a praying man, and God is good," Gilyard said.
In other words, for Cincinnati, life's a beach.
November, 10, 2009
11/10/09
3:08
PM ET
Posted by ESPN.com's Brian Bennett
Another day, another twist in the continuing saga that is the Cincinnati quarterback situation.
Zach Collaros
will start Friday night against West Virginia, but
Tony Pike
will play in a role that coach Brian Kelly declined to divulge. Confused? That's understandable.
| | |
| --- | --- |
| | |
| | Frank Victores/US Presswire |
| | Zach Collaros will start for the Bearcats Friday against West Virginia. |
Kelly said Saturday night that Collaros, who set a Big East record with 555 total yards against UConn on Saturday, had played so well that he'd have to rethink who would start for the Bearcats when Pike was healthy. On Monday's Big East teleconference, Kelly emphatically stated that Pike was his starter when healthy. Then on Tuesday, the coach announced that Collaros would start but Pike would play.
Kelly's reasoning goes like this: Pike still isn't 100 percent, though he's close. And since Collaros has been magnificent, there's no reason to rush back Pike, especially since the senior has missed so much practice time. The fact that there's still some risk with Pike's injured left forearm also allows Kelly to keep the red-hot Collaros in while not alienating Pike.
So why play Pike at all this week? Kelly said there are things that Pike can bring to the offense that give the Bearcats an advantage. He didn't say this, but it's also a good way to maybe knock some of the rust off the quarterback without putting the team at risk in a must-win game for Cincinnati's Big East and national title hopes. And it makes the Mountaineers have to prepare for both quarterbacks in a short week.
Of course, Kelly said last month that he didn't want to play two quarterbacks because he'd rather have the receivers keep a rapport with one player. He's reversed field on that, calling it a "fluid situation." He said that's because Collaros has played so well that the receivers have the utmost confidence in him as well as Pike.
"They feel great with whoever the starter is," Kelly said. "That now becomes a moot point, relative to who feels better with what quarterback, because they have a comfort level with both."
Kelly emphasized that there would be no quarterback controversy on this team. He said Pike and his family were part of the decision-making process because he is the one who would have to risk his health by playing.
"Our team has absolutely no concerns over who's leading them," Kelly said. "Where controversy comes in is when the room is split. There is no split. Our guys know they can win and win at a high level with both those guys. That's a very, very unique circumstance, and I seem to attract unique circumstances."
Kelly said Pike would start the Nov. 27 Illinois game after the bye week. But remember, this is a fluid situation.
The other news from Cincinnati today is that second-leading rusher
Jacob Ramsey
won't play this week because of a foot sprain. He's in a walking boot.
Isaiah Pead
will start at running back, and
John Goebel
and
Darrin Williams
are in the mix as the backups. Goebel has a broken hand, but Kelly said the training staff has arranged a cast so he can carry the ball through the injury.
September, 29, 2009
9/29/09
4:07
PM ET

Posted by ESPN.com's Brian Bennett
Being in the top 10 for the first time in school history is a nice accomplishment. But Cincinnati coach Brian Kelly says he hasn't really mentioned anything about it to his team.
"They know I'm not very impressed," Kelly said. "We're pleased that we've made that progress and that we can be a top 10 team. But our guys are not patting themselves on the back saying, 'Hey, we've arrived.' They understand they've got to play each and every week or they'll get beat, because we're not that good."
Kelly on Big East programs
Brian Kelly thinks the Big East has some young programs that are building toward something.

He also comments on his program's facilities and commitment to winning.
Despite how well the Bearcats (4-0) have looked to start the season, Kelly insists that his team still has a lot of flaws. The offense, he said, needs to do a better job dictating the flow of the game and work in more balance with the run. The defense missed too many assignments against Fresno State. The kickoff return team needs improvement.
Still, how many teams would love to trade their problems for Kelly's? Surely Mike Haywood would. The first-year Miami of Ohio coach has to find a way for his 0-4 team to compete with the Bearcats this week. The RedHawks have given up an average of 41.8 points per game, while Cincinnati is averaging more than 43 per contest.
How efficient are the Bearcats on offense? Last week against Fresno State, they scored 28 points despite taking only 39 actual offensive snaps. That's a touchdown every 5.6 snaps. Even for a fast-paced no-huddle attack, that's hard to believe.
"In 19 years of coaching, you don't ever think you're going to go into a game and run 39 offensive plays and still be around to talk about wins," Kelly said. "We're built to move quickly, with bigger-chunk plays. We're not a ball-control offense. But we've got to make sure we give
Tony Pike
enough snaps."
Miami has a new quarterback in freshman
Zac Dysert
, who made his starting debut against Kent State and threw for 337 yards and rushed for 107. Kelly said the RedHawks will play with nothing to lose and will be motivated by this rivalry game.
Yet this matchup figures to be severely lopsided and could give Cincinnati a chance to work in some new guys and some players coming off injuries before going to South Florida on Oct. 15. Kelly said cornerbacks Dominique Battle (ankle) and Chris Williams (leg) are getting closer, but they may not play until the Bulls game. Marcus Barnett started at corner last week, and freshman Reuben Johnson could see more time this week.
Kelly said linebacker Curtis Young is making good progress from his knee injury but is probably a couple of weeks away. Linebacker Robby Armstrong is having knee surgery this week and is probably out for the season. Kelly mentioned sophomore Alex Delisi as one who could pick up the slack at linebacker.
Running back
John Goebel
, who missed the first four games with a hamstring injury, should see some time on special teams this week so he can be ready for the South Florida game, Kelly said.
February, 10, 2009
2/10/09
11:39
AM ET
Posted by ESPN.com's Brian Bennett
Fear not, Big East football fans. In less than a month, South Florida will be back on the practice field, with the rest of the league teams starting their spring drills shortly afterward.
There will be no shortage of situations to follow during the spring. There's a new head coach at Syracuse, new coordinators almost everywhere and no fewer than five teams seeking a new quarterback.
We've got all the story lines covered here in our team-by-team spring primer:
Spring practice starts: March 31

Spring game: April 25
What to watch:
• Defense, defense, defense. Safety Aaron Webster is the only returning defensive starter from 2008, so this spring will be about finding out who's ready to step into bigger roles. Several backups have experience, including linebacker Andre Revels and defensive end Curtis Young. But all jobs should be open. And with this week's firing of defensive coordinator Joe Tresey, the Bearcats could be working under a new scheme.
• Cincinnati brings back quarterback Tony Pike, receiver Mardy Gilyard and its top two rushers in Jacob Ramsey and John Goebel. But the spring will be time to find new playmakers as well. Isaiah Pead averaged 6.6 yards a carry in limited duty as a freshman and should see his role increase. The bubble wrap will come off promising redshirt freshman Quentin Hines. Receiver D.J. Woods had a solid freshman season and will need to build upon that to help replace Dominick Goodman.
• You don't normally pay much attention to punters in spring practice, but this is an exception. The Bearcats have to find a suitable replacement for two time All-American Kevin Huber.
January, 2, 2009
1/02/09
8:47
AM ET
Posted by ESPN.com's Brian Bennett
MIAMI -- Cincinnati players were understandably down after Thursday night's 20-7 loss to Virginia Tech in the FedEx Orange Bowl.
| | |
| --- | --- |
| | |
| | Streeter Lecka/Getty Images |
| | Brian Kelly is confident his team is heading in the right direction. |
"Disappointing is maybe not even the right word for it," defensive end Connor Barwin said. "But we're disappointed that we couldn't give the university and this city an Orange Bowl championship and leave on the best note possible.
"It's so sad. We wish we would have played better."
The Bearcats played uncharacteristically messy on their biggest stage, failing to score after their opening drive and turning the ball over four times. But while their moods were sour, the team couldn't remain completely distraught over the Orange Bowl outcome.
Just getting to a BCS bowl was in itself a major accomplishment and a first for the program. Cincinnati won a school-record 11 games this season and its first Big East championship while rising to No. 12 in the final regular-season rankings. Nothing that happened in the postseason can erase that.
"A loss is a loss; it stinks," coach Brian Kelly said. "It's lousy. But does the foundation crack in our program? No. Do the expectations change? Absolutely not. From a big-picture standpoint, the things we want for this program are in place.
"We're on a journey. We're not there yet. But if you keep knocking on that door, if you keep putting yourself in that position, we'll finish the deal. So, yeah, it doesn't feel good to lose, not when you put in as much time as we do. But I'm not going to be jumping off the Fontainebleau tonight."
Orange Bowl result aside, Cincinnati's program has never been in better shape. The school is building new practice fields and an indoor bubble. Nippert Stadium expansion is on the horizon. Most importantly, Kelly has pledged to stick around despite other schools' courtships.
At least 15,000 Bearcats fans attended Thursday's game at Dolphin Stadium, outnumbering Virginia Tech fans. It wasn't that long ago that Cincinnati couldn't convince 15,000 people to come to their home games.
"I've been telling people that it's official: A portable Nippert is a reality," Barwin said. "We're so thankful for that."
October, 30, 2008
10/30/08
9:59
PM ET
Posted by ESPN.com's Brian Bennett
CINCINNATI -- All the concern about Cincinnati's quarterback situation this week was misplaced. Tony Pike has been very good in the first half.
Showing no lingering effects of the broken arm that kept him out of the second half at UConn, Pike has thrown for 227 yards in the first half. He's also shown surprising mobility and touch for a guy his size (6-foot-6).
The Bearcats would probably be up even more if not for three first-half turnovers, including two fumbles by running backs Jacob Ramsey and John Goebel. South Florida has turned it over twice on a pair of Matt Grothe interceptions. His first was returned 58 yards by Mike Mickens to set up Cincinnati's first touchdown. His second came on a great play by Connor Barwin, who reached out with his left hand to tip the ball in the air, allowing Lamonte Nelms to come up with the pick.
The Bulls have surprisingly made a big commitment to the running game despite missing top backs Jamar Taylor and Mike Ford. It has worked as they've produced 108 yards on 23 carries, which includes some negative plays on sacks and failed reverses. But the passing game has struggled; Grothe is just 5-of-11 for only 71 yards. Credit the Cincinnati pass defense for shutting down throwing lanes, but Grothe and his receivers have been a little off most of the night.
South Florida just can't get out of its own way. The Bulls have already drawn six penalties and have continued their annoying habit of jumping offside on defense, which they repeatedly did at Louisville last week. They've been called for three pass interference penalties, and even worse, Cincinnati connected on two of those.
Cincinnati had gone 0-for-25 on third down in its past two games. Tonight, the Bearcats are 4-for-5. They look like they're in good shape to pull off this much-needed win.
September, 24, 2008
9/24/08
11:35
AM ET
Posted by ESPN.com's Brian Bennett

South Florida: The loss of senior outside linebacker Brouce Mompremier to a neck injury is a big blow, but the Bulls should be able to weather the loss. The reason is that South Florida has played primarily in its nickel defense much of the season, meaning only two linebackers are on the field most of the time. "That's what's saved us," defensive coordinator Wally Burnham said.Tyrone McKenzie and Kion Wilson will be the main linebackers in the nickel, with Chris Robinson coming in to play strongside in the base 4-3 sets. South Florida will probably have to come out of the nickel next week against run-heavy Pittsburgh, however.

Louisville: The Cardinals hope that left tackle George Bussey and left guard Mark Wetterer can return to action Friday night against UConn after missing the Kansas State game with ankle injuries. But if they can't go, Louisville has confidence in backupsJosh Byrom and Greg Tomczyk , who played extremely well against Kansas State last week. "We told them, all great players have to start their first game sometime," head coach Steve Kragthorpe said. "Why not tonight?" The Cardinals also might have found a new placekicker in Purdue transfer Tim Dougherty, who replaced the struggling Chris Philpott in the second half against the Wildcats and drilled his only attempt, from 36 yards.

Pittsburgh: Dave Wannstedt is still trying to get promising youngsters Jonathan Baldwin and Lucas Nix involved, but he says it's been hard because of how the games have played out. The Panthers have had three close games versus Bowling Green, Buffalo and Iowa. "You want to do what's fair to the kid and what's fair to the team," Wannstedt said. "That's the balancing as a head coach. They're going to be good players, but my first responsibility is to this football team." Wannstedt said Baldwin, a wide receiver, played 10 out of 60 snaps against Iowa but got bumped off his route on a play designed to go to him. Wannstedt also saidElijah Fields will get his second start at safety but will split time with Dom DeCicco.

Cincinnati: The Bearcats seem happy with running a two-man running back committee. John Goebel and Jacob Ramsey have split carries almost evenly, with Goebel getting 30 attempts and Ramsey 29. Goebel has been slightly more effective, averaging 5.1 yards per carry to Ramsey's 4.1. Promising freshmen running backs Quentin Hines and Isaiah Pead have yet to touch the ball.

Connecticut: Donald Brown has been phenomenal for the Huskies and leads the nation in rushing. But even though Brown hardly ever tires, coach Randy Edsall would like to reduce his workload. Brown is averaging more than 28 carries per game and is on pace for nearly 340 rush attempts this season. He was in on 60 snaps against Baylor last week. Edsall wants to keep him from getting hurt or worn down before the end of the season. The return of backfield mate Andre Dixon could help. Dixon, who led the Huskies in rushing last year, has been slowed by an ankle injury so far this season but was back on the field at times in the Baylor game. Edsall said he wants to start giving the ball to Dixon and freshman Jordan Todman more and give Brown a break.