May, 4, 2012
5/04/12
1:30
PM ET
Anybody who has watched the Big East in recent years realizes this a much more defensive league, than offensive league.
Last season, seven of the eight teams ranked in the top half of the nation in total defense. The "worst" defense, Syracuse, ranked No. 64 -- just outside the top half. In 2010, six of eight teams ranked in the top half of the nation in the same category. The "worst" two defenses -- Cincinnati and Rutgers -- were ranked No. 61 and 63, respectively. In 2009, the worst defense, Cincinnati, ranked No. 67 in the nation.
I went back and looked at recent draft history to see how this translated to the next level.
[+] Enlarge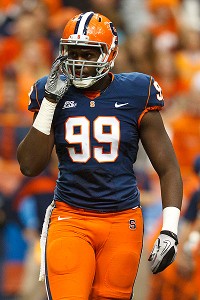 Jason O. Watson/US PresswireSyracuse defensive end Chandler Jones was drafted in the first round by New England last month.
Sure enough, defensive players were selected more than offensive players, and in higher rounds to boot.
In the past two drafts, 21 of the 34 players selected came from the defense. In the recently concluded NFL draft, eight of the 12 Big East players came from the defense. More pronounced, five of the seven players drafted in the first three rounds were defensive, and all played defensive line (
Bruce Irvin
,
Chandler Jones
,
Derek Wolfe
, Kendall Reyes and
John Hughes
).
Going back to the 2010 draft, 12 of the 16 players taken in the first three rounds were on defense.
We can continue looking a bit deeper to see defensive line has been an incredible strength, not just in the draft this year. In the past four drafts, the Big East has had at least one defensive lineman drafted in the first three rounds. Last year, two of the first four Big East picks were linemen. In 2010,
Jason Pierre-Paul
of USF went in the first round.
Coaches like Charlie Strong, Greg Schiano, Randy Edsall, Dave Wannstedt, Paul Pasqualoni and Jim Leavitt all have had a hand in the transformation, given their defensive backgrounds.
So will the trend hold for the 2013 draft?
In the super early mock drafts for next season, there are no Big East players listed in the first round. But CBS Sports already has a listing of the
top draft prospects
, by position. Eleven defensive players are listed among the Top 25 players at their respective positions, compared to five on offense.
However, there are more offensive players ranked among the Top 5 at their positions.
Justin Pugh
of Syracuse is listed as the No. 4 offensive tackle;
Ray Graham
of Pitt is listed as the No. 5 running back; and
Ryan Griffin
of UConn is listed as the No. 5 tight end.
The top-ranked defensive player is
Khaseem Greene
, at No. 6 among outside linebackers.
Sio Moore
of UConn also makes that list, at No. 9.
There is obviously an entire season of football to be played, and all these projections will change. But the way the Big East's defensive players have emerged is a trend worth noting.
December, 3, 2011
12/03/11
3:51
PM ET
Cincinnati survived a serious second-half scare from UConn to hold on
for a 35-27 win
and clinch a share of the Big East title -- a season removed from a losing season.
Cincinnati, Louisville and West Virginia all finish as Big East co-champions. The BCS representative will be determined by the final BCS standings -- where it is almost certain West Virginia will finish as the highest-ranked team. We won't know officially until the standings are unveiled Sunday night, but No. 23 West Virginia is the only Big East team currently ranked in the Top 25.


The Bearcats jumped out to a 28-6 halftime lead but there was fight left in the Huskies in the second half. UConn quarterback
Johnny McEntee
played much better, and was able to find some holes in the Cincinnati secondary as he led the Huskies on a comeback. McEntee threw two fourth-quarter touchdown passes -- to
Mark Hinkley
and
Ryan Griffin
. That 25-yard touchdown pass to Griffin came one play following an interception by
Munchie Legaux
.
Cincinnati got the ball with 5:46 remaining. All UConn needed was one stop to try and complete its comeback bid. But the Bearcats made two third-and-short conversions with runs, and they were able to ice the game despite being outscored 21-7 in the second half. Dave Teggart ended up with four field goals on the day for the Huskies, who had to play the majority of the game without backup quarterback
Scott McCummings
(concussion).
Legaux threw three touchdown passes, but also had two interceptions. The Bearcats were not as effective using
Jordan Luallen
as they were last week, as he had four catches for no yards. It was the defense that really made the difference in this game. Walter Stewart scored a touchdown after snatching the ball from McEntee in the end zone, and Drew Frey had an interception return for a touchdown.
The Bearcats had six sacks in the game, and John Hughes and Derek Wolfe were absolute terrors behind the line of scrimmage. Now Cincinnati can look forward to getting back to a bowl game, most likely the Liberty Bowl. UConn ends the season without a bowl berth, a year after representing the Big East in the BCS.
March, 25, 2011
3/25/11
4:00
PM ET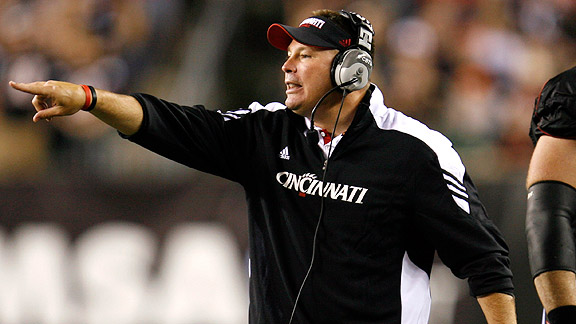 Jim Owens/Icon SMIButch Jones hopes a productive offseason will translate into victories on the field in 2011.
Cincinnati coach Butch Jones will kick off his second spring practice with the Bearcats on Tuesday, looking to improve upon a disappointing 4-8 debut campaign. I caught up with Jones to preview the spring, and here's Part I of our conversation.
After the rough year in 2010, how are the players' attitudes heading into the spring?
Butch Jones:
I've been very pleased. I think we've had a very, very productive offseason. I've liked our leadership, and that's the biggest thing -- teaching our players about leadership and team unity. We've talked about each day is a different challenge. Each day you've got to win the day. We've talked about how before you can even be in contention to win a championship, your team has to be comprised of individual champions. Yesterday our winter quarter grades came out, and we have 83 players, scholarship and non-scholarship. We had a 2.9 GPA, which is very impressive. So they've answered that challenge, and they've answered the challenge in the strength and conditioning area. And now we need to answer the challenge for spring football.
It's the second year for your system now, and your entire coaching staff returns. How much positive impact will that have?
BJ:
You win with continuity. At Central Michigan, we were very fortunate to keep our coaching staff intact. This year was extremely challenging, because we had four staff members be offered other BCS, high-caliber, high-profile jobs. And all four stayed. I think that speaks volumes about how they feel about the direction of our program and our players, loyalty, all that stuff. You look at what our defensive players have gone through, with three defensive coordinators in three years, and I'm just a firm believer you win with continuity. Everyone knows what's expected. That's been a huge benefit this offseason.
Looking at your defense, you have all 11 starters back. But the defense obviously struggled last year. So do you look at it as a good thing that every starter is back, or that there needs to be some major change there?
BJ:
The key there is, we can't just be older; we must get better. We have to take major, major strides on that side of the ball. It comes first and foremost with a physicality and presence, and we've got to get much more tougher, much more physical. When I say tougher, it's both mental and physical. It's being able to handle sudden changes, it's creating turnovers, it's third down and getting off the field. So there's so much that goes into improving the defense and making us a better tackling team. This spring is going to be very, very physical. We're going to challenge them as we did in our winter conditioning.
March, 7, 2011
3/07/11
9:00
AM ET
CINCINNATI -- Dave Lawson gathered the Cincinnati defensive players together at the end of their hour-long conditioning session Thursday morning. He announced he had one final exercise for them.
The players nervously looked on, dreading the possibility of more squats or chin-ups or some other devilish torture their head strength coach had devised. What they got instead was a drinking game.
Lawson assembled a group team leaders to compete in a nutrition-drink chugging contest. As shouts of encouragements and taunts filled the Bearcats' weight room, 300-pound lineman John Hughes emerged victorious with a seven-second cleanup of his Gatorade can.
"You've got to do some things to make it fun," Lawson said afterward, "because this is hard work."
This time of year might as well be called the dog days of winter for Cincinnati players. Spring practice remains three weeks away. Their 2010 season is (thankfully) a distant memory, and the 2011 campaign still seems miles away. All that's going on is the drudgery of twice-a-week morning weight-lifting sessions and agility drills in which no footballs can be present because of NCAA rules.
[+] Enlarge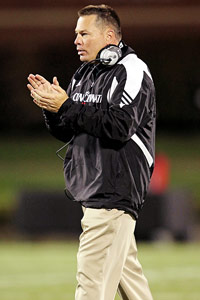 Andy Lyons/Getty Images"We pride ourselves on playing hard for six seconds and giving three great efforts," Cincinnati coach Butch Jones said. "So what we do in the weight room has to match what we do on the field."
There's no time to loaf, though. Not when the team is looking to atone for last season's disappointing 4-8 record. And not the way Lawson runs his workouts. Like the Gatorade-guzzling game that ended Thursday's hour, these sessions are defined by their speed.
When you picture football players lifting weights, you might think of beefy guys hoisting as much steel on their backs as they can, then resting to catch their breath or check out their muscles in the mirror. But Lawson's workout barely pauses. Players dash from circuit to circuit in a hurry, interrupted only by the sounds of Lawson blowing his whistle or barking out new assigned sets. "Controlled chaos" is how offensive lineman Alex Hoffman describes it.
This chaos serves a purpose. Cincinnati operates a no-huddle offense under head coach Butch Jones, who wants to play a tempo as fast as anybody in the country. To that end, signs around the Bearcats' football facility read "6-3." The six represents the number of seconds in the average play in football. The three is for first, second and third down.
"We pride ourselves on playing hard for six seconds and giving three great efforts," Jones said. "So what we do in the weight room has to match what we do on the field."
Lawson, who followed Jones from Central Michigan to Cincinnati, has tailored his program according to the team's style of play and the evolution of the sport. Gone are the massive 350-pound offensive linemen he used to train as an assistant strength coach under Don Nehlen at West Virginia. In are players who can sprint to the line of scrimmage over and over again while being in good enough shape to maintain their mental focus. Old-school strength methods like squats and dead lifts remain. But it also means heavy concentration on core muscles and flexibility.
"The spread system has really changed the way we condition," he said. "Everybody talks about sport-specific [programs]; we're training an energy-system specific in the weight room. People think conditioning is just running but ... instead of going out and pounding our legs with gassers after practice, we can get it in here with our lifting. I think that separates what we do from other places."
Players work out by position groups and are given 75 to 90 seconds to complete each circuit, which is designed to work the entire body and decrease injury risk. Most exercises include about six seconds of lifting or stretching, followed by about 20 to 30 seconds of recovery time, just like a football play. The defense and offense work out separately but follow the same routines, since the defense must play at the same pace as the no-huddle offenses it faces.
"It's all quick stuff, and we get a lot of reps, just like in our offense," Hoffman said. "It translates to what we do on the field."
The Bearcats approached their winter workouts with a renewed sense of urgency. They missed a bowl last season after winning two straight Big East titles, including a 12-0 regular season in 2009. Lawson said there was some natural resistance to a new way of doing things last winter when Jones replaced highly-successful coach Brian Kelly.
Cincinnati also did almost no agility or football-specific drills from January to March last year, because the program lacked a place to do it when bad weather made it impossible to go outside. The team's conditioning level fell behind as a result. This winter, the Bearcats have used their new bubble at the Jefferson Avenue Sports Complex, and Jones said the difference in player development is immeasurable.
Though the team struggled on the field last year, Lawson has made believers of his work in the weight room. Owing to a lack of depth in 2010, several Bearcats logged extraordinary minutes; defensive tackle Derek Wolfe, for example, played an average of about 85 plays per game while not missing a game.
"Derek Wolfe played the equivalent of two seasons last year," Jones said. "He would tell you exactly what [Lawson's] program has meant to him."
Lawson also snaps frequent before-and-after photos to show players how far they've come. Offensive lineman Andre Cureton has gone from 364 pounds last year to 301 now. Receiver
Kenbrell Thompkins
came in at a soft 182 pounds last summer as a junior-college transfer and is now a solid 195.
Will this offseason program help Cincinnati win more games in 2011? That question won't be answered until the fall. Meanwhile, the players are hoping this winter conditioning goes like that sports-drink contest: fast and fulfilling at the same time.
February, 24, 2010
2/24/10
11:00
AM ET
Spring football in the Big East kicks off March 16. Here's a breakdown of three issues facing each program heading into the spring:

CINCINNATI
Spring practice starts:
March 17
Spring game:
April 24
What to watch:
Building depth: New coach Butch Jones said this is the biggest key for the spring. The Bearcats have a lot of top-flight players with starting experience back, like Zach Collaros, Armon Binns, Isaiah Pead and JK Schaffer. But there's a lot of youth and inexperience in potential backup roles, especially at positions like offensive line, linebacker and receiver. All slates are clean with the new coaching staff, and the spring will be a time when new names can emerge in key roles.
Defensive line retooling: Jones will switch back to the 4-3 after a year in the 3-4 scheme. Both starting defensive ends from last year are gone, but the smallish line was overpowered at times near the end of the season anyway. Derek Wolfe should be a fixture inside, Dan Giordano, Brandon Mills and John Hughes step into more prominent roles. Jones will have to decide whether to make Walter Stewart a defensive end or keep him at outside linebacker. The Bearcats could use a little more strength and bulk up front against the bigger Big East offensive lines.
Vidal's arrival: USC transfer Vidal Hazelton is eligible after sitting out last year. He reputedly dominated practices last season, and now he'll get to go full time with the first string. A lot of people will be watching closely to see how he and Collaros connect during the spring. A big year by Hazelton will lessen the loss of star wideout Mardy Gilyard and could keep Cincinnati as the Big East's best offense.

CONNECTICUT
Spring practice starts:
March 16
Spring game:
April 17
What to watch:
Secondary matters: UConn returns a truckload of starters and looks rock solid in most areas. But the defensive backfield will be an area of emphasis starting in the spring. Gone are stalwarts Robert McClain and Robert Vaughn from a secondary that got picked apart much of the season by opposing passing games. Dwayne Gratz and Blidi Wreh-Wilson showed progress by the end of their redshirt freshmen seasons and should be the starting corners. The Huskies need someone to replace Vaughn at safety and overall better performance from the unit.
Frazer vs. Endres: Zach Frazer and Cody Endres have been splitting starts since the second half of the 2008 season at quarterback. Endres took over early last year and played well until he suffered a season-ending shoulder injury. Frazer picked things up late after a slow start. The competition should be back on this spring, with Frazer probably holding the edge given his late-season improvement.
Catch as catch can: Receiver was a major question for UConn going into last spring, when walk-on senior Marcus Easley surprised everybody with his giant leap forward. He became the go-to guy in 2009, but now he's gone, along with starter Brad Kanuch. So the Huskies are basically back in the same position as this time a year ago, needing to find some reliable pass catchers. Kashif Moore may be the next to break out after some good, late-year performances. And perhaps former highly-touted recruit Dwayne Difton will emerge. UConn hopes to catch lightning in a bottle again like it did with Easley.

LOUISVILLE
Spring practice starts:
March 24
Spring game:
April 16
What to watch:
Switching to Strong: The Cardinals will have their first practices under new coach Charlie Strong, who promises to bring a much different style than former coach Steve Kragthorpe. Strong is known as being an intense guy on the field, and as a former top-flight defensive coordinator, he will likely be particularly demanding of players on that side of the ball. There will be new terminology to learn, new assistants and new standards to which the Cardinals must adjust in a hurry.
The quarterback shuffle: Louisville had three quarterbacks -- Adam Froman, Justin Burke and Will Stein -- start games last year. All three will be given the chance to win the job in the spring, and mid-year enrollee Luke Woodley might see some snaps as well. Don't be surprised if this competition goes into the fall and if other newcomers like Dominique Brown get a look. Offensive coordinator Mike Sanford wants to run a Florida-style spread offense, which might favor the more mobile Froman if he chooses to go with a veteran under center.
Line play: The trenches have not been a particularly strong suit for Louisville the past couple of seasons, one of the reasons why the program has fallen out of annual postseason play. The Cardinals have gotten very little pass rush from the defensive line and not enough of a consistent push from the offensive line. Strong asked the offensive linemen to rework their bodies to prepare for the spread, and he'll need replacements for two senior defensive tackles. Junior-college imports Randy Salmon and Tyler Harrell will have a chance to impress on the defensive line. If the holdovers don't step up, we could see more newcomers in key spots by the summer.
April, 15, 2009
4/15/09
9:24
AM ET
Posted by ESPN.com's Tim Griffin
Texas Tech coach Mike Leach is a busy man these days. The Red Raiders are in the middle of spring practice. Trying to replace record-breaking players like Michael Crabtree and Graham Harrell has made for an eventful few weeks for the Texas Tech coach.
Some might be surprised that Leach is even in Lubbock after his contract impasse with the school that was settled at the last minute. But direct negotiations between Leach and Tech chancellor Kent Hance resulted in a new deal that appears to have Tech's coach entrenched in the High Plains for the foreseeable future.
| | |
| --- | --- |
| | |
| | Douglas Jones/US Presswire |
| | The idea of rebuilding is nothing new to Mike Leach. |
We caught up with Leach earlier this week while he was attending his son's baseball game. Between pings of aluminum bats and cheers from surrounding parents, Leach detailed some thoughts about his team's work, quarterback Taylor Potts' development, his increased notoriety after an appearance on "60 Minutes" earlier this year and his take on the Somali pirate controversy.
How has practice looked so far for your team this spring?
Mike Leach: I think it's been good. We've got a bunch of guys who are working hard. We've had some good tempo and strong work so far. I've been pleased.
What have been your initial perceptions of Taylor Potts at quarterback?
ML: He's been pretty steady. He had one bad day and one bad period. The rest have been pretty good. He's bigger than the quarterbacks we've had and has a stronger arm than most. And like a lot of them in the past, he had several years to learn and play behind some good people.
Taylor has watched what they have done. And I think the fact that he's been behind Graham, but still didn't waste any reps as a backup. A lot of times as you are sitting and waiting their chance, guys will waste their opportunities to learn. Taylor didn't do that.
With the loss of key players like Harrell, Crabtree and Shannon Woods, is your offense going to change much this season?
ML: I don't think it will change a bunch. But what ends up is that different players and receivers will get more of a chance to emerge and play. Crabtree got so many catches, but now different players and receivers will do well. We'll have a different group of backs who do different things. But I don't think it will change that much.
How much are the Red Raiders going to miss Michael Crabtree?
ML: We've had a couple of guys in Jacoby Franks and Alex Torres who have really played so far. Last season, the second-line guy behind Crabtree was Franks and he's a year better now. I think Torres is a little better this year than last year. It means we are a little deeper than we were. Obviously, neither one is at the Crabtree level yet, but the second-level is stronger than it was last year.
After starting last season 10-0, your team finished the season with a couple of disappointing losses, including the Cotton Bowl defeat to Mississippi. Did that loss stay with you guys a little longer because of the success earlier in the season?
ML: Our guys don't think of things that way. We don't have a team that slacks in a bowl game or lingered after we lost it. We felt like we had a chance to play a little bit better, but certainly by working incredibly hard, we've got a chance to get another cohesive unit again together.