May, 6, 2013
5/06/13
9:00
AM ET
Syracuse offensive coordinator George McDonald is in his first season with the Orange after spending the past two coaching the receivers at Miami. The former receiver at Illinois also carries the title of associate head coach, the most responsibility he has had in his coaching career. With a new coaching staff, a new quarterback and a new conference, there are plenty of questions facing Syracuse this fall, but McDonald likes what he sees after his first spring. I caught up with him recently to get his take on the Orange. Here are the highlights of our conversation:
Everyone wants to know about the quarterbacks, obviously. What was your take on that competition?
George McDonald:
I think the competition is ongoing.
Terrel Hunt
did a very good job of coming in, understanding the system and the ins and outs of what we're trying to get accomplished.
John Kinder
and
Charley Loeb
, they're still in the mix. Terrel kind of came out of the spring with a little gap, but they're all competing, just like with the other freshmen coming in this fall.
Are you allowed to talk about the other quarterback who's coming in?
GM:
I'd rather not.
Ok, I'm not trying to get you in trouble. How did your receivers look this spring?
[+] Enlarge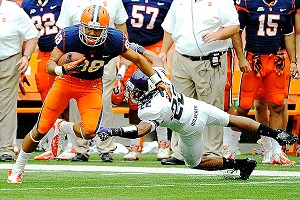 Rich Barnes/USA TODAY SportsOffensive coordinator George McDonald said Syracuse is looking for WR Jarrod West to be a key contributor in 2013.
GM:
They did good. We lost some really good receivers last year, but I think a lot of young talent,
Jeremiah Kobena
is a guy who has a lot of speed.
Jarrod West
is a returning receiver for us who had about 40 catches last year and we're looking to have a good year. And then
Adrian Flemming
, he's a rising senior, had a really good spring. I think they're all hungry, and they all came out trying to compete, trying to show they're ready to keep the wide receiver tradition alive here.
What do you guys look like up front?
GM:
Good. Those guys, we lost some guys, but
Sean Hickey
, he had a really good spring,
Rob Trudo
,
Nick Robinson
and
Ivan Foy
, those guys really did a great job of stepping into new roles, and then
Macky MacPherson
, he's kind of the glue of the whole unit. He played last year and the last couple of years. He really jelled with the unit and got those guys on the same page rather quickly. I told one reporter I talked to, if you didn't know we lost two really good linemen, and you saw a live play, you wouldn't have known the difference because they jelled so well and they worked so well together for the first time.
How much did you change scheme-wise?
GM:
Me and [former offensive coordinator] Coach [Nathaniel] Hackett, we kind of worked together at Stanford, so we kind of have the same vision. The scheme is pretty much the same. Obviously when you come in the terminology is the biggest thing the kids have to get used to. The plays and the concept of the plays and the philosophy of the offense is pretty much the same.
Are you where you hoped you guys would be after spring ball?
GM:
Actually, I think we're a little bit farther ahead than I thought we'd be, and that's based on the foundation in terms of the kids understanding how to come to meetings, and grasp the concepts and actually go out and work and not have bad days. I don't think we had one day where you walk off the field and didn't feel like you got better. I think we're a little bit ahead. Obviously we have to clean some stuff up over the summer and continue to get ready for the fall, but in terms of installation and understanding the base concepts of the offense and what we're trying to get done, from a run and pass standpoint, I'm pretty pleased with where we're at.
That's great. I don't usually hear that. From the outside looking in, you would think the questions at quarterback are a concern. Are you guys confident there?
GM:
Obviously you're always concerned when you have a first-year starter. Whoever the guy is going to be, they haven't been the guy in college football. But Terrel Hunt, he's really done a nice job over the last 15 practices of understanding the system, and obviously we have some guys coming in to add competition to it. But any coach in America who has a first-year quarterback, there's some apprehension and concern, but we have a lot of confidence in the talent we can surround the quarterback with and Coach Lester, we feel like he's a really good quarterbacks coach and he'll get those guys ready to play. I'm on the positive side. Whoever wins the starting quarterback job will be prepared to go out and lead us to success.
What are the main focuses aside from naming a starting quarterback, for this summer?
GM:
I think in the summer we just have to become better students of the game. We have to watch the tape and really evaluate -- from a coaching standpoint and a player standpoint -- just evaluate what we did and what we accomplished in the spring and just keep building on it. The guys doing seven-on-seven on their own, doing routes on their own, the linemen going through their projections and run drills, and just using the summer as a self-guided spring ball II, so when we come back for fall camp, we can pick up at practice 16 as opposed to starting over at practice 1.
April, 17, 2013
4/17/13
10:30
AM ET
The recent news that Oklahoma quarterback
Drew Allen
has decided to
transfer to Syracuse
has further muddled an already-cloudy picture at the position.
No matter what happens in the spring game this weekend, the Orange will go into the offseason with much uncertainty at a position that has had none over the last several years.
[+] Enlarge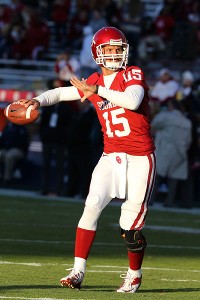 Matthew Emmons/USA TODAY SportsQuarterback Drew Allen played behind Sam Bradford and Landry Jones at Oklahoma before transferring to Syracuse.
There are simply more questions than answers at this point, especially since Syracuse coach Scott Shafer cannot comment until Allen officially enrolls in school. Allen is not expected in Syracuse until the summer. So where do the Orange stand? Let's take a quick look back.
December:
Following the bowl win over West Virginia, it seemed all but certain that
Charley Loeb
would go into the spring as the No. 1 quarterback, after serving as the backup behind
Ryan Nassib
.
January:
Doug Marrone and offensive coordinator Nathaniel Hackett leave for Buffalo. Days later, incoming freshman Zach Allen decommits and ends up at TCU. Allen was supposed to enroll and be eligible for spring ball, and many thought he could be the next great Orange quarterback. Loeb,
Terrel Hunt
and
John Kinder
are left to compete for the starting job.
March:
New coach Scott Shafer reiterates the quarterback competition is open. Though Loeb has the most experience, Hunt begins to get more reps with the first-team.
April:
Allen announces his intentions to play at Syracuse, with immediate eligibility in 2013.
Though it seemed pretty clear the quarterback competition would have remained unsettled without Allen hopping aboard, his presence certainly makes things more interesting come fall practice. The top three questions to ponder before he arrives:
1. Does this mean Allen is the favorite to win the starting quarterback job?
Some
seem to think so
. I think it is too early to assume that, despite the way this move looks. Allen is a high-profile addition, from a high-profile school and was mentored by Sonny Detmer, father of former BYU quarterbacks Ty and Koy Detmer. Major pluses. But ...
2. What has Allen done to draw such assumptions?
While at Oklahoma, Allen played behind Sam Bradford and
Landry Jones
. Really bad timing, sitting behind two pretty terrific quarterbacks. So it is uncertain to say the least what he can do. He has the same number of starts as the quarterbacks currently on the Syracuse roster: zero.
3. How quickly can he learn the offense?
Allen will be behind Loeb, Hunt and Kinder, who have already had a spring and will have a majority of the offseason to get much more familiar with the new scheme and playbook. Allen will be asked to learn a lot in a short period of time.
The answers won't be revealed until August.
March, 18, 2013
3/18/13
5:00
PM ET
The Orange has some big shoes to fill this spring in former quarterback
Ryan Nassib
, and it might take more than one player to fill them. Syracuse coach Scott Shafer said he is not opposed to playing more than one quarterback this fall.

Syracuse starts practices on Tuesday with a wide-open quarterback competition among
Charley Loeb
, a pro-style player who was Nassib's backup in 2012, and dual-threat quarterbacks
John Kinder
and
Terrel Hunt
. Shafer, who was the Orange's defensive coordinator for four seasons before he was promoted to head coach this year, said Kinder used to drive his defense nuts as the quarterback for the scout team offense. Loeb didn't get many reps as Nassib's backup, but he is a big, strong, intelligent quarterback, Shafer said.
There's a chance Syracuse fans might get to see all three this fall.
"If that's one player, great, if that's two players, great," Shafer said. "It's whatever we have to do. In the perfect world we'd love to be a one-system quarterback as the starter, as compared to two or multiple guys playing it, but at the end of the day, we'll be a win-system quarterback approach, where that position has to be able to win for us. No different than any other position on the team.
"I think we need to be ready to be creative at the quarterback position," he said. "We want to try to develop each guy and try to find the guy that can do it all, but at the end of the day we have some talented kids that can line up behind the center and do different things. Whether it be a starting quarterback that's strong at 70-80 percent of the things you want to do, and then you find another kid that can go in and run wildcat situations and maybe there's a third kid listed at a different position who can go in and do those things. More than anything the goal is to have a win-system quarterback approach."
March, 15, 2013
3/15/13
10:30
AM ET
Here is one trend to keep an eye on this spring in the ACC.
The potential rise of dual-threat quarterbacks.
Last season, four teams had true dual-threat signal-callers starting --
EJ Manuel
at Florida State,
Tajh Boyd
at Clemson,
Logan Thomas
at Virginia Tech, and
Tevin Washington
at Georgia Tech. Depending on how some of the open quarterback competitions go, the ACC could see as many as nine dual-threat starters at the position.
[+] Enlarge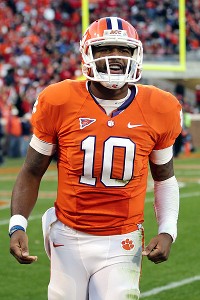 Streeter Lecka/Getty ImagesDual-threat quarterbacks like Clemson's Tajh Boyd are becoming the norm in the ACC.
We already know that Duke is trying to install some option principles with
Anthony Boone
taking over for pro-style
Sean Renfree
. Wake Forest has said it wants starter
Tanner Price
to run more
out of designed plays. NC State coach Dave Doeren has succeeded the past two years at Northern Illinois with a dual-threat quarterback. Syracuse and Virginia also have dual-threat quarterbacks competing for the starting job.
Duke coach David Cutcliffe explained his
decision to shift philosophy
in an interview earlier this month with fellow blogger Heather Dinich.
Cutcliffe said of Boone, "He is the new era of quarterback. Anthony is going to change our run game a good bit. He can prolong plays better. Just watch football, I don't care what level -- it's not just the zone read. Ben Roethlisberger is not that kind of guy, but he prolongs plays really well for the Steelers through the years. That's how a lot of big plays occur. That wasn't Sean's strength. It is Anthony's. Anthony is always dangerous back there. I think that adds a little bit of life to your offense."
Here is a look at the type of quarterback each team has across the ACC.
Boston College:
Pro-style with
Chase Rettig
. The Eagles are sure to feature a running quarterback in the future as coach Steve Addazio prefers dual threats to run his spread offense.
Clemson:
Dual threat. Boyd is one of the best in the nation.
Duke:
Dual threat with Boone. Changed from pro-style.
Florida State:
Dual-threat
Jameis Winston
will compete for the starting job against pro-style QBs
Clint Trickett
and
Jacob Coker
.
Georgia Tech:
Triple-option, with
Vad Lee
taking over.
Maryland:
Pro-style,
C.J. Brown
.
Miami:
Pro-style,
Stephen Morris
.
North Carolina:
Pro-style
Bryn Renner
.
NC State:
Dual-threat
Manny Stocker
competing against pro-style
Pete Thomas
. Dual-threat Jacoby Brissett also transferred from Florida but has to sit out a year.
Pittsburgh:
The only school with an open competition featuring two pro-style quarterbacks:
Tom Savage
and
Chad Voytik
.
Syracuse:
Pro-style
Charley Loeb
is competing with dual-threat quarterbacks
John Kinder
and
Terrel Hunt
.
Virginia:
Pro-style
Phillip Sims
is competing with dual-threat
David Watford
and pro-style
Greyson Lambert
this spring.
Virginia Tech:
Dual-threat with Thomas.
Wake Forest:
Working toward making Price more dual threat.
February, 21, 2013
2/21/13
2:11
PM ET
There are going to be position battles this spring at every school in the ACC, but some will be in the spotlight more than others. If you're just tuning in to ACC football, here are some of the biggest competitions in the conference this spring:
OFFENSE

1. Florida State quarterback:
This is arguably the most intriguing competition in the entire conference, as the Seminoles have to replace veteran
EJ Manuel
.
Clint Trickett
enters the spring at the top of the depth chart, but consider this job open. Sophomore
Jacob Coker
is the total package, but redshirt freshman
Jameis Winston
was the nation's No. 1 quarterback and could be the answer, too.
2. North Carolina running back:
The Tar Heels have to find a way to replace leading rusher
Giovani Bernard
, who left early for the NFL draft. Not only will his loss be felt in the running game, but probably even moreso in the return game, as Bernard was one of the nation's top punt returners. UNC returns
A.J. Blue
and
Romar Morris
, who combined for 819 yards rushing and 11 touchdowns last season.
3. Syracuse quarterback:
The Orange enter the ACC with a new coach and in need of a new quarterback. Record-setting quarterback
Ryan Nassib
is gone, leaving behind a wide-open competition. Backup
Charley Loeb
, junior
John Kinder
, and dual-threat
Terrel Hunt
are the top candidates.
Ashton Broyld
, who moved to running back in 2012, could be in the mix as well.
DEFENSE
1. Florida State defensive ends:
The cream of the crop is gone, as
Tank Carradine
,
Bjoern Werner
and
Brandon Jenkins
all have to be replaced. Enter
Mario Edwards Jr.
, who has a leg-up on the competition because he played in 11 games as a true freshman, and started the final two games of the year in place of the injured Carradine. Don't forget about
Giorgio Newberry
, though, and
Chris Casher
, who is now healthy after a knee injury. Casher will start spring ball on the two-deep depth chart.
Dan Hicks
, who was Jenkins' backup two years ago, had a knee injury and missed all of last season. He had moved to tight end, but was in the rotation at defensive end earlier in his career and could come back.
2. NC State secondary:
This group will have an entirely new look this spring, as three starters have to be replaced, including
Earl Wolff
,
Brandan Bishop
and
David Amerson
, the school's career interception leader. Cornerback
Dontae Johnson
returns, along with
Juston Burris
, who played in the nickel package. There are also several redshirts and younger players who will compete.
3. Virginia Tech cornerback:
Virginia Tech's defensive backfield lost its star last month when cornerback
Antone Exum
tore his ACL in a pickup basketball game. Several young players will compete for his reps this spring, including
Donovan Riley
,
Donaldven Manning
and
Davion Tookes
. Highly touted cornerback
Kendall Fuller
will join the team in the summer.
January, 17, 2013
1/17/13
2:00
PM ET
The ACC's crop of 2013 quarterbacks will be an interesting blend of old and new. Veterans
Logan Thomas
and
Tajh Boyd
both decided to return for their senior seasons instead of leaving early for the NFL draft, but several big names -- like
EJ Manuel
and
Mike Glennon
-- will be missing. Here's a quick rundown of the position heading into the 2013 season:

IN GREAT SHAPE
CLEMSON:
Boyd returns. The record-setter should be a Heisman candidate, considering he led the ACC in passing efficiency, was second in passing average/game, and threw for 36 touchdowns with just 13 interceptions.
MIAMI:
Stephen Morris
returns. Morris should be one of the best quarterbacks in the ACC, and he might have the best offensive line in the conference to work with. Last season, Morris started all 12 games and threw for a career-best 3,345 yards and 21 touchdowns, completing 58.2 percent of passes. He set the school single-season total offense record with 3,415 yards.
NORTH CAROLINA:
Bryn Renner
returns. He was No. 3 in the ACC last season in passing average per game (279.7), and he was No. 3 in passing efficiency. He finished with 3,356 yards, 28 touchdowns and seven interceptions.
VIRGINIA TECH:
Thomas returns. This was a huge boost to the Hokies' offense. Thomas has started the past 27 games for the Hokies, passing for 6,096 yards and 37 touchdowns, and running for 1,015 yards and 20 scores.
WAKE FOREST:
Tanner Price
returns. He threw for 12 touchdowns and seven interceptions last season, and he'll be helped by the fact that standout receiver
Michael Campanaro
returns. Price completed 55.6 percent of his passes for 2,300 yards.
IN GOOD SHAPE
VIRGINIA:
Phillip Sims
returns, but
Michael Rocco
transferred. Sims is the most likely starter, but how much playing time will
David Watford
see? While sharing time with Rocco last season, Sims finished with nine touchdowns and four interceptions. He completed 56.2 percent of his passes for 1,263 yards.
MARYLAND:
C.J. Brown
, who tore his ACL before the start of the 2012 season, is the most likely starter. This position can only get better for Maryland in 2013, as the Terps were down to their fifth-string quarterback last season. He started five games in 2011, but this would be his first full season as starter.
BOSTON COLLEGE:
Senior
Chase Rettig
returns. He started all 12 games last season, completed 54.2 percent of his passes, threw for 3,065 yards, 17 touchdowns and 13 interceptions. The reason BC isn't in the "great shape" category is because Rettig will have his 103rd offensive coordinator. The good news is that Ryan Day is a former BC offensive assistant, so it's not like they just met.
DUKE:
Veteran
Sean Renfree
has to be replaced.
Anthony Boone
isn't a rookie, but this will be his first season as a full-time starter. Boone has had the strongest arm of any of the quarterbacks on the roster, including Renfree. Boone played in 11 games in 2012, completed 51.6 percent of his passes (49 of 95) for 531 yards, five touchdowns and two interceptions. He also ran for 82 yards and two touchdowns.
COMPETITION IS ON
FLORIDA STATE:
Manuel must be replaced.
Clint Trickett
is the leading candidate heading into the spring, and he has the edge in experience, but he will compete with
Jacob Coker
and
Jameis Winston
. Trickett started two games in 2011, filling in for the injured Manuel, but this past season he only threw the ball 34 times. Coker played in four games and threw it five times.
GEORGIA TECH:
Tevin Washington
must be replaced.
Vad Lee
is the front-runner heading into the spring, but
Justin Thomas
will give him plenty of competition. Lee didn't start any games in 2012, but he got plenty of meaningful snaps and ran for 544 yards and nine touchdowns, and threw for 596 yards, four touchdowns and three interceptions.
NC STATE:
Glennon must be replaced. This position is a huge question mark for the Pack, especially considering the program has gone through a staff change, with Dave Doeren taking over.
Manny Stocker
and
Pete Thomas
are the front-runners heading into spring ball. Stocker threw the ball just twice in 2012 as a true freshman, and Thomas has two years of eligibility remaining after sitting out the 2012 season per NCAA rules because he transferred from Colorado State.
PITT:
Panthers fans rejoined when the final seconds ticked off the clock in the BBVA Compass Bowl because they won't have to watch
Tino Sunseri
play another down. Sunseri did start for three seasons, but this program is looking for a major upgrade at the position. Competition in the spring should focus on transfer
Tom Savage
, a former Freshman All-American, and redshirt freshman
Chad Voytik
, a four-star recruit from the class of 2012.
SYRACUSE:
The Orange have to replace record-setting quarterback
Ryan Nassib
, who just had the best single-season passing year in school history. They
thought they had
an incoming stud in Zach Allen, but the Texas recruit de-committed after coach Doug Marrone left for Buffalo, and Allen pledged to TCU. That leaves the job wide open in the spring between backup
Charley Loeb
, junior
John Kinder
, and dual-threat
Terrel Hunt
.
Ashton Broyld
, who moved to running back in 2012, could be in the mix as well.