January, 4, 2013
1/04/13
1:21
PM ET
Cincinnati coach Tommy Tuberville announced the hiring of six assistant coaches and the strength and conditioning staff Friday.

The new staff:
Darin Hinshaw, passing game coordinator/quarterbacks
Blake Rolan, wide receivers
Art Kaufman, defensive coordinator
John Lovett, defensive backs
Robert Prunty, associate head coach/defensive ends
Fred Tate, defensive line
Joe Walker, director of football strength and conditioning
Orlando Smith, assistant director of football strength and conditioning
The new hires join Eddie Gran, who was named the team's offensive coordinator in late December.
"I'm pleased with the staff we have assembled so far," Tuberville said in a statement. "We have a group of excellent coaches with a wide variety of experience as well as strong recruiting ties and knowledge of Cincinnati and the tri-state area. I'm excited to get started, finish off recruiting and prepare for spring football."
Hinshaw and Rolan spent the past three seasons at Tennessee. Hinshaw worked with the Vols' quarterbacks in 2010-11 before moving over to the wide receivers and serving as the recruiting coordinator in 2012. Rolan served as an offensive intern during that time, working closely with the offensive staff and wide receivers.
The four defensive coaches all join Cincinnati from Texas Tech. Kaufman has 11 years experience as a coordinator at the FBS level. The 2012 Broyles Award nominee was a former defensive coordinator at North Carolina and Mississippi, where he first worked with Tuberville. Kaufman has also has coached at Southern Miss, Middle Tennessee State, East Carolina, Arkansas Tech and Louisiana Tech.
Lovett returns to Cincinnati for his second stint with the Bearcats, having served as defensive coordinator from 1989-92. His career includes stints as defensive coordinator at Miami, Bowling Green, Clemson, Auburn, Maine and Cincinnati. Lovett and Tuberville first coached together at Ole Miss and then again at Auburn from 1999-2001 and at Texas Tech in 2012.
Prunty helped Texas Tech put together its top-two rated recruiting classes in school history in 2011 and 2012. He was the head coach at Hargrave Military Academy from 2002-10, coaching 27 players who would later play in the NFL.
Tate has had coaching stints at Marshall, Tennessee-Chattanooga, Southern Miss, East Carolina, Middle Tennessee State, Jacksonville State and Texas State. After graduating high school, he spent five years in the U.S. Army as a combat engineer. Following his service, Tate was a junior college All-American at East Central CC before finishing his career at Southern Miss.
Both Walker and Smith join Cincinnati from Texas Tech. Walker also spent time with the strength programs at Auburn, TCU, Kansas State and Pittsburgh. Smith was a two-time All-Conference USA running back in the late 1990s at Cincinnati. Before joining the Red Raiders, Smith worked previously at South Carolina, Kansas and Minnesota.
December, 16, 2011
12/16/11
10:30
AM ET
We're not done spinning just yet, but if you're a bit lost, here's the changes to the coaching staffs across the Big 12 thus far.
BAYLOR (9-3)
Out: Receivers coach Dino Babers took the head-coaching job at Eastern Illinois. No replacement named.
IOWA STATE (6-6)
Out: Offensive coordinator Tom Herman took the offensive coordinator job under Urban Meyer at Ohio State. No replacement named.
KANSAS (2-10)
Out: Head coach Turner Gill fired. Other staff positions up for discussion.
In: Florida offensive coordinator Charlie Weis hired to replace Gill. Akron QB coach Ron Powlus hired to coach quarterbacks. Bishop Miege (KS) coach Tim Grunhard hired to coach offensive line. Running backs coach/recruiting coordinator Reggie Mitchell retained from Gill's staff.
KANSAS STATE (10-2)
MISSOURI (7-5)
Out: Safeties coach Barry Odom left to become defensive coordinator at Memphis. No replacement named.
OKLAHOMA (9-3)
OKLAHOMA STATE (11-1)
No changes yet, but OC Todd Monken has drawn interest from several programs.
TEXAS (7-5)
No changes, though Texas was forced to proactively shoot down rumors of Mack Brown's retirement.
TEXAS A&M (6-6)
Out: Fired coach Mike Sherman. Defensive coordinator/interim coach Tim DeRuyter took head-coaching job at Fresno State but will remain on staff through the bowl game. Other staff positions up for review.
In: Hired Houston coach Kevin Sumlin. Sumlin will recruit while the other coaches prepare for the bowl game.
TEXAS TECH (5-7)
Out: Fired DBs coach Otis Mounds and offensive line coach Matt Moore. Moved defensive line coach Sam McElroy into a non-coaching role on staff.
In: Hired former Miami DC John Lovett to coach defensive backs and former Ole Miss defensive line coach Terry Price to coach the defensive line. No offensive line replacement named yet.
September, 17, 2009
9/17/09
11:07
PM ET

Posted by ESPN.com's Heather Dinich
| | |
| --- | --- |
| | |
| | Doug Benc/Getty Images |
| | Jacory Harris threw three touchdown passes Thursday night in Miami's win. |
How the game was won:
Miami's offensive line kept the pressure off quarterback
Jacory Harris
and wore down Georgia Tech's front seven. The Canes controlled the line of scrimmage, took away Georgia Tech's pass rush (i.e. Derrick Morgan), and Harris picked apart Georgia Tech's secondary. Miami spread the ball around, and offensive coordinator Mark Whipple
had the offense the offense rolling
.
Stat of the game:
Georgia Tech finished with 95 rushing yards. Huh? This is virtually the same Georgia Tech offense that racked up 472 rushing yards last year in a 41-23 win over Miami, and ranked fourth in the nation in rushing yards. It's not, however, the same Miami defense. Miami outgained Georgia Tech on the ground, controlled the clock, and the Jackets were held to just 2.4 yards per carry. Even though
Jonathan Dwyer
was sidelined for much of the game with a shoulder injury, Miami's defense deserves credit, as Dwyer is hardly the only option in Tech's offense.
Player of the game:
Harris. Again. He's such a composed presence that it's hard to believe it was only his third start. He's the real deal and on the path to becoming the next great quarterback for Miami. Harris completed 20 of 25 passes for 270 yards, three touchdowns, no interceptions and 10.8 yards per pass. Somehow, he played even better than he did in the season opener against Florida State and made fewer mistakes.
Unsung hero of the game:
Miami defensive coordinator John Lovett. So much attention (and, quite frankly, adoration) has been heaped upon Whipple, that the job Lovett has done has been underappreciated. The Canes' defense looked sound and executed its option responsibilities very well. It was a marked improvement from last year's embarrassing performance in Atlanta.
What it means:
Miami is the team to beat. Unlike the rest of their counterparts, the Canes have played -- and beaten -- two teams that were expected to be among the ACC's best this season. And they beat Virginia Tech last year. With Thursday night's win, Miami took the lead in the division, setting up a key matchup against Virginia Tech next weekend in Lane Stadium. Randy Shannon won his third straight home opener, and Miami improved to 14-2 overall and 10-0 at home on Thursday nights. The Canes have the momentum, and the nation's attention again.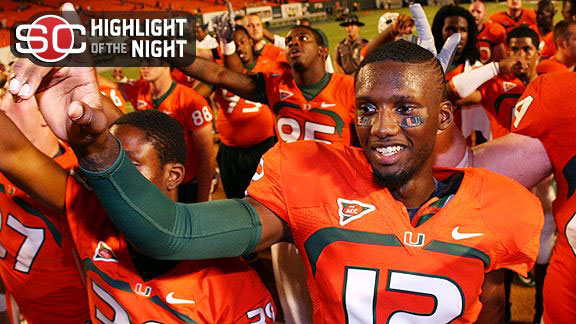 September, 17, 2009
9/17/09
8:03
AM ET

Posted by ESPN.com's Heather Dinich
Here are a few things worth keeping an eye on in the ACC this week (by the way, these are never ranked in order of interest, just generally 10 things to watch):
1.
Clemson running back C.J. Spiller.
He's on the verge of becoming the first player in ACC history with 2,500 rushing yards, 1,000 receiving yards and 1,500 kickoff return yards. And, he just might accomplish all three on Saturday against Boston College. Spiller enters the game with 2,434 rushing yards, 986 receiving yards and 1,471 kickoff return yards. Last year, he gained a career high 242 all-purpose running yards in Clemson's 27-21 win over BC.
2. BC's quarterback surprise
. Boston College coach Frank Spaziani has been quiet about which quarterback he's leaning toward for Saturday's game against Clemson, as both
Justin Tuggle
and
Dave Shinskie
have had success against lesser opponents. It's go-time now, though, and one will have to emerge against better competition.
3. Duke's non-quarterback controversy.
So
Thaddeus Lewis
is the starter, coach David Cutcliffe has made that clear. But
Sean Renfree
has also proven he's worth talking about, and can come off the bench to direct a come-from-behind win. Definitely worth watching.
4. Miami's run defense against Georgia Tech's spread-option offense
. It's the key to this game, and it was the cause of the Canes' demise last year. If Clemson could figure out a way to limit
Jonathan Dwyer
to 66 yards and seven three-and-outs, then Miami should figure out a way to slow it down, too, especially considering it had a bye week to prepare for it. This will be an interesting test for first-year coordinator John Lovett.
5. The trenches in Blacksburg.
Virginia Tech's offensive line will face a talented defensive front in Nebraska, and how it blocks will determine whether
Ryan Williams
and
David Wilson
can continue the fancy footwork they had against Marshall last week.
6. Florida State's improvement level.
It's not just the secondary that will be tested by BYU quarterback
Max Hall
. The Cougars will challenge the Noles in every phase of the game, and they'll have to get better blocking from their offensive line, get the running game going, tackle better and make fewer mistakes. Bottom line: They can't play like they did last Saturday and win.
7. North Carolina's replacements
. The Tar Heels have to hold it together after losing starting center Lowell Dyer and tight end
Zack Pianalto
for the next three to four weeks.
Ed Barham
or
Christian Wilson
will take over for Pianalto and Cam Holland will fill in again for Dyer. The Tar Heels will need to pave the way for
Shaun Draughn
and
Ryan Houston
, and give
T.J. Yates
some time to play like he did in the fourth quarter against Connecticut.
8. Upset watch in College Park -- again.
James Madison almost did it last week before losing in overtime. Middle Tennessee did it last year. The Terps' defense has struggled mightily in its first two games, and now will be without its top cornerback, Nolan Carroll, for the rest of the season. Can Maryland avoid an embarrassing home loss?
9. NC State cornerback Rashard Smith.
He's a true freshman who earned the starting job against Murray State and is slated to start again against Gardner-Webb. He is the first true freshman to start for NC State in the secondary since 2001, when Marcus Hudson (now with the San Francisco 49ers) started four games. Smith played just 24 snaps last week, but made three tackles and a tackle for loss. He now has two tackles for loss this season.
10. Number of sacks Virginia allows.
The Cavaliers returned four starters to their offensive line, and it was supposed to be the one dependable aspect of the offense early in the season. Last week against TCU, though, Virginia allowed eight sacks, the most since giving up nine to Florida State in 1997. Virginia allowed just 16 sacks all of last year. Southern Miss has five so far this season. The Golden Eagles are in the midst of a seven-game winning streak and have not allowed more than 100 yards rushing during that span.
September, 15, 2009
9/15/09
3:14
PM ET

Posted by ESPN.com's Heather Dinich
Miami enters Thursday night's game against Georgia Tech with a new defensive coordinator, a new defensive scheme, and, according to safety Randy Phillips, a new attitude on defense.
| | |
| --- | --- |
| | |
| | Paul Abell-US PRESSWIRE |
| | Last season, Georgia Tech running back Jonathan Dwyer had his way with Miami. |
After losing to the Yellow Jackets each of the past four years, they're hoping now for a new result. Truth be told, it couldn't get much worse than last year's missed-tackle-laden performance in Atlanta. Georgia Tech rushed for 472 yards in a 41-23 win over Miami last year -- the second-most rushing yards ever allowed by the Hurricanes.
On Monday, Miami's defense watched the game film of last year's performance.
"They were kind of upset about it," said Phillips, who suffered a season-ending knee injury last year and didn't play in the game. "They feel very confident this time. It's a lot better. It's a different scheme, different guys on the field. Some of the guys played last year, but most of the guys are new, and it's a different attitude for the defense. We have a lot to play for. We feel like we're one of the best teams in the country on both sides of the ball. We have a lot to prove. We haven't beaten Georgia Tech in four years. We're just going to go out there and play aggressive and get a lot of takeaways."
The defense will no doubt be key, including players like Phillips in the secondary. He said a lot of the missed tackles last year came from the safeties. After just two games, Georgia Tech leads the ACC with 318 rushing yards per game, but Miami's defense limited Florida State to 110 yards on the ground. The Noles' running game so far hasn't quite lived up to its preseason billing, though, and this might provide a more realistic gauge as to just how much the defense has improved under first-year coordinator John Lovett.
One of their main priorities in this game will be to slow Georgia Tech B-back
Jonathan Dwyer
, who rushed for 128 yards on just 10 carries in the first half, including a 58-yard touchdown run.
"The biggest factor will be [Jonathan] Dwyer," Miami coach Randy Shannon said. "The fullback must be accounted for on every single play. If he happens to get into the open field, we have to get him down for a 10 or 12 yard gain and then line up again. We cannot afford him to get long runs against us and that's what makes their offense go.
"You can say the middle linebacker has the fullback, but that's not always the case. It depends on what kind of triple option it is -- veer base, arc, midline or load-option. Depending on the scenario, certain guys have to be responsible for certain roles. Once you figure out what they're trying to do and what we have to get done, then you have to respond to it."
Like Clemson, Miami began preparing for Georgia Tech's offense as early as the spring, and devoted a few practices this summer to it, as well. Shannon said there were a few things the team could glean from watching Thursday night's game against Clemson, though "there will be a wrinkle here and there."
Clemson held Georgia Tech to seven three-and-outs in a 30-27 loss to the Jackets on Thursday night, a 27 percent completion percentage -- the best in 11 years at Clemson -- and went 54 minutes without allowing a touchdown. The Tigers held Dwyer to 66 yards, and executed and tackled better as the game went on.
What's their secret?
"You have to have a simple plan," coach Dabo Swinney said. "There's only so much you can do against that. You can't dial up a bunch of different calls and things like that. The biggest thing you have to do is be disciplined and execute and win the matchups, and I think our guys did a great job of that. I don't know if they'll ever go seven three-and-outs again all season. It will be interesting to try it."
And Miami is ready to give it its best shot.
September, 11, 2009
9/11/09
10:00
AM ET

Posted by ESPN.com's Heather Dinich
Clemson coach Dabo Swinney
admitted it
-- "I got my butt outcoached in the first half," he
told reporters
after the Tigers'
30-27 loss to Georgia Tech
on Thursday night.
| | |
| --- | --- |
| | |
| | Paul Abell/US Presswire |
| | Anthony Allen's 82-yard run put the Yellow Jackets on the board. |
He did, but Swinney and his entire team redeemed themselves in the second half, and should be lauded for their effort.
It's too early to determine Clemson's path for this season, but the Tigers showed something they didn't last season under former coach Tommy Bowden -- toughness and resiliency. Instead of folding after falling deep into a 24-0 hole, the Tigers rallied to take the lead in the fourth quarter. It seemed like they were on the verge of making an improbable comeback, and for the second time in a week the ACC delivered another nationally televised page-turner.
A few quick observations:
If Georgia Tech defensive end Derrick Morgan continues to play like that, it would be hard to imagine him sticking around instead of bolting for the NFL. He finished with 10 tackles (7 solo), three sacks for a loss of nine yards, and four tackles for a loss of 13 yards. It was baffling that the Clemson coaching staff didn't try to double team him earlier, as Morgan single-handedly disrupted the Tigers' backfield and rattled Kyle Parker.
As expected, Morgan is the strength of that line, and in its first real test, the Jackets' interior guys struggled. Still, it also exposed weaknesses that linger on Clemson's offensive line. Both teams looked at times like they needed some help up front.

| | |
| --- | --- |
| | |
| | Brian Schneider/US Presswire |
| | Kyle Parker directed Clemson's second-half comeback. |

Kyle Parker is going to be an excellent quarterback – as long as he gets the protection he needs. Parker completed 15 of 31 passes for 261 yards, three touchdowns and two interceptions. He led the Tigers on four second-half scoring drives and made it a game again.
Clemson did a much better job of getting the ball to its top playmakers. C.J. Spiller might have been the most underutilized player in the country last year, but against Georgia Tech, he lined up all over the field and Jacoby Ford had five catches for 109 yards and a touchdown. The speed on the field was exciting.
The rest of the ACC better look out for Anthony Allen. Five carries for 127 yards and a touchdown – an 82-yard run on a pitch from Josh Nesbitt. Thanks to a missed assignment by a Clemson defender, Allen was freed. Still, Georgia Tech's offense left much to be desired. The Jackets were 3-of-14 on third-down conversions and kicker Scott Blair accounted for the bulk of their points.
Georgia Tech has to play more than one quarter. For the second straight game, the Jackets let off too easily. This is a team that needs to learn to play with a lead, extend it, and never be satisfied until the clock runs out.
If Miami was watching -- and it would be hard to believe it wasn't -- first-year defensive coordinator John Lovett might have learned something from Kevin Steele in the second half. Clemson did a much better job of stifling that option offense and forcing the Jackets into uncomfortable throwing situations.
The lesson learned from this game is that both teams still have room to grow but are capable of leading their respective divisions. It's not even mid-September yet, and both Clemson and Georgia Tech will improve as the season unfolds. For now, it's Miami and Georgia Tech at the top of the heap, which makes for an exciting game next Thursday.
March, 30, 2009
3/30/09
2:00
PM ET
Posted by ESPN.com's Heather Dinich

Virginia Tech hasn't even started spring practices yet (Wednesday is the Hokies' first) and Miami has already wrapped things up. What's next in Coral Gables? The Canes will get back in the weight room for six more weeks, but coach Randy Shannon said the staff won't push them too hard physically. They'll meet for 45 minutes twice a week to help the players retain everything they learned from their new coordinators. The staff will now use the mornings to watch practice tape and the afternoons to watch recruiting tape.
Shannon said both coordinators, Mark Whipple and John Lovett, brought a lot of excitement, enthusiasm and confidence with them, and the staff is on the same page. They kept some of the same terminology. The two areas they'd like to see more improvement in summer camp are building the depth on the offensive line and at linebacker. Colin McCarthy will be back in the fall, but Shannon is looking for four or five linebackers that are interchangeable.
As expected, there were a few bumps in the road, but overall the players picked things up quickly.
"Are we better than we were last spring? Definitely," Shannon said. "Are we better than we were at the end of the season last year? Definitely."
Here were a few highlights from spring ball at Miami:
• Taylor Cook finished the spring with a bit of an edge over Cannon Smith at backup quarterback.
• C.J. Holton's move from safety to linebacker should give him a better chance to get on the field and was a step in helping the depth. Sean Spence and Arthur Brown played well this spring and Shannon said Jordan Futch came around the last two weeks.
• Brandon Washington became an offensive lineman the staff can depend on. They've got seven guys they're comfortable with up front, but Shannon said he is still looking for the eighth guy. That could be Ben Jones, Jermaine Johnson or Tyler Horn.
• Tight end Richard Gordon did a great job while all of the other scholarship tight ends were out with injuries. Shannon said the staff put a lot of pressure on him, and he got a lot of reps. "He should be in great shape," Shannon said. "He responded. When those guys come back, there will be a great competition to see which guy is going to step to the forefront and be that guy."
• Shannon said the media is making too much of Miami's lack of interceptions last year (they had four, the fewest of all 119 FBS schools). Shannon said their priority is to stop the run first, which they got better at this spring as a result of depth and maturity. He also said the Canes had about eight to 10 interceptions minimum this spring. He was particularly impressed with the "unbelievable" transition Sam Shields made from wide receiver to the secondary and considers him a starter who can "step in and play right away."
• The players who made a big impression on Shannon this spring were: Shields, Brown, Washington, Mike James, and Olivier Vernon. He said Vaughn Telemaque and Kendal Thompkins "put their stamp on where they want to be." Also, running back Damien Berry did a "tremendous job."
"Those guys have really taken that next step," Shannon said. "That's the biggest improvement, when you see guys who didn't play last year, see if they can really take that next step and be a guy we can say wow, he's going to be a guy we can depend on. That group of guys has really taken that next step of doing what we want them to do."
Posted by ESPN.com's Heather Dinich
Here's your daily dose of ACC links:
Posted by ESPN.com's Heather Dinich
Here's a quick trip around the ACC: