September, 15, 2012
9/15/12
12:27
PM ET
It's long overdue, but Tennessee will retire the No. 45 jersey of former coach and player John Majors prior to Saturday's game against Florida at Neyland Stadium.
The Majors name has long been intertwined with Tennessee football, and honoring him in this fashion was a no-brainer. He starred on the field for the Vols as a Heisman Trophy runner-up in 1956, then returned to revive the program in 1977 as head coach.
[+] Enlarge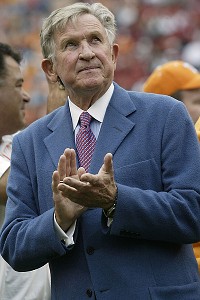 AP Photo/Wade PayneFormer Tennessee great Johnny Majors, shown at the Georgia game in 2005, was the Heisman Trophy runner-up in 1956.
"It is only fitting to honor such a distinguished playing career," Tennessee athletic director Dave Hart said in a release. "Johnny Majors is one of the greatest players in the rich and storied tradition of Tennessee football, and we are proud to bestow this honor upon him."
Majors is the eighth Tennessee player in history to have his jersey retired. Initially, only Clyde "Ig" Fuson (62), Rudy Klarer (49), Bill Nowling (32) and Willis Tucker (61) had been honored with retired numbers. They were killed in World War II and had their numbers retired in 1946.
In 2005, Tennessee retired the numbers of Doug Atkins (91), Peyton Manning (16) and the late Reggie White (92). They were the first players in Tennessee history to have their numbers retired for football achievement. At the time, many Tennessee fans wondered why Majors wasn't included in that group.
Majors, 77, played for the Vols from 1954-56 and was a two-time SEC Player of the Year. He was inducted into the College Hall of Fame as a player in 1987. He was Tennessee's head coach from 1977-92 and won three SEC championships, but was forced out toward the end of the 1992 season in what was a messy departure. Majors had a heart attack earlier that season and missed the first three games. He contends to this day that he had a contract extension sitting on his desk that was rescinded when he was in the hospital having heart bypass surgery.
Majors has emphasized that he never had any bitterness for the Tennessee people or the university, and that it was a select group of individuals he holds responsible for orchestrating his ouster.
Either way, it's refreshing to see Tennessee do the right thing and appropriately honor a man who's meant so much to the program, and do it at a time when he and his family can be here to enjoy it.
Majors' No. 45 jersey will continue to be worn by future players. According to Tennessee, all future retired jerseys will remain in circulation. The seven previous numbers retired will not be worn unless special permission is given by the honoree or surviving family members.
May, 16, 2011
5/16/11
8:30
AM ET
KNOXVILLE, Tenn. -- They gathered from all corners of the college football world on Sunday night to say goodbye to Aaron Douglas.
And that was just a small sampling of the overflow crowd that squeezed into Cokesbury United Methodist Church's Epworth Hall, all trying to make sense of a tragedy that rips at your heart in more ways than you ever thought imaginable.
The 21-year-old Douglas, who had just started to rekindle a promising football career at Alabama,
was found dead this past Thursday morning
in Fernandina Beach, Fla. Authorities are still investigating the cause of death.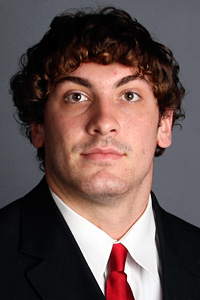 AP Photo/Unversity of Alabama, Jeri A. GuslbyAaron Douglas was found dead Thursday in Florida. He was 21.
There are sure to be a multitude of questions surrounding Douglas' death. But as Dr. G. Steven Sallee so eloquently reminded those in attendance at Sunday's Celebration of Life service for Douglas, those questions are best left to be wrestled with by Douglas' family.
Douglas' college football career never completely took off. He was a freshman All-American at Tennessee in 2009 before transferring to Arizona Western College following Lane Kiffin's departure and then resurfacing in the SEC this spring at Alabama. He was battling for the Crimson Tide's left tackle job.
Those who knew Douglas best -- family members, friends, coaches and teammates -- all tell a similar story, that his heart was as big as his hulking 6-foot-7, 280-pound body.
His parents, David and Karla, were both athletes at Tennessee. David was an offensive lineman on the Vols' 1985 SEC championship team and played several seasons in the NFL. Karla was a member of the 1987 Lady Vols' national championship basketball team.
In some small way, their grief had to be eased by seeing how many different people's lives their son had touched despite such a short life of his own.
In attendance were three men who've won national championships as head coaches -- Nick Saban, Phillip Fulmer and John Majors. They all sat up front with the family.
It hardly stops there, either.
Duke coach David Cutcliffe, a longtime assistant at Tennessee, was there. So was former Tennessee assistant Dan Brooks, who's now at Clemson and recruited Douglas to Tennessee.
Tennessee defensive line coach Lance Thompson was on hand along with former Vol great and current assistant athletic director Condredge Holloway, associate athletic directors David Blackburn and Carmen Tegano and Tennessee radio broadcaster Bob Kesling.
Alabama, still dealing with the fallout from the devastating tornado that ripped through Tuscaloosa earlier this month, brought two planes full of people.
In addition to Saban, athletic director Mal Moore, offensive coordinator Jim McElwain, offensive line coach Jeff Stoutland and former offensive line coach Joe Pendry made the trip.
Alabama strength and conditioning coach Scott Cochran left a family vacation in Florida and drove to Tuscaloosa so he could fly to Knoxville with the Alabama contingent and be at the service.
That's not even counting the more than 30 members of the Alabama football team who carpooled together and drove on their own dime to pay their last respects to a fallen teammate they'd known for less than six months.
There were also several of Douglas' former Tennessee teammates in attendance, including Nick Reveiz, Chris Walker, Jonathan Crompton, Cody Sullins, Cory Sullins and Josh McNeil, not to mention Douglas' Maryville, Tenn., high school coach, George Quarles, and scores of his former high school teammates.
Arkansas assistant coach Steve Caldwell, also a former Tennessee assistant, had a conflict and couldn't be at the service Sunday, but Caldwell flew in Saturday to visit with the family.
Agent Jimmy Sexton, who represented Douglas' father when David was playing in the NFL, was there. So were members of Alabama's academic and training staff, members of Tennessee's equipment staff along with current and former team managers for the Vols.
Even Douglas' first babysitter was there.
They were all there to say a tearful goodbye to a young man who was taken from us much too soon.
I think I speak for all of us in the SEC when I say this is an area where we're all on the same team.
No matter where you live or who your allegiances are to in the fall, when you get home tonight, hug your kids a little longer and a little tighter.
September, 21, 2009
9/21/09
3:01
PM ET

Posted by ESPN.com's Chris Low
When is a loss really a win?
See Tennessee's 23-13 setback at No. 1-ranked Florida on Saturday.
The Vols weren't supposed to just lose the game. They were supposed to lose their manhood, their pride, any sense of belonging as a legitimate threat in the SEC this season.
| | |
| --- | --- |
| | |
| | Sam Greenwood/Getty Images |
| | Lane Kiffin and the Vols hope to build off their performance against Florida. |
Well, none of the above happened, and it's a new day on Rocky Top.
Now the hard part begins: Can Tennessee build on the biggest moral victory this program has seen since maybe 1979, John Majors' third season as coach.
The outmanned Vols were 20-point underdogs that day and faced a No. 1-ranked Alabama team that would go on to win its second straight national championship.
Tennessee took the fight to Alabama and jumped out to a 17-0 lead at Legion Field, but Alabama came charging back to win a hard-fought 27-17 game.
Not that the Big Orange Nation needs to be reminded, but Tennessee lost at home two weeks later to Rutgers on homecoming.
It's just that kind of dip that Lane Kiffin's club wants to avoid, especially with Ohio coming to town this weekend.
Build off what you did at the Swamp. Don't live off it.
On the field, this Tennessee team still has plenty to prove. The Vols are 1-2, and their only win came over a Western Kentucky team that lost 28-7 at home last week to Central Arkansas.
So nobody should be making BCS bowl plans just yet … or any bowl plans, for that matter.
But the Vols' defense is certainly good enough to keep this team in every game it plays. The running game, namely
Montario Hardesty
, showed some spark against the Gators, and the young talent on the roster is impressive.
The biggest hurdle remains a passing game that's non-existent at this point, and that's not all on senior quarterback
Jonathan Crompton
, either. Yes, he has seven interceptions in three games. And, yes, he hasn't proven he can get it done against a legitimate defense.
But pass protection and receivers being where they're supposed to be, running the proper routes and making plays all factor into the equation.
Kiffin's greatest dilemma may be when and if he's going to give backup quarterback
Nick Stephens
a chance. There's no reason to believe that Stephens would be a huge upgrade. Otherwise, he'd already be playing.
But when a player struggles the way Crompton has, the head coach owes it to the rest of the team to at least look at his options. In the past, Stephens has fared better in games than he has in practice.
The Vols have three straight home games upcoming that will shape their season one way or the other. After Ohio's visit this weekend, Auburn and Georgia come to town.
This is a team that's capable of getting hot and being the kind of team nobody wants to face in a bowl game. The Vols proved that at the Swamp.
It's also a team that's capable of being average at best and not much of a threat to anybody that counts, as the Vols showed at home two weeks ago in their 19-15 loss to UCLA.
Stay tuned to find out which team comes to the forefront at season's end.
Of course, the first order of business is making sure there's not a repeat of that Rutgers debacle 30 years ago.
April, 3, 2009
4/03/09
5:52
PM ET
Posted by ESPN.com's Chris Low
Former Tennessee coach John Majors was elected to the College Football Hall of Fame in 1987 as a player.
He was a runner-up for the Heisman Trophy in 1956 and a two-time SEC Player of the Year. For those SEC die-hards, it's no secret that the Majors name is as interwoven into Tennessee football as checkerboard end zones and the color orange.
And while it's rare for somebody to be inducted into the College Football Hall of Fame as both a player and a coach, Majors has as good a case as anybody.
Steve Spurrier will no doubt pull it off when he's finished coaching. He's already been enshrined as a player.
But as it stands now, only Amos Alonzo Stagg, Bowden Wyatt and Bobby Dodd have been elected as both players and coaches.
One of the requirements to be elected to the Hall as a coach is a .600 winning percentage. Majors has a career winning percentage of .557 (185-137-10), which means he would have to be nominated through a special veterans committee.
It's not without precedent.
Hayden Fry, Jerry Claiborne and Grant Teaff have all been inducted as coaches within the last 10 years, and none of the three has a career .600 winning percentage.
In fact, had Majors, 73, not returned to Pittsburgh for those final four seasons after he was forced out at Tennessee in 1992, his career record would be a shade over .600.
This much is indisputable about Majors' work as a coach: He rebuilt three programs (Iowa State, Pittsburgh and Tennessee) that were badly in need of rebuilding, and he left all three in much better shape than he found them.
His 1976 Pittsburgh team, led by Heisman Trophy winner Tony Dorsett, finished 12-0 and won the national championship. The Panthers won all but one game that season by double-digit margins and had enough returning talent to perhaps win another title somewhere down the road.
But Tennessee called, and Majors couldn't tell his alma mater no.
It took him longer than anybody wanted to get Tennessee back to elite status in the SEC. But he won three SEC titles in his last seven full seasons in Knoxville.
His coaching résumé speaks for itself and is without question Hall of Fame material.
Now it's time that the right people take notice.
March, 27, 2009
3/27/09
1:12
PM ET
Posted by ESPN.com's Chris Low
A stroll around the league to see what else is out there:
February, 19, 2009
2/19/09
1:37
PM ET
Posted by ESPN.com's Chris Low
We take a gander at what others are writing and saying about the SEC:
February, 11, 2009
2/11/09
8:45
PM ET
Posted by ESPN.com's Chris Low
While the debate in the SEC rages as to whether Lane Kiffin is a breath of fresh air or full of hot air, he's already managed one noteworthy accomplishment in the annals of Tennessee football.
He and former Tennessee coach John Majors met on Wednesday, talked briefly and were supposed to meet again in Kiffin's office at the Neyland-Thompson Sports Center.
It's anybody's guess as to the last time Majors set foot in the Vols' football complex. He and former Tennessee coach Phillip Fulmer maintain a bitter feud that stretches back to Majors being forced out following the 1992 season. Majors claims Fulmer stabbed him in the back, a claim that Fulmer steadfastly denies.
But on Wednesday at the Big Orange Tipoff Club in Knoxville, there sat Majors listening to Kiffin's speech, and there was Kiffin beforehand going out of his way to get somebody to introduce him to Majors.
Not a bad move by Kiffin, who was in his junior year of high school when Majors coached his final game at Tennessee.
Despite anything that's happened or been said over the years, Majors is, was and always will be a Tennessee legend.
Kiffin is quickly moving in the direction, and he's yet to even coach in an SEC game.