Which players had the best bowl performances from the Big East? Here's our all-bowl team:
OFFENSE
QB Tom Savage, Rutgers
There weren't a lot of big numbers for Big East quarterbacks in the postseason. The Scarlet Knights' true freshman completed 14 of 27 for 294 yards and two touchdowns, with one interception, in a win over Central Florida in the St. Petersburg Bowl.
RB Mike Ford, South Florida
Ford exploded for 207 yards on 20 carries -- almost all of them in the second half -- to help the Bulls beat Northern Illinois in the International Bowl.
[+] Enlarge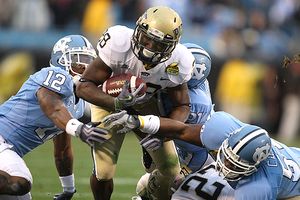 Streeter Lecka/Getty Images Dion Lewis had 159 yards and a touchdown on 29 carries in Pittsburgh's win over North Carolina.
RB Dion Lewis, Pitt
The sensational freshman had 159 yards on 28 carries and a score against North Carolina's tough run defense in the Meineke Car Care Bowl
RB Noel Devine, West Virginia
The Mountaineers' star ran for 168 yards on 16 carries in just three quarters against Florida State in the Konica Minolta Gator Bowl
WR Mohamed Sanu, Rutgers
Yet another freshman standout, Sanu had four catches for 97 yards and a score and also ran the ball 13 times for 41 yards and two more touchdowns.
WR Mike Shanahan, Pitt
Shanahan had five catches for 83 yards, many of them in traffic and in key spots, against North Carolina. And he's a freshman, too.
OT Anthony Davis, Rutgers
The future NFL first-rounder had his ups and downs this season. But he held off Central Florida's impressive pass rusher in a strong performance during his final college game.
OT Jason Pinkston, Pitt
North Carolina came into the Meineke game with the nation's No. 6 defense, but Pinkston helped the Pitt line move the chains and get the win.
C Moe Petrus, UConn
Petrus was part of a group that helped pave the way for 146 rushing yards against South Carolina in the Papajohns.com Bowl.
OG John Malecki, Pitt
OG Zach Hurd, UConn
DEFENSE
DE Lindsey Witten, UConn
The senior was part of a defensive line that overwhelmed the South Carolina offensive front.
DT Kendall Reyes, UConn
He had a one sack and put lots of pressure on Gamecocks quarterback
Stephen Garcia
.
DT Mick Williams, Pitt
The Big East co-defensive player of the year registered a pair of sacks against North Carolina.
DE Alex Daniels, Cincinnati
One of the few Bearcats who had a good night in the Allstate Sugar Bowl, Daniels had a pair of sacks and three tackles for loss against Florida.
LB Max Gruder, Pitt
Playing in his hometown, Gruder recorded 11 tackles and forced a fumble against North Carolina.
LB Scott Lutrus, UConn
The junior had nine tackles, a sack and a fumble recovery against South Carolina.
LB Steve Beauharnais, Rutgers
Another freshman, Beauharnais had seven tackles and a pair of sacks against Central Florida.
CB Billy Anderson, Rutgers
The little-known reserve returned an interception 19 yards for a touchdown near the end of the first half in a key play.
CB Jerome Murphy, South Florida
He had an interception, a fumble recovery and two pass breakups in the International Bowl.
S Robert Sands, West Virginia
Sands was just about everywhere in the Gator Bowl, recording 13 tackles, two of them for loss.
S Robert Vaughn, UConn
Vaughn had an interception and two pass breakups in the Papajohns.com Bowl.
SPECIALISTS
K Dan Hutchins, Pitt
Hutchins hit four field goals, including the game-winning 33-yarder, against North Carolina.
P Jake Rogers, Cincinnati
Rogers punted more than he has in a game all season, but he put half his six punts inside the Florida 20.
KR Mardy Gilyard, Cincinnati
He sure had plenty of opportunities, but he piled up a Sugar Bowl-record 207 return yards on eight attempts.
December, 8, 2009
12/08/09
3:15
PM ET
The official league selections will come out tomorrow. Here are my choices for the best of the Big East, from a season's worth of observations and some consultation from league coaches:
Offense
QB:
Tony Pike
, Cincinnati
RB:
Dion Lewis
, Pittsburgh
RB:
Noel Devine
, West Virginia
WR:
Mardy Gilyard
, Cincinnati
WR:
Jonathan Baldwin
, Pittsburgh
TE:
Dorin Dickerson
, Pittsburgh
OT:
Jason Pinkston, Pittsburgh
OT:
Jeff Linkenbach, Cincinnati
C:
Moe Petrus, Connecticut
OG:
John Malecki, Pittsburgh
OG:
Zach Hurd, Connecticut
Defense
DE:
Greg Romeus, Pittsburgh
DE:
Jason Pierre-Paul, South Florida
DT:
Mick Williams, Pittsburgh
DT:
Chris Neild, West Virginia
LB:
Lawrence Wilson, Connecticut
LB:
Kion Wilson, South Florida
LB:
Derrell Smith, Syracuse
CB:
Devin McCourty, Rutgers
CB:
Aaron Berry, Pittsburgh
S:
Aaron Webster, Cincinnati
S:
Nate Allen, South Florida
Specialists
K:
Tyler Bitancurt, West Virginia
P:
Scott Kozlowski, West Virginia
KR:
Mardy Gilyard, Cincinnati
PR:
Robert McClain, Connecticut
October, 23, 2009
10/23/09
10:30
AM ET
Posted by ESPN.com's Brian Bennett
One of the most interesting debates you could have in the preseason about the Big East was trying to figure out which team had the better defensive line between Pittsburgh and South Florida.
| | |
| --- | --- |
| | |
| | George Gojkovich/Getty Images |
| | Greg Romeus (91) and Mick Williams (95) have led a stout Pitt defensive line. |
Halfway through the season, there is still no definitive answer. Each unit has a strong claim to boasting the best front four in the league. Pitt ranks third nationally in sacks and 12th in tackles for loss while the Bulls are 19th in the FBS in both categories (Cincinnati, it should be noted, is ahead of both in those stats, but the Bearcats play out of a three-man front).
The debate could be settled this Saturday, when South Florida takes on the Panthers in Heinz Field. Fans will be treated to two defensive lines stacked with pass-rushing menaces and future pros.
"I think there are a lot of similarities," Pitt coach Dave Wannstedt said. "One is the scheme, because we're both 4-3 teams. And we both turn our D-linemen loose, if you will. We play aggressively with those guys up front."
Both lines feature top candidates for the Big East defensive player of the year award, including South Florida defensive ends Jason Pierre-Paul (8.5 tackles for loss) and George Selvie (three sacks) and Pitt defensive end Greg Romeus (seven sacks) and tackle Mick Williams (11.5 tackles for loss). Jabaal Sheard, Romeus' counterpart at the other end spot, continues to be one of the more underrated players in the league.
While both lines have some big guys -- Bulls tackle Terrell McClain is 6-foot-3, 306 pounds, and Williams and fellow Pitt tackle Gus Mustakas are strong as oxen -- both lines share preferences for speed over size. Selvie, for example, was a high school center who has worked most of his career to put on weight, while Romeus was a slender high school basketball player who has bulked up to 270 pounds.
| | |
| --- | --- |
| | |
| | Cliff Welch/Icon SMI |
| | South Florida's Jason Pierre-Paul has 8.5 tackles for loss this season. |
"They're both very athletic with a lot of speed," Pitt offensive lineman John Malecki said. "[South Florida] utilizes a lot of different things in their pass rushing, with line games and stunts, just like we do."
One major key to the game will be how both offensive lines hold up under the massive pressure. Pitt has allowed only six sacks in seven games, ranking 13th in the FBS in that statistic. But its O-line has not seen a D-line as fearsome as South Florida's yet.
The Bulls have given up 11 sacks in six games, but Cincinnati had four in last week 34-17 win in Tampa.
B.J. Daniels
' scrambling ability probably has saved at least a half-dozen or more additional sacks. Still, this unit came into the year as the team's biggest question mark.
"We were supposed to be the weakest link of the team," center Sampson Genus said, "and so far, we're doing pretty well."
I asked Romeus if he and his teammates were looking at this week as a chance to prove they have the Big East's best defensive line. He chuckled.
"We went into the season wanting to be the best in the conference and the country," he said. "That's something we're trying to accomplish every week, regardless of who we're playing."
Yet there's no getting around the fact that Saturday's game will provide a feast for those who like watching the trenches.
"I think it's going to be a defensive game, and obviously it starts up front," Romeus said. "Whichever D-line comes up big will have a big sway in who ends up winning the game."
October, 22, 2009
10/22/09
11:56
AM ET
Posted by ESPN.com's Brian Bennett
From the moment
Dion Lewis
enrolled early in January, Pittsburgh's coaches have been impressed with the true freshman running back.
| | |
| --- | --- |
| | |
| | Kevin Hoffman/US Presswire |
| | Dion Lewis is on pace for more than 1,570 rushing yards and 15 touchdowns. |
Lewis performed well in practice during the spring and in training camp, leading the Panthers to believe that he could make up for some of what they lost when star tailback LeSean McCoy bolted for the NFL after his sophomore season.
But Lewis has even done the unthinkable: he's been better than McCoy so far.
Check out this comparison between Lewis this season and McCoy through the first seven games of 2008:
McCoy:
161 carries for 835 yards, 5.2 yards per carry, 14 touchdowns.
Lewis:
162 carries for 918 yards, 5.7 yards per carry, nine touchdowns.
McCoy scored more touchdowns, but Pitt has more options in the red zone this season in the passing game.
"We did expect him to be a productive player," Pitt running backs coach David Walker said of Lewis. "But to be honest, I'd be lying if I said I thought he'd be this good or productive right off the bat."
Not bad for a guy who's only other major scholarship offers were from Tulane and Miami of Ohio. But Pitt coach Dave Wannstedt was sold quickly on the 5-foot-8, 195-pounder after seeing his high school tapes.
"I think I watched four plays and then turned the projector off, and we offered him a scholarship," Wannstedt said.
His recruitment, of course, wasn't that simple. But the Panthers needed a running back with McCoy leaving and LaRod Stephens-Howling graduating. Lewis averaged 14.1 yards per carry at Blair Academy in New Jersey.
"We look for guys who show a certain skill set, and it didn't take long to see [with Lewis]," Walker said. "We look for quickness and body control, change of direction, toughness and the ability to make people miss. He kept showing that over and over again."
Unlike a lot of young backs, Lewis doesn't try to improvise too much. He hits the hole and runs north and south as much as possible. What may be most impressive about him is how he's able to shed tacklers and break free after the first contact despite his short stature. Which shouldn't be confused with small.
"Pound for pound, he's probably one of the strongest players on our team," Wannstedt said. "His bench press is up in the 300s. And that's just his upper body. He's legs are very strong, too. He has speed, yes, but to break tackles, in his particular case, it's because he has great strength in his hips and legs."
Lewis will be a big key for the No. 20 Panthers (6-1, 3-0 Big East) on Saturday against South Florida (5-1, 1-1). Pitt will need to run the ball to slow down the Bulls pass rush and, as always, make the play-action passing game work for
Bill Stull
.
Lewis is on pace for more than 1,570 yards and 15 touchdowns. At that rate, he will break Tony Dorsett's school record for most rushing yards by a freshman (1,686). Heck, no Pitt sophomore has ever run for 1,500 yards. By now, though, it's clear that all previous expectations need to be raised when it comes to Dion Lewis.
"He no longer surprises us," offensive guard John Malecki said. "He goes out there and does unbelievable things every week."
August, 14, 2009
8/14/09
9:00
AM ET
Posted by ESPN.com's Brian Bennett
The Big East doesn't put out an official preseason all-conference team. But I do. Below are my picks for the best in the league for 2009. Pittsburgh leads the way with six selections.
Offense
QB Tony Pike, Cincinnati
RB Noel Devine, West Virginia
RB Victor Anderson, Louisville
WR Mardy Gilyard, Cincinnati
WR Jonathan Baldwin, Pittsburgh
OT: Anthony Davis, Rutgers
OG: John Malecki, Pittsburgh
C: Ryan Blaszczyk Rutgers
OG: Art Forst, Rutgers
OT: Jason Pinkston, Pittsburgh
TE: Nate Byham, Pittsburgh

Defense
DE: George Selvie, South Florida
DT: Arthur Jones, Syracuse
DT: Scooter Berry, West Virginia
DE: Greg Romeus, Pittsburgh
LB: Ryan D'Imperio, Rutgers
LB: Scott Lutrus, Connecticut
LB: Reed Williams, West Virginia
CB: Aaron Berry, Pittsburgh
CB: Brandon Hogan, West Virginia
S: Nate Allen, South Florida
S: Robert Vaughn, Connecticut
Specialists
P: Rob Long, Syracuse
PK: Jake Rogers, Cincinnati
KR: Mardy Gilyard, Cincinnati
PR: Jasper Howard, Connecticut

Posted by ESPN.com's Brian Bennett
• Pitt's John Malecki, who moved from defensive line to offensive guard last year, is now being tried at backup center, Kevin Gorman writes in the Pittsburgh Tribune-Review.
• Speaking of backup centers, Joey Madsen is a name to watch on the West Virginia O-line, Mitch Vingle write in the Charleston Gazette.
• Freshman receiver Daniel Bryant got a look at cornerback during South Florida's practice, Greg Auman notes in the St. Petersburg Times.
• Rutgers' Alex Silvestro is getting comfortable at defensive end after moving from tackle, Keith Sargeant says in the Home News Tribune.