June, 4, 2013
6/04/13
11:00
AM ET
ESPN.com's Ivan Maisel looks at which conferences send head coaches to the NFL and
makes a conclusion
: "The shortest road for any FBS head coach to the NFL is through the Pac-12. In fact, no other conference even comes close."
He points out that Chip Kelly (Oregon to the Philadelphia Eagles) was the 15th Pac-12 coach to jump to the NFL since "Tommy Prothro moved crosstown from UCLA in 1971 to coach the Los Angeles Rams."
And during that span the SEC has sent three to the NFL. The Big Ten one.
Figuring out exactly why this is true is more of a challenge, particularly because folks in other regions will get mad hearing the real reason: Brains and sophistication.
[+] Enlarge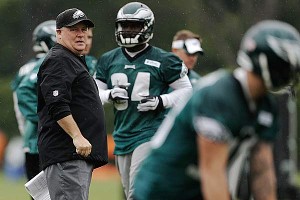 Matt Rourke/AP PhotoChip Kelly's offensive creativity helped him become the latest Pac-12 head coach to land an NFL head coaching gig.
Hey... take it easy. Just saying. And you Pac-12 folks need to behave.
Just look at the list: Dick Vermeil, Bill Walsh, John McKay, Mike Riley, Dennis Erickson and Chip Kelly. Those are some of the most innovative minds in football history, particularly offensive football.
Schematically, the Pac-12 -- historically and I think still at present -- is the nation's most sophisticated league. There's just more ... stuff. Playbooks are thicker. That, by the way, includes both sides of the football. The QBs are asked to do more. And that forces defenses to do more, too.
This, by the way, fits in with those who -- wrongly -- view the Pac-12 as a finesse league: A conference that is physically inferior has to use its wits to succeed.
But sophistication is about more than scheme. It's about psychology and managing people. There's more diversity on the West Coast. That complicates the job, so doing it well is meaningful. John McKay probably would have been successful coaching in Tuscaloosa. Not as sure the same could be said of Bear Bryant in Los Angeles.
Part of that is this: There's not as much "Yes, sir," "No, sir" on the West Coast as there is in other regions, particularly the Southeast and Texas, though that as a historical trend is likely narrowing. Going old school on an 18-to-23-year old from L.A. or Seattle probably won't work as well as it would on a kid from small town Alabama. The way a successful Pac-12 coach talks to and motivates his team is, in general, different. And, historically, it's probably closer to the NFL model, where the players are paid professionals and less willing to respond positively to a ranting coach.
Understand, there are plenty of exceptions to that. Frank Kush at Arizona State and Don James at Washington were as old school intimidating to their players as any of their contemporaries. Probably part of the reason neither made the NFL jump, either.
There's another level to that sophistication: Big cities. The NFL is a big-city league. So is the Pac-12. Maisel thinks this matters:
It could be that universities that share a market with NFL teams lose more coaches to the league. A school such as Boston College, clamoring for attention in a crowded market, might be more liable to hire a prominent NFL assistant coach such as Tom Coughlin, who left the Eagles for the Jacksonville Jaguars in 1994. That best explains why, even without counting Johnson or Erickson, the 22-year-old Big East has lost five head coaches to the NFL.
But there are other potential reasons:
Out of the box hires create fast-rising stars: Kelly, Jim Harbaugh and Pete Carroll each arrived in the Pac-12 in creative ways. Mike Bellotti made the inspired decision to hire Kelly away from New Hampshire. Harbaugh mostly generated head scratches when Stanford hired him away from San Diego. And Carroll was USC's 174th choice after a bumbling search. Heck, even Bill Walsh was a frustrated NFL assistant when he arrived at Stanford.

Previous NFL experience: Carroll had previous NFL coaching experience. So did Dick Vermeil, Bill Walsh and Dennis Erickson. Harbaugh was a longtime NFL QB. Several other guys on the list at least had a cup of coffee as an NFL assistant before taking over a Pac-8/10/12 team. You could conjecture that many of them viewed returning to the NFL as their ultimate ambition, unlike a college coaching lifer.

Recruiting rules in SEC: The most important skill for a head coach in the SEC is without question: Recruiting. The competition for recruits nationwide is brutal, but it's a blood sport in the Southeast. And that is not really a skill that translates in the NFL.

Money: Some conferences' pay scales are competitive with the NFL. The Pac-12's is not.
November, 16, 2012
11/16/12
1:00
PM ET
Stanford is 31-5 since the beginning of the 2010 season. The Cardinal have lost three games during that span by a combined 14 points, and two of those were in overtime.
And they lost the other two, both to Oregon, by a combined 44 points.
Stanford has an Oregon problem.
"I think the entire conference has an Oregon problem," Stanford coach David Shaw countered reasonably.
True that. Oregon is on track for its fourth consecutive outright Pac-12 title. As ESPN's Brad Edwards
noted this week

: "If [the Ducks] can win [the Pac-12 title game] again this season, they will join John McKay's USC teams from 1966 to 1969 as the only groups in the history of that conference to win four consecutive outright titles."
[+] Enlarge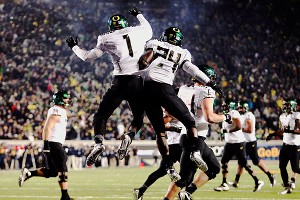 Kelley L Cox/US PresswireOpponents haven't been able to slow down the Ducks' potent offense for four quarters.
So Oregon is historically good.
And Stanford, though on a historically good run for its own program, has been Wile E. Coyote to Oregon's Road Runner.
Stanford (8-2) will get another chance to change that Saturday in Autzen Stadium, with ESPN's "College GameDay" on hand. The stakes, just like the previous two seasons, are big. The winner takes control of the Pac-12 North Division. The Ducks, of course, need to win to remain in the national title chase.
Shaw didn't hold back praising Oregon (10-0) this week. It could be gamesmanship, but Shaw also seems to genuinely appreciate what coach Chip Kelly has built at Oregon. As Shaw said: "Great athletes, great scheme in all three phases."
"They know how to adjust those schemes based on what you are doing, which to me is the biggest key," he said. "You don't see them stopped for long. If you're doing something that is slowing them down, they are going to make a tweak and make you pay for it."
Well-put. That about sums up Oregon.
And yet ... what about Oregon's injury-riddled defense?
"It doesn't matter," Shaw said. "They put young guys in there, they put new guys in there, and those guys go out there and play great."
Maybe. But maybe not.
There are cracks in the Oregon facade, mostly because a number of front-line players on the Ducks' defense -- once a nationally elite unit -- are questionable or out for Saturday.
Safety
Avery Patterson
is out for the year with a knee injury. You might recall Oregon previously lost All-America safety
John Boyett
to a knee injury. Defensive tackle
Wade Keliikipi
also is almost certainly out with a leg injury.
Also banged up and of questionable health on the defense: DE/DT
Taylor Hart
(foot), DE/OLB
Dion Jordan
(shoulder), DT
Isaac Remington
(ankle) and NT
Ricky Heimuli
(knee). And backup cornerbacks
Troy Hill
and
Dior Mathis
didn't play last weekend against California, which is why word coming out of practice this week was that
De'Anthony Thomas
was taking reps on defense.
That's a lot of banged up high-quality players, particularly on the defensive line. The past two weeks, Oregon has had to rely on three true freshman D-linemen --
Arik Armstead
,
DeForest Buckner
and
Alex Balducci
-- often playing them at the same time.
While Stanford's offensive line is not what it was last year with David DeCastro and Jonathan Martin, it still is an above-average unit, one that likes to go mano a mano in the trenches. It's certainly much better than the Cal unit that did a fairly good job against the Ducks last weekend.
So the Cardinal may be able to control the football with
Stepfan Taylor
running the ball, though you can expect Ducks "Stop the Run First" defensive coordinator Nick Aliotti to dare Stanford to throw the ball with redshirt freshman quarterback
Kevin Hogan
, who is making his first road start.
But the bigger issue, as usual, is slowing the Ducks' explosive offense, which has gashed Stanford the past two years with big plays -- seven TD plays of 25 or more yards, not including a 40-yard pick-six last season.
Stanford has the nation's No. 1 run defense, but few teams run the ball as well as Oregon. And Ducks redshirt freshman quarterback
Marcus Mariota
leads the nation in passing efficiency.
Oregon, particularly playing at home, seems fully capable of outscoring Stanford if the Ducks' defense is having a bad day. A few teams have been able to slow the Ducks for a quarter here or a quarter there. But even then -- boom! -- things go haywire. Stanford has experienced that itself. Twice in the past two years, in fact.
The question then becomes simple for Stanford: Can it somehow make Mariota and the Oregon offense have a bad day for four quarters?
It's the Oregon problem, and it's not easy to solve.
July, 9, 2012
7/09/12
9:00
AM ET
Does a coach define your program? Think Alabama and Bear Bryant, Penn State and Joe Paterno and Florida State and Bobby Bowden.
Does he cast a shadow that's hard to escape? Or is your all-time winningest coach mostly incidental?
[+] Enlarge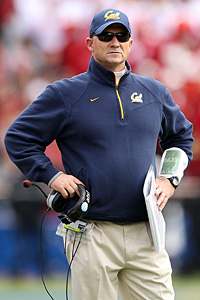 Ezra Shaw/Getty ImagesCoach Jeff Tedford is Cal's winningest coach of all time, but is he the face of the program?
ESPN.com is looking at the winningest coach for each FBS program today, and the results from the Pac-12 are interesting.
Some teams are trying to regain the past glory of a legendary coach (Arizona State and Frank Kush, Colorado and Bill McCartney, UCLA and Terry Donahue and Washington and Don James).
Some teams all-time wins leader paved the way for present glory (Oregon and Mike Bellotti and USC and John McKay).
Some are just names on a list, Hall of Famers or otherwise, men glaring at us from black and white photos (Pop Warner for Stanford, Lon Stiner for Oregon State, Ike Armstrong at Utah and Babe Hollingbery for Washington State).
And for some teams, well, things are complicated.
For one, Jeff Tedford, who has been hot-seated by many reporters and California fans, is the Bears all-time winningest coach. Then there's Oregon State's Mike Riley, who most feel is sitting on the second-warmest seat in the Pac-12. He needs just three victories to eclipse Stiner as the Beavers winningest coach.
A guy who might identify: Arizona's winningest coach Dick Tomey. Tomey went 12–1 in 1998 but was forced out in 2000.
Hey, look at this patch of grass. It's lovely. Not perfect, though. Is that a clover? Hmm. What about the grass ... over there?
The most interesting names, of course, are Kush, McCartney, Donahue and James. Each is the standard for his program. Even fans too young to have witnessed their tenures know who they are. While these coaches' programs have experienced varying degrees of success both before and after them, no one has been able to duplicate their consistency. And those who have tried over the past couple of decades seem as though they shriveled up under the shadow of the legends who preceded them.
While fans fervently cling to the "It happened before, so it can happen again" position, the truth is comparisons are sometimes unfair. College football is much different than it was before the BCS era, which none of these four experienced.
But that doesn't keep fans from hoping for a second-coming.