January, 20, 2012
1/20/12
11:00
AM ET
Bret Bielema made a rapid rise up the college coaching ladder.
Big Ten position coach at 26 ... Big 12 co-defensive coordinator at 32 ... Big Ten defensive coordinator at 34 ... Big Ten head coach at 36.
[+] Enlarge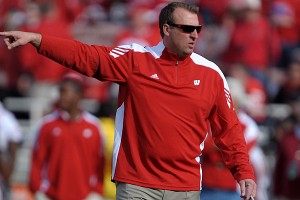 Kirby Lee/Image of Sport/US PresswireWisconsin coach Bret Bielema says he isn't upset after losing 11 assistants in the past three seasons.
Bielema's ambition helped put him on the fast track. And when he's hiring assistant coaches at Wisconsin, he wants to see the same qualities.
"When you talk to a coach, if he doesn't want to advance in this profession, we probably won't talk very long," Bielema told ESPN.com on Thursday. "I want guys that want to be coordinators, or guys that are coordinators who want to be head coaches. If they don't want to sit at the front of the room, we're probably dealing with the wrong type of coach. I want guys who want to advance."
Bielema has had plenty of assistants advance in recent years.
He lost two after the 2009 season, one of whom, Randall McCray, went from position coach to coordinator. He lost three after the 2010 season: defensive coordinator Dave Doeren became head coach at Northern Illinois, while running backs coach John Settle and nickel backs coach Greg Jackson both departed for posts in the NFL.
Wisconsin has lost six assistants in recent weeks, a number that has raised eyebrows in college football circles. The team is coming off of back-to-back Big Ten titles and back-to-back Rose Bowl appearances. Bielema's job is very secure. While one assistant (Paul Chryst) left for a head-coaching job and two others (Bob Bostad, Dave Huxtable) went from position coaches to coordinators, the exodus has left some wondering whether there's something wrong at Wisconsin.
Bielema views things differently.
"It's really not that unusual," he said. "It's unusual at a program that has as much success as we've had, where we're able to keep that continuity of winning in place. I take it as a compliment to what we've been able to do. All those coaches are moving on. Two of them didn't get coordinator jobs, but everybody else got coordinator jobs or titles that made it significantly better for them where they were going.
"To me, it's a tremendous challenge that I love, I embrace and I have a lot of fun with it."
Bielema has filled two vacancies with offensive coordinator Matt Canada and wide receivers coach Zach Azzanni. After an extensive interview process for the coordinator job, Bielema went with Canada, in large part because Canada has called plays in different systems (spread, pro style) and can adapt.
"I interviewed a lot of coaches of different levels: NFL, college, big college, small college," he said. "I'm not a résumé guy. I want a football coach. And as this thing gets moving forward, I kept coming back to him. I just think he's going to be a great fit for what we're going to blend together at Wisconsin. I'm going to hire four new offensive coaches that are going to come from different areas of the country and come together and play the style of football we like at Wisconsin."
Wisconsin's staff will be two-thirds new in 2012, but Bielema won't be surprised if he's doing more hiring a year from now.
"I have every year," he said. "Usually the NFL takes two, took two from me last year. It's just one of those things, the beauty of the beast here at Wisconsin."
April, 25, 2011
4/25/11
9:00
AM ET
MADISON, Wis. -- Wisconsin loves to describe its program as "not sexy," but the label is becoming less and less accurate.
After the Badgers made their first Rose Bowl appearance in 11 seasons, nine members of coach Bret Bielema's staff received inquiries from other teams. Defensive coordinator Dave Doeren landed the head-coaching job at Northern Illinois. Two assistants, John Settle and Greg Jackson, left for posts in the NFL. Offensive coordinator Paul Chryst turned down a lucrative coordinator offer from Texas to remain with his alma mater.
[+] Enlarge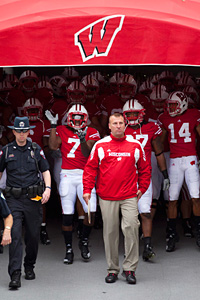 Jeff Hanisch/US PresswireCoach Bret Bielema leads a Wisconsin program that has churned out a lot of elite players in recent seasons.
The inquiries also are coming Wisconsin's way, as decorated recruits from "coast to coast" -- particularly running backs and offensive linemen, two position groups where the Badgers have flourished -- express interest in the program.
"They're getting recruited by heavy, heavy people in their area," Bielema said. "We haven't had that number of people respond from outside our area."
Wisconsin is pushing for a $76.8 million athletic performance center that would include new locker rooms and training facilities and an upgrade for the McClain Center, the team's indoor practice facility. Although Wisconsin has remained in the top half of the Big Ten on the field, it needs a boost with its facilities.
So, is Wisconsin bringing sexy back? Perhaps on the surface, but the program hasn't changed at its core.
"The only reason we're at the level we're at is because we maximize what we are," Bielema said. "Our staff, our players and our administration recognizes why we've had this success and not to deviate from that plan just because there might be better things out there.
"We're going to build this new facility, but bigger isn't always better. It's about the components and how functional it is and what it stands for."
The Wisconsin Way will be put to the test in 2011 as the Badgers lose more standout components than any other Big Ten squad. Gone are four All-Americans -- defensive end J.J. Watt, tight end
Lance Kendricks
and offensive linemen Gabe Carimi and John Moffitt -- the 2010 Johnny Unitas Golden Arm award winner in quarterback
Scott Tolzien
, the 2009 Big Ten Offensive Player of the Year in running back
John Clay
, and other key contributors.
Other than Ohio State, every Big Ten team has struggled to reload in recent years. Can the Badgers buck the trend in 2011?
"Here, we really have to develop our players where they're really good their last 2-3 years," co-defensive coordinator/defensive line coach Charlie Partridge said. "We feel like this is a developmental program, and we're proud of that."
No position group better demonstrates the philosophy than the defensive ends Partridge coaches.
In 2009, O'Brien Schofield went from anonymous to first-team All-Big Ten, finishing second nationally in tackles for loss (24.5) and tied for sixth in sacks. Watt began his career as a tight end at Central Michigan and finished it as one of the nation's best defenders. He's projected as a first-round pick in this week's NFL draft and could be the first Big Ten player selected.
There are other examples of Badger reloading. Wisconsin has produced at least one 1,000-yard rusher in each of the past six seasons. Carimi and his predecessor at left tackle, Joe Thomas, both won the Outland Trophy as seniors.
"People from the outside looking in, they've never heard of these names so they assume they're not any good," Bielema said. "We try to have people waiting in the wings. I remember when no one knew who Lance Kendricks was, or Gabe Carimi, or John Moffitt or Scott Tolzien or J.J. Watt. We were able to develop those guys, bring them through and the results were what you saw last year.
"It's our desire to have a championship every season, but sometimes you're not going to have the personnel to accomplish that. What you want to do is remain competitive, stay in the top level of our conference."
Bielema thinks Wisconsin has a chance to be just as good on defense.
Although Watt leaves a major void, the Badgers boast unprecedented depth at defensive tackle and more overall depth along the line. The secondary returns All-Big Ten cornerback Antonio Fenelus, playmaking safety Aaron Henry and others with experience. If linebacker Chris Borland stays healthy after missing most of 2010 with shoulder injuries, the midsection will be solid.
Leadership shouldn't be an issue as both Henry and defensive tackle Patrick Butrym are stepping forward.
"I'm sure a lot of people out there are counting us out," Henry said. "I could care less about flying under the radar. I just want guys to go out there every week and leave a statement, that we are Wisconsin football, we do play hard-nosed football and we're going to play every snap like its our last."
[+] Enlarge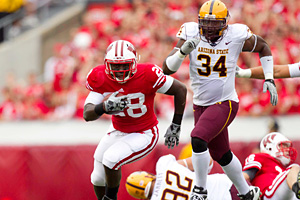 Jeff Hanisch/US PresswireRunning back Montee Ball, 28, returns to a talented Wisconsin backfield along with speedy James White.
The bigger questions come on offense, starting with the most important position on the field.
Jon Budmayr
understudied for Tolzien in 2010 and, barring a major surprise, will move into the starting role. Budmayr, who had his ups and downs this spring, must not only display efficiency but remain healthy as there's no proven depth behind him.
Wisconsin once again will lean on a run game expected to be among the nation's best as backs
Montee Ball
and
James White
, the 2010 Big Ten Freshman of the Year, both return. Although three starting linemen depart, the coaches are excited about who will fill the gaps.
"There's questions for any team, what they can and cannot do," Ball said. "That's why we keep grinding every day so we can show everybody what we're capable of doing."
At Wisconsin, there's no other way. The Badgers aren't a team that can simply show up and win, a fact reinforced last season.
"The thing we did best was we practiced so well during the week," Butrym said. "The one time we didn't practice well was [before the Michigan State game]. It was a Thursday and it was very sloppy and the end result of that was a loss."
Butrym admits the poor practice made him "a little paranoid" about sniffing out signs of complacency. So far, the attitude is good.
"We definitely have to earn it," Henry said. "Ohio State's still in the conference, we added Nebraska, Iowa's still in the conference. Guys know nothing's going to be handed to us."
April, 15, 2011
4/15/11
9:00
AM ET
After Saturday's scrimmage, Wisconsin coach Bret Bielema described
Zach Brown
as an "angry back."
The comment surprised Brown.
[+] Enlarge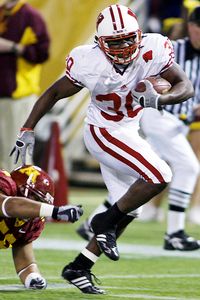 Bruce Kluckhohn/US PresswireWisconsin's Zach Brown rushed for for 1,152 yards and 11 touchdowns from 2007-09.
"That was an interesting quote," Brown told me this week. "I've never been referred to as an angry back. I think he's just saying I came out with high intensity, a high motor and just playing hard every play."
It was easy to forget about Brown in 2010 as Wisconsin's rushing attack surged behind the triumvirate of
John Clay
,
James White
and
Montee Ball
. Brown, who started the final four games of his true freshman season way back in 2007, opted to redshirt last fall so he could focus on his academics and get his knee tendonitis under control.
He's back on the field this spring, and though Wisconsin returns two potential All-Big Ten backs in Ball and White, the fifth-year senior from Royal Palm, Fla., isn't fading into the backdrop. Brown stood out in last week's scrimmage and hopes to take a chunk of the carries this fall.
"Going into the spring knowing you're going to get time in the fall, you know you've got to compete and take these reps seriously," he said. "I'm feeling good. I haven't felt this good in a while."
It was a different story in preseason camp, as Brown got lost in a crowded group of backs.
"I had a real bad case of tendonitis, and I wasn't competing how I wanted to," he recalled. "There were four of us going in and it was high intensity, and I felt like I couldn't reach the [same] intensity as the other backs. It was just hard."
It didn't get much easier for Brown as he watched games from the sideline. He saw Wisconsin surge to the Rose Bowl on the strength of its run game.
But as White showed in August and Ball showed in October and November, Wisconsin's competition at running back never stops. If you elevate your game, you'll get on the field.
Former Badgers running backs coach John Settle preached that approach, and his successor Thomas Hammock hasn't changed it.
"Coach Hammock brought that mentality in, like, 'What have you done for me lately?'" said Brown, who added some mass during the winter and checks in at 219 pounds this spring. "So there's no more thinking about what you did last year."
That's good news for Brown, who had no statistics from 2010 but rushed for 1,152 yards and 11 touchdowns from 2007-09.
"I just want to say when it's all said and done," Brown said, "that my last year, I was the best back I could be."
He's well on his way.
February, 23, 2011
2/23/11
9:17
PM ET
For the second time in a week, Wisconsin coach Bret Bielema has raided the staff of another league member for an assistant. And the Big Ten's incredible offseason trend of assistants
switching jobs within the conference
continues.
Wisconsin has hired Minnesota running backs coach Thomas Hammock for the same position. Hammock replaces John Settle, who recently left to coach running backs for the NFL's Carolina Panthers.
Earlier this week, Bielema hired Purdue assistant DeMontie Cross, a move that
didn't sit well with Boilers coach Danny Hope
.
"Much like the hiring of DeMontie Cross, Thomas is a coach that I have watched grow and am excited to finally have as a part of our staff," Bielema said in a prepared statement. "I first met Thomas when I was the defensive coordinator at Wisconsin eight years ago and I have been impressed with his coaching ability and work ethic ever since. He has worked his way up in the coaching ranks, and is a great addition to our coaching staff. He will help us in all three phases that are important to us, recruiting the right players for Wisconsin, developing players on the field and molding them into successful young men off the field."
Hammock served as a graduate assistant at Wisconsin from 2003-04 before returning to his alma mater, Northern Illinois, to coach running backs. He mentored NIU star Garrett Wolfe before joining Tim Brewster's staff at Minnesota. Hammock was the only assistant coach from Brewster's staff whom Jerry Kill retained when he took the Gophers' top job.
Kill announced Wednesday night that Brian Anderson, a defensive quality control assistant, has been promoted to fill Hammock's role. Anderson served as Kill's tight ends coach at Northern Illinois for the past three seasons.
"This is a situation where the stability in our staff hurt us a bit," Kill said in a prepared statement. "This had nothing to do with money. It had to do with advancement in his career. Thomas felt that the stability of our coordinator situation meant that the opportunity to advance from running backs coach to offensive coordinator would come quicker at Wisconsin than it would here. I appreciate what Thomas has done for us in the transition and I wish him the best."
Some interesting words from Kill on Hammock's career path. Hammock served as Minnesota's co-offensive coordinator in 2010 and took on more play-calling duties after Brewster was fired midseason. Kill brought in his own offensive coordinator, Matt Limegrover, from Northern Illinois.
Perhaps Hammock sees a future coordinator opportunity at Wisconsin, where Paul Chryst is a hot commodity.
Hammock is good position coach who knows the Midwest and should help Wisconsin's regional recruiting efforts. He inherits two excellent running backs in James White and Montee Ball and returns to a program that thrives on producing elite ball-carriers in a power offense.
Anderson has served on Kill's staff for the past 10 seasons.
"He'll step right in and be ready to go," Kill said in a statement. "Brian had every right to be upset with me when I took this job and asked him to take an off-the-field position here. But he swallowed it up for the team. I told him if he came here and something like this happened, then I don't have to worry about the transition. That shows what kind of team player Brian is."
What a wild offseason for Big Ten assistant changes.
February, 7, 2011
2/07/11
9:00
AM ET
Several Big Ten teams are still filling out their staffs for 2011, and we'll hear an official announcement or two later Monday.
Here's a roundup of what's been happening the last few days:
INDIANA

The Hoosiers on Friday announced the hiring of
Brandon Shelby as cornerbacks coach
. Shelby, who previously held the same position at Louisiana-Monroe, starred as a defensive back at Oklahoma during IU coach Kevin Wilson's time there and also served as a Sooners' defensive assistant in 2006. Shelby replaces Corey Raymond, who left Indiana to take a position at Nebraska. Although Nebraska hasn't made an official announcement about Raymond, he's expected to replace secondary coach Marvin Sanders, who resigned Thursday.
Indiana also last week hired Nebraska defensive assistant Brett Diersen as defensive tackles coach and Air Force running backs coach Jemal Singleton to the same position. Diersen replaces Jerry Montgomery, who Wilson said left for a position at Michigan.
These appointments complete Wilson's staff for 2011.
NEBRASKA

So far, Sanders' resignation is the only official announcement Bo Pelini has made about his staff. But Wilson said Raymond is on his way to Lincoln, and all signs point to offensive coordinator Shawn Watson and receivers coach Ted Gilmore being on their way out. Nebraska's offensive production dipped toward the end of the 2010 season, and the Huskers' receivers had an up-and-down year.
Multiple media reports from Nebraska state that
Pelini might be targeting
Oregon receivers coach Scott Frost, the former Huskers' star quarterback, and Notre Dame offensive line coach Ed Warinner as replacements. Warinner served as Kansas' offensive coordinator from 2007-09 and spent time in the Big Ten as Illinois' offensive line coach and run game coordinator from 2005-06.
The interesting part of this is
Pelini reportedly will hand over play-calling duties
to running backs coach Tim Beck. The Lincoln Journal Star and Omaha World-Herald both report that Frost might not leave Oregon unless it's for a job as a play-caller elsewhere.
Pelini seems to be reshaping his staff before Nebraska's jump to the Big Ten. It will be fascinating to see how things play out in Lincoln.
MICHIGAN

Coach Brady Hoke will finalize his staff Monday and announce the defensive assistants to join coordinator Greg Mattison.
Montgomery is on his way to Ann Arbor, and he'll reportedly be joined by Akron defensive coordinator Curt Mallory on the Michigan staff. Expect Mallory to coach the Wolverines' secondary, while Montgomery will work with the defensive line. Mallory played at Michigan and has spent his entire coaching career in the Midwest, serving as Illinois' secondary coach and co-defensive coordinator from 2007-09. Montgomery played at Iowa and most recently served as Wyoming's defensive line coach.
MICHIGAN STATE

After promoting Dan Roushar to offensive coordinator last week, Mark Dantonio reportedly has found the final member of his staff.
According to The (Mount Pleasant) Morning Sun, Central Michigan receivers coach
Terry Samuel has left to take the same position
on Michigan State's staff. Samuel, who played wide receiver at Purdue, worked his way up through the FCS ranks before joining former Dantonio assistant Dan Enos at Central Michigan last year.
He'll coach the position group that previous Michigan State offensive coordinator Don Treadwell oversaw. Samuel inherits a deep and talented receiving corps led by B.J. Cunningham and Keshawn Martin.

WISCONSIN
The Badgers lost a key assistant over the weekend as running backs coach John Settle departed for the same position with the Carolina Panthers. Settle did an outstanding job with Wisconsin's running backs, helping to mold standout players like P.J. Hill, John Clay, James White and Montee Ball.
Although Wisconsin always recruits talented backs, Settle leaves some big shoes to fill. It will be interesting to see who coach Bret Bielema hires as his replacement.
December, 28, 2010
12/28/10
9:30
AM ET
LOS ANGELES -- Wisconsin running backs coach John Settle has a theory on what happens to a running back who gets too comfortable in his role.
"He starts to lack details and ultimately, he can cost a team," Settle said. "He really never gives himself a chance individually to reach his full potential. That's something we always talk about. Every time we take the field, we want to be the best group on the field, the best prepared."
By most measures, Wisconsin boasts the best group of running backs in the country. Settle makes sure he has the best-prepared group by never letting the players get too comfortable.
[+] Enlarge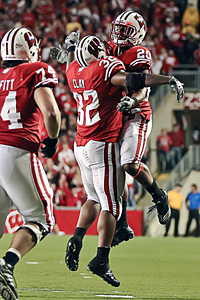 Robin Alam/Icon SMIJohn Clay (left) and James White are two parts of Wisconsin's three-pronged rushing game.
The Badgers' three-headed monster goes up against the nation's top-ranked defense in TCU on Jan. 1 in the Rose Bowl Game presented by VIZIO.
Wisconsin is the nation's only team that boasts three backs with at least 800 rushing yards: true freshman
James White
(1,029), junior
John Clay
(936) and sophomore
Montee Ball
(864). They have combined for 44 rushing touchdowns, 510 total touches and, perhaps most impressive, only one fumble.
If Ball has a big performance and Clay a typical one in the Rose Bowl, Wisconsin will become the first team in FBS history to boast three 1,000-yard running backs in a season.
"We all want each other to get 1,000 yards," Clay said. "James got his, I'm close to mine and Montee is close. It would be great for us."
Backfield production like Wisconsin's this fall doesn't just happen.
There are some circumstantial factors, including a knee injury to Clay opening the door for Ball to emerge down the stretch in Big Ten play.
But all three backs agree that their success is rooted in competition. From spring practice through training camp through the grind of the season, no Badgers' back has his role set in stone. The depth chart is always changing.
"We've got to make sure we do the right things with the reps we get, just being accountable with everything we do," Clay said.
As Settle explains, "As much as I love all of them, my loyalty is to the university, to make sure that we're doing everything we can to win a ballgame."
Ball is the best example of how the Badgers' constant competition can benefit the team. After backing up Clay in 2009, he lost his job to White early this fall. Rather than pout or tune out, Ball recognized he needed to make a greater commitment in film study and other areas and rededicated himself.
When both Clay and White went down with injuries Oct. 23 at Iowa, Ball stepped in and stepped up with several big plays as Wisconsin rallied for a 31-30 win. Ball then surged down the stretch, racking up 645 rush yards and 13 touchdowns in the final four games.
[+] Enlarge
Gregory Shamus/Getty ImagesMontee Ball stepped up when Clay and White were injured and finished the regular season with 864 rushing yards.
"It keeps you going, it keeps you pushing," Ball said of the competition. "If a coach just tells you you're the starter from here on out, then you wouldn't work as hard. That's why I love it when they tell you, 'We can take it away just as fast.' It keeps me studying more, watching film more and doing a lot more overtime."
Wisconsin's entitlement-free environment also allowed for a player like White to emerge.
When White arrived on campus this summer, he was looking up at the reigning Big Ten Offensive Player of the Year (Clay) and a player with nearly 100 carries the previous season (Ball).
"I didn't know if I was going to be redshirted or play," White said.
He played plenty, leading the team in rushing en route to Big Ten Freshman of the Year honors.
The 5-10, 198-pound White added a new layer to the Badgers' rushing attack. At 6-1 and 248 pounds, Clay is the classic Wisconsin power back, and Ball (5-11, 236) also fits the traditional mold.
But Wisconsin lacked a back with home run ability, and White is a heavy hitter. He has Wisconsin's three longest runs of the season (66 yards, 61 yards, 44 yards).
"The thing with him is you do not have to block every guy on defense," Settle said. "He's going to win a one-on-one, and sometimes he can make two people miss. He's that added dimension that we needed."
The backs' stylistic differences are obvious, and they force opposing defenses to play at different speeds. They also test an opponent's physical and mental endurance. Tackling the bruising Clay takes a toll on any defender, and chasing White and Ball in the open field isn't much fun, either.
"It really messes them up throughout the game," White said. "They don't know what to prepare for."
TCU has the daunting task of preparing for the Badgers' triple threat. The Horned Frogs rank second nationally in rushing defense, allowing just 89.2 yards per game. But no team has held Wisconsin to fewer than 142 rush yards this season, and the Badgers have eclipsed 200 rush yards in seven games and 300 rush yards in four games, including each of their final three.
Sometime after the Rose Bowl, Clay will decide whether to enter the NFL draft or finish his final season at Wisconsin.
If he returns, White and Ball will welcome him. And then they'll make him work to keep his starting job.
"We all love to get pushed and have the pressure on our shoulders like that," Ball said. "If not, then why are you here playing football? That's what Wisconsin football's all about."
December, 22, 2010
12/22/10
1:00
PM ET
USA Today continued its
comprehensive look at coaches' salaries
with a look at how the assistants are faring (not too bad, despite a down economy).
The number of assistant coaches earning $250,000 or more is on the rise, particularly in the SEC, but what strikes me is the Big Ten's absence among the very top earners. No Big Ten assistant ranks among the top 10 nationally in salary and only Illinois offensive coordinator Paul Petrino ($475,250) ranks in the top 30 in earnings. The SEC, meanwhile, has 14 assistants among the top 30.
[+] Enlarge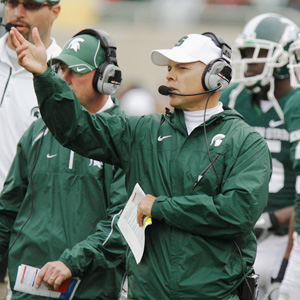 AP Photo/Carlos OsorioDon Treadwell was one of the Big Ten's best bargains last season at $235,250.
Are Big Ten assistants getting short-changed? Are Big Ten assistants inferior to those in the SEC? Why such a discrepancy?
I think the quality of coaching remains very high in the Big Ten and several assistants might want to get new agents. I also think that wild spending on assistant coaches is less a part of the culture in the Big Ten than it is in the SEC, Big 12 or even ACC. Will we ever see a Big Ten coordinator make more than $900,000, like Will Muschamp did at Texas, or more than $500,000? Perhaps we will, but I think it's doubtful.
There are also quite a few top assistants at big-time programs in the Big Ten who don't seem likely to make the jump to head-coaching positions elsewhere. While we've seen Big Ten assistants like Wisconsin's Dave Doeren and Ohio State's Darrell Hazell land top jobs this month, there aren't a ton of red-hot coaching prospects in the Big Ten.
It's interesting to see the discrepancy.
Who are the Big Ten's highest-paid assistants? Check 'em out:
(Note: As a private institution, Northwestern doesn't have to reveal coaches' salaries; Penn State declined to provide coaches' salary information.)
1.
Illinois offensive coordinator Paul Petrino (total compensation: $475,250, maximum bonus: $39,000)
2.
Wisconsin offensive coordinator Paul Chryst (total compensation: $361,094, maximum bonus: $122,500)
3.
Illinois defensive coordinator Vic Koenning (total compensation: $325,120, maximum bonus: $26,000)
4.
Ohio State offensive coordinator Jim Bollman (total compensation: $311,500, maximum bonus: $50,550)
5.
Ohio State defensive coordinator Jim Heacock (total compensation: $309,000, maximum bonus: $51,500)
6.
Minnesota defensive coordinator Kevin Cosgrove (total compensation: $305,000, maximum bonus: $0)
7.
Michigan offensive coordinator Calvin Magee (total compensation: $282,100, maximum bonus: $0)
8.
Michigan defensive coordinator Greg Robinson (total compensation: $277,100, maximum bonus: $0)
9.
Ohio State assistant head coach/receivers coach Darrell Hazell (total compensation: $264,800, maximum bonus: $48,133)
10.
Iowa offensive coordinator Ken O'Keefe (total compensation: $260,524, maximum bonus: $0)
Nebraska's highest-paid assistants are offensive coordinator Shawn Watson ($380,000 salary, $130,833 maximum bonus) and defensive coordinator Carl Pelini ($375,000 salary, $129,375 maximum bonus).
Illinois' decision to spend big bucks for its new coordinators plays out here. It's interesting that for a defense-oriented league like the Big Ten, three of the four highest-paid assistants are offensive coordinators.
The Big Ten's biggest assistant coach bargain in 2010: Michigan State offensive coordinator Don Treadwell ($235,250), who led the team during coach Mark Dantonio's absence. All but one of Ohio State's assistants makes more than Treadwell.
Another major bargain is Wisconsin running backs coach John Settle ($129,792).
Your thoughts on the coaches' salaries?
November, 10, 2010
11/10/10
5:30
PM ET
Montee Ball
appreciated the honesty in the summer, and he does so even more these days.
Ball knew when he signed up to play running back at Wisconsin, he would be in a constant competition. Badgers running backs coach John Settle simply doesn't do entitlement.
When Settle called Ball into his office in preseason camp, he told the sophomore what he needed to hear, not what he wanted to hear. Despite being the backup to Big Ten Offensive Player of the Year
John Clay
in 2009, Ball had been bypassed on the depth chart, by a true freshman (
James White
), no less.
[+] Enlarge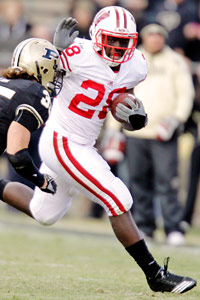 AP Photo/Michael ConroyMontee Ball's role in Wisconsin's offense is rapidly expanding.
"That's a good thing about here, the coaches are very honest with you," Ball said. "They'll tell you how it is. If you're not producing, they'll let you know, and if you are, they'll most definitely put you pretty high on the depth chart. That lets you know where you're at, and it tells you you're not preparing hard enough.
"That's what I took it as when I was third string; I wasn't preparing hard enough. So I made sure I got on top of it."
Ball never stopped preparing despite the demotion, and his patience has paid off for the Badgers in their last two wins. After coming up big on Wisconsin's game-winning drive at Iowa, recording a fourth-down reception and an 8-yard touchdown run, Ball took on an even larger role last week against Purdue.
The 5-11, 236-pound sophomore relieved the injured Clay and rushed for a career-high 127 yards and two touchdowns as Wisconsin rallied for a win to keep the Rose Bowl in its viewfinder.
"I just kept preparing during practice, kept my head up and just kept fighting," Ball said. "I knew my number was going to be called, and I wanted to be able to produce. I didn't want to let my team down."
Ball remembers the preseason conversation with Settle, who tried to gauge how the news would affect the running back. Ball's response:
I'm not going anywhere. I'm here to stay.
He upgraded the way he prepared for games, spending more time in the film room. Ball took things to a new level last week as he knew White wouldn't be able to play because of a sprained knee.
"Like coach [Bret Bielema] always says, when you ask a player what they did this week to play well, the player says they watched more film than they ever have," Ball said. "That's what I did the week before Purdue. I knew that I was second string going into that game, and I knew for sure I was going to get a lot of carries, so I made sure I prepared.
"Once John got a little nicked up, I knew that the team's going to look at me to carry the load. I wasn't surprised at all because I prepared well that week."
Ball is one of several Wisconsin offensive reserves who has stepped up when needed this season.
Jared Abbrederis
filled in for
Nick Toon
at receiver.
Jake Byrne
and
Jacob Pedersen
filled in for
Lance Kendricks
at tight end. Bill Nagy has filled in along the offensive line, most recently after starting center Peter Konz hurt his ankle at Purdue.
Ball saw how his teammates prepared for bigger roles and did the same.
"He understands that for him to have success, he needs to come to work every day," Bielema said. "Montee knew that James was getting those reps because of the production he was having on the field. ... Now Montee has earned his own and probably is poised to make his first start of the season this week."
October, 7, 2010
10/07/10
10:19
AM ET
Ten items to track as you watch the second Saturday of Big Ten games.
1. Slowing down Shoelace:
No one this season has slowed down Michigan quarterback
Denard Robinson
, who leads the nation in rushing (181 ypg) with 27 runs of 12 yards or more. Michigan State All-American linebacker Greg Jones plans to change things Saturday in Ann Arbor. Jones is by far the best defensive player Robinson has faced this season and was all over the field last week against Wisconsin. Jones vs. Robinson is a fascinating subplot to the most anticipated game in the rivalry in recent memory.
[+] Enlarge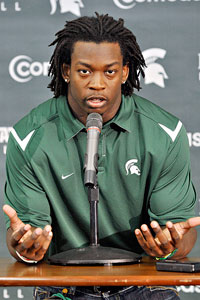 AP Photo/Dale G. YoungMichigan State's Greg Jones and the Spartans defense against Denard Robinson and Michigan will be one of the more intriguing matchup of the weekend.
2. Pass the Buck(eyes):
Excuse the bad pun, but Indiana brings the Big Ten's top pass offense (348.2 ypg) to Columbus, where it faces an
Ohio State Buckeyes
team that leads the Big Ten in defending the pass (161.8 ypg allowed). Something's got to give as Indiana quarterback
Ben Chappell
and his talented wide receivers and tight ends go up against Chimdi Chekwa, Jermale Hines and a speedy Ohio State secondary. Chappell (480 pass yards) and receiver
Tandon Doss
(15 rec., 221 yards) come off of huge games, while Ohio State plays its first full contest without Tyler Moeller.
3. Gophers gunning for the Axe:
If Minnesota plans to turn around its season, there's no better place to start than Camp Randall Stadium on Saturday. The Gophers love their trophy games, but their trophy case in Minneapolis has been empty for some time. No trophy and no game means more to Minnesota than the annual clash with Wisconsin for
Paul Bunyan's Axe
. Minnesota seniors like quarterback
Adam Weber
don't want to go through their entire careers without hoisting the coolest rivalry trophy in college sports. An upset victory would provide a huge boost, while a loss would virtually shut the door on postseason play and possibly Tim Brewster's future as Gophers head coach.
4. Seeing red in Happy Valley:
Penn State has failed to reach the end zone twice in five games this season, and the Lions have slipped into a tie for 114th nationally in red-zone efficiency, converting just two-thirds of their opportunities into points. Illinois ranks fourth in the league in red-zone defense (75 percent conversions), but coordinator
Vic Koenning tells me that depth problems have prevented him
from employing a true goal-line package. Penn State coach Joe Paterno says opening up the playbook in the red zone isn't the answer, but the Lions had better try something against an improved Illini defense.
5. Henry leads banged-up Boilers:
No team in America has been hit with more significant injuries than Purdue, which mercifully received a bye last week to regroup a bit. After losing quarterback
Robert Marve
to a season-ending ACL tear, the Boilers now turn to redshirt freshman
Rob Henry
to guide their offense. Henry is an exceptional athlete with good potential as a quarterback, and Danny Hope doesn't plan to shrink the playbook Saturday at Northwestern. But Henry will be tested in his first career start -- a Big Ten road game at night, no less.
6. Mark Dantonio returns for rivalry:
Mark Dantonio has placed a premium on the Michigan State-Michigan rivalry ever since he became Spartans head coach. It would take more than a blood clot to make him miss Saturday's game in Ann Arbor. Dantonio, released from the hospital Monday, opened his news conference Tuesday by saying, "Can't keep me down Michigan week." The plan calls for him to spend the game in the coaches' booth. Michigan State is 2-0 during Dantonio's recovery from a mild heart attack, but his presence should provide a lift in a hostile environment.
7. Wisconsin's running back rotation:
John Clay
might be the reigning Big Ten Offensive Player of the Year, but
he's being pushed for carries
by dynamic freshman
James White
. After White had another big day last week at Michigan State, Badgers running backs coach John Settle said, "We're going to put the competition out there and open it up." Clay continues to put up solid numbers, but he hasn't shown home-run ability like White this season. The burly junior has responded well to challenges before and on Saturday faces a vulnerable Minnesota defense that has allowed a league-high 10 rushing touchdowns.
8. Northwestern aims for historic start:
There have been
some bumps along the way
, but the Wildcats sit at 5-0 for the second time in two years. A win Saturday night against Purdue would give Northwestern its first 6-0 start since 1962, the last time the program was ranked No. 1 nationally. The Wildcats are favored to do so, but they can't expect to keep overcoming penalties and turnovers, especially in Big Ten play. A polished performance against Purdue would put Northwestern in both national polls when No. 17 Michigan State visits on Oct. 23.
9. Sorting out the Buckeyes' backfield:
Quarterback
Terrelle Pryor
(strained quad) should be ready for Saturday's game, but he still needs some help from his backfield mates. Ohio State's situation at running back has been the hot-button topic among Buckeye Nation, which wants to see either more production from
Dan Herron
and
Brandon Saine
or more opportunities for
Jaamal Berry
and
Jordan Hall
. If the Buckeyes can't spark their ground game against an Indiana defense ranked 108th nationally against the run (207 ypg allowed), they should start to get worried.
10. Cousins takes aim at shaky Michigan D:
As incredible as Denard Robinson has been for Michigan, there's a growing sense that the Wolverines will see their fortunes turn soon if Greg Robinson's defense doesn't show some improvement. Indiana's Chappell had his way with Michigan's secondary last week, and while Michigan State brings a more balanced offense to Ann Arbor, Spartans quarterback
Kirk Cousins
is
playing with a lot of confidence
. If Michigan can't pressure the pocket, Cousins will pick apart the Wolverines' secondary with his talented receivers and tight ends.
October, 5, 2010
10/05/10
4:06
PM ET
It's not a surprise that Wisconsin coach Bret Bielema fielded several questions about one of his running backs during Tuesday's Big Ten teleconference.
The surprise: the back in question wasn't
John Clay
.
[+] Enlarge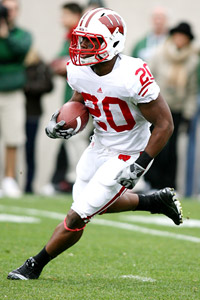 Icon SMIJames White continues to impress the Wisconsin coaches.
True freshman
James White
continues to be the talk of Wisconsin's offensive backfield, especially as the Badgers try to bounce back from last week's loss to Michigan State. White earned Big Ten Freshman of the Week honors for the second consecutive week after rushing for 98 yards and two touchdowns on only 10 carries against the Spartans. He had 235 all-purpose yards in the game.
Through five games, White ranks ninth in the Big Ten in rushing (73.4 ypg) with a sparkling 8.3 yards-per-carry average. He ranks fourth in the league in all-purpose yards (141 ypg), also serving as the Badgers' primary kick returner.
"James has continued to impress us really in all situations," Bielema said. "We put him in first down, second down, third down, he's been good for us in the return game as well. He's a kid that's eager to please."
White's surge has
generated talk that he should start ahead of Clay
, who has been steady (116.2 yards per game) but not as explosive as many had expected.
Always-candid Badgers running backs coach John Settle had some interesting comments Sunday about the backfield situation.
"This week is going to be an important week for John and for James. We're going to put the competition out there and open it up. ... I want to let them know how I see things, let them know the race is tightening. And the thing that has always been discussed with them is that we're going to play production."
You can't argue with Settle's thinking. It just sounds odd when one of the players being discussed is the reigning Big Ten Offensive Player of the Year and a preseason Heisman Trophy candidate.
Clay had a streak of 10 consecutive 100-yard rushing performances end against Michigan State, but he continues to average 6.2 yards per carry with six touchdowns.
So why is White being considered as the starter? The Milwaukee Journal Sentinel's Jeff Potrykus has an excellent breakdown.
Overall, 18 of Clay's 94 carries (19.1 percent) this season have gone for 10 or more yards. The average distance of those runs has been 16.3 yards. However, too often the plays have been blocked cleanly and a defensive back has made a one-on-one tackle, generally at Clay's ankles.
"That's what is showing up on film," Settle said. "Those are the things we've got to get corrected."
Overall, 12 of White's 44 carries (27.3 percent) have gone for 10 yards or more. The average distance of those runs has been 20.8 yards. White has consistently displayed the ability to make the first defender miss and then outrun the second and third would-be tacklers.
Translation: White is showing home-run ability, while Clay is being held to singles and doubles.
Has White's surge served notice to Clay?
"Not by what I'm seeing," Bielema said. "John is very aware that the more success James has, the more it helps him. He doesn't have to play every down, his legs can stay fresh ... He isn't going into the season to become the Big Ten Offensive Player of the Year. He just wants to win ballgames."
October, 8, 2009
10/08/09
10:03
AM ET

Posted by ESPN.com's Adam Rittenberg
John Clay
's body is both a blessing and a curse.
Not many college running backs look like Clay. Not many 6-foot-1, 248-pound men boast the combination of speed, agility and power that he has. Clay is an impressive specimen. But he's also just a kid.
| | |
| --- | --- |
| | |
| | Jeff Hanisch/US Presswire |
| | John Clay has rushed for 326 yards in the Badgers' last two games. |
"When you met John Clay when he was a sophomore in high school," Wisconsin head coach Bret Bielema said, "he looked like he should be a sophomore in college."
Clay is now a sophomore in college, but he has a hard time convincing people of that fact. He has a grown man's body, and the grown man's expectations that come with it.
"You look at him, you see this big man, and you kind of forget he's only 20 and still a young guy, so to speak," Badgers running backs coach John Settle said. "You forget he hasn't been here four years, and there's some development that needs to take place. Some guys mature and grow faster than others. He was just a guy I felt like needed to come in and have some success early.
"Right now, he's playing with a lot of confidence."
Clay is starting to complement his physical gifts with greater maturity, and the Badgers are benefiting. Big time. The sophomore has combined for 326 rush yards and four touchdowns in his last two games, recording 32 carries in both contests.
He earned Big Ten offensive player of the week honors after exploding for 184 yards and three scores last Saturday at Minnesota. More impressive was the fact that 159 yards came in the second half, as he pounded away at the Gophers' defense.
"I used to focus on running away from people instead of just punishing them," said Clay, who leads the Big Ten and ranks fourth nationally in rushing yards with 584. "But now I'm doing it vice versa, trying to punish them and wear them down and then use my speed to get away."
Clay's emergence comes at the perfect time for Wisconsin, which puts its perfect record on the line Saturday against No. 9 Ohio State in Columbus (ABC, 3:30 p.m. ET).