December, 10, 2010
12/10/10
4:02
PM ET
As we wind down the season and point toward the bowl games, I wanted to pay homage to the seniors in this league.
Yes, there are a ton of talented underclassmen in the SEC, many of whom are destined to leave early for the NFL.
But seniors are important in every program, and senior leadership is critical.
Here's my tribute to the 12 seniors on each team in the league who rose above and beyond this season in terms of on-the-field performance, leadership and sacrificing for the good of the team.
We'll call it our SEC's Super Seniors, and it's something we hope to do every season:
[+] Enlarge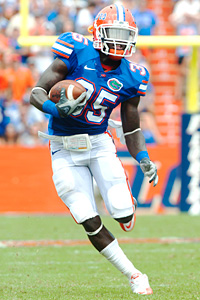 AP Photo/Phil SandlinFlorida safety Ahmad Black led all defensive backs for most tackles in the SEC.
Ahmad Black, S, Florida:
Not even Urban Meyer was sure Black was going to make it at Florida when he first arrived. He wasn't very big, nor exceptionally fast. But he's proven to be a staple in the Gators' secondary for the last three seasons. Black led Florida with 102 tackles this season, leading all SEC defensive backs. He was third on the team with 10 tackles for loss and also had three interceptions and three forced fumbles.
Josh Bynes, LB, Auburn:
You talk about instant energy. Bynes was Mr. Pick Me Up all season for the Tigers, who fed off his intensity and his passion. He was the guy who rallied the defense all those times when Auburn fell behind by big margins, and he was an invaluable presence in the locker room. A three-year starter, Bynes led Auburn this season with 71 total tackles and also had three interceptions, including two big ones in the Arkansas game.
Jonathan Cornell, LB, Ole Miss:
He's not real loud. In fact, he's pretty quiet. But Cornell did his talking with his play this season, putting up All-SEC numbers and winning the respect of everybody on his team by the way he went about his business each day. Ole Miss coach Houston Nutt called him the "backbone," and Cornell was indeed a steadying presence in what was a tough season for the Rebels. He led the team with 80 total tackles and was fifth in the league with 14 tackles for loss.
Akeem Dent, LB, Georgia:
Without a doubt, Dent was one of the more underrated players in the SEC this season. He was second in the league with 122 total tackles. First-year defensive coordinator Todd Grantham will tell you that Dent was invaluable to that defense this season from his middle linebacker position. He called all the signals, made the checks and made one key stop after another for the Bulldogs.
Mike Hartline, QB, Kentucky:
Despite his arrest early Friday morning, Hartline came through with the most productive season of his career and was a rock for the Wildcats both on and off the field. The first part of his career had been marred by injuries and inconsistency, but Hartline stayed the course and put up huge numbers this season. He was second only to
Ryan Mallett
in the SEC with 3,178 passing yards and also threw 23 touchdown passes and nine interceptions.
Spencer Lanning, PK/P, South Carolina:
Lanning was more than just a kicker for the Gamecocks. He was a strong voice in the locker room and demonstrated the kind of work ethic that was infectious. As a kicker, he was one of the best dual-threats in the country. He was 16-of-23 on field goals, ranking him fourth in the league, and was fifth in punting with a 44.2-yard average. Not bad for a guy who started his career without a scholarship and wound up becoming a captain.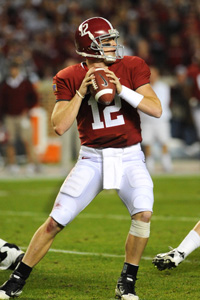 Al Messerschmidt/Getty ImagesAlabama quarterback Greg McElroy had the most productive season of his career.
Greg McElroy, QB, Alabama:
One of the smartest guys you're ever going to meet on a football field, McElroy had his most productive season of his career. His 19 passing touchdowns broke Alabama's single-season record, and with 2,767 passing yards, he has a chance in the bowl game to break the single-season record for passing yards. McElroy has been a leader ever since he stepped into the starting quarterback role last season, compiling a 23-3 record as a starter.
Nick Reveiz, LB, Tennessee:
Here's another guy who started his career without a scholarship. But he quickly went from playing on the scout team to leading the Vols in tackles. A true inspiration with how he fought back from a serious knee injury last season, Reveiz piled up 94 total tackles this season and was the defensive quarterback on the field. He made big plays, got teammates in position to make plays and made a profound impact on everyone around him with the way he competed on every down.
Kelvin Sheppard, LB, LSU:
The Tigers had a few veteran players to build around on defense, but they were also very young in a lot of spots. Sheppard was the centerpiece of the defense in every way. A fiery leader, he brought out the best in all of his teammates and wasn't afraid to get in guys' faces when it was warranted. His 108 total tackles ranked him third in the SEC. Included were 11 tackles for loss.
Derek Sherrod, OT, Mississippi State:
The names have changed in Mississippi State's backfield the last two seasons, but the Bulldogs' productivity in the running game just keeps churning along. Sherrod has been a big reason why. One of the best left tackles in college football, he was a multiple winner of SEC Offensive Lineman of the Week honors this season and is one of those guys everybody on the team looks up to for guidance.
John Stokes, LB, Vanderbilt:
Headed to medical school, Stokes has been the quintessential student-athlete during his career at Vanderbilt. He also had the best season of his career on the football field. Injuries had plagued him in previous seasons, but he came fighting back to finish third on the team with 78 total tackles. With Vanderbilt being such a young team, Stokes was there every step of the way providing his senior leadership.
D.J. Williams, TE, Arkansas:
The recipient of the Disney Spirit Award as college football's most inspirational player, Williams had a dream senior season. The Hogs are going to the Sugar Bowl, and he also won the Mackey Award as the top tight end in the country. He leads the team with 49 catches and has become a much more complete tight end over the last couple of seasons. Moreover, he's been the consummate team guy and is a big reason Arkansas' team chemistry has been so good.
November, 17, 2010
11/17/10
6:21
PM ET
John Stokes' football career is winding to a close, but he's about to embark on another much more important career.
Stokes, Vanderbilt's senior outside linebacker, plans on being a doctor. He was accepted into the Vanderbilt School of Medicine as a sophomore through the school's early acceptance program.
Only a miniscule number of Vanderbilt sophomores are accepted into the program each year. To remain in the program, students have to maintain a 3.5 GPA while fulfilling their pre-med requirements.
It's the kind of curriculum that isn't for just anybody.
[+] Enlarge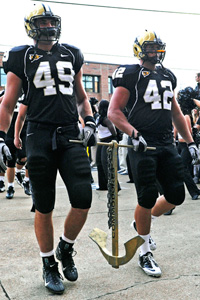 AP Photo/Frederick BreedonLinebacker John Stokes (49) -- shown here carrying the "Anchor of Gold" with Tim Fugger (42) -- has been accepted into the Vanderbilt School of Medicine, but will test the NFL waters as a long snapper.
But imagine playing SEC football and trying to keep up with that kind of academic schedule.
Stokes doesn't have to imagine. He's done it for the last two years and wouldn't trade the experience for anything in the world.
"This football team had a lot higher hopes, and I'm not going to sit here and say anybody is happy with the way this season has gone," said Stokes, who's third on Vanderbilt's team with 69 total tackles. "But I love the people here, love my teammates, love this staff and love this school.
"It's a great school, and I have great relationships with my professors and great friends. I'm a stronger, tougher person for having played football in the SEC and then going to class Monday through Friday at an institution the caliber of Vanderbilt and doing the best I can in both of those.
"I'm going to walk out of here absolutely happy, not necessarily with the way it's gone in football, but with the experience as a whole."
Stokes is scheduled to start med school in August 2011, although he has the option to defer enrollment for two years.
He may take a peek at making an NFL roster as a deep snapper, which was one of his duties for the Commodores until he tore a tendon in his pinkie finger.
"I haven't really looked into it, to see if it's an option or if I'm good enough," Stokes said. "I plan on at least finding out what my chances are."
While snapping footballs may be in his immediate future, helping people is where his heart is.
His desire to be a doctor only intensified this past May when he traveled to South Africa with his brother, Will, and spent four weeks working on AIDS relief and prevention through the United States Agency for International Development.
"It was neat to see the potential doctors have to really, really help people, and that's what excites me the most about medicine," Stokes said.
The South African trip was Stokes' first medical out-of-the country experience, but hardly his first mission trip.
He's been to Belize two different times during his time at Vanderbilt as part of Manna Project International, a nonprofit organization started at Vanderbilt that offers aid to Central America. Stokes serves on the campus group's executive board.
"It was important to me to be as involved as I possibly could," Stokes said. "When I was in South Africa, I dealt first-hand with people who were struggling and hurting, and to be able to change somebody's life in a positive way is why you get into the medical field."
Vanderbilt coach Robbie Caldwell said Stokes personifies what a student-athlete is supposed to be.
"I don't know if I've ever been around one in 35 years of coaching like John," Caldwell said. "Matter of fact, I know I haven't. He's a leader on and off the field, in the locker room and in the community. You name it, and he's done it. He's an honor student and never missed anything football-related that I know of. When you're a pre-med student, you could have all kinds of excuses, particularly here at Vanderbilt, but not John.
"Words can't describe what he's meant to our program. I mean this in the utmost way, but he's been the Mother Teresa of football. He gives his effort, his energy, everything he has to make other people's lives better."
September, 30, 2010
9/30/10
4:37
PM ET
Six SEC players have been selected as semifinalists for the William V. Campbell Trophy, college football's premier scholar-athlete award.
Making the list were South Carolina offensive guard Garrett Chisolm, Georgia receiver
Kris Durham
, Tennessee kicker Daniel Lincoln, Alabama quarterback
Greg McElroy
, Mississippi State offensive tackle Derek Sherrod and Vanderbilt linebacker John Stokes.
Nominated by their schools, which are limited to one nominee each, semifinalists must be a senior or graduate student in their final year of eligibility, have a GPA of at least 3.2 on a 4.0 scale, have outstanding football ability as a first-team player or significant contributor and have demonstrated strong leadership and citizenship.
The award was formerly known as the Draddy Trophy and has been referred to as the Academic Heisman. Florida's Tim Tebow was the recipient last year.