December, 8, 2014
Dec 8
9:00
AM ET
Florida State took the headlines on bowl announcement day Sunday, earning the No. 3 seed in the College Football Playoff and a shot against Oregon in the Rose Bowl Game presented by Northwestern Mutual.
Georgia Tech also has an opportunity to make a statement against Mississippi State in the Capital One Orange Bowl. I had a chance to catch up with ACC commissioner John Swofford to ask him for his thoughts on how the playoff process worked out for the ACC and the Seminoles.
AA: How do you feel about the job the selection committee did with unbeaten Florida State?
[+] Enlarge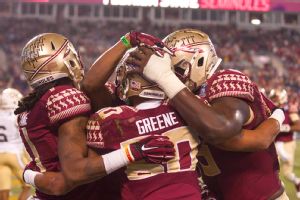 Jeremy Brevard/USA TODAY SportsFlorida State's place in the College Football Playoff reflects well on the ACC according to John Swofford.
JS:
I'm pleased with the fact that we have a team, and a quality team and the only undefeated team, from our league that's in the first playoff. That is what we would all hope, and I think Florida State certainly is appropriately there and deservedly.
Would you have preferred to see Florida State in New Orleans?
JS:
Well, I think for their fans, certainly. But at the same time, they've had a recent very positive experience in Pasadena in the Rose Bowl stadium. That won't be foreign to them.
Should they be No. 1?
JS:
I don't know. I'll refrain from commenting on that. Everybody has their biased opinion as to who should be 1 or even who should be 4 or 5 or 6 for that matter, so anybody who's a commissioner comes from a biased point of view.
Is it a sign of disrespect to the ACC that unbeaten Florida State isn't No. 1?
JS:
I don't know. They're in the playoff, they should be in the playoff. As I said, commissioners are going to have their biases as to where their teams should be ranked. I'm not going to get into that any deeper than I'm pleased they're in the playoff. I don't think there's any reason to get into the particulars of that at this point. The committee is charged with a responsibility of doing those ratings, and we'll let it go at that. What matters now is to play well.
What, if anything, would you change about the process?
JS:
I'm sure there will be things to be discussed on reflection, once we've had more time to sit down and digest both the process from start to finish and as well as the end result. I think that's to be expected the first year.
One topic that has been debated is the role of conference championship games. Should the Big 12 have a championship game?
JS:
I think that's for the Big 12 to decide. I've been one that has been pushing for conference autonomy for the conferences to have the ability to determine, regardless of how many numbers of teams they have in their league, whether they have a conference championship game or not, as well as if you have one, how you determine which of your two teams play in that game, so I continue to be in favor of that, and I know Bob Bowlsby continues to be in favor of that as well.
What do you think about the Orange Bowl matchup and the last-minute switch with Mississippi State making it in over Michigan State?
JS:
I think it's a terrific matchup for Georgia Tech and the Orange Bowl. It's an excellent one that we're pleased with, and very pleased with that arrangement with the SEC, Big Ten and Notre Dame. I was a little surprised at the switch considering neither team played, but either one would be an excellent matchup for us.
Is this a stronger year for the ACC than last year?
JS:
Yes I do [think so] up to this point. We finished in the bowl season well last year with a national championship and an Orange Bowl championship and hopefully we can do something similar. We've got 11 bowl teams again this year on top of last year, and certainly the regular season and particularly the end of the regular season, the last weekend, was very positive for our league, and that's on top of some really quality high-profile wins over Southern Cal, over Ohio State, and so I think last year was a very good step forward for our league competitively and from a respect standpoint, and I think this year has added to that. We've built on that. It's important that we continue to have that kind of consistency. It's the competitiveness within the league, the addition of Louisville and the quality of nonconference wins this year have been extremely positive for ACC football.
Having said that, how important is it for a good showing in playoff and Orange Bowl to feel this season was better?
JS:
That would add to it. At this point in time, we're ahead of where we were last year as a conference. I don't think there's any question about that, with a similar postseason that would take it another step.
But if FSU and Georgia Tech lose, would this year be viewed as a step back?
JS:
You'd like to do the same thing again, but each year is going to be a little different. There are going to be two of those four teams that lose in the playoffs. If you win and get to the national championship, that's just another level of success, but being one of the four is a tremendous accomplishment for any program in any league as well.