NCF Nation:

Johnny Thomas
September, 8, 2011
9/08/11
9:25
PM ET
STILLWATER, Okla. -- Oklahoma State's offense has gotten plenty of attention tonight, and it's well-deserved.
Brandon Weeden
is 22-of-23 and the Cowboys lead 21-0 late in the second quarter.
But don't forget the other side of the ball, which has been very impressive, too.
Sure, Arizona is missing one of the nation's best receivers in
Juron Criner
, but
Nick Foles
has completed 14 of 18 passes and Arizona is still hanging a zero on the scoreboard.
That's thanks to a fourth-down stop near the goal line on Arizona's last possession, courtesy of a pass breakup by Daytawion Lowe, who is stepping in for ineligible starter Johnny Thomas.
Arizona running back
Keola Antolin
has just 12 yards on seven carries, and daylight near the line of scrimmage has been at a premium.
OSU's offense will get plenty of credit if this ends up a runaway win, but the defense deserves a good bit as well.
Arizona has just six first downs to Oklahoma State's 12, and the Wildcats have established some momentum on a couple drives so far.
Each time, though, the Cowboys have held before it cost them points.
September, 8, 2011
9/08/11
10:15
AM ET
Here's what I'm watching in this week's slate of games:
1. Oklahoma State's secondary.
Starting safety Johnny Thomas is ineligible for the entire season, so it's up to senior Markelle Martin to lead a very young group of cornerbacks and promising safety Daytawion Lowe, to try to fill the void left by Thomas. They're going up against a difficult passing offense in Arizona and a fantastic receiver in
Juron Criner
. Criner reportedly may miss tonight's game, but the secondary still better learn fast.
2. Texas' running backs.
Foswhitt Whittaker
is the starter, but
Malcolm Brown
got
hot in the second half and took over
, leading the team in yardage and carries.
Joe Bergeron
may be a factor, too, but how does this situation look on and after Saturday's game against BYU?
3. Missouri's offensive line.
Center Travis Ruth isn't back yet, and senior left tackle and captain Elvis Fisher is out for the season. They'll face a tough test at Arizona State, highlighted by linebacker Vontaze Burfict, who had three sacks in the Sun Devils' season opener.
4. Justin Blackmon.
By his standards, he actually had kind of a quiet night (8 receptions, 144 yards) while his offense racked up 60 points in its season opener. He'll need another big game in a matchup with Arizona that looks like it will be extremely high scoring. Watch for him to get as many as 20 targets in Oklahoma State's passing game, which tore up the Wildcats in the Alamo Bowl.
5. Iowa State's linebackers.
Marcus Coker
looked fantastic against Missouri in his debut in last year's Insight Bowl. In Iowa's opener? Not so much. Iowa State struggled to stop the run last year, but Jake Knott and A.J. Klein will need to slow Coker down if Iowa State is going to take home the Cy-Hawk trophy.
6. Kansas' receivers.
Daymond Patterson
may not play against Northern Illinois, but somebody's got to step up. True freshman
JaCorey Shepherd
caught three passes for 107 yards and two scores last week, but no other Kansas receiver had a catch. The Jayhawks will lean on their running game again this week, but their receivers have to be better in Week 2.
7. Second-time starters at quarterback.
Missouri's
James Franklin
and Iowa State's
Steele Jantz
didn't have fantastic first starts, but both showed some promise. Jantz did it with two big drives late in the game to get the win. Franklin played well outside of one big pick that cost the Tigers seven points and a couple near interceptions. Both will have to continue their development for their teams to pull upsets this week.
8. Texas' secondary.
I
put them "On the Spot" this week
. Of course, I put Baylor wide receiver
Kendall Wright
on the spot last week, and he had a huge game.
Jake Heaps
was unimpressive against Ole Miss last week, but don't count him out this week. His potential is enormous. Texas has to slow him down or prepare for a long day in Austin.
August, 30, 2011
8/30/11
7:54
PM ET
Oklahoma State starting safety Johnny Thomas and receiver
Michael Harrison
will be
ineligible for the season opener
.
The team did not announce further details or disclose a timeline for either player's return.
The loss hurts the Cowboys, but it's hardly a huge hit.
Thomas was a first-year starter in 2010, finishing fourth on the team with 63 tackles and three interceptions
The Cowboys will need him in Week 2 against Arizona's high-flying pass offense which features one of the nation's best pass-catch combos in
Nick Foles
and
Juron Criner
. If Thomas cannot go against Arizona, it's not all bad for Oklahoma State.
Thomas' likely replacement, Daytawion Lowe, has long been one of the team's budding stars, but has been prevented from breaking out because of the experience ahead of him. He could start for a few teams in the league, but now it looks like he'll get a chance with his current team.
Lowe missed all of last season with a knee injury, but he'll get a chance to prove he's officially back with a debut on Saturday night against Louisiana-Lafayette.
Harrison's biggest moment of 2010 came in
Justin Blackmon
's absence in a game against Kansas State. Harrison caught a jump ball to help the Cowboys beat the Wildcats, 24-14.
This time around, though? Blackmon's on the field and Oklahoma State's deep receiving corps should be fine without his 14 catches for 135 yards and three scores.
His absence hurts, but for now, the Ragin' Cajuns don't have enough to pose a serious threat.
If Thomas and Harrison are ineligible into next week or longer? The impact will grow.
June, 30, 2011
6/30/11
1:15
PM ET
We'll move on to the safeties today in our position rankings across the Big 12.
Here's what we've covered so far:
The group of safeties across the Big 12 isn't fantastic, without any truly elite groups, but it's decent. There aren't any teams that look really hopeless at the position in the immediate future.
I haven't given it real close examination so far on the positions we haven't covered yet, but this is by far the closest gap between 1-10 of any position so far.
Here's how I ranked them. (Remember, I lumped in nickel backs with linebackers, so Ahmad Dixon and Tony Jefferson won't be found anywhere in this post.)
[+] Enlarge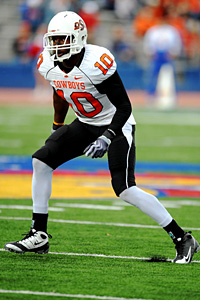 John Rieger/US PRESSWIREOklahoma State's Markelle Martin is the Big 12's best overall safety.
1. Oklahoma State
-- The Cowboys have Markelle Martin, the Big 12's best overall safety who's a big talent but a much better hitter than he is a cover man. Johnny Thomas is solid and both safeties got a lot better as the 2010 season progressed. OSU's depth lands them here, though. Daytawion Lowe could start for a few Big 12 teams and is slightly better than A&M and Texas' reserves, the other two teams with the deepest group of safeties.
2. Texas
-- Blake Gideon takes his share of criticism, a good deal of it fair, but there's a reason he's starting for Texas for a fourth season this fall. He knows what he's doing. Kenny Vaccaro will challenge OSU's Martin, among others, for the title of the Big 12's biggest hitter and Nolan Brewster and Christian Scott are strong reserves at the position. The Longhorns lose a lot at corner, but all the safeties are back from a defense that allowed just over 170 yards a game through the air in conference play last season.
3. Texas A&M
-- The Aggies' Steven Terrell and Trent Hunter are solid, and Hunter is a big playmaker who made 62 stops and picked off two passes last year. Toney Hurd Jr. is the backup and was one of the most impressive freshmen in fall camp last year, joined by Steven Campbell in the rotation.
4. Kansas State
-- Tysyn Hartman has loads of experience and is one of the Wildcats that Bill Snyder loves to rave about. Ty Zimmerman was one of the Big 12's best freshman last year, and picked off three passes. They should be solid again next year, and for as much criticism as K-State's defense faced last year, they were fifth in the Big 12 in pass defense. Logan Dold should be in the rotation, too.
5. Oklahoma
-- Reserve Sam Proctor has starting experience, but Javon Harris and Aaron Colvin enter fall camp as starters. That says plenty about how Bob Stoops and Brent Venables feel about them. In a word: confident. Colvin has the most potential in the group, but the two starters will have to learn on the go. Proctor, a senior, should be able to help. James Haynes will also be in the rotation.
6. Missouri
-- Jasper Simmons is gone, but Missouri's safeties might be a bit underrated in this spot. Kenji Jackson has loads of experience and should be solid, and Tavon Bolden and Matt White are a pair of promising sophomores who should compete at free safety. Kenronte Walker should be in the rotation, too.
7. Texas Tech
-- Injuries were a problem last year for the Tech secondary, but Cody Davis and D.J. Johnson will hold down the traditional safety spots away from the line of scrimmage in new coordinator Chad Glasgow's 4-2-5. The unit gave up lots of big plays in 2010 (151 over 10 yards, 46 over 20, and 25 over 30, all the most in the Big 12), but I'd expect that number to drop under Glasgow if the secondary stays healthy. Davis is the team's leading returning tackler, with 87 stops. Brett Dewhurst and Giorgio Durham should be in the rotation.
8. Kansas
-- Keeston Terry and Bradley McDougald give Kansas a lot of speed and athletic ability at the position, but both of the team's safeties from 2010 graduated and Terry and McDougald are short on experience. Lubbock Smith should add some solid depth to the position.
9. Iowa State
-- Iowa State loses their top playmaker at the position, David Sims, but returns starter Ter'Ran Benton. He'll be helped out by some combination of Jacques Washington, Earl Brooks and Deon Broomfield once the season starts. Iowa State's biggest weakness is on the defensive line, so it's hard to get a good read on how good the safeties really are with such a poor pass rush up front.
10. Baylor
-- This group might move up the list during the year under Phil Bennett, but the two best raw athletes (Ahmad Dixon, Prince Kent) at the position moved to nickel back and linebacker, respectively. The team's leading tackler, Byron Landor, graduated, and that left Mike Hicks as the other starter. He'll be helped out at safety by Sam Holl, Josh Wilson and K.J. Morton. Last year, the Bears ranked last in the Big 12 in pass defense in conference play, giving up over 300 yards a game. That'll have to change or Baylor won't get past seven wins.
May, 27, 2011
5/27/11
9:00
AM ET
Our friends in the Big East kicked off this idea, and it'll suit the Big 12 well. The All-Big 12 preseason teams are still a long way away, but which units in the Big 12 are the best entering 2011?
Here are my votes, and I feel pretty good about all of them. Which would you pick?
Quarterbacks: Oklahoma State
The Cowboys return All-Big 12 first-teamer
Brandon Weeden
, and the senior will have his top target back, Biletnikoff Award winner
Justin Blackmon
. He threw for 4,277 yards last season and his quarterback rating of 154.11 was eight points higher than any passer in the Big 12.
Honorable mention: Oklahoma, Baylor
Running backs: Texas A&M
Cyrus Gray
was the Big 12's best back late in the conference season, and his running mate re-joins him in the backfield this year after breaking his leg midway through 2010.
Christine Michael
and Gray form perhaps the best backfield duo in the nation, but by far the best in the Big 12.
Honorable mention: Oklahoma
Receivers: Oklahoma
This one's close, but Oklahoma's depth gives them the edge.
Ryan Broyles
is narrowly the Big 12's No. 2 receiver and a Biletnikoff finalist in his own right, but
Kenny Stills
could sneak up on a 1,000-yard season as a sophomore in 2011.
Dejuan Miller
and
Trey Franks
are two more solid options, and the Sooners could add a pair of talented freshmen to the rotation in Trey Metoyer and
Justin McCay
.
Honorable mention: Oklahoma State, Texas A&M, Baylor
Offensive line: Oklahoma State
The line helped running back Kendall Hunter finish second in the Big 12 with 1,548 yards last season, and all five starters return from the unit that gave up the fewest sacks in the Big 12. That's aided by the quick-release approach in the Air Raid offense, but the line boasts the Big 12's best returning lineman, tackle Levy Adcock.
Honorable mention: Texas A&M
Defensive line: Missouri
The Tigers have the Big 12's returning leader in sacks, defensive end Brad Madison, but the unit is deep and talented and could get even more so next season. DT Terrell Resonno, DE Jacquies Smith and DT Dominique Hamilton are all experienced, and defensive ends Michael Sam and Kony Ealy should provide very little dropoff when they're on the field as part of the rotation. The Tigers also welcome a possible game-changer in Sheldon Richardson, a light-footed 6-foot-4, 296-pound defensive tackle and St. Louis native who is the nation's No. 3 juco recruit.
Honorable mention: Texas
Linebackers: Oklahoma
The Sooners have one of the favorites for Big 12 Preseason Defensive Player of the Year in senior linebacker Travis Lewis, who is likely to be joined by some combination of Tom Wort, Corey Nelson and Jaydan Bird. Nickel back Tony Jefferson could be poised for a break out year on a national scale after sharing Defensive Freshman of the Year honors last season.
Honorable mention: Iowa State
Cornerbacks: Texas A&M
The Aggies have two of the Big 12's best in Dustin Harris and Coryell Judie, who doubles as perhaps the Big 12's most dangerous return man. The pair combined for eight interceptions last season and 21 passes defended. Terrence Frederick defended 10 passes of his own. Health was a concern for this group in the spring, but they should be ready come fall.
Honorable mention: Oklahoma
Safeties: Oklahoma State
Markelle Martin is a future draft pick and one of the Big 12's hardest hitters, but Johnny Thomas played some of his best football late last season.
They combined for 118 tackles last season, and 100 of those were solo stops.
Honorable mention: Kansas State
Punter: Oklahoma State
Quinn Sharp has been one of the Big 12's best punters for the past two seasons, and led the league in punting average at 46.2 yards in 2010.
Kicker: Missouri
Grant Ressel has made 43 of 46 field goals over the past two seasons, and the former walk-on should be a contender for the Lou Groza Award as a junior in 2011.
December, 28, 2010
12/28/10
11:56
AM ET

1. Keep Arizona from YAC-ing all over the place.
Oklahoma State fans will recognize Arizona's offense quickly. It's a close relative of the Air Raid at Texas Tech, not entirely unlike the Cowboys' own offense. Short, quick passes get the ball in the hands of playmakers who try to break a tackle or make a defender miss to move the ball down the field. If Oklahoma State's secondary, corners Brodrick Brown and Andrew McGee and safeties Johnny Thomas and Markelle Martin, and even the linebackers can get receivers and running backs down quickly, they'll stymie the offense and prevent the big play. Forcing
Nick Foles
to complete as many passes as possible to win is a solid recipe for a win.
2. Seriously, give Kendall Hunter the ball.
Oklahoma State's offense has struggled most when Hunter has gotten the ball the least. Most notably, it happened in the first half against Texas A&M and the entire game against Oklahoma. The Cowboys scored 41 against the Sooners, but 14 of those points were non-offensive touchdowns and Hunter got just 13 carries. Oklahoma State ran only 66 plays in that game to Oklahoma's 107 (most in the FBS in 2010), but Hunter needed to have the ball in his hands for more than 13 of those 66. If that happens against Arizona, the Cowboys, favored by about a touchdown, should be fine.
3. No special teams mistakes.
Kicker Dan Bailey won the Lou Groza Award as the nation's top kicker, but he also missed four kicks in the three games before the loss to Oklahoma, including one from inside 40 yards against Baylor. Additionally, punter
Quinn Sharp and his long snapper Marc Yerry are ineligible for the game
. Bailey might end up with punting duty with a freshman snapping to him. Certainly, the potential for disaster is there. Prevent it, and the Cowboys can keep from giving away points that could come back to hurt them later.
November, 6, 2010
11/06/10
2:31
PM ET
STILLWATER, Okla. -- The score's a pretty good reflection of this one. Baylor got deep into Oklahoma State territory once and turned it over, but Oklahoma State dropped what should have been an easy touchdown pass. This is a pretty clear-cut,
24-point game
that Oklahoma State has dominated from the start. If not for a late missed field goal by Lou Groza Award candidate Dan Bailey -- his first of the season -- it could be 27-0.
Turning point:
On Baylor's second drive of the game, Oklahoma State cornerback Brodrick Brown stripped Baylor receiver
Josh Gordon
and recovered the fumble to set up Oklahoma State's first touchdown. That drive put the Cowboys up 10-0 and on their way to a great first-half performance on both sides of the ball.
Turning point II:
Baylor had a wide-open
Krys Buerck
in the end zone, but Baylor quarterback
Robert Griffin III
underestimated the speed of Oklahoma State safety Johnny Thomas, who came from the opposite side of the field to intercept the pass and keep Baylor off the scoreboard with just minutes remaining in the first half.
Stat of the half:
Baylor turnovers: 3. Oklahoma State: 0. The Cowboys defense has played great, but all three of the turnovers have been because of plays the defense made, and without them, this could be a two-touchdown or 10-point lead.
Best player in the half:
Oklahoma State quarterback
Brandon Weeden
. He's had all day in the pocket, been able to hit receivers for short passes and been accurate when he's looked downfield. He's completed 20-of-25 passes for 244 yards to seven different receivers.
Best player in the half II:
Oklahoma State's secondary. Brown's fumble and Thomas' interception have the Cowboys on top.
Best call:
Mike Gundy elected to try and convert a 4th-and-2 near midfield, and Baylor's defense lost
Justin Blackmon
over the top. Blackmon dropped the pass, but the defense kept Baylor off the board on the ensuing possession. Obviously, the execution wasn't there, but from a decision-making standpoint, Gundy's call and Weeden's decision to go deep should have paid off.
What Oklahoma State needs to do:
Everything it's been doing. Don't take chances on defense, prevent the big play, and hand the ball to
Kendall Hunter
in the second half. He'll take the Cowboys home.
What Baylor needs to do:
Keep trying to stretch the field. Oklahoma State has reined in Griffin's legs, but they've had plenty of opportunities for long plays down the field through the air. Griffin hasn't been accurate with those passes, but you have to keep forcing the issue. There still has to be some patience in the offense, but Baylor's going to need at least five second-half touchdowns to win this game.